Rocket Languages is an online language learning course platform. It provides a variety of learning methods, covering around 12 languages. Rocket Languages promotes itself as the first website to learn a language online. That does not necessarily mean that it is the best, so here, I am going to cover my personal experiences and give an honest review on my experience learning Japanese using Rocket Languages.

One of the best ways to explore Tokyo is to visit the local areas and immerse yourself in the local culture. If you want to explore local areas, we have created scavenger hunt adventures personalised to your interests, filled with fun facts, clues and puzzles. If you're curious, you can check out the games here!

Check out the Flip Japan Games here!

If you are learning Japanese phrases or want to grasp the Japanese language quickly and easily, check out our FREE Japanese language 5-day challenge! You will be able to master simple casual Japanese conversation in just 5 days!
Want to find out more about Japan language? Check out:
Rocket Languages Review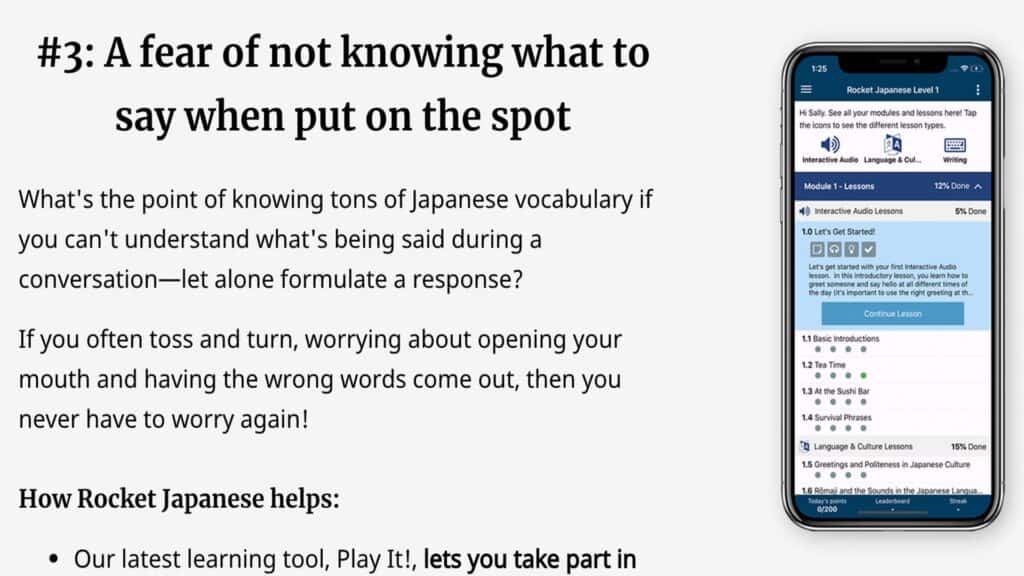 On the homepage of the Rocket languages website, they provide a small explanation on what the learning journey looks like and the languages they provide.
On their homepage, they explain what the learning journey with them looks like, and what languages they teach. Scroll down and you'll see a reviews section with customers' feedback. The reviews all highly praise Rocket Languages, but I would take that with a pinch of salt. As it's the official Rocket Languages website, we don't know how authentic those reviews are. However, I did notice the numerous awards Rocket Languages earned from credible associations, and that definitely made me trust them more.
These awards include:
Best Educational Software Awards (BESSIES), awarded in 2013
The European Magazine consumer award
Pc mag editor's choice as 4.5/5
Registration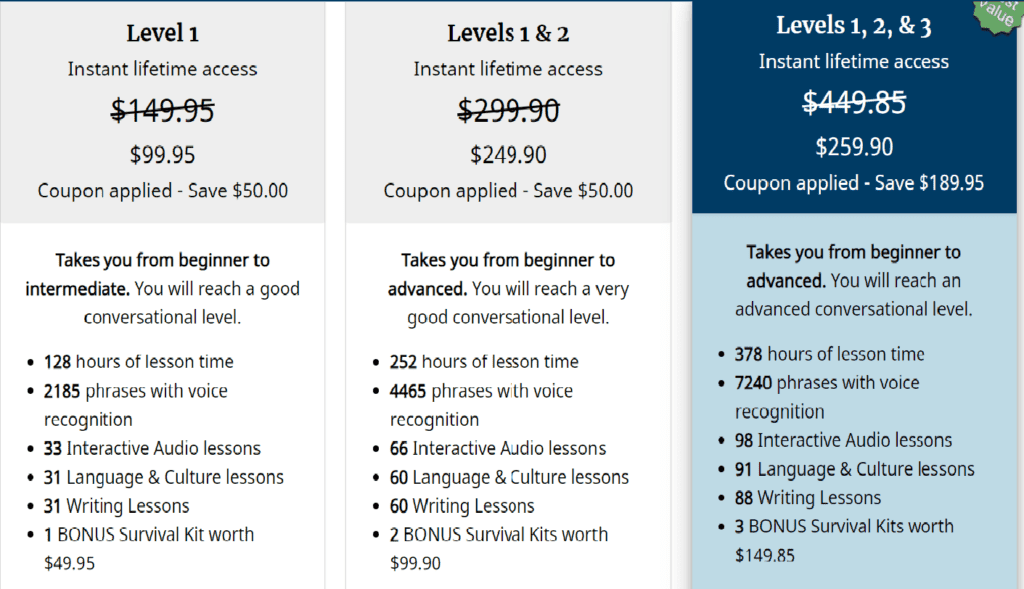 After registering, I can see that Rocket Languages provides many learning methods.
Interactive audio lessons: The most common and scientifically approved way of learning a second language.
Voice comparison: Where a student can record phrases and words.
Phone app: Having a phone app these days is a must to keep track and have easy access.
Rocket Languages covers a wide range of lessons and methods. The entire process is clear and easy to use. I was encouraged to try out different lessons and I liked the process of looking through different styles of the different lessons they offer.
Content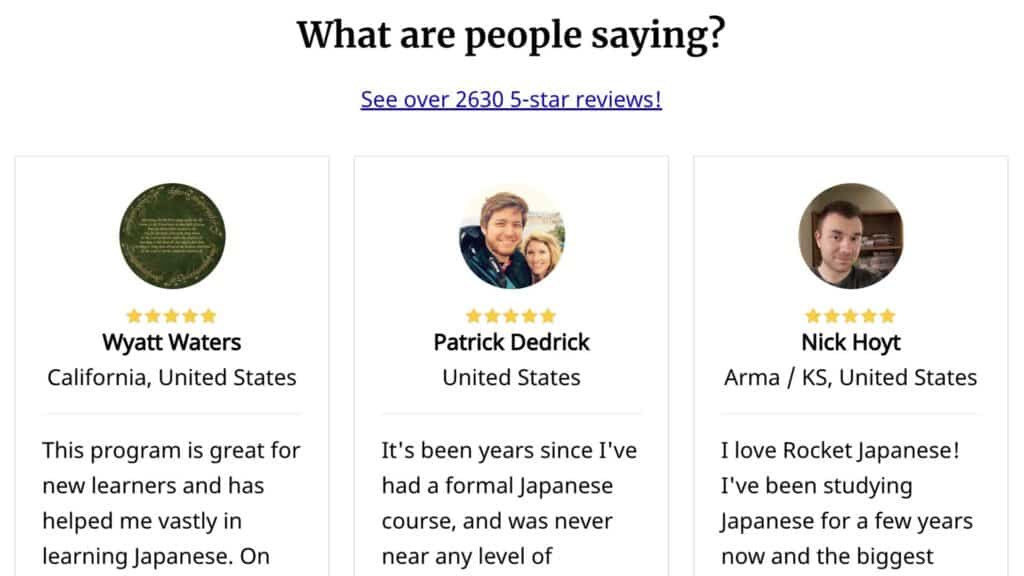 The content provided by Rockets Languages includes mainly what you would need to be able to speak the language natively. It does not follow an academic path or a strict curriculum, but covers the major phrases, words and sentence structures you would need to master the casual language.
I took the Japanese course level 1 on Rocket Languages. It is split into three parts.
Interactive audio lessons that include both a female and male narrator, providing two different perspectives and voices for you to learn from
Language and culture lessons: If you are interested in learning about the local culture, or if you just want a break from just learning the language every once in a while, then I think these are great lessons for you.
Writing lesson: Sometimes I forget about the writing component when it comes to learning a new language, especially with a language that has three types of writing styles, these writing lessons are simple and create clear steps for you to learn
Pricing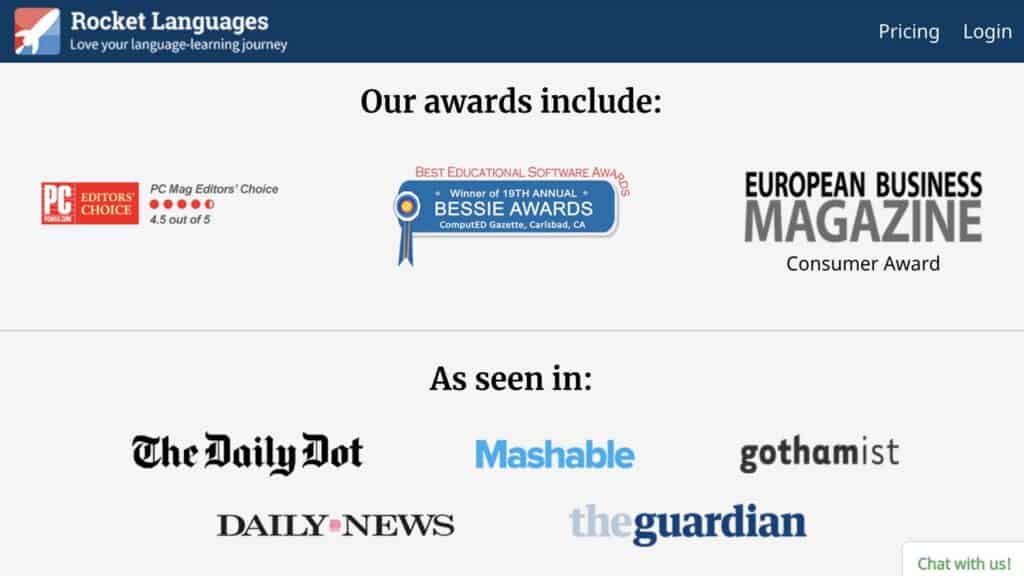 Rocket Languages provides a life-time access subscription, which I personally believe is the best option for a student. It is affordable and I wonder how Rocket Languages profits from this payment method. It is also 100% refundable on a 60-day period with no conditions. It is honestly a no-brainer in my opinion to grab this life-time access subscription.
Final thoughts
I would recommend Rocket Languages if you want to learn the basics of the language and the fundamental phrases, words, culture, writing, background and all the secrets about the language. Especially with the great life-time access offer with the 60-day refund policy, it is a great option.
However, if you don't want to learn about the culture or the writing, and you mainly want to grasp the casual spoken language quickly, then I would highly recommend checking out Preply. You should also take a look at Japanese Pod 101, a great tool to learn with all kinds of bite-sized content at a great price.
What do you think about this Rocket Languages review? Would you use Rocket Languages to learn Japanese?
Stay tuned for more information about Japan travel, Japanese culture, moving to Japan, living in Japan, Japanese language and more.