Have you ever heard of the Tokyo neighbourhood, Ryogoku? Are you thinking about visiting this unique area of Tokyo or even staying in Ryogoku, and wondering what are some things to do, places to visit and restaurants to check out?
There are so many neighbourhoods and areas in Tokyo. Besides the famous towns like Shinjuku, Shibuya and Harajuku, there are many incredible places and spots in Tokyo that are worth a visit. If you're looking to visit a local neighbourhood and check out some hidden gems, Ryogoku might be a great place to check out. In this Ryogoku area guide, let's have a look at what to do in Ryogoku, where to eat and drink in Ryogoku, where to stay in Ryogoku and some hidden gems in the area.

One of the best ways to explore Tokyo is to visit the local areas and immerse yourself in the local culture. If you want to explore local areas, we have created scavenger hunt adventures personalised to your interests, filled with fun facts, clues and puzzles. If you're curious, you can check out the games here!

Check out the Flip Japan Games here!

What is Ryogoku?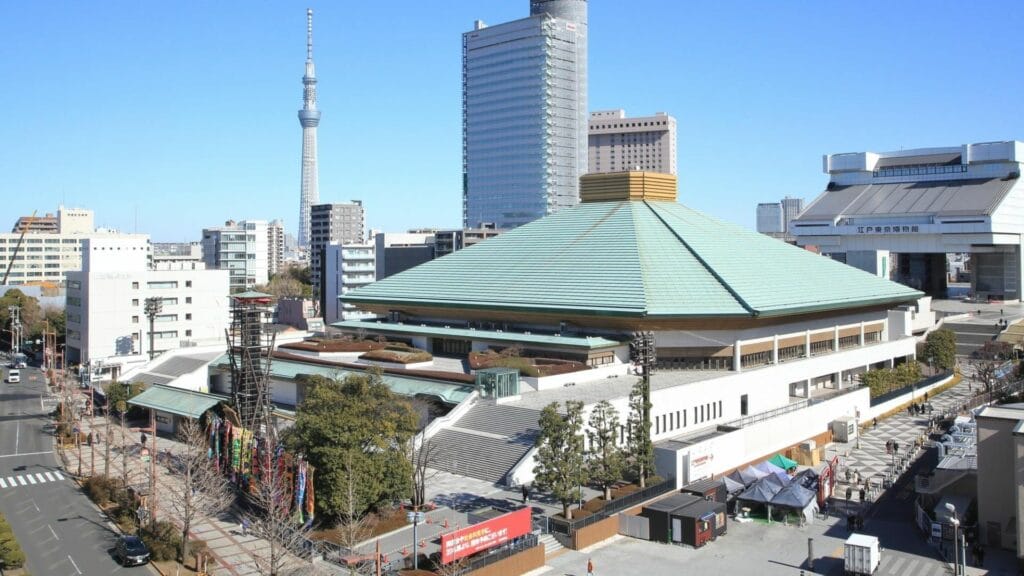 Ryogoku is famous as a city of sumo wrestlers and you can sometimes see wrestlers walking down the street in gorgeous yukata. Here in Ryogoku, you will find the Ryogoku Kokugikan arena, where sumo wrestling, boxing tournaments and classical concerts are held. You can also find sumo stables in Ryogoku, the places where sumo wrestlers live and train. Let's have a look at what to do in ryogoku, the things to see and what to eat in Ryogoku.
Things to do in Ryogoku
The Sumida Hokusai Museum
The Sumida Hokusai Museum opened in 2016 in Sumida City, Tokyo. This museum is dedicated to the famous artist Katsushika Hokusai. Hokusai's art is in the style of ukiyo-e, a Japanese genre of art that translates to "pictures of the floating world."
The museum has a permanent exhibition featuring high-resolution replicas of Hokusai's art with touch panels and multilingual information about his life and work. The four-storey museum is a piece of art in itself, a remarkable example of modern architecture designed by the Japanese architect Sejima Kazuyo. It also has a museum shop and a library offering books on Japanese art, especially ukiyo-e.
Price: 400yen
Find out more about The Sumida Hokusai Museum here on Google maps.
Edo-Tokyo museum
In March 1993, The Edo-Tokyo Museum was established. It is a space to reflect on the history and culture of Edo-Tokyo and envision the city and life of the future. Housed in a unique building modelled after an elevated-floor type warehouse, the museum has been a landmark and popular tourist attraction in Tokyo since its opening. Special exhibits -which change every few months- can also be seen. They have been about ghosts, art, literature, and even weapons. If you are a history lover, this place is a must-see!
Find out more about Edo-Tokyo museum here on Google maps.
Great Kanto Earthquake Memorial Museum
The Great Kanto Earthquake Memorial Museum was built in honour of the disastrous earthquake in Tokyo on September 1st 1923. Yokoamichio Park is now the site of many memorials to the lives lost during the earthquake including the Memorial Hall and the Great Kanto Earthquake Memorial Museum as well as to the victims of the air raids during WWII.
Entry to the Museum is free. The first floor explains about the earthquake and then has lots of photos of the damage that was done. Upstairs is a gallery filled with paintings that depict scenes from the earthquake as well as another section about the Tokyo Air Raids during WWII where once again many lives were lost to fire and much of Tokyo was destroyed. The entire tour in the museum takes around 20-30 minutes which is not long.
Admission: Free
Find out more about Great Kanto Earthquake Memorial Museum here on Google maps.
Japanese Sword Museum
The Japanese Sword Museum in Tokyo is a small museum dedicated to traditional sword making. The Japanese Sword Museum aims to preserve important swords and samurai artefacts, documenting the roughly 800 years of Japanese swords and their history. It is operated by The Society for Preservation of Japanese Art Swords. This museum costs 1,000yen for adults.
Find out more about Japanese Sword Museum here on Google maps.
Former Yasuda Garden
The Former Yasuda garden is a Daimyo garden in Sumida Ward, Tokyo. This is the first Japanese-style garden opened thanks to a contribution of a private philanthropist. Unfortunately, this garden was destroyed by the Great Kanto Earthquake and World War II. It was also ruined by the pollution of the Sumida River. After the jurisdiction of the garden was transferred from the Metropolis of Tokyo to Sumida City in 1969, it underwent an overall renovation and was newly opened to the public in 1971. The pond at the centre of the garden is the shape of a heart and is filled directly with water from the Sumida River, and thus rises and falls with the river's tide.
Find out more about Former Yasuda Garden here on Google maps.
Sumo Museum
Ryogoku is home to some of the biggest sumo wrestling events in the world, so we have arrived at the Sumo Museum to learn more about Japan's national sport! The museum is located right inside the Ryogoku Sumo Stadium. Here you can check out the art, clothing and equipment of sumo wrestlers. There are even woodblock prints of famous sumo wrestlers and official lists of sumo champions throughout the years.
Price: Free
Find out more about Sumo Museum here on Google maps.
Ryōgoku Edo NOREN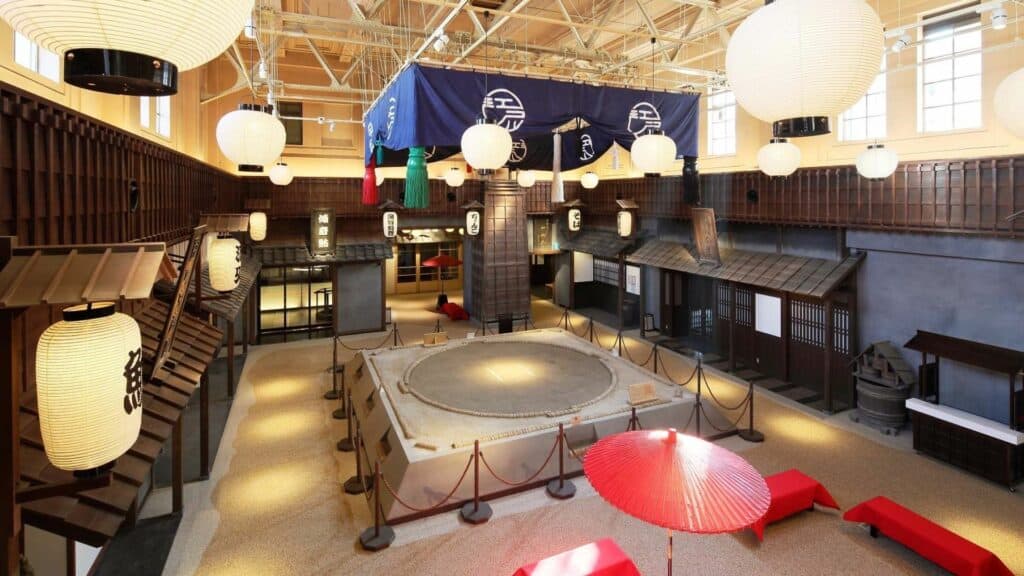 Edo NOREN brings the refined atmosphere of old Edo (as Tokyo was called until 1868) to the modern-day. At Edo NOREN with a full-scale Dohyo Sumo ring right at its centre, guests can enjoy recreational matches or Sumo shows up close. The space available for events has been expanded to allow direct access to the shops and Japanese restaurants serving classic fare lining this old city "street", so incentive tour groups can fully enjoy the atmosphere and food of Old Japan.
Find out more about Ryōgoku Edo NOREN here on Google maps.
Ryogoku Bridge
The Ryōgoku Bridge in Tokyo was built in 1659 spanning the Sumida River just upstream of its confluence with the Kanda River. Its name, meaning "two provinces", came from its joining Edo (the forerunner of Tokyo in Musashi Province) and Shimōsa Province. Fans of Japanese woodblock prints, or ukiyo-e, will also recognize the structure from artworks by masters such as Hokusai and Utagawa Hiroshige. Rebuilt in 1932 and later in 2008, the bridge is a short walk to and from nearby Ryogoku Kokugikan Sumo Hall. For an alternative view of the bridge's steel and girder construction, consider a cruise or boat ride down the river.
Find out more about Ryogoku Bridge here on Google maps.
Ryogoku Kokugido
If you're looking for a souvenir of your visit to the sumo capital of Japan, Ryogoku, Kokugido is the place to go. It has a lively and bright storefront. Here, you'll find a wide range of sweets and other sumo goods, many of which have illustrations of sumo wrestlers on the packaging, so there's bound to be something for you.
They sell homemade Anko Arare here. They are Japanese sweets that are made with red bean paste. Here, the snacks are moulded to imitate the semi-circular shape of the sumo ring. A generous amount of stuffing is placed in the dents and the crispy texture and the exquisite balance of sweetness and saltiness are exquisite. 
Find out more about Ryogoku Kokugido here on Google maps.
Honjo Matsuzakacho Park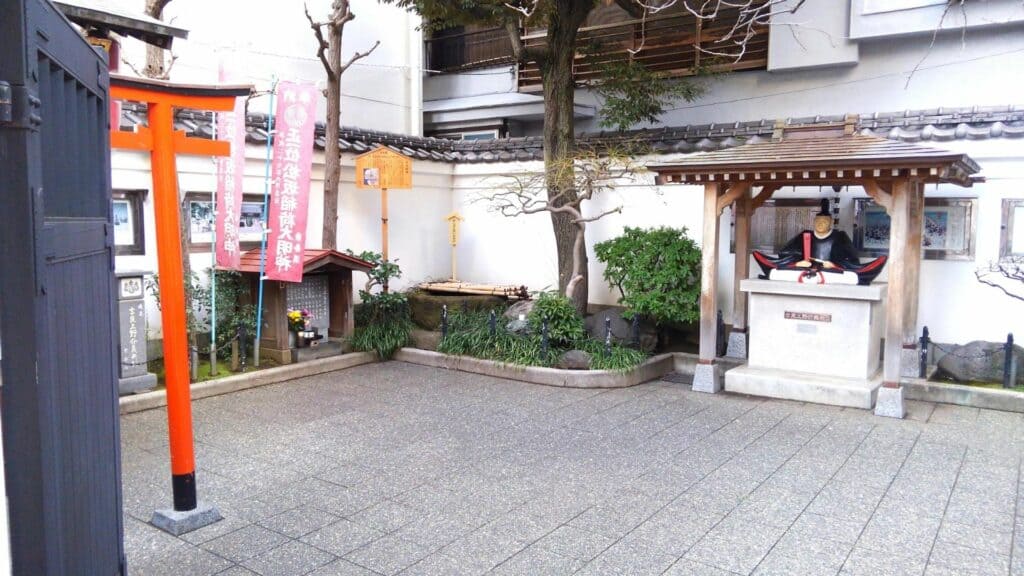 Honjo Matsuzakacho Park is the site of the mansion where Yoshio Kira lived after he retired from his position as the head of the Takaya family. It was the site of the "Kira-tei Dakiri" (Ako Incident), in which Kira Yoshio and more than 20 others were killed by the Ako Roshi.
In the past, Kira's residence occupied an area of about 8,400 square metres in this area but over the years it has been replaced by private houses and there is no trace of it today.
In March 1934, volunteers from the local community association purchased a section of the old mansion and donated it to the city of Tokyo as a historical park, which was transferred to Sumida Ward in September 1950.
The surrounding stone walls represent the dignity of a noble family in the Edo period, and within the park are the remains of the famous well and Inari shrine that once stood in the former Kira residence. There are also bronze panels on the inside walls showing records and paintings relating to the samurai.
Find out more about Honjo Matsuzakacho Park here on Google maps.
Ryogoku Fireworks Museum
Throughout the year -for free-, the museum displays samples of Edo era (1603-1868) fireworks and launchers, as well as posters and other paraphernalia from festivals around the country. Information in English is minimal, however, the abundance of physical and visual displays makes it a worthwhile visit for those with an interest in local history, or just an appreciation of colourful things that go boom (fireworks). Many spectacular festivals are held throughout the year. The Ryogoku fireworks museum exhibits not only photos, brochures and books from the past but also a cross-section of a firework ball, fireworks launcher, and workman's happi coat(it's a traditional short coat) called Hanten. They're very precious and you can't see them except here.
Find out more about Ryogoku Fireworks Museum here on Google maps.
Ekoin Temple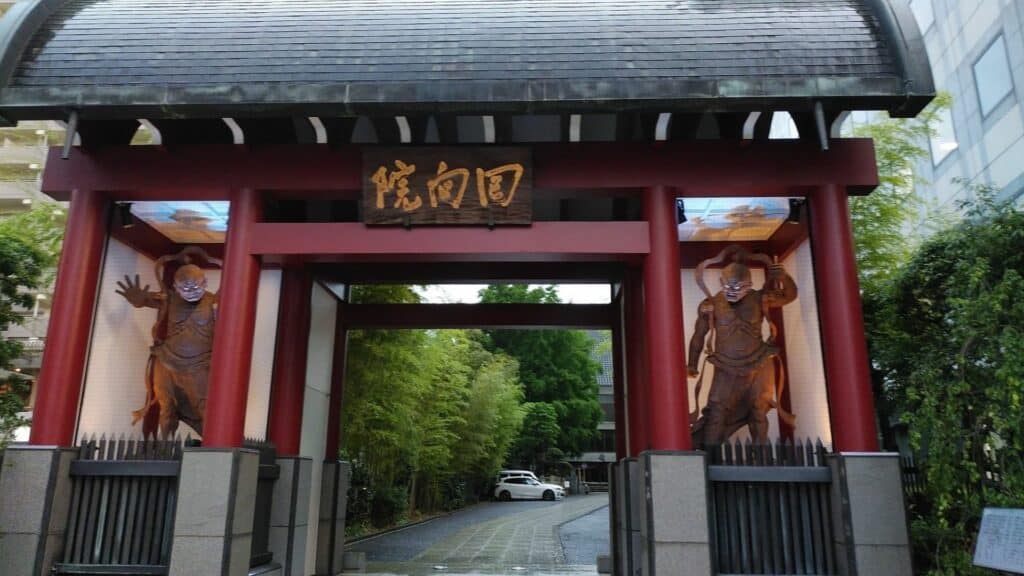 Ekoin is a temple of the Jodo sect that was opened in 1657, about 360 years ago.
When this temple was built, there was a great fire known as "Furisode Fire" and more than 60% of the city was burnt and the precious lives of more than 100,000 people were lost. Many of those who perished in this disaster were people whose identities and relatives were unknown. Ietsuna, the Shogun of the time, gave a plot of land on the east bank of the Sumida River, where the temple is now located, to bury the bodies of these people. At this time, a hall was built for the practice of Nembutsu, and this was the beginning of the history of Ekoin Temple.
Today, Ekoin Temple has been maintained to this day as a place that teaches the Buddha's compassion for all beings, whether they are related or unrelated, human or animal.
Find out more about Ekoin Temple here on Google maps.
Restaurants in Ryogoku
Chanko Kirishima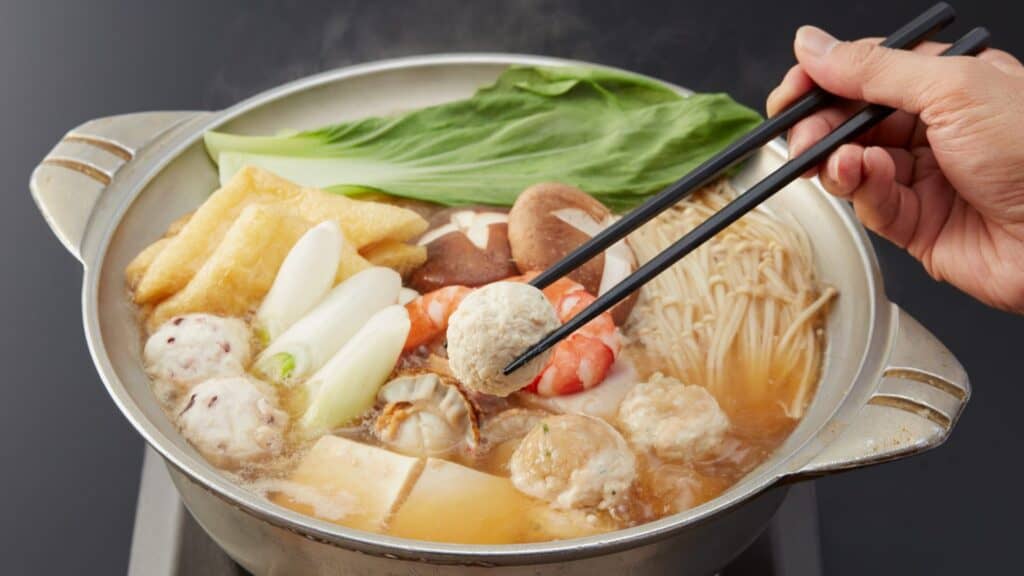 Chanko Nabe is known as the dish that sumo wrestlers eat. It is a delicious hot pot meal filled with protein and vegetables. Chanko Kirishima is operated by a former sumo wrestler. The typical chanko nabe you can get here comes with chicken, pork, minced balls and vegetables like cabbage, mushrooms and beansprout, along with noodles and tofu. The soup is created with pork and chicken bones and you can get different flavours to go along with your meal.
For lunch, Chanko Kirishima offers different sets of meals. For dinner, they have a range of courses for you to choose from and you can add additional toppings to your chanko nabe, as well as different side dishes and toppings. 
Find out more about Chanko Kirishima here on Google maps.
Hasegawa
Hasegawa became a Micheline restaurant in 2018. It is a tonkatsu restaurant that specialises in premium Sangenton pork from Yamagata. Sangenton pork is a cross between three different breeds of pig. The pork that is used at Hasegawa is produced at Hirata Farm. This farm was established in 1967 by young pig farmers in the Shonai area of ​​Yamagata prefecture. The farm created its own integrated production and processing and distribution systems, such as developing breeds of pigs with excellent meat quality, self-breeding production that handles from piglet production to fattening, and in-house management of the processing department.
The pork is very fresh on its own. The meat is flavourful and you can feel the meat melting in your mouth with each bite you take. They also offer different seasonings and sauces to go with your tonkatsu, such as wasabi and rock salt, with ponzu sauce and tonkatsu sauce.
Despite being a Michelin-starred restaurant, the price of each set meal is more than reasonable. If you're looking for a pork-loin cutlet set meal, it is ¥1,100 for lunch and ¥1,650 for dinner.
Find out more about Hasegawa here on Google maps.
Quan Hoi An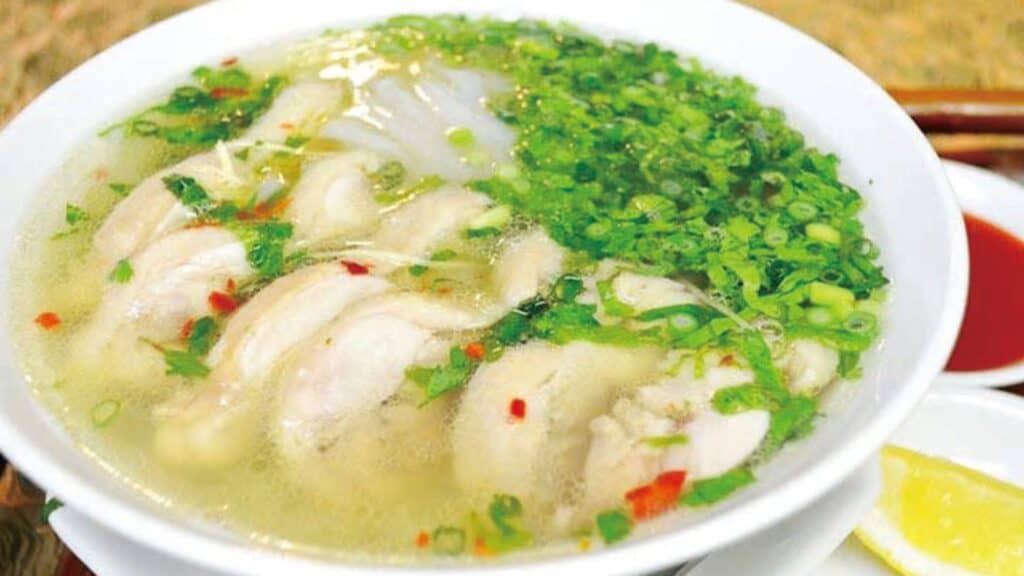 Quan Hoi An is an authentic Vietnamese restaurant in Ryogoku, serving Hanoi speciality dishes. They offer a wide range of delicious Vietnamese dishes and their pho dishes and Bun Cha Ta Hanoi dishes are very special. If you are looking for something different in the area, stop by Quan Hoi An for some delicious Vietnamese food.
Find out more about Quan Hoi An here on Google maps.
Hosokawa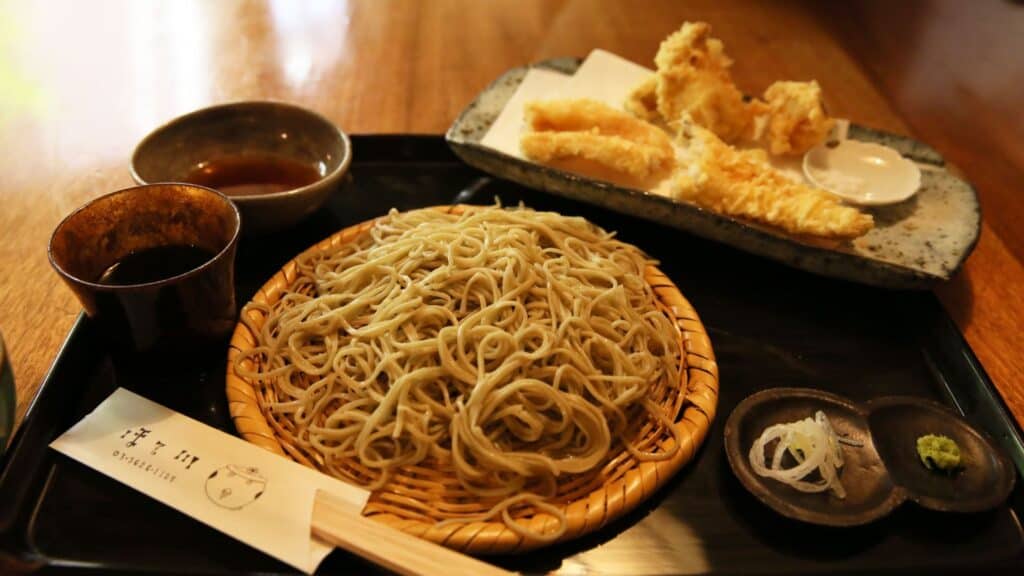 Hosokawa is a stylish family-owned store in Ryogoku, specialising in soba. This soba noodle shop is highly rated in the Japanese community, known for its dedication in creating authentic soba noodles. Once you go through the curtain and open the sliding door, you will find a sophisticated space that combines Japanese and modern atmospheres. The owner, Takashi Hosokawa, has genuine craftsmanship that has dedicated his career to creating and improving soba noodles.
At Hosogawa, they source soba flour procured from Ibaraki, Hokkaido and Shikoku and make their original buckwheat homemade flour. By making only the required amount of soba for the day, you can feel the flavour of freshly ground soba in your meal.
Find out more about Hosokawa here on Google maps.
Ryogoku Terrace
About a 5-minute walk from Ryogoku Station, next to the former Yasuda Garden, Ryogoku Terrace Cafe is a cafe where you can relax while gazing at the greenery of the garden. It is a simple but very fashionable spacious shop with terrace seats. What is unique about Ryogoku Terrace Cafe is the kotatsu! The kotatsu seats are set up for everyone and anyone who wants to enjoy a meal in winter.
Ryogoku Terrace Cafe, which is popular for its well-balanced meals has a "Kaya Athlete Cafeteria" that mainly serves healthy meals, and you can also enjoy the set meal menu of the athlete cafeteria at the cafe. There is also a pizza main space and a BBQ space, so you can enjoy this restaurant in different ways.
Find out more about Ryogoku Terrace here on Google maps.
Wool Club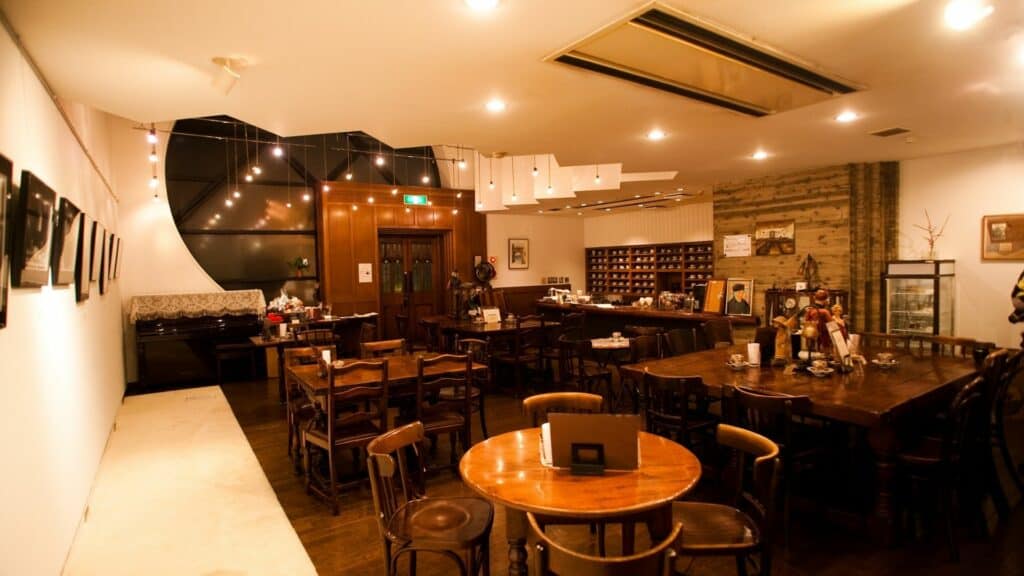 Once you step inside Wool Club, you will find antique furniture and antique items lined up here. Even if you don't particularly like antiques, you would enjoy the spacious and calm atmosphere here. There are many homemade items on the menu and they have great coffee to go along with the food items. It is a great place to visit for a relaxing time.
Find out more about Wool Club here on Google maps.
Ori Tokyo Cafe
Ori Tokyo Cafe is about a 2-minute walk from the A3 exit of Ryogoku Station. Sumida Hokusai Museum is right nearby and it is a perfect shop for lunch and breaks. In this modern Japanese store, works that express Katsushika Hokusai's masterpiece "Thirty-six Views of Mt. Fuji" in "weave" are displayed all over the wall. Ori Tokyo Cafe offers a wide range of popular sweets and delicious matcha tea. You can spend a relaxing time here admiring the artwork.
Find out more about Ori Tokyo Cafe here on Google maps.
Kameido Gyoza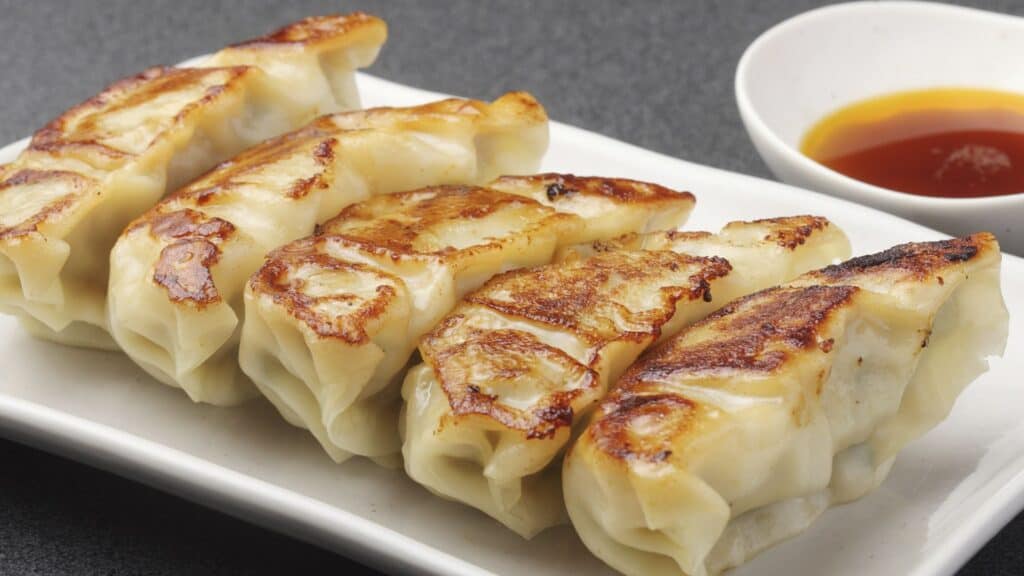 Since Kameido Gyoza was founded in 1953, they have only served dumplings. Kameido Gyoza uses carefully selected domestic vegetables and domestic pork for the bean paste. The dumplings are filled with a crunchy and delicious mix of chopped vegetables.
Kameido Gyoza in Ryogoku is a little different from the other shops. It is a 3-minute walk from Ryogoku Station on the Toei Oedo Line. They have dishes such as fried rice and ramen besides dumplings.
Find out more about Kameido Gyoza here on Google maps.
Hotels in Ryogoku
The Gate Hotel Ryogoku by Hulic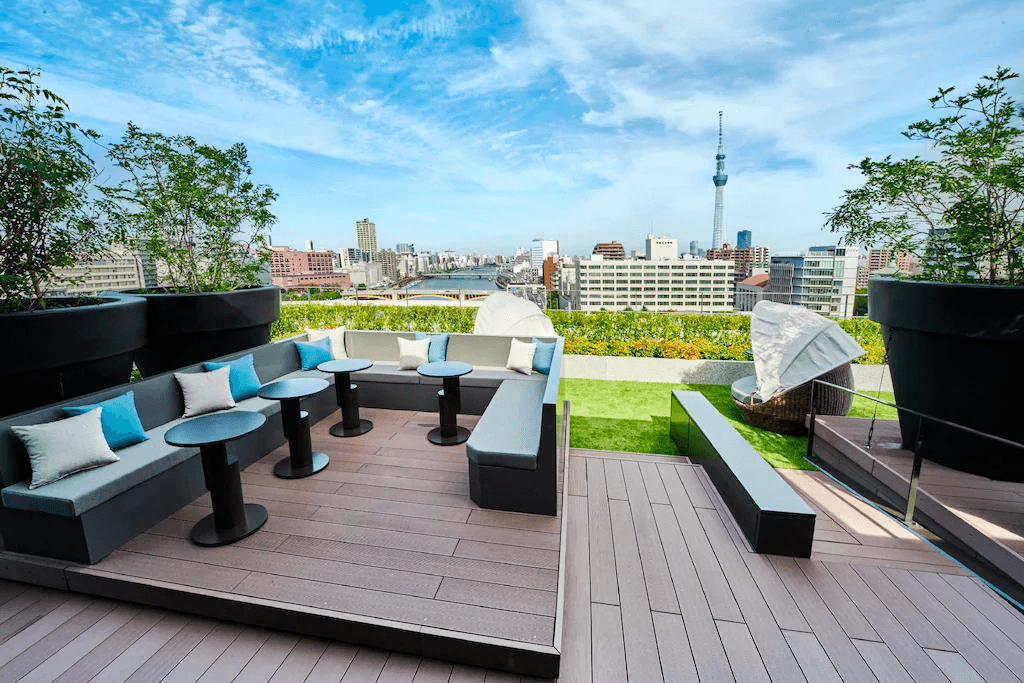 Boasting a bar, terrace and views of river, The Gate Hotel Ryogoku by Hulic is set in Tokyo, 100 m from Kyu Yasuda Garden. Among the facilities of this property are a restaurant, a 24-hour front desk and a concierge service, along with free WiFi throughout the property. The accommodation offers luggage storage space, and currency exchange for guests.
The units in the hotel are equipped with a kettle. Complete with a private bathroom fitted with a bidet and slippers, all guest rooms at The Gate Hotel Ryogoku by have a flat-screen TV and air conditioning, and certain rooms also offer a seating area. At the accommodation all rooms include bed linen and towels.
Guests at The Gate Hotel Ryogoku by Hulic can enjoy a continental breakfast.
Popular points of interest near the hotel include Sumo Museum, Ryogoku Kokugikan National Sumo Stadium and Japanese Sword Museum. The nearest airport is Tokyo Haneda International Airport, 16 km from The Gate Hotel Ryogoku by.
Address: 130-0015 Tokyo-to, Sumida-Ku Yokoami 1-2-13, Japan
Henn na hotel Tokyo Asakusabashi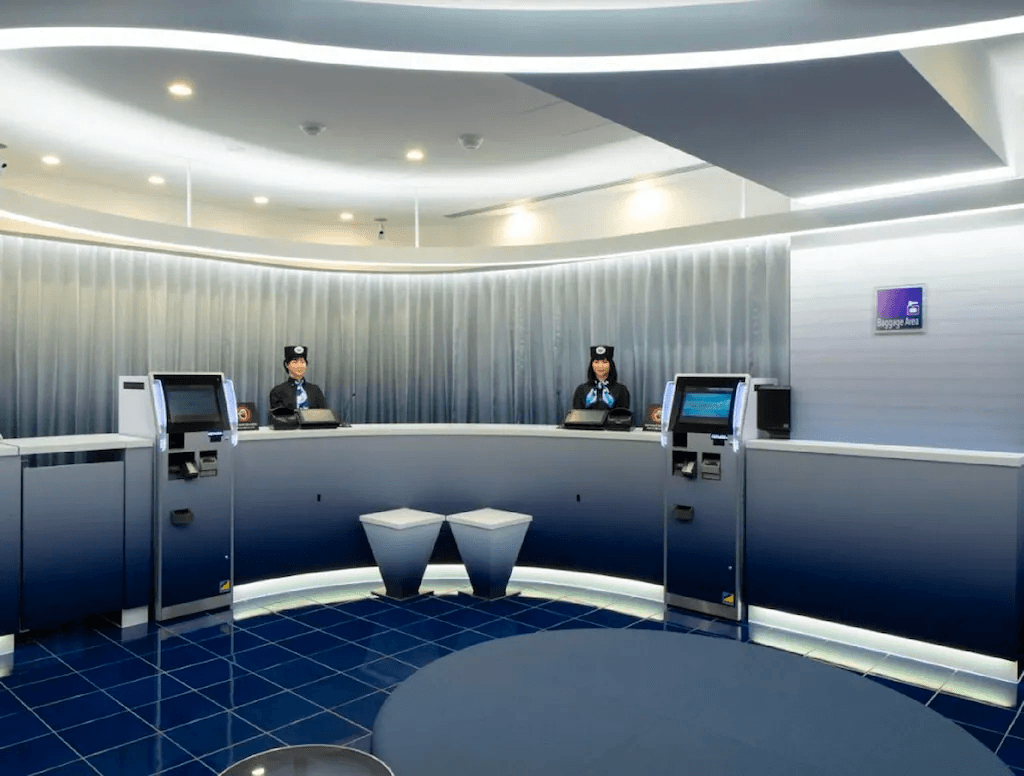 Attractively located in the Taito district of Tokyo, Henn na Hotel Tokyo Asakusabashi is situated 300 m from Ichogaoka Hachiman Shrine, 300 m from Hulic Hall and Hulic Conference and 500 m from Asakusa Mitsuke Memorial. Among the facilities of this property are a restaurant, a 24-hour front desk and a shared lounge, along with free WiFi throughout the property. The property is close to popular attractions like Shishiki Shrine, Jinnai Shrine and Hatsunemori Shrine.
The hotel will provide guests with air-conditioned rooms offering a desk, a kettle, a fridge, a safety deposit box, a TV and a private bathroom with a bidet. A buffet breakfast is available each morning at Henn na Hotel Tokyo.
Popular points of interest near the accommodation include Japan Stationery Museum, Kusawakeinari Shrine and Sakuma Park. The nearest airport is Tokyo Haneda International Airport, 28 km from Henn na Hotel Tokyo Asakusabashi.
Address: 111-0053 Tokyo-to, Taito-ku Asakusabashi 1-10-5, Japan
Khaosan World Ryogoku Hostel
Khaosan World Ryogoku Hostel is the biggest hostel in Tokyo, located in Ryogoku. Easy access from JR Ryogoku Station and Toei Oedo Line Ryogoku Station. It is walking-distance to go to Ryogoku Kokugikan and Edo-Tokyo Museum All kinds of travelers like backapackers, couples, family and group travelers are welcomed! We have mixed and female-only dormitory rooms, private rooms for 3-6 people group.
Address: 4-30-5 Ryogoku, sumida-ku, Tokyo, Japan
—
Ryogoku has so much to offer. Not only are you able to experience the sumo culture, but you can also discover many local and famous places. If you are a fan of Japanese culture and history, definitely stop by Ryogoku. Enjoy your adventure around Ryogoku, and refer back to this guide whenever you need to!