Have you ever heard of the Tokyo neighbourhood, Shibamata? Are you thinking about visiting this unique area of Tokyo or even staying in Shibamata, and wondering what are some things to do, places to visit and restaurants to check out?
There are so many neighbourhoods and areas in Tokyo. Besides the famous towns like Shinjuku, Shibuya and Harajuku, there are many incredible places and spots in Tokyo that are worth a visit. If you're looking to visit a local neighbourhood and check out some hidden gems, Shibamata might be a great place to check out. In this Shibamata area guide, let's have a look at what to do in Shibamata, where to eat and drink in Shibamata, where to stay in Shibamata and some hidden gems in the area.

One of the best ways to explore Tokyo is to visit the local areas and immerse yourself in the local culture. If you want to explore local areas, we have created scavenger hunt adventures personalised to your interests, filled with fun facts, clues and puzzles. If you're curious, you can check out the games here!

Check out the Flip Japan Games here!

What is Shibamata?
Shibamata is a suburb in Tokyo, Japan. It is a quiet and peaceful neighbourhood with a population of 15,000 people. Travelling to Shibamata is like going back in time. The streets here are lined with retro traditional Japanese shops and restaurants with a nostalgic atmosphere.
The main street here is called Shibamata Sando, leading to Taishakuten Temple, and the street is filled with the smell of toasted rice crackers and dango sweets. The shop owners and local residents here are friendly and the slower pace of this area makes it a great escape from the hustle and bustle of the city.
Shibamata was originally a fishing village and the only way to get there was by boat. The village was established during the Edo period in 1721 and it became popular for its seafood restaurants. It also became an important place for rice production because of its proximity to the Edo river which provided water for irrigation.
In 1868, after the Meiji Restoration, Shibamata became part of Tokyo's 23rd district or Taito Ward. That same year it also had its first train station built which made transportation easier and faster than ever before. Shibamata finally changed from being an agricultural town to becoming an industrial town in 1906.
Shibamata is well-known among older Japanese people as the hometown of Tora-san, the main character of a film series called "Otoko wa Tsuraiyo". The film title means "it's tough being a man". The film series stars Kiyoshi Atsumi as Tora-san, a travelling salesman wandering from town to town, hoping to return to his home in Shibamata. Each film featured a different leading lady and a different region of Japan.
In Shibamata, you can find multiple reminders of this film, from the bronze statues of Tora-san and his sister, Sakura, at Shibamata Station. Some of the shops along the shopping street have posters and decorations from "Otoko wa Tsuraiyo".
Things to do in Shibamata
Shibamata Station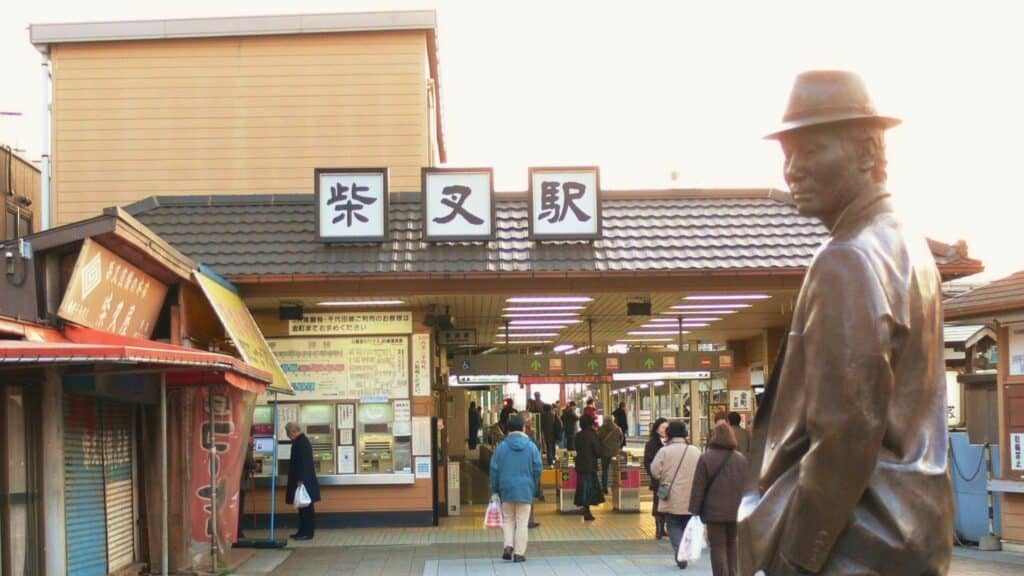 You can find a few different reminders of the film like the bronze statues of Tora-san and his sister, Sakura, who greet visitors outside Shibamata Station.
Find more about Shibamata Station here on Google maps.
Taishakuten Sando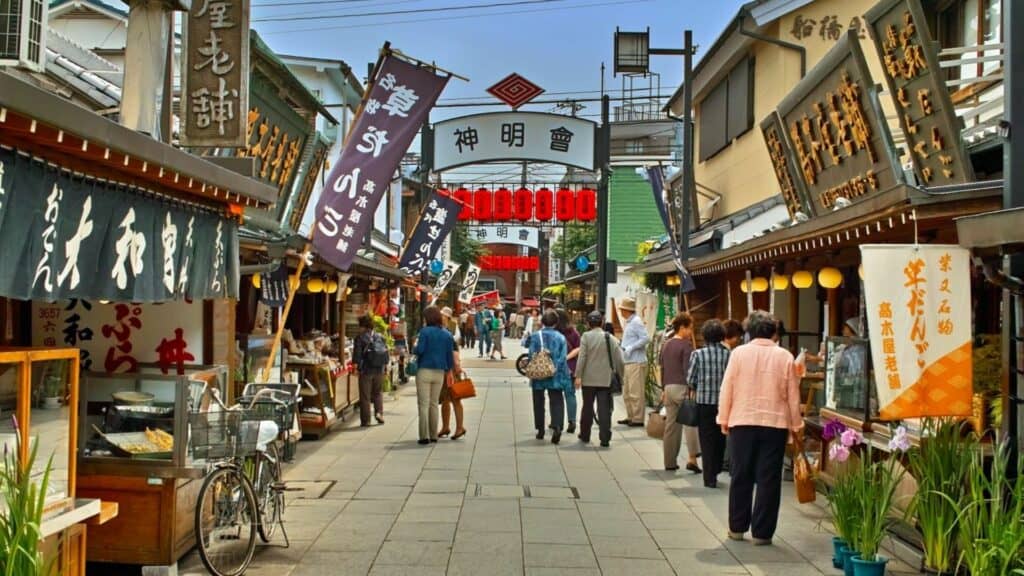 Taishakuten Sando is a beautiful street full of traditional street food stalls and shops. The 200-meter street from Shibamata Station to Shibamata Taishakuten has a nostalgic atmosphere. It is the town's main shopping street and this quaint street is lined with many shops selling local specialities and old wooden buildings. Some of the shops here have long histories and still maintain their traditional exterior designs. Try out the traditional Japanese foods like the Japanese dango, dorayaki and unagi here.
Taishakuten Sando was also the setting for the movie "Otoko wa Tsuraiyo". The statue of Tora-san near the entrance of the street is a popular commemorative photo spot and is crowded with many tourists. Stroll along the street while enjoying the good old-fashioned downtown atmosphere.
Find more about Taishakuten Sando here on Google maps.
Shibamata Information Centre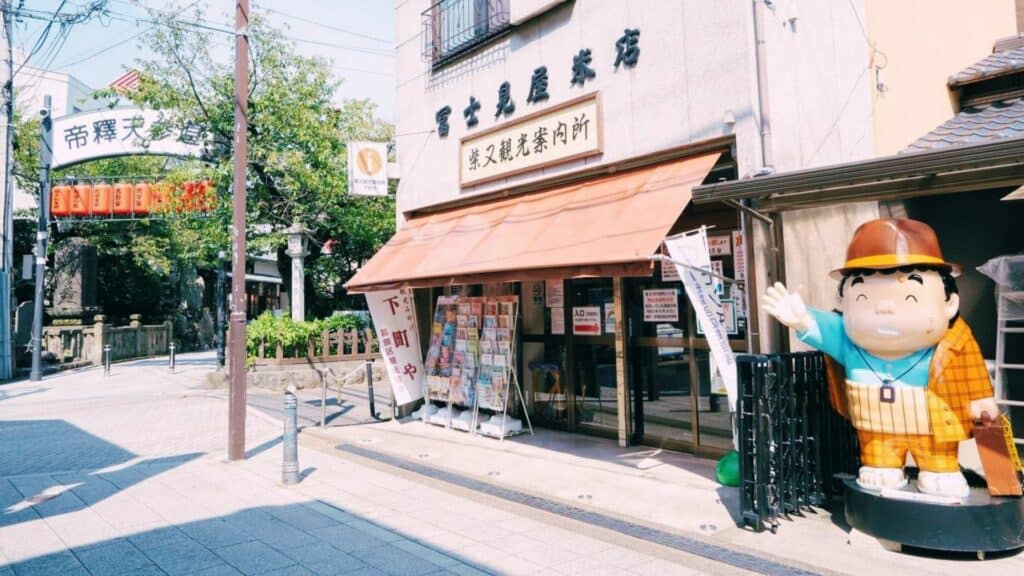 If you're not sure where to go and what to do in Shibamata, check out the Shibamata Information Centre. You can get different help and recommendations for things to experience here. You can also learn more about the movie "Otoko wa Tsuraiyo" here and different information about "Tora-san". Right outside Shibamata Information Centre, you can also find the statue of the town mascot, Tora-san, making it a great photo spot.
Find more about Shibamata Information Centre here on Google maps.
Shibamata Haikara Yokocho 柴又ハイカラ横丁 Shibamata Toy Museum
In front of Taishakuten Sando, you will find this unique Showa-style building. It is a very popular photo spot and is crowded with tourists, especially on the weekends.
The 1st floor of the building is the Shibamata Hikara Yokocho, where you can shop and experience all kinds of nostalgic and traditional Japanese things. There are about 1,000 kinds of sweets, goods and toys. The product lineup is more complete than most other old candy stores. There are many affordable items here and these colourful souvenirs can bring you to old Japan and back to your childhood.
There is also a game corner, where you can experience nostalgic Japanese games that you can hardly find these days. There are different arcade machines here and you can enjoy the festival shooting stall. You can truly feel like you have travelled back in time here.
The 2nd floor is the Toy Museum. The owner wants to convey the idea of a "toy town" and you can see a huge collection of toymakers and Shibamata candy stores, toy stores, stalls and more. When you step into the museum, you will find toys that captivated the children of the Showa era. The genres range from general household toys to large toys that look like they were on the roof of a department store. Come here to the Toy Museum and surround yourself with toys that cannot be found anywhere else.
Admission fee: 200yen
Find more about Shibamata Haikara Yokocho here on Google maps.
Find more about Shibamata Toy Museum here on Google maps.
Shibamata Taishakuten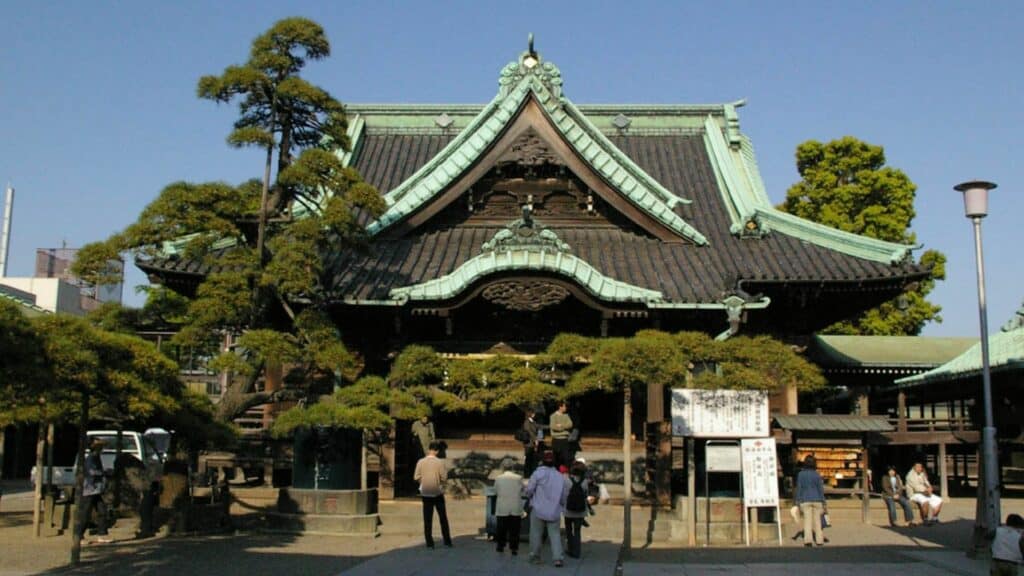 Shibamata Taishakuten is a Buddhist Temple first built-in 1629. It is famous for its beautiful wooden carvings. At the back of the Taishakudo Hall, you can see elaborate and intricate carvings detailing Buddhist lore and scripture. The temple is not only gorgeous but also peaceful, and is surrounded by traditional areas for you to enjoy, including the Sankeien garden and Takshakuten Sandō. Shibamata Taishakuten is the heart of the Shibamata area and a must-see.
Located behind the Shibamata Taishakuten temple, Sankeien is a beautiful scenic garden designed by Nagai Rakuzan in the 1920s. The garden conveys a very peaceful and tranquil atmosphere, and the garden's main focus is the pond in the very centre. Coupled with the tranquillity of the Shibamata Taishakuten, your experience at Suikeiein will help you tap into your love of nature.
Admission to enter Suikeien and the sculpture gallery:
Adults: 400 yen
Children (elementary and junior high school students): 200 yen
Find more about Shibamata Taishakuten here on Google maps.
Yamamoto-tei
Yamamoto-tea is a traditional Japanese house that blends western-elements into its architecture. It was once the home of Yamamoto Einosuke, a businessman who manufactured camera parts. The architectural style of Japanese and Western blended elements is called sukia-zukuri, which was a popular design style in the Edo period. Outside of the house is a beautiful garden for you to enjoy, and on certain days, you can also enjoy traditional musical performances as well! There is a small cafe here so you can try out their Matcha, coffee and ramune and spend a relaxing time while looking at the garden.
Admission: 100yen
Tora-san Museum & Yoji Yamada Museum
General: 500 yen
Children / students: 300 yen
Silver (Elderlies above 65 years old): 400 yen
Yamamoto-tei & Tora-san Museum & Yoji Yamada Museum
General: 550 yen
Children / students: 350 yen
Silver: 450 yen
Find more about Yamamoto-tei here on Google maps.
Tora-san Museum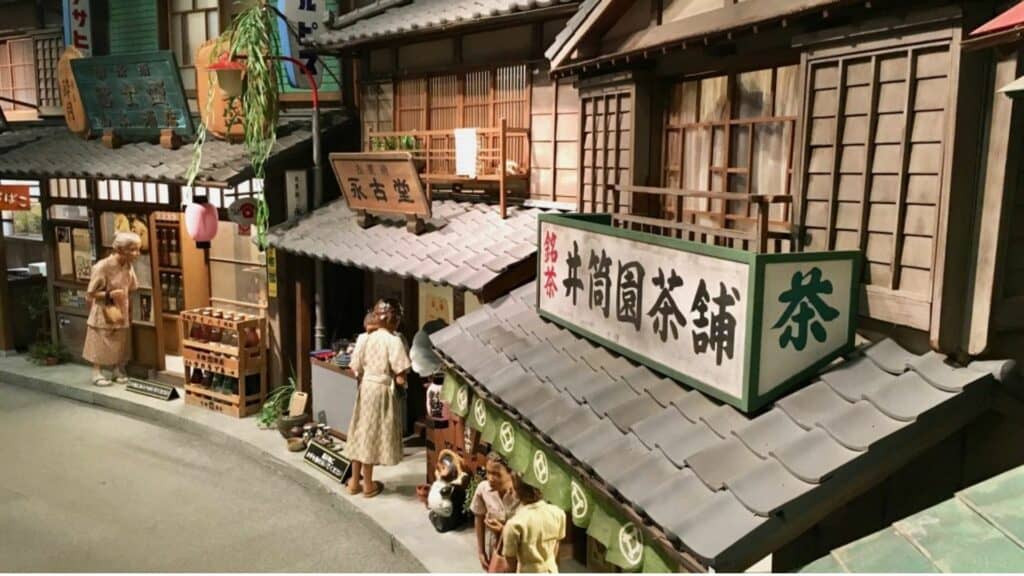 Have you ever seen the film series Otoko wa Tsurai yo (It's Tough Being a Man)? It was a beloved series about a wandering salesman from Shibamata and his struggles as he tries to find love and settle down. The Tora-san Museum is dedicated to this series, and is home to paraphernalia, costumes and set designs from the series. Not only is the museum a great homage to the series, but it is also a great portrayal of Japan in the 60s and '70s. Even if this is the first time you have heard of Otoko wa Tsurai yo, we recommend you check out the museum for a trip to Tokyo's past!
Find more about Tora-san Museum here on Google maps.
Yamada Yoji Museum
The Yamada Yoji Museum is dedicated to the famous Japanese television and film director, Yamada Yoji. He directed the famous Otoko wa Tsurai yo series (the Tora-san Museum dedicated to the series is in the same housing complex as the Yamada Yōji Museum!), his famous Samurai Trilogy and more retro works. The museum has film equipment and paraphernalia of Yōji's works. The museum is great for film lovers from all over!
Find more about Yamada Yoji Museum here on Google maps.
Yagiri no Watashi
The Yagiri no Watashi crossing connects Shibamata with Matsudo city in Chiba. The traditional ferry that takes you across the river is motorless and provides a peaceful crossing for you to enjoy the surrounding nature.
The boat has been around since the Edo period and the crossing has been listed as one of the top 100 landscapes of Japan that represent Japan during the Heisei era. The ferry holds a maximum of 30 people at a time.
A fun fact about Yagiri no Watashi is that it is the name of a hit song from 1983 by Takashi Hosokawa. The song recounts the tale of a couple that attempts to run away via the Yagiri no Watashi crossing because their parents disapprove of their relationship.
Operation: 10:00-16:00
Mid-March-November: Every day
December-early March: Saturdays, Sundays and public holidays (operating on 1st-7th January)
Price:
Junior high school students and above 200 yen
Children (4 years old to elementary school students) 100 yen
Find more about Yagiri no Watashi here on Google maps.
Restaurants in Shibamata
Yamatoya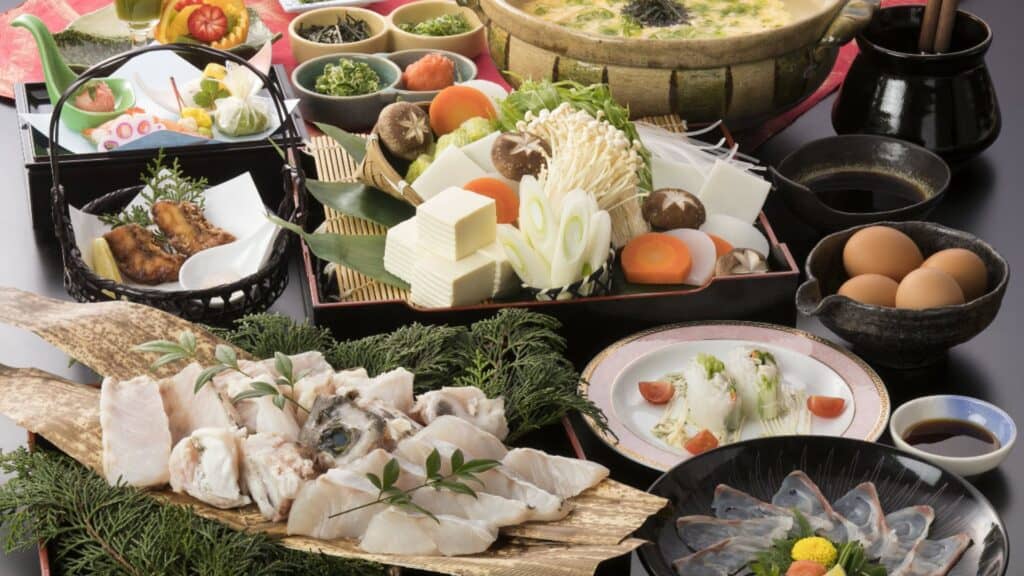 If you're craving delicious and traditional-style tempura, Yamatoya is the place to go in Shibamata! They serve homemade tempura and have been in business for more than 150 years! You can order their tempura bowl (tempura-don) for tempura of your choosing and other ingredients on top of rice, or just order some classic tempura by itself!
Find more about Yamatoya here on Google maps.
Takagiya Rōho
Takagiya Rōho is a sweets shop in Taishakuten Sandō that sells many traditional Japanese sweets and snacks that represent the Shibamata area. Takagiya Rōho is especially famous for kusa dango and senbei crackers. Kusa dango, called mugwort dumplings in English, are sweet dumplings made from rice flour. Senbei crackers are salted rice crackers. Takagiya Rōho is the place to go to taste the rich history and flavours of Shibamata.
Find more about Takagiya Rōho here on Google maps.
Kawachiya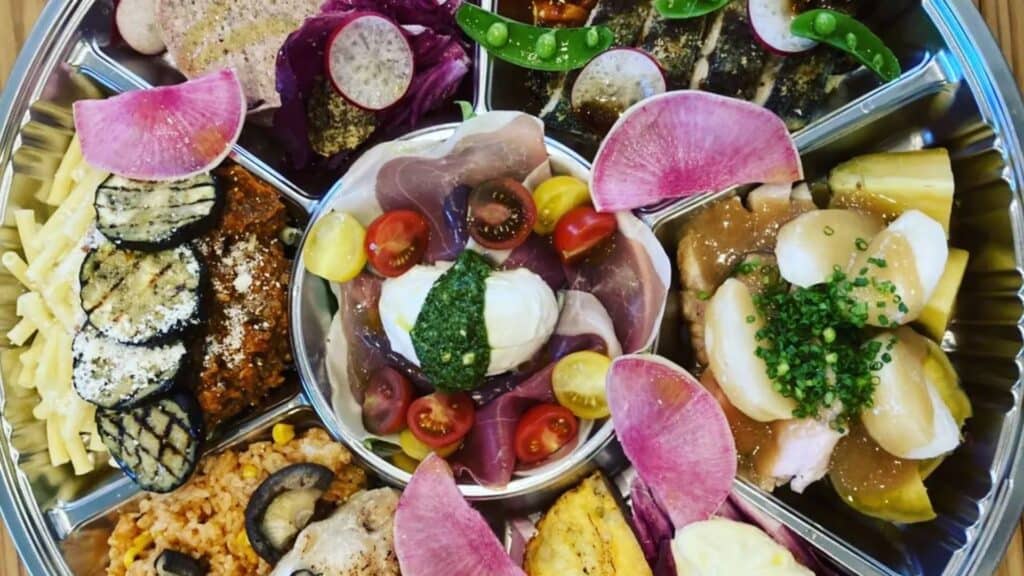 Kawachiya is a famous gourmet restaurant that has been in business for 250 years. It is said that this restaurant used to be a teahouse that a farmer started as a side business for worshipers of Teishakuten. Kawachiya has a large hall that can accommodate 100 people and private rooms. Long been popular for their carp and eel dishes, Kawachiya has been known for their fantastic cuisine and is loved by both local and international visitors.
Find more about Kawachiya here on Google maps.
大国屋 Okuniya
Okuniya is an oden speciality store. The owner is the younger brother of the owner of Okuniya in Kyojima, and has been selling oden dishes in Shibamata since 1987. Freshly made oden is loved by both local residents and tourists. They also offer shaved ice, which is popular during the warmer months.
About 14 kinds of oden are lined up in the store. Depending on the season, sometimes they have more varieties. The oden here is simple but classic. From Boil daikon radish to eggs, shirataki noodles and knotted kelp, it is a dish that can warm up your body. The size of each item here seems to be quite big as well. If you like oden, definitely give it a try when you visit Shibamata.
Find more about Okuniya here on Google maps.
と陸 Toroku
Toroku is a local monjayaki and okonomiyaki restaurant in Shibamata. There's a wide variety of items for you to choose from, along with different toppings you can add. Their monjayaki is especially popular, with two types of tastes for you to choose from. There is the salt base white monjayaki and the signature sauce monjayaki. There are also different side dishes and drinks you can get to go with your dish. The place is cosy and you will feel like a part of this local community when you visit this homey restaurant.
Find more about Toroku here on Google maps.
Pizzeria luna e dolce
Pizzeria luna e dolce is a Neapolitan pizza specialty store in Shibamata. Here, you can get authentic Neapolitan pizza baked by craftsmen that have been certified by the Neapolitan Pizza Craftsmen Association. The kiln-baked Neapolitan pizza has a wonderful chewy texture and is made with fresh ingredients. Besides their signature Neapolitan pizza, their Margherita, Marinara and Pomodolini pizzas are also popular. This is a great place to stop by and enjoy delicious pizza and wine to rejuvenate your body.
Find more about Pizzeria luna e dolce here on Google maps.
Hotels in Shibamata
灯光旅館 Light hotel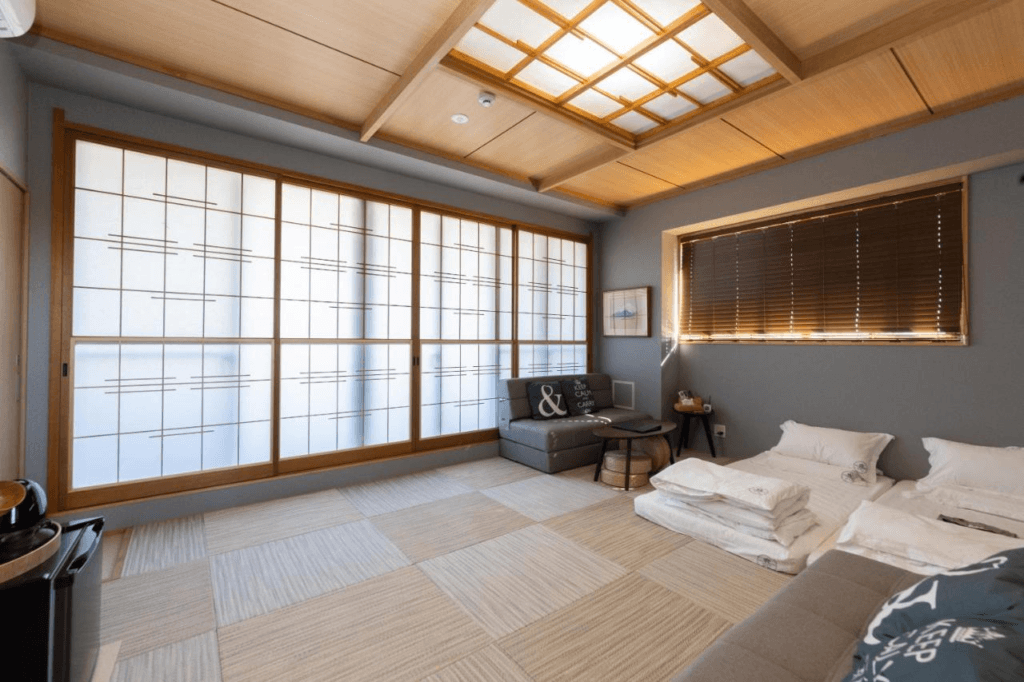 Located in Tokyo, 500 m from Shoganji Temple, 灯光旅館 Light hotel features views of the city. Featuring family rooms, this property also provides guests with a sun terrace. The accommodation provides room service and free WiFi throughout the property.
All units in the hotel are equipped with a kettle. Every room is equipped with air conditioning, a safety deposit box and a flat-screen TV, and certain rooms at 灯光旅館 Light hotel have a balcony. All guest rooms will provide guests with a fridge.
Popular points of interest near the accommodation include Bronze statue of Genzo Wakabayashi, Hikifunegawa Water Park and Katsushika City Museum. The nearest airport is Tokyo Haneda International Airport, 22 km from 灯光旅館 Light hotel.
Address: 125-0062 Tokyo-to, 葛飾区青戸1-6-6, Japan
Sky Heart Koiwa Hotel
Conveniently located a 1-minute walk from Keisei Koiwa Station, Hotel Sky Court Koiwa offers cosy rooms with free WiFi access and an on-site restaurant. Guests can reach Ueno with a 20-minute train ride while Tokyo Disneyland and JR Tokyo Station are located a 55-minute train ride away.
All rooms at Hotel Sky Court Koiwa are air-conditioned and come with a flat-screen TV, refrigerator and work desk. The en suite bathroom comes with free toiletries, a hairdryer and slippers.
A vending machine and coin-operated internet terminal are available.
Address: 133-0051 Tokyo-to, Edogawa-ku Kitakoiwa 6-11-4 , Japan
Nice Hostel Kameari
Set in Tokyo, 500 m from Kameari Kochikame Statue, Nice Hostel Kameari offers air-conditioned rooms with free WiFi. The property is situated 2 km from Higashiayase Park, 2.1 km from Oyata Park and 2.3 km from Horyuji Temple. The hostel features family rooms.
At the hostel, every room includes a desk, a flat-screen TV, a private bathroom, bed linen and towels. The units will provide guests with a microwave.
Popular points of interest near Nice Hostel Kameari include Kameari Katori Jinja Shrine, Ario Kameari Shopping Mall and Katsushika City Museum. The nearest airport is Tokyo Haneda International Airport, 37 km from the accommodation.
Address: 125-0061 Prefecture Tokyo, Katsushika-ku Kameari 5-34-6 Kameari Court, Japan
—
Shibamata is a unique neighbourhood that still has the beautiful old townscape of Tokyo. Would you want to come and visit Shibamata? Find out more about different underground neighbourhoods in Tokyo here. If you are interested in finding more underrated areas around Japan, check out all the areas we have explored and loved here!