Have you ever heard of the Tokyo neighbourhood, Shimokitazawa? Are you thinking about visiting this unique area of Tokyo or even staying in Shimokitazawa, and wondering what are some things to do, places to visit and restaurants to check out?
There are so many neighbourhoods and areas in Tokyo. Besides the famous towns like Shinjuku, Shibuya and Harajuku, there are many incredible places and spots in Tokyo that are worth a visit. If you're looking to visit a local neighbourhood and check out some hidden gems, Shimokitazawa might be a great place to check out. In this Shimokitazawa area guide, let's have a look at what to do in Shimokitazawa, where to eat and drink in Shimokitazawa, where to stay in Shimokitazawa and some hidden gems in the area.

One of the best ways to explore Tokyo is to visit the local areas and immerse yourself in the local culture. If you want to explore local areas, we have created scavenger hunt adventures personalised to your interests, filled with fun facts, clues and puzzles. If you're curious, you can check out the games here!

Check out the Flip Japan Games here!

What is Shimokitazawa?
Shimokitazawa is located in the district of Setagaya, Tokyo. It is a hub for fashionistas who love to go thrift shopping. As well as thrift stores there are endless unique restaurants and shops that build the hipster and indie atmosphere of Shimokitazawa. You can get lost in the streets, being inspired by the many different quirks of this neighbourhood. If you need a one-of-a-kind accessory or clothing item to add to your wardrobe, then Shimokitazawa is the place for you!
Things to do in Shimokitazawa
Senrogai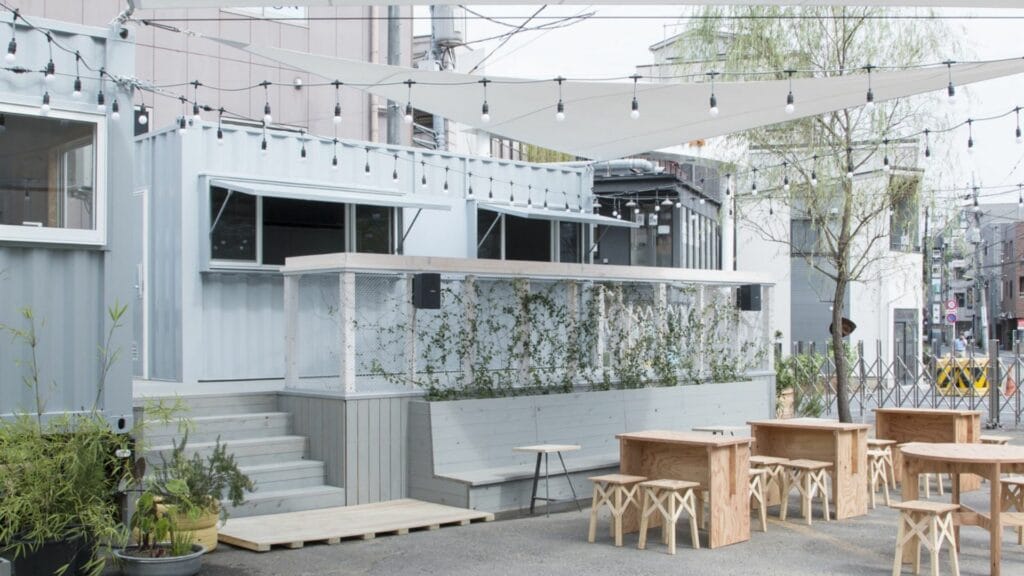 Depending on the day, what you find in Senrogai Senrogai is different. Senrogai is a Shimokita Railroad Street. It is a big space that is 1.7 kilometres long and it was created with the development of the train track site from Tohokuzawa Station to Setagaya-Daita Station on the Odakyu Line.
Different events are held here. There is also a popup kitchen, where the owner changes regularly. Not only famous stores but unique and local stores are set up here. Besides this popup kitchen, there are also different popup shops, selling handmade crafts, imported miscellaneous goods, used clothes and more.
Find out more about Senrogai here on Google maps.
Bonus Track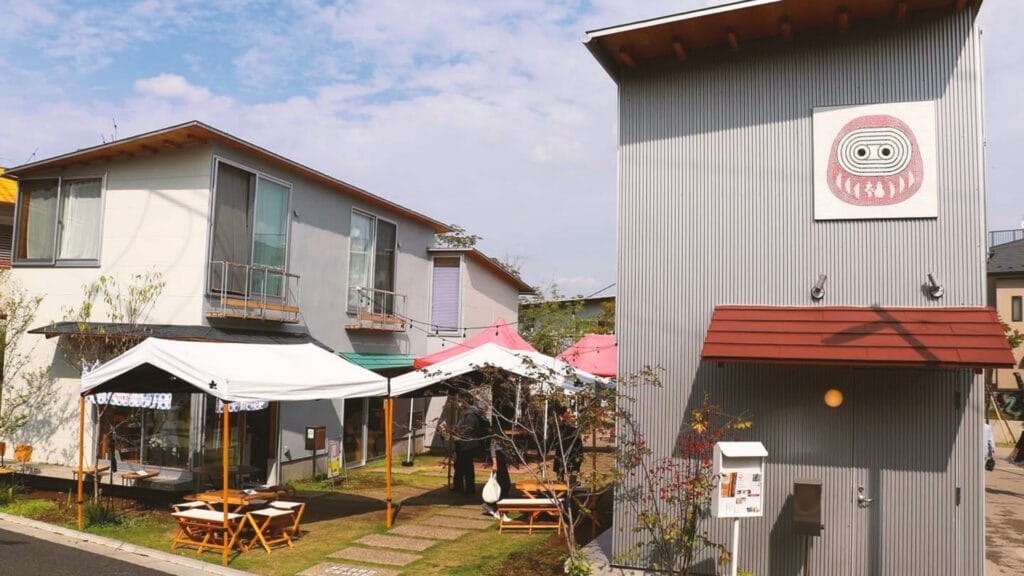 Bonus Track opened in 2020 between Shimokitazawa Station and Setagaya-Daita Station. It is a new style shopping district consisting of 4 SOHO buildings with integrated stores, housing and 4 commercial buildings. Bonus tracks have a lot of things for you to explore, such as restaurants, retail stores, coworking spaces, shared kitchens, plazas and more.
Here in Bonus Track, there is a croquette specialty store called Koisuru Pig Research Institute Croquette Cafe. Here in this area, you can enjoy shopping and walking around the city while interacting with the local residents. Besides this, the new bookstore, Bookstore B & B, holds events every day. There is also a fermented food specialty store.
Find out more about Bonus Track here on Google maps.
Gallery HANA Shimokitazawa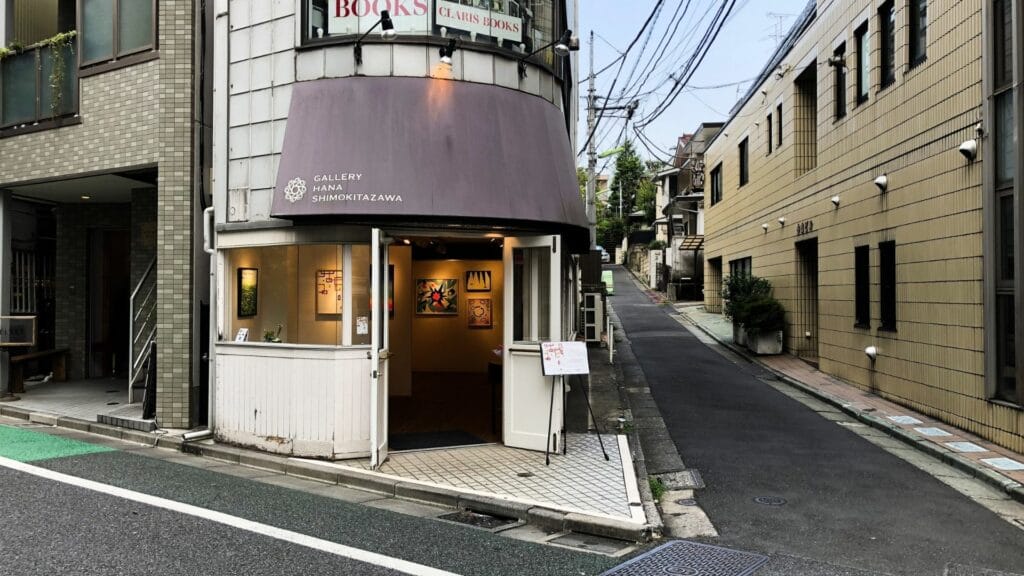 Gallery HANA is a gallery in the shopping district. It is a small gallery-like a hideaway in Shimokitazawa Ichibangai Shopping Street. Shimokitazawa has a long history as a planning and rental gallery. There are various genres of exhibitions such as paintings and crafts. The contents of the exhibition change two to three times a month, so you can meet new art every time you visit.
Find out more about Gallery HANA Shimokitazawa here on Google maps.
B&B (Book&Beer)
B&B stands for "BOOK & BEER". It is a bookstore where you can choose books while drinking drinks, including alcoholic beverages like beer and wine, and specialty coffee grounds from beans. Books of a wide range of genres personally selected by each staff are lined up. They also hold daily events inviting guests of different genres such as writers and editors, and there are plenty of things to enjoy here.
Find out more about B&B (Book&Beer) here on Google maps.
Kiryuusha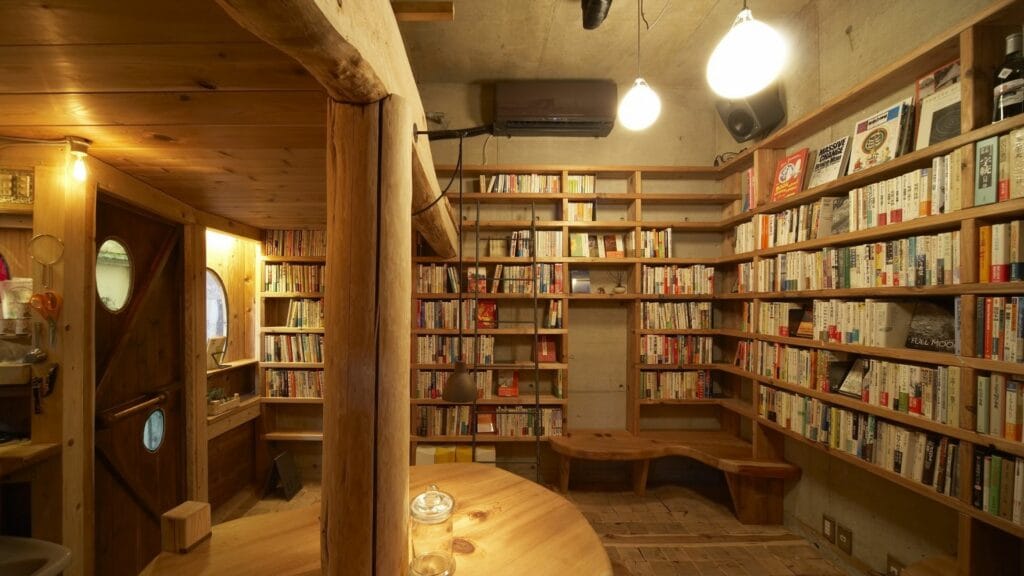 Kiryuusha is a small library in Shimokitazawa where you can find all kinds of books.
The name of the store is based on 気流の鳴る音 written by Yusuke Mita, which means "The Sound of the Airflow". This is a shop with wood-grained walls and round windows that stand out among the buildings around. On the bookshelves that line up to cover the inside of the store, there are a lot of carefully selected old books and new books about the counterculture.
You can read books in the store, relax in the loft, or buy it and read it at home. Keep in mind that some items are not for sale. You can also hang out here while tasting tea, coffee and sake. One recommended drink here is soy milk chai and it's created with different spices. There is also rich coffee brewed with hand drip and herbal liqueur Absinthe. Live concerts and various events are held here so make sure to check it on the official website.
Find out more about Kiryuusha here on Google maps.
Kitazawa Hachimanjinja 北澤八幡神社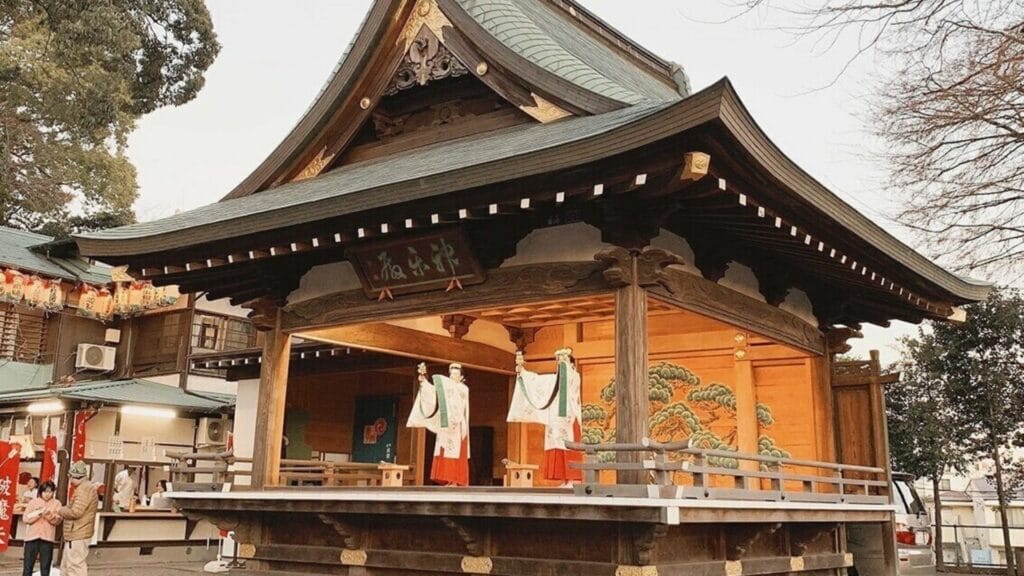 Kitazawa Hachimanjinja is a 13-minute walk from the station. In addition to warding off evil, this shrine is known for praying for health and longevity, improving arts, marriage, easy delivery, child-rearing, career advancement, entertainment, beauty, and more. It is a shrine that is often visited by entertainers, such as the spiritualist Hiroyuki Ehara serving as a priest for a while. You can find different pictures of celebrities who have visited the shrine.
When you visit here, you should definitely try the "Kaiun Omikuji Magatama Collection", which is only available at this shrine. For 400 yen each time, you will get a capsule containing a fortune slip and a magatama. Because the shrine is on a hill, you can see Mt. Fuji from here on a sunny day.
An 8-minute walk from the south exit of the station, you will pass through a quiet residential area, and the temple at the end of the slope is Shinganji Temple.
This temple, located a little far from the central area of ​​Shimokitazawa, has been certified as one of the 100 views of Setagaya as "Moxibustion Forest Iwaji Temple in Awashima".
Find out more about Kitazawa Hachimanjinja here on Google maps.
森巖寺 Shinganji
Shinganji was built in the first half of 1600 and has a long history, so it is a recommended tourist spot for retro spots and history lovers.
There is a kindergarten inside the temple and you can hear the bright voices of the children every once in a while. As you walk through the precincts, you will find a map that carefully displays the entire area.
Shinganji Temple Main Hall has a long history of being able to survive two disasters. The current main hall was built in 1964. Enshrined in the back of the main hall are three statues of "Amitabha", "Kannon Bodhisattva" and "Mahasthamaprapta".
Awashima-do in the area is a historical temple that was built in the 7th year of Tenpo during the Edo period. This is a power spot where Daikoku-sama, the god of medicine and medicine, is celebrated.
Find out more about Shinganji here on Google maps.
Thrift shops in Shimokitazawa
Ocean BLVD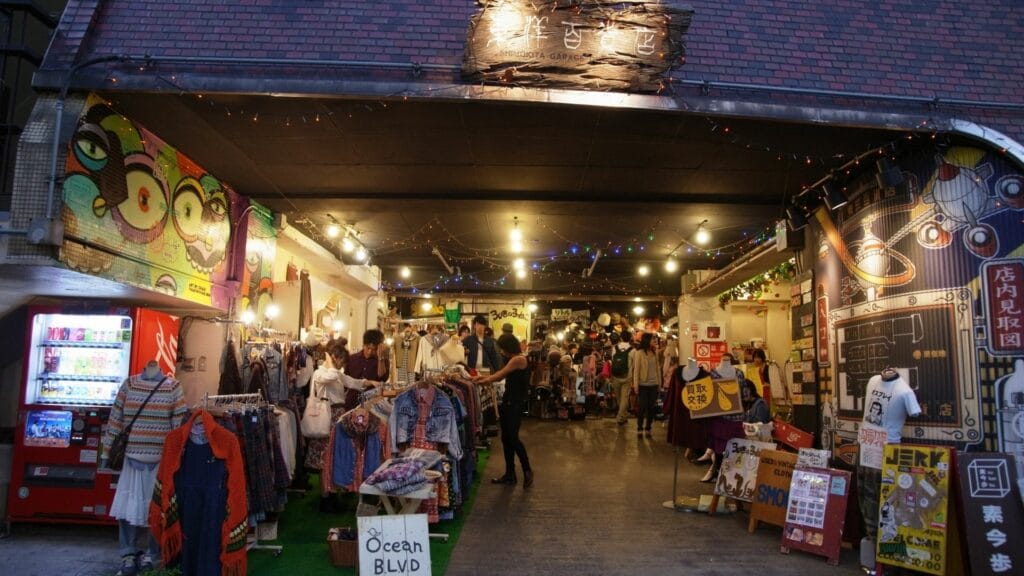 Ocean BLVD is an open store, so you can't miss it. With racks and racks of second-hand clothing, there is a really chill yet busy vibe in the store where you can make your way around browsing the clothing.
Find out more about Ocean BLVD here on Google maps.
New York Joe Exchange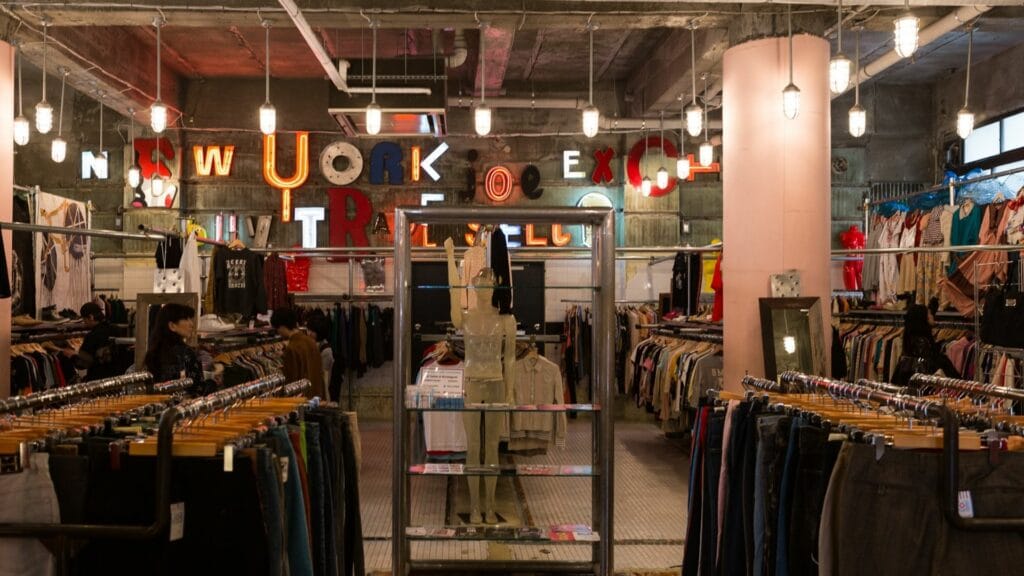 New York Joe Exchange is unique because they don't sell branded things, so you can really delve into the vintage clothing from overseas to find your perfect outfit. The store also allows you to swap your vintage item for an item from off the shelf, doesn't that sound like a bargain!
Find out more about New York Joe Exchange here on Google maps.
Chicago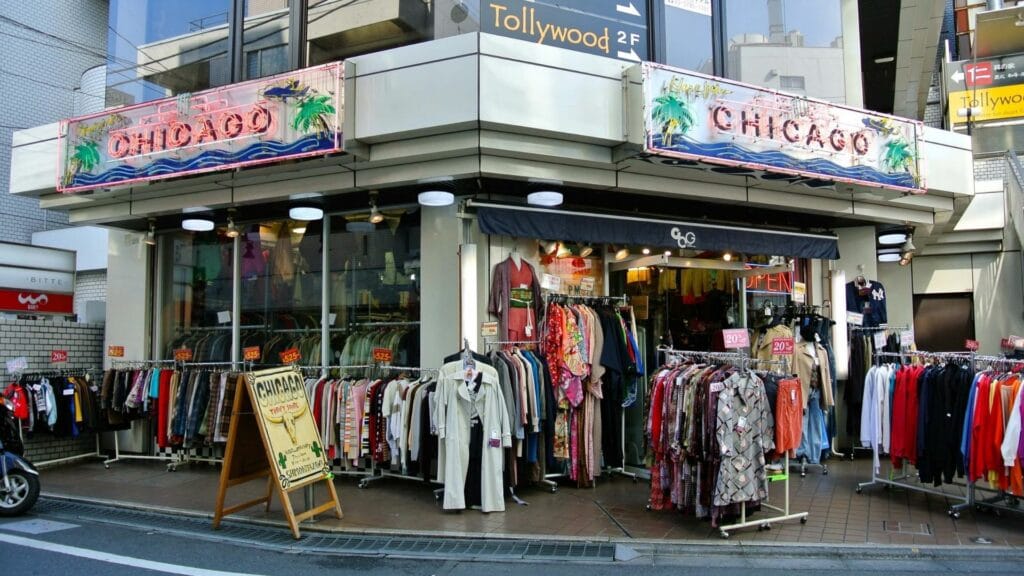 Although Chicago has multiple stores dotted around Tokyo, the Shimokitazawa branch is one of the largest! There is so much variety of clothing here, from Kimonos and Yukatas to well-known brands such as Adidas and Nike.
Find out more about Chicago here on Google maps.
Flamingo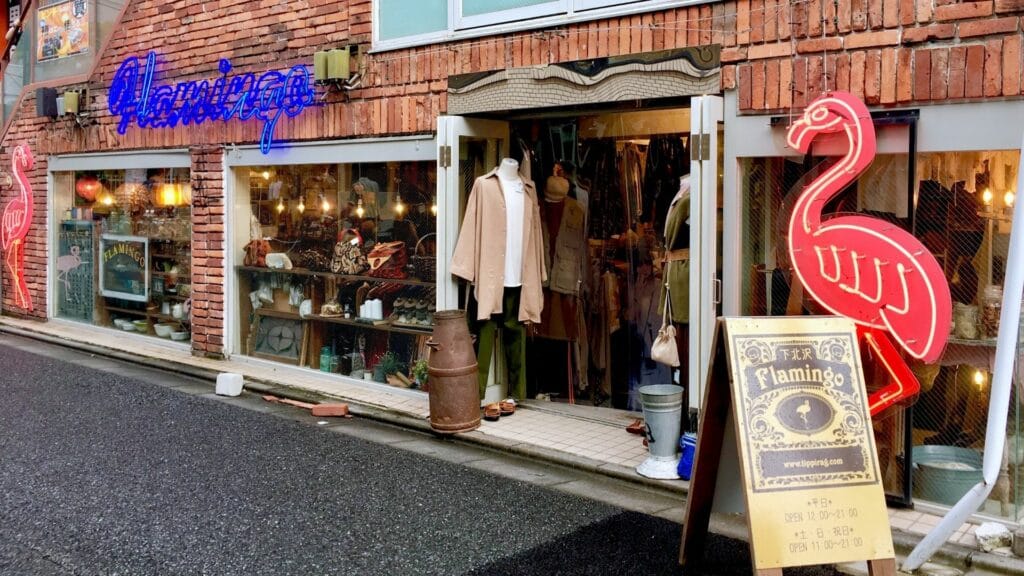 You will be welcomed into Flamingo by the large neon flamingo light outside the store, it is very hard to miss. They sell clothes mostly imported from America in the 40s, so if you're into the retro and vintage feel, then this is the perfect place to vamp up your wardrobe. From time to time, Flamingo has rock-bottom sales where you can find great finds for great prices so be sure to check out their Instagram for their latest updates.
Find out more about Flamingo here on Google maps.
Restaurants in Shimokitazawa
Shirohige cream puff factory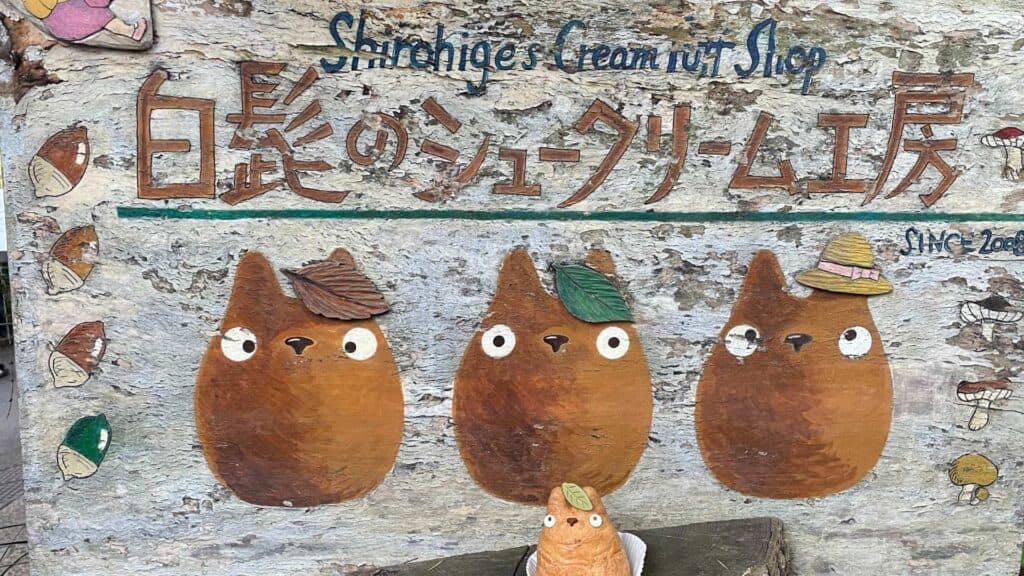 Shirohige Cream Puff Factory sells sweets with Ghibli motifs. It is run by the wife of Hayao Miyazaki's brother, so it is the only shop in the world officially authorised by Ghibli.
Each Totoro cream puff is handmade with the utmost care using locally produced ingredients. Each flavour has a different hat and leaf chocolate, which is cute. Because each one of these sweets is handmade, they are not mass-produced.
The Whitebeard's Cream Puff Workshop always has two types of cream puffs on sale: chocolate cream and custard and fresh cream puffs, as well as two seasonal cream puffs, with a total of four types.
You can take the cream piuffs out, but at Toro Coffee and Bakery, located on the second floor of the Shirota shop, you can enjoy the sweets and dishes eat-in while immersing yourself in the world of Ghibli.
Rojiura Curry SAMURAI, Shimokitazawa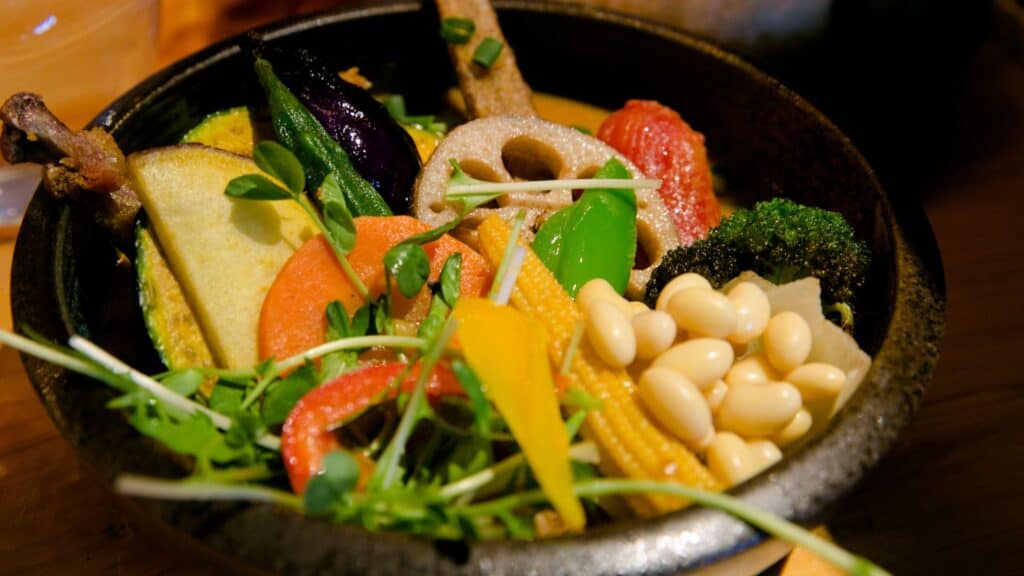 Rojiura Curry SAMURAI offers curries with plenty of vegetables and the finest soup. This is the first store in Tokyo that serves this famous curry popular in Hokkaido. Check out the チキンと一日分の野菜20品目 menu. It means "Chicken and 20 vegetables for one day" and it's a curry that has all the vegetables you need in a day. Depending on the season, plenty of vegetables is shipped directly from farmers in Hokkaido. The vegetables are boiled softly, dipped in batter and then deep-fried. You can choose from 4 types of soup and 10 levels of spiciness and there are plenty of toppings for you to check out.
Find out more about Rojiura Curry SAMURAI, Shimokitazawa here on Google maps.
Kyuyam-tei Shimokita-sou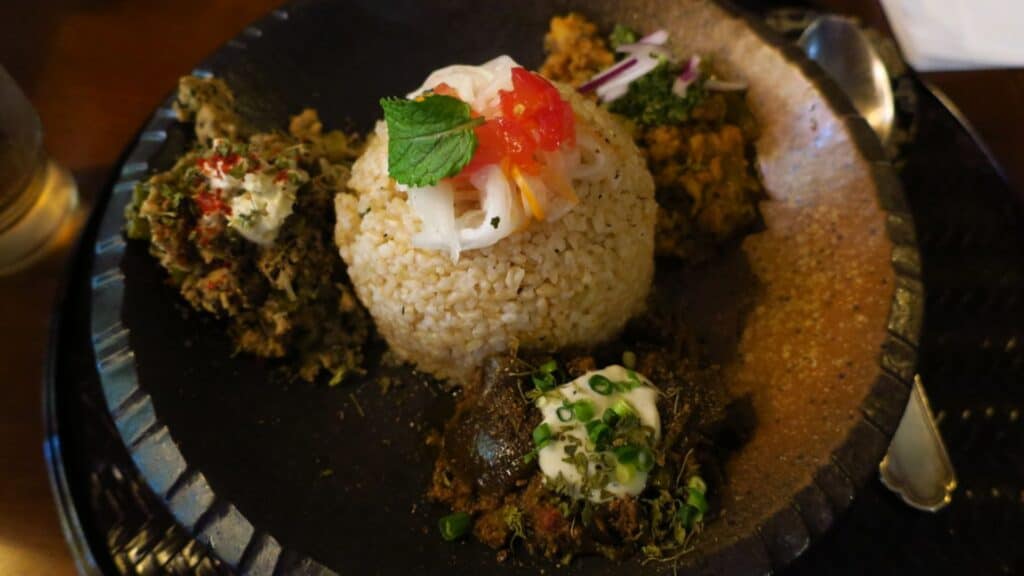 Kyuyam-tei Shimokita-sou offers Osaka spice curry that emphasises the aroma and flavour, not the spiciness. The most popular dishes are the three types of keema curry that change every month. You can order your set with either 2 types of "Aigake" curries or 3 types of "Zengake" curries. There are different types of rice you can choose from, from brown rice, turmeric rice and jasmine rice. Different toppings like coriander are also available for you to add to your curry.
Keema curry here is a combination of spices and herbs with a free idea that is not bound by the frame of curry, and it is finished in an original dish that you can enjoy serving and tasting. Since this restaurant is very popular, make sure to come early.
Find out more about Kyuyam-tei Shimokita-sou here on Google maps.
Bánh mì Bà Ba Shimokitazawa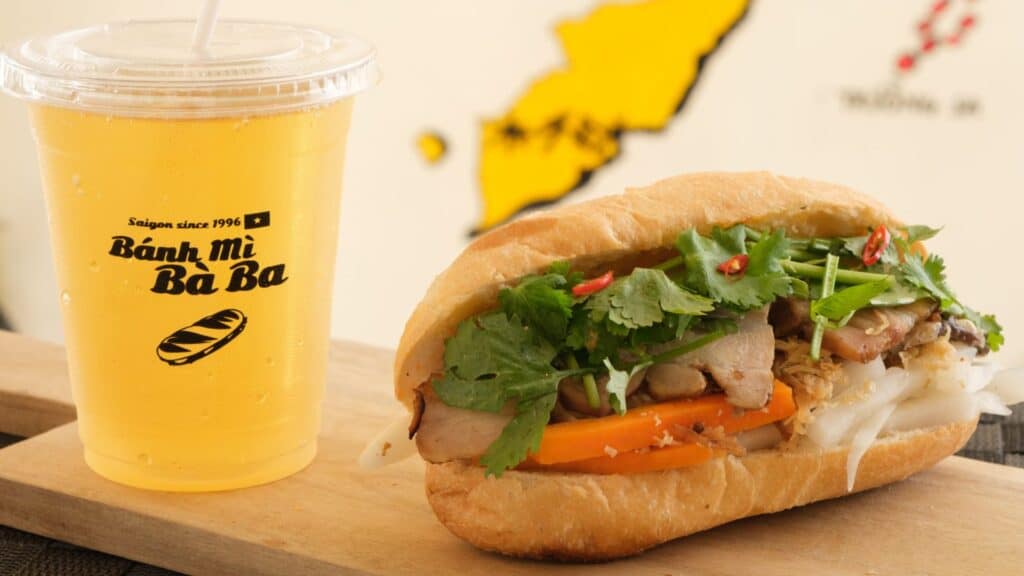 Bánh mì Bà Ba is a store specialising in Bánh mì, where you can enjoy the authentic taste.
Vietnamese-born sandwiches Bánh mì is formed with Vietnamese-style ham and pate sandwiched between crispy French bread. Since the mother of the owner of this place ran a Bánh mì stand in Ho Chi Minh City, this place has inherited the recipe and offers the authentic Bánh mì.
The secret to the deliciousness is the homemade ham and pate and fresh vegetables. The umami of meat, the flavour of coriander and the seasonings from Vietnam combine to create a spicy taste not found in Japan. Combined with sweet and rich Vietnamese coffee, you will definitely be addicted to it once you try out this place.
Find out more about Bánh mì Bà Ba Shimokitazawa here on Google maps.
Cafe Stay Happy
The owner of Cafe Stay Happy and his wife has traveled all over the world. There are different travel books and goods from around the world in the store, so you can enjoy the atmosphere of the store while admiring the collection of travel goods. The handmade menu centred on seasonal vegetables grown organically and fertilizer-free. Their naturally grown and additive-free ingredients are also popular.
The inside of the store has a two-story structure called "Yagura", and there are hammock seats on the second floor. It is recommended to spend a relaxing time reading a travel-related book while being shaken by a hammock. Kotatsu is installed in winter between November to April, so it attracts a lot of people visiting in winter.
Find out more about Cafe Stay Happy here on Google maps.
Nick'n roll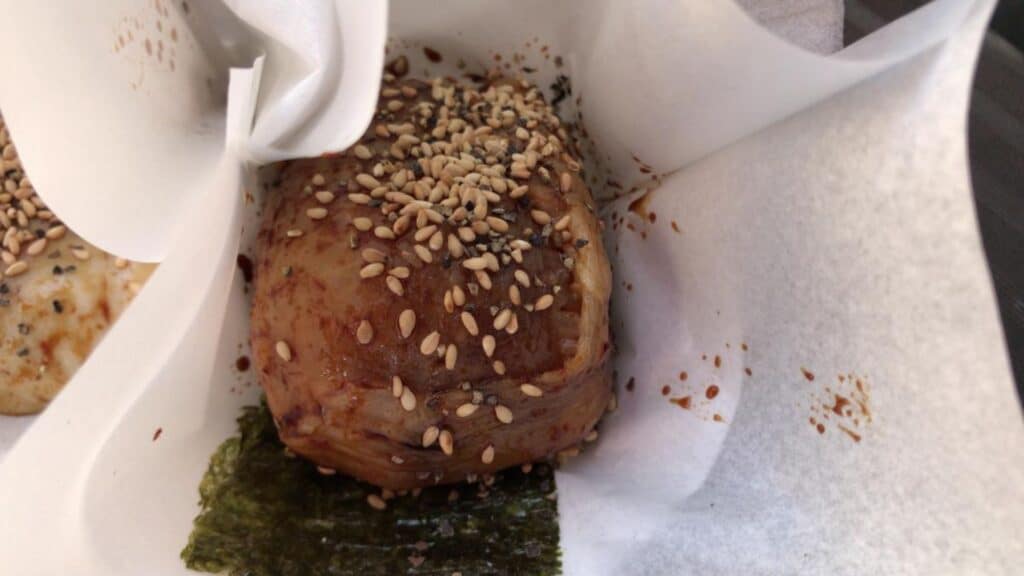 Nick'n Roll is a 3-minute walk from the southwest exit of the station. It is a classic Shimokitazawa gourmet food that is easy to eat. The rice is cooked in a special soy sauce-soaked pork and wrapped in a roll shape. There is a wide variety of flavours, and the price changes, depending on the roll. The "Nick'n Roll" is sold at 290yen, "Nichkhun Kinpira" at 340yen and "Nick'n Roll Cabbage" at 350yen.
Find out more about Nick'n roll here on Google maps.
Hotels in Shimokitazawa
Onsen Ryokan Yuen Bettei Tokyo Daita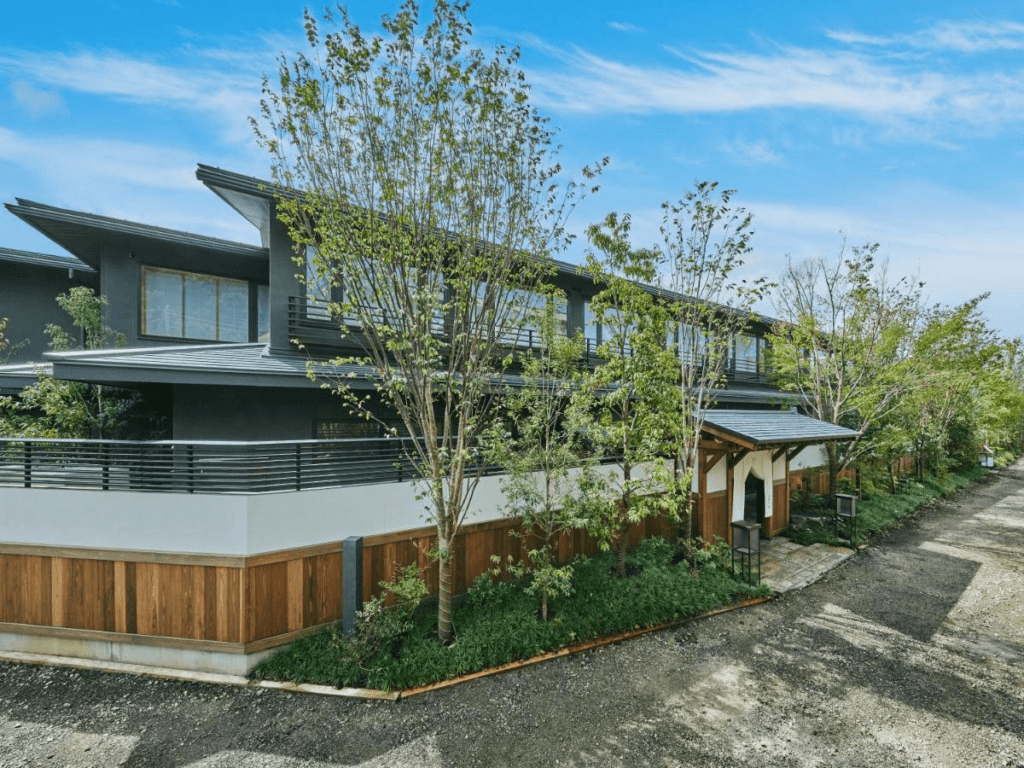 Well set in the Setagaya district of Tokyo, Onsen Ryokan Yuen Bettei Tokyo Daita is located less than 1 km from Shinganji Temple, a 12-minute walk from Kitazawa Hachiman Shrine and 1.4 km from Hanegi Park. Among the facilities of this property are a restaurant, a 24-hour front desk and a concierge service, along with free WiFi throughout the property. The ryokan provides a hot spring bath and luggage storage space.
At the ryokan every room comes with air conditioning, a seating area, a flat-screen TV with satellite channels, a safety deposit box and a private bathroom with a shower, a hairdryer and free toiletries. All rooms are fitted with a kettle, while some rooms here will provide you with a terrace and others also provide guests with garden views. At Onsen Ryokan Yuen Bettei Tokyo each room is equipped with bed linen and towels.
An Asian breakfast is available daily at the accommodation.
Onsen Ryokan Yuen Bettei Tokyo Daita offers 4-star accommodation with a sauna.
Tokyo Holy Cross Church is 1.8 km from the ryokan, while Komabano Park is 2 km away. The nearest airport is Tokyo Haneda International Airport, 28 km from Onsen Ryokan
Address: 2-31-36, Daita, Setagaya-ku, Tokyo 155-0033
Kario Sasazuka Terrace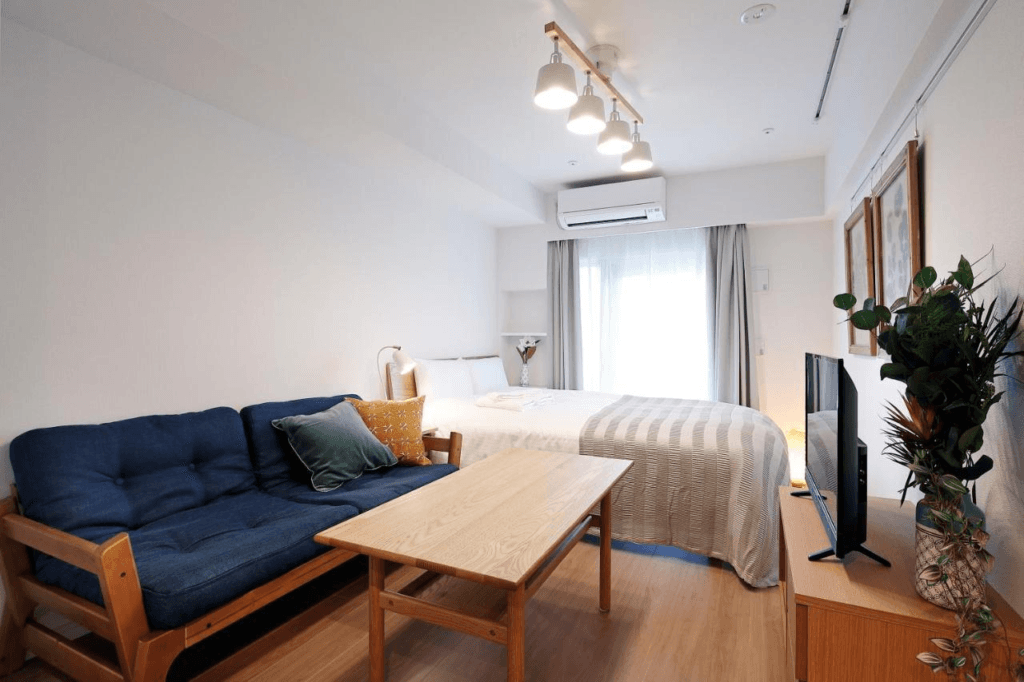 KARIO SASAZUKA TERRACE features air-conditioned rooms with flat-screen TV in the Shibuya Ward district of Tokyo. The property is around 2 km from Koga Masao Museum of Music, 2 km from Minamidaiicho Park and 2.3 km from Yayoi Park. Free WiFi and a 24-hour front desk are available.
All rooms in the hotel are fitted with a kettle. The rooms have a private bathroom, slippers and bed linen.
Popular points of interest near KARIO SASAZUKA TERRACE include Shosen-ji Temple, Seiganji Temple and Tokyo Camii & Turkish Culture Center. The nearest airport is Tokyo Haneda International Airport, 29 km from the accommodation.
Address: 151-0073 Tokyo-to, Shibuya-ku Sasazuka 1-56-7, Japan
Mustard Hotel Shimokitazawa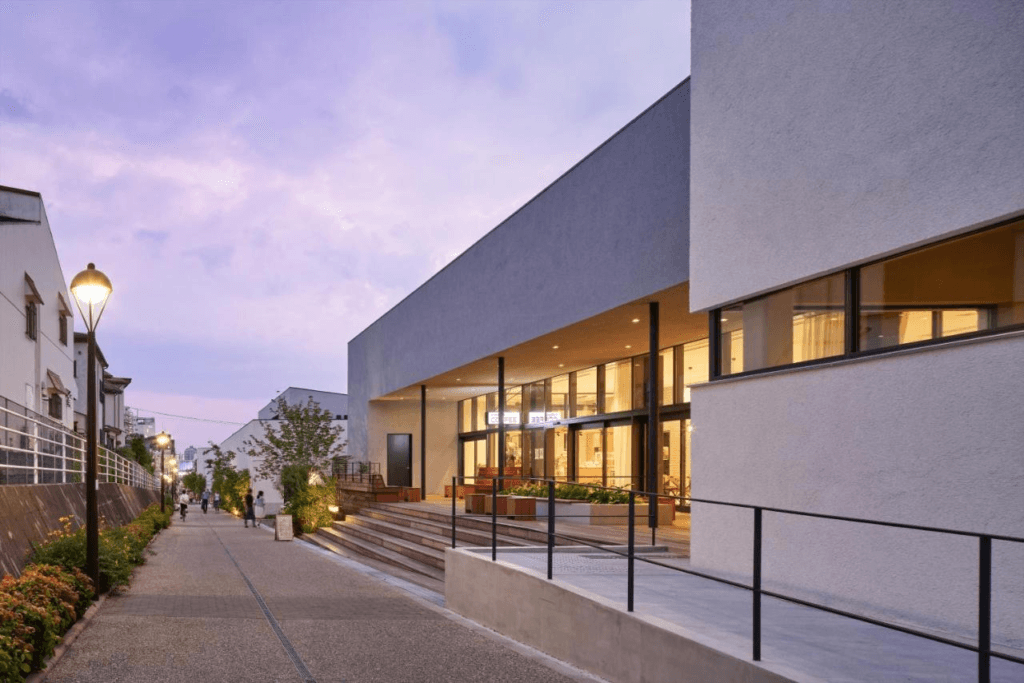 Ideally located in the Setagaya district of Tokyo, MUSTARD HOTEL SHIMOKITAZAWA is set 700 m from Tokyo Camii & Turkish Culture Center, less than 1 km from Japan Folk Crafts Museum and an 11-minute walk from Shinganji Temple. Featuring a bar, the 3-star hotel has air-conditioned rooms with free WiFi, each with a private bathroom. The accommodation offers a 24-hour front desk, and luggage storage for guests.
Popular points of interest near the hotel include Kitazawa Hachiman Shrine, Koga Masao Museum of Music and Museum of Modern Japanese Literature. The nearest airport is Tokyo Haneda International Airport, 15 km from MUSTARD HOTEL SHIMOKITAZAWA.
Address: 155-0031 Tokyo-to, 世田谷区北沢3-9, Japan

The Wardrobe hostel 下北沢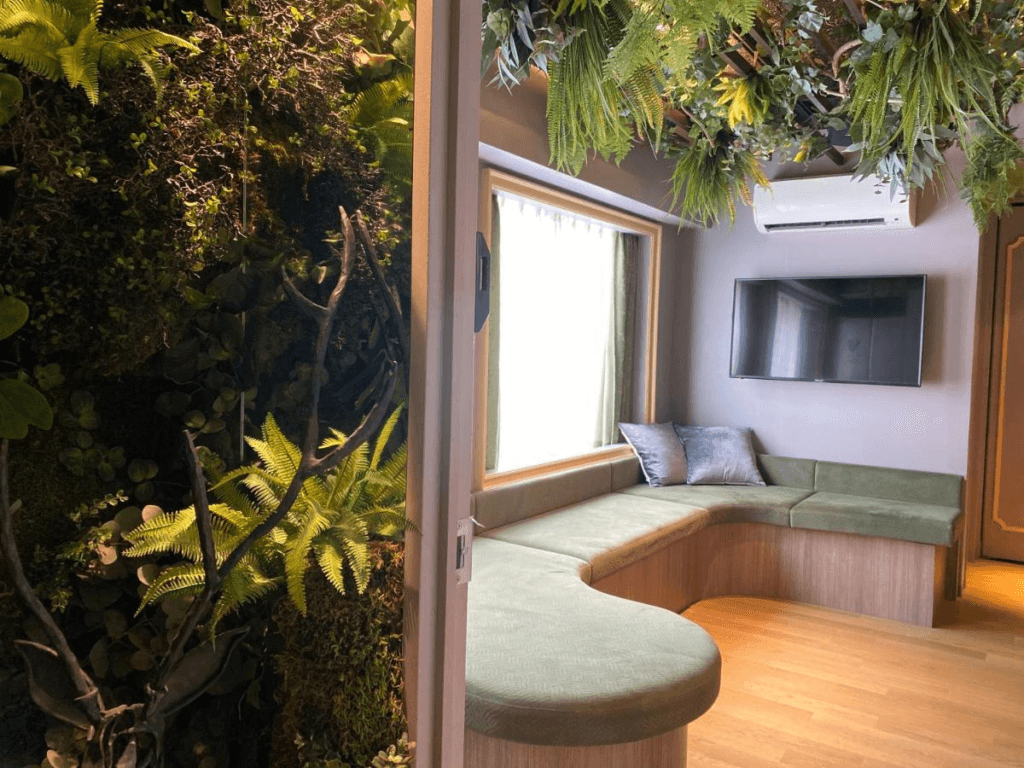 The Wardrobe Hostel Forest Shimokitazawa is a warm and friendly hostel that welcomes travelers from all over the world. We have a wealth of experience in the industry and know what travelers value and need during their stay. The green hostel
'The Wardrobe Hostel Forest' has opened in the center Shimokitazawa, the fashion city popular of young people. The hostel has been designed as a fairy tale of wardrobe, which is full of green.
When opening the door, you can find healing and relaxing atmosphere right inside a busy city like Tokyo. Just walk down the street and you can enjoy shopping and eating right away in the very famous ward of Tokyo.
It takes only 3-minute walk from Keio Inokashira Line / Odakyu Line 'Shimokitazawa Station' and you can easily access major area in Tokyo like Shinjuku or Shibuya in very short time by train Just walk down the street and you can enjoy shopping and eating right away in the very famous ward of Tokyo.
Address: 155-0031 Tokyo-to, 2-12-12 Kitazawa Setagaya-ku, Japan

Almond hostel & cafe Shibuya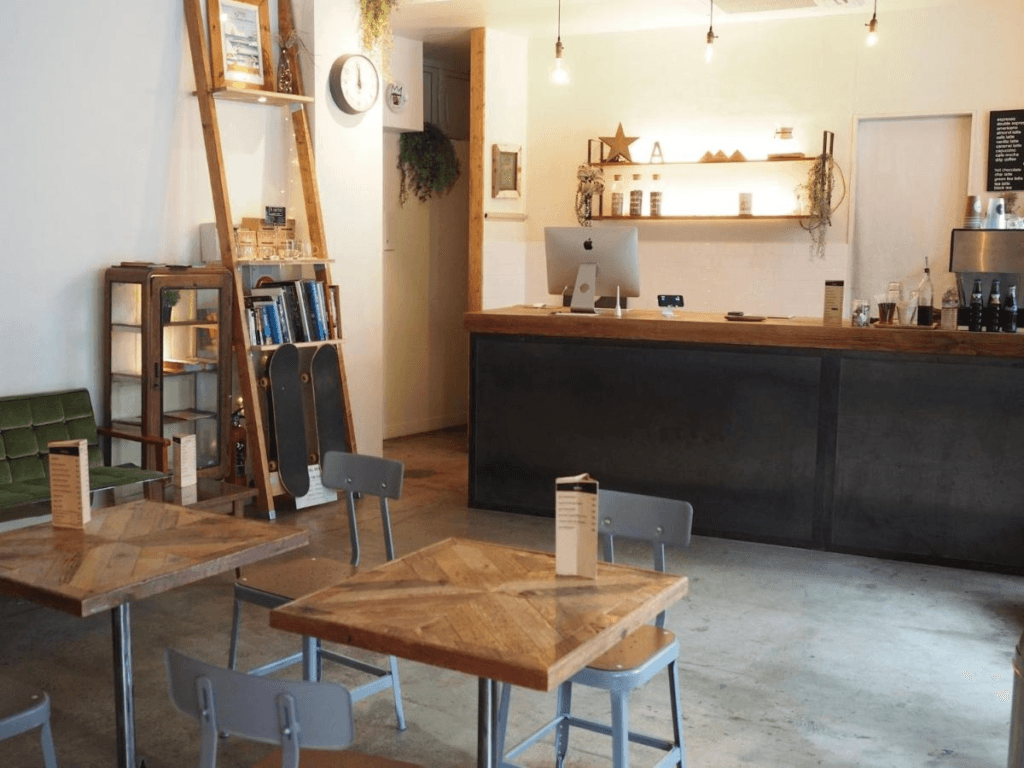 Almond Hostel & Cafe is located in Shibuya, Tokyo. The location is where you can see Japanese's ordinary lives very closely as it is in populated area and there are the Yoyogi park, which is one of the biggest and representative parks in Tokyo, and the Meiji-jingu Shrine, where you can absolutely find out what Japanese traditional shrine looks like, very close to the hostel.
For more fun, You can even walk to Harajuku that is center of Japanese fashion and one of the biggest shopping streets. Also you can get to Shibuya, where is known well for the most people crossing the intersection crosswalk at once and the hottest place for young people to hang out in, and Shinjuku, the best connection to all places for sightseeing and where should visit by one train from yoyogi park station.
For all of these, fortunately, the hostel is just a few minutes walk from Yoyogi park station and Yoyogi hachima station. Also, Tokyo Haneda International Airport is 15 km away from the hostel. Certainly, it is accessible from Tokyo Narita International Airport as well.
Why don't enjoy your travel in Tokyo with us having very delicious and aromatic coffee, which is surely the best way to begin and end your day with as well as complimentary Wi-Fi throughout the hostel, laundry facilities and secured storages. Please, give us a chance to be a part of your bon voyage! You all are welcome at all times
Address: 151-0062 Tokyo-to, Shibuya-ku Motoyoyogicho 1-7, Japan
—
Shimokitazawa is an up-and-coming area that has become a lot of people's favourite hangout spots. With all the different things you can do here, I hope you're able to find one or two places to visit or eat. If you get a chance to go, make sure to let us know and tag us on Instagram @flipjapanguide! Remember that Shimokitazawa will always welcome you with open arms so don't be afraid to visit as many times as you want.