When I first came across this hotel, I was immediately attracted to its unique and modern interior, along with the high-tech rooms and beautiful rooftop. Having the pleasure of staying here for a couple of nights, I truly got to experience the hospitality this hotel has to offer. Here, let me share with you my experience at Slash Kawasaki and why you might want to consider visiting this hotel for your next vacation in Kawasaki, Japan.
What is Slash Kawasaki?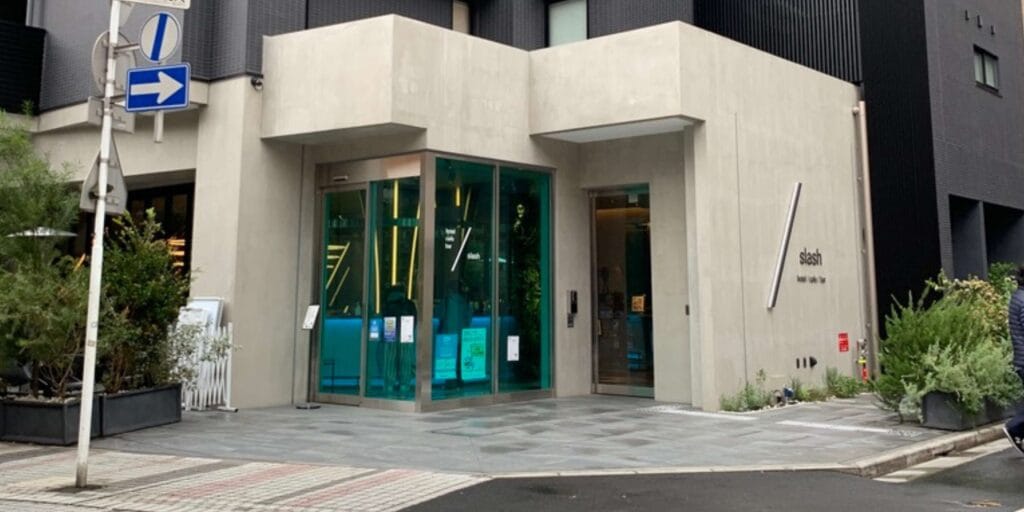 The hotel is named / (slash) because of the symbol's beautifully simple form, yet a character used in everyday life for a wide variety of meanings, including date, division, abbreviation and parallelism.
The range of its use has expanded with the changing times, and since the advent of the internet it has been used to delimit hierarchies in URLs, and its shape itself is even used as an emoticon in emails.
Inspired by the simple, beautiful, diverse and familiar / (slash), Slash Hotel offers a hotel that is flexible, simple, multifunctional and playful in accordance with the changing times, without being bound by the common sense and customs of hotels, to create a unique stay that cannot be found anywhere else.
Rooms in Slash Kawasaki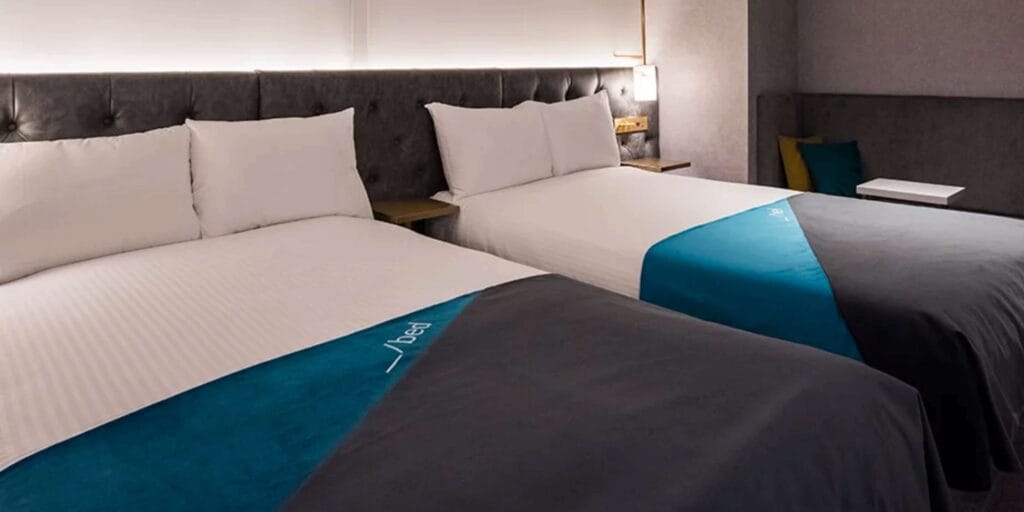 The hotel offers a stay full of surprises and discoveries, despite the budget price. You can stay at the single rooms for budget travellers and twin rooms for couples and families.
The hotel's compact but unconventional spatial design and technology-enhanced functional design create a stay full of surprises and discoveries, despite the low rates. Single rooms for budget travellers and twin rooms for two people or a family.
The beds in the rooms recline electrically. A single remote control allows you to switch between bed mode and sofa mode. The mattresses are pocket coil mattresses made by Serta, which has the largest market share in North America.
All rooms are equipped with a projector. When the motorised screen is lowered, you can watch movies on an 80-inch large screen in front of your bed. You can project your own devices and enjoy your favourite content such as Netflix or Hulu.
There is a large storage space under the bed. You can also use it as simple drawer storage by placing your suitcases inside with the suitcases open.
An iPhone is equipped in the cabin. It can be used as an extension phone in the room and also functions as a remote control for the electric screen and bed in the room.
Food and Drinks at Slash Kawasaki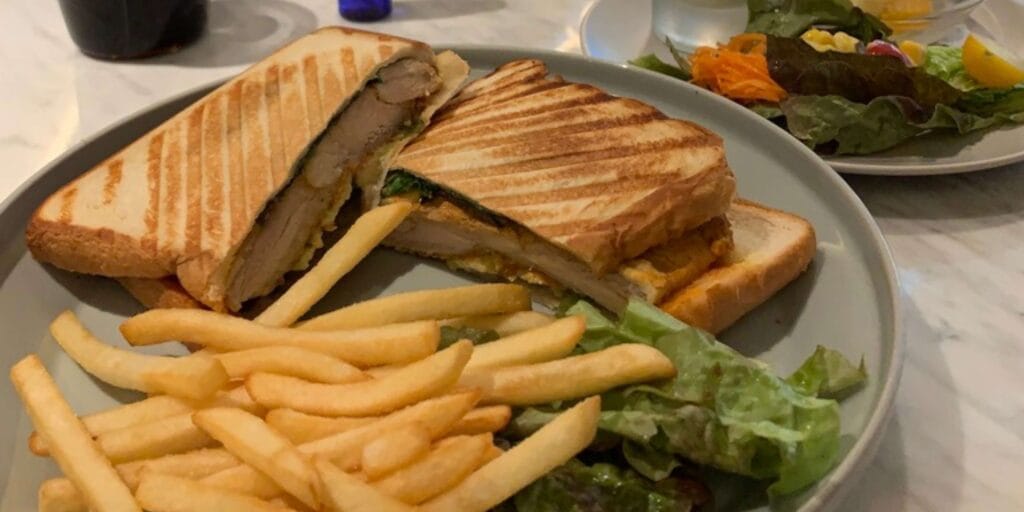 The café on the first floor of the hotel is open from breakfast to lunch and dinner. The food menu is full of unique and playful ideas based on the theme of "/ (slash)".
Breakfast consists of a semi-buffet of cereals and drinks, plus a choice of main course.
For the main course, enjoy French toast, tortillas and sandwiches inspired by the shape of the '/' (slash).
The bar on the first floor of the hotel serves beer on self-tap daily between 17:30-18:30. It is free for hotel guests to enjoy the free-flow beer. Enjoy a group get-together, or strike up a conversation with your neighbour and discover something new.
The Lobby Bar, with its eclectic lighting design, offers an extensive beverage menu, from draught beer to wine and cocktails.
Common areas at Slash Kawasaki
The hotel's compact but unconventional spatial design and technology-enhanced functional design create a wonderful space.
Slash Kawasaki offers a range of incredible common areas for you to use freely.
In the cafe area on the first floor, each table is equipped with a power supply, so you can use this area as a workspace. At night, the terrace and the restaurant transform into an entertainment hub, allowing people to relax over a drink or two.
You simply can't talk about Slash Kawasaki without mentioning the various facilities that they offer.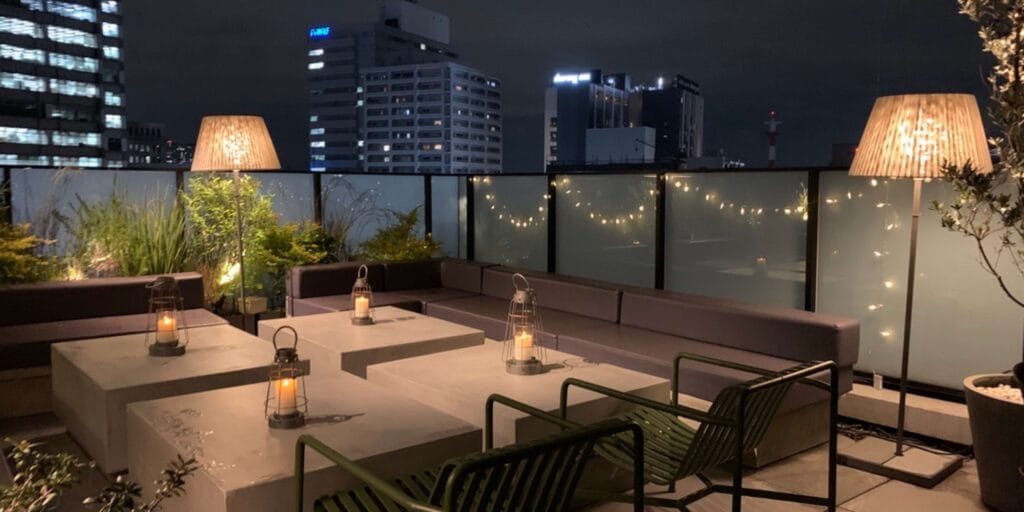 The den of the rooftop terrace is equipped with a self-service coffee machine. Guests can use it free of charge. There is also an ice machine.
The rooftop terrace offers a panoramic view of the city of Kawasaki. It is an open space that makes you forget the hustle and bustle of Kawasaki.
Slash Hotel details
Address
2 Chome-9-7 Isago, Kawasaki Ward, Kawasaki, Kanagawa 210-0006
Access
5-minute walk from Central East Exit of JR Kawasaki Station.
5-minute walk from Keikyu Kawasaki Station.
15 mins from Haneda Airport by Keikyu Line.
69 minutes from Narita Airport by Narita Express.
Room Types
Small double room
Double room
Twin room
Superior twin room
—
What do you think about Slash Kawasaki? Want to stay at this hotel? It is a great hotel for you to get away from the city, especially if you are looking for a place to work remotely. There are many unique attractions around Kawasaki station, so you won't have to worry about getting bored.