It's hard being a tattooed person, especially when you are a foreigner in Japan wanting to try out the traditional onsen (hot springs). Even though it's not as big a problem in today's world in most countries, tattoos are still relatively taboo in Japan because they're associated with the yakuza.
For those of you who don't know, the yakuza are crime organisations, basically Japan's mafia. Yakuza members have been stereotyped as mainly heavily-tattooed guys which have made Japanese people wary of tattooed individuals. While obviously one or two small tattoos wouldn't make you in the running as a member, Japan has created a sort of blanket rule banning tattoos from many places, the most common being the onsen and sento (public bath houses), unfortunate for the tattooed tourist.

One of the best ways to explore Tokyo is to visit the local areas and immerse yourself in the local culture. If you want to explore local areas, we have created scavenger hunt adventures personalised to your interests, filled with fun facts, clues and puzzles. If you're curious, you can check out the games here!

Check out the Flip Japan Games here!

Tattoos in Japan
Being a foreigner in Japan with tattoos, I find it a bit annoying to have to deal with these rules because the onsen is such a traditional Japanese experience that I'm not allowed to have just because I have two small tattoos. Thankfully, I found Tattoo Friendly, an English website started by foreigners who list the tattoo-friendly onsens, sentos, gyms, pools, beaches, hotels and resorts that they've come across, so give it a shot!
But, there is a relatively tattoo-friendly place I've discovered that isn't on the website: Thermae-Yu. It's conveniently located in Nishi-Shinjuku, so you won't have to go all the way out to the mountains for a onsen/spa experience. Based on 2019 Excellence Standards, it was on TripAdvisor's Top 10 highest-rated spas in the area, so I thought I'd give it a try.
Thermae-Yu
Despite having signs saying that tattoos are not allowed if you are a foreigner you are still able to use the facility if you show your passport at the entrance. From there, the front desk will prompt you to buy a skin patch to use to cover up your tattoos while inside.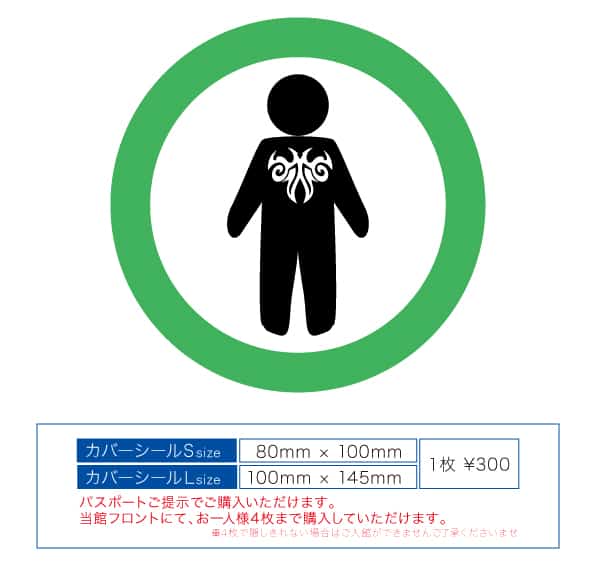 Entrance Price
Prices for these patches are 300 yen and come in both a small and large size. What makes them special is that they are manufactured specifically for the purpose of use in an onsen, as they bond to your skin much better than bandages (although, just as a warning, they are a pain to get off!).
You can buy up to four, and if that isn't enough to cover your large tattoos, you'll unfortunately not be allowed in, and I encourage you to check out the Tattoo Friendly website for other establishments!
Inside Thermae-Yu
In Thermae-Yu, the person at the front desk will hand you a guide to the spa and the floors, along with a wristband that gives you access to your locker to store clothes and bags.
Make sure to keep this on you because it is also used to pay for things, as a quick scan at different areas will track your purchases inside the spa to then be totalled at the end. Once done, you will be directed to another desk where you can pick up your towel and loungewear for inside the onsen.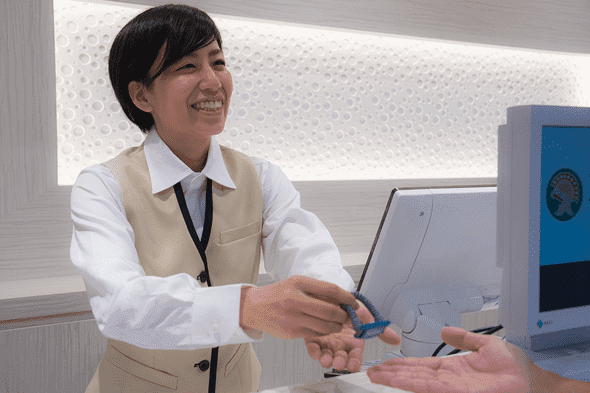 Unlike smaller onsens, the locker room is on the first floor, therefore the loungewear is there for full comfort in lounging around the spa facilities. For women, the loungewear comes in two different options: a dress and jacket, or a top and leggings. I opted for the dress and jacket as they seemed more comfortable. They also have three different sizes: Small, Medium, and Large.
The Baths
On the second floor of the building, you will find the onsens. Split between male and female sides, each area contains 6 different baths, each one with their own natural properties.
The first thing to do before going into the main bath area is to ditch your clothes in yet another set of lockers (complete with their own sets of keys on waterproof wristbands, make sure to take these with you too!) and then head to the shower room in which you can choose between sitting and standing showers to cleanse yourself before entering the main baths. Shampoo, conditioner, and body wash are all provided so make sure to use them to try to get all the dirt from the day off!
1. Main Bath
The highlight of the onsen would definitely be this main bath as it is pure hot spring water. Water is transported from Kami-no-Yu (Divine Hot Spring) in Gifu Prefecture to Shinjuku every day, which is then heated to 42°C/107.6°F and hydrolysed to maintain the same quality as the springs. The bath is partially outside since the roof is slightly open and covered in slats allowing the cooler air to balance out the high heat. There is also a lovely mosaic of fireworks overhead which completes the nice atmosphere.
2. Silk Bath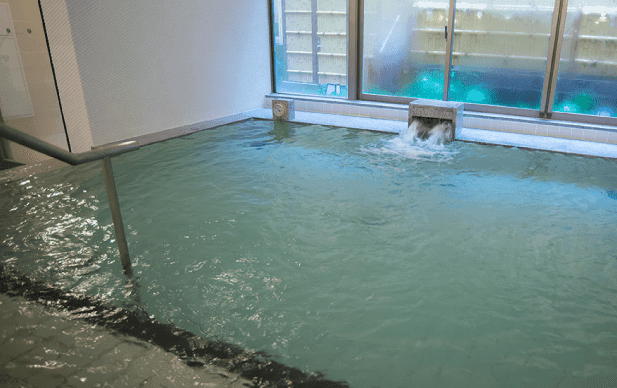 This creamy, dense bath contains a large amount of small bubbles at about 42°C/107.6°F. The many superfine bubbles gently wraps your skin, resulting in a high cleansing effect.
3. Sleeping Bath
This bath was one of my favorites since it is made for lounging, with rows set up of about 6 feet, low water level and a small rest for your back so you can fully recline in comfort. The heat of the water lulls you as a jet attached to the backrest massages you to a state of pure relaxation.
4. Jet Bath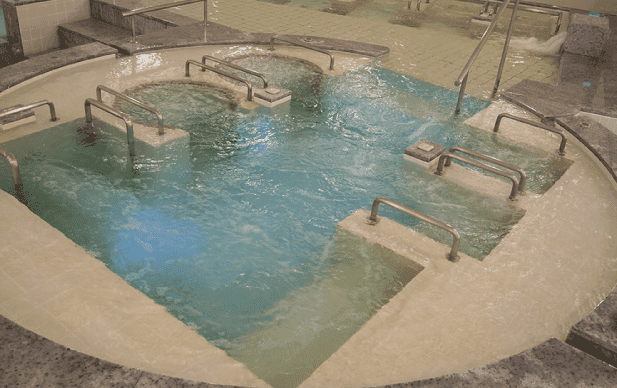 At a temperature of 40°C/104°F, this bath will heat you from the inside out, as powerful jets within will massage your whole body. According to their website, the combination of the two promotes blood circulation and relieves fatigue and stiffness. The improvement in circulation also supposedly helps burn fat in areas that tend to hold tension, such as the stomach and thighs, and this aids in weight loss.
5. High Concentration Carbonated Bath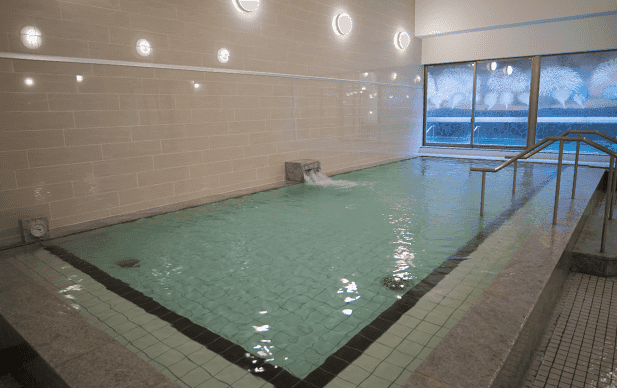 The last bath that I had the chance to experience was this one. The thermal water has a high concentration of carbon dioxide which makes it carbonated. After a couple of minutes of soaking, you will notice the strange sensation of millions of bubbles slowly covering your body. Similar to water with high salinity, this bath helps to soothe inflammation as well as reduce irritation and itching, which is perfect after a long day of walking.
Outside of the baths, on the second floor, you can also find saunas and a room where you can do your hair and wash your face after getting out.
On other floors, you will find a restaurant where you can get nice Asian food as well as a bar, lounge area, massage parlour, and rock spa.
For full access to all the baths, you pay 2,364 yen (USD$20), and you can stay there for up to twelve hours. On the weekends and holidays, there'll be an additional 864 yen fee (USD$8).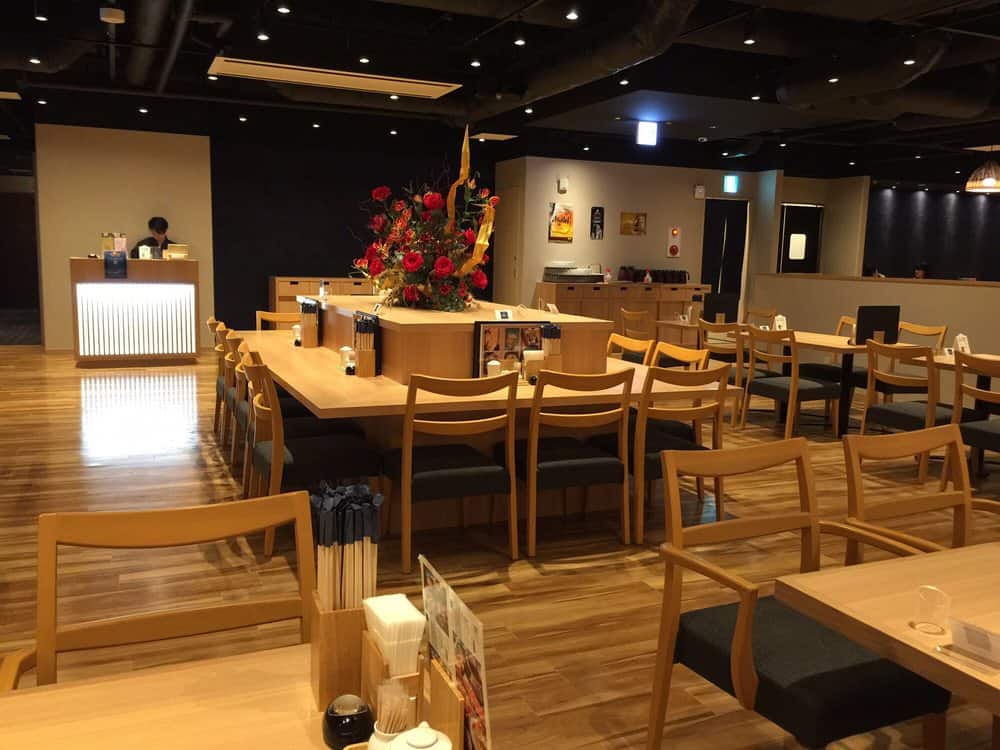 If you are looking for a bargain and visiting an onsen with tattoo, I do suggest going to Thermae-Yu on a weekday. If you're a night owl, visit between midnight and 9am, their prices go all the way down to 1,836 yen (USD$17). Maybe a good place to stay the night if you miss the last train and have sobered up a bit after a night of drinking (if you appear to be drunk they will not let you in so be careful!)
Have you been to Thearmae-Yu? Would you be interested in checking it out? Let us know in the comment section below! Find out more about travelling in tattoos in Japan here.
—
Stay tuned for more information about Japan travel, Japanese culture, moving to Japan, living in Japan, Japan nightlife, Japanese language and more.