Tokyo is the fashion capital of the world, with unique styles that you can't find anywhere else in the world. Not just Japanese fashion styles but international brands can be found here. If you are into fashion and second-hand clothing, if you want to get away from fast fashion and want to get the best quality clothing with a low budget, one of the biggest things to do in Japan is go thrift shopping!

One of the best ways to explore Tokyo is to visit the local areas and immerse yourself in the local culture. If you want to explore local areas, we have created scavenger hunt adventures personalised to your interests, filled with fun facts, clues and puzzles. If you're curious, you can check out the games here!

Check out the Flip Japan Games here!

When I first came to Japan, I was horrified as I walked around Shibuya and realized that the prices for the clothing were well out of my price range. Being someone that loves to have beautiful signature pieces in my wardrobe and not wanting to support fast fashion either, it became hard to find new clothes for the different seasons. I needed to rethink where to go before I could get the clothes.
Luckily enough for me, thrift stores are located all throughout Tokyo and in many of the major districts of the city, selling second-hand clothing of all styles! There are many alternatives to pricy options or purchasing from big companies.
Throughout the time that I have been living in Japan, these are four of my absolute favourite shops and they have everything I ever need, at an insanely amazing price.
1. Closet Child- Multiple Locations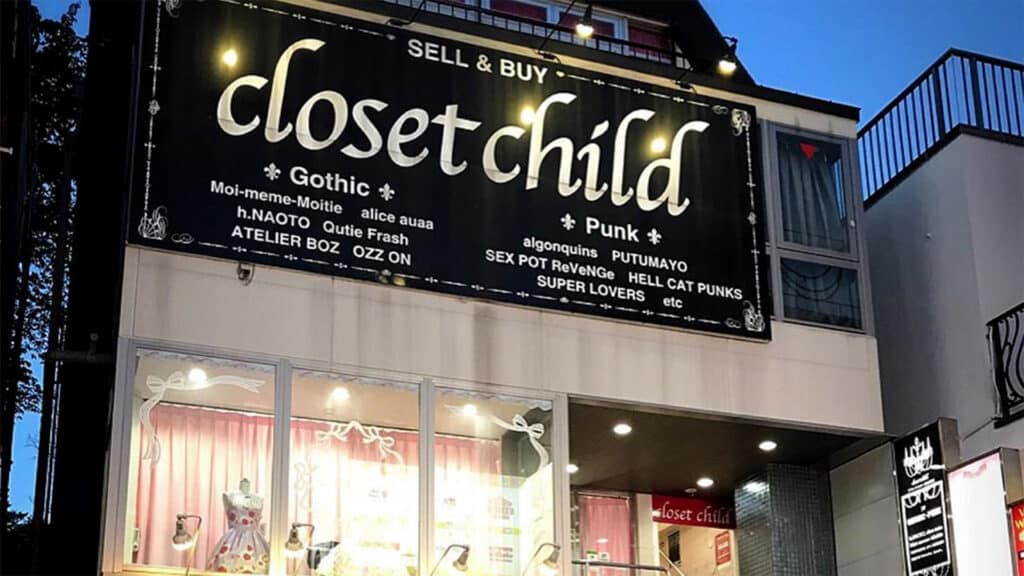 One of my favourite places to go thrift shopping for second-hand clothing in Japan would definitely have to be Closet Child. You have to drop by this store when it comes to second hand Shopping in Japan.
Closet Child is located in three major areas of Tokyo- Harajuku, Shinjuku and Ikebukuro. It is the best place for both the kawaii and gothic, as it carries both lolita styles and more dark aesthetics such as punk, grunge, etc.
All the different clothes you can find here in Closet Child are from top fashion brand, such as Angelic Pretty, Baby the Star Shines Bright, Alice and the Pirates. You are almost always guaranteed quality goods at several thousand yen lower than you would pay in-store.
Along with the already discounted prices, they also feature sales for their second-hand clothing throughout the year, including a massive summer sale where certain items are discounted at up to 70% and more as well as weekly deals on specific brands.
I have found many pieces here for a great bargain including a relatively brand new fashion brand, Baby the Stars Shine Bright cardigan for only 2000 yen, which was a steal compared to its original price.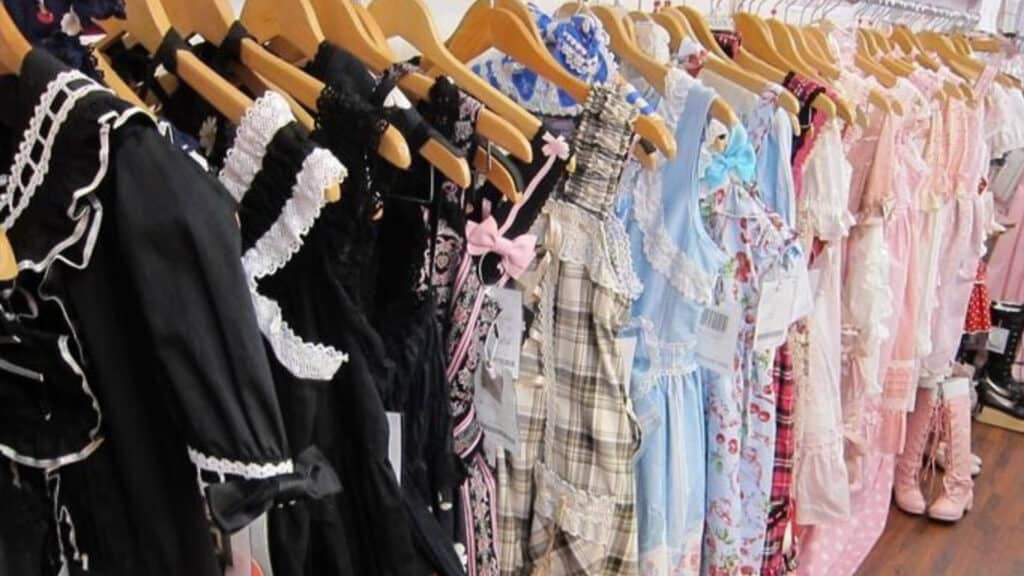 One of the things I can't stress enough is, go check out Closet Child in thin clothing, for your convenience when trying on some of the tops, blouses and other items. The staff will also ask you to wear a face cover, so you don't get any makeup on the clothes in the dressing room.
For those looking for specific items or live abroad, Closet Child also has an online shop where you can buy items to be shipped. Everything is sorted by brand and style of clothing- Lolita, Casual, Gothic, etc. so it is straightforward to find the things that you want. You may end up scrolling through many options before you get to what you want.. or end up buying lots of different pieces!
2. DonDonDown on Wednesday- Multiple Locations
Located in the centre of Shibuya in Japan, about a five-minute walk from Shibuya 109, DonDonDown is a great place to wander while thrift shopping and to save your wallet.
This small thrift shop isn't the biggest but has an excellent variety of second-hand clothing none-the-less. It is very easy to navigate price-wise as everything for sale has a tag with a different icon of a vegetable/fruit on it, to indicate the price.
When you arrive at the shop, the staff will hand you a piece of paper which lists what prices go with the icons for the day. Most of the time you will find prices of second-hand clothing starting from 200 yen to around 8000 yen. However, on Wednesdays, everything you see here is half-off.
The first floor is dedicated to women's clothes while the second and third are filled with men and designer products. Like Closet Child, most clothes are from well-know brands or other brands. Most items in the shop are sorted by clothing type.
The one thing I noticed about this thrift store as compared to others in Japan is that it tends to have a good amount of second-hand clothing from American brands, such as Polo by Ralph Lauren, Levi's etc. I have bought a lot of nice things from here, some for less than 500 yen. I have also bought some more business casual type clothes, such as a pair of black slacks and a lavender business suit dress, making it an excellent place for young professionals!
There is also a location in Koenji, but they don't have the same deals as the Shibuya location. You can also add the store on the Line app to get further discounts on your journey thrift shopping!
3. Mode Off- Multiple Locations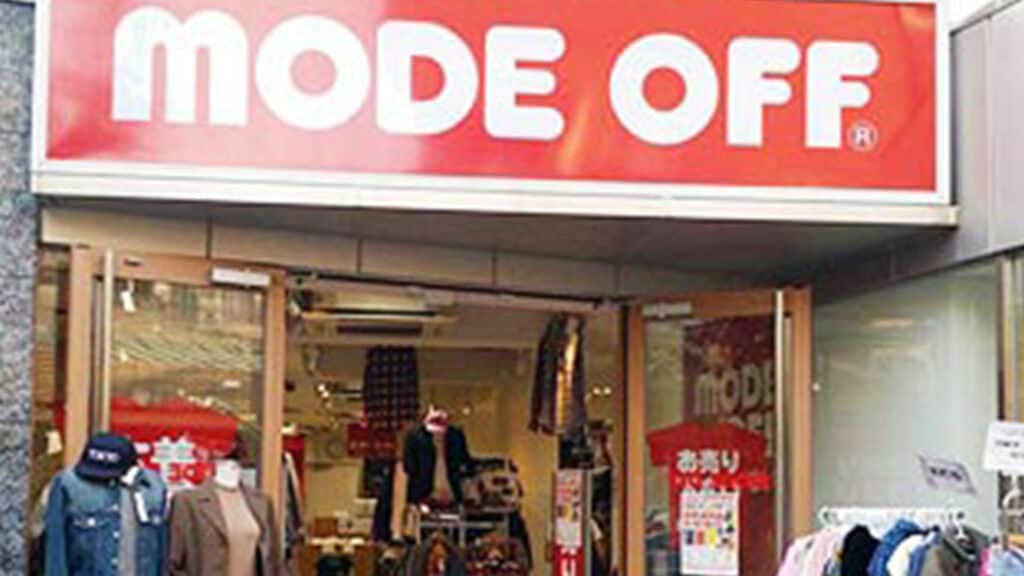 One of a chain discount stores, "Off" Stores, Mode Off is a great place to go for clothes for all ages and sizes. While most of these thrift stores only carry clothing for women and men, many also have kids clothes, which is great when shopping for the family.
There tends to be two parts to the store, the main floor featuring designer clothing, and some of the super discounted items for 100 or 300 yen. The other floors are divided into women's, men's, and sales.
The one thing I like about this store is that not only are the clothes divided into section by apparel type- long sleeve blouses, sweaters, jeans, etc, they also are sorted by the different colours and sizes, which make searching for things easy.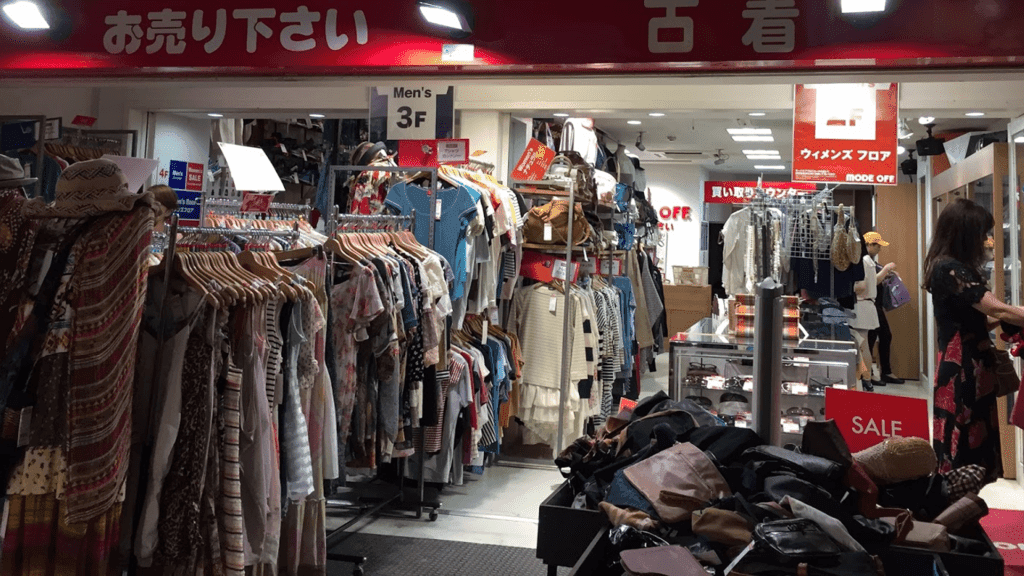 Each item of clothing is marked unless it is located in the sales area, in which everything is a blanket price. Unlike some of the other thrift stores, this is a great place to also donate some of your own clothes.
Mode Off offers instant cash for your clothes, no appointment needed. The location in Akihabara is also one of my favourites, as they also have a huge selection of cosplay items such as costumes, wigs, character goods, etc, perfect for Otakus on a budget! Lastly, make sure to bring your own bag while thrift shopping since plastic bags cost an additional 5 yen!
Pictures from https://www.hardoff.co.jp/shop/kanto/tokyo/modeoff/104009/
4. Kinji Used Clothing
One of the last thrift shopping in Japan that I have to mention has to be Kinji. They are one of the best places to find vintage clothes at reasonable prices. Despite having multiple locations, the best would definitely be the one located near Harajuku, in the basement of a building by the Meiji Jingumae "Harajuku" Station.
Walking in you are confronted by large tables, filled with vintage t-shirts, featuring comic book, television, and movie characters of all sorts- Snoopy, Simpsons, Batman, etc. From there, to the left is the women's section and on the right, there are men's, ranging from high-end designer to the more casual brands.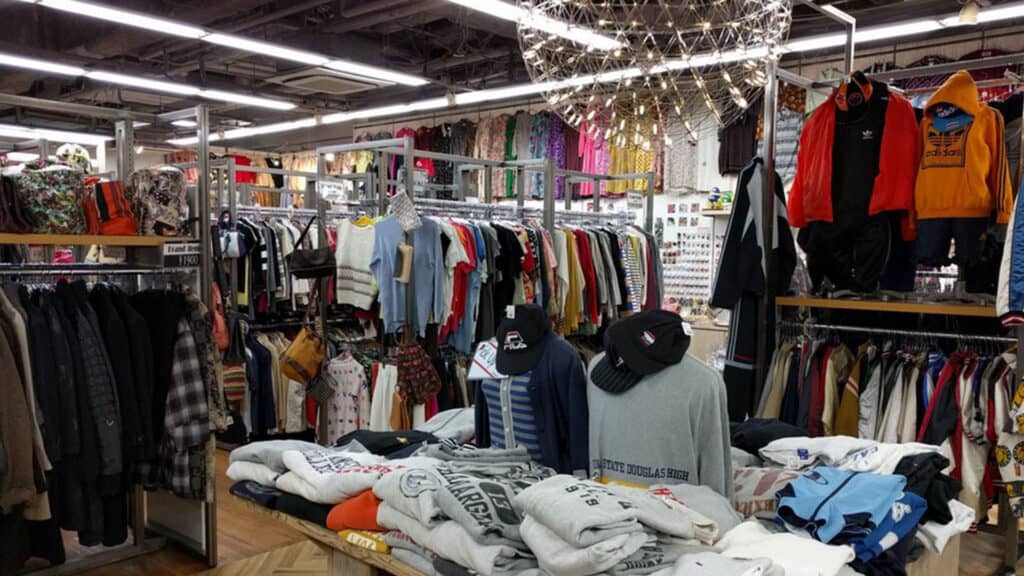 In the back of the women's section, there is a great place to look for more unique wears such as upcycled wear, featuring clothes that have been turned into DIY projects. There frequently is a combination of multiple used pieces or added to by appliques such as buttons, patches, etc. Although these products are a bit on the pricier side, as the closest thing to wearable art pieces and I definitely recommend getting one!
Most of the time they also have a good selection of the souvenir jackets that make popular tourist gifts so if you can get one in your size you are in luck!
–
If you want to go second-hand shopping in Tokyo, there are plenty of other options to check out, including Flamingo, Chicago, and 2nd Street Use Clothing. Many of these thrift stores are chains and tend to be grouped in the same big areas such as Harajuku, Shimokitazawa and Koenji. If you are looking to visit multiple locations on the same day, make sure to head to one of these!
Stay tuned for more information about Japan travel, Japanese culture, moving to Japan, living in Japan, Japanese language, Japanese culture and more.