Do you know about the Bunkyo Ward in Tokyo? It is one of the 23 wards of Tokyo, with various unique neighbourhoods and areas, along with different things to do and sights to see. If you are wondering what is Bunkyo ward, the different areas inside Bunkyo, the best things to do, history, accommodation and more, check out this ultimate Bunkyo ward area guide.
What is Bunkyo City Ward
Bunkyo-ku is located uptown in the heart of Tokyo. It is home to the University of Tokyo, Japan's highest academic institution, as well as many other famous elite schools, making it literally the "capital of literature.
In Tokyo, there are some tower blocks where celebrities gather, but Bunkyo-ku, located in the heart of the city, has high land prices and has become an upper-class town where only the truly rich can afford to build houses. Many high-income professionals, especially doctors and lawyers, live in Bunkyo-ku.
On the other hand, there are many old wooden houses and apartments built before World War II, and in these places, there are many downtown residents who have lived there for generations, and there are also many boarding houses where students live.
The average annual income of Bunkyo Ward residents is 5.44 million yen, ranking fifth among the 23 wards of Tokyo, after Minato, Chiyoda, Shibuya, and Chuo. The reason why the annual income is not as high as expected can be attributed to the fact that the local population and students are still pushing down the average annual income.
History of Bunkyo City Ward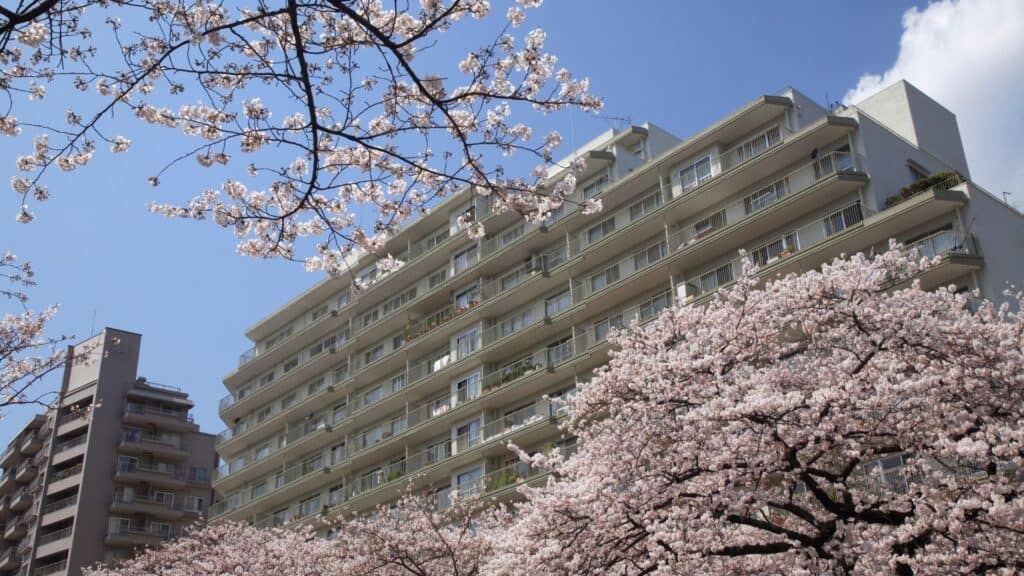 As the name "Bunno-Kyo" suggests, the greatest characteristic of Bunkyo-ku residents is their high level of elitist consciousness. Families with a passion for education who want their children to enter the University of Tokyo and become top-notch elites who will eventually become doctors or ministers are moving here all the way from Tokyo.
The Nezu Amusement Center, which was located near the University of Tokyo, was moved to Fukagawa Suzaki Benten-cho (now Toyo, Koto-ku).
There are many families with a passion for education, and some crazy mothers have been known to go too far and cause "examination murders".
Characteristics of Bunkyo City Ward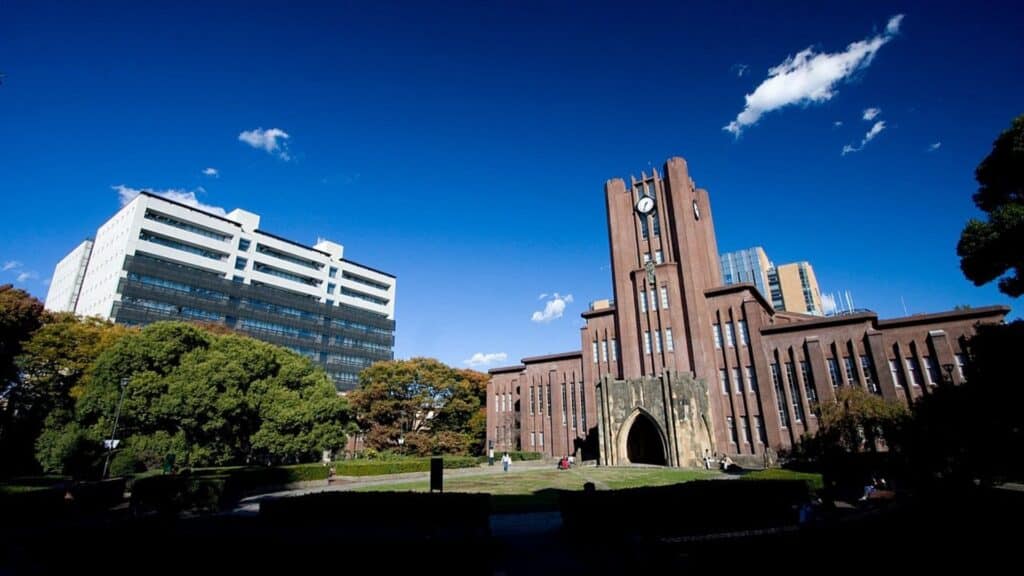 Bunkyo Ward is characterised by its educational facilities, art galleries, museums, and other facilities that provide a good educational environment for raising children. There are many people of child-bearing age who wish to raise their children in Bunkyo Ward. The fact that many Bunkyo Ward residents actually have a high level of awareness toward education and culture makes the environment even better.
Bunkyo-ku is also a place of association for many literary figures. Various writers have gathered around Hongo, where the University of Tokyo is located, and they seem to have left behind some great works.
The most representative among them are Soseki Natsume, Ogai Mori, Yasunari Kawabata and Rohan Koda. There are so many other writers whose names are well-known to everyone that there is no end to the list. It is said that Shoyo Tsubouchi wrote his masterpiece "Shosetsu Shinso" (The Essence of Novels) at Tandanzaka, Hongo 4-chome.
Areas and stations of Bunkyo City Ward
Marunouchi Line
Korakuen 後楽園:
The central area of Bunkyo-ku is where facilities such as Bunkyo Ward Office, Tokyo Dome City, LaQua, and Koishikawa Korakuen are concentrated.
The observation deck at the Bunkyo Civic Center is a good spot to view the city. The contrast with the Toei Bunkyo Masago Apartments diagonally across the street is amazing. Kasuga Station of the Toei Subway is also in the same location.
Hongo 3-chome 本郷三丁目
This is the closest station to the Hongo Campus of the University of Tokyo, Japan's highest academic institution. Just walking along the shopping street in front of the red gate is enough to make you feel smart.
There is also "Ochudai Yokocho," a back alley space where you can find many old boarding houses. There are many old boarding houses in the residential area. Hongokan," a legendary boarding house more than 100 years old, has been reconstructed. The site of the famous former residence of Ichiyo Higuchi on Kikuzaka.
Ochanomizu 御茶ノ水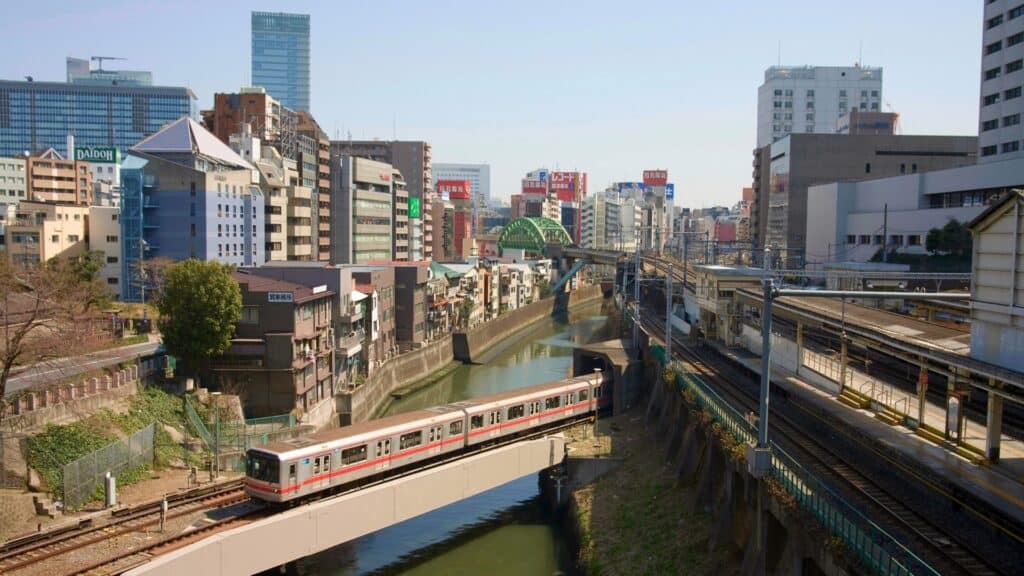 A highly educated town with a musical instrument district, Sundai Prep School, Nihon University, Meiji University, and Chuo University on the Chiyoda-ku side, and Yushima Seido, University of Medical and Dental Sciences, and Juntendo University on the Bunkyo-ku side.
On the Bunkyo Ward side, there is Yushima Seido, the University of Medicine and Dentistry, and Juntendo University. There are always right-wingers in front of the station on Saturdays and Sundays. The view of Seibashi Bridge and Akihabara Electric Town from the Kanda River is highly recommended.
Myogadani 茗荷谷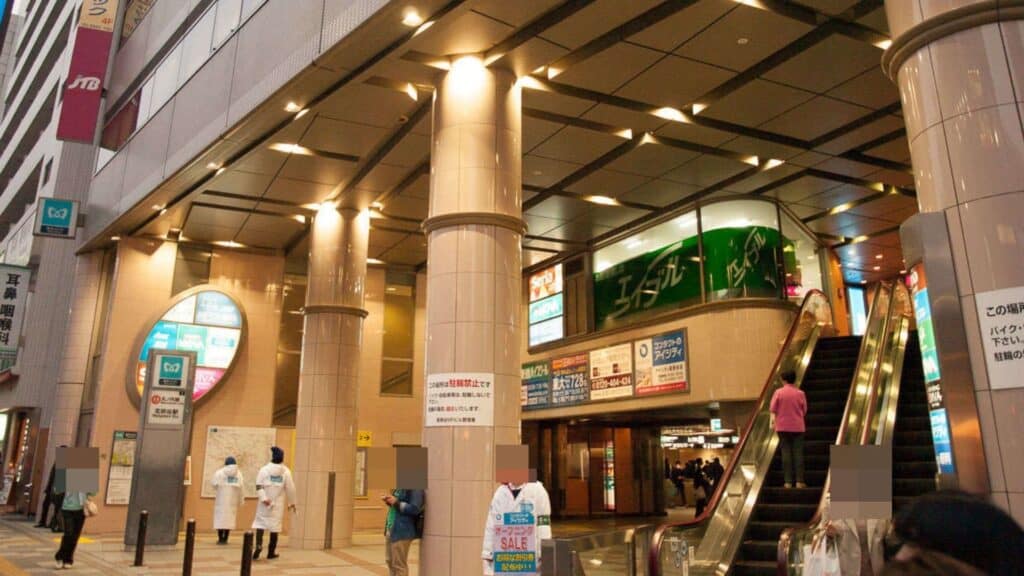 Myogadani used to be a place where myoga (Japanese bitter gourd) used to be harvested. It is a student town with Ochanomizu University, Atomi Gakuen, Takushoku University, University of Tsukuba, and others.
The last survivor of "Gyudon Taro" is in a prime location in front of the station. The Jizo statue watches over the town. Kohinatai, a seriously upscale residential area, is also within walking distance.
Shin-otsuka 新大塚
In contrast to the vulgar shopping district on the Toshima-ku side of the north exit of Otsuka Station on the Yamanote Line, Shin-otsuka is a quiet residential area on the Bunkyo-ku side.
Yurakucho and Chiyoda Line
Edogawabashi 江戸川橋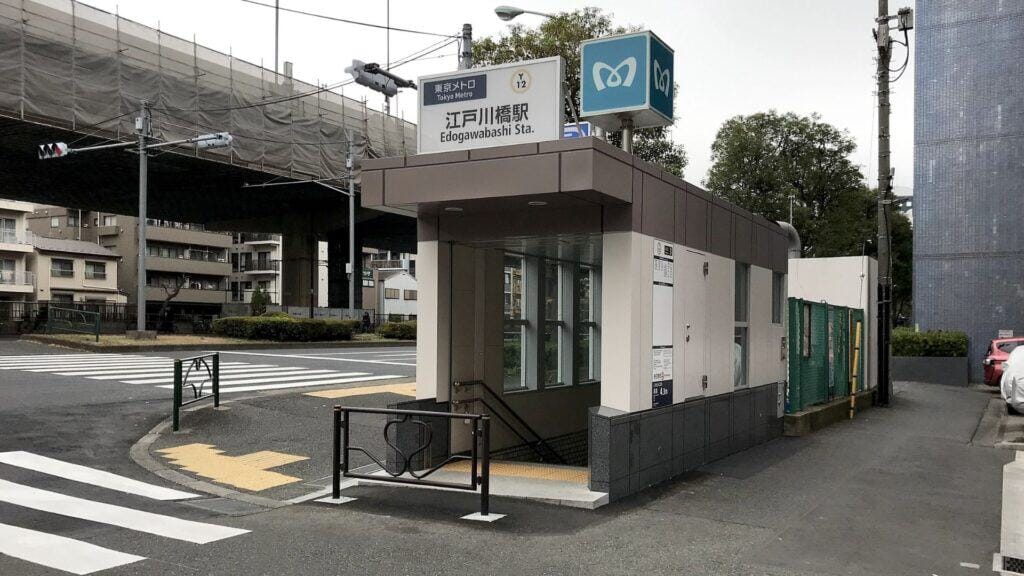 This place-name comes from the Kanda River, which used to be called Edogawa. It has nothing to do with Edogawa Ward. The Jizo-dori shopping street in front of the station is one of the most prosperous in Bunkyo Ward.
The lowlands along the river are home to a few bookbinding factories, giving the area a downtown taste, but there are also palatial residential areas on higher ground such as Sekiguchidai and Mejirodai. The Tokyo Cathedral of St. Mary, Kakuei Tanaka's residence, Hatoyama Kaikan, and the famous Chinzan-so are also located here.
Gokokuji 護国寺
As the name of the station suggests, Gokokuji Temple stretches in front of the station. Otowa Kindergarten in its precincts was the scene of the "Oseki-kindergarten Murder Incident" in 1999. It was an act of madness committed by a super-educational mother. Next to Gokokuji is the Toshimaoka Cemetery, a cemetery for the royal family.
Yushima 湯島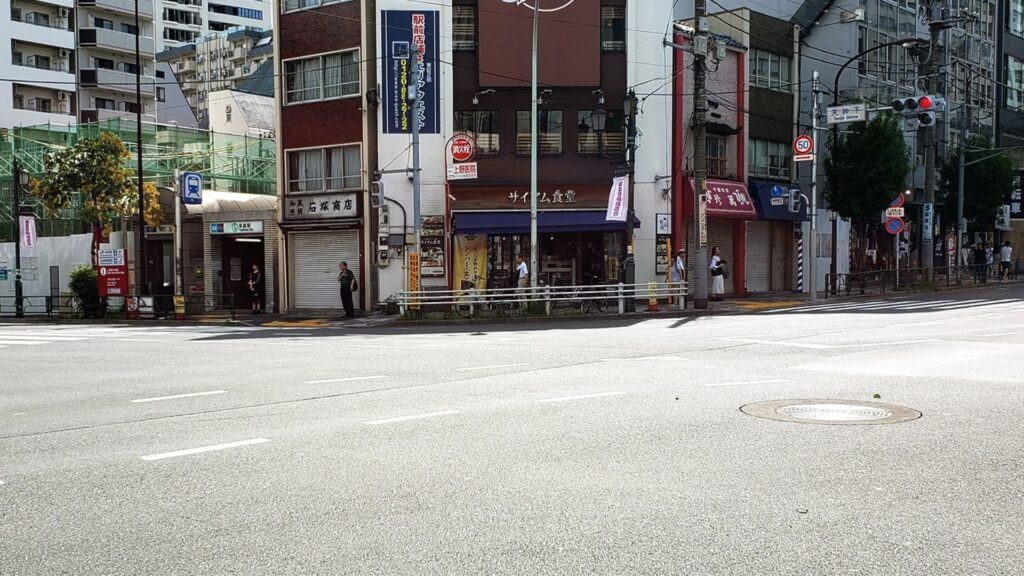 The most un-Bunkyo-like town in Tokyo, which is so close to the underground town of Ueno that it has been exposed to a noxious atmosphere. The area in front of Yushima Station and behind Yushima Tenjin Shrine is a love hotel district. The highlight of the area is Yushima Hightown, a huge condominium complex built in the Showa period (1926-1989).
Nezu 根津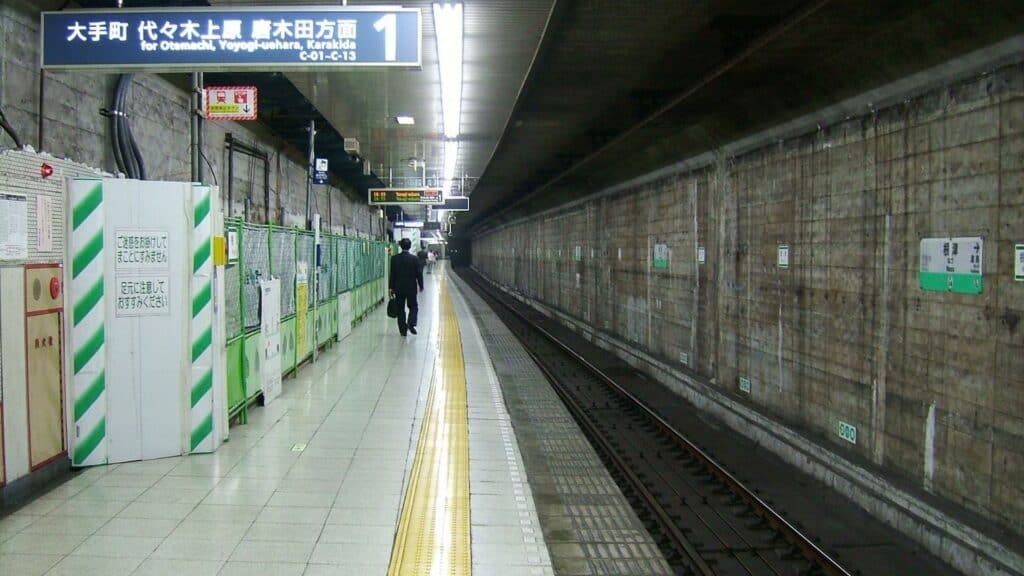 The entrance to Yanesen, a high-collar downtown area. The nearest station to Yanaka Teramachi is here. The clientele at the high-class shish-kebab restaurant Hantei is very conscious. The former Nezu amusement quarters in front of Nezu Shrine were relocated to Suzaki. This was already a long time ago in the Meiji era.
Sendagi 千駄木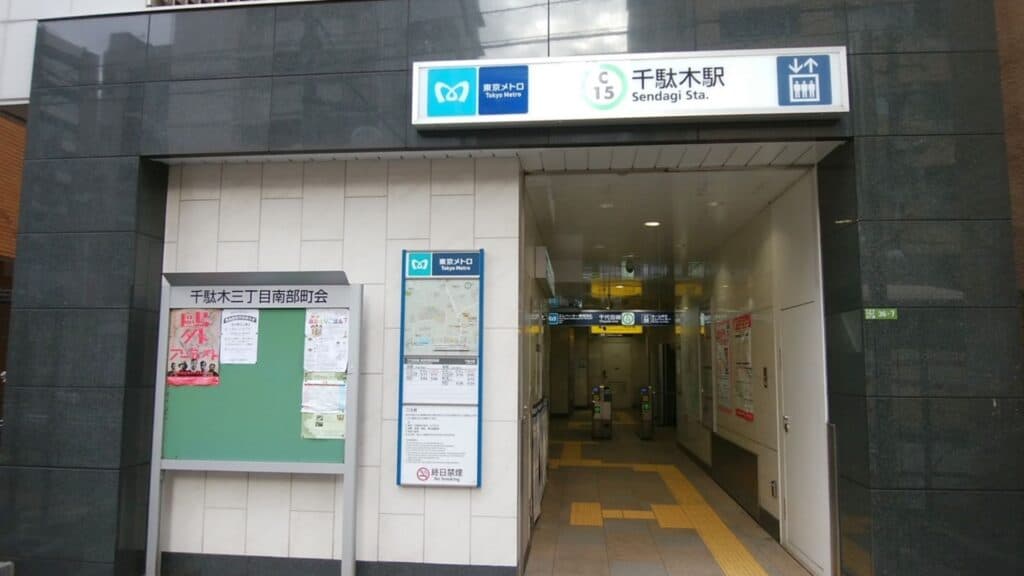 This is the main street of Yanesen and the nearest station to the Yanaka Ginza shopping street where tourists rush to. People line up for menchikatsu shops here. The price level of cheap delicatessen shops is on par with Adachi Ward, where people get furious if you take their pictures. It is the most downtown-smelling town in Bunkyo-ku, but the rent is relatively high here
Namboku Line and Toei Mita Line
Hakusan白山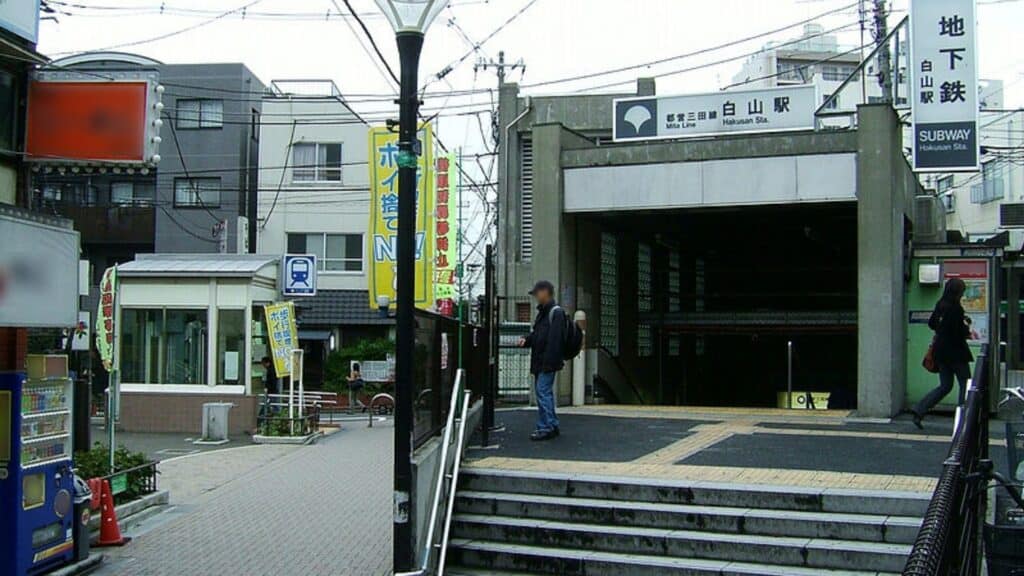 The name of the station is named after Hakusan Shrine. The Korean Federation of Trade Unions' Korean Publication Hall stood for many years on Hakusan Street. The 13-story building was one of the tallest buildings in Bunkyo Ward at the time of its construction, but the land was sold and the building was demolished.
Sengoku 千石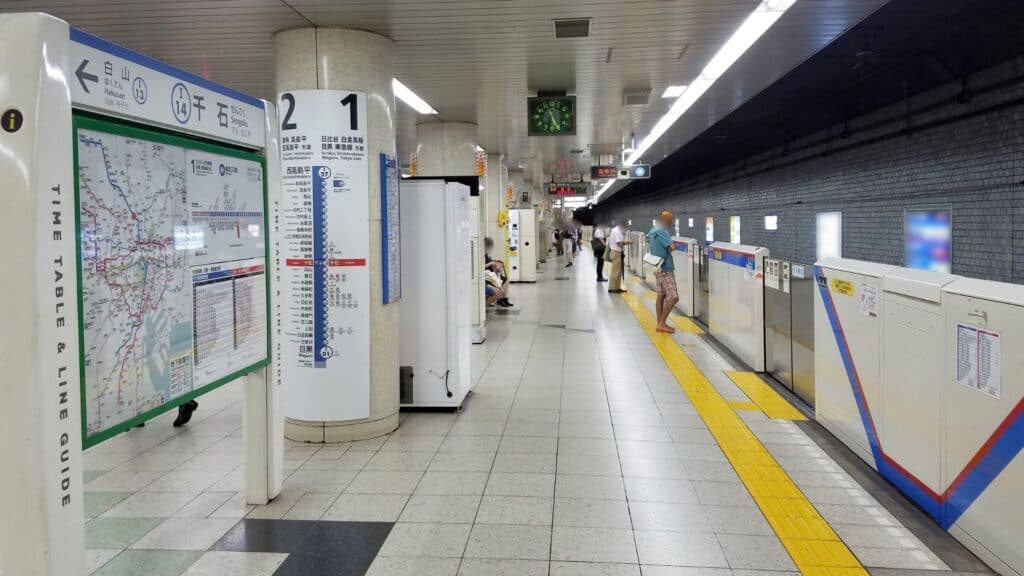 The furthest point in Bunkyo-ku with no particular features other than being relatively close to Sugamo. Sengoku Honmachi Dori, which is supposed to be one of the best shopping streets in the city, is deserted.
Todai-mae 東大前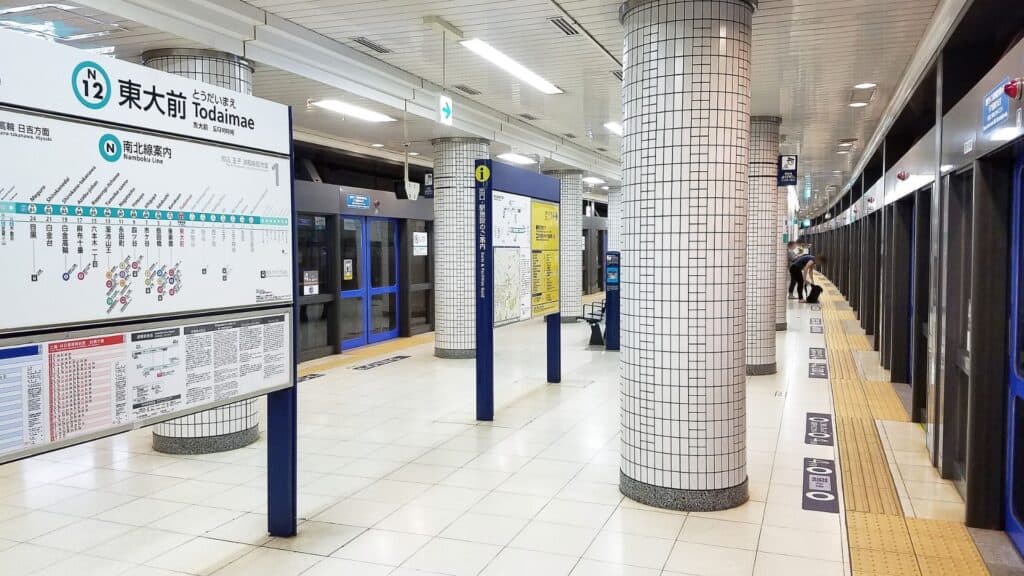 Strictly speaking, this area is "in front of the Faculty of Agriculture of the University of Tokyo". The Yayoi Campus of the University of Tokyo is nearby. Nishikata, a high-class residential area where literati and scholars used to live, is the number one place where people with an elite mindset want to live.
(14) Honkomagome 本駒込: Kichijōji 吉祥寺(曹洞宗 諏訪山) of the Soto sect on Hongo Street is also associated with that Kichijoji Temple in Musashino City. The famous Japanese garden Rikugien is also here.
What to do in Bunkyo City Ward
Tokyo Dome 東京ドーム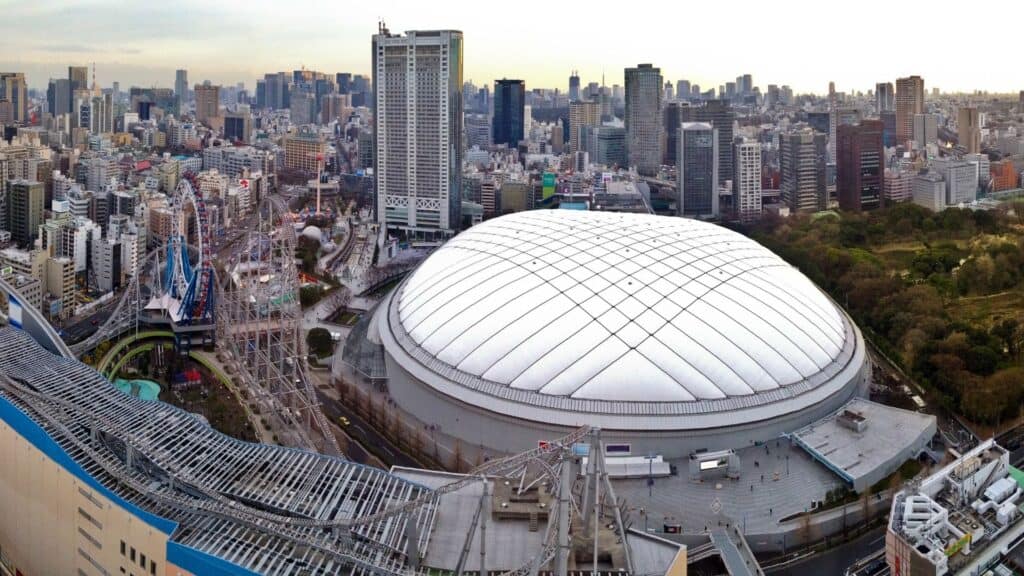 Opened in 1988, the Tokyo Dome was Japan's first covered stadium. It has a domed roof and an artificial turf field and is known as the home of the Yomiuri Giants. The Baseball Hall of Fame and Museum is located near Gate 21, where you can see the uniforms of popular players and other materials related to the history of baseball.
Find out more about Tokyo Dome here on Google maps.
Tokyo Dome City 東京ドームシティ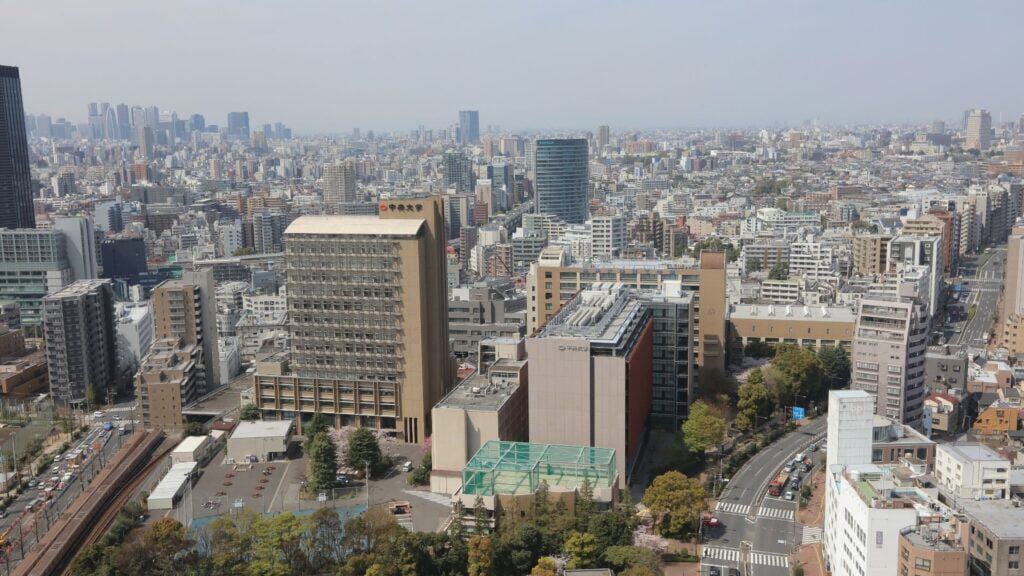 Tokyo Dome City is a comprehensive entertainment district centred on the Tokyo Dome, the home stadium of the Yomiuri Giants. Facilities include Tokyo Dome City Attractions (formerly Korakuen Amusement Park).
Here, you can enjoy various attractions and a Ferris wheel; LaQua, a spa facility; Korakuen Hall, known as a sacred place for martial arts; and the Tokyo Dome Hotel. There are also all kinds of events happening here all year round.
Find out more about Tokyo Dome City here on Google maps.
Rikugien Gardens 六義園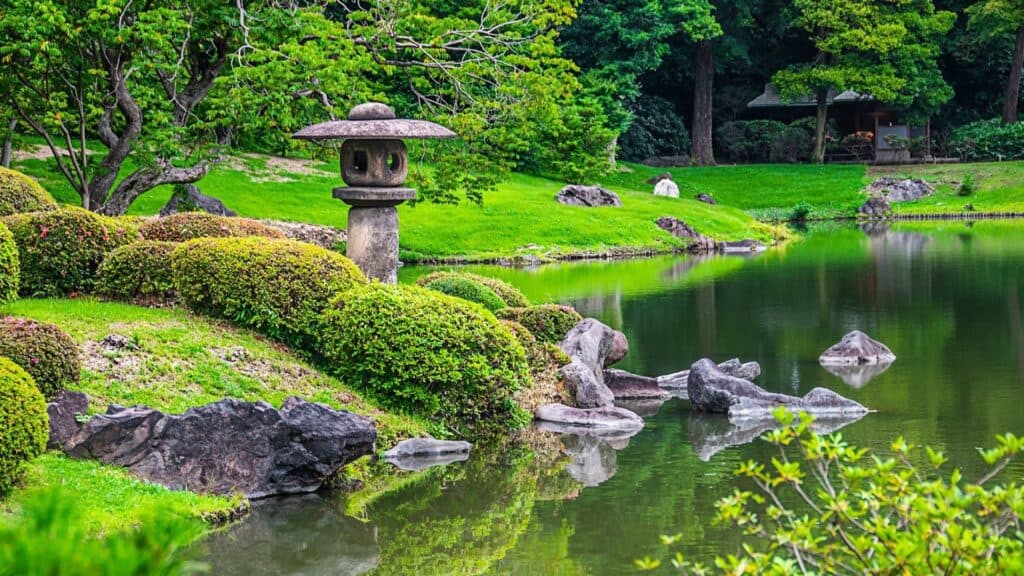 Rikugien was built by Yoshiyasu Yanagisawa, who led the Tokugawa shogunate as a Grand Elder during the reign of Tsunayoshi Tokugawa, the fifth Tokugawa Shogun, in his own villa.
The Japanese garden is rich in undulations, delicate and warm, and is especially famous for azaleas and weeping cherry blossoms near the entrance of the garden.
The garden is especially famous for its azaleas and weeping cherry blossoms near the entrance. The garden is illuminated during the cherry blossom and foliage seasons. The pond "Oizensui" with an island in the middle is the centre of the garden, and the scenery of Kishu is beautifully expressed in the garden, attracting many foreign tourists.
Find out more about Rikugien Gardens here on Google maps.
Koishikawa Korakuen Gardens 小石川後楽園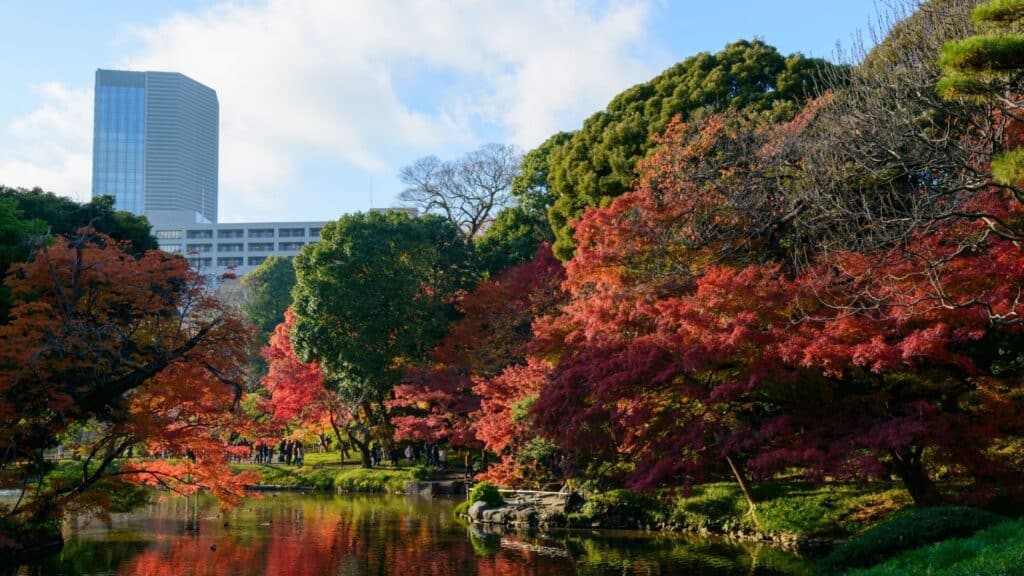 Koishikawa Korakuen Gardens is a Japanese garden built in the early Edo period (1603-1867) in the mansion of the Mito Tokugawa family. It is designated as a Special Historic Site and a Special Place of Scenic Beauty by the national government.
The site is over 70,000 square meters, centring on "Oizensui," a pond representing Lake Biwa, and planted with seasonal flowers and trees such as plum and cherry blossoms. The park is dotted with landscapes named after famous Chinese landmarks and is also characterised by its rich Chinese flavour. In the northern part of the garden, visitors can enjoy a peaceful rural landscape that includes rice paddies. Free guided tours of the garden are available on certain days.
Find out more about Koishikawa Korakuen Gardens here on Google maps.
Nezu Shrine 根津神社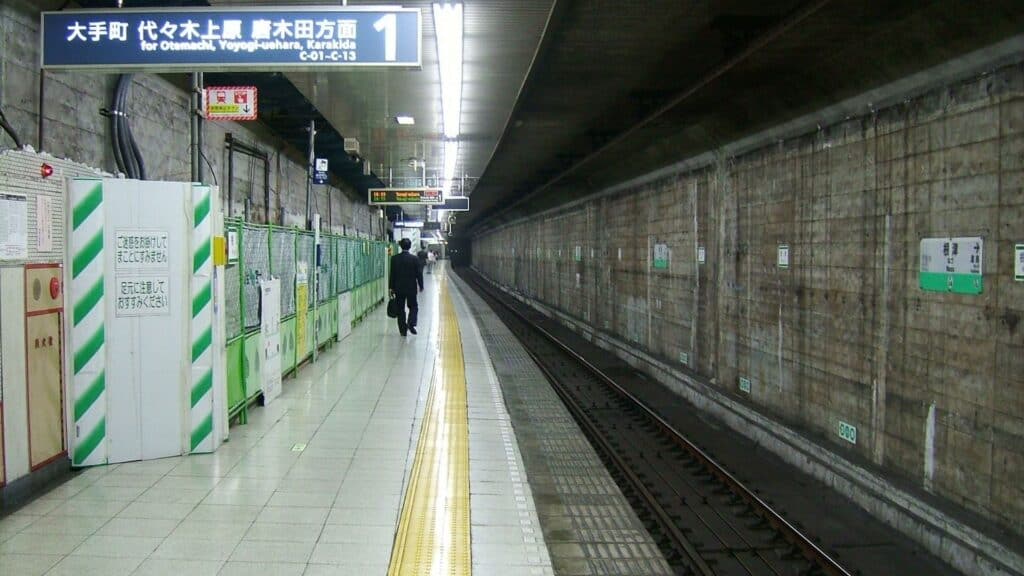 Located in Nezu, Bunkyo-ku, Tokyo, this shrine has a long history and is said to have been founded about 1,900 years ago by Takemikoto of Japan.
The main deities are Susano-no-mikoto, Oyamakui-no-mikoto, and Hondabetsumei-no-mikoto. The all-lacquered shrine pavilions built-in 1706 are considered masterpieces of the Gongen-zukuri style, and seven of them have been designated as national important cultural properties.
The Otome Inari Shrine, lined with vermilion-lacquered torii gates, is a popular photo spot, and attracts many visitors in April, when 3,000 azaleas are in full bloom, and in September, when the annual festival, one of the three major festivals in Edo, is held.
Find out more about Nezu Shrine here on Google maps.
Yushima Seido 史跡 湯島聖堂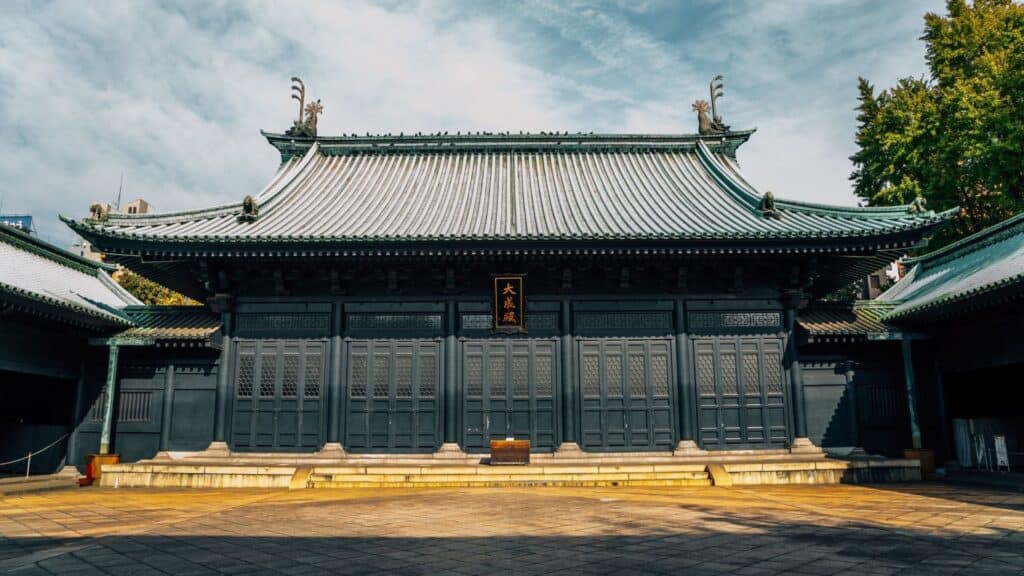 Yushima Seido is a historical site that was designated as a national historic site in 1922. It was built in 1960 by Tsunayoshi Tokugawa, the fifth shogun, to promote Confucian studies.
Currently, traditional events such as "Special New Year's Day Visitation and New Year's Day Reading Ceremony," "Confucius Festival," and "Acupuncture and Moxibustion Festival" are held here, and cultural lectures are also held.
Find out more about Yushima Seido here on Google maps.
Printing Museum 印刷博物館
The Printing Museum is located in Suido, Bunkyo-ku, Tokyo. Visitors can learn about the history of printing and the relationship between printing and culture through old and new printed materials as well as hands-on experience with letterpress printing techniques. There is also a music hall on the first floor and a restaurant and café on the second floor.
Find out more about Printing Museum here on Google maps.
Eisei Bunko Museum 永青文庫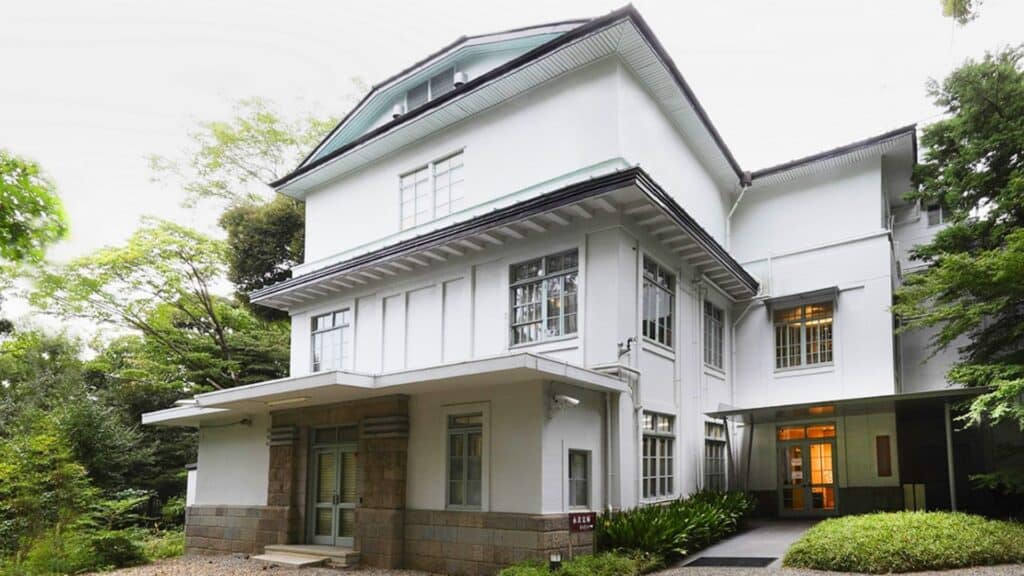 Eisei Bunko Museum is an art museum located in Mejirodai, Bunkyo-ku, near the Higo Hosokawa Garden. The museum is housed in the former Hosokawa marquis's family office building on the site of the Hosokawa family mansion and holds art and historical materials inherited from the Hosokawa family, donated by the 16th and 17th generations of the Hosokawa family, Lord Moritate and Mr. Morisada, respectively. Every year, the museum holds public exhibitions on various themes in spring, summer, fall, and winter.
Find out more about Eisei Bunko Museum here on Google maps.
Yushima Tenjin Shrine 湯島天満宮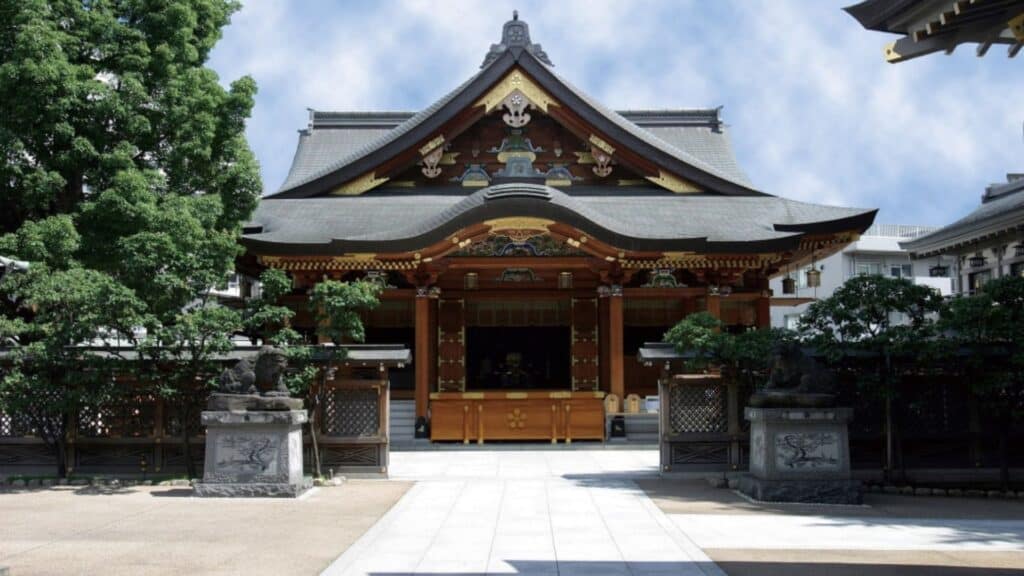 Located in Yushima, Bunkyo-ku, Yushima Tenjin Shrine is one of the representative Temmangu shrines in Edo and Tokyo and is said to have been built in 458 by the order of Emperor Yusaku with Amano-Terikio-no-Mikoto as its deities.
Later, Sugawara no Michizane was enshrined at the shrine during the Nanbokucho Period (1644-1644). The shrine is often visited by students preparing for entrance examinations as a god of academic achievement.
The shrine's grounds are rich in atmosphere and were used as the subject of paintings by ukiyoe artists such as Hiroshige Utagawa, etc. During the Plum Blossom Festival held in early February, the grounds are filled with plum trees in full bloom, attracting crowds of spectators.
Find out more about Yushima Tenjin Shrine here on Google maps.
Denzuin 傳通院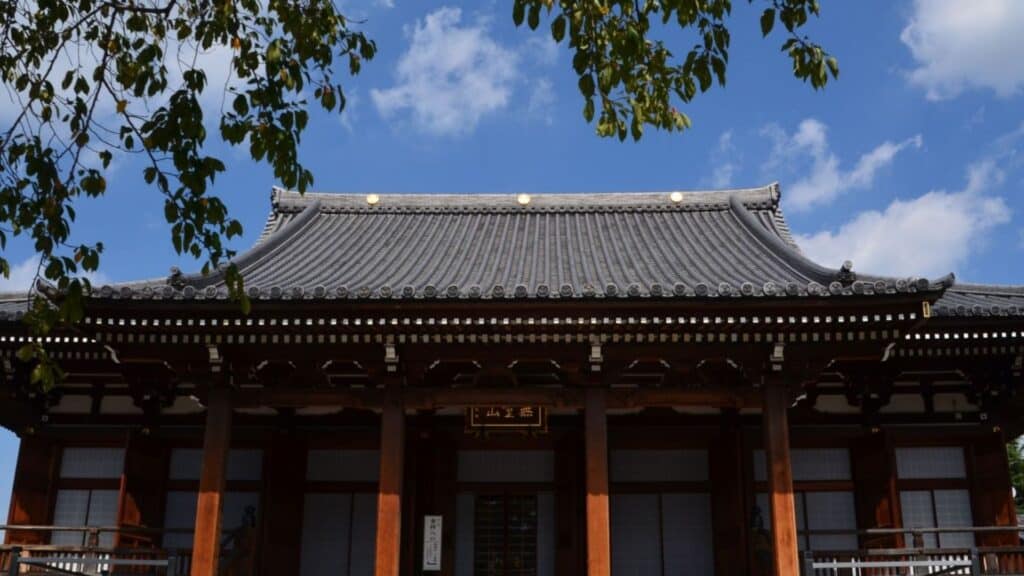 Denzuin is a temple located in Koishikawa, Bunkyo-ku, Tokyo. It was founded in 1415 by Ryoho Shonin, the seventh founder of the Jodo sect. It is the family temple of Odai-no-kata, the mother of Tokugawa Ieyasu, and has strong ties to the Tokugawa family, with many graves of people associated with the Tokugawa family, including Senhime, daughter of the second Tokugawa Shogun, Hidetada Tokugawa.
Find out more about Denzuin here on Google maps.
TeNQ Space Museum 宇宙ミュージアム TeNQ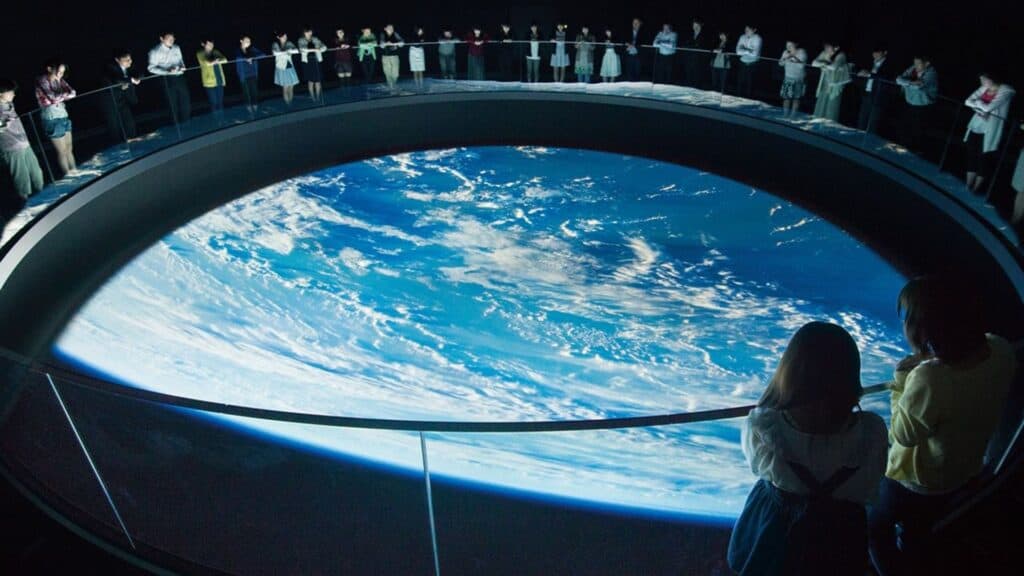 Located in Tokyo Dome City, this is an entertainment museum where visitors can enjoy space from various perspectives. The museum has many attractions, including various exhibits introducing space and a laboratory branch in collaboration with the University of Tokyo's National Museum of Emerging Science and Innovation.
The popular "Theater Sora" is a facility with an 11-meter-diameter hole in the floor, through which visitors peer into a theatre to view images. Visitors can experience the sensation of floating in the air as they watch the images streaming down to their feet.
Find out more about TeNQ Space Museum here on Google maps.
Events of Bunkyo City Ward
Yushima Tenmangu Shrine Plum Blossom Festival
Nezu Shrine Festival
Yushima Tenmangu Shrine Annual Festival
Gokokuji Flower Festival
Accommodation in Bunkyo Ward City Ward
The b suidobashi (3*)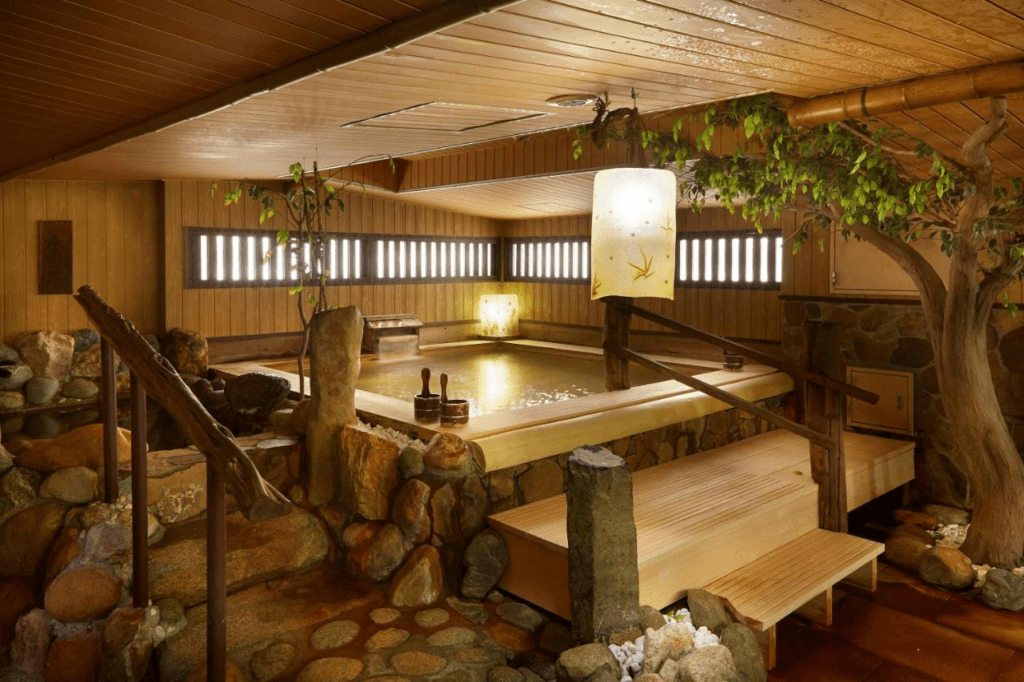 Just a 3-minute walk from Suidobashi Subway Station, the b suidobashi offers rooms with free internet and an attached bathroom. It features a public bath, laundry and a buffet-style breakfast. Tokyo Dome, with its amusement park and shopping mall, is just a 5-minute walk away. Nearby Suidobashi Subway Station offers direct subway access to the Otemachi and Jimbocho areas.
Hotel Wing International Korakuen (3*)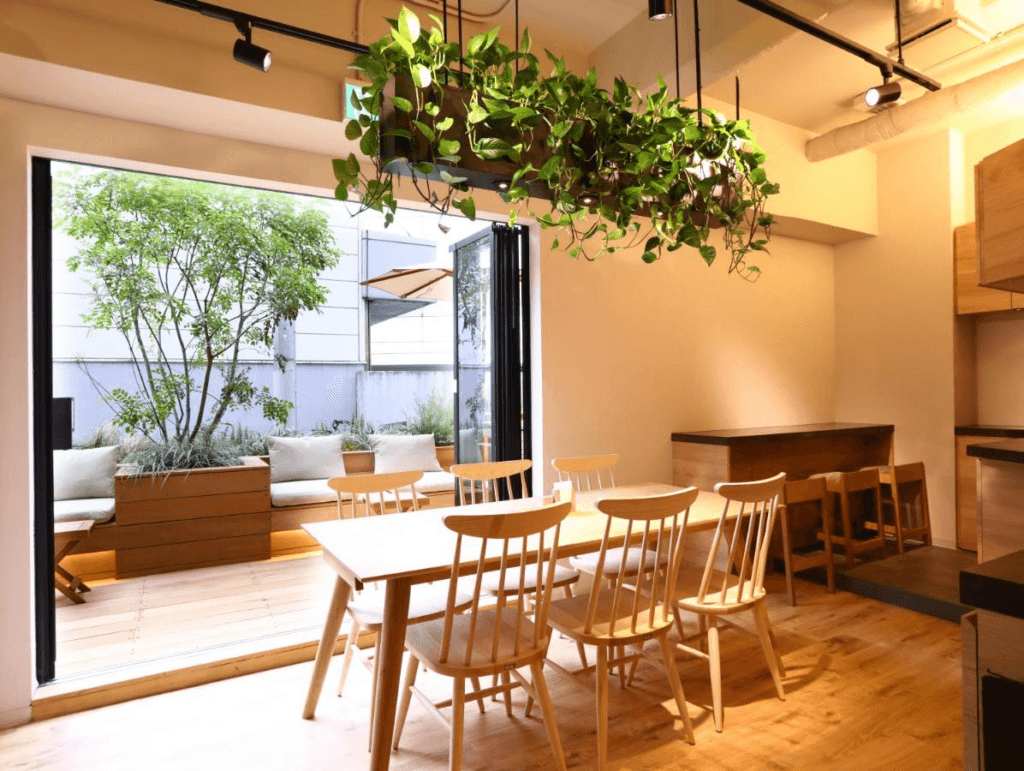 Hotel Wing International is just a 5-minute walk from Korakuen Subway Station and offers rooms with free internet and a flat-screen satellite TV. The hotel is only 300 m from Tokyo Dome, and the Imperial Palace and Yasukuni Shrine are a 10-minute taxi drive away. Nearby Korakuen Station offers direct subway access to Ikebukuro and Ginza.
Hotel Chinzanso Tokyo (5*)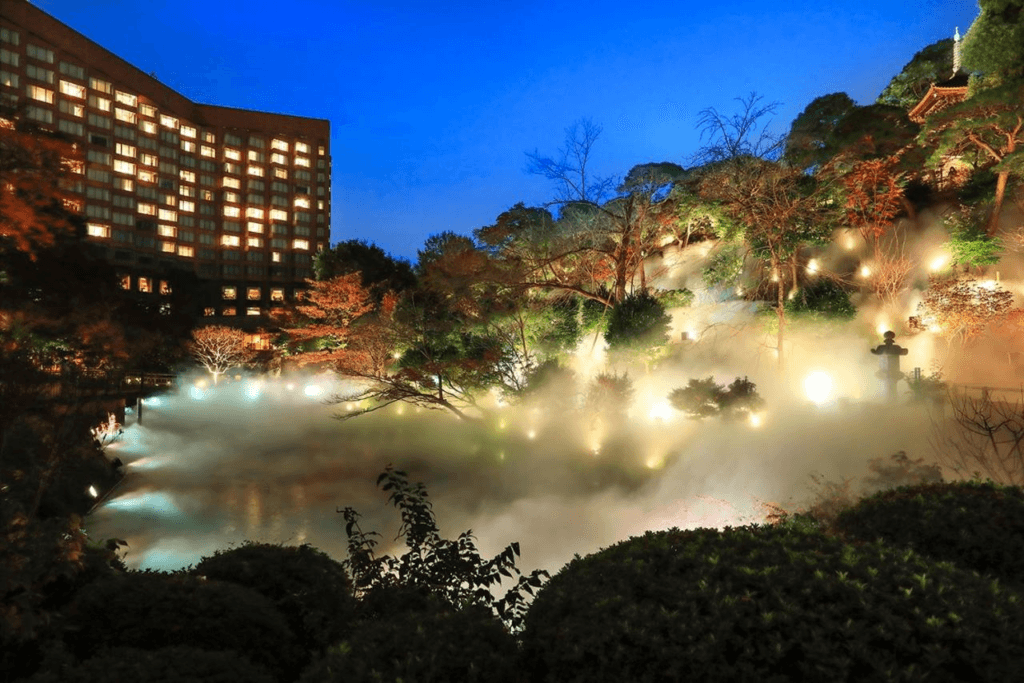 Set within a historic Japanese garden, Hotel Chinzanso Tokyo offers spacious rooms with garden or city views and free Wi-Fi. On-site YU The Spa features massages with scented oils and traditional Japanese hot-spring baths. Tokyo Chinzanso Hotel is a 25-minute taxi ride from JR Tokyo Train Station. The hotel is a 10-minute walk from Edogawabashi Subway Station.
Dormy Inn Korakuen (3*)
Located in Tokyo, 2.9 km from Japan Imperial Palace, Dormy Inn Korakuen has a spa & wellness centre, a shared lounge and rooms with free WiFi access. Located in the Bunkyo district, the property provides guests with access to a sauna. Local points of interest like Yasukuni Shrine and Chidorigafuchi are reachable within 3.4 km and 3.5 km, respectively.
Tokyo Dome Hotel (4*)
Tokyo Dome Hotel offers spacious and elegant guest rooms with free WiFi. It is within a 6-minute walk from JR Suidobashi Station, Korakuen Subway Station and Suidobashi Subway Station, providing direct access to many tourist attractions. The hotel is a 20-minute train ride to popular areas like Akihabara, Imperial Garden and Ueno Park. Lively Shinjuku area can be reached within a 15-minute train ride.
Annex Katsutaro Ryokan (2*)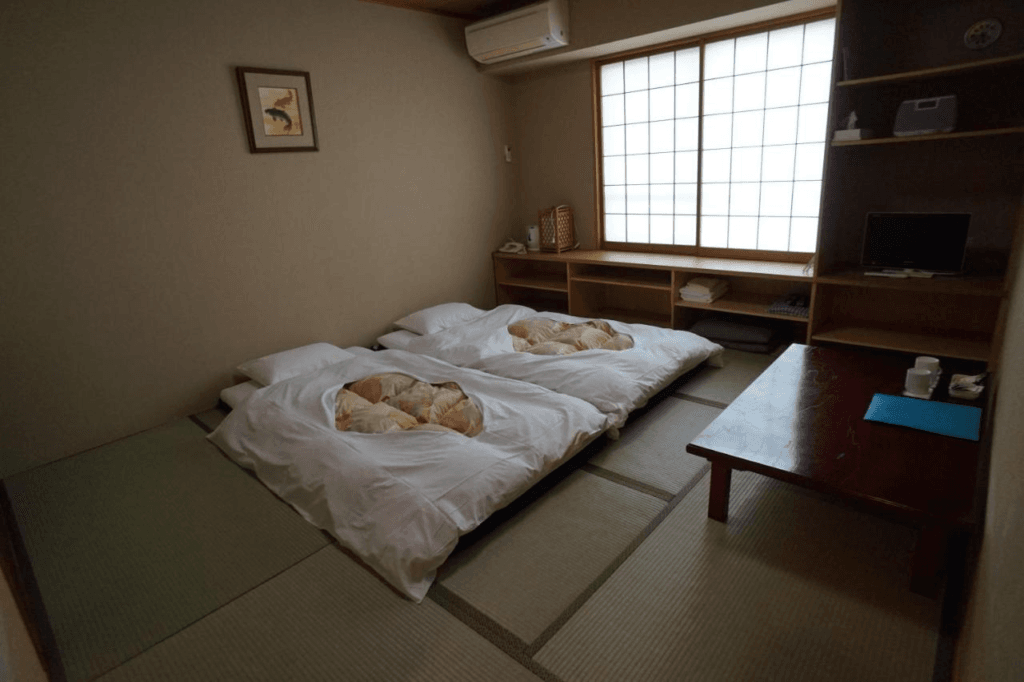 A 2-minute walk from Sendagi Subway Station, Japanese-style hotel Annex Katsutaro Ryokan features rooms with traditional tatami (woven-straw) flooring and free Wi-Fi internet. Katsutaro Annex is a 3-minute walk from Tenno-ji Temple and a 10-minute walk from Ueno Zoo and Ueno Park. It is an 8-minute walk to JR Nippori Station, which offers direct access to Akihabara and Tokyo Station.
Hotel Mandarin (3*)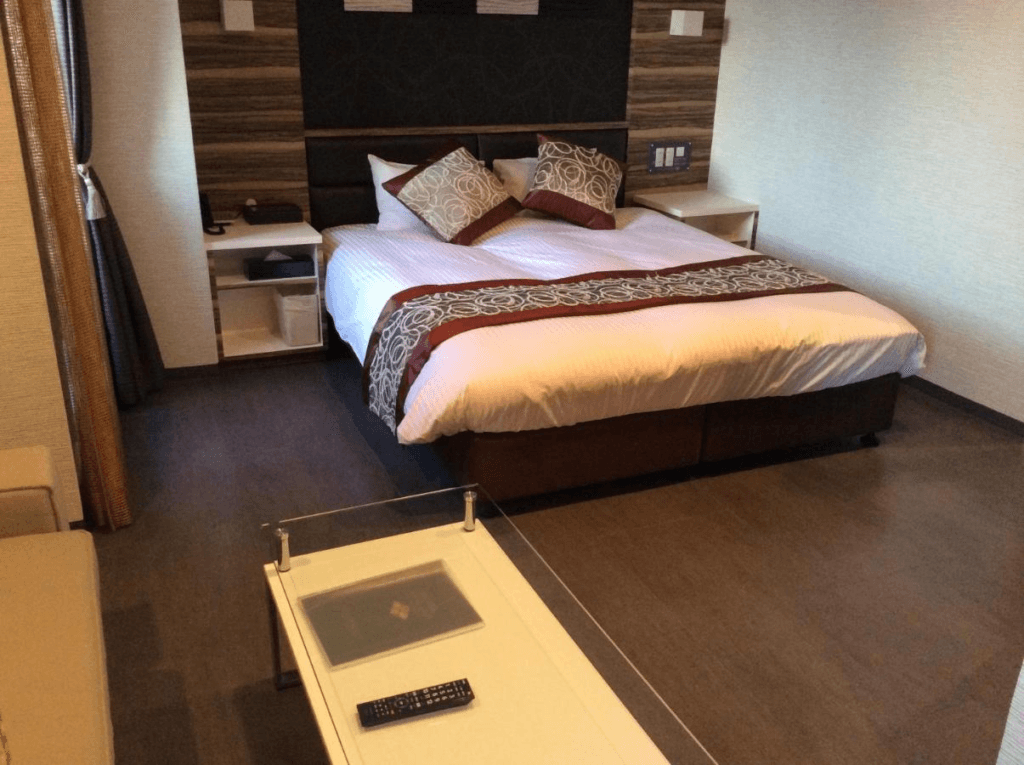 Only a 3-minute walk from Tokyo Dome, Hotel Mandarin offers free WiFi at the entire property. JR Suidobashi Train Station and Korakuen Subway Station are both a 5-minute walk away. Mandarin Hotel is a 15-minute train ride from Tokyo Station and a 15-minute drive from Ueno Station. A Don Quixote store is located right next to the property.
URBAN LODGE Komagome (1*)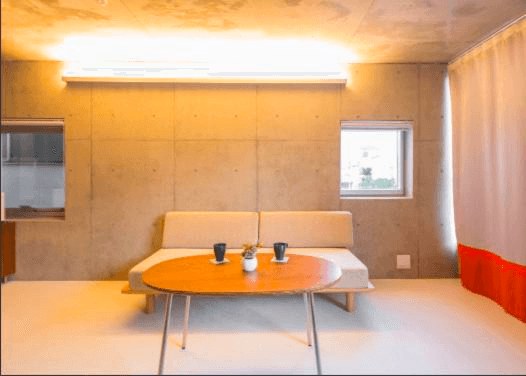 Located 600 m from TABATA Memorial Museum of Writers and Artists in Tokyo, URBAN LODGE Komagome provides accommodation with air conditioning and free WiFi. Popular points of interest near the apartment include Fabre Insect Museum, Atrevie Sugamo and Mori Ōgai Memorial Museum. The nearest airport is Tokyo Haneda International Airport, 20 km from URBAN LODGE Komagome.
—
What do you think about Bunkyo Ward in Tokyo? Do you like finding out about the history and culture of this interesting area of Tokyo? There is so much history and unique things to do in this local neighbourhood of Tokyo, if you're interested in coming for yourself, make sure to refer back to this blog.