Do you know about the Chiyoda Ward in Tokyo? It is one of the 23 wards of Tokyo, with various unique neighbourhoods and areas, along with different things to do and sights to see. If you are wondering what is Adachi ward, the different areas inside Adachi, the best things to do, history, accommodation and more, check out this ultimate Adachi ward area guide.
What is Chiyoda?
Chiyoda Ward is the centre of Tokyo, where the central functions of Japan are located.
The Imperial Palace is located in the centre of the district, with the Diet Building, Kasumigaseki government office district, and other national centres of government all in the vicinity, and Marunouchi, Otemachi, Hibiya, Kojimachi, Bancho, Kudanshita, and Kanda, the most central of Tokyo, are located around the Imperial Palace.
Chiyoda-ku is truly the king of the 23 wards and is a very awe-inspiring place to live, but even here the number of tower condominiums is gradually increasing, and the population is growing as the trend to return to the city centre is gaining strength.
The population, which at one point in 1995 during the bubble period was less than 35,000, has now increased 1.8 times that number to approximately 64,000 and is still growing. It is also a land of supreme longing for the wealthy and elitists who move to Tokyo from the country's rural areas.
However, most of the areas in Chiyoda Ward are all office districts. It is difficult to find even a decent supermarket in Kanda, the businessman's town, Akihabara, the electric town, or Jimbocho, the town of old books.
The largest number of residents live in the Bancho area, where Bancho Elementary School, one of the three most prestigious public schools in Tokyo, is located, while the other areas are limited to new residents in tower apartments or local people who have lived there for generations.
Living in Chiyoda
Chiyoda-ku, Tokyo, the heart of Tokyo, is generally divided into two areas. The former Kojimachi Ward and the former Kanda Ward.
The former area includes the Nagatacho and Kasumigaseki districts, which are Japan's central business districts, and the Bancho district, the most expensive residential area in Japan, which is popular among mothers who want to send their children to Tokyo University to pursue an elite career, while the latter has been a popular residential area since the Edo period.
The latter area, however, is a local downtown Tokyo area. The Kanda Festival, held at the landmark Kanda Myojin shrine in downtown Tokyo, is one of the three major festivals in Edo, ranking alongside the Sanno Festival at Sanno-Hie Shrine in Chiyoda Ward, the Fukagawa Festival at Tomioka Hachiman Shrine in Monzennaka-cho, and the Sanja Festival in Asakusa.
Although the population of Chiyoda Ward has increased due to the return to the centre of the city, its population still remains on the low end. Especially in Bancho and Kojimachi, where luxury condominiums stand side by side, it is impossible to live without a modest income.
History of Chiyoda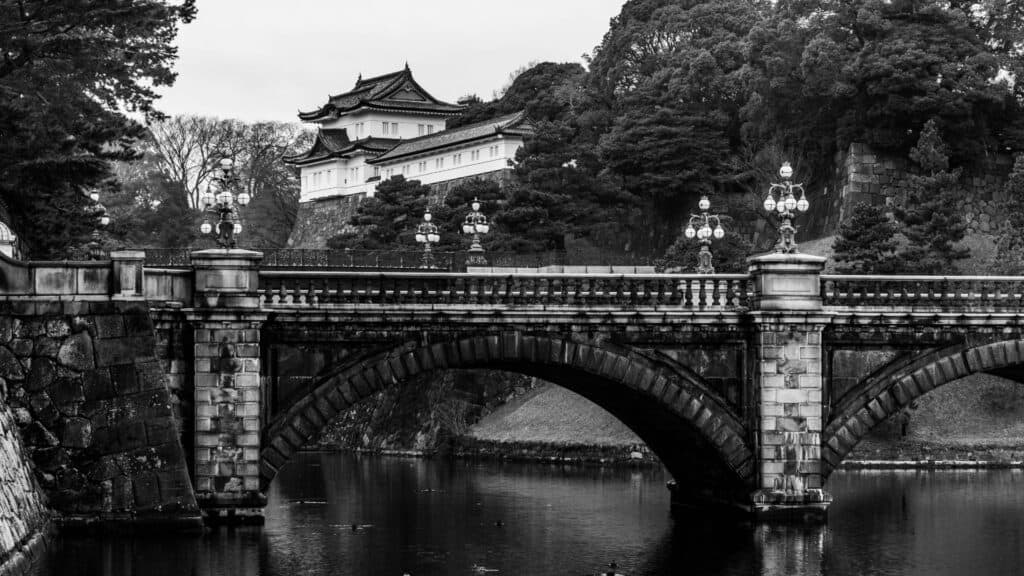 The origin of Chiyoda-ku comes from Chiyoda Castle, another name for Edo Castle.
Because it is the closest to Edo Castle, it used to be home to many samurai residences, where samurai warriors and those who served the Edo Castle lived.
Edo Castle was home to the Tokugawa Shogunate for more than 250 years, but when the Meiji government came into being through the Grand Council of State, it became the residence of the Emperor's family.
The Diet Building, government ministries and agencies, and other government buildings were also constructed in the area around the Imperial Palace after the Meiji period.
With the enactment of the Law for the Formation of Towns and Villages, two wards, Kojimachi and Kanda, were established in this area.
The subsequent Great Kanto Earthquake and World War II caused severe damage, and it is said that two-thirds of both wards were destroyed by fire.
After the war, Kojimachi and Kanda wards merged to form Chiyoda Ward in 1947, and the ward office was initially established in the former Kanda Ward Office.
Characteristics of Chiyoda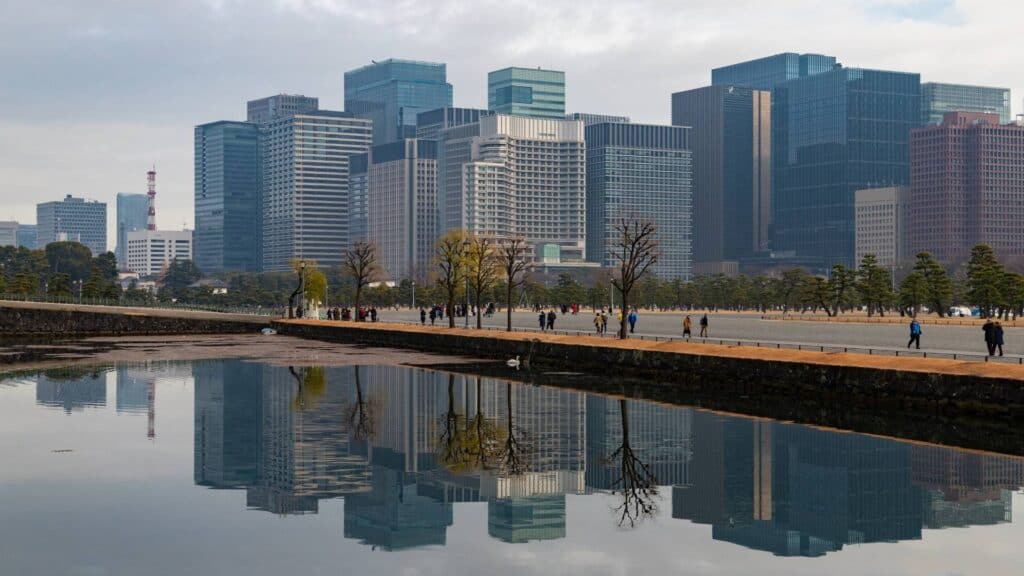 Headquarters of major companies are concentrated in Chiyoda Ward
Chiyoda-ku has long been the centre of Tokyo, and the reason for this is related to the concentration of headquarters and rental offices of major corporations in Otemachi and Marunouchi. There were also many megabanks, which are financial institutions, symbolizing the fact that the area has been the centre of Japan since the Edo period (1603-1867).
In recent years, commercial facilities have been built one after another in the Marunouchi area, making it a thriving shopping area as well as an office district.
Abundant office space for rent
Chiyoda Ward is home to a large number of companies, both large and small, that are in tune with the unique characteristics of each area. As if to match this, there are also many restaurants, and many companies scattered throughout the area due to its convenient transportation.
Chiyoda-ku is a great place to do business, and since there are many people starting businesses and companies setting up offices in the area, there are many opportunities to rent office space. As a result, the number of properties is quite abundant.
Akihabara has small and medium-sized companies in building complexes. In recent years, high-rise office buildings have lined up in front of Akihabara Station, but most of them are low-rise office buildings housing small and medium-sized companies. Akihabara was originally famous as an electronics district, but now it has become a mecca for anime, idols, and subcultures, making it an area for maniacs.
Kanda area with many publishing companies
The Kanda area was originally famous as a student town, where one could enjoy the atmosphere of a traditional downtown area. In recent years, however, redevelopment has progressed and the area has become a place where a variety of old and new companies coexist.
There are many wholesale stores in the Kanda area, and along with them, there are many bookstores, used bookstores, and publishing companies. There are also many printers and bookbinders, which are indispensable for book production.
An office district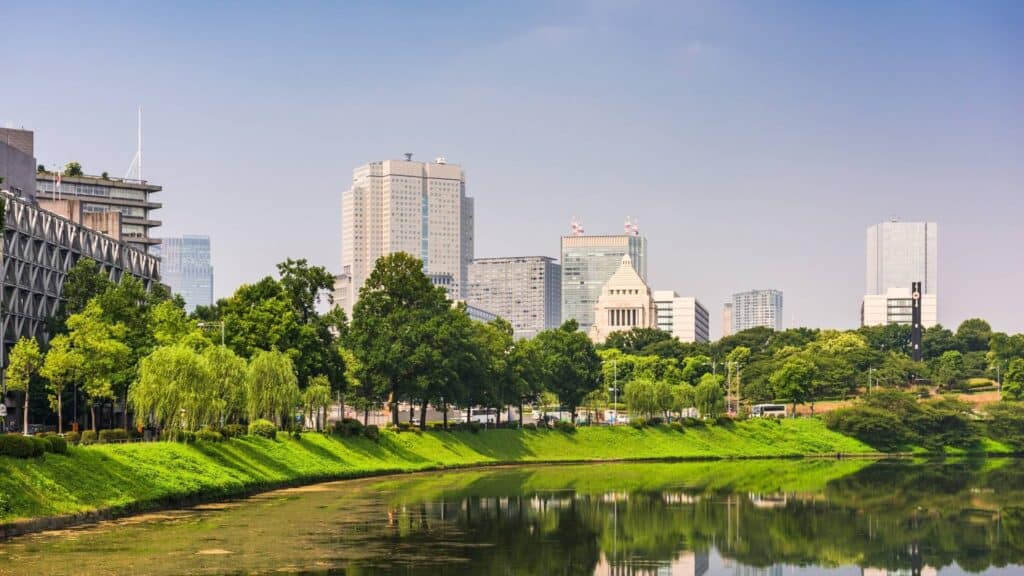 Chiyoda-ku is famous for its office districts and the Imperial Palace, and as a residential area, it is quite unbalanced. Therefore, during the daytime, office workers and office ladies commute to work from various places, but after work, there are fewer people at night, partly because there are few residential areas. This is why the population of Chiyoda-ku is said to be the smallest among the 23 wards.
Chiyoda-ku has a stronger image as a place to work, and there are few places to live, which may explain why the cost of housing is so high. It is also true that the difference in population between day and night in Chiyoda-ku is as large as 19 times.
Areas of Chiyoda
JR Yamanote Line
Tokyo 東京
The gateway to the capital city of Tokyo where all JR lines, both Shinkansen and conventional, converge. The Marunouchi side of the street is where the elite-oriented, chalet-like upscale office district spreads out, inevitably overwhelming the countryside. However, if you look under the underpass, you will catch a glimpse of the dark side of the city, with its postwar scenery, dirty alleyways, buckwheat noodle stalls, and homeless people lying on the floor.
Yurakucho 有楽町
The Tokyo International Forum is located on the site of the Tokyo Metropolitan Government Building, which was relocated to Nishi-Shinjuku. See the movie "Carmen 1945" for a recreation of the streets of "Rakucho," a postwar town filled with the mood of defeat, when the GHQ headquarters was located in the Dai-ichi Seimei head office building. Nishi-Ginza JR Center, a passageway under the underpass in the direction of Shimbashi Station, still seems to be there.
Kanda 神田
A businessman's town that is unbelievably crowded despite being right next to Tokyo Station, the gateway to the capital. Part of the area is a non-war zone, so many copper-sheeted buildings remain. The area is also rich in urban heritage, including a red brick underpass that has remained from before the war and Tokyo's first modern sewage system, the Kanda Sewer, but the drinking district under the underpass was demolished in the postwar doldrums.
Akihabara 秋葉原
Japan's representative electric town and otaku town. The area was once a gathering place for professionals, with the Kanda fruit and vegetable market at its centre, but now there are many suspicious foreign cell phone shops even in the historic electronics district under the underpass.
JR Chuo Line
Ochanomizu 御茶ノ水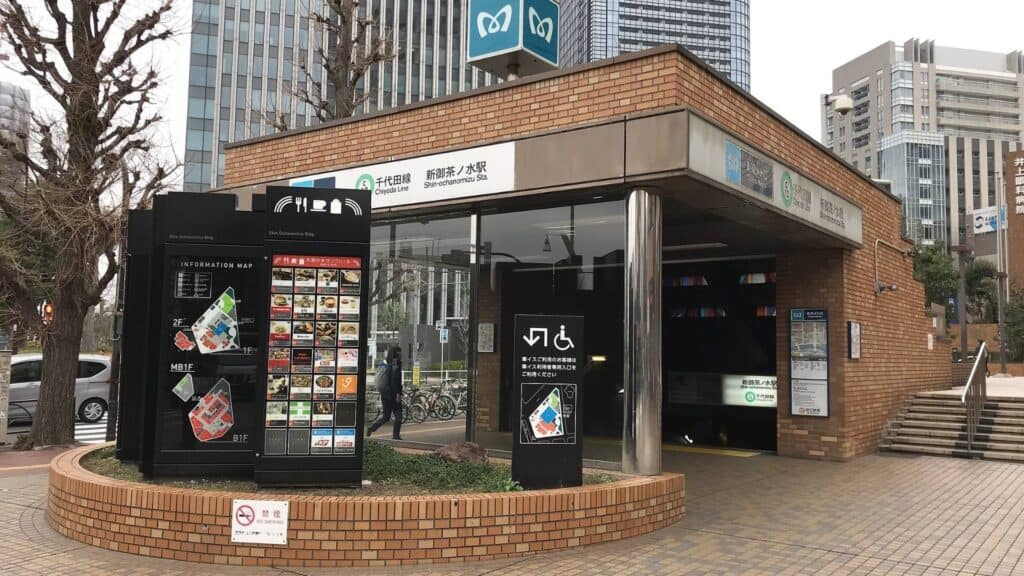 The view from Ochanomizu Bridge clearly shows the border between the Yamanote and downtown areas. Ochanomizu is a student town where Nihon University, Meiji University, and Sundai Preparatory School are located, and in front of the station is a musical instrument district. The Meiji University Museum, where torture devices from around the world are on display, is a coveted destination for subculture Kamigyo residents, along with the Parasite Museum in Meguro.
Suidobashi 水道橋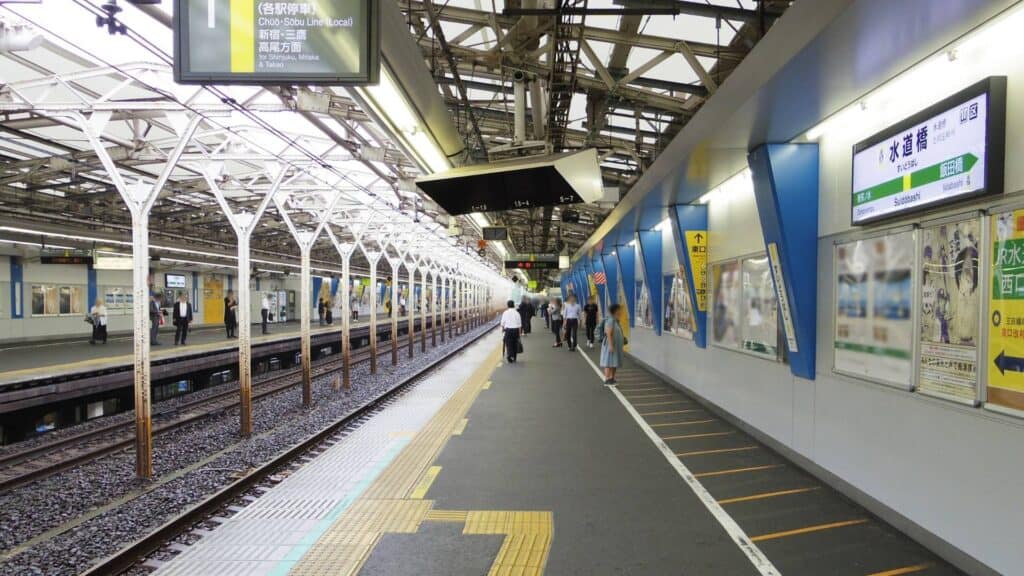 Suidobashi is an extension of Jimbocho, an old book town, and a town that reeks of "men of age," with a few student food shops and seedy bookstores here and there.
Iidabashi 飯田橋
Tokyo Daijingu is a power spot where women in their 30s and 40s who have missed their chance of marriage pray frantically for love. After the completion of the 40-story tower apartment building, one of the best in Chiyoda Ward, the population has skyrocketed. The Sobu Line platforms are notorious for accidents where people fall through the cracks, and the platforms are currently being relocated.
Ichigaya 市ヶ谷
This is the home of the Ministry of Defense. The Ichigaya Fish Center, a fishing pond, is still in operation. The Bancho district, the most expensive residential area in Japan, is the nearest station.
Yotsuya 四ツ谷
The Gakushuin Elementary School and the Geihin-kan are outside of Chiyoda Ward. The Kojimachi exit leads to Sophia University, the Christian "Sophia University. Every year during the cherry blossom season, Sotobori Park becomes chaotic with rowdy students. Hosei University has issued a "Hanami ban" for students.
Subways
Otemachi Nijubashimae 大手町・二重橋前
A major office area near Tokyo Station. Tokyo's most haunted spot, the "Taira no Masakado's Grave", remains untouched despite repeated development. This spot is a shrine to a samurai warrior who led a 10th-century insurrection, built to pacify his vengeful ghost. The Nijubashi Bridge, where the Imperial Palace is open to the public, is regularly visited by tourists.
Hibiya 日比谷
Hibiya Park is an oasis in the heart of Tokyo. The "New Year's Eve Haken Mura" (New Year's Eve Dispatch Village) was held in the park at the end of 2008, and tents for homeless people were scattered throughout the park.
Kasumigaseki and Sakuradamon 霞ヶ関・桜田門
This is another well-known government office district where all the ministries and agencies of the Japanese government gather. The Ministry of Agriculture, Forestry and Fisheries, which oversees Japan's agricultural policy, has an established reputation for its cafeteria.
The National Diet Building, Nagatacho, and Tameike-Sanno 国会議事堂前・永田町・溜池山王
The National Diet Building and the Prime Minister's official residence are located in this area, which plays a central role in Japan's political system. In Nagatacho 1-chome and the former Sannencho, there were detached houses and residents were living there until a few years ago.
Kojimachi and Hanzomon 麹町・半蔵門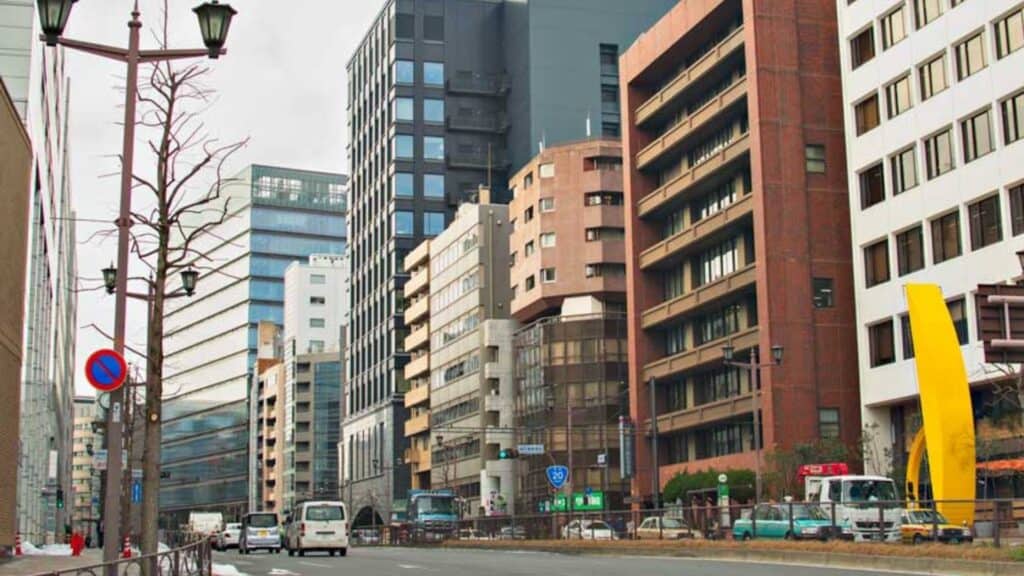 The old home of the commercial broadcaster Nippon Television. Zoom in! Morning! which was broadcast nationwide from Kojimachi, are all old men. Kyoichi Tsuzuki, a well-known figure in the subculture field, has his building here.
Kudanshita 九段下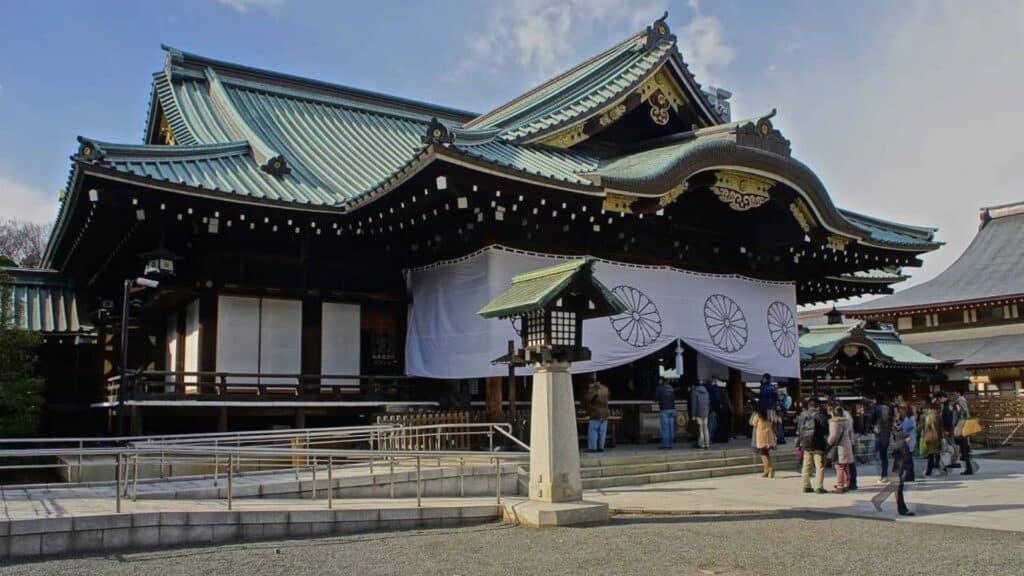 The Yasukuni Shrine attracts many worshippers and right-wing groups on the anniversary of the founding of the country and the end of the war every year. Behind the shrine is the central headquarters of the General Federation of Korean Industries, which is regarded as the de facto "embassy" of North Korea, with which Japan has no diplomatic relations. It is a town that is busy on the left and the right.
Jimbocho神保町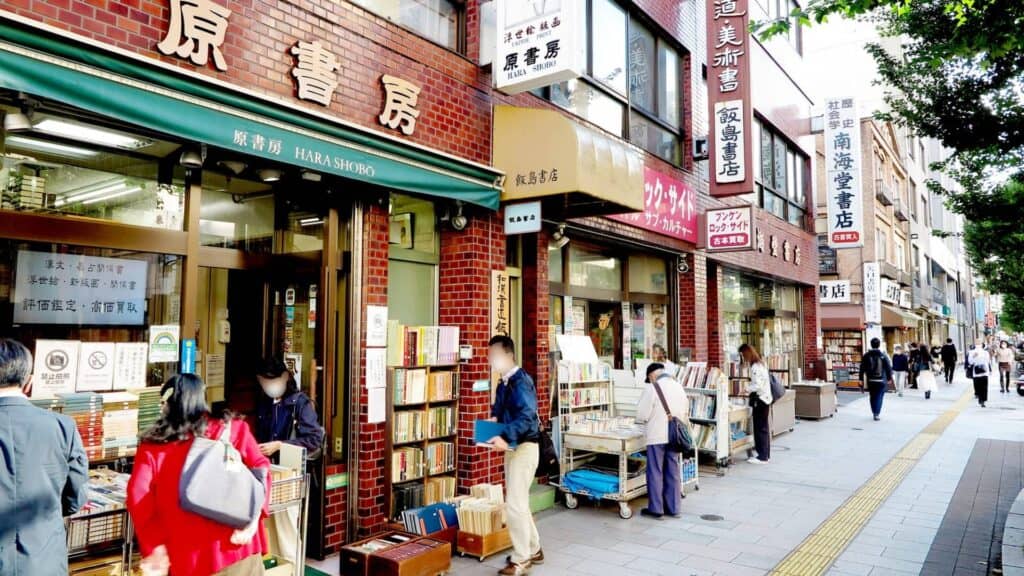 Jimbocho is home to one of the largest antiquarian bookstores in Far East Asia. It is also known as a fierce battleground for curry, but the most memorable sites are the Mickey's, a rundown arcade and the Kudanshita Building, a prewar building that has been demolished and disappeared.
Takebashi 竹橋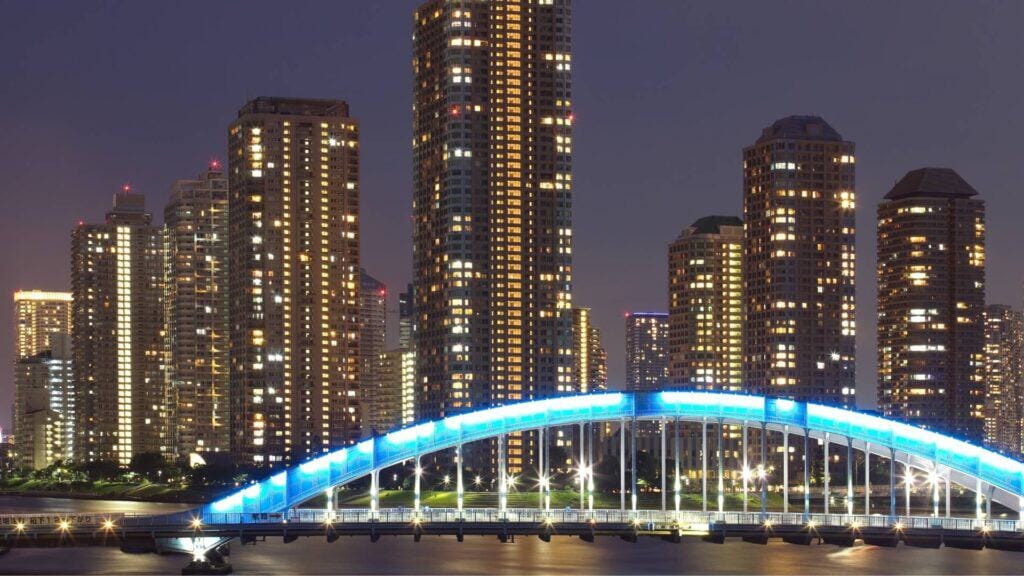 A minor station on the Tozai subway line on the north side of the Imperial Palace, the only landmark in front of the station is the Palace side Building, a retro Showa-era building that houses the headquarters of the Mainichi Newspapers, which was subjected to the spree calls of right-wing groups during the WaiWai anti-Japanese pervert riots.
Ogawa-machi, Awaji-cho, and Shin-ochanomizu 小川町・淡路町・新御茶ノ水
A "chic downtown" in Chiyoda Ward, famous for Kanda Yabusoba, a long-established restaurant that was rebuilt after a fire destroyed the entire building.
Along Yasukuni Street, there are many sporting goods stores. Here, too, the Toei Subway is not very kind in indicating station names. Be careful not to confuse it with Ogawamachi on the Tobu Tojo Line.
Iwamotocho 岩本町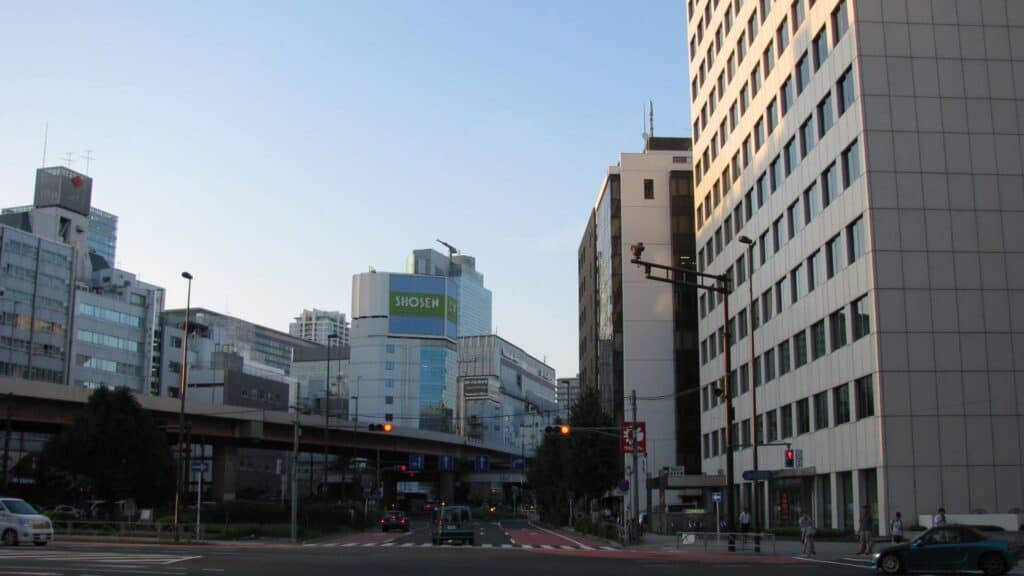 The area around the station is full of Daily Yamazaki convenience stores. The headquarters of Yamazaki Baking Company is located in this area, as well as in front of Ichikawa Station.
Suehirocho 末広町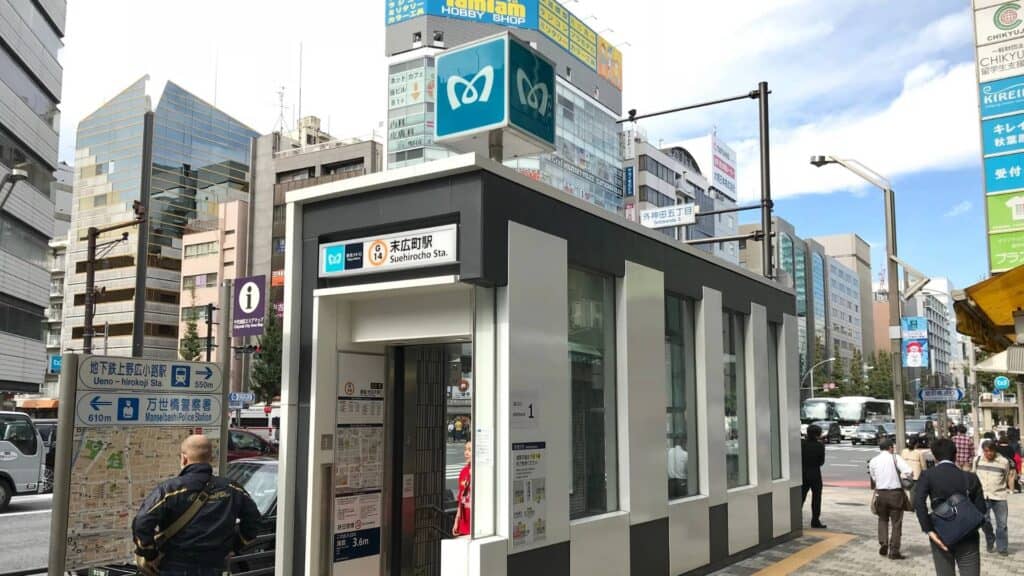 A subway station on the Ginza Line is located on the outskirts of Akihabara's electric town. Beware of the store galleries that target the timid otaku men walking along the street.
Things to do in Chiyoda
Idemitsu Museum of Arts 出光美術館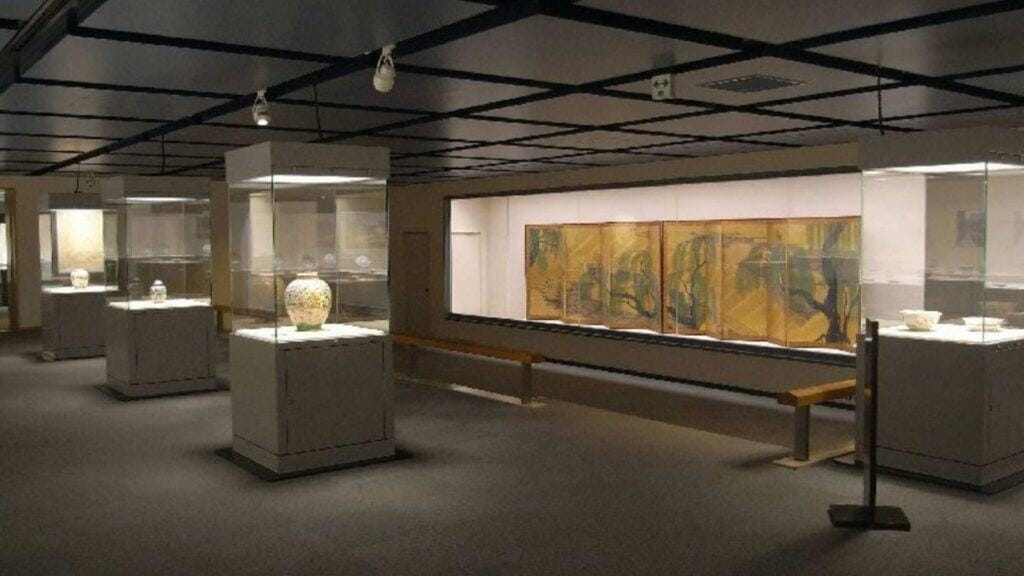 Idemitsu Museum of Arts is located on the 9th floor of the Teigeki Building facing the moat of the Imperial Palace.
The museum opened in 1966 to exhibit the collection of Sazo Idemitsu, the founder of Idemitsu Kosan Co.
The museum holds five to six exhibitions a year to introduce the collection, which mainly consists of Japanese and Chinese paintings, ceramics, and other Oriental antiques. The museum also has a room dedicated to Georges Rouault and a ceramic shards room that displays ceramic shards from around the world.
Find out more about Idemitsu Museum of Arts here on Google maps.
Imperial Theatre 帝国劇場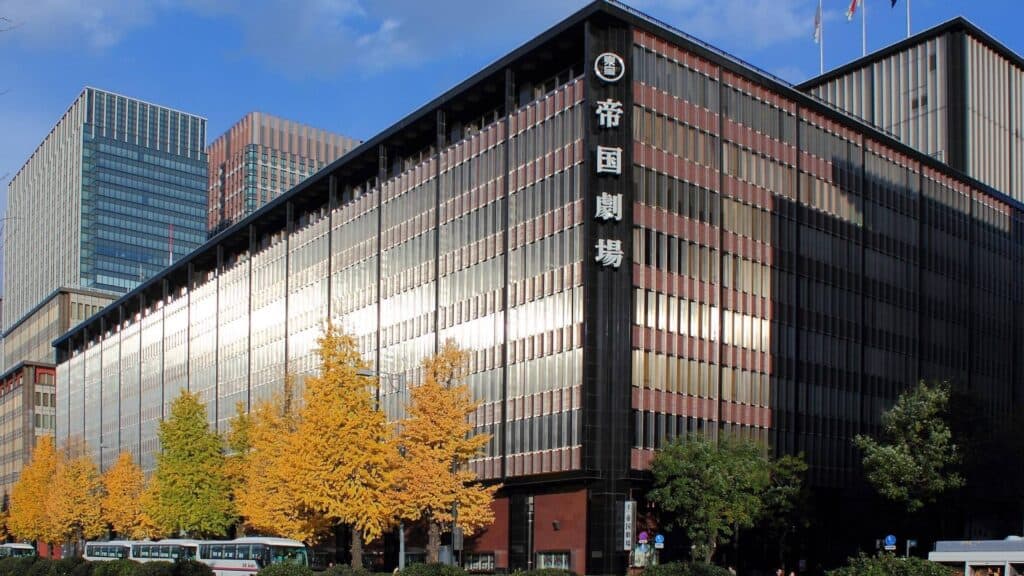 Imperial Theatre was completed in 1911 and it was Japan's first Western-style theatre. It has hosted numerous musicals, plays, orchestras, and other masterpieces. It is also known as a sacred place for theatre.
The lobby with its shining stained glass windows and lighting decorations and the grand staircase leading to the second-floor seating area are stately structures with a sense of history and prestige.
Find out more about Imperial Theatre here on Google maps.
Tokyo Daijingu 東京大神宮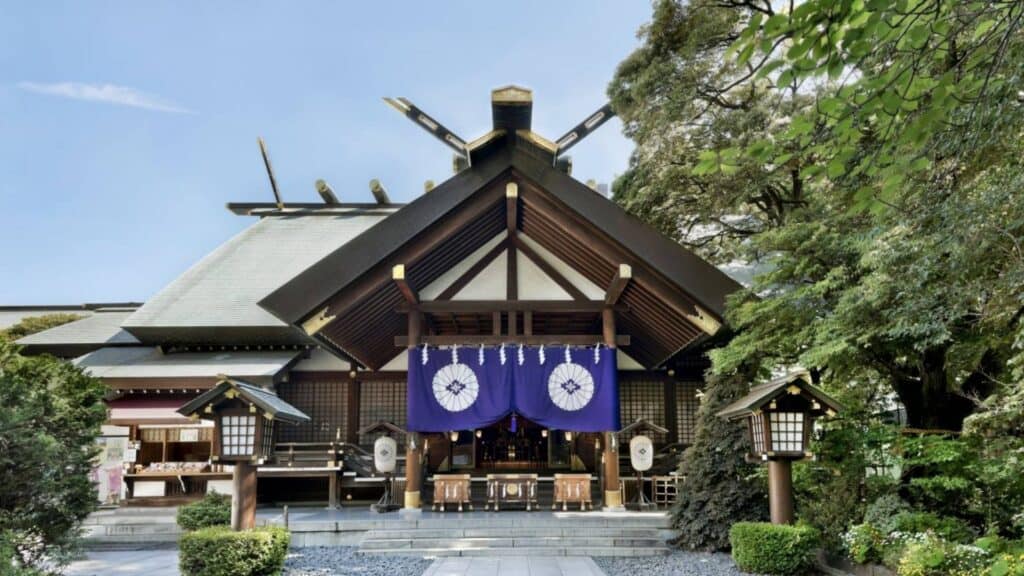 Tokyo Daijingu was built in 1880 as a distant shrine of Ise Jingu Shrine and is popularly known as "Tokyo's Ise-sama". Originally located in Hibiya, it was moved to Chiyoda-ku, Tokyo after the Great Kanto Earthquake.
The main deities are Amaterasu and Toyoke. The shrine is also the originator of Shinto wedding ceremonies and is a popular wedding venue. The shrine is visited by many worshippers wishing for good marriages. In addition to the annual festival held in April every year, many other festivals are held every month.
Find out more about Tokyo Daijingu here on Google maps.
Hibiya Park 東京都立日比谷公園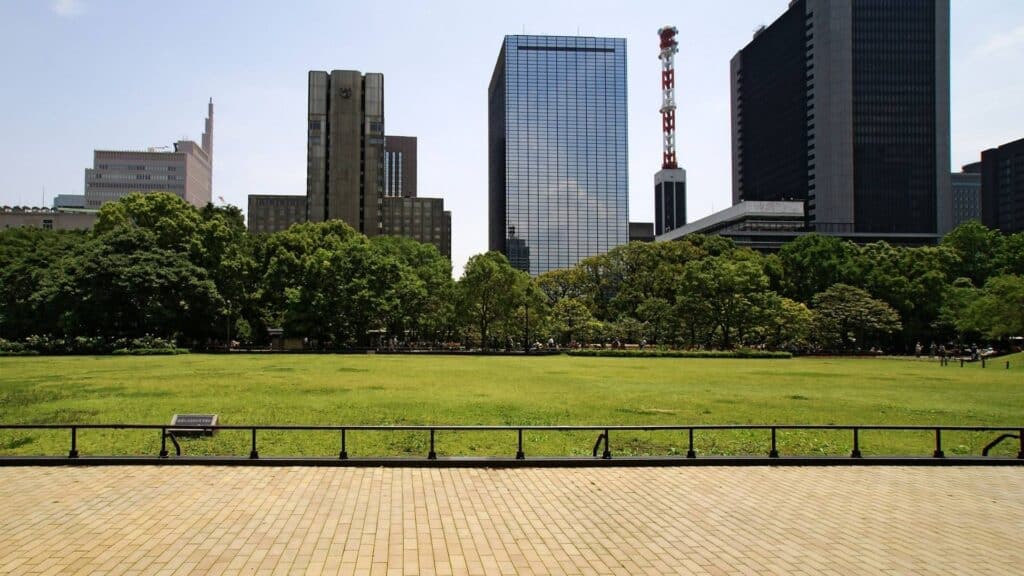 Hibiya Park is an urban park that was established in 1903 as Japan's first modern Western-style park. The spacious park is planted with various kinds of trees and flowers, and is known as a famous flower spot. Various events are held throughout the year, including gardening shows and a Christmas market.
Find out more about Hibiya Park here on Google maps.
Yasukuni Shrine 靖国神社
Yasukuni Shrine is located in Kudan-kita, Chiyoda-ku, Yasukuni Shrine is dedicated to military personnel who died in the service of their country in Japan and abroad. The shrine enshrines more than 2,466,000 heroic warriors from the late Edo and Meiji Restoration period to those who died in the Pacific War, without distinction as to rank, service, or gender. The shrine is famous as a cherry blossom viewing spot, with approximately 400 cherry trees planted on the grounds.
Find out more about Yasukuni Shrine here on Google maps.
Hie Shrine 日枝神社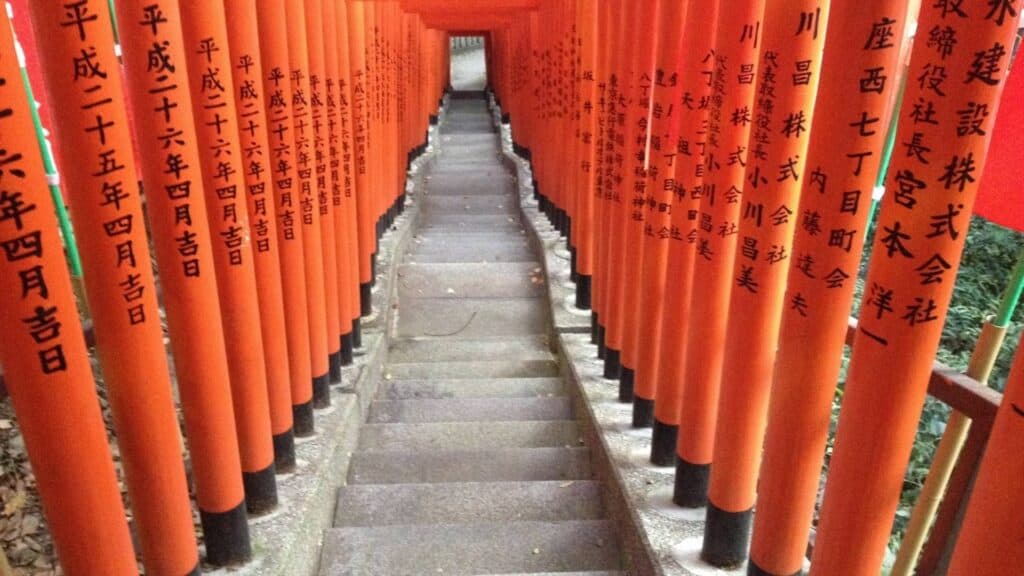 Hie Shrine is located in Nagata-cho, Chiyoda-ku, Tokyo, and is said to have originated in 1478, when Ota Dokan built Edo Castle and commissioned the Kawagoe Hie Shrine as a guardian deity.
Since then, the shrine has been revered as the guardian of Edo Castle and the Imperial Palace. The current shrine pavilion was reconstructed, and on the ceiling of the worship hall, there are 123 board paintings commemorating the 50th anniversary of the shrine's reconstruction. The uniquely shaped Sanno torii gate, which stands in the Akasaka direction, is also famous.
The Sanno Festival held every June is one of the three major festivals in Edo, and the 300-meter-long procession is a sight to behold.
Find out more about Hie Shrine here on Google maps.
Located at the southern entrance of Kitanomaru Park near the Imperial Palace, the National Museum of Modern Art was the first national art museum in Japan.
Opened in 1952, the museum holds various exhibitions, including the "MOMAT Collection" exhibition, which features approximately 200 works selected from the museum's collection of over 12,500 works. Several times a year, the museum also holds special exhibitions based on unique themes.
Find out more about National Museum of Modern Art, Tokyo here on Google maps.
National Theatre of Japan 国立劇場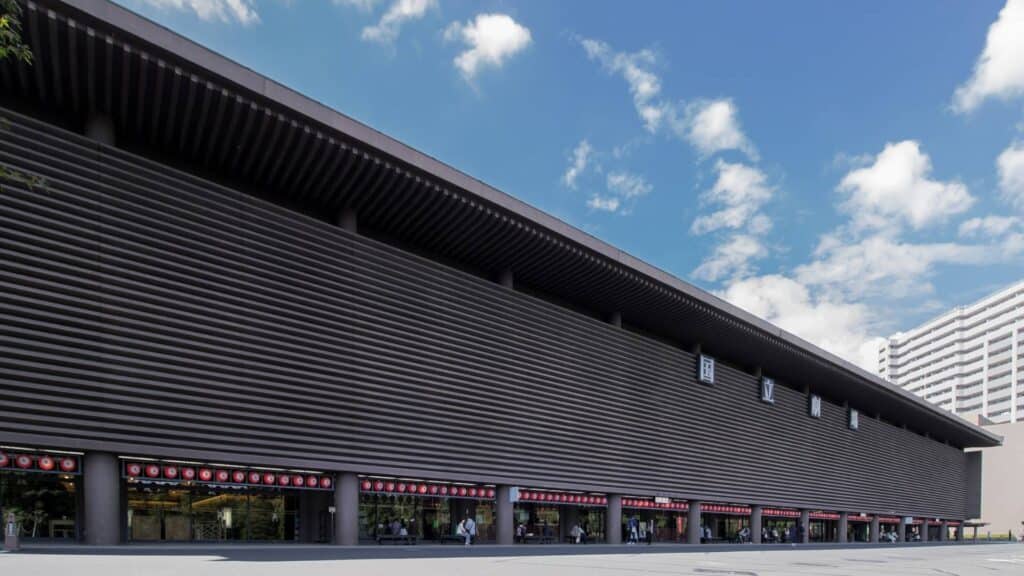 Located in Hayacho, Chiyoda-ku, Tokyo, the National Theatre is a performance hall for traditional Japanese performing arts. There is a large theatre for Kabuki and Japanese dance, and a small theatre for Bunraku, Hogaku, Japanese dance, Gagaku, Shomyo, and folk performing arts.
The front garden is a popular cherry blossom viewing spot, and a "Cherry Blossom Festival" is held from late March to early April. The Traditional Performing Arts Information Center, located behind the theatre, has an exhibition hall and a viewing room.
Find out more about National Theatre of Japan here on Google maps.
KITTE Marunouchi KITTE丸の内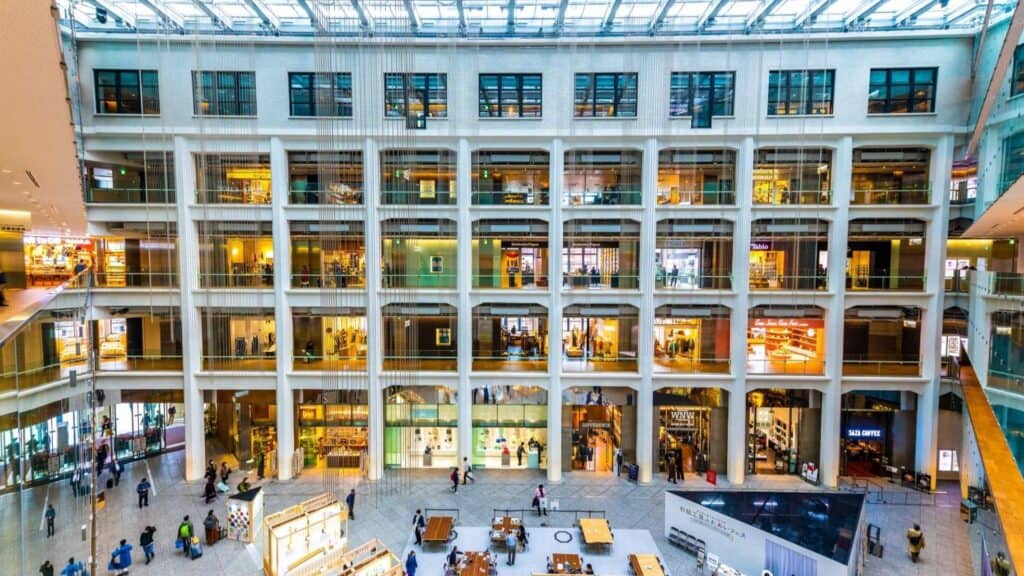 KITTE is a commercial complex that opened in 2013 in the former Tokyo Central Post Office building in front of the Marunouchi South Exit of JR Tokyo Station. The seven floors, from the first basement floor to the sixth floor above ground, house a gourmet district featuring delicacies from all over Japan, restaurants, and sophisticated stores with themes such as "Japanese sense of beauty" and "real clothes for adult women. The artistic atrium interior and the view from the rooftop garden are also a must-see.
Find out more about KITTE Marunouchi here on Google maps.
Mitsubishi Ichigokan Museum 三菱一号館美術館
Mitsubishi Ichigokan Museum is an art museum in Marunouchi that holds exhibitions of mainly modern art. The building is a restoration of Mitsubishi Ichigokan, Marunouchi's first office building built in 1894 (Meiji 27) and designed by British architect Josiah Conder.
There are no permanent exhibits, but special exhibitions featuring modern art from the late 19th and early 20th centuries are held three times a year. The museum also houses a museum café/bar and museum store, as well as the Historical Reference Room, a space where visitors can experience the history of Marunouchi.
Find out more about Mitsubishi Ichigokan Museum here on Google maps.
Science Museum 科学技術館
The Science Museum has about 20 themed exhibition rooms on four floors from the 2nd to 5th floor. Visitors can experience science and technology not only by looking at the exhibits but also by touching and moving them. 
Experimental shows and craft workshops are also held. The Science Hall is a full-scale theatre-type hall with a capacity of 410 people. It is an ideal facility for lectures, seminars, symposiums, and various presentations.
Find out more about Science Museum here on Google maps.
Tokyo Station Gallery 東京ステーションギャラリー
The Tokyo Station Gallery, located in the Marunouchi Station Building of Tokyo Station, was built in 1914 and has been a longtime favourite of visitors since its opening in 1988. The museum reopened in October 2012 after being closed due to the restoration of Tokyo Station.
The museum holds exhibitions in a variety of genres, including modern and contemporary art, railroads, architecture, and design. With Tokyo Station as its base, the museum is widely disseminating art both domestically and internationally. The exhibition rooms, which use the red bricks that were the symbol of the old building for their walls, are also a must-see.
Find out more about Tokyo Station Gallery here on Google maps.
National Showa Memorial Museum 昭和館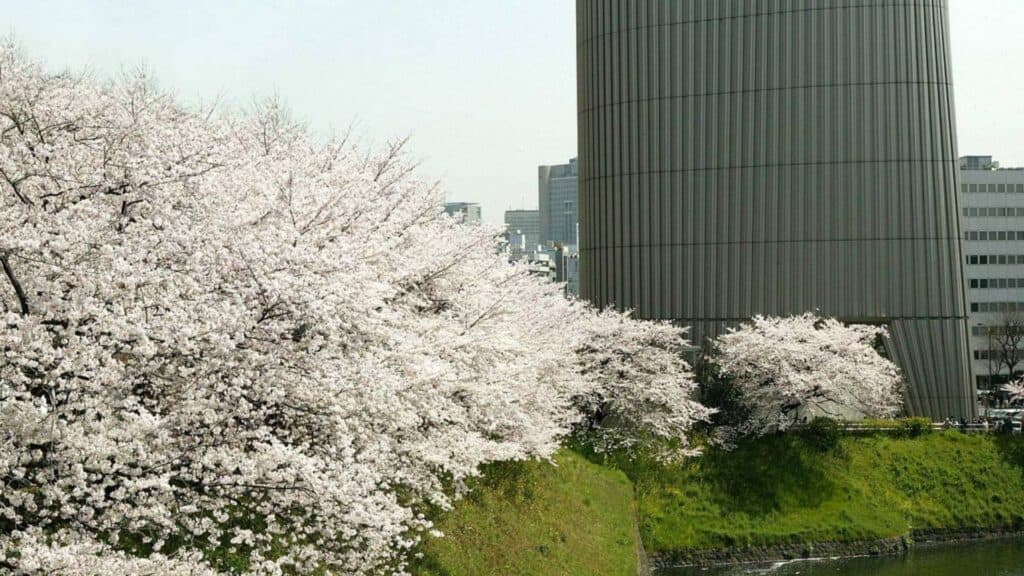 Since its opening in 1999, National Showa Memorial Museum has received more than 5.3 million visitors. It is a place where visitors can learn about the hardships of national life during and after World War II. Since 2015 (Heisei 27), admission to the permanent exhibition has been free for elementary and junior high school students. Children can enjoy watching videos, touching and examining the exhibits, and learning while having fun.
Find out more about National Showa Memorial Museum here on Google maps.
Akihabara UDX Akiba Ichi Restaurant & Shops 秋葉原UDXレストラン&ショップ アキバ・イチ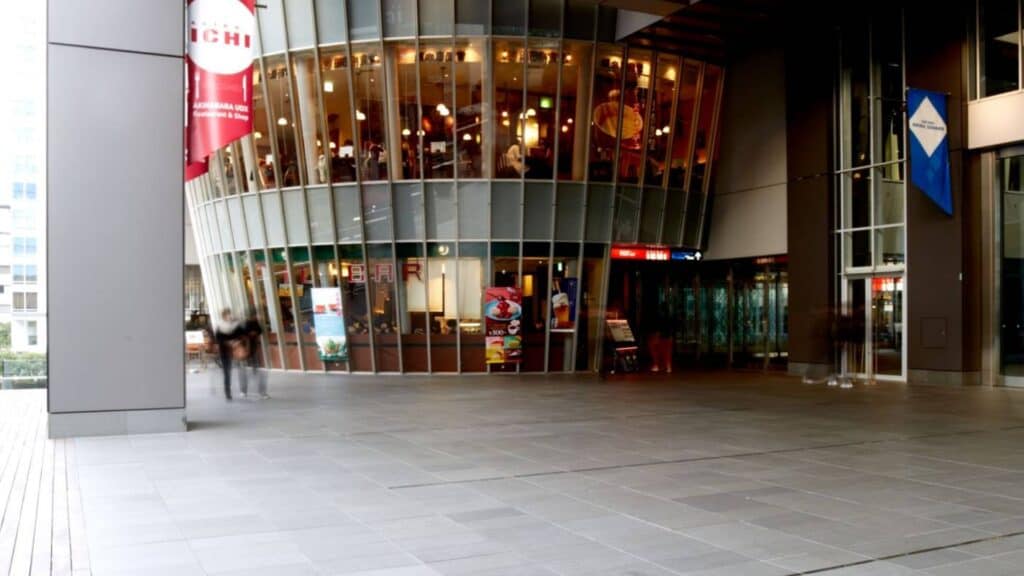 Akihabara UDX Akiba Ichi Restaurant & Shops is an office complex located within the Akihabara Crossfield. It is known as one of the symbols of Akihabara. In addition to offices and conferences, the building houses restaurants, speciality stores, event space, a theatre, a hospital, and various other facilities that are used for a wide range of purposes.
Find out more about Akihabara UDX Akiba Ichi Restaurant & Shops here on Google maps.
Events in Chiyoda
Kanda Festival 神田祭
Hie Shrine Sanno Festival 日枝神社山王祭
Hotels in Chiyoda
Oakwood Premier Tokyo (5*)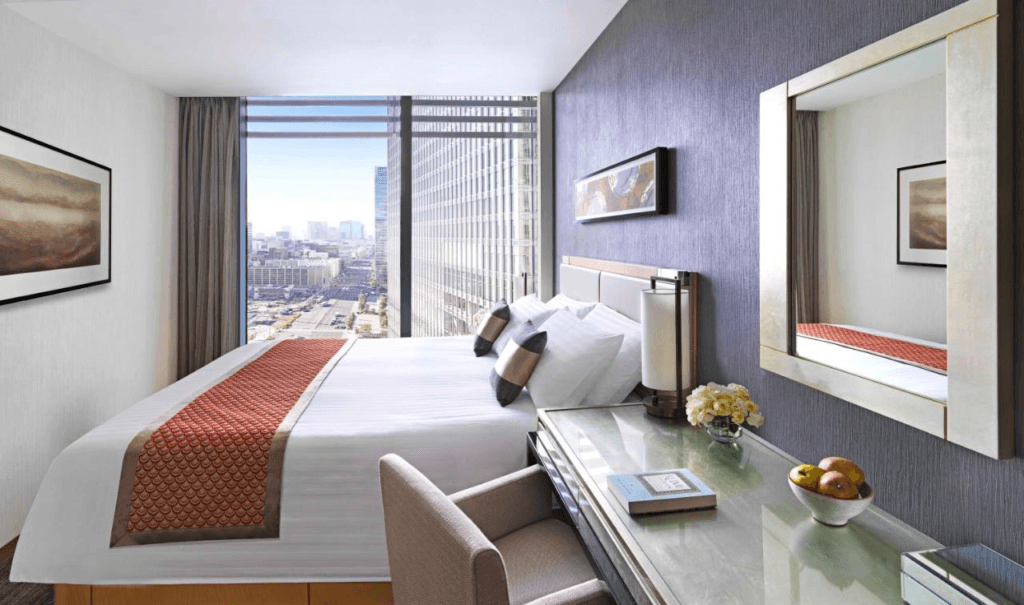 Oakwood Premier Tokyo is a luxury serviced apartment with hotel-like services, located at just a 2-minute walk from JR Tokyo Station's Yaesu North Exit. Located on the 6-19th floors of a 19-storey building, this property is designed to offer a getaway in the centre of Tokyo.
Ascott Marunouchi Tokyo (5*)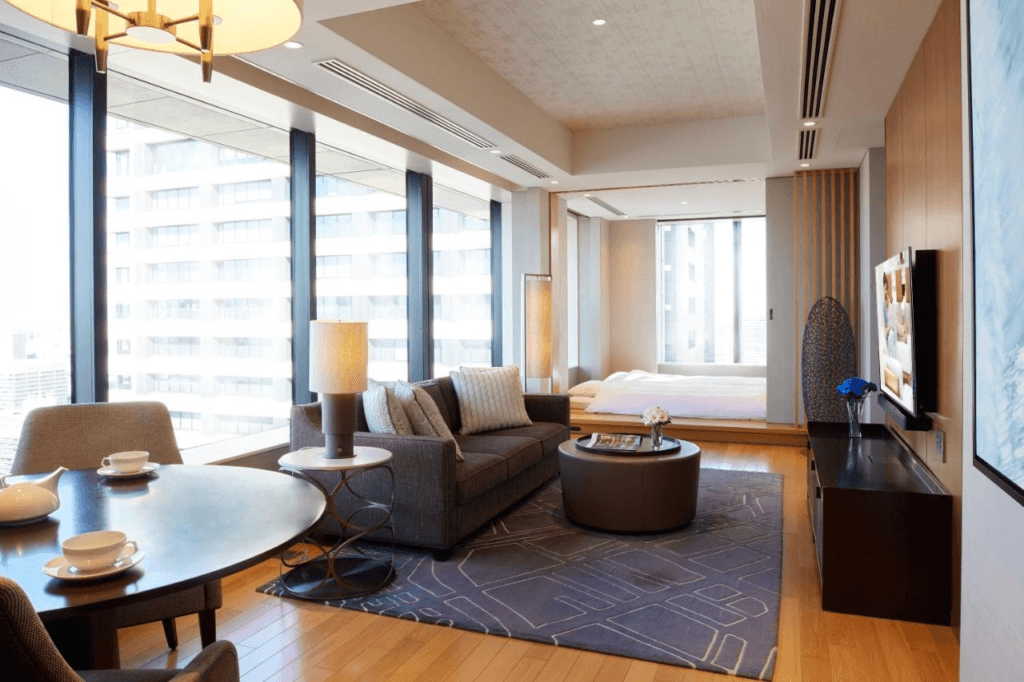 Situated in the centre of Tokyo, Ascott Marunouchi Tokyo is 800 m from Tokyo Station. Elegantly furnished rooms located on the upper floors boast city views. Free WiFi is featured throughout the property and an on-site fitness centre is available for guests for free. Japan Imperial Palace is a 15-minute walk away from the property, while Tsukiji Fish Market is a 25-minute train ride away.
Imperial Hotel Tokyo (5*)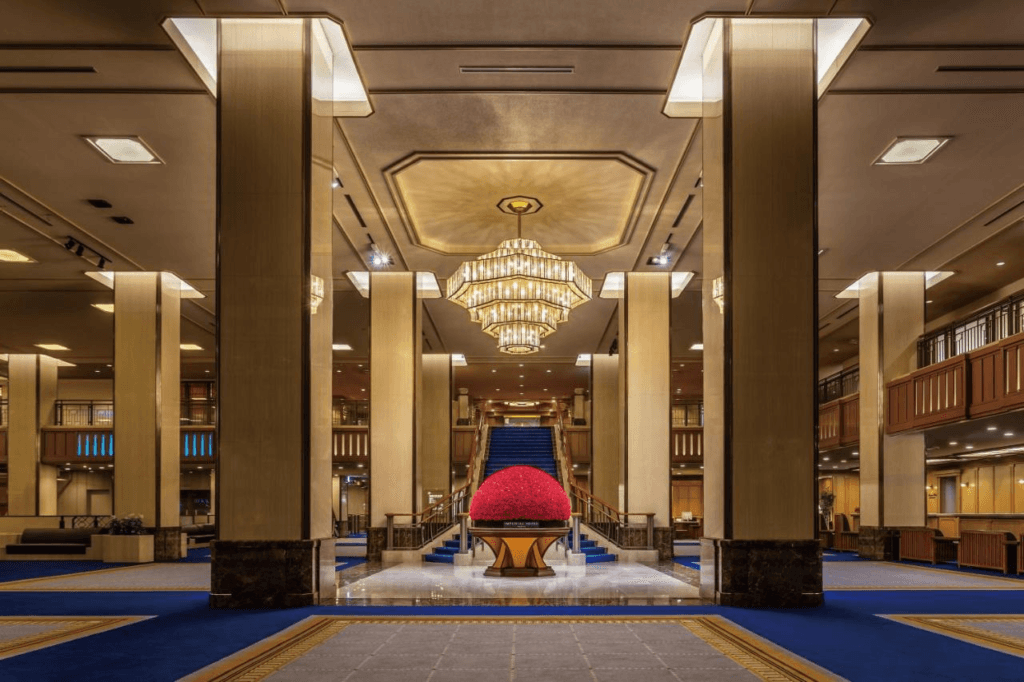 Situated in a central location with 3 stations within a 5-minute walk, Imperial Hotel Tokyo is a prestigious hotel renowned for providing first-class hospitality for over a century since 1890. It features a fitness centre, an indoor swimming pool and a beauty massage salon. Free Wi-Fi is provided throughout the property. The nearby Ginza, Hibiya and Yurakucho stations offer direct access to various locations in Tokyo. The Imperial Palace and Ginza area are both a 5-minute walk away, while Tokyo International Forum is a 10-minute walk from the hotel. Popular Tsukiji Fish Market is just a 7-minute drive or taxi ride away.
Sakura Cross Hotel Akihabara (3*)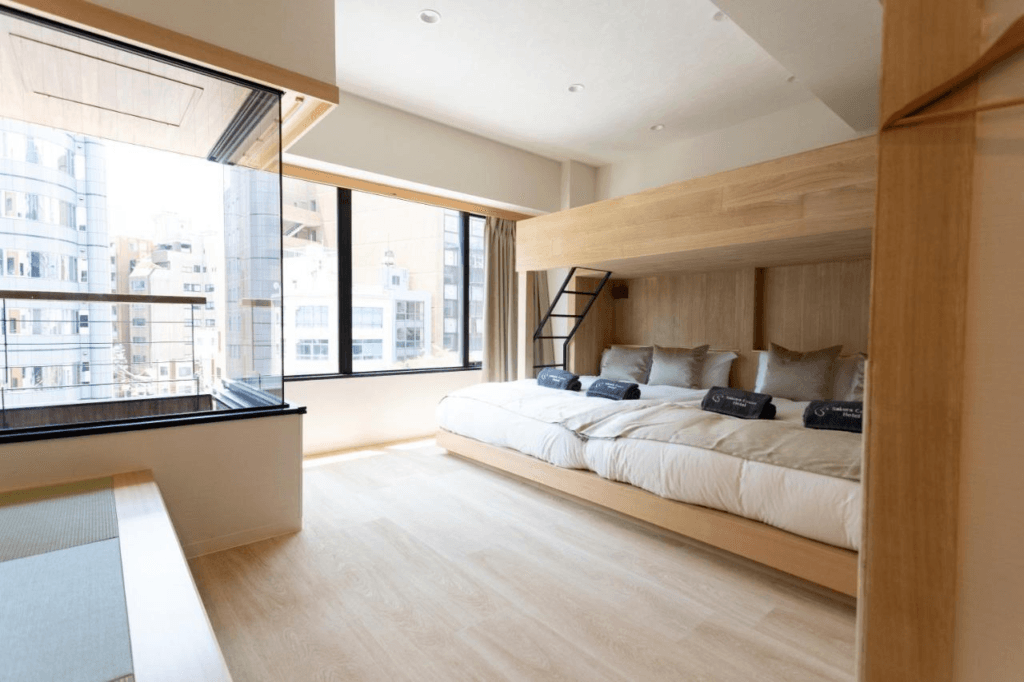 Located in the centre of Tokyo, 200 m from Yanagimori Shrine, Sakura Cross Hotel Akihabara provides air-conditioned rooms and free WiFi. This property is set a short distance from attractions such as Nikkei Hall, Atre Akihabara 1, and Yamada Denki LABI Akihabara. Every room includes a balcony. Popular points of interest near Sakura Cross Hotel Akihabara include Akihabara Park, Akiba Tolim and Old Manseibashi Station.
Super Hotel Premier Akihabara (3*)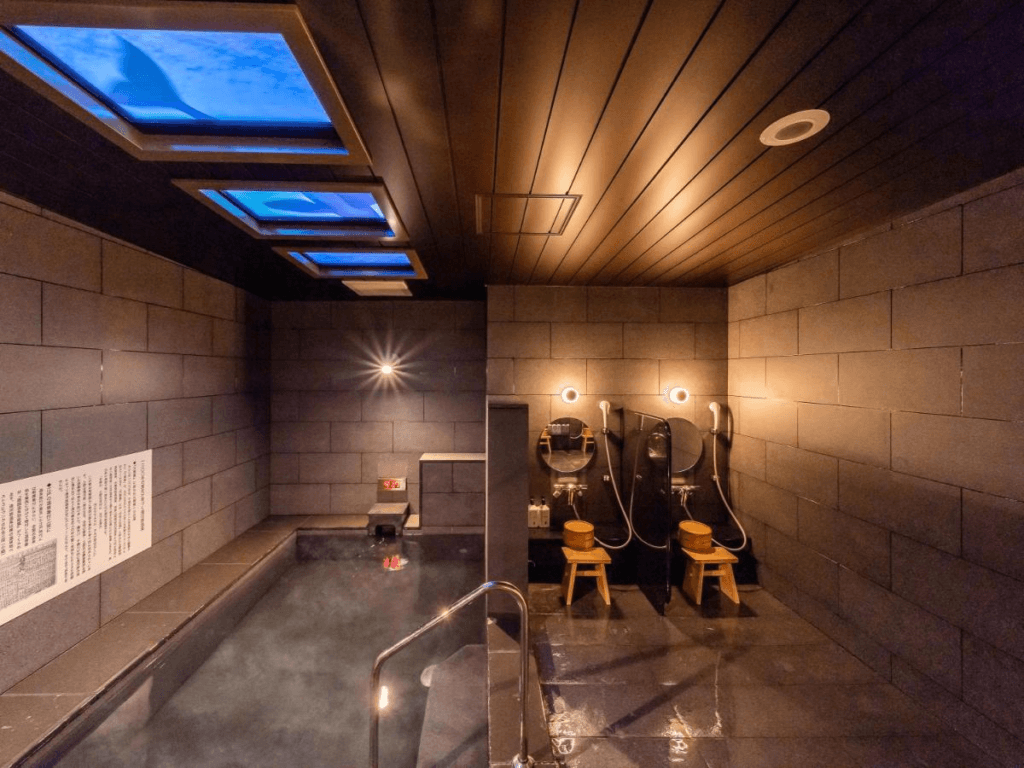 Offering air-conditioned rooms in the Chiyoda district of Tokyo, Super Hotel Premier Akihabara is 90 m from Yanagimori Shrine. The property is less than 1 km from Fujisoft Akiba Plaza, a 10-minute walk from Nikkei Hall and less than 1 km from Atre Akihabara 1. Offering free WiFi throughout the property, the allergy-free hotel features a hot spring bath. Popular points of interest near the accommodation include Akihabara Park, Akiba Tolim and Old Manseibashi Station.
Ochanomizu Hotel Shoryukan (3*)
Shoryukan Hotel is located in central Tokyo, just 550 m from JR Ochanomizu Train Station. It offers rooms with a private bathroom and a flat-screen TV with satellite channels, while free Wi-Fi is available throughout the property.
Complimentary Japanese breakfast is offered from 07:30-09:30. Guests at Ochanomizu Hotel Shoryukan can try a Japanese room with tatami (woven-straw) flooring and futon beds, or sleep in a room with a Western bed. All the air-conditioned rooms have a Western-style toilet.
Nearby Ochanomizu Station offers direct train access to Tokyo Station and Akihabara within 5 minutes. Jimbocho Subway Station is 500 m away, and has direct links to Shibuya and Shinjuku. The Imperial Palace is 1 km away.
Artist Hotel – BnA STUDIO Akihabara (3*)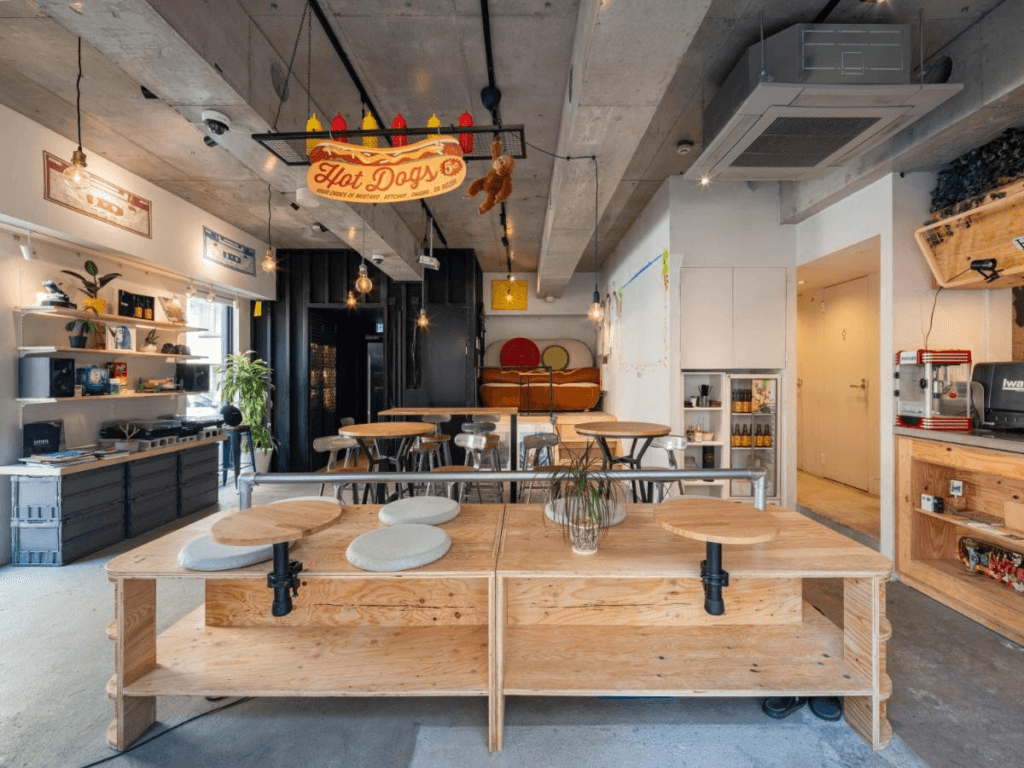 Well located in the Chiyoda district of Tokyo, Artist Hotel – BnA STUDIO Akihabara is located 300 m from Horin Park, 500 m from Origami Kaikan and 600 m from Kamiizumi Inari Shrine. Popular points of interest near Artist Hotel – BnA STUDIO Akihabara include Yushima Goryo Shrine, Ochanomizu Park and Yushima Seido.
Backpacker's Mini House (2*)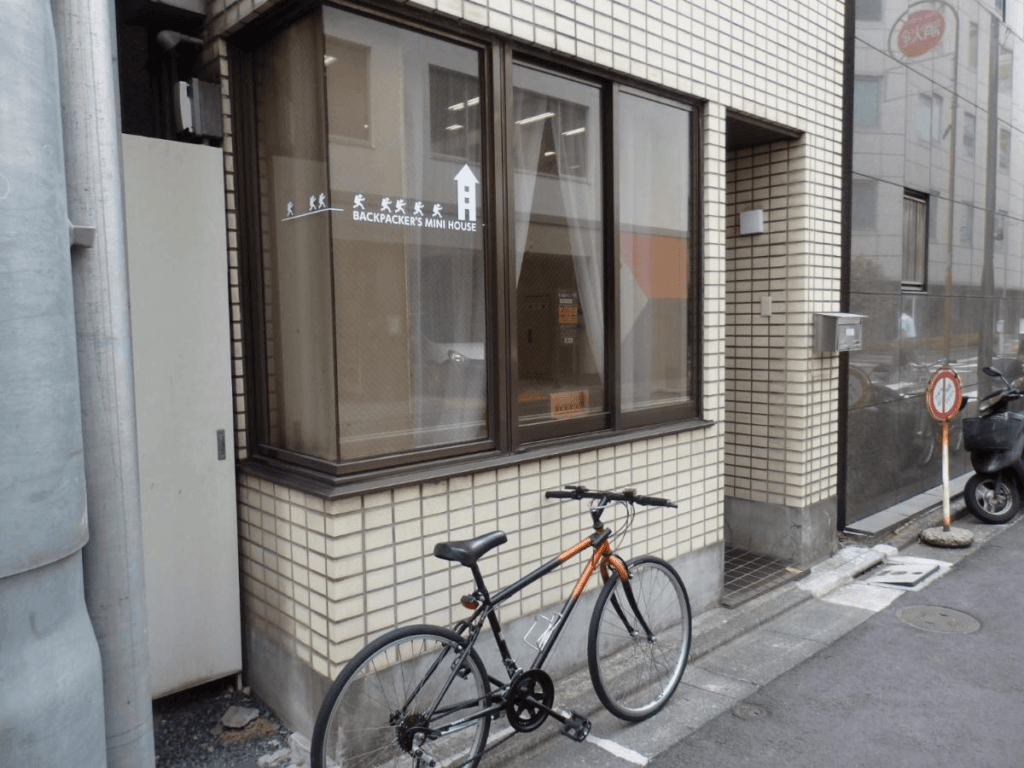 Conveniently situated in the Chiyoda district of Tokyo, Backpacker's Mini House is located 500 m from Kanda Children's Park, 600 m from Bellesalle Kanda and 600 m from Tokyo Sankei Building Metro Square. The 2-star hostel has air-conditioned rooms with a shared bathroom and free WiFi. The property is close to popular attractions like Taira no Masakado's Grave, Wake no Kiyomaro Statue and Goto Inari Shrine.
Manga Art Hotel, TOKYO (1*)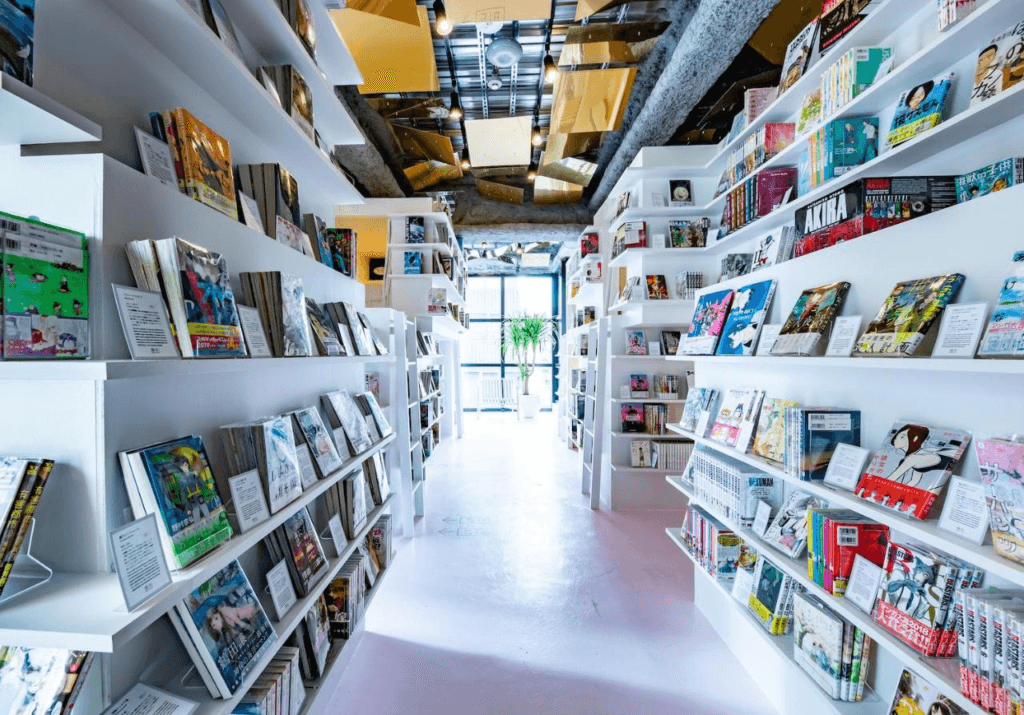 Set in the centre of Tokyo, 300 m from Goto Inari Shrine, MANGA ART HOTEL, TOKYO offers air-conditioned rooms and free WiFi. The property is situated 400 m from Otahime Inari Shrine, 400 m from TKP Garden City Ochanomizu and 500 m from Enjuinari Shrine. The property is close to popular attractions like Zendentsu Hall, Kanda Children's Park and Chuo University Surugadai Memorial Hall.
Sakura Hotel Jimbocho (1*)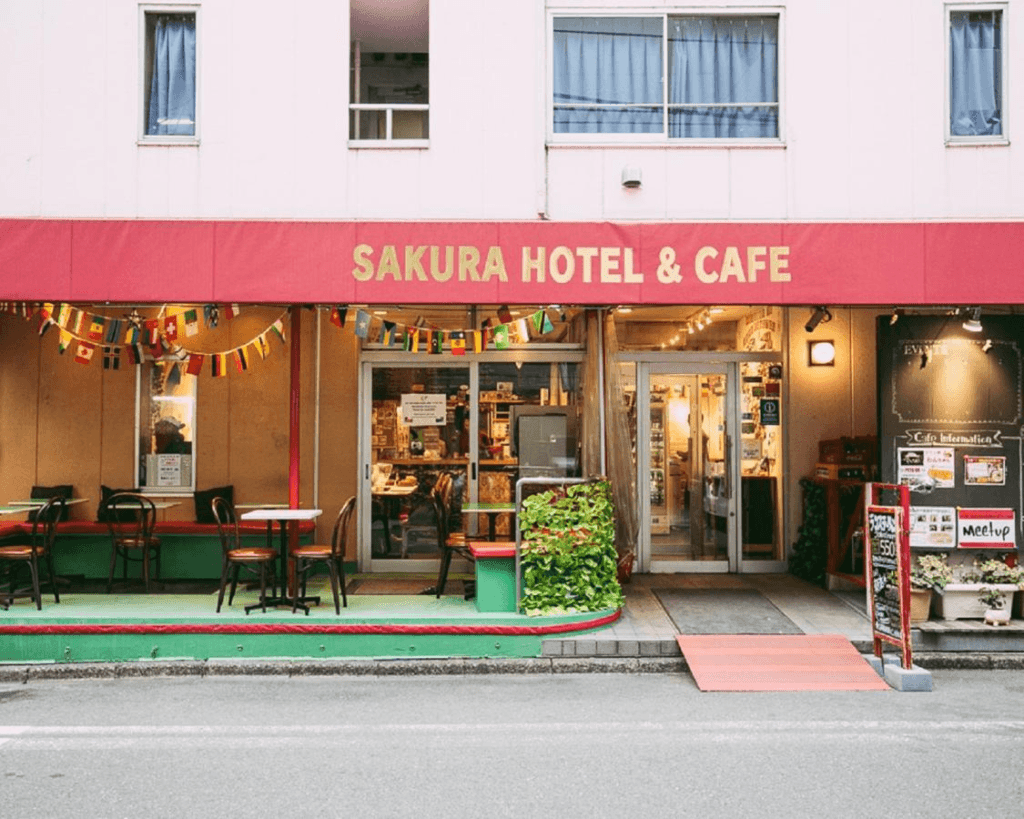 Conveniently located just a 2-minute walk from Jimbocho Subway Station, Sakura Hotel Jimbocho provides international accommodation with friendly English-speaking staff. It is a 10-minute walk from Nippon Budokan and the Imperial Palace. Popular Akihabara area is a 10-minute subway ride away, while Tokyo Dome and Tokyo Dome City amusement park are a 15-minute walk away. Free Wi-Fi is available throughout the property.
—
What do you think about Chiyoda Ward in Tokyo? Do you like finding out about the history and culture of this interesting area of Tokyo? There is so much history and unique things to do in this local neighbourhood of Tokyo, if you're interested in coming for yourself, make sure to refer back to this blog.