Do you know about the Meguro Ward in Tokyo? It is one of the 23 wards of Tokyo, with various unique neighbourhoods and areas, along with different things to do and sights to see. If you are wondering what is Meguro ward, the different areas inside Meguro, best things to do, history, accommodation and more, check out this ultimate Meguro ward area guide.
What is Meguro City Ward?
Meguro-ku, along with Setagaya-ku, is one of Tokyo's 23 wards, and has a pervasive upper-class image of being the purveyor of celebrities. It is a stereotype imposed by TV programs that "many celebrities live in Meguro-ku," and indeed, Meguro-ku is known as a place where many celebrities want to live.
Meguro-ku is located southwest of central Tokyo, and its axis is the Tokyu Toyoko Line, which leaves from Shibuya. As soon as you get on the train, you will see that the Tokyu Toyoko Line is the number one line in terms of passengers, advertisements, and the smell of meth, and towns such as Nakameguro and Jiyugaoka have become the mainstream of Meguro City.
Meguro itself is not a traditional high-class residential area, except for Aobadai, which is adjacent to Daikanyama. If you take a step outside of Jiyugaoka and Nakameguro, which are favoured by the frivolous, and Meguro Street, where luxury car dealers are located, you will still find downtown scenery here and there.
Jiyugaoka used to be a countryside village called "Hitori-toishimura," and even Nakameguro is a place where the residents of the neighbouring Daikanyama, who are celebrities in their own right, would look down on such a low-lying area at the bottom of a valley. The average annual income of the residents of the ward ranks 6th among the 23 wards, at 5.37 million yen, far below that of Minato and Shibuya wards.
Living in Meguro City Ward
The most distinctive characteristic of this area is that it is home to a large number of rich, sweet girls with loose strings on their wallets who cannot maintain their mental stability without jumping on the latest fads by taking the fashionable Tokyu Toyoko Line to Shibuya or Jiyugaoka every once in a while.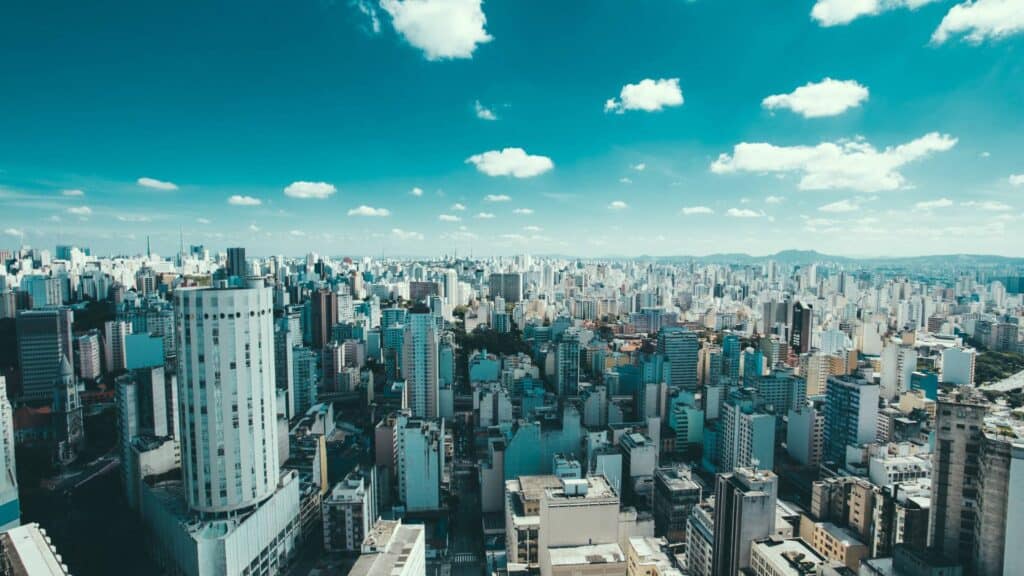 In Meguro-ku, all areas are highly chic, and there are none of those with blonde hair and jerseys who drive around in mini cars as in Adachi Ward. There are many country people who live in Meguro Ward because they "yearn" to live in the ward.
Meguro-ku used to be a rural area on the outskirts of Edo, but now it is treated as an upscale residential area. There is no rational reason for anyone but the truly rich to live in this area.
History of Meguro City Ward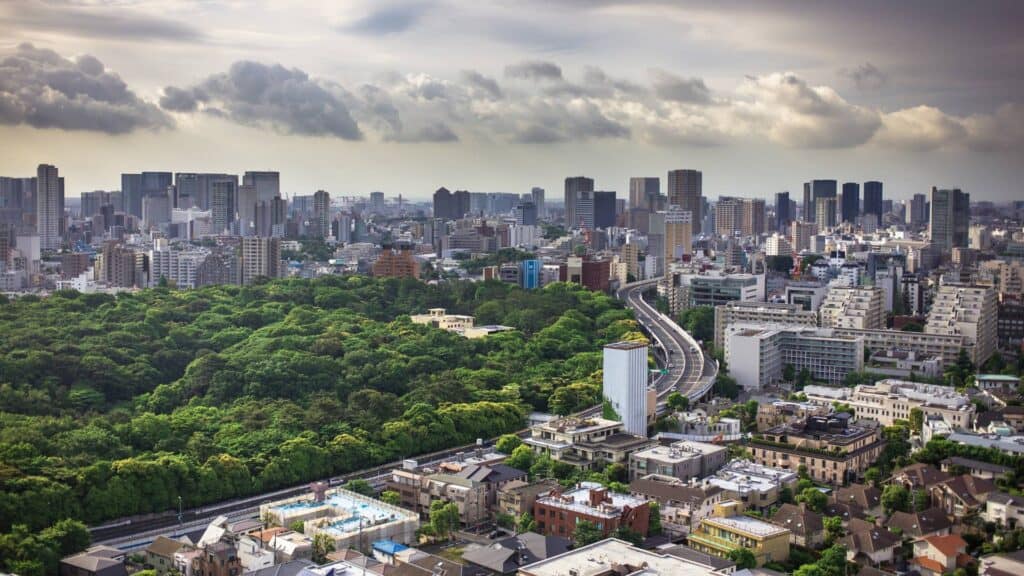 In the Meguro area, which produced mainly vegetables and other agricultural products during the Edo period, Komabano, Himonyahara, and Himonyaike were vast fields covered with bamboo grass and were said to be home to many wild birds and wild boars.
For this reason, the area served as a hawking ground for successive shoguns.
The third shogun, Iemitsu Iemitsu, is said to have stopped by Meguro Fudo during a falconry trip, which led to the rebuilding of the main hall, which was destroyed by fire in 1615, and the donation of a Buddhist statue.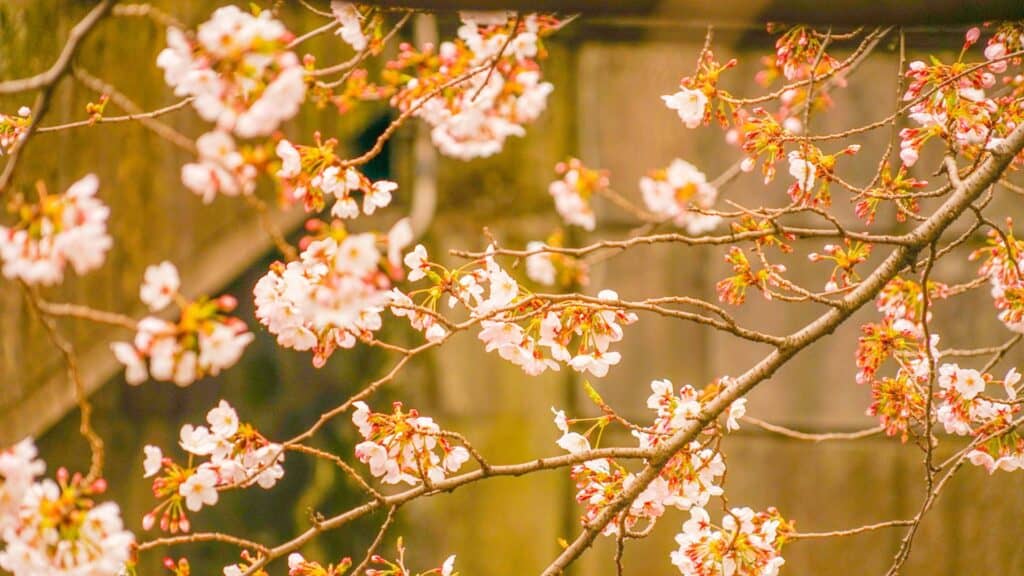 Since then, under the generous protection of the shogunate, the temple has been worshipped by the common people of Edo and prospered as a place of pilgrimage and recreation.
It also served as a site for military training and artillery training for the shogunate during the final years of the Edo period.
In the Meiji period, the area underwent repeated consolidations and closings, but the opening of a beer brewery in 1896 and a horse race track in 1907 were the first signs of its development into an urban area.
After the Great Kanto Earthquake, the opening of the Megami Line and the Toyoko Line led to the rapid development of residential areas in the area, and even after the end of the war, the area underwent a remarkable recovery.
Areas of Meguro City Ward
Tokyu Toyoko Line
Nakameguro 中目黒
A low-lying area along the Meguro River, adjacent to the celebrity town of Daikanyama. It is full of fashionable cafes and eateries that are popular among women, but it is also home to the Meguro Ground Self-Defense Force Station.
The crowds during the Cherry Blossom Festival are quite a nuisance, and the Hibiya Line service was discontinued in 2013 due to the trauma of the Hibiya Line derailment accident that once killed five people.
Yutenji 祐天寺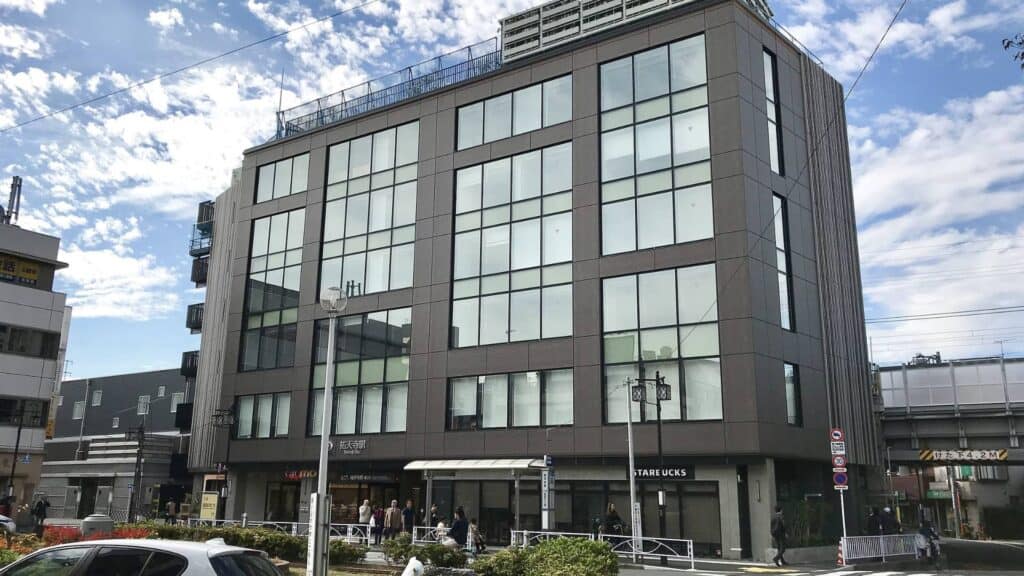 The streets around Yutenji station look strangely slow, perhaps because only local trains stop there. Yutenji's famous Curry Station Niagara, a curry shop with a railroad atmosphere, is also here.
Gakugei Daigaku 学芸大学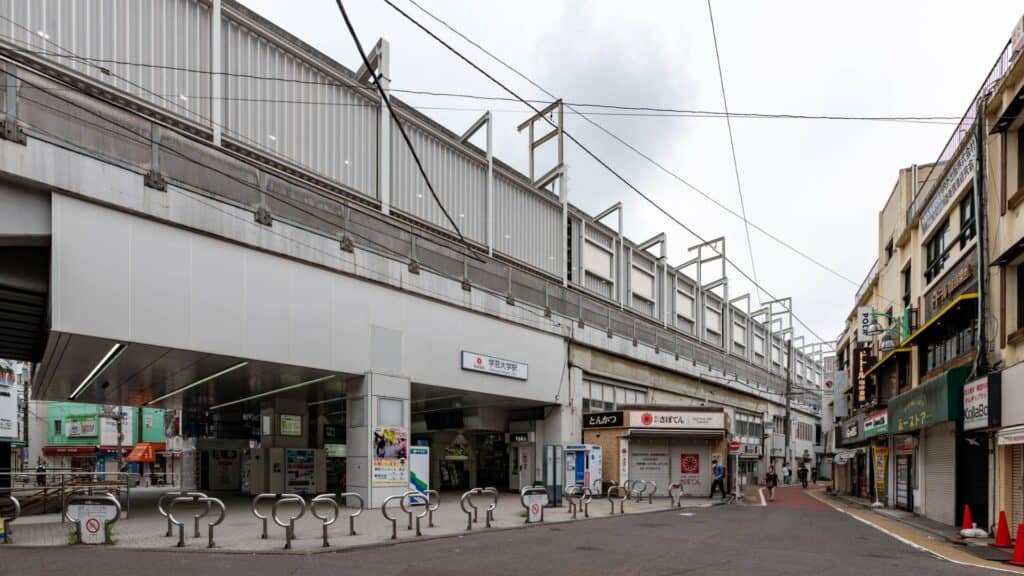 Commonly known as Gakudai. Tokyo Gakugei Daigaku, as the station is called, has moved to Koganei City, and only the affiliated high school remains. The Daiichi Store and Gakudai Jujigai Street are located in the prime area in front of the station with the aroma of Showa Era.
Toritsu-daigaku 都立大学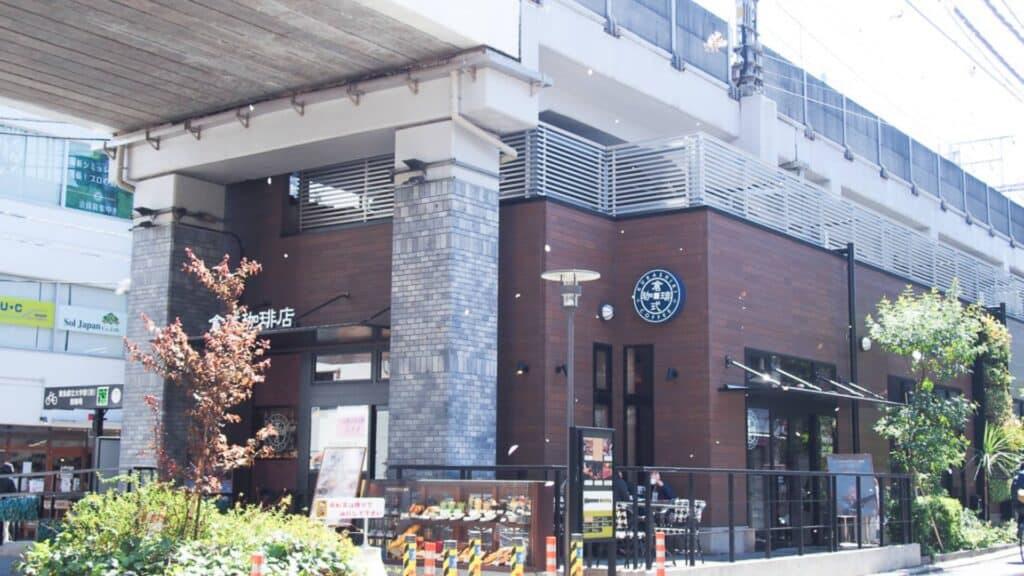 Toritsu university does not exist as the name of the station suggests. It is a clever image strategy of Tokyu Corporation to keep its brand power by tricking "university" into the station name even though it does not have a university like its neighbor Gakugei Daigaku. There are an inordinate number of celebrities who live in mansions in Yakumo, Kakinokizaka, and Higashigaoka.
Jiyugaoka 自由が丘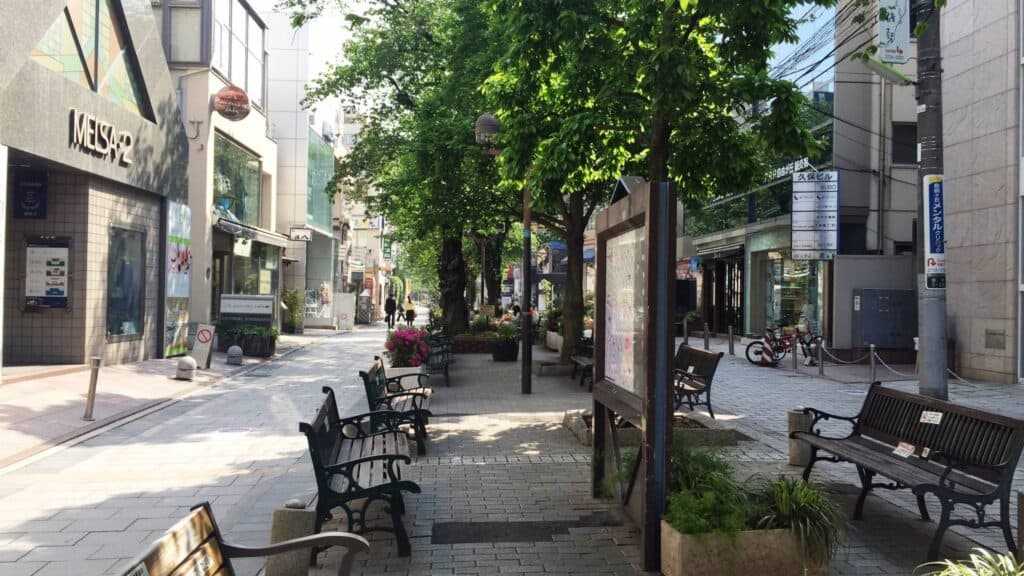 A top choice for a place to live, Jiyugaoka is one of the most fashionable sweet towns on the Tokyu Toyoko Line, aiming to attract female customers. There is an abundance of the latest fashion and sweets stores. On the other hand, in front of the station are Jiyugaoka Department Store and Hikarimachi, remnants of the postwar black market.
Other stations
Musashikoyama 武蔵小山
The north side of the station is Meguro Honmachi in Meguro Ward.
Ookayama 大岡山
The north side of the station is south of Meguro-ku. The stand-up noodle shop "Yonejiro" along Kannana-dori is a solitary place.
Ikejiri-Ohashi 池尻大橋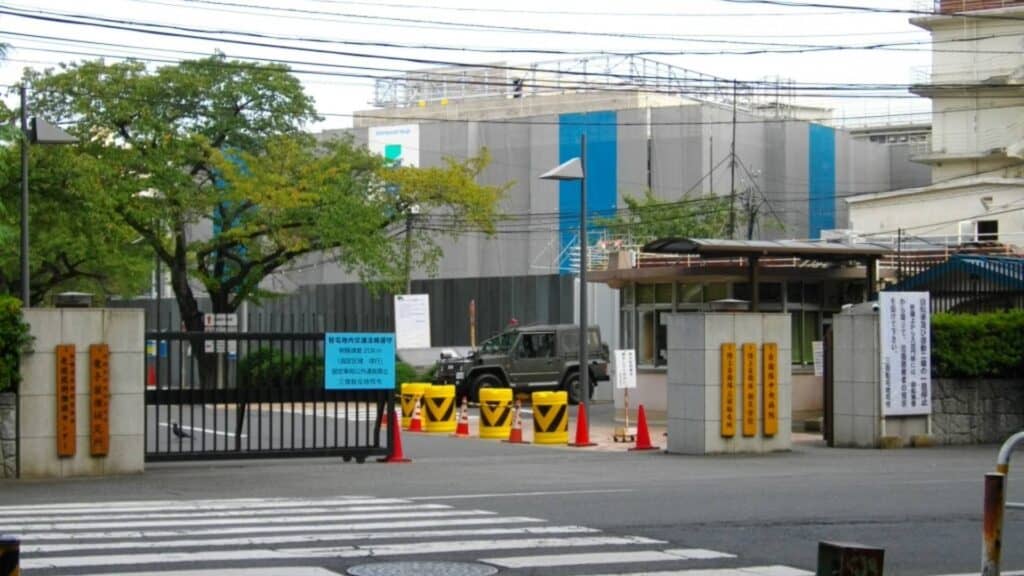 A low-lying area along the Meguro River that is connected to Nakameguro. Like Nakameguro, there are many fashionable cafes and eateries. The park directly above Ohashi JCT, which connects the Metropolitan Expressway Central Loop Line running deep underground and the Shibuya Line above ground, is called Meguro Sky Garden. The park is directly connected to the townhouses, making even the most environmentally conscious residents very happy.
Komazawa University 駒沢大学
Southeast of the station is Higashigaoka in Meguro Ward. There is a mansion of a national singer who was arrested on drug charges and later claimed to be targeted by a mysterious secret society, GIFHAB, and a private residence where a person claims to be under electromagnetic attack by the national party military.
Komaba Todaimae 駒場東大前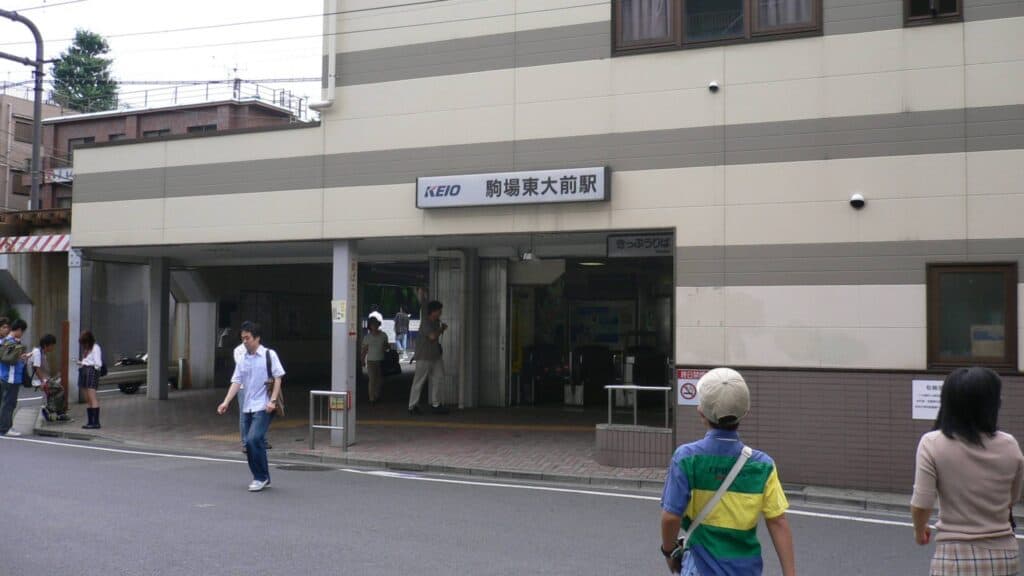 Komaba Todaimae is the northernmost town in Meguro Ward, jutting out like a corner. As the station name suggests, the area north of the station is the Komaba Campus of the University of Tokyo. 
Meguro 目黒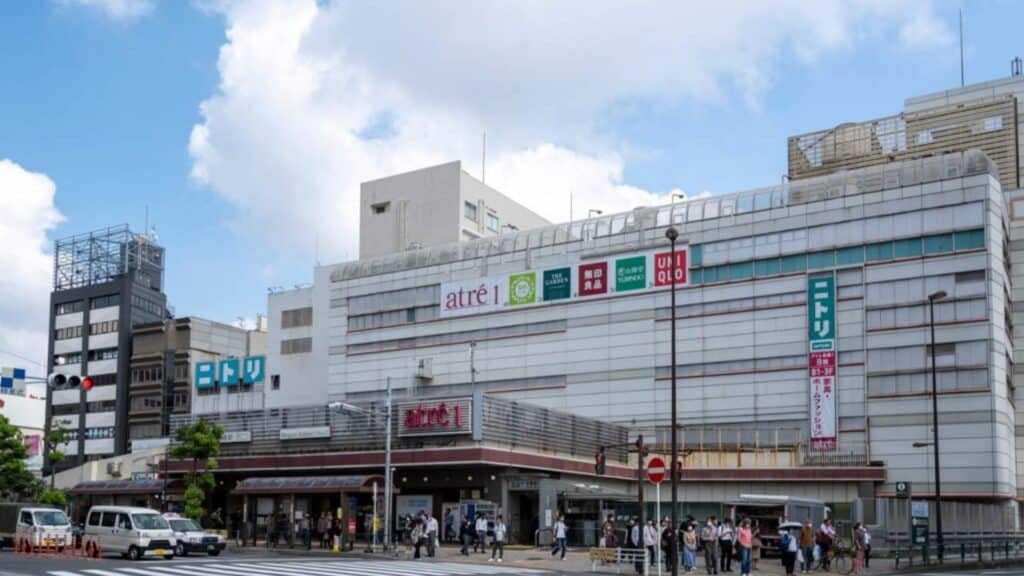 For some reason, Meguro Station is located in Shinagawa Ward. Part of Mita in Meguro-ku is inside the Yamanote Line. If you walk down the slope in front of the station and along the Meguro River, you will find Gajoen and Hotel Meguro Emperor. If you walk along Meguro Street, you will find the Meguro Parasite Museum, a subculture kitchen.
What to do in Meguro City Ward
Meguro River 目黒川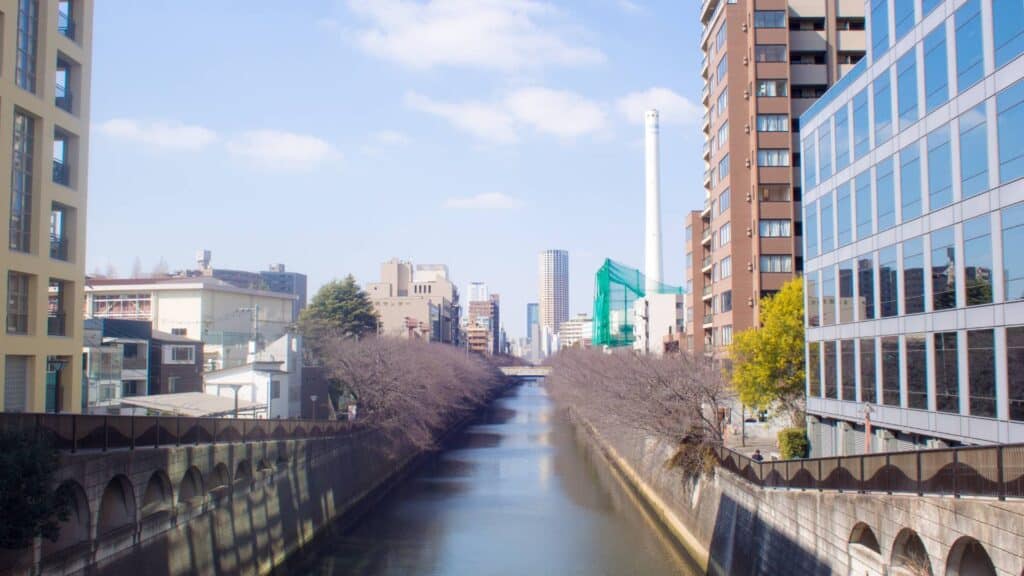 The Meguro River runs from Setagaya Ward to Shinagawa Ward. In spring, the cherry trees planted along the sides of the river all bloom at once, making it one of the best cherry blossom viewing spots in Japan. Many people may know it as a cherry blossom viewing spot. At that time of the year, the area is lined with gourmet food stalls, and so many tourists throng the area that it is difficult to walk around. 
The Meguro River area is lined with many fashionable restaurants and general stores. Most of them are not available for reservations during the cherry blossom season, but are relatively easy to access during other seasons. In addition to cherry blossoms, visitors can also enjoy the beautiful autumn foliage scenery in fall.
Find out more about Meguro River here on Google maps.
Meguro History Museum めぐろ歴史資料館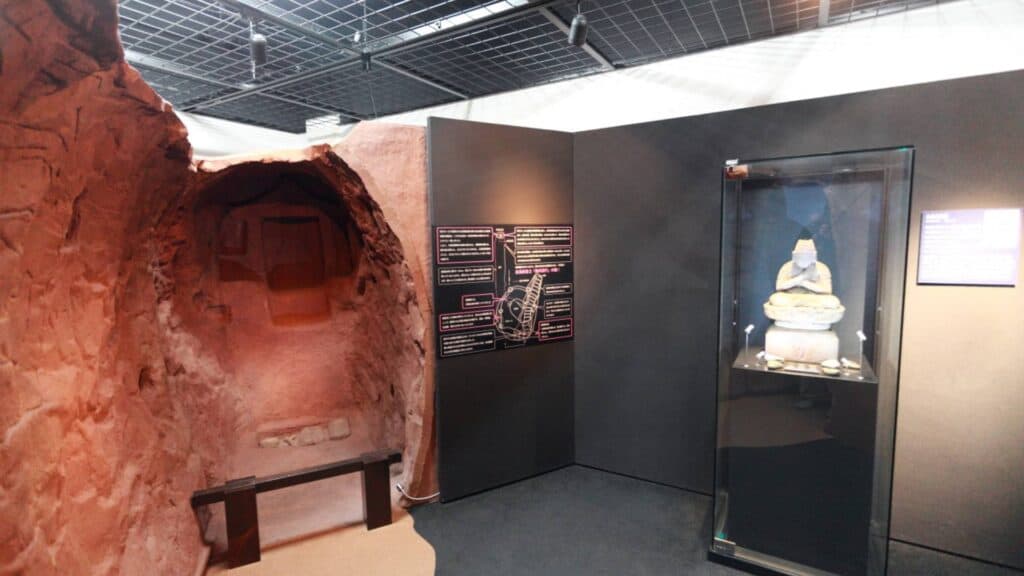 The Meguro Historical Museum is a museum where visitors can learn about the history of Meguro. Visitors can learn about the history of people who lived in Meguro from the Paleolithic Age to modern times. Stone tools and earthenware, as well as furniture and clothing, are on display. There are also hands-on exhibits, making it a great place for both children and adults. Anyone interested in history will enjoy this spot.
Find out more about Meguro History Museum here on Google maps.
Former Marquis Maeda Teahouse 旧前田侯爵家本邸 和館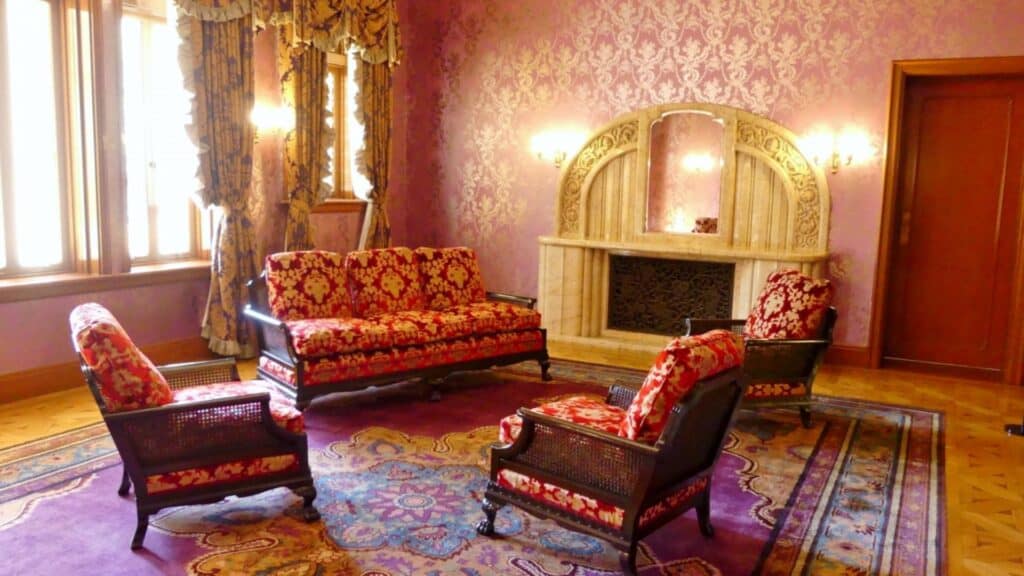 The Former Maeda Marquis's Residence Japanese Gallery is a popular spot in Komaba Park. It is the main residence of the Maeda family, the former feudal lords of Kaga. The Japanese-style house was built to show Japanese culture to foreigners, and was designed and built by the leading Japanese architects of the time.
Only the first floor is open to the public and is registered as an Important Cultural Property. The interior of the building shows how the noble people of the time lived. The view of the courtyard from the tatami room is very beautiful. Please visit on a fine day.
Find out more about Former Marquis Maeda Teahouse here on Google maps.
Ryūsen-ji 目黒不動尊(瀧泉寺
Takienji Temple is also known as Meguro Fudoson. Tokugawa Iemitsu prayed for peace in the country and placed one of the Edo Five Color Fudo (five coloured fudo) at this temple. The bright colours of the temple are impressive, but its history is long: it was founded in 808 by the great priest Jikaku.
Find out more about Ryūsen-ji here on Google maps.
Shimizuike Park 清水池公園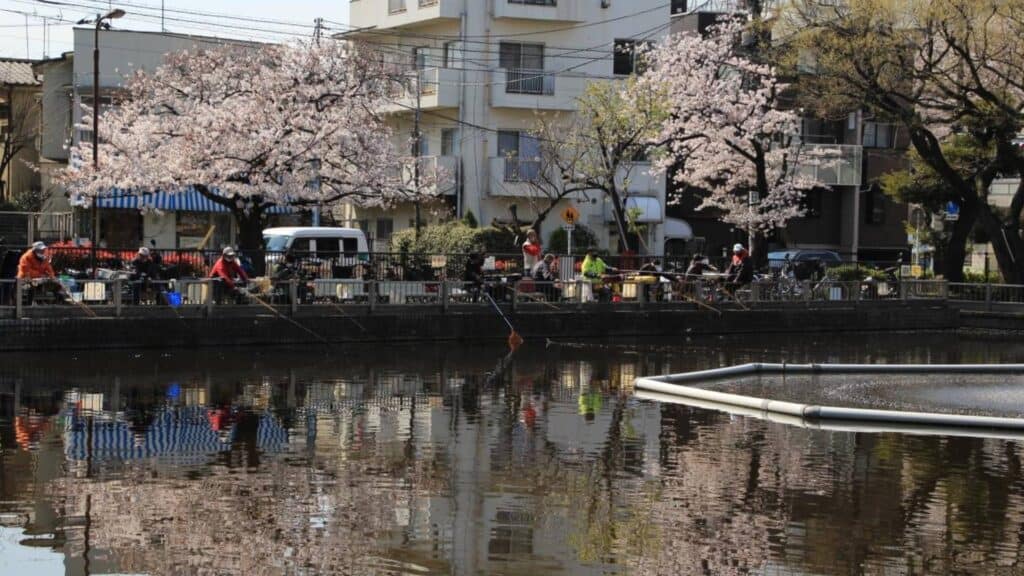 Shimizu Pond Park is a popular park for Meguro residents with a free fishing spot and athletic facilities. The park is rich in nature and the athletic facilities are large, so children are sure to have a great time. At the fishing pond located in the park, you can catch fish such as the Japanese crucian carp. This is a spot where the whole family can spend a holiday in contact with nature.
Find out more about Shimizuike Park here on Google maps.
Meguro Sky Garden 目黒天空庭園・オーパス夢ひろば
Meguro Sky Garden is a circular park located above the Metropolitan Expressway junction. Although it is located on the rooftop of a building, there are many plants and trees planted here, allowing visitors to relax and unwind.
The park is approximately 400 meters long, which is large for a park in Tokyo. It is located high above the ground, giving it a great sense of openness.
Find out more about Meguro Sky Garden here on Google maps.
Miyano Old House Natural Garden 宮野古民家自然園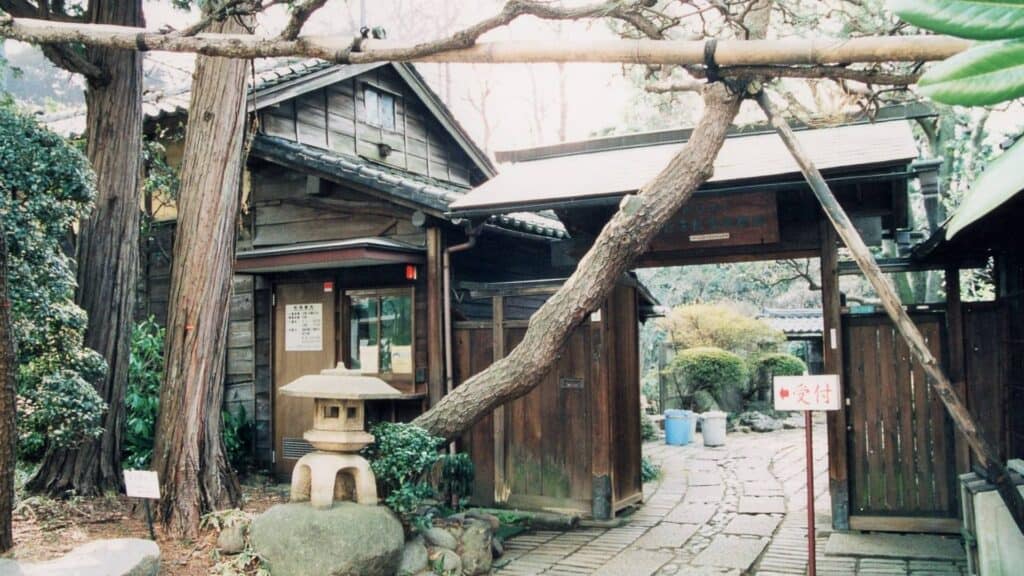 The Miyano Old Private House Nature Park is a facility that conveys the scenery of life in the Edo period. The main building is registered as a Tangible Cultural Property of Meguro. The park grounds have a nostalgic atmosphere that retains the atmosphere from the Edo period. 
There are also exhibits of farming tools and daily necessities used from the Edo period to the present day. A guide at the facility will carefully explain the history of the park. This is a rare sightseeing spot with few visitors.
Find out more about Miyano Old House Natural Garden here on Google maps.
Kume Museum of Art 久米美術館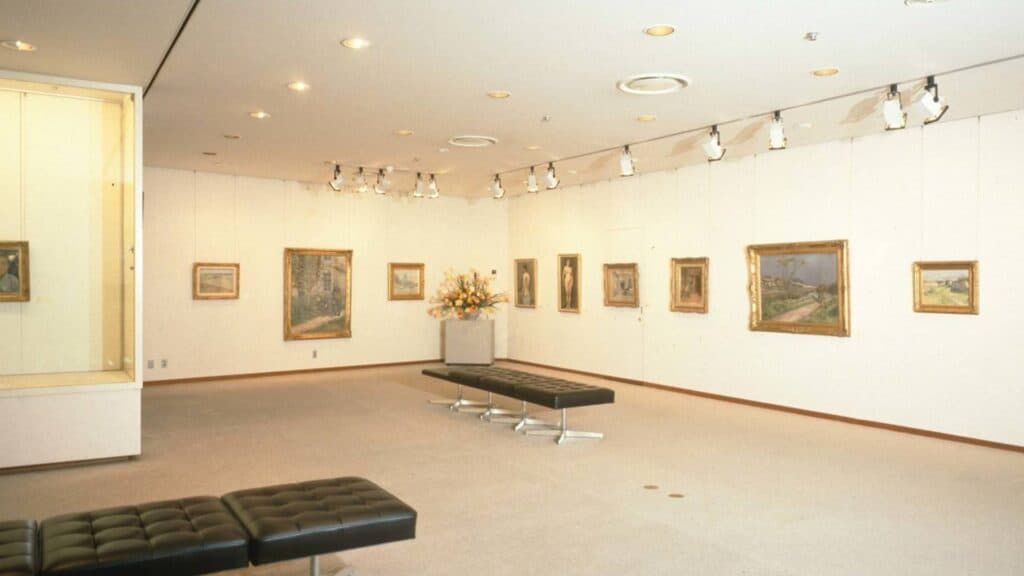 The Kume Museum of Art, located a minute's walk from Meguro Station, exhibits items related to the historically famous Kunitake Kume and his son, Keiichiro Kume. The museum also exhibits works by people associated with Keiichiro Kume.
Limited time exhibitions are also held, so you will never get bored. It is a compact museum, so why not stop by while you are shopping or strolling around?
Find out more about Kume Museum of Art here on Google maps.
Tokyo Metropolitan Teien Art Museum 東京都庭園美術館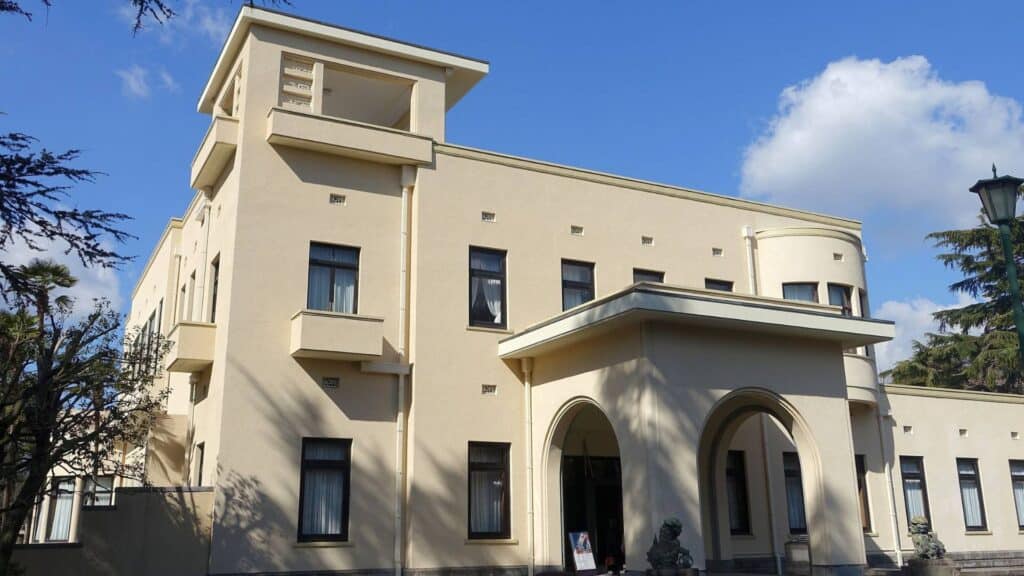 The Tokyo Metropolitan Teien Art Museum is an art museum surrounded by rich nature, originally built in 1933 as the Asakamiya Palace, the building was renovated and is now used as an art museum. The Art Deco architecture that was popular at the time of construction is used throughout the building, and it is now registered as an Important Cultural Property.
The grounds include a beautiful tea ceremony room and Japanese and Western gardens. It is a recommended sightseeing spot for dates, as visitors can enjoy strolling in the tranquillity of the space.
Find out more about Tokyo Metropolitan Teien Art Museum here on Google maps.
Saigōyama Park 西郷山公園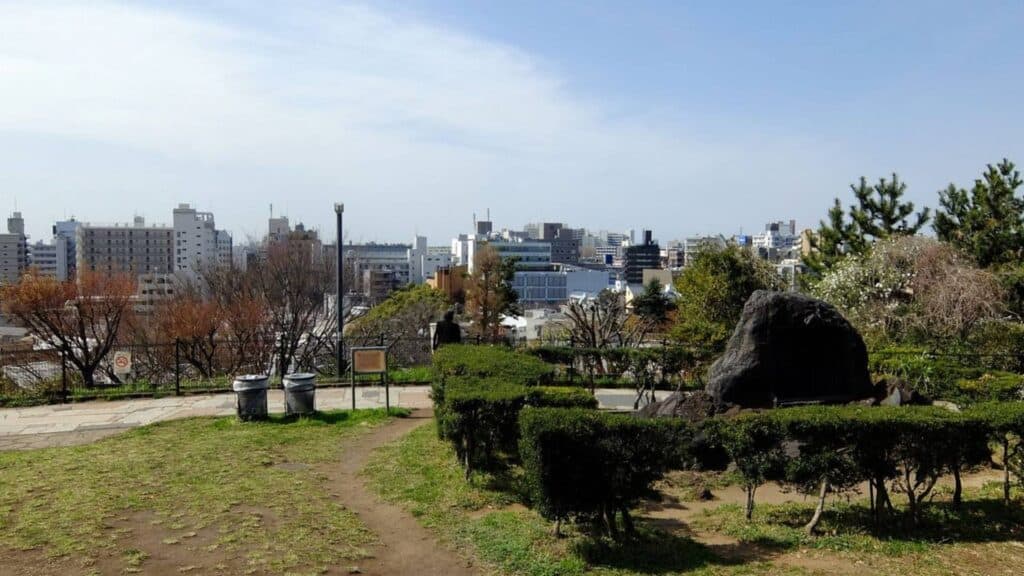 Saigoyama Park was built on the site of the residence of Saigou Takamori's younger brother, Saigou Shudomichi. The park has facilities such as an artificial waterfall and an observatory. There is a large lawn where visitors can picnic.
From the park's observatory, visitors can see Mt. Fuji from the observatory, which is located on a small hill, so it is a beautiful view. You can also enjoy the night view at night. The park is often used for filming dramas and is a beautiful and comfortable place to spend time.
Find out more about Saigōyama Park here on Google maps.
Meguro Parasitological Museum 目黒寄生虫館
The Meguro Parasite Museum is located on Meguro Furniture Street. It is the only museum in the world that specializes in parasites. Because of its rarity, the museum attracts tourists not only from Japan but from all over the world. Admission is free.
There are many exhibits such as specimens and specimens pickled in formalin. Lockers are available, so you can leave your luggage and visit the museum at your leisure. Why not stop by for a different kind of outing?
Find out more about Meguro Parasitological Museum here on Google maps.
Accommodation in Meguro City Ward
Meguroholic Hotel (3*)
Well situated in the Meguro Ward district of Tokyo, Meguroholic Hotel 16th March 2020 Rebrand Opening is 60 m from Kume Museum of Art, 300 m from Kofuku-in Temple and 400 m from Tanjo Hachiman Shrine. The property is close to popular attractions like Daienji Temple, Tokyo Metropolitan Teien Art Museum and Megurogawa Kakyo Seishi Bodhisattva Statue. Popular points of interest near Meguroholic Hotel 16th March 2020 Rebrand Opening include Meguro Catholic Church, Meguro Gajoen and Sugino Costume Museum.
Dormy Inn Express Meguro Aobadai Hot Spring (3*)
Located in a quiet neighbourhood, hotel Dormy Inn Express Meguro Aobadai Hot Spring offers free wired internet. The property offers bicycle rentals and free use of washing machines. Dormy Inn Express Meguro Aobadai Hot Spring is a 10-minute walk from Nakameguro Station, offering train and subway connections. From there, it takes just a 5-minute train ride to the downtown area of Shibuya.
Hotel Fukudaya (2*)
Featuring traditional hot public baths, Hotel Fukudaya is a 15-minute walk or 5-minute bus ride to JR Shibuya Train Station. Keio Shinsen Train Station is a 7-minute walk from the hotel, and the famous Shibuya 109 Building is a 12-minute walk away. The trendy Daikanyama area is a 15-minute walk away.
Hotel Gajoen Tokyo (5*)
JR Meguro Station is 6 minutes on foot and Tokyo Metropolitan Teien Art Museum is a 12-minute stroll. JR Shibuya Station is a 5-minute train ride, while JR Shinagawa Station is 8 minutes by train from Hotel Gajoen Tokyo. The nearest airport is Tokyo Haneda International Airport, 10 km away.
Coco Nakameguro 201 (1*)
Located in Tokyo, 200 m from Sato Sakura Museum and 500 m from Kyu Asakura House, Coco Nakameguro 201 provides air-conditioned accommodation with a balcony and free WiFi. This apartment is less than 1 km from Nakameguro Park and a 12-minute walk from Saigoyama Park. Popular points of interest near Coco Nakameguro 201 include Nakameguro GT, Hibari Misora Memorial House and Daikanyama Address Dixsept.
Tokyu Stay Meguro Yutenji (3*)
A 3-minute walk from Yutenji Station, Tokyu Stay Meguro Yutenji lies in a quiet area. The Tokyu Stay Meguro Yutenji has a 24-hour front desk, which offers free luggage storage. The hotel provides dry cleaning, photocopying and courier services at extra charges. Drink vending machines are available. From Yutenji Station it takes 11 minutes by train to the Roppongi area and Shinjuku is a 20-minute train ride away.
Olympic InnOlympic Inn Shibuya(3*)
Olympic InnOlympic Inn Shibuya features air-conditioned rooms with flat-screen TV in the Meguro Ward district of Tokyo. The property is close to Sugekari Park, Komaba Museum and The Shoto Museum of Art. Popular points of interest near Olympic InnOlympic Inn Shibuya include Kamimeguro Hikawa Shrine, Meguro Sky Garden and Higashiyama Kaizuka Park.
Wise Owl Hostels Shibuya (1*)
Opened in April 2017, Wise Owl Hostels Shibuya is located in Meguro District of Tokyo. Both Shinsen Station and Ikejiri-ohashi Stations are a 10-minute walk from this property. Shibuya Station is a 15-minute walk from the property. Shinjuku Station is a 20-minute train and bus ride away. Guests can explore Meiji Jingu Shrine, a 10-minute car ride away.
—
What do you think about Meguro Ward in Tokyo? Do you like finding out about the history and culture of this interesting area of Tokyo? There is so much history and unique things to do in this local neighbourhood of Tokyo, if you're interested in coming for yourself, make sure to refer back to this blog.