Have you ever heard of the Tokyo neighbourhood, Meguro? Are you thinking about visiting this unique area of Tokyo or even staying in Meguro, and wondering what are some things to do, places to visit and restaurants to check out?
There are so many neighbourhoods and areas in Tokyo. Besides the famous towns like Shinjuku, Shibuya and Harajuku, there are many incredible places and spots in Tokyo that are worth a visit. If you're looking to visit a local neighbourhood and check out some hidden gems, Meguro might be a great place to check out. In this Meguro area guide, let's have a look at what to do in Meguro, where to eat and drink in Meguro, where to stay in Meguro and some hidden gems in the area.

One of the best ways to explore Tokyo is to visit the local areas and immerse yourself in the local culture. If you want to explore local areas, we have created scavenger hunt adventures personalised to your interests, filled with fun facts, clues and puzzles. If you're curious, you can check out the games here!

Check out the Flip Japan Games here!

What is Meguro?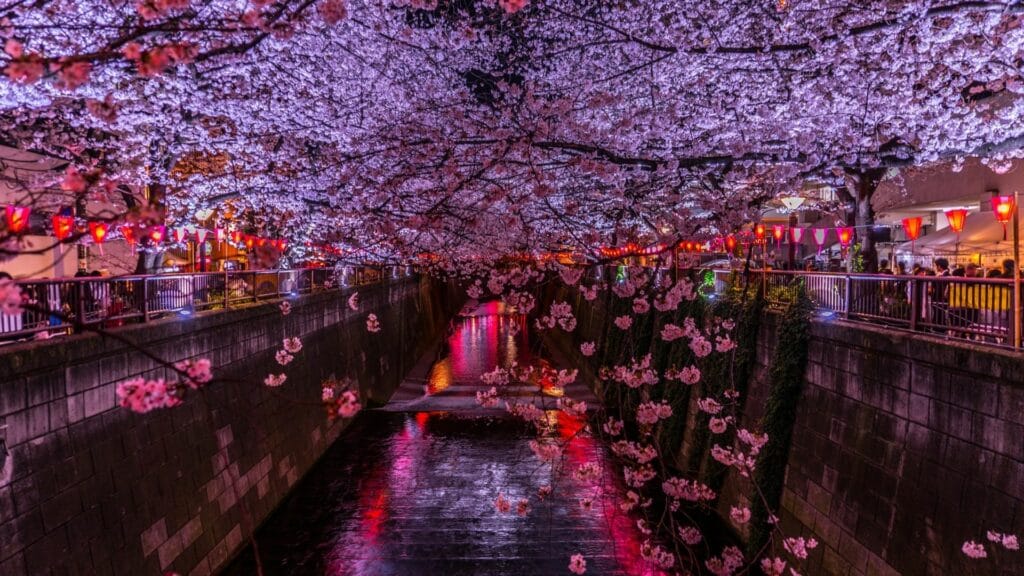 Meguro is a neighbourhood in Tokyo, Japan. It's not too far from central Tokyo, but also far enough away where it has a calm and peaceful atmosphere. Although Meguro is predominantly a residential area, there are different offices, shops, restaurants, cafes and a few significant landmarks in the area. There are even fifteen foreign embassies and consulates here. With a friendly environment and easy access, the Meguro area is a great place to visit or even to live in.
About 2 kilometres away from Meguro, you will find Nakameguro. It is a residential area around the Meguro river. It is especially famous for people to visit during spring to enjoy the cherry blossom trees. Here in Nakameguro, you can find all kinds of Indie and hipster shops, along with galleries and museums. If you're in the area and craving food and drinks, you will be pleased to find that they have many mainstreams as well as local Japanese, western, international and fusion spots all over town.
This blog will give you all the best places to visit, so please refer to it anytime and plan out a fantastic trip to the Meguro ward!
Things to do in Meguro
Former Asakura Residence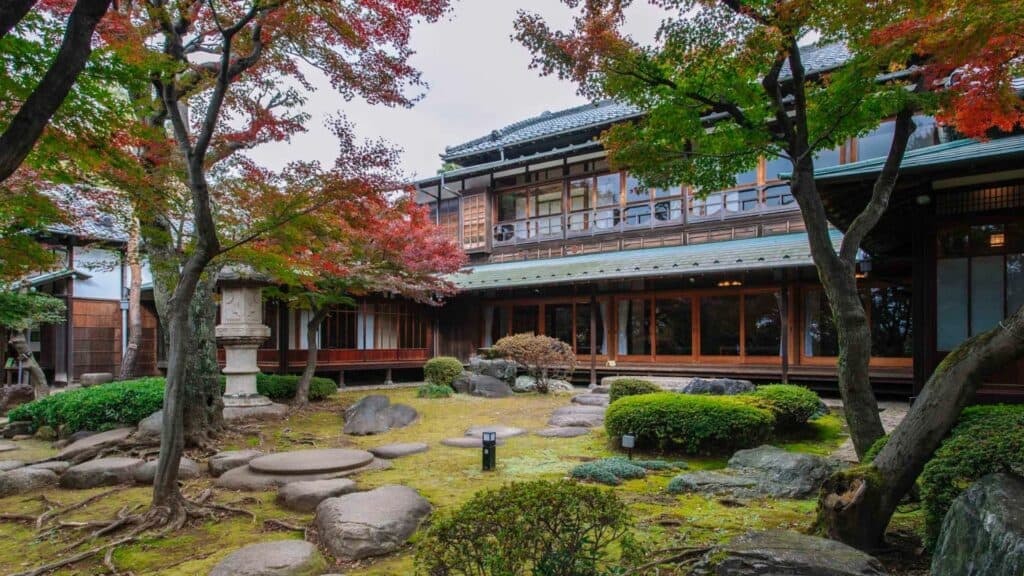 The Former Asakura Residence is a historic house that dates back to 1919. The owner of this property was a successful rice merchant and politician named Torajiro Asakura.
The house survived the great Kanto earthquake as well as the bombings over Tokyo during WW2. After Asakura's death, the house was a meeting place for the Japanese Ministry of the Economy. Then, in 2004 it became an important cultural property and is now open to the public.
Visitors can appreciate both Japanese and Western elements in the well maintained two-story house. The garden surrounding the western part of the house resembles a small forest and offers beautiful seasonal flowers. The former Asakura Residence is the oldest existing residence in this area.
Find out more about Former Asakura Residence here on Google maps.
Sato Sakura Museum
The Sato Sakura Museum specializes in contemporary Nihonga – paintings executed with traditional Japanese subjects, techniques and materials. The museum holds several different exhibitions each year. It also displays a rotating selection from its collection, many of which are larger screen paintings of cherry blossoms. Despite the traditional feel and subject matter, most of the paintings were painted in the last few years, the very oldest being from 1970.
Find out more about Sato Sakura Museum here on Google maps.
Sakura-bashi bridge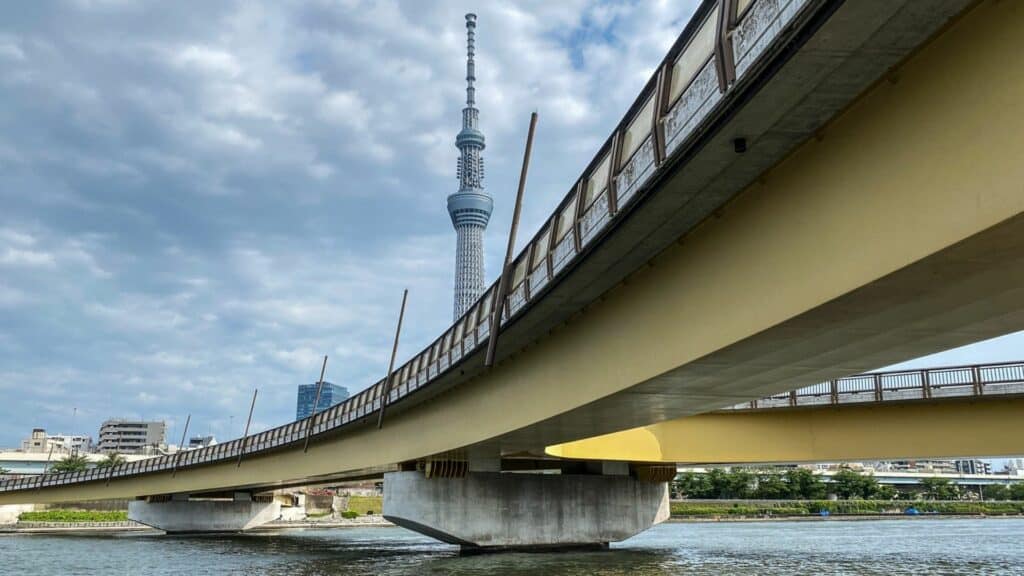 Sakura-bashi Bridge connects the two sections of Sumida Park on either side of Sumida River. It is a pedestrian-only bridge that is distinguished by a facade that blends in with its surroundings. It was the first pedestrian bridge across the Sumida River. During springtime, you can take a walk under the cherry trees in Sumida Park between Azuma-bashi and Sakura-bashi. Natural stones are the base, and seasonal flowers are planted at the edges. You can enjoy more than 1,000 cherry blossoms along both banks of the Sumida River in the spring. You could also check out the Sumida River Fireworks Festival in the summer.
Find out more about Sakura-bashi bridge here on Google maps.
Shōkakuji Temple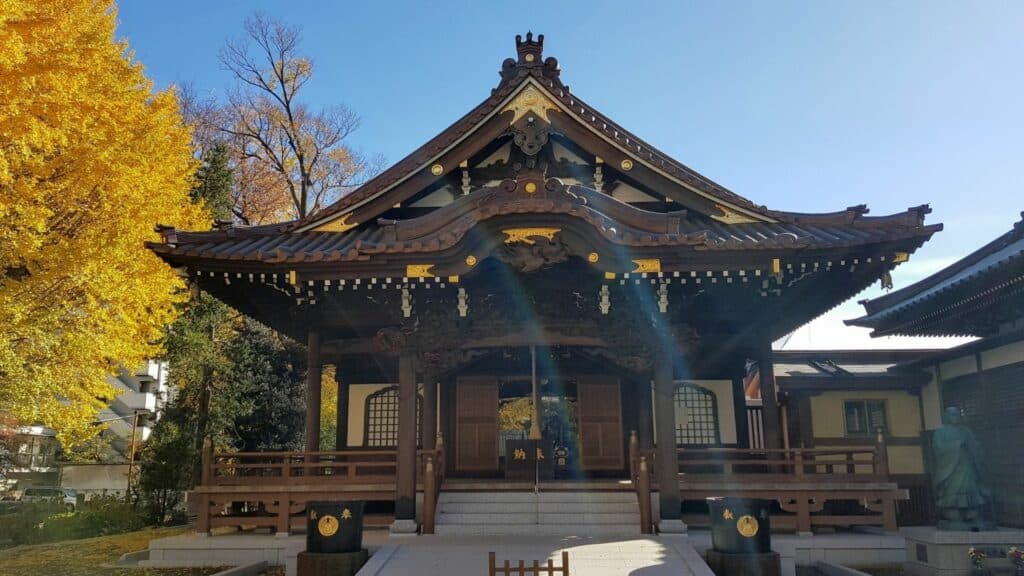 Shokokuji belongs to the Five Great Zen Temples of Kyoto. The Five Great Zen Temples were built during the medieval Muromachi Period. Today, Shokokuji is the main temple of the Rinzai sect of Buddhism, Shokokuji School. Along with the famous Kinkakuhi (The Golden Temple) and Ginkakuji (The Silver Temple), there are 100 sub-temples of this sect.
Ownership of these two jewels of Kyoto tourism makes Shokokuji the wealthiest temple in the city. Beautiful collections of treasures and cultural assets belonging to Shokakuji are displayed in the Jotenkaku Museum.
Find out more about Shōkakuji Temple here on Google maps.
Meguro Parasitological Museum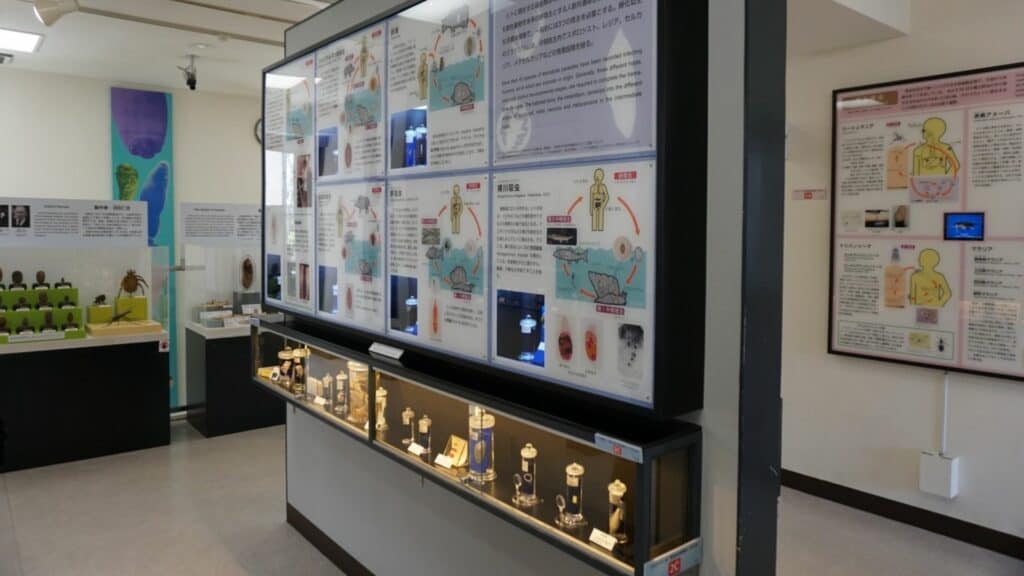 Meguro Parasitological Museum is the only establishment in the world entirely devoted to parasites. You read correctly, this quirky little museum has become a popular offbeat attraction – and even date spot – in the relatively quiet Meguro neighbourhood.
The museum is home to a collection of parasitic creatures from all facets of life. Typically there are a few hundred jars of parasites on display on any given day. As you wander through the exhibit, keep an eye out for the star of the show, an 8.8-meter tapeworm that lived in the body of a patient who ate a fish containing a young parasite.
Admission is free, but the museum always accepts donations to assist in its maintenance and operation.
Find out more about Meguro Parasitological Museum here on Google maps.
Ryūsen-ji Temple (Meguro Fudōson)
Ryūsenji, also known as the Meguro Fudō, is a Buddhist temple located in Meguro. The temple currently belongs to the Tendai school of Japanese Buddhism, and its main image is a hibutsu statue of Fudō-myōō.
The old city of Edo had long been protected by five guardian deities, each with eyes of a different colour.
The black-eyed one, or Meguro Fudō, was placed at this temple, giving the neighbourhood its name. The area of this temple is quite huge. If you visit during the spring there are many cherry blossoms in full bloom.
Find out more about Ryūsen-ji Temple here on Google maps.
Ōtori Shrine 大鳥神社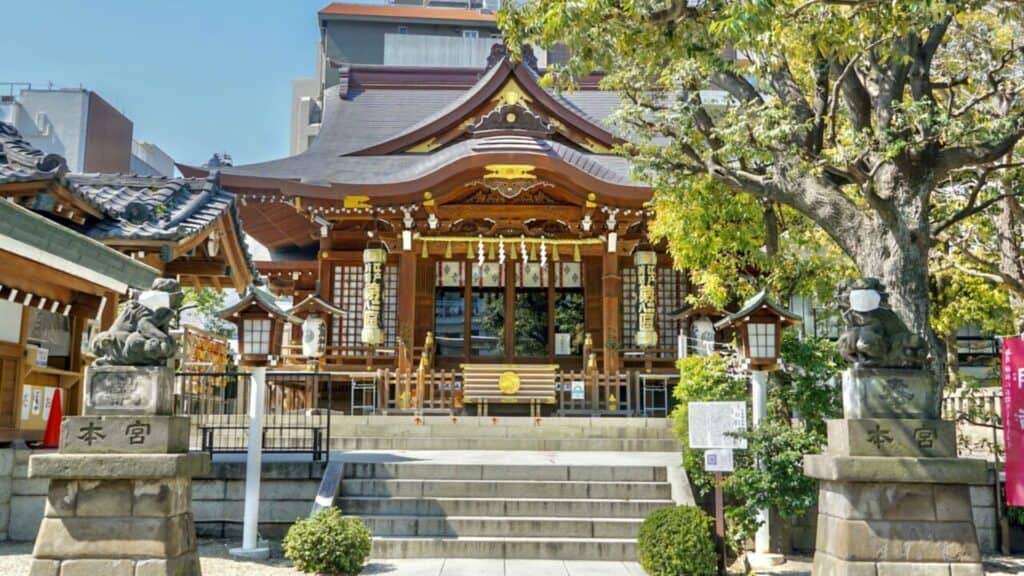 Otori Shrine is a shrine located in Meguro ward. In the reign of Emperor Keiko (71-130 AD), this was the shrine dedicated to Kuni-no-Tokotachi. Kuni-no-Tokotachi is a god that appears in Japanese mythology. In Nihon Shoki, it is said to be the first god and the root god of Japanese mythology.
Yamato Takeru, the prince of Emperor Keiko(71-130 AD) stopped here at Otori Shrine and made a prayer to help their battles. The prince also prayed for the cure of his subordinate's "eye disease". After their deaf of Kumaso, the invaders at the time, at the command of the emperor, the subordinate's eye disease was also cured.
Since the power of the shrine helped Yamato Takeru use the sword to defeat the enemies, the sword has been gifted to the shrine and is a valued treasure here. This sword is called Ame no Takegumono Tsurugi.
According to the shrine, the spirit of honour appears here as a swan and is enshrined as a "Tori Myojin", bird god. You can see the use of the phoenix in the ancestor's family crest in this shrine.
Find out more about Ōtori Shrine here on Google maps.
Daienji Temple
On the eastern side of the Meguro River, sits the Daienji Temple. It has the dubious honour of being where the Great Meiwa Fire of 1772 sparked to life. The Meiwa blaze is the second of the three "great" fires of Edo. It resulted in thousands of deaths and utter destruction to a huge percentage of the city.
To honour the dead and perhaps by way of atonement, the temple commissioned 520 stone statues, each individually carved with a different expression, to be placed within its grounds.
At the entrance of the temple, there is a tall Buddha sculpture and 500 small stone statues depicting the Gohyaku Rakan or followers of Buddha in the background. Right in the middle of the statues is a small pond, adding to the serenity of the temple. Standing in between the gate and the statues are small Jizo figures who act as guardians of children.
Find out more about Daienji Temple here on Google maps.
Museum of Contemporary Sculpture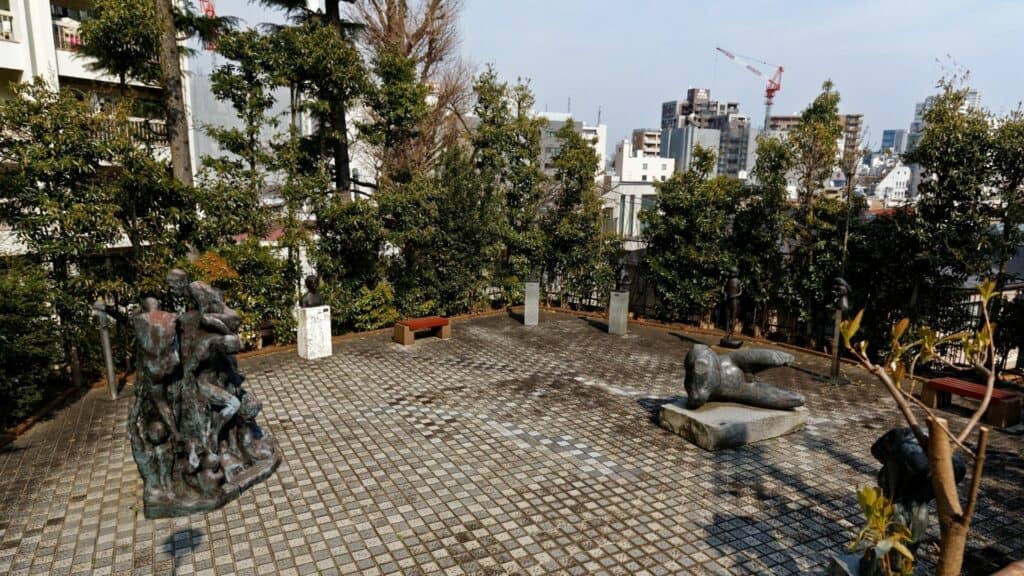 This museum is home to works from Japanese sculptors since the latter half of the 20th century. Some of the artists include Kayuki Hiroteru, Tayuki, Nobuya and many more. What started as an educational project has become an incredible show of art.
They also plan to further enhance the museum by having exhibitions by young, aspiring artists. They also have an exhibition outside the building with beautiful and unique sculptures. It is a place where many people can experience the joy and splendour of different sculptures.
Find out more about Museum of Contemporary Sculpture here on Google maps.
Meguro Museum of Art, Tokyo
Since its opening in November 1987, this museum has had many different collections of art by Japanese artists of both modern and contemporary times. They also hold special exhibitions that capture trends of various artists inside and outside of Japan.
This museum is unique in that they also have many hands-on activities like education workshops for children. There is also a rental space nearby that can be used by everyone. It is a place of relaxation where you can get familiar with art and build your imagination and sensitivity.
Find out more about Meguro Museum of Art, Tokyo here on Google maps.
Tokyo Metropolitan Teien Art Museum
The Tokyo Metropolitan Teien Art Museum was opened in 1983 at the Former Residence of Prince Asaka. The building itself is a work of art, a result of Japanese and French designers, architects and craftsmen. This residence has been designated as one of the Japanese nation's Important Cultural Properties.
The distinctive architectural style, as well as the decorative Art Deco interior design, is part of what makes this museum unique. The main areas of the interior, the entrance, a large guest room, the dining room and the study, were all designed by a leading French artist at that time, René.
As well as a beautiful interior, there is also a beautiful garden. There are three areas inside the garden, the Lawn, Japanese Garden and Western Garden. The Lawn is spacious, situated right in front of the building; the Japanese Garden features a small hill and a pond; the European Garden was occupied by hosing for civil servants then turned into a garden.
Different exhibitions are always opening, making it a place you can visit again and again. This museum's modern elegance is a masterpiece and a great place for art enthusiasts to visit.
Garden admission fees: Adults ¥200, University students ¥160, Middle & High school students, over 65 years old ¥100.
Find out more about Tokyo Metropolitan Teien Art Museum here on Google maps.
Nakameguro Hachiman Shrine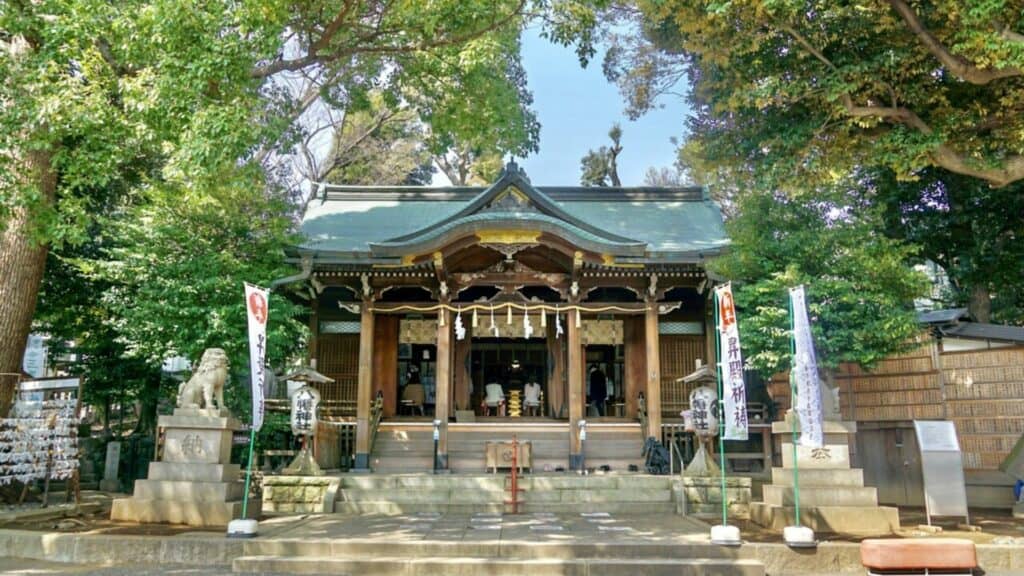 Nakameguro Hachiman Shrine is located only a few minutes from the Nakemeguro station. It has a naturally silent space surrounded by many big ancient trees.
There is a small spring near the stairs to the shrine hall. This shrine also has different shrine festivals, including the Setsubun, Prayer Festival, Niiname-no-matsuri, and so many more. It's a serene place to visit while enjoying nature and a peaceful atmosphere.
Find out more about Nakameguro Hachiman Shrine here on Google maps.
Meguro River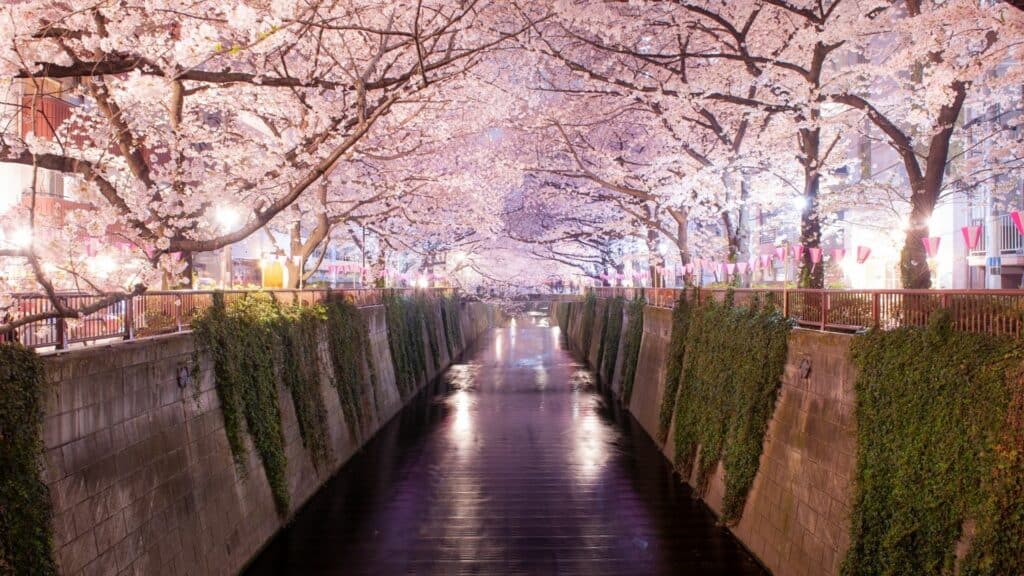 This river flows through Tokyo for around 8 kilometres before reaching Tokyo bay. There are many great places to take a stroll and view all the sights that Meguro has to offer. There are places full of greenery as well as many restaurants and bars that are easy to access on the walk along the river. During the spring, beautiful cherry blossoms as well as other beautiful flowers are in full bloom.
They also have the Nakameguro Sakura Festival, in which there are paper lanterns strung along the river during the evening, as well as feasts and celebrations. During the winter, there is an impressive light display near the river. Any time of year, this river is a must-visit.
Find out more about Meguro River here on Google maps.
Hyakudan Kaidan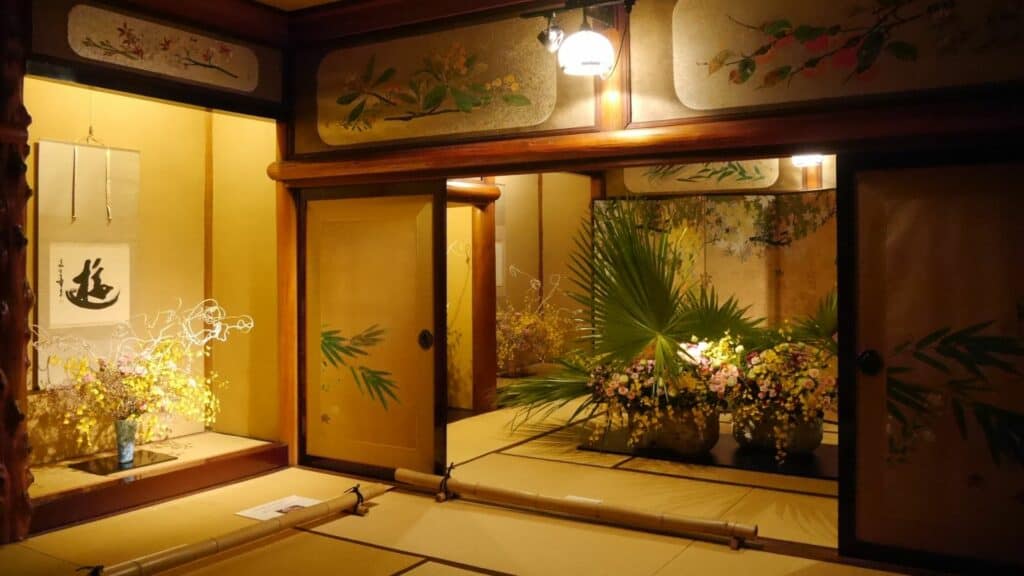 The Hyakudan Kaidan has often been referred to as a department store of ornamentation or the Palace of the Dragon King of the Showa Era. When it first opened in 1931, Tokyo was recovering from the devastating earthquake. This place was a safe, fairy tale land for people to enjoy life again.
It is considered a cultural asset of Japan and they have many varieties of special exhibitions where you can experience Japanese culture. Filled with fans, dolls & shadow puppets exhibited in traditional Japanese banqueting halls decorated with murals, this is a must-visit location.
General admission: 1,000yen
Find out more about Hyakudan Kaidan here on Google maps.
Institute for Nature Study
The Institute for Nature Study is a sanctuary that preserves the beauty of nature in the middle of Tokyo, making it a gorgeous and peaceful oasis for people to escape from the city. All kinds of trees and plants are being persevered here, along with different kinds of flowers that change with the distinct four seasons of Japan. When you come into this area, you will feel like you have walked into a small forest. This area costs ¥320 to enter and for High-school students and younger, it is free.
Find out more about Institute for Nature Study here on Google maps.
Restaurants in Meguro Station Area
Tonkatsu Tonki
Meguro is home to many amazing restaurants. One of these is Tonkatsu Tonki, a popular, easygoing restaurant with an open kitchen that specializes in tonkatsu (breaded pork cutlet). The interior is bright and spacious but very simple with little to no decorations on the wall. However, the amazing smell of fried pork hits you the second you enter the restaurant. Tonkatsu Tonki is very popular and has many die-hard fans. It has been around for 80 years, and many people love its old fashioned and casual atmosphere.
Find out more about Tonkatsu Tonki here on Google maps.
Cabe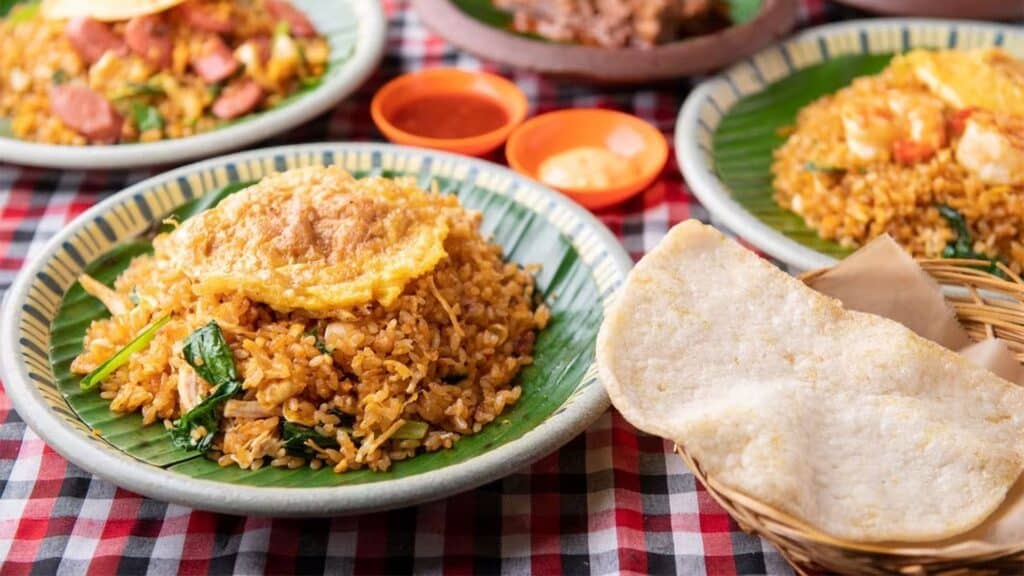 Cabe was opened by Masaki Ohira, who has studied abroad in Bandung, Java, Indonesia. The store name CABE is an Indonesian word meaning "chilli pepper". A great dish to try out here is the Rendang Sapi Braised beef. It is a tender beef dish that has been slowly cooked for a long time. Another great dish is the Soto Babat Beef motsu stew soup. The texture is crunchy and it is light and refreshing.
Find out more about Cabe here on Google maps.
Flat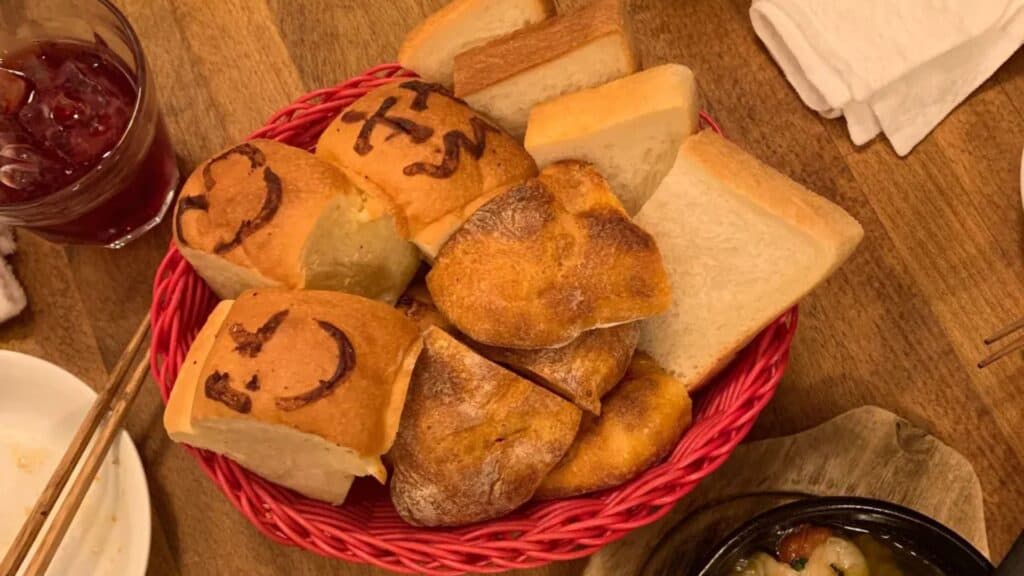 Flat is a quick 2-minute walk away from Meguro Station. It is a restaurant/bar, where you can enjoy bread and wine at a reasonable price. The homemade bread here is made with 100% domestic wheat and they are delivered daily from the sister store "Baba FLAT". To go with your lunch or dinner, you can get all-you-can-eat-bread along with different dips. For lunch, they serve different sets like roast pork, jerk chicken and seafood gratin. They also have a special Deli plate that comes with 5 different daily dishes. If you're interested in trying their wines, they pride themselves on the affordable bottles, marking the retail price up by just 1000yen.
Find out more about Flat here on Google maps.
Menya Fujishiro Meguro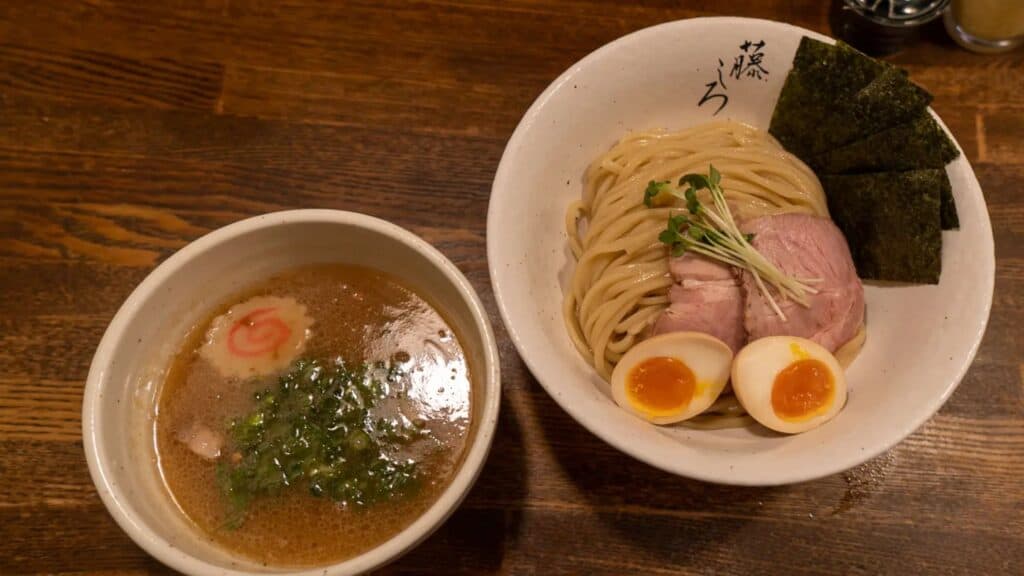 Menya Fujishiro Meguro is a popular ramen shop near Meguro Station. They offer a simple menu with Tsukemen and several types of ramen. The base of the soup is made of chicken, which has a thick yet very gentle taste. The soup of the ramen goes well with the medium-thick straight ramen noodles, and with the tsukemen, the broth is slightly thicker, and it comes with thick noodles.
Find out more about Menya Fujishiro Meguro here on Google maps.
Fruit Parlor Kajitsuen 果実園リーベル 目黒店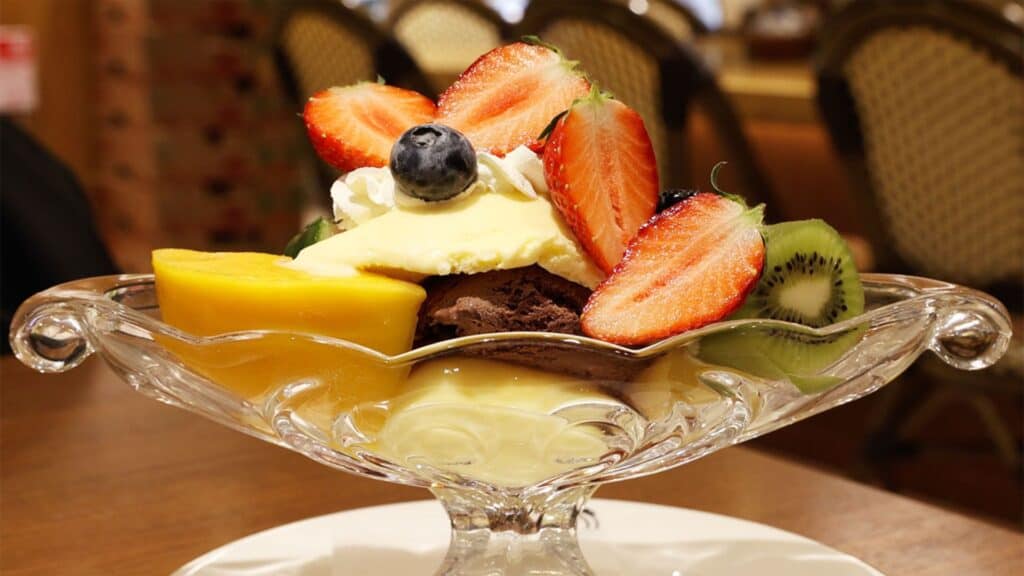 Fruit Parlor Kajitsuen is dedicated to sweets lovers. Besides cakes, there are plenty of other options such as parfaits and pancakes. Seasonal fruits are used to create these dishes and the menu changes frequency. The owner, Nagamine, has nearly 50 years of experience in purchasing fruits. He is able to get the fruits at a good price and the shop is known for serving good quality products at a reasonable price.
Find out more about Fruit Parlor Kajitsuen here on Google maps.
My Little Happiness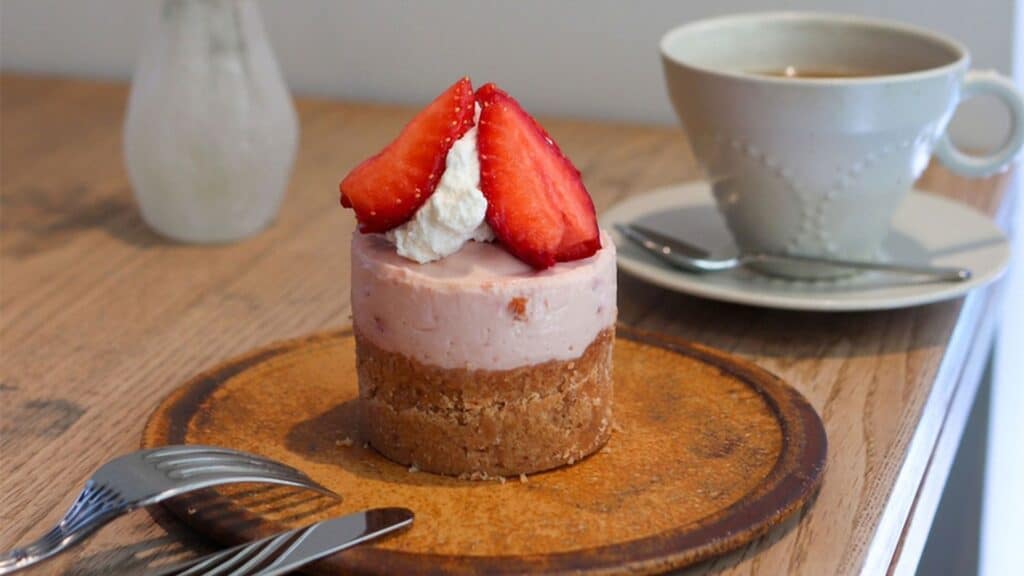 My Little Happiness is a small cafe with 9 seats in a corner of a European clothing shop called Little Happiness. Although it is a relatively new store that opened in March 2016, it has become quite popular. The interior, which is designed in white and wood grain, is simple but fashionable. The recommended menu to try here is the Capricious Dessert from 250 yen. The daily muffins and tarts are very delicious.
Find out more about My Little Happiness here on Google maps.
Cafe Lounge Pandora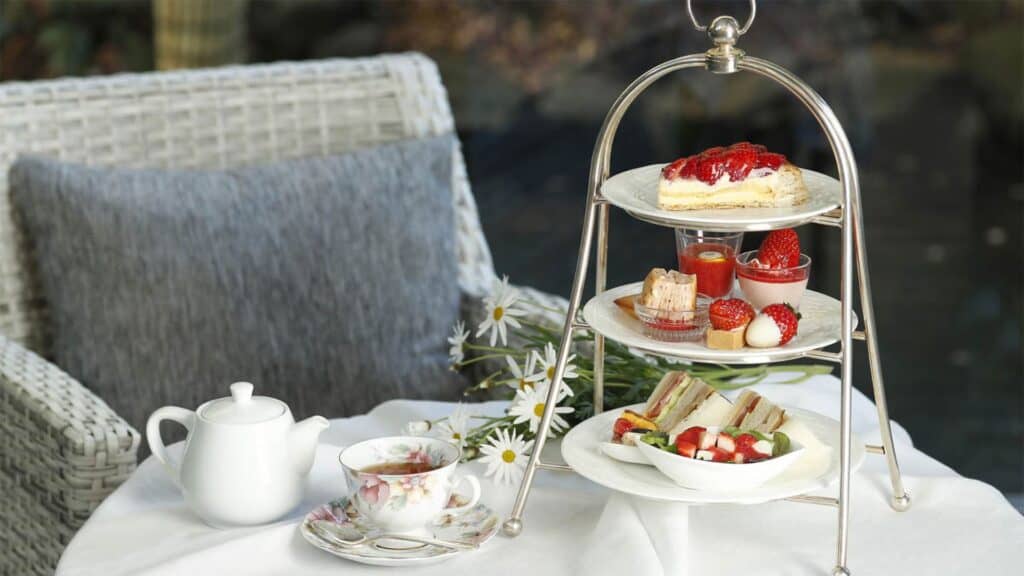 Cafe Lounge Pandora is located in the historic Meguro Gajoen, which was founded in 1945. Gajoen is also called the Ryugu Castle in the Showa era and is believed to be the inspiration for the bathhouse in the movie Spirited Away.
You can enjoy the magnificent scenery that makes you completely forget that you are in the city centre from inside the glass-enclosed store. In the garden, you can enjoy watching the carps swim in the pond in front of the impressive waterfall.
They serve all kinds of food here at different times of the day. You can try out their burgers, different cakes, seasonal afternoon tea, Japanese style desserts and more.
Desserts and snacks here cost around 1,200yen-2,00yen and there is a 13% service charge.
Find out more about Cafe Lounge Pandora here on Google maps.
Kawasemi 川せみ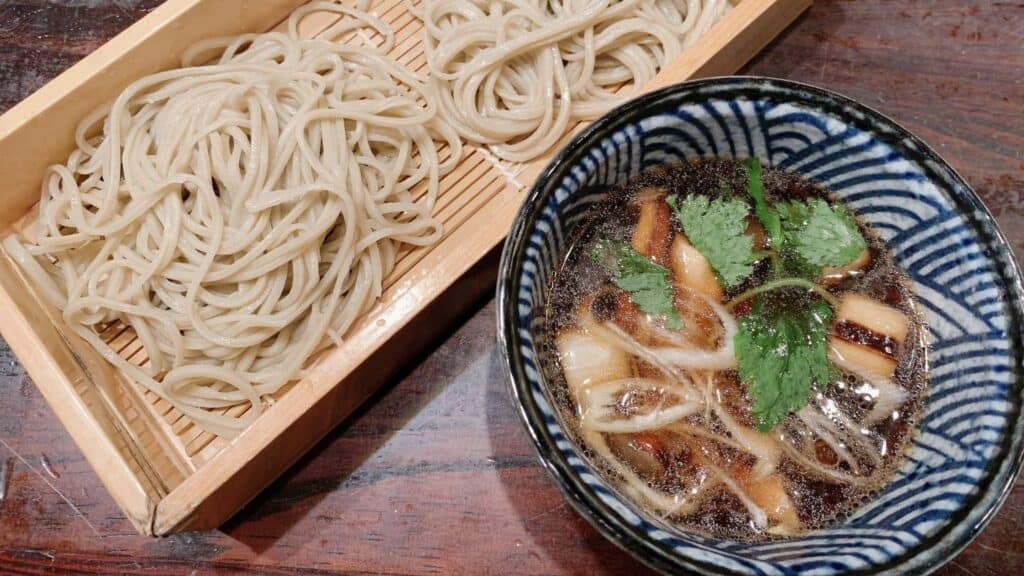 Kawasemi is a local soba restaurant in Meguro. The soba noodles at this restaurant have a reputation for being chewy and delicious. This restaurant has a calm atmosphere, allowing you to take your time and focus on your food at the end of the day. Their tempura is also recommended to go along with your soba.
Find out more about Kawasemi here on Google maps.
I-rottah イ・ロッタ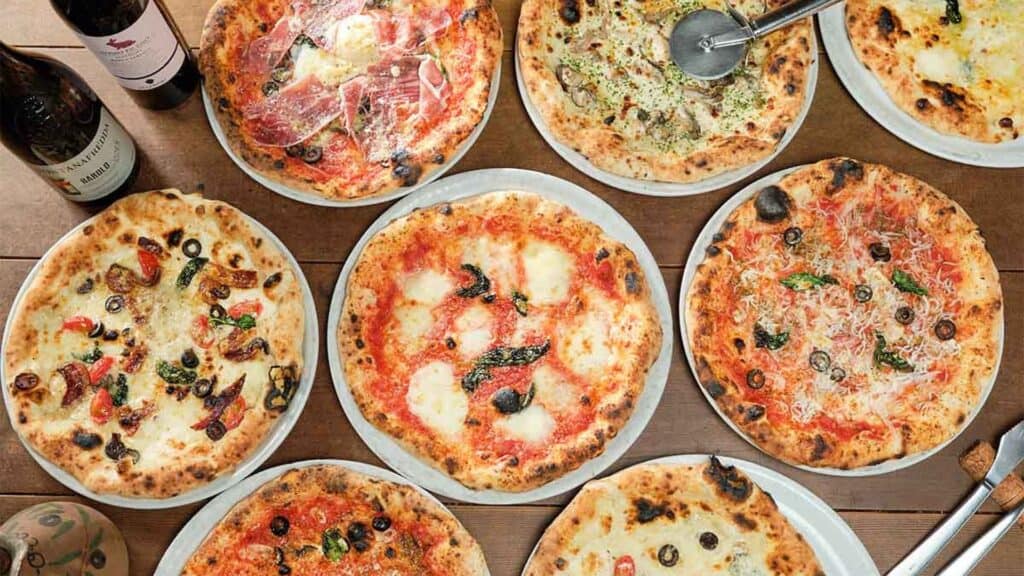 I-rottah is an Italian restaurant in the Meguro area and the recommended dish for this shop is their authentic Neapolitan pizza. The pizzas here are baked in a wood-fired oven and the pizzas have a crispy surface and a chewy inside. Besides pizzas, they have a variety of pasta and appetizers. All of them are reasonably priced. The atmosphere of the restaurant is casual and the staff is friendly.
Find out more about I-rottah here on Google maps.
Bar E.A.T Meguro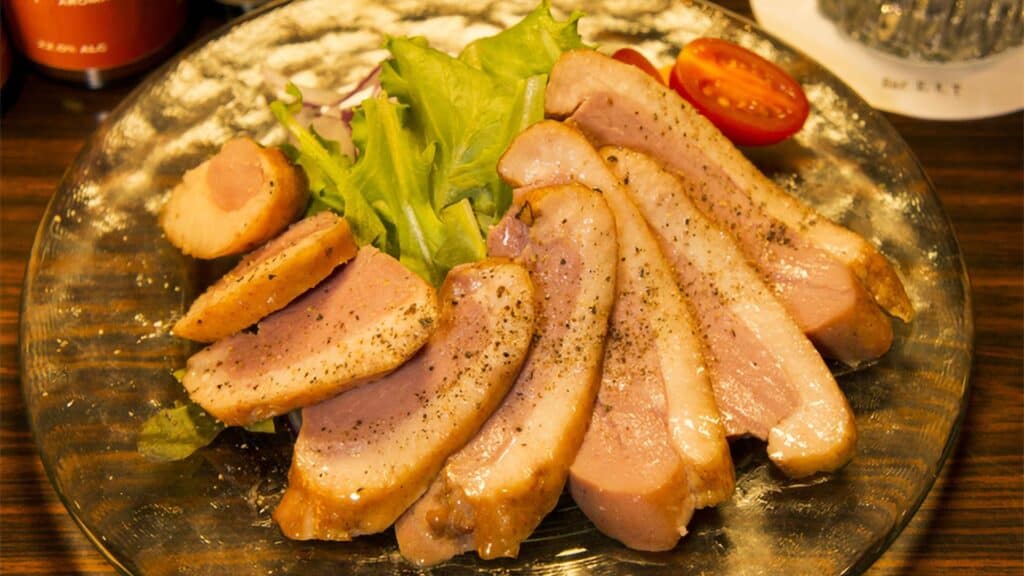 Although the name of this place is Bar E.A.T, they don't only serve drinks. This place has quite a few food options for you to choose from. They have all kinds of seasonal menus and the food and drinks change monthly. They even have seasonal fruits to go along with your drinks. It is a quaint bar that has beautiful decor, reminding you of a sophisticated high-end bar, despite the pricing being quite reasonable, with drinks around 1,000-1,500yen and food from around 1,000yen.
Find out more about Bar E.A.T Meguro here on Google maps.
Sibafu
Located near Hotel Gajoen Tokyo and the Meguro River, Sibafu is a hidden restaurant that has been gaining popularity. The shop has a calm interior. The open interior of the store is filled with handmade arts and crafts created by the staff, along with second-hand furniture.
Since it offers international cuisine, it is great for anyone that wants to try a wide range of dishes. From ethnic dishes such as Vietnamese-style vermicelli and Thai-style salad to tapas such as liver paste and confit, there is something for everyone.
All their dishes are all handmade, including sauces and dressings. The seasonal fruit and prosciutto ham salad are popular. It is a salad of green leaves sprinkled with blueberries, mangoes and strawberries, use a refreshing dressing with grain mustard. Depending on the season, the fruits change to pears and figs.
Find out more about Sibafu here on Google maps.
Ito Okashi
Ito Okashi is a cosy sake bar, that serves different kinds of fresh fish and unique dishes. They also have a wide range of creative dishes made with sake. There is a wide range of 60 types of sake available here. About 30 to 40 bottles are replaced here every week so you can try a range of different drinks.
There are many dishes here that go well with sake. The sashimi served here allows you to enjoy simple yet delicious seasonal dishes. Course meals are available from 4000 yen per person. The contents change depending on the day.
Find out more about Ito Okashi here on Google maps.
Restaurants in Nakameguro area
Hatosbar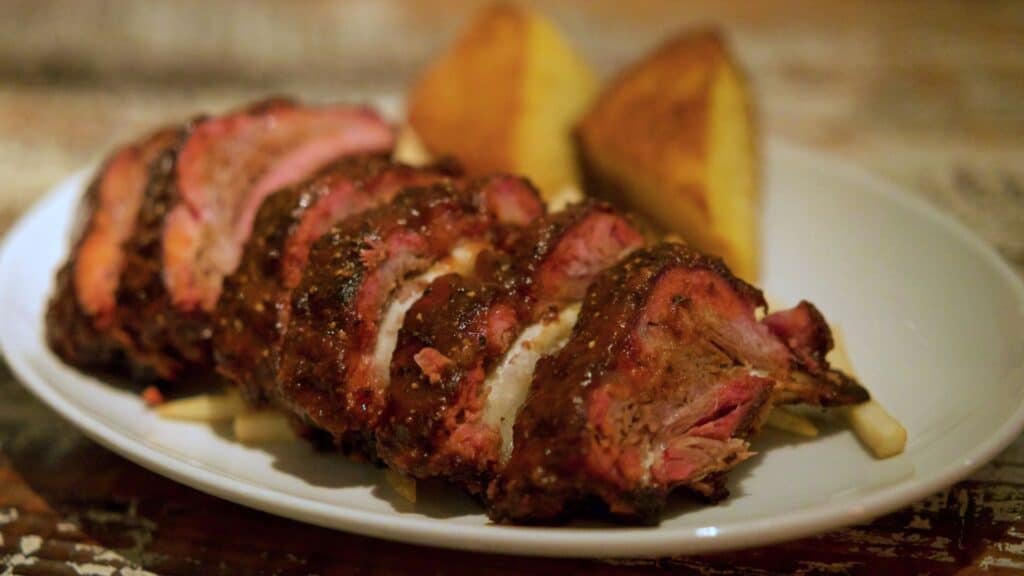 Hatosbar is a dine-in BBQ restaurant that has a fun atmosphere. Its main purpose is to create a place where everyone, no matter their background or status, can meet and talk with each other while enjoying real pit BBQ and Craft Beer. Apart from BBQ, they also have tasty cheese-loaded fries along with their special Frank's hot sauce. The service is very attentive, and because the main crowd is international, the staff speak both English and Japanese. 
Find out more about Hatosbar here on Google maps.
Robata no Sato Nakameguro
Robata no Sato Nakameguro (a Japanese sake bar) is one of the best sake spots in Meguro. It has an authentic Japanese multi meal course as well as the Robata grill. They have a wide range of sake as well as delicious food cooked on a hot charcoal grill. They have an 800 yen pork lunch set that is filling and delicious as well as Izakaya, yakitori, fresh fish and so much more. Their cosy and friendly setting is a perfect place to enjoy some good food and great sake.
Find out more about Robata no Sato Nakameguro here on Google maps.
Bells Nakameguro Hot Dog & Shake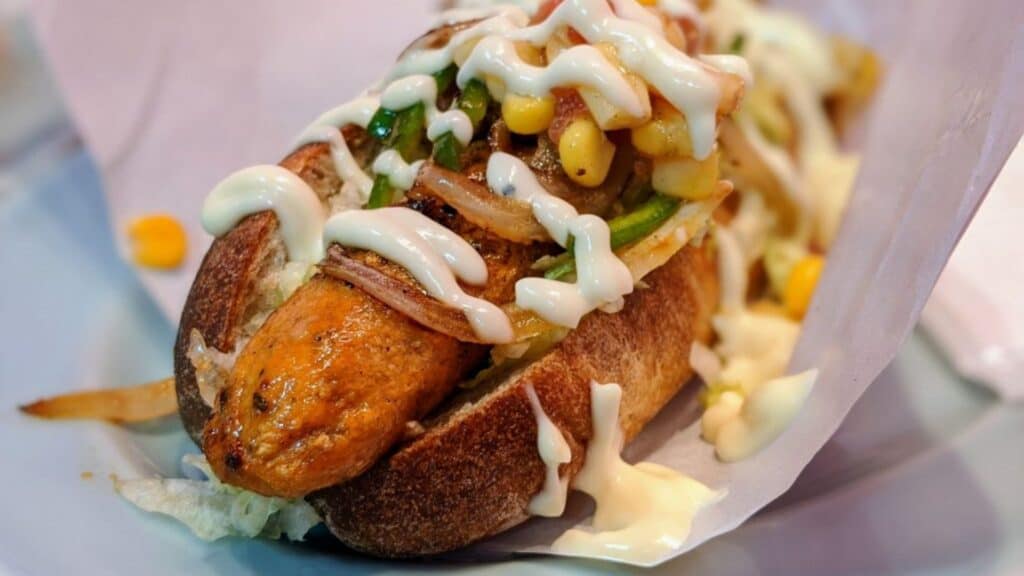 Bells Nakameguro Hot Dog & Shake is a great spot for western food. You can make your custom hotdogs with a variety of toppings. They also have many different kinds of delicious milkshakes that are perfect for a warm day. Bells also have vegan options for both hotdogs as well as milkshakes. The extremely friendly staff, as well as the easy ordering system and good prices, create a very fun experience for any guest.
Find out more about Bells Nakameguro Hot Dog & Shake here on Google maps.
Junkadelic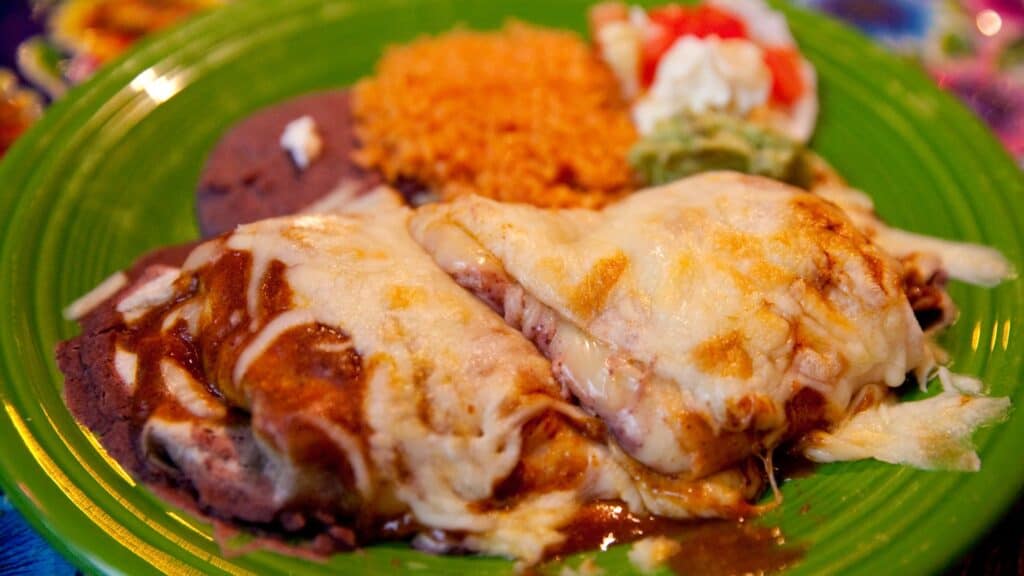 If you're looking for western food in Meguro, a great option is Junkadelic. This Mexican-style American restaurant has burritos, enchiladas, tacos, nachos, chilli beans, margaritas and much more. The fun interior is full of mismatched chairs and colourful decorations. The staff is friendly and there are so many different options for tacos and tortillas you would have to go multiple times to try everything. They also have great deals like mini nachos that are only 500 yen and can serve 2 people. It's a fun place to enjoy delicious Mexican food.
Find out more about Junkadelic here on Google maps.
Menya Sou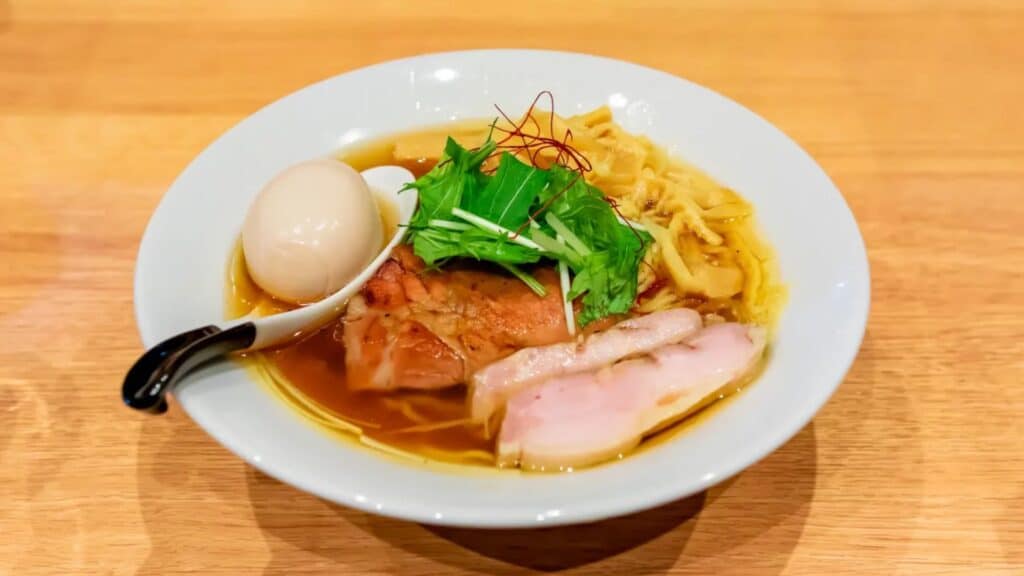 A great ramen spot is Menya Sou. It's one of the best salt ramen shops in all of Japan. They have many varieties of ramen as well as some dumplings. It's a smaller restaurant and seating can be a little tight, but it's worth it. The ramen noodles are delicious and the meat is grilled on a charcoal stove. They also have some beer that is refreshing after a long day touring Meguro. It's usually very busy, due to its popularity, but it's a great place to stop by and try.
Find out more about Menya Sou here on Google maps.
Kodama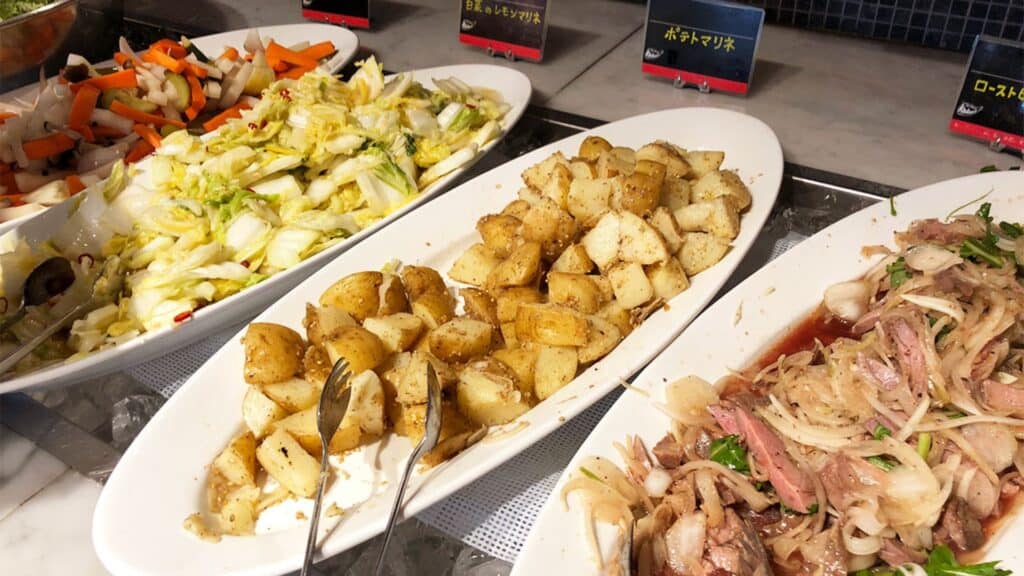 A reasonably priced buffet in Meguro is Kodama. This western restaurant is full of a variety of foods and even includes a salad bar. The simple interior design creates a calm and relaxing atmosphere. It has a large space, so it's a good spot for families or larger parties. The service is friendly and the menu and buffet are full of healthy options. Also, if you're a meat-lover there are plenty of incredible meat options. It's a great spot to visit, relax, and try different foods.
Find out more about Kodama here on Google maps.
Hotels in Meguro
Hotel Gajoen Tokyo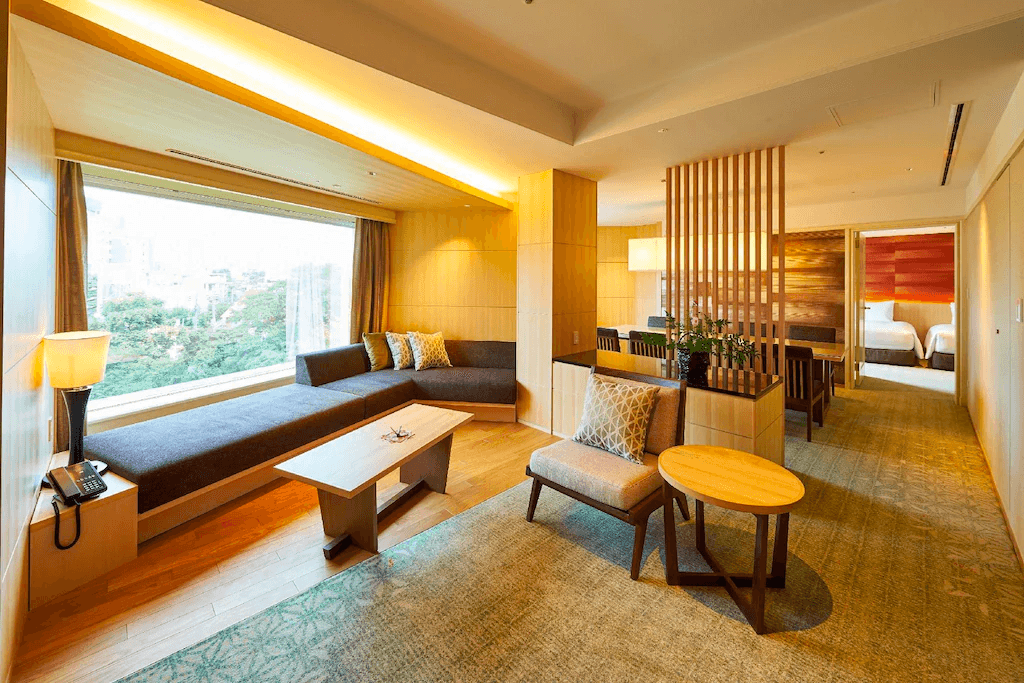 Along with 7 restaurants, this hotel has a fitness centre and a bar/lounge. Free WiFi in public areas, free self-parking, and a free train station pick-up are also provided. Other amenities include a coffee shop/cafe, dry cleaning, and laundry facilities. All 60 rooms boast jetted tubs and offer free wired Internet and flat-screen TVs. Other amenities available to guests include DVD players, refrigerators, and minibars.
Located on a river, Hotel Gajoen Tokyo is in Meguro, a walkable area in Tokyo with great shopping. Tokyo Imperial Palace and Shinjuku Gyoen National Garden are notable landmarks, and the area's natural beauty can be seen at Tokyo Bay and Hibiya Park. Check out an event or a game at Yoyogi National Gymnasium, and consider making time for Tokyo Tower, a top attraction not to be missed.
Address: 1 Chome-8-1 Shimomeguro, Meguro City, Tokyo 153-0064
Act Hotel Shibuya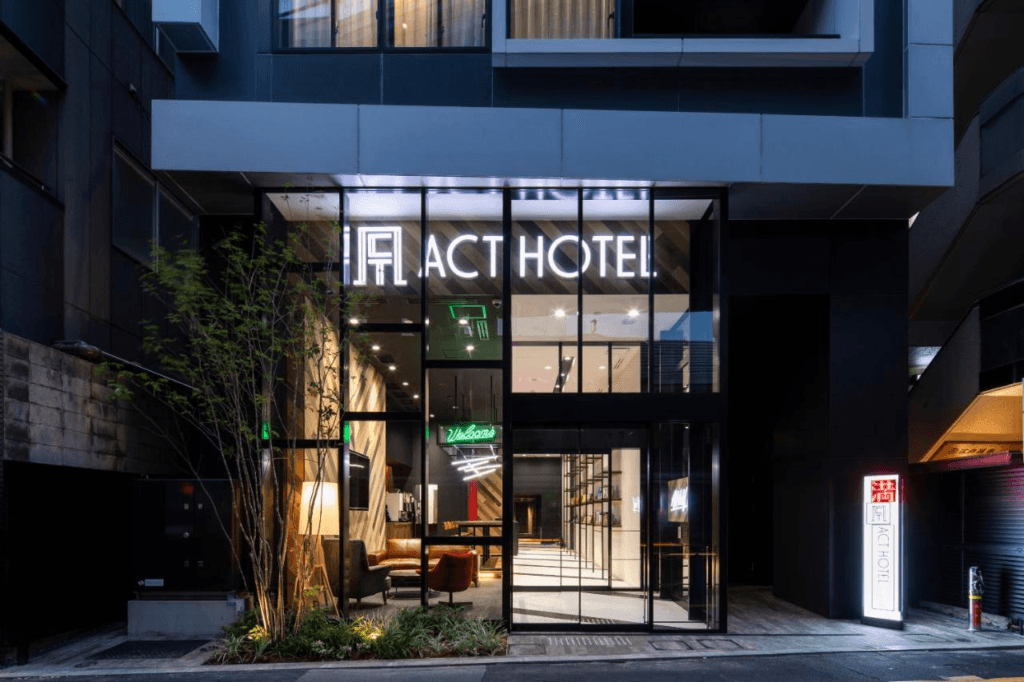 Situated conveniently in the Meguro Ward district of Tokyo, Act Hotel Shibuya is set 600 m from Higashiyama Kaizuka Park, 600 m from Kamimeguro Hikawa Shrine and 800 m from Sugekari Park. This 3-star hotel offers a 24-hour front desk, a shared lounge and free WiFi. Guests can have a drink at the snack bar.
The hotel will provide guests with air-conditioned rooms offering a desk, a kettle, a fridge, a safety deposit box, a flat-screen TV and a private bathroom with a bidet. At Act Hotel Shibuya all rooms come with bed linen and towels.
Popular points of interest near the accommodation include Ikejiri Inari Shrine, Kon Ichikawa Memorial Room and Snowdome Museum. The nearest airport is Tokyo Haneda International Airport, 27 km from Act Hotel Shibuya.
Address: 153-0044 Tokyo-to, Meguro-ku Ohashi 2-22-7, Japan
The B Sangenjaya
This hotel features dry cleaning, laundry facilities, and a 24-hour front desk. WiFi in public areas is free. Additionally, a computer station, multilingual staff, and a convenience store are onsite. All 118 rooms feature thoughtful touches like bathrobes and slippers, plus free WiFi, free wired Internet, and flat-screen TVs with satellite channels. Guests will also find refrigerators, electric kettles, and down comforters.
The B Sangenjaya is located in Setagaya, a neighbourhood in Tokyo, and is near a train station. The area's natural beauty can be seen at Shinjuku Gyoen National Garden and Hibiya Park, while Ghibli Museum and Zepp Tokyo are cultural highlights. Check out an event or a game at Yoyogi National Gymnasium, and consider making time for Tokyo Tower, a top attraction not to be missed.
Address: 2 Chome-17-9 Taishido, Setagaya City, Tokyo 154-0004
—
Meguro has so much to offer that it would be impossible to visit everywhere in a few days. Hope you get to check out the museums and restaurants for yourself and like them as much as we do. Refer to this blog anytime for more ideas and activities to do in the Meguro ward. If you have any questions, feel free to reach out to us anytime.