Do you know about the Minato Ward in Tokyo? It is one of the 23 wards of Tokyo, with various unique neighbourhoods and areas, along with different things to do and sights to see. If you are wondering what is Minato ward, the different areas inside Minato, the best things to do, history, accommodation and more, check out this ultimate Minato ward area guide. 
What is Minato City Ward?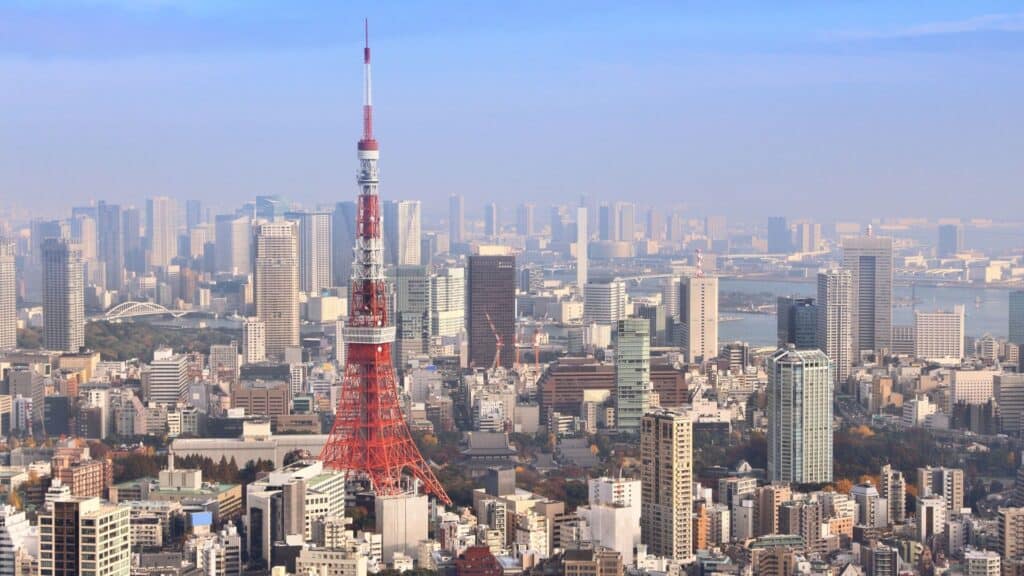 Minato-ku, a town where a select group of people live, boasts the highest ranking of household income by the municipality in Japan, let alone in Tokyo. The question of what kind of sophisticated and celebrated land only highly paid people with an average annual income of over 11 million can afford to live in first came to the public's attention when it was reported that some local residents were vehemently opposed to the construction of a child consultation centre in Minami-Aoyama 5-chome.
There are indeed some very high-class residential areas in Minato City, such as the "Jonan Gozan" part of Takanawa, Shirokanedai where Platinum Don Quijote stands in front of the station and El Cantare's chalk palace sits, and the embassy areas around Azabu and Roppongi, but if you look at the rest of Minato City, you will find that it is a very downtown area.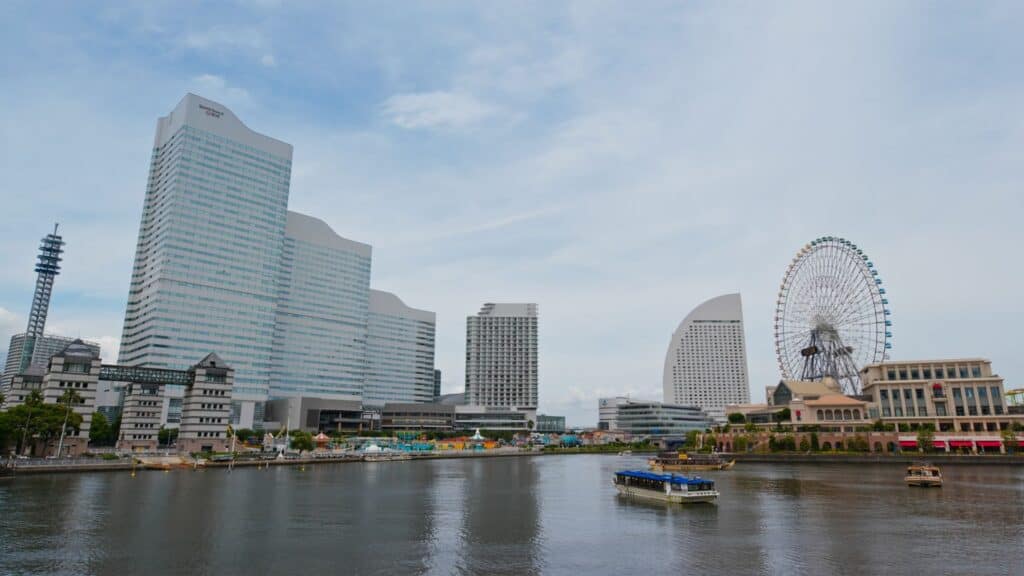 In particular, the area from the Yamanote Line to the seaside is littered with high tower apartments where highly paid employees of commercial TV stations and their affiliated companies live, giving the area an extremely "mistaken" feeling. However, it used to be a cold warehouse district and a place of work for dock workers.
If you look closely, you will find that in Azabu and Takanawa, there are modest areas with small wooden houses densely built in the hollows behind temples, as if they were prewar downtowns, and there are also many Tokyo metropolitan residences all over the ward. Kamikyo kappe people should not be too quick to make snap judgments based only on the surface of this land.
Living in Minato City Ward
First of all, to clear up any misconceptions about "Minato Ward, Tokyo," I would like to point out that this area was originally a downtown area, and there are still some bad houses. The high-end residential areas are only on some higher ground, as you can imagine. The area is based on the kind of "chirpy Edokko" seen in Taito and Koto wards where people carry portable shrines and parade around, which celebrities always make fun of.
Minato-ku has a high percentage of wealthy foreigners due to a large number of embassies around the world. Kinokuniya, a high-end supermarket on Aoyama-dori, was originally the first imported food supermarket after the war, created because of the presence of the U.S. military, and began its history of providing food to Americans living in Washington Heights (now Yoyogi Park), which was occupied by the Occupation forces immediately after the war. And "National Azabu" near Hiroo Station also served the embassy staff.
The other distinctive features of Minato-ku are the commercial TV stations and their affiliated companies, and the tower apartments where celebrities and other people live, but overall, the majority of residents are highly elite-minded people who are far removed from the common people. The low-income class who live in the metropolitan housing or wooden apartments in the hollows of Minato Ward, which are relatively common here and there, are not so much in the picture.
History of Minato City Ward
During the Edo period, the area was the southern part of Edo Castle, and as the gateway to the castle town, it was home to the residences of feudal lords and Hatamoto (feudal warlords) of various domains.
In addition, many historic buildings, temples, and shrines were constructed in the area, including the present-day Crown Prince's Palace and Akasaka Detached Palace, as well as Zojoji Temple, the family temple of the Tokugawa family.
In the modern era, the town was built on the former sites of samurai residences.
Aoyama, for example, was part of the site of the Aoyama family of the Mino Gujo Domain, a vassal of the Tokugawa family, and part of the Roppongi Hills site was the sprawling mansion of the Mori family of the Choshu Domain.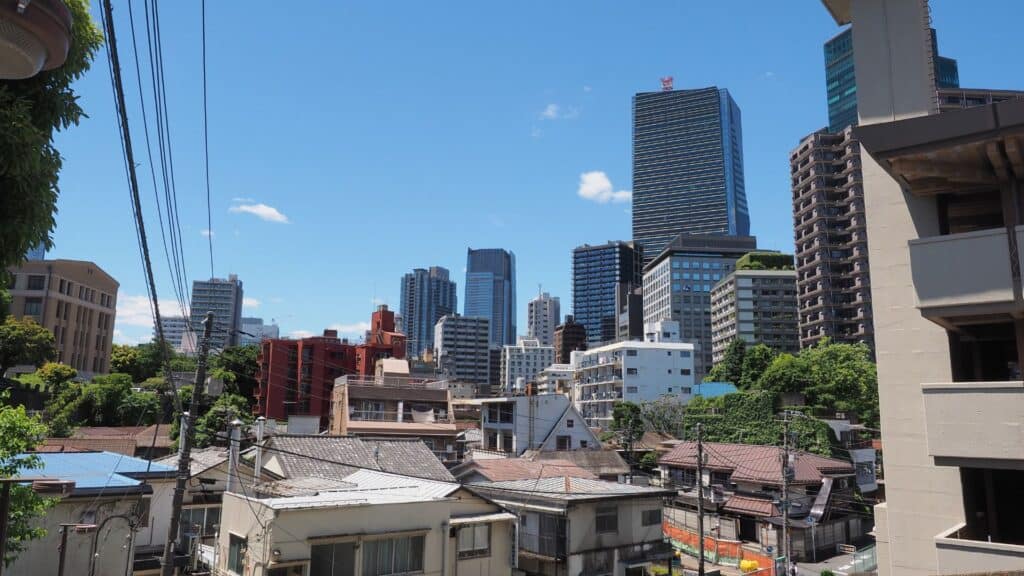 In 1872, Shimbashi Station was built as the starting point of Japan's first railroad, dramatically improving transportation access.
Shiodome also began to undergo reclamation and waterfront development around this time, and together with Daiba, the area developed into a commercial district that attracted many tourists.
The area steadily developed as a business centre during the Taisho and Showa periods, and in 1947, after the war, Akasaka, Azabu, and Shiba wards were merged to form Minato City.
In modern times, Tokyo Tower was completed in 1958, and since then, many buildings leading the times have been constructed.
Areas of Minato City Ward
JR Yamanote Line
Shinbashi 新橋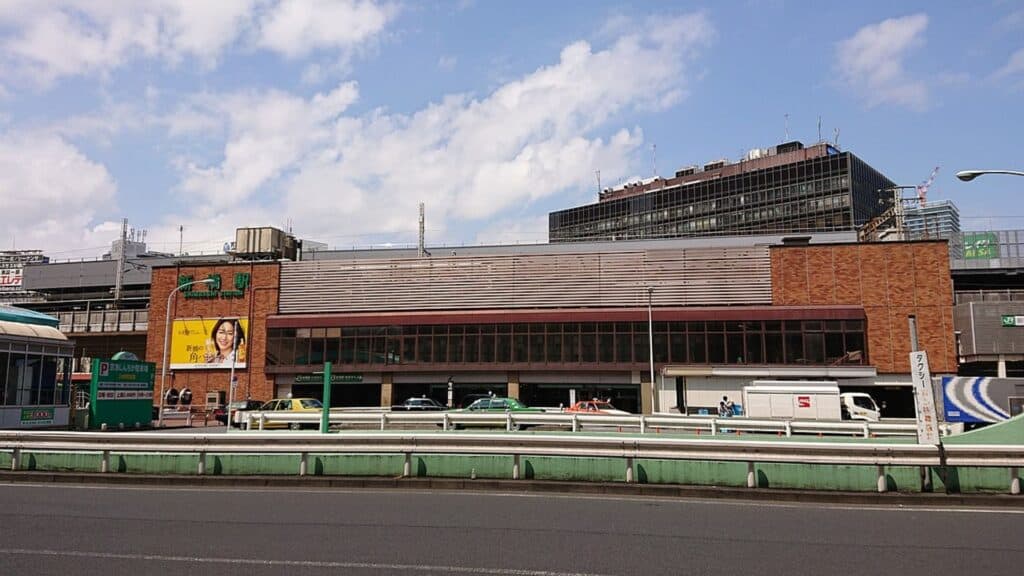 A well-known "salaryman's town. After the end of the war, a black market sprang up in the area, and the remnants of this black market have become the New Shinbashi Building and the Shinbashi Ekimae Building. Although there are plenty of stores that provide food, clothing, shelter, and other necessities for the salarymen, the area is basically an office district.
Hamamatsucho 浜松町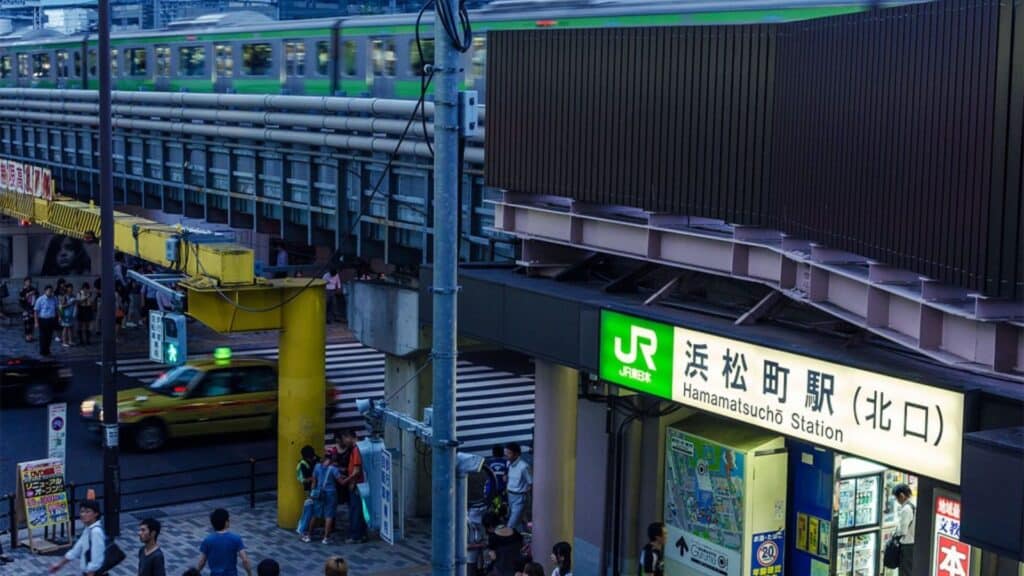 This is basically an office district as well. Hamamatsucho is the first station on the Tokyo Monorail, an inconvenient airport access line. The World Trade Center building in front of the station also has a very Showa-era feel to it, and the urinating boy on the JR station platform is just before his 70th birthday. There used to be a slum called Shiba-Shinamicho.
Tamachi 田町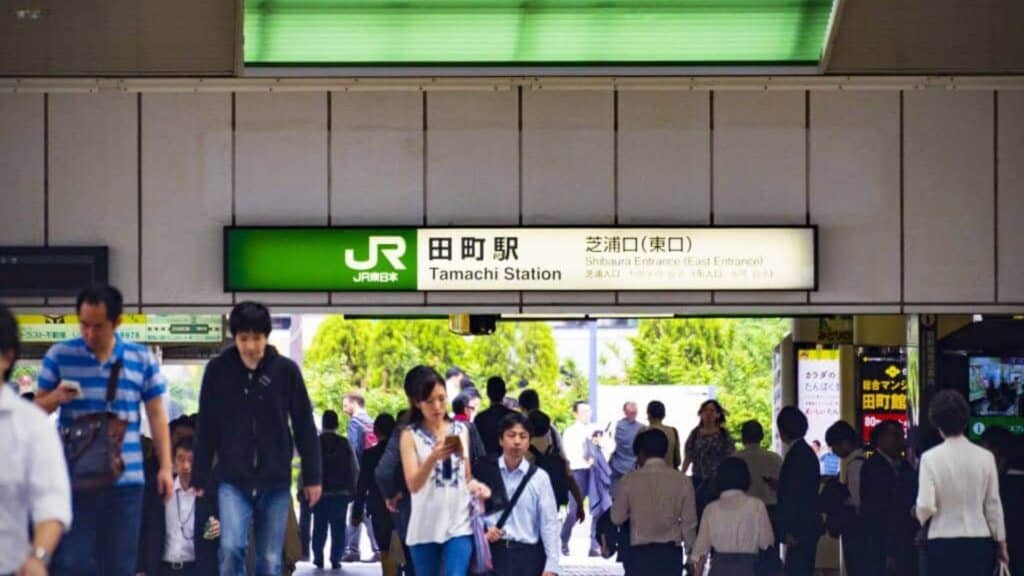 The site of Morinaga Milk Industry and Keio University. The Shibaura side, where there used to be a flower district and Juliana Tokyo, has become a zone of tower blocks and misunderstandings.
Takanawa Gateway 高輪ゲートウェイ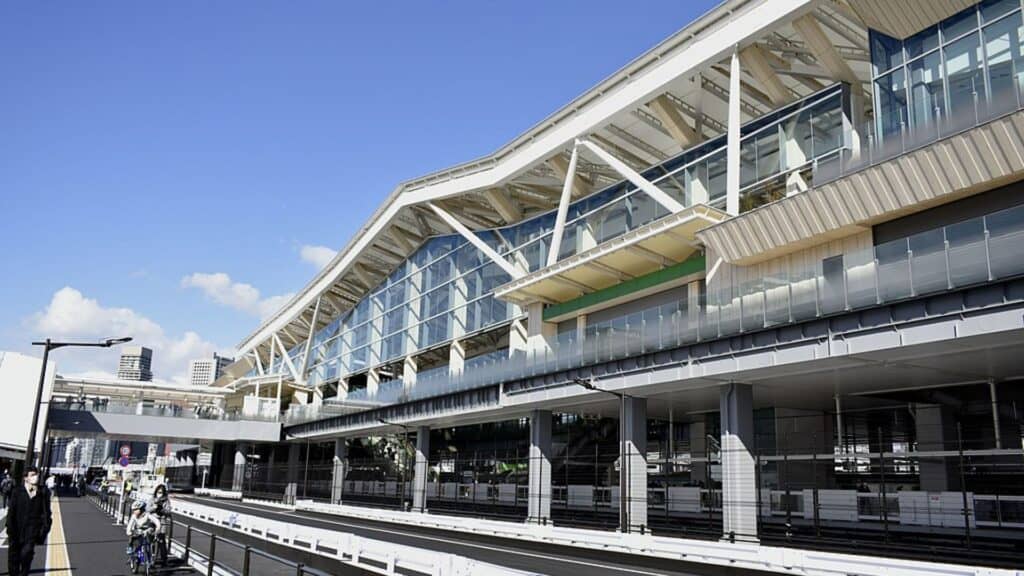 The first new station on the Yamanote Line in half a century, the station's name is a gory katakana name that ignores the results of the preliminary public bidding process, causing a great deal of trouble.
Shinagawa 品川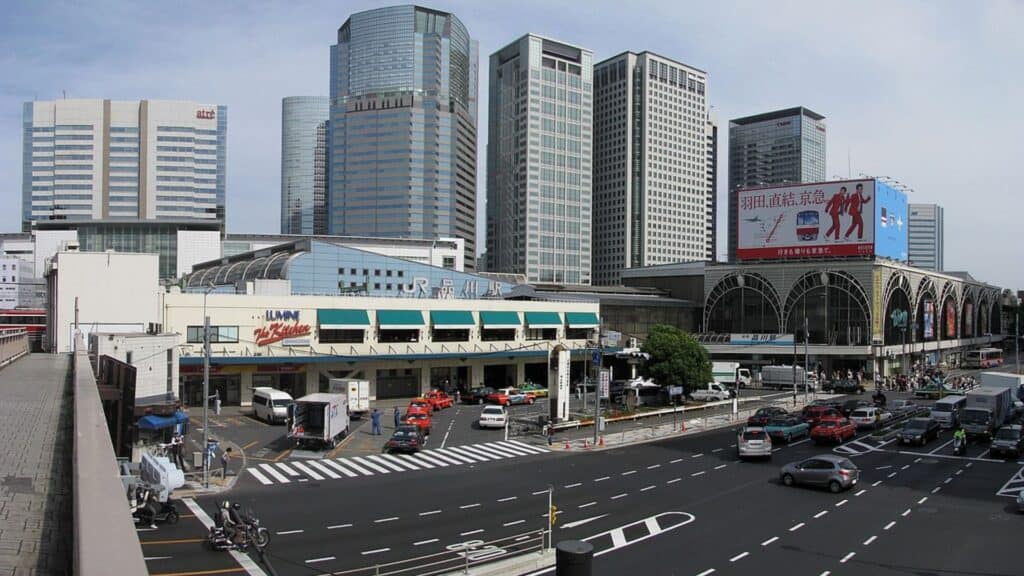 Although called Shinagawa Station, this station is not in Shinagawa Ward. As the "gateway" to the south of Tokyo, a linear train station is scheduled to open next to the Shinkansen station. The Takanawa side is the "Jounan Gozan", a very exclusive residential area, and the Konan side.
Subway Ginza Line, Hanzomon Line, Chiyoda Line
Toranomon 虎ノ門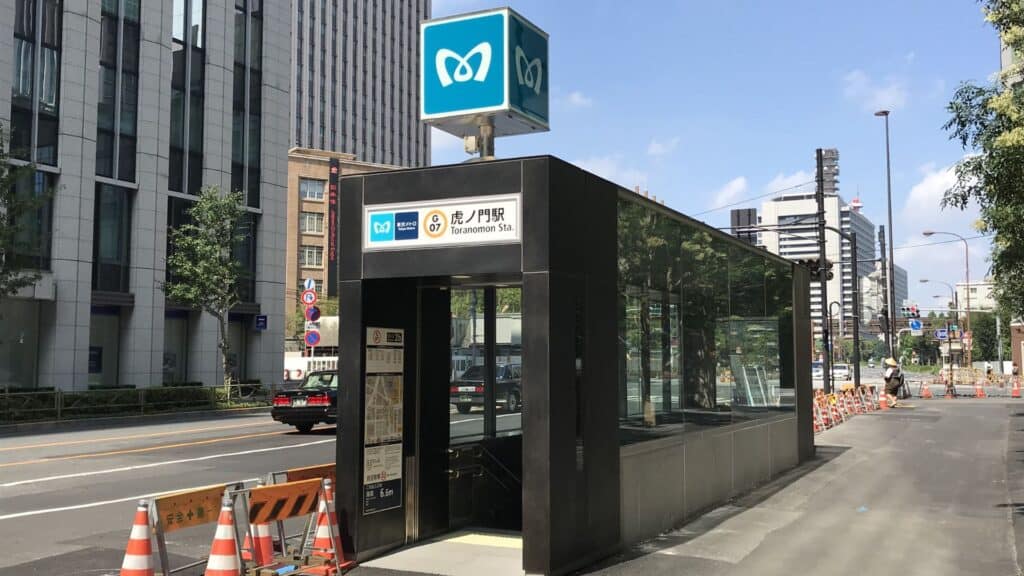 A buffer zone between the Kasumigaseki government office district and the goofy Shinbashi office district. Toranomon Konpira-gu Shrine is a modern building-in-type shrine. 
Akasaka-mitsuke 赤坂見附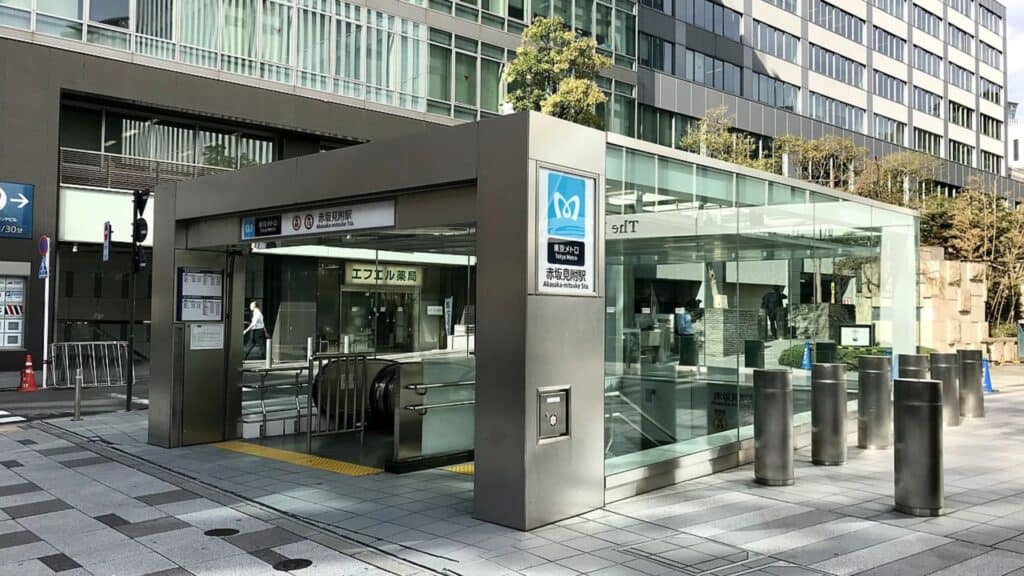 On the outskirts of Akasaka, a downtown area for high-level bureaucrats that reeks of Korean. Across the street is Kioicho, Chiyoda Ward, where the House of Councilors' dormitory and Hotel New Otani are located. The site of Hotel New Japan, where the upscale club New Latin Quarter was located, where the Showa-era pro wrestler Rikidozan was stabbed, is now occupied by the Prudential Tower.
Aoyama 1-chome 青山一丁目
Aoyama's glittering neighborhood, with even a Tokyo Metropolitan Housing complex in front of the station, is on the outskirts of Aoyama, where the glittering atmosphere is fading away. To the northeast of the intersection is the Akasaka Imperial Palace, and to the south is the Aoyama Cemetery, one of the largest cemeteries in central Tokyo.
Gaienmae 外苑前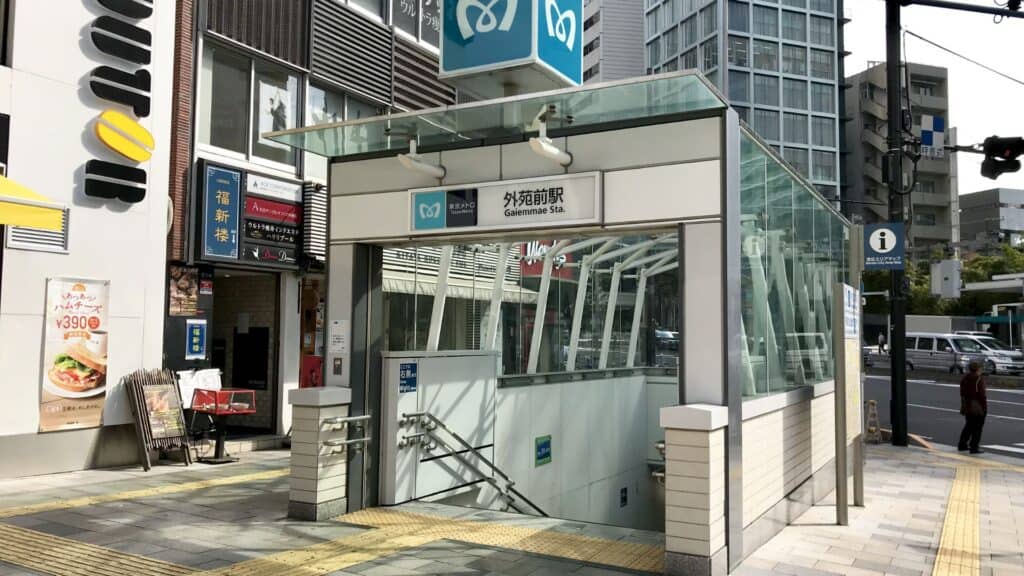 The only station is on the Ginza Subway Line. The Gaien Icho Namiki Dori Avenue is lined with chalet-conscious eateries such as Shake Shack, where sparkling girls line up in huge queues.
Omotesando 表参道
Aoyama, a town with world-famous brand-name stores, is shaken by the construction of a child consultation center. Aoyama is a place where celebrity educators spend hundreds of millions of dollars to send their children to Seinan Elementary School, one of the three most prestigious public schools in Japan.
Akasaka 赤坂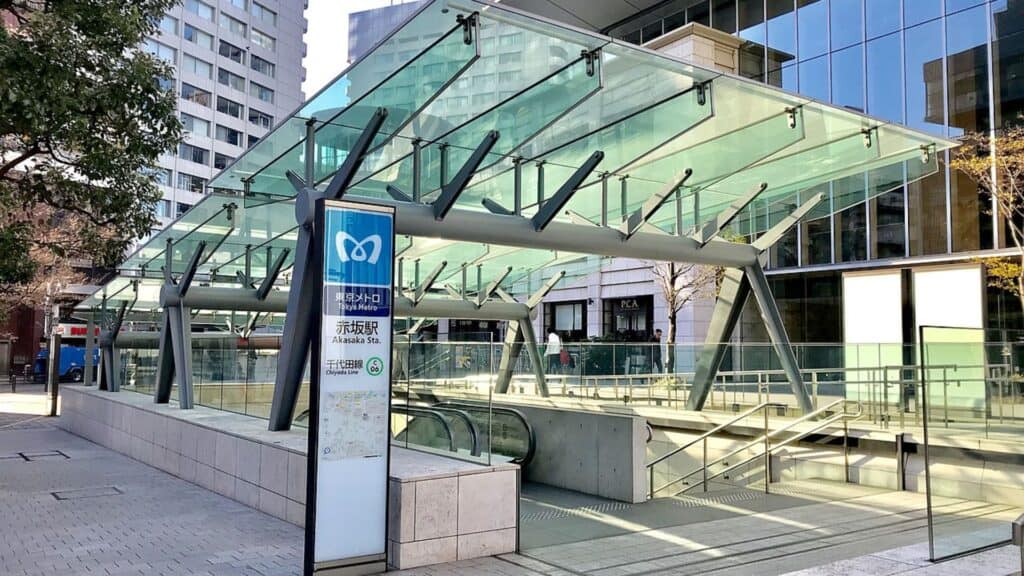 In front of the station is the TBS broadcasting center and Akasaka Sacas. It is a nightlife district where high-level bureaucrats and Koreans gather. It has been a Korean town since the days of Rikidozan. The history behind Akasaka's shopping street, which was called "Yakkan Street" because it was populated only by yakuza and Koreans.
Nogizaka 乃木坂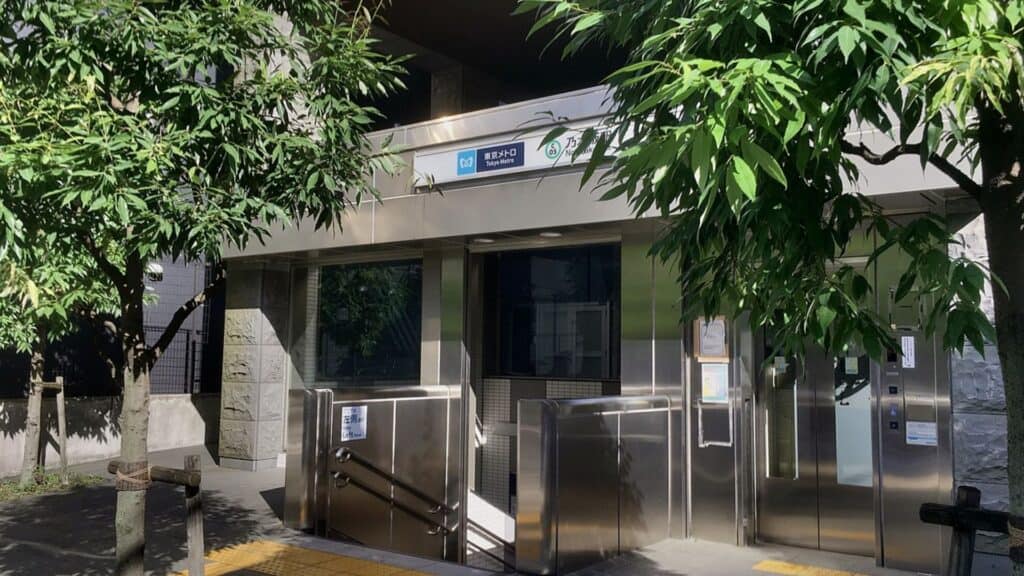 The National Art Center, Aoyama Cemetery, and Nogi Shrine are located between Akasaka, Aoyama, and Roppongi. Only a certain idol group is mentioned. Kaotan Ramen Entsuya, off Aoyama Reien, is delicious.
Subway Hibiya Line
Hiroo 広尾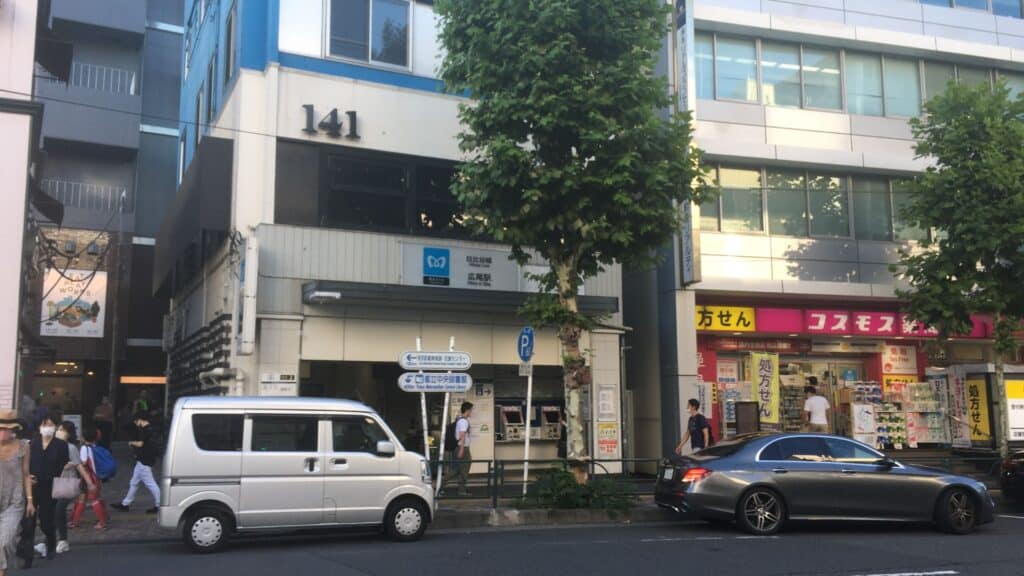 A town on the border of Shibuya Ward. Arisugawa-no-miya Memorial Park, where the Tokyo Metropolitan Central Library is located, and National Azabu, a high-end supermarket for embassy staff, are located in front of the park. Embassies of countries around the world, including China and Germany, gather here. Hiroo Gakuen, a prestigious preparatory school, is also here.
Roppongi 六本木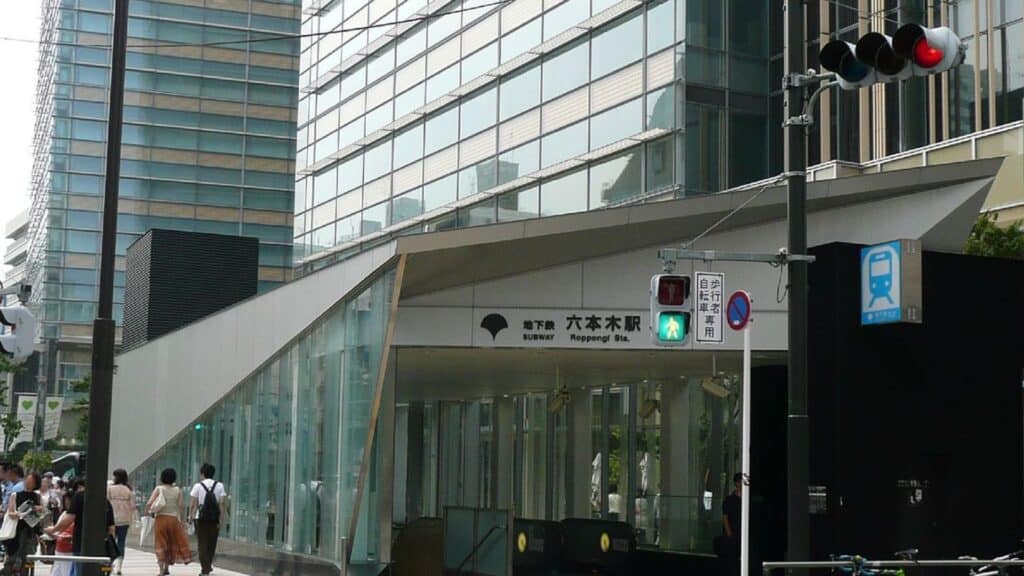 A nightlife district where foreigners and semi-gangsters gather and famous athletes and entertainers get down and dirty. The days when Roppongi was known as the "Hills Tribe" are long gone. In the bubble era, Nishiazabu was a sacred place where people took Ashy-kun and Messy-kun for dinner. A helipad of a U.S. military base and a newspaper office are still located in the area near the Aoyama Cemetery.
Kamiyacho 神谷町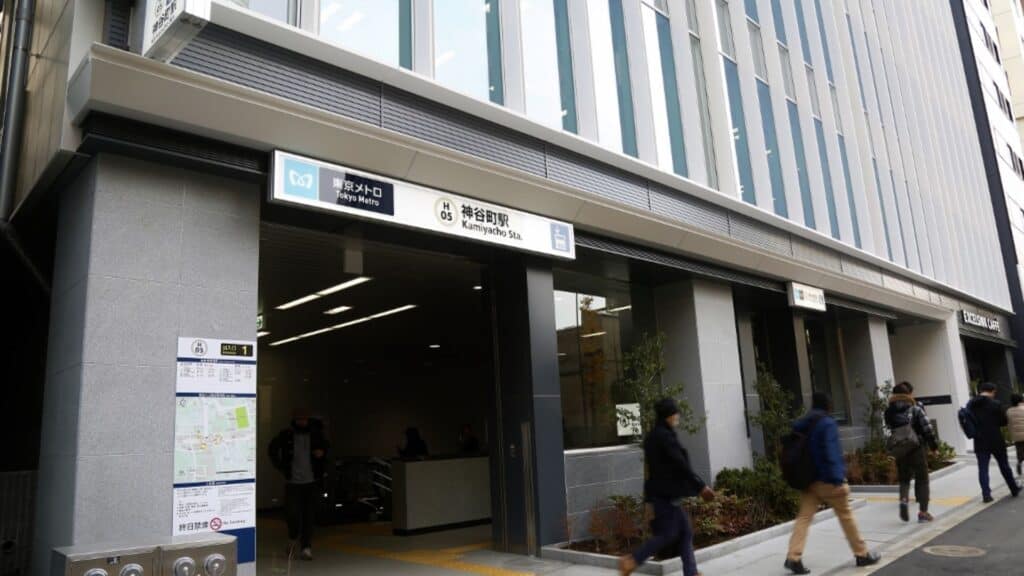 The closest station to Tokyo Tower. The ruins of the landfill are still painfully visible under Atago Shrine, famous for its stairway to success, and in Roppongi 5-chome "Sengokuyama" (Mt. Sengoku). Until recently, the headquarters of TV Tokyo, an outlier in the commercial broadcasting industry, was located here.
Toranomon Hills 虎ノ門ヒルズ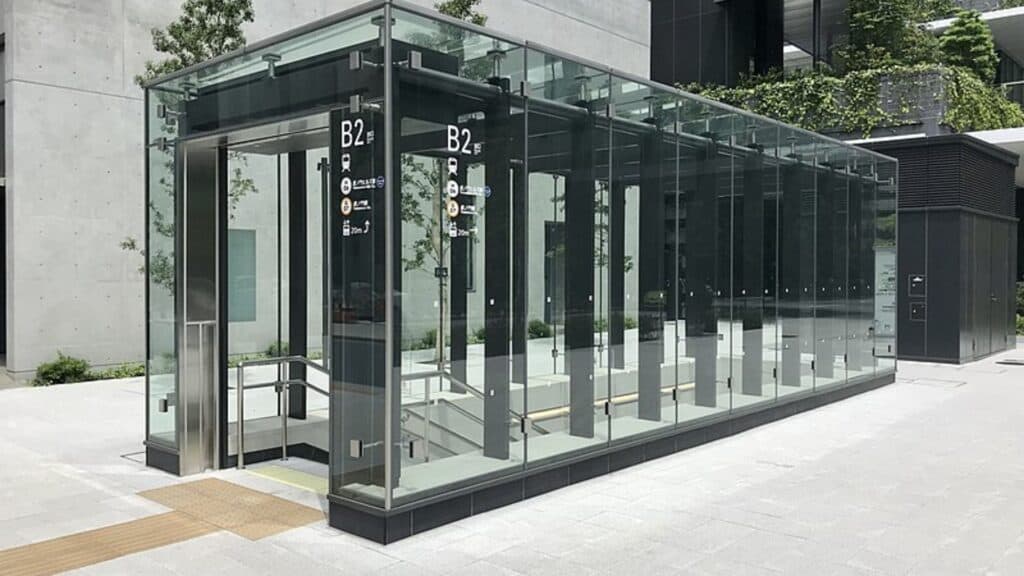 The long-awaited new station on the Hibiya Line, known for its slow and sluggish operation, will inevitably slow down the trains even more. Unlike Takanawa Gateway, the name of the station is katakana.
Subway Namboku Line and Toei Mita Line
Roppongi 1-chome 六本木一丁目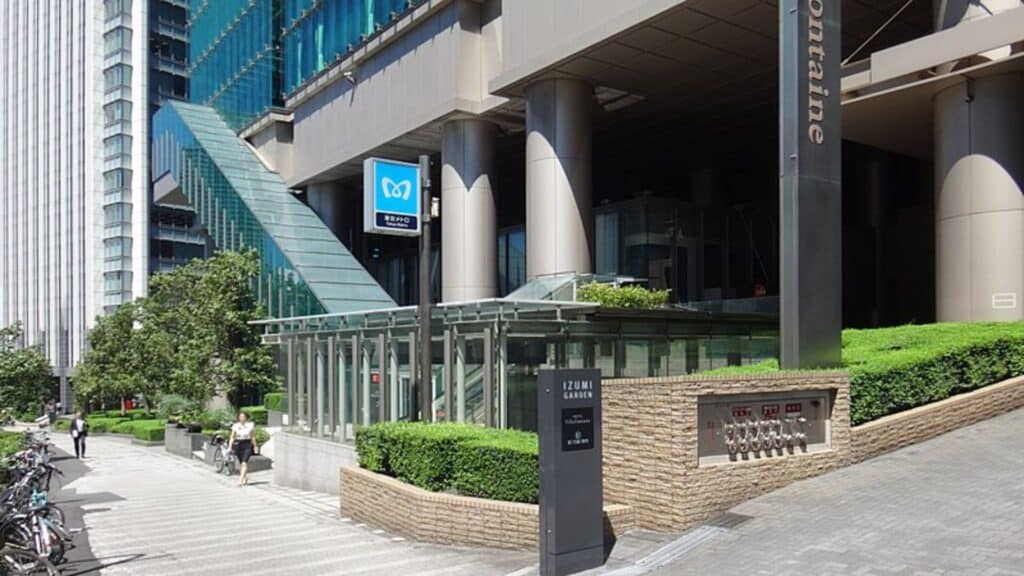 Ark Hills, Izumi Garden Tower, Roppongi Grand Tower, and a forest of skyscraper office buildings. The headquarters of TV Tokyo has moved here. Roppongi 2-chome is the site of the U.S. Embassy quarters, which can only be entered twice a year.
Azabu Juban 麻布十番
A subway station opened at the end of the 20th century, and the shopping district, which was once a downtown area, has rapidly become a celebrity district due to the influence of the neighbouring Roppongi Hills. The Korean Civil Service Organization's Korea Central Hall and the Korean Embassy are located here, and many Korean restaurants are located in the area. Mita 1-chome (Mita Koyamacho) across the Furukawa River still retains a Showa-era downtown scenery with a high concentration of wooden apartment buildings.
Shirokane-Takanawa 白金高輪
This is a transfer station where the Namboku Subway Line and the Toei Mita Line merge to form the Tokyu Meguro Line. The area is also close to the Shirogane Odd Chome downtown area along the Furukawa River, and the Yonobashi shopping district has a Showa-era townscape with town factories scattered around the area.
Shirokanedai 白金台
A celebrity town in Minato Ward, which gave birth to the sickening term "Shiroganese. The high-end stores along Platinum Street, as it is commonly called, seem to have gone out of fashion. The up-and-coming "Platinum Don Quijote" has appeared at the Shirokanedai intersection at the end of Platinum Street.
Mita 三田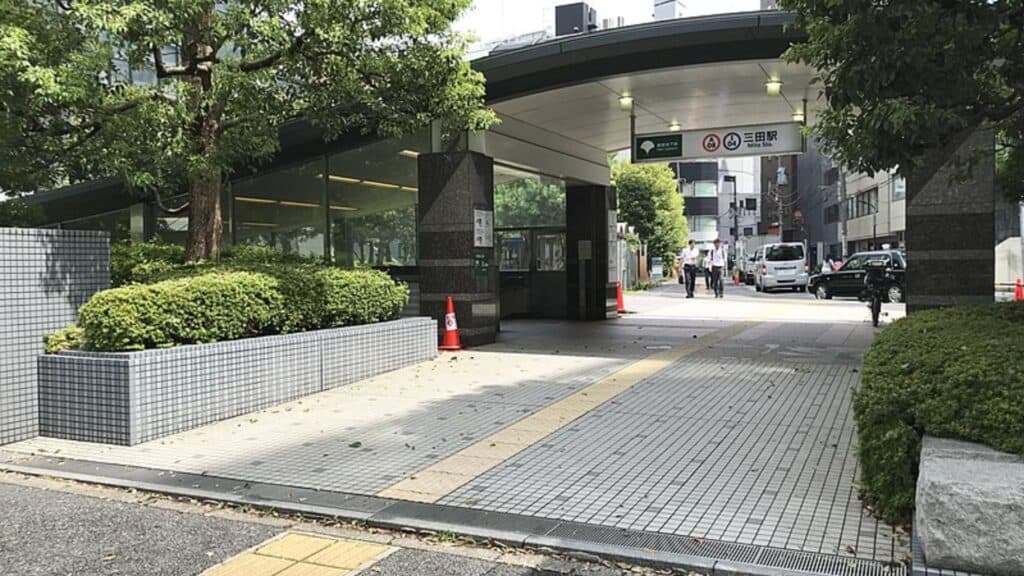 The home of Keio University, there are a lot of young students here. The shopping district also has many student-oriented restaurants, and the Mita main store, the birthplace of Ramen Jiro, is also located here. The "Anitmasutobiru" on Seizaka, which was built by a private individual using DIY construction techniques, is also a hidden gem.
Shiba Park 芝公園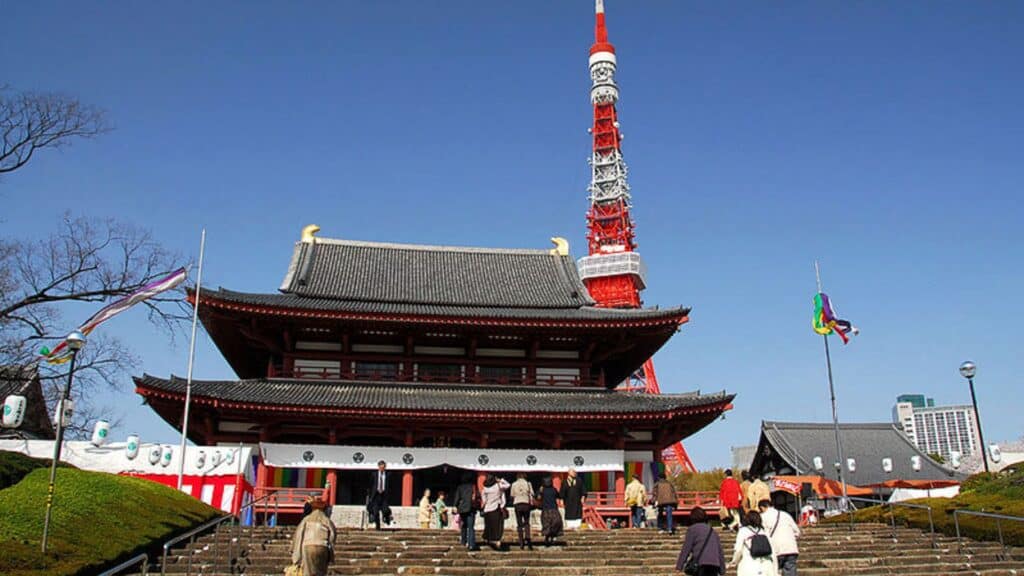 You wil find Aquafield Shiba Koen here, a ward-managed swimming pool known by some as "Shibapoo.
Onarimon 御成門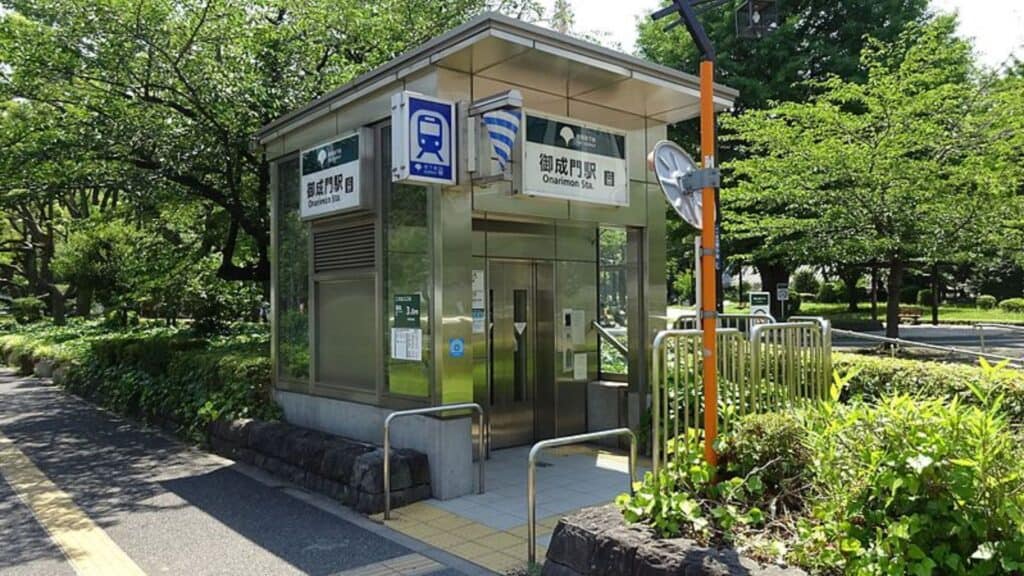 The site of the Jikei University School of Medicine. It is also close to Tokyo Tower and Zojoji Temple.
Uchisaiwaicho 内幸町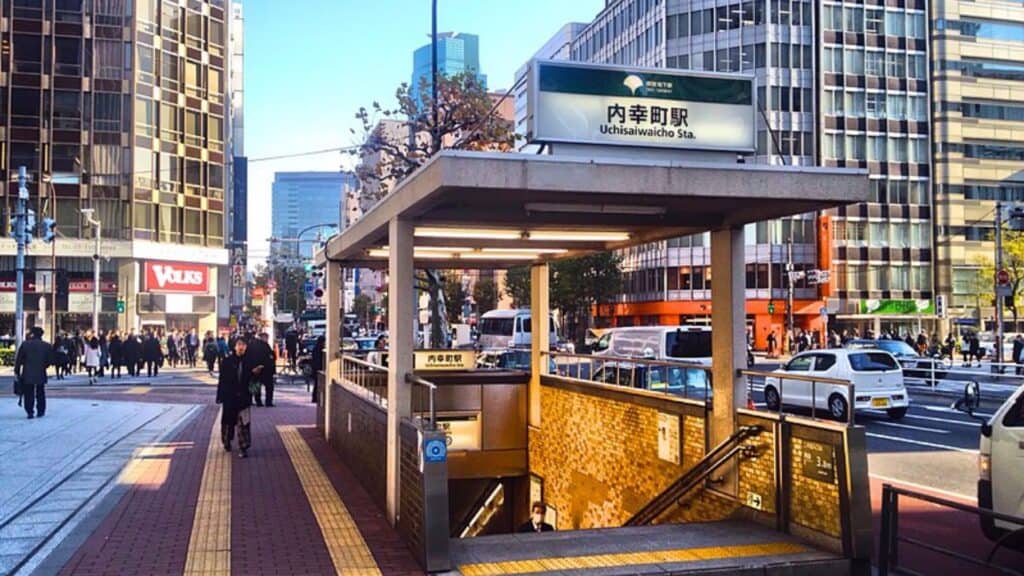 For Toei Mita Line users, this is equal to Shimbashi. Many tourists without local knowledge do not realize that this is the nearest station to Shimbashi. The Toei Subway is extremely unkind in its non-uniformity of station names.
Toei Asakusa Line and Oedo Line
Shiodome 汐留
A redevelopment area on the east side of Shimbashi station, where the NTV building and the Dentsu headquarters building stand tall. The "Italian Street," which is supposed to be chalet-like, is home to JRA's off-track betting office, Winds Shiodome, and still has the same Shimbashi-like atmosphere of an old man's town.
Daimon 大門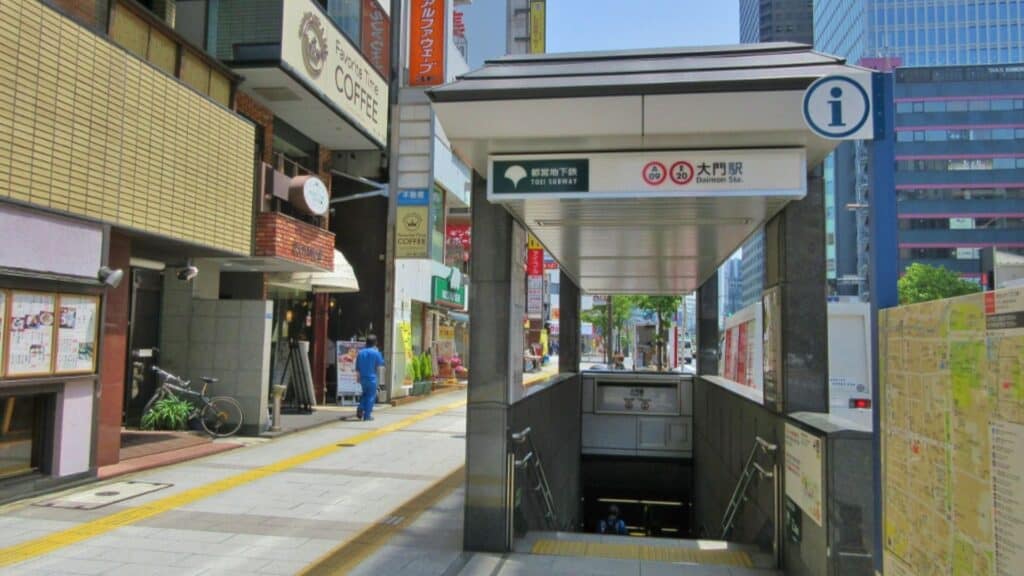 Hamamatsucho equals Hamamatsucho for Toei Subway users. The office district and restaurants for businessmen are inexhaustible.
Sengakuji 泉岳寺
A station where the Toei Asakusa Line connects to the Keikyu Line. The Gotanda/Nishimagome direction is treated as a blind line. Sengakuji Temple, the historical place where Ako Ronin rests, is also the nearest station to the new Takanawa Gateway station. El Cantare Village has been formed in the Shirokane-Takanawa area.
Takanawadai 高輪台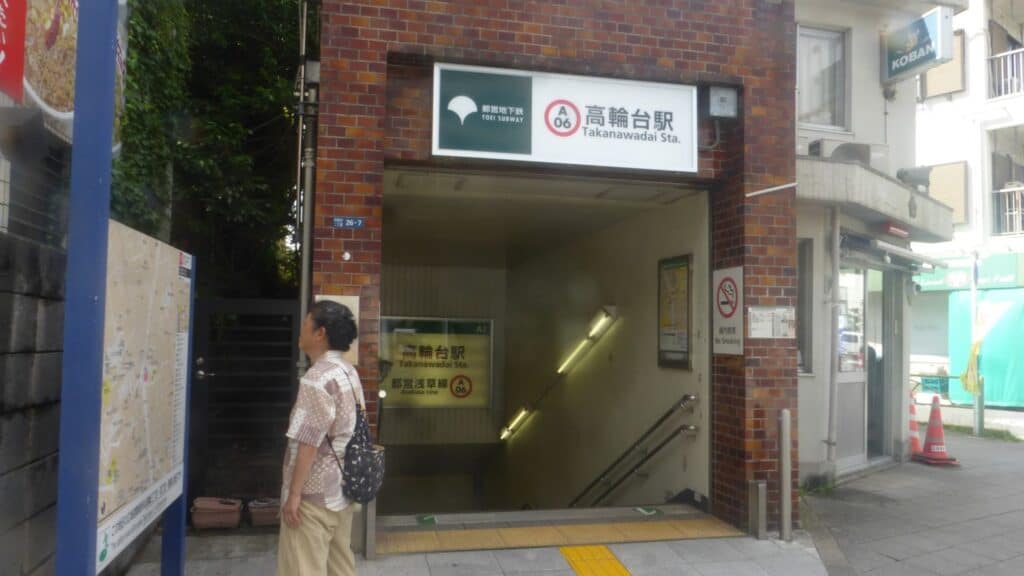 This station is used by people living in the southwestern part of Takanawa who does not seem to be related to the Takanawa Gateway station. It is inconvenient to go north from Sengakuji on the same Toei Asakusa Line, as it requires a basic transfer.
Akabanebashi 赤羽橋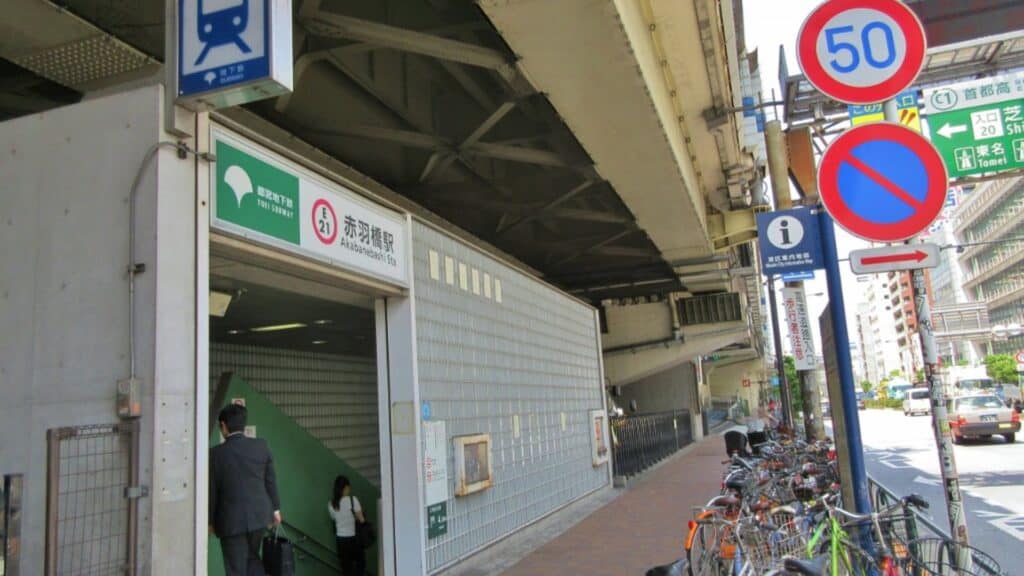 This area corresponds to Higashi-azabu and Mita in the address, but the Toei Subway station is named after a bridge over the Furukawa River. It is rumoured that some people often get confused with Akabane, Kita-ku or Akabane, which is unrelated to Akabane, and end up going to Akabane Station and getting off there, and are at a loss.
Yurikamome Line
Takeshiba 竹芝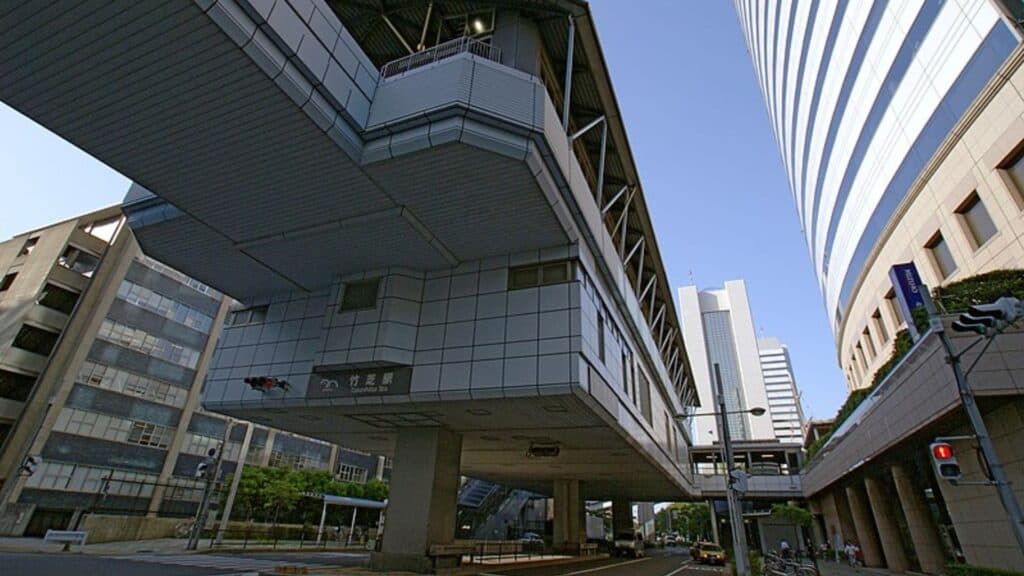 Takeshiba Pier is where ferries depart for the Izu and Ogasawara Islands, which are also part of Tokyo. The "Tokyo Ai-land" where you can get souvenirs and foods from Tokyo's outlying islands, such as kusaya and ashiba, is also interesting. In the summer, the "Tokyo Bay Noryo Boat," commonly known as a "pick-up boat," is in operation, and the number of men and women dressed in yukata soars.
Hinode 日の出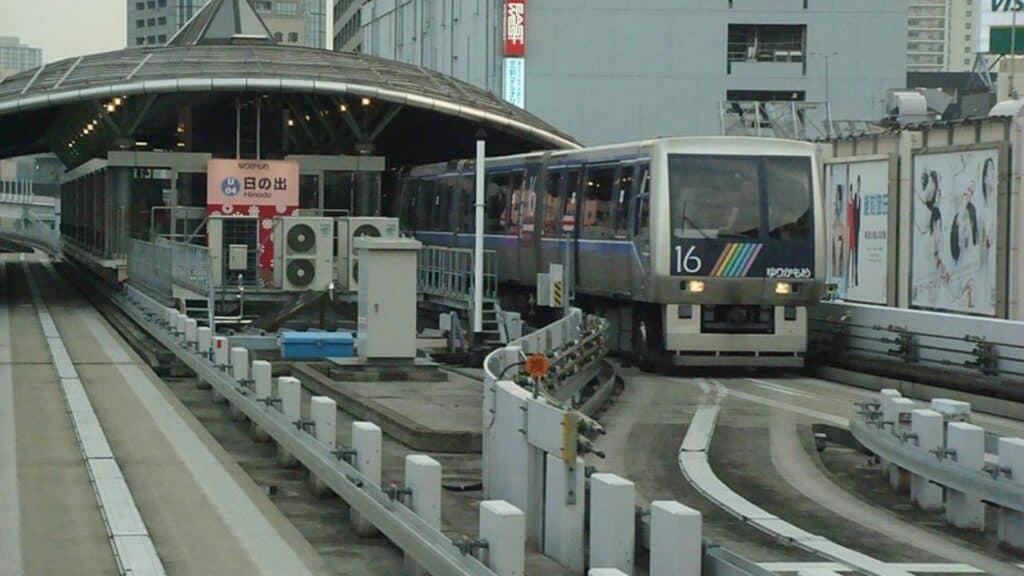 Water buses run up the Sumida River to Asakusa and to Odaiba on the other side of the river. It is a location where you can find an irregular convenience store, one of only a few in Tokyo, which you may have thought was a Lawson but turned out to be a port store.
Shibaura-futō 芝浦ふ頭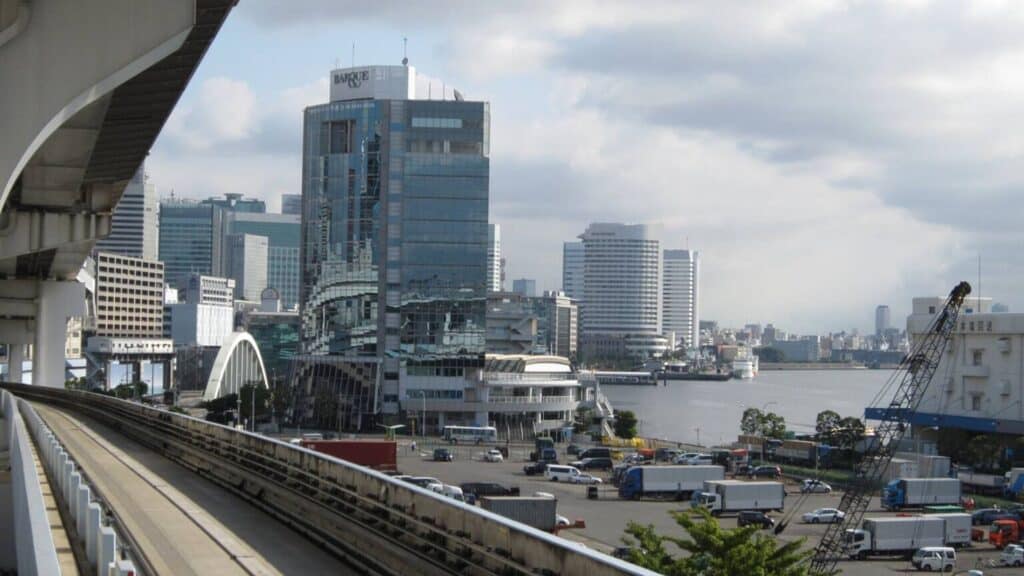 A port workers' district just before the Yurikamome Line crosses the Rainbow Bridge. In recent years, condominiums for families have begun to be built in this cold warehouse district. In the direction of Shinagawa Pier, Konan 5-chome is also home to the Tokyo Immigration Bureau, which attracts a large number of foreigners.
Daiba 台場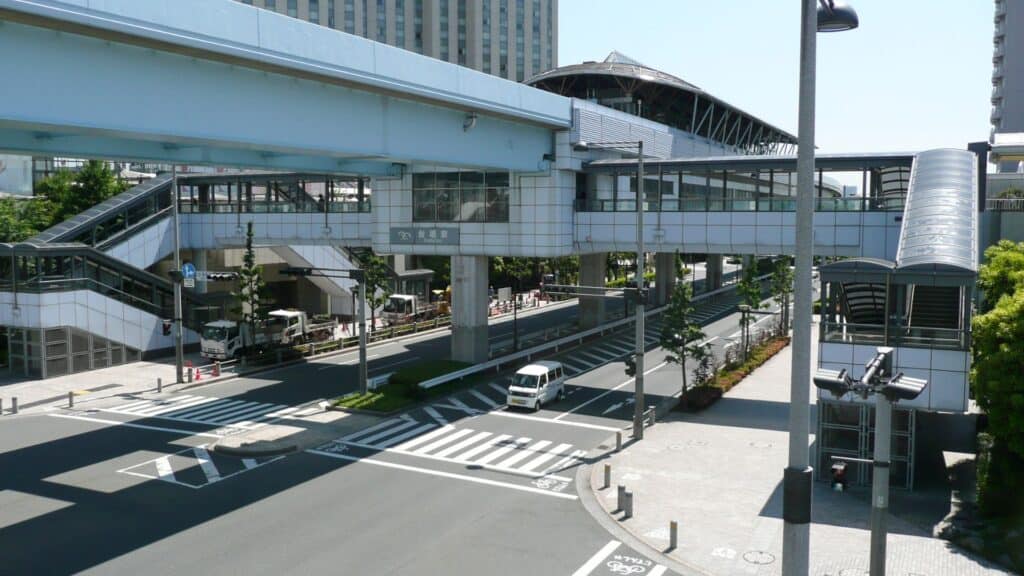 A reclaimed land in Tokyo, crossed by the Rainbow Bridge or Rinkai Line. The Fuji Television Building, Odaiba Seaside Park, Aqua City Odaiba, and DECKS Tokyo Beach are located on the Minato Ward side. In front of the Yurikamome Odaiba Kaihin Koen Station, there are tower condominiums and even an apartment complex called "Sealea Odaiba".
What to do in Minato City Ward
Roppongi Hills 六本木ヒルズ
Roppongi Hills is a commercial complex representing Roppongi. Centred on the 238-meter-high Mori Tower, a high-rise office building, the sprawling site is home to movie theatres, art museums, TV stations, and a wide variety of stores offering gourmet and fashion items. 
The "Tokyo City View" observation deck on the 52nd floor of Mori Tower has an outdoor observation facility called the "Sky Deck," and when the weather is fine, visitors can see everything from the city of Tokyo to Mt.
Find out more about Roppongi Hills here on Google maps.
Tokyo Tower 東京タワー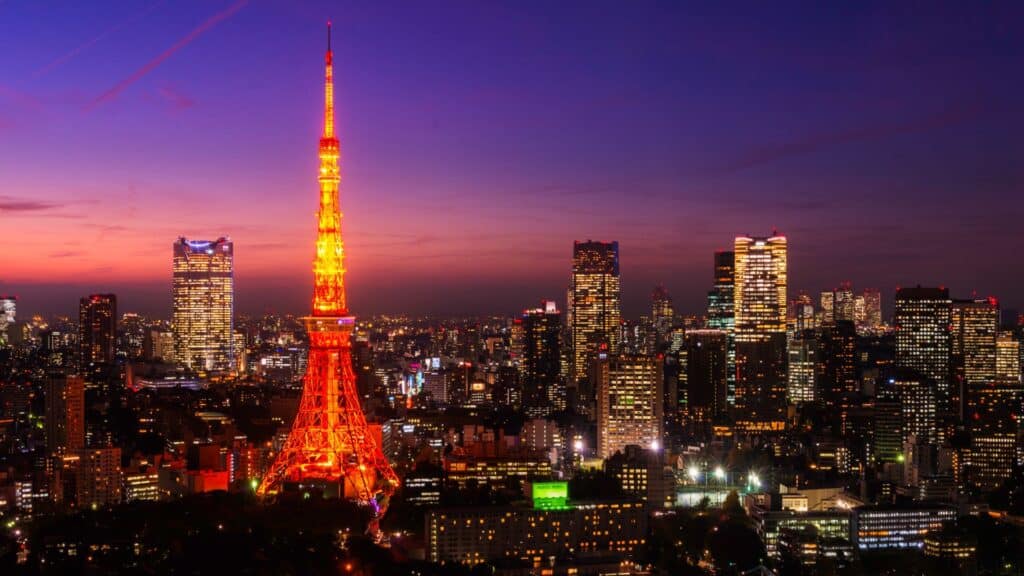 A comprehensive radio tower located in Shiba Park, Minato-ku. Opened in 1958, it has been visited by many tourists from Japan and abroad as a symbol of Tokyo. The tower is 333 meters high, with a 150-meter-high main observatory and a 250-meter-high special observatory, from which visitors can enjoy a 360-degree view of the city. The lights, which change color with the seasons and events, are also popular. At the foot of the mountain is "Foot Town," a commercial facility with souvenir stores, restaurants, goods stores, and an aquarium.
Find out more about Tokyo Tower here on Google maps.
Maxell Aqua Park マクセル アクアパーク品川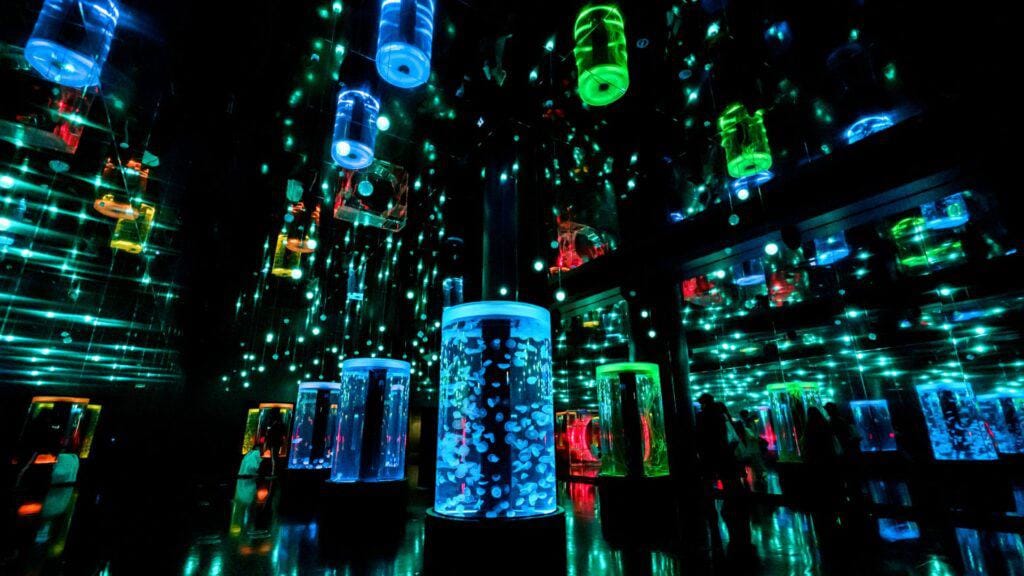 Located in the Shinagawa Prince Hotel in Minato-ku, Tokyo, Maxell Aqua Park Shinagawa is an urban entertainment facility centred on an aquarium. The centrepiece is a dolphin performance in a circular pool, where visitors can watch a powerful show that mixes beautiful sound and light effects. The jungle-inspired zone displays freshwater fish and reptiles, as well as the popular capybara. Other attractions include a fantastic jellyfish zone, a 20-meter-long tunnel tank, and various other attractions.
Find out more about Maxell Aqua Park here on Google maps.
Atago Shrine 愛宕神社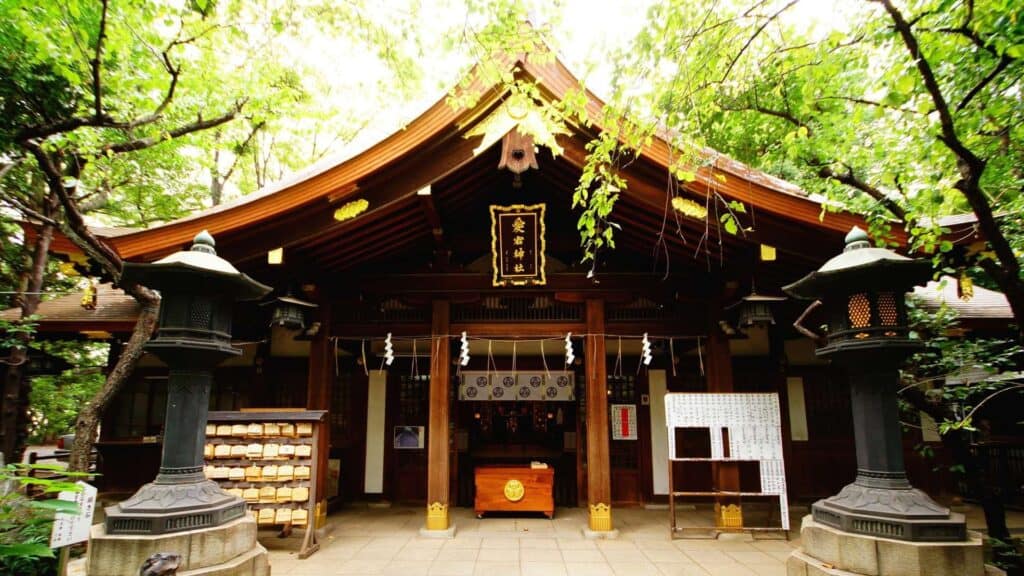 Located in the office district of Atago, Minato-ku, Tokyo, Atago Shrine is built on top of Mt. Atago, a natural mountain. The shrine was founded in 1603 by Tokugawa Ieyasu as a god of fire prevention, and its main deity is the fire deity Homusubinomikoto.
The stone steps in front of the shrine are called "stone steps for success in life," and are famous for the legend that a samurai rode up and down them on horseback and won the praise of Tokugawa Iemitsu. The shrine is an urban oasis where visitors can enjoy cherry blossoms and autumn leaves, and is visited by many office workers in the neighbourhood.
Find out more about Atago Shrine here on Google maps.
Biotop
Opened in 2010, this select store complex is located in Shirokanedai. It offers a comprehensive range of products from lifestyle, fashion, botanicals, and food. In addition to top brands from around the world, the store offers natural cosmetics, lifestyle goods, and other items that enrich people's lives. In the courtyard, an oak treehouse rises above the store, which houses the botanical store "BIOTOP NUESERIES" and the café and restaurant "Irving place" where customers can relax and enjoy the view of the greenery.
Find out more about Biotop here on Google maps.
The National Art Center, Tokyo 国立新美術館
Located in Roppongi, the National Art Center, Tokyo is one of the largest art museums in Japan in terms of total floor space. The museum opened in 2007 as Japan's fifth national art museum and holds a wide variety of exhibitions in its 14,000 square meters of exhibition space. It is also famous as the last art museum completed by Kisho Kurokawa, one of Japan's leading architects, before his death. The unique tea salon at the top of the inverted cone is a popular spot that has appeared in movies and other media.
Find out more about The National Art Center, Tokyo here on Google maps.
Aqua City Odaiba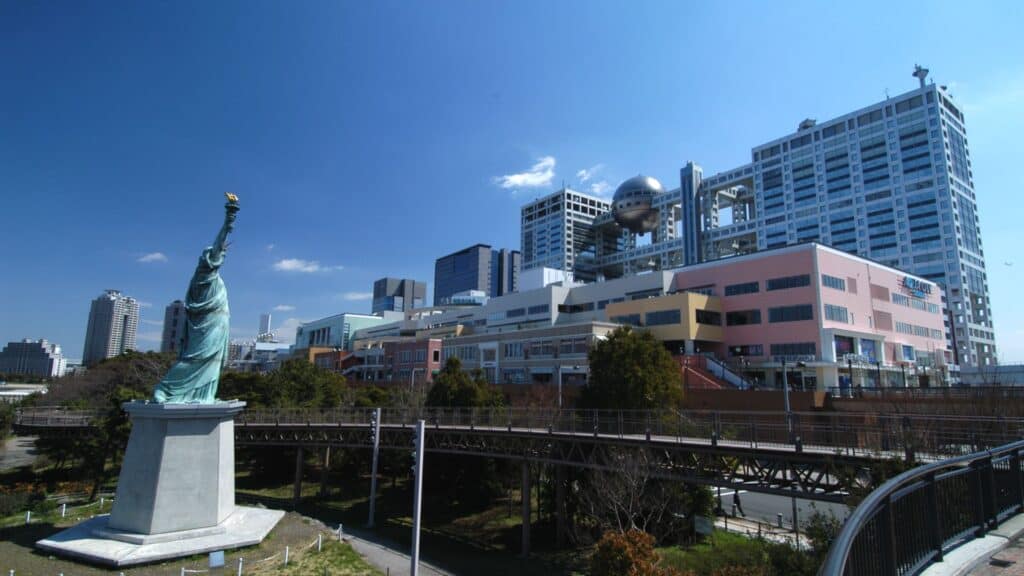 Aqua City Odaiba is a commercial complex adjacent to Odaiba Seaside Park in Daiba, Minato-ku, Tokyo. The Aqua City Odaiba Shrine, located on the 7th floor, is popular as a place for relaxation where seven wishes are said to come true. The shrine is popular as a place of rest and relaxation where seven wishes are said to come true.
Find out more about Aqua City Odaiba here on Google maps.
Tokyo Midtown 東京ミッドタウン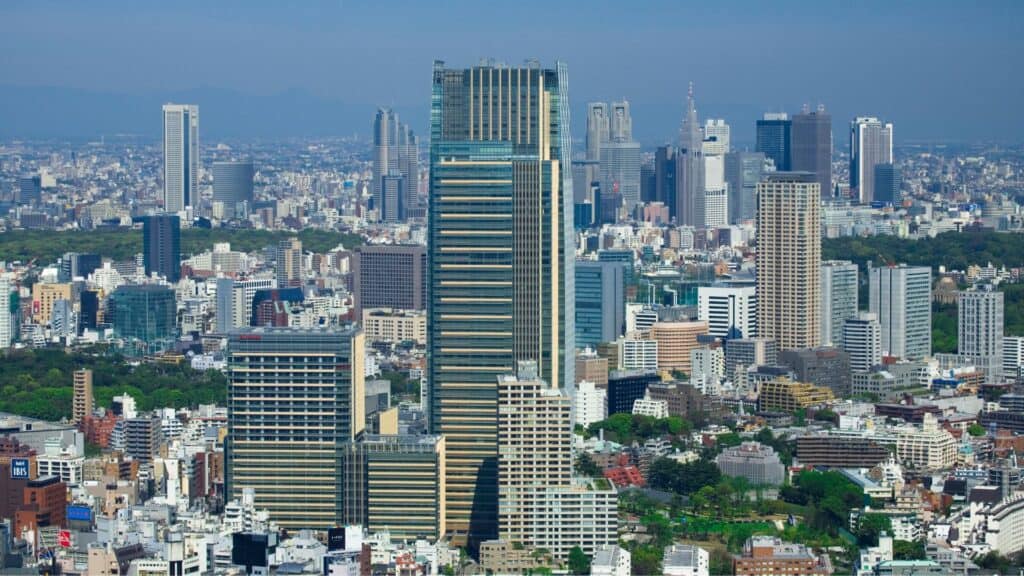 A complex directly connected to Roppongi Station with commercial facilities, The Ritz-Carlton Tokyo (hotel), office area, art museum, convention hall, medical facilities, and residential area. The shopping area is lined with well-known brand-name stores, and visitors can enjoy shopping in a stylish and open space. Restaurants offering cuisine from around the world are popular among a wide range of people. It is also famous for its outdoor illumination during the Christmas season.
Find out more about Tokyo Midtown here on Google maps.
Toranomon Hills Mori Tower 虎ノ門ヒルズ 森タワー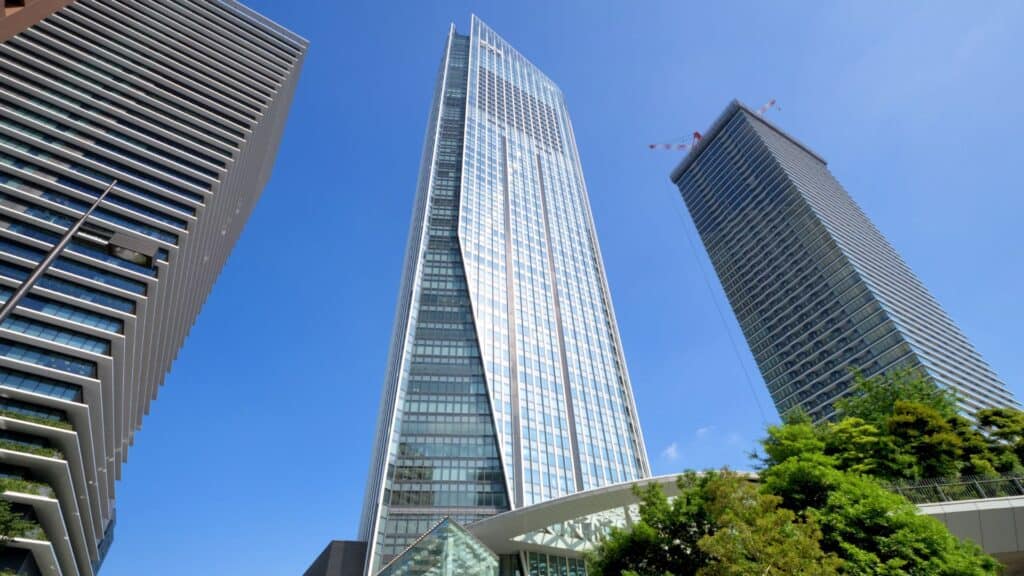 Toranomon Hills is a 52-story skyscraper complex in Toranomon, Minato-ku, Tokyo. Opened in 2014 (Heisei 26), it houses shopping facilities, restaurants, cafes, a conference center, office areas, residential areas, and Andaz Tokyo (hotel). The restaurant zone is a bright and open space with a three-story atrium facing the garden.
Find out more about Toranomon Hills Mori Tower here on Google maps.
Shiba Park 芝公園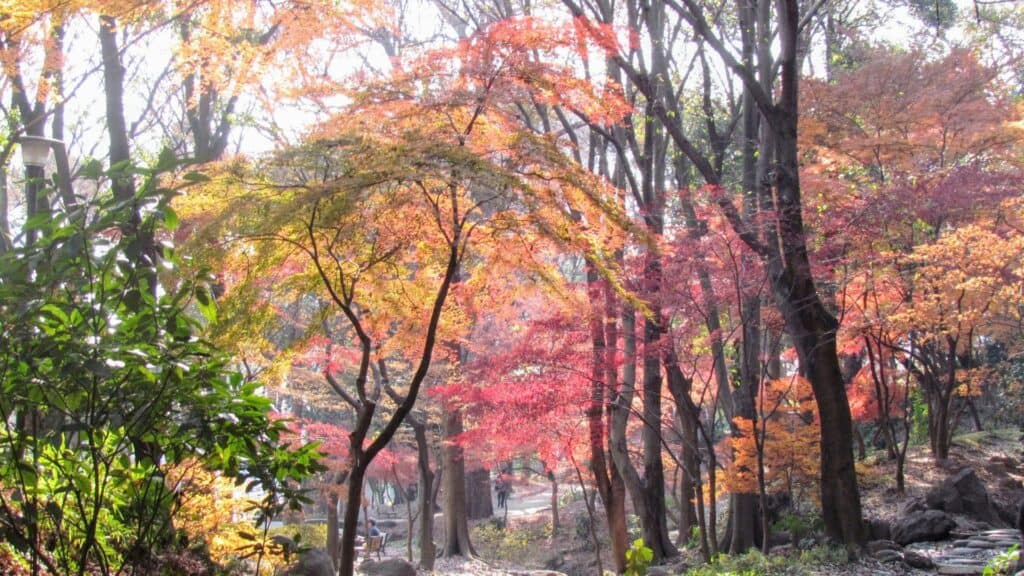 Shiba Park is a park centered around Zojoji Temple in Minato-ku, Tokyo. It is one of the oldest parks in Japan, opened in 1873 on a site that used to be the precincts of Zojoji Temple. Together with the adjacent Minato Ward Shiba Park, the park is collectively called "Shiba Park. The park is home to a baseball field, tennis courts, a children's playground, and other facilities. The park has a large lawn area and is known as a date spot and filming location due to its location overlooking Tokyo Tower.
Find out more about Shiba Park here on Google maps.
Mori Art Museum 森美術館
An international contemporary art museum located on the 53rd floor of Roppongi Hills Mori Tower. The museum holds a variety of special exhibitions throughout the year and is open until 10:00 p.m. during the exhibition period (except Tuesdays), making it an attractive place to visit after work or after dinner. 52nd-floor café and restaurant, "Tokyo City View," offers a spectacular view of Tokyo while enjoying a meal or tea. The nearest station is Roppongi Station.
Find out more about Mori Art Museum here on Google maps.
Odaiba Seaside Park お台場海浜公園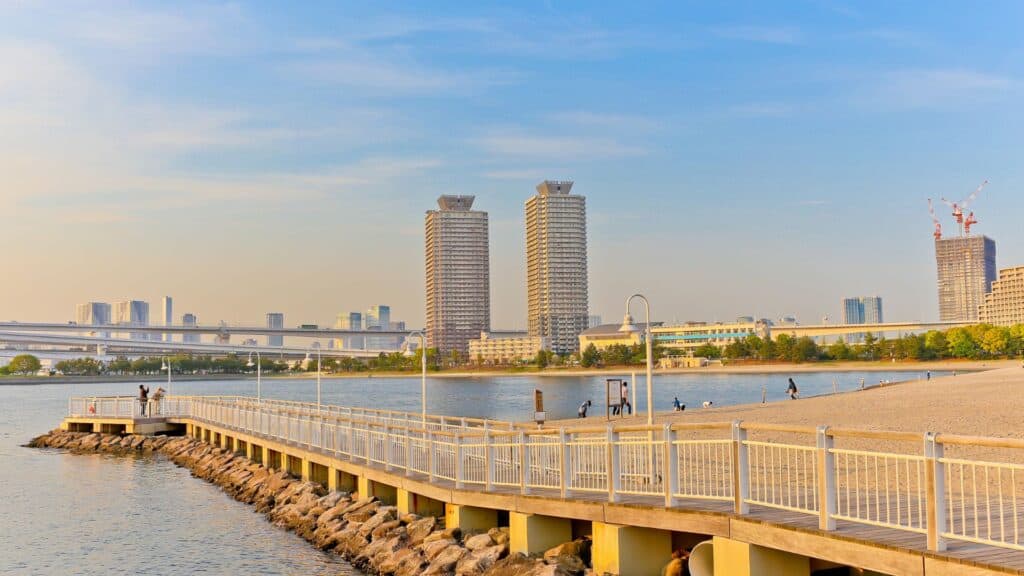 A seaside park using an inlet in Daiba, Minato-ku, Tokyo. The park is widely used for sightseeing, date night, and family leisure activities. Although swimming and fishing are prohibited at "Odaiba Beach," an artificial sandy beach extending about 800 meters, visitors can enjoy ebb and flow fishing and playing on the beach for free. The promenade overlooking the Rainbow Bridge and Tokyo Tower is a popular photo spot both day and night.
Find out more about Odaiba Seaside Park here on Google maps.
Sengakuji Temple 泉岳寺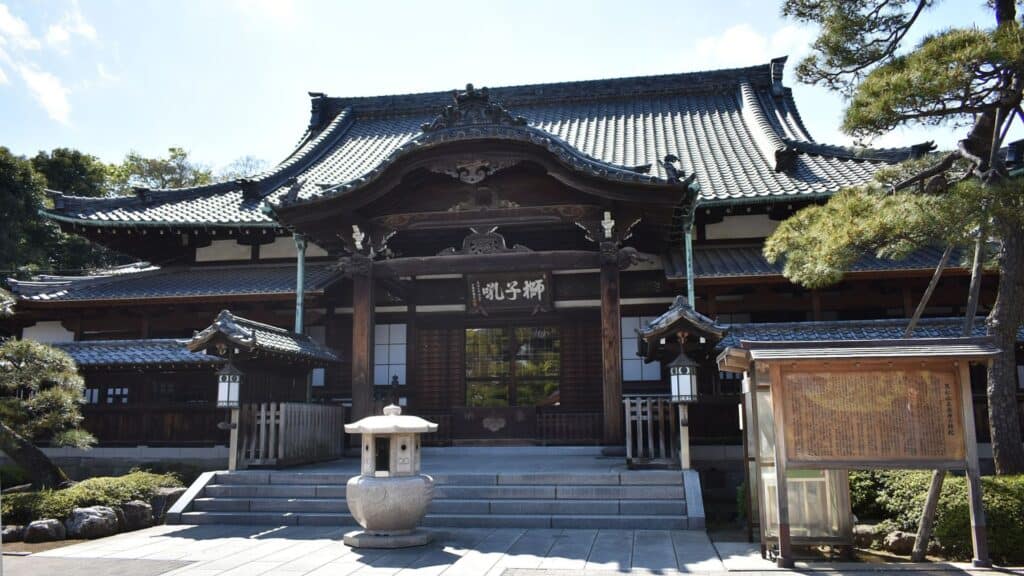 Sengakuji Temple is a Soto sect temple known for the graves of Naganori Asano, famous for "Chushingura," and 47 Ako Ronin. The temple was built in 1612 by Tokugawa Ieyasu in Sotosakurada to mourn the loss of Yoshimoto Imagawa, and was moved to its current location in Takanawa, Minato-ku, Tokyo, after it was destroyed by fire.
After the temple was destroyed by fire, it was moved to Takanawa, Minato-ku, Tokyo. The Ako Yoshishi Memorial Museum is located on the temple grounds, and there are many related documents. The "Ako Gishi Festival" is held twice a year in spring and winter to honour the 47 Ronin, and attracts many visitors.
Find out more about Sengakuji Temple here on Google maps.
Zōjō-ji Temple 増上寺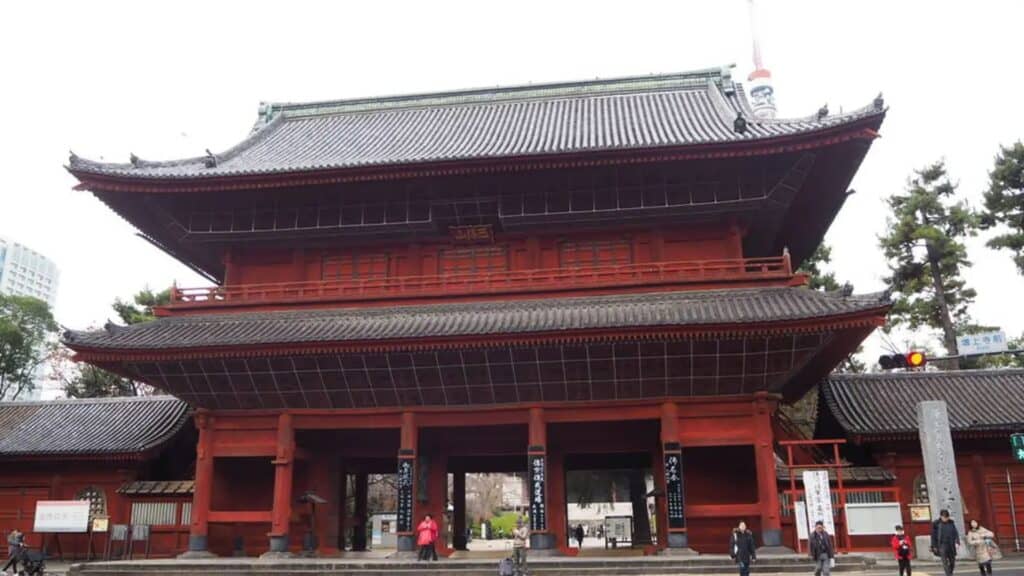 Zōjō-ji Temple of the Jodo sect is located in Shiba Park, Minato-ku, Tokyo, near the foot of Tokyo Tower. It was founded in 1393 by Priest Yuho Seisho as a fundamental Buddhist centre for the orthodoxy of the Jodo sect. It used to be a large temple with more than 120 halls and more than 100 school dormitories. 
The Sankakumon Gate, an important cultural property that survived the war, and the reconstructed Doden (large hall) are testimony to the temple's former glory. The Tokyo Tower can be seen in the background of the main hall, making it a popular spot for commemorative photos. The temple also houses the Tokugawa family mausoleum, where six of the 15 Tokugawa shoguns are buried.
Find out more about Zōjō-ji Temple here on Google maps.
Tokyo Joypolis 東京ジョイポリス
One of the largest indoor theme parks in Japan, located in "DECKS Tokyo Beach" in Daiba, Minato-ku. Visitors can enjoy attractions based on the concept of an extraordinary experience that fuses the digital and real worlds, as well as stage shows. In addition to the most popular attraction "Half Pipe Tokyo," there are attractions collaborating with famous video games and animation works.
Find out more about Tokyo Joypolis here on Google maps.
Nezu Museum 根津美術館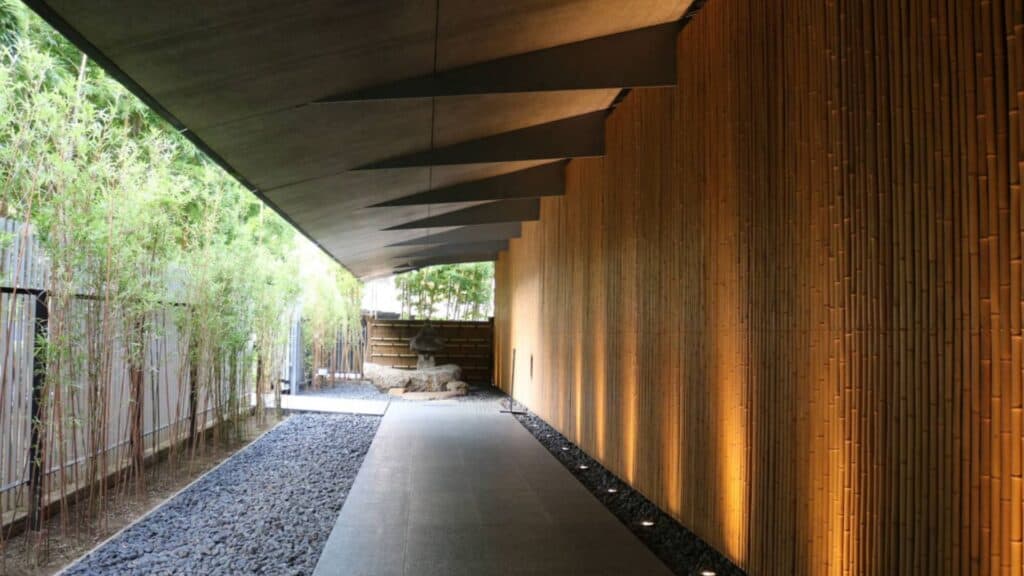 Nezu Museum is an art museum located in Minami Aoyama. The museum opened in 1941 to exhibit and preserve the collection of Kaichiro Nezu (1860-1940), the first president of Tobu Railroad Co.
The museum's collection consists of more than 7,400 pieces of Japanese and Oriental antiques (as of the end of March 2016), including many national treasures, important cultural properties, and important art objects. In addition to the main building with its exhibition rooms, visitors can tour the Japanese garden, which is dotted with tea rooms, stone Buddhas, and stone lanterns. A café overlooking the garden is also popular as a place to spend a relaxing moment.
Find out more about Nezu Museum here on Google maps.
State Guest House Akasaka Palace 迎賓館赤坂離宮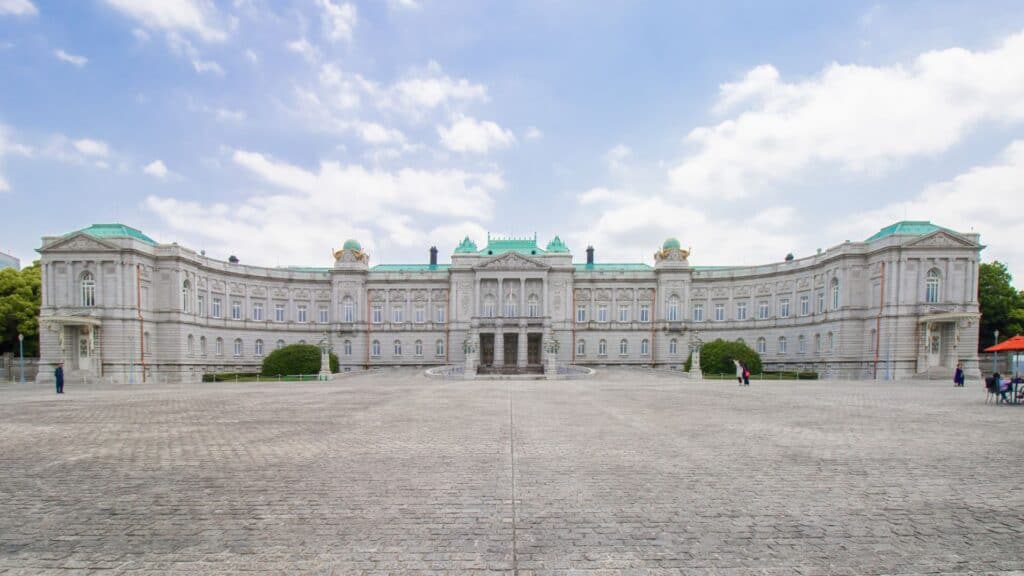 Built in 1909 as the Crown Prince's Palace on the site of the former Edo Nakaya residence of the Kishu Tokugawa family. It is currently used as a guesthouse to welcome guests from abroad and is a key facility for Japanese diplomacy. It is Japan's only elegant Western-style building in the Neo-Baroque style and was designated as a National Treasure for the first time as a cultural property since the Meiji era.
Find out more about State Guest House Akasaka Palace here on Google maps.
Events in Minato City Ward
Shiba Daijingu Dara Dara Festival 芝大神宮だらだら祭り
Kiyomasa no Koto Grand Festival 清正公大祭
Atago Shrine Ishidan Festival of Succession 愛宕神社例大祭出世の石段祭り
Megumi Hanbokudan Festival め組半鐘祭
Accommodation in Minato City Ward
Grand Nikko Tokyo Daiba (5*)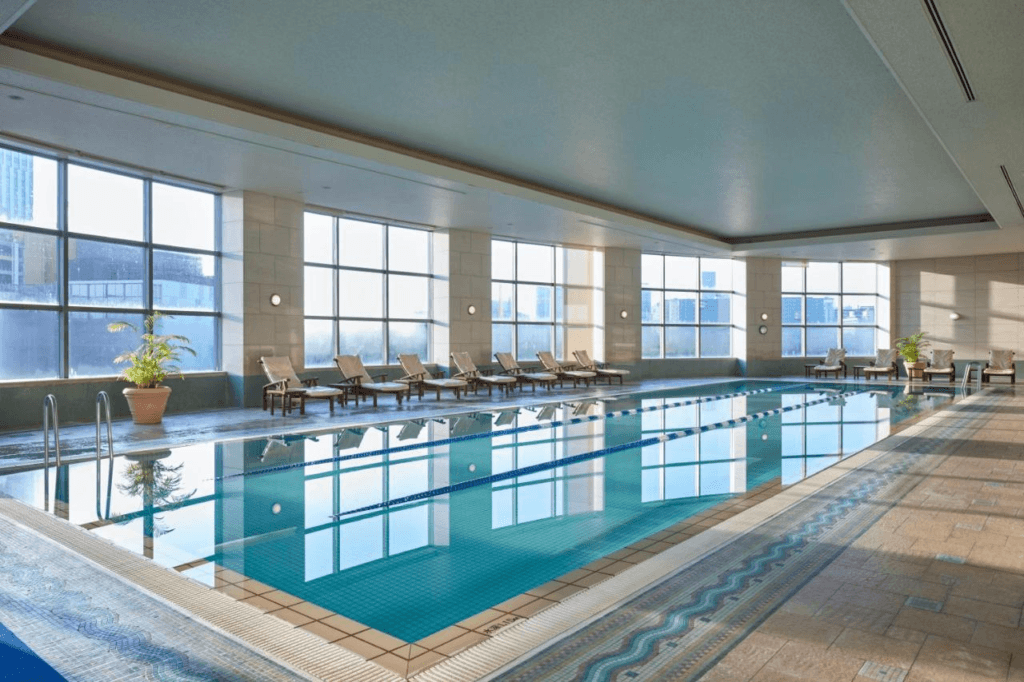 This property is 7 minutes walk from the beach. Grand Nikko Tokyo Daiba is the first Grand Nikko hotel in Japan, open from 1 July 2016. Situated in the Tokyo Bay area in Odaiba, this property is the closest city resort hotel to central Tokyo, a 20-minute monorail and train ride away from JR Tokyo Station. Free WiFi is available throughout the property. The upper floors boast panoramic views of Tokyo Bay, as well as views of the Rainbow Bridge and Tokyo Tower.
Henn na Hotel Tokyo Hamamatsucho (3*)
In a prime location in the Minato district of Tokyo, Henn na Hotel Tokyo Hamamatsucho is 600 m from Little Peeing Monk Statue, 600 m from Italy Park and less than 1 km from Hibiya Shrine. Popular points of interest near the hotel include Shinbashi Shiogama Shrine, Seishoji Temple and Sakurada Park.
Miyako City Tokyo Takanawa (4*)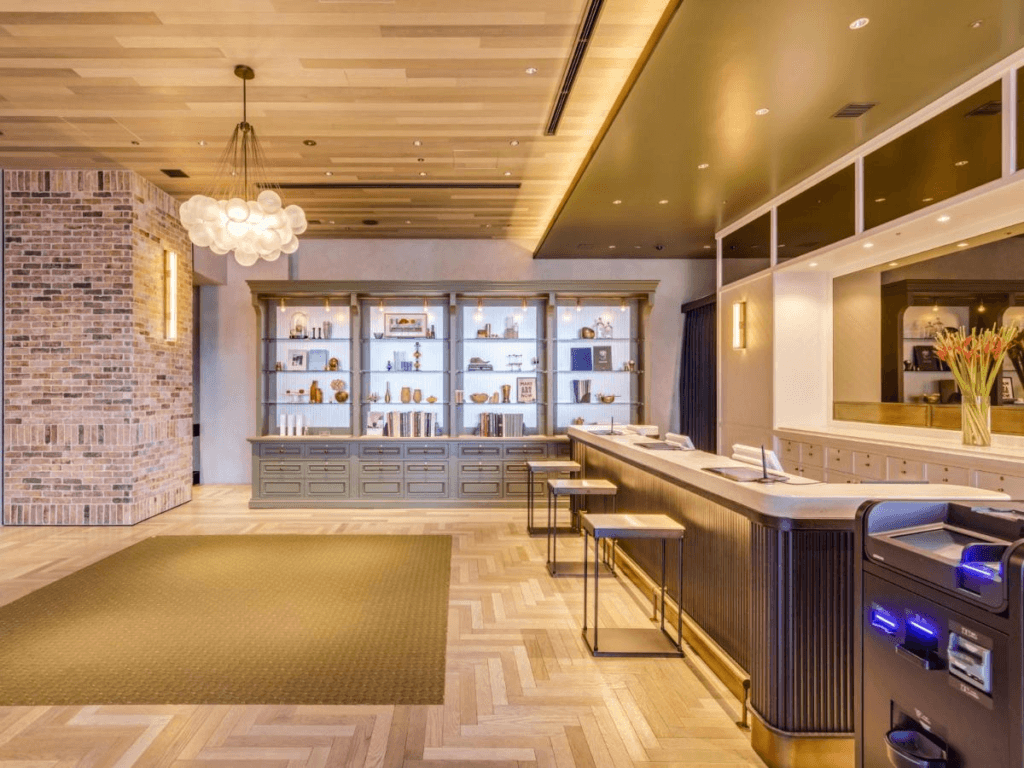 Miyako City Tokyo Takanawa offers city view rooms in Tokyo and offers free WiFi and a 24-hour front desk. There is a restaurant on site for guest's convenience. Shinagawa Station is an 8-minute walk and Tokyo Station is a 20-minute train ride away. Maxell Aqua Park is situated a 10-minute walk away. On trains, Haneda Airport is 20 minutes away, while Narita International Airport is 75 minutes from Miyako City Tokyo Takanawa.
MusBee Tokyo Hamamatsucho (3*)
Set in Tokyo, 700 m from Italy Park, this property is located a short distance from attractions such as Seishoji Temple, Space FS Shiodome, and Advertising Museum. The property is 1.8 km from Caretta Shiodome and 2.9 km from Takeshiba Wharf Park.Popular points of interest near MusBee Tokyo Hamamatsucho include Hibiya Shrine, Shinbashi Shiogama Shrine and Sakurada Park.
Candeo Hotels Tokyo Roppongi (4*)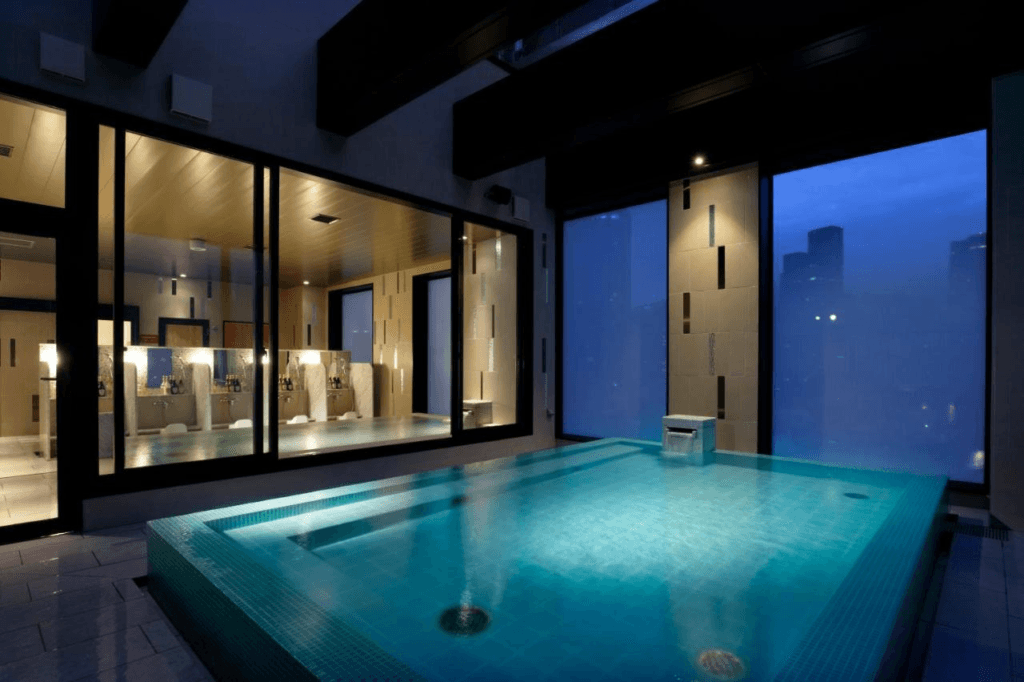 Set in Tokyo, within 100 m of Asahi Shrine and 500 m of Roppongi Hills, Candeo Hotels Tokyo Roppongi offers accommodation with a spa and wellness centre. Popular points of interest near Candeo Hotels Tokyo Roppongi include Sony Music Roppongi Museum, Tokyo City View Observation Deck and Mori Art Museum. A à la carte breakfast is available every morning at Candeo Hotels Tokyo Roppongi. At the hotel guests are welcome to take advantage of a sauna.
宿坊 正伝寺 Temple hotel Shoden-ji (3*)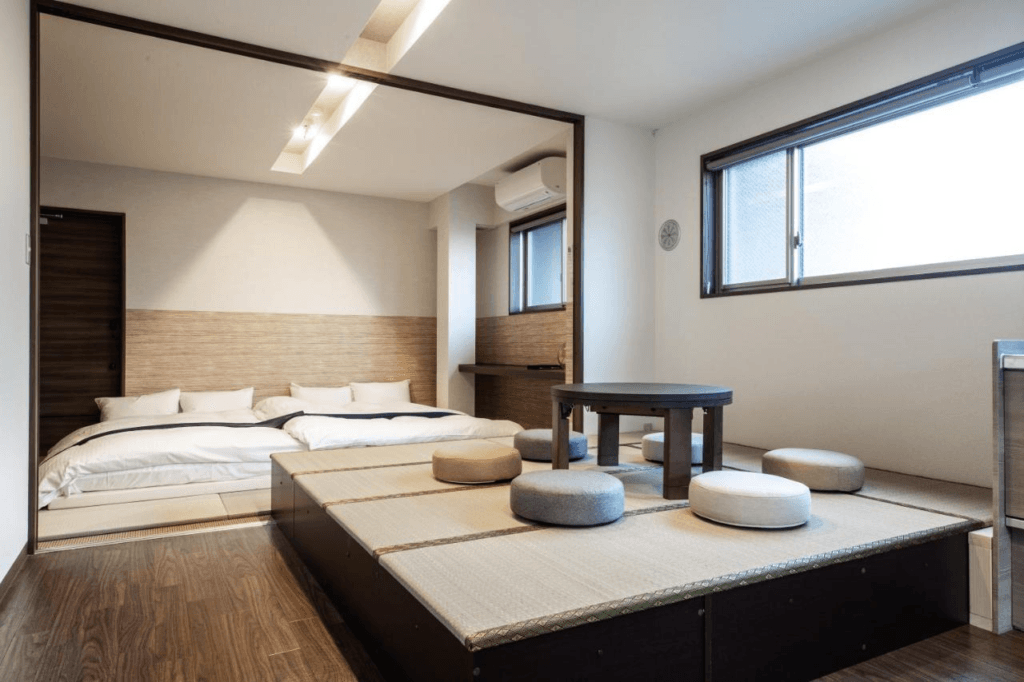 Situated in Tokyo, 1.7 km from Italy Park, 宿坊 正伝寺 Temple hotel Shoden-ji features rooms with city views and free WiFi. The property is located 1.9 km from Tokyo Tower, 1.9 km from Seishoji Temple and 2.2 km from Myoufukuji Temple. Hibiya Shrine is 2.2 km from the guest house and Kamezuka Park is 2.6 km away. Popular points of interest near the guest house include Shinbashi Shiogama Shrine, Daizoji Temple and Mita Kasuga Shrine.
Bay Hotel Tokyo Hamamatsucho (3*)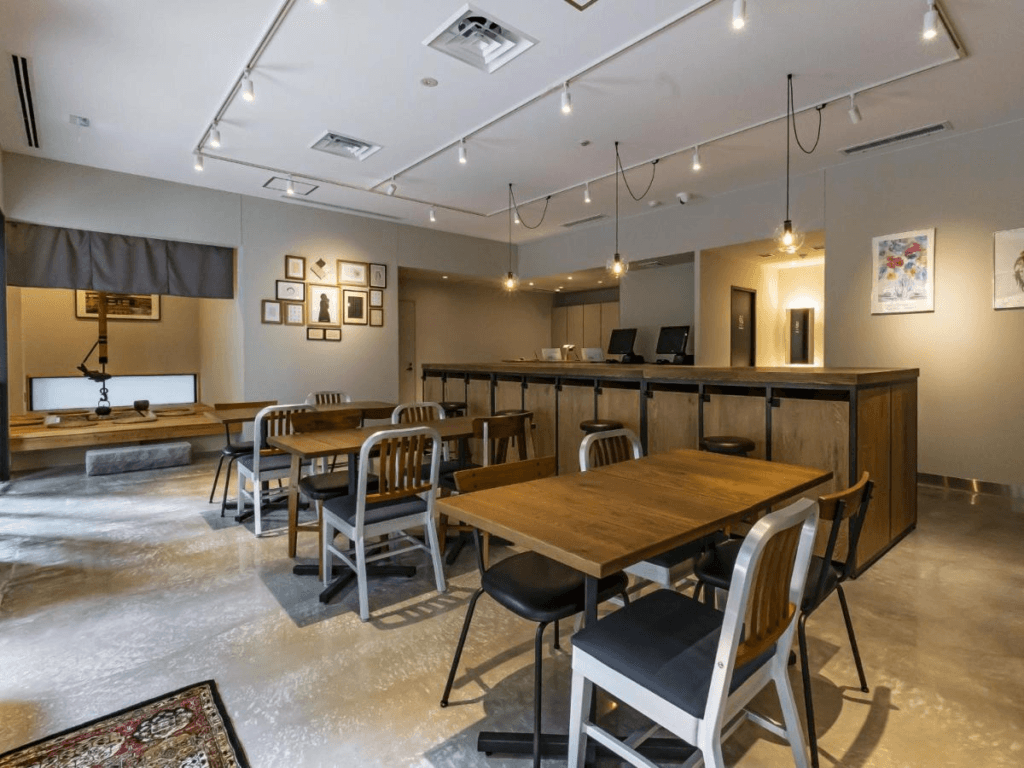 Conveniently set in the centre of Tokyo, Bay Hotel Tokyo Hamamatsucho provides air-conditioned rooms, a shared lounge, free WiFi and a garden. The property is located 1.1 km from Seishoji Temple, 1.1 km from Sakurada Park and 1.1 km from Space FS Shiodome. The Advertising Museum is 1.6 km from the hotel and Caretta Shiodome is 1.6 km away. Popular points of interest near Bay Hotel Tokyo Hamamatsucho include Italy Park, Hibiya Shrine and Shinbashi Shiogama Shrine.
Hotel Arca Torre Roppongi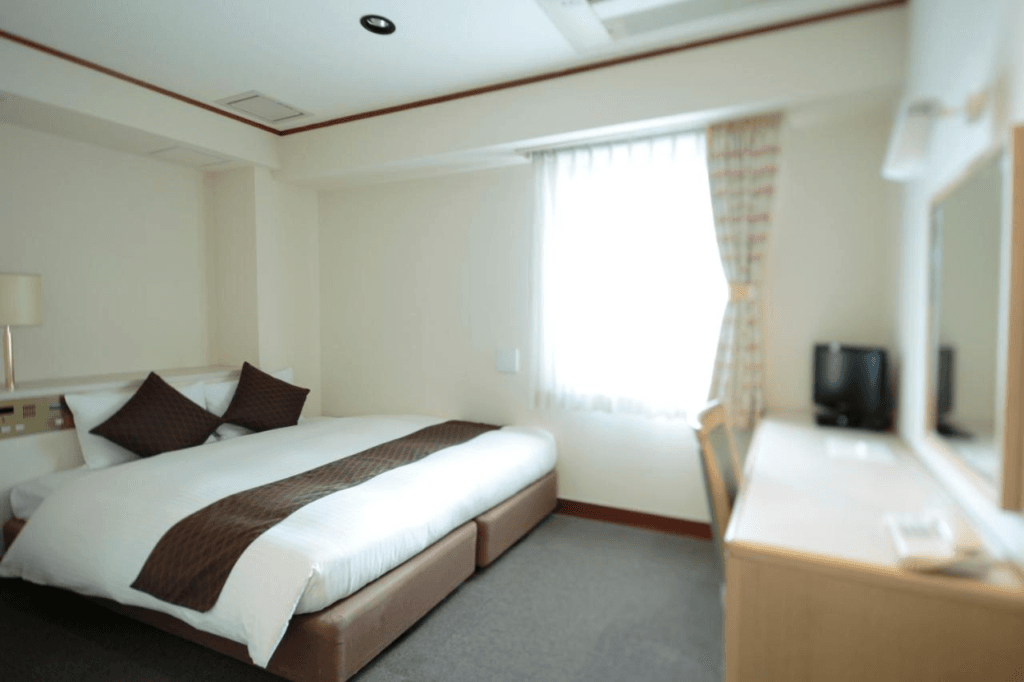 The rooms at Hotel Arca Torre Roppongi are simply furnished and air-conditioned, with a desk and a fridge. Guests can try on the Japanese pajamas, try some fresh green tea and watch CNN. Hotel Arca Torre Roppongi is a 5-minute walk from Roppongi Hills and Tokyo Midtown. Nearby Roppongi Station offers direct subway access to Akihabara, Ginza and Shinjuku. You can relax and unwind with a massage, or take advantage of the hotel's laundry and dry cleaning services.
First Cabin Akasaka
First Cabin Akasaka is conveniently located a 1-minute walk from Akasaka Subway Station on the Chiyoda Line. It features compact units, a lounge and shower booths. Free WiFi is available throughout the property.Each unit comes with air conditioning and a safety deposit box. Free amenities provided include slippers, shampoo, soap, toothbrushes and towels.
—
What do you think about Minato Ward in Tokyo? Do you like finding out about the history and culture of this interesting area of Tokyo? There is so much history and unique things to do in this local neighbourhood of Tokyo, if you're interested in coming for yourself, make sure to refer back to this blog.