It's almost the end of the year, and what do you want to eat at that time of year? Toshikoshi Soba, New Year's Eve Soba! Let's have a look at some of the best soba restaurants in Tokyo that you should try before the new year!
The calorie content of soba is around 320 kcal. They are low in calories, so you don't have to worry even if you eat them late at night. If you top it with tempura or duck meat, it has 600-700 kcal, which is about the same as one normal meal.
Let's have a look at the origin of Toshikoshi Soba and some of the best restaurants to get your Toshikoshi soba in Tokyo!
Origin of New Year's Eve soba
There are different theories as to the origin of New Year's Eve soba, but the reasons seem to be that it is easy, tasty and good luck. It started around the middle of the Edo period.
Soba has long been grown as a relief crop, but at the same time it was also eaten on special occasions as a good-luck food. For example, there are many local soba dishes that developed as special occasions, such as Togakushi soba, Yamagata soba and wanko soba.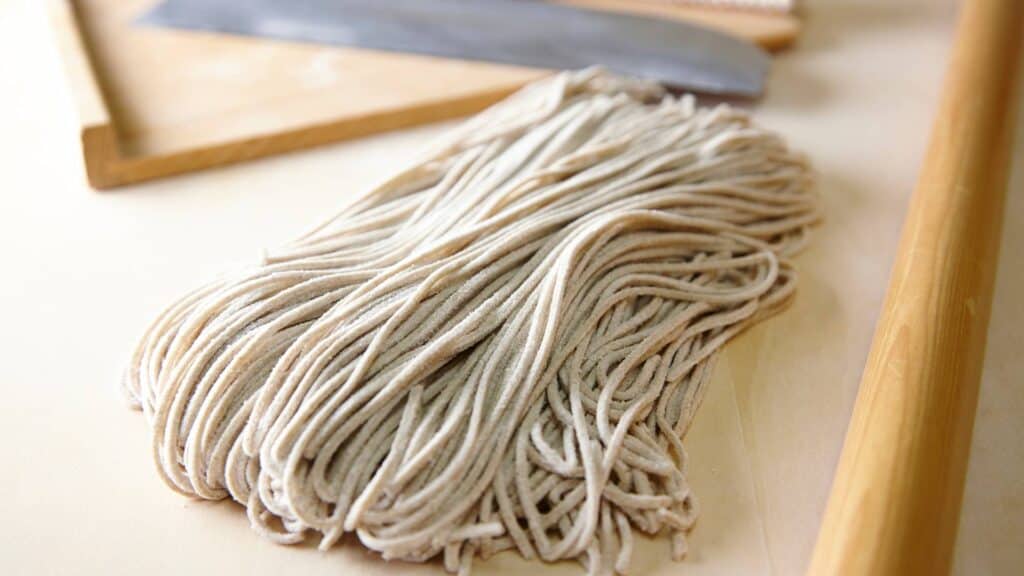 It seems that soba was also well known as a healthy food, as it was mentioned in the Honchoshokan (book of meals) from the mid-Edo period that soba was good for the body.
It was during the mid-Edo period that soba, which was both a good-luck and healthy food, came to be called 'miso ka soba' or 'setsuwa soba' and was eaten at the end of each month and at the change of seasons.
It is said that the name 'Toshikoshi-soba' only became popular nationwide after the Meiji period (1868-1912), and in the Edo period it was also called un-soba' (運そば) or 'Toshitori-soba' (年取りそば).
Meaning of eating soba on New Year's Eve
Soba grows long and thin, so it is believed to prolong one's life and increase one's family fortune.
Soba is easy to cut, so it is believed that it is a way of welcoming the New Year with a clean slate from the year's hardships and bad luck.
The theory is that the buckwheat flour was used by gold and silversmiths to collect scattered gold dust, thus bringing them good luck in the year of gold.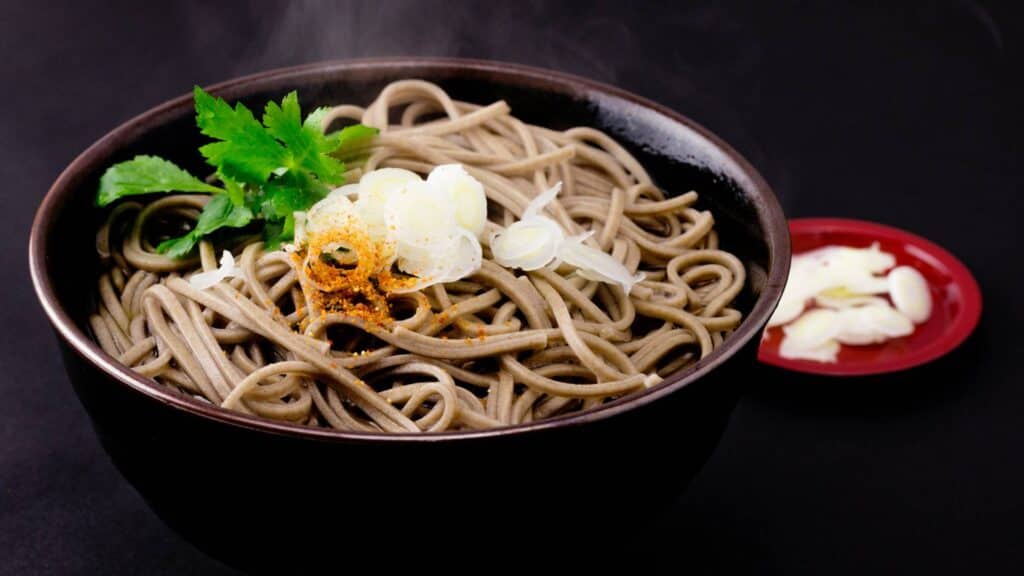 In the Kamakura period (1185-1333), buckwheat cakes were served at Jotenji Temple in Hakata, Kyushu, to the townspeople who could not make it through the New Year.
It is difficult to say for sure, but it seems that all of them are a way of making a wish or to pray for good luck.
Just as every dish in Osechi cuisine has its own meaning, people in the olden days must have put a lot of wishes into eating a bowl of soba.
When to eat New Year's Eve soba
In the sense of cutting off the year's bad luck… don't carry it over into the next year.
It is best to finish eating before the bell rings.
There are no rules on when to eat it, but there seems to be a divide between those who eat it at dinner on New Year's Eve and those who eat it after 23:00.
It's a good omen, so eat it neatly and without leaving any leftovers!
Best Soba Restaurants for Toshikoshi Soba in Tokyo
All of these soba restaurants are famous for their taste, so go and try them to end the year on a high note.
Ginpachitei Yazawa (Kameari) 吟八亭 やざ和(亀有)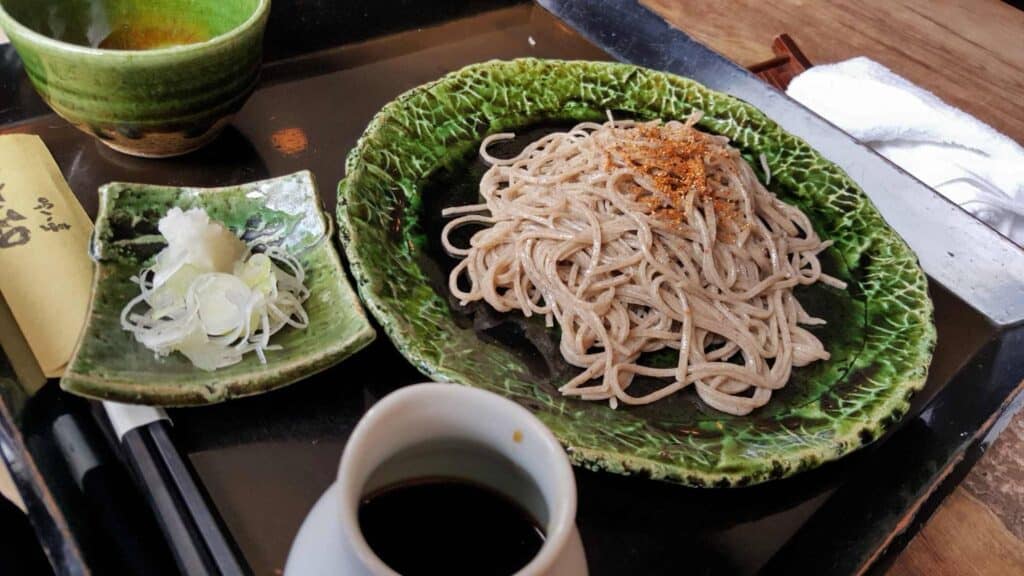 The first restaurant we will introduce is Ginpachitei Yazawa, located in Kameari, Katsushika-ku, a charming town with a strong downtown atmosphere. This restaurant is also so popular and famous that people come from far and wide to enjoy the taste. The characteristic brown buckwheat noodles have a wonderful aroma.
The soba is imported from Hokkaido and Fukushima Prefecture. The elegant and sweet Seiro-soba せいろそば is popular, but it is the Inaka Seiro 田舎せいろ that is worth paying attention to. It is browner than the Seiro Soba, and one bite of it will send a strong aroma of soba through your nostrils, which will definitely get you hooked!
Find out more about Ginpachitei Yazawa here on Google maps.
Tansouan Kenjiro (Asakusa) 丹想庵 健次郎(浅草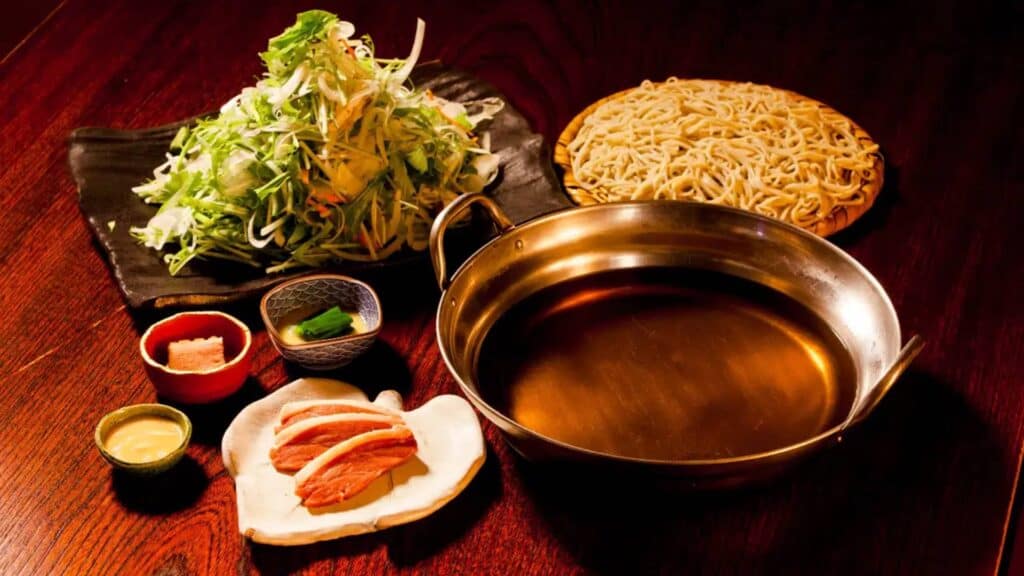 The second restaurant we want to introduce here is Tansouan Kenjiro, a popular back-alley restaurant located in Asakusa, a fierce battleground for Japanese cuisine. The shop's signature dishes are the nihachi Edo soba and rustic soba, which are typical dishes of downtown Tokyo. The restaurant's signature dishes include nihachi edo-soba and ika-soba.
The soba noodles are thin, but the edgy buckwheat noodles are delicious, and you can really taste the buckwheat flavour. The thin buckwheat noodles, carefully ground on a millstone and handmade, go perfectly with the duck soup, and the Kamo Seiro is another must-try! There is also a wide range of a la carte and kaiseki dishes, and you can start with sake and finish with soba.
Find out more about Tansouan Kenjiro here on Google maps.
Soba Tei Daikokuya (Asakusa) 蕎亭 大黒屋(浅草)
The third restaurant is Kyotei Daikokuya, a famous Asakusa restaurant with a unique and stylish fan-shaped menu. The soba noodles are slightly whitish, thinly sliced and have a good texture, we recommend the soba toro (buckwheat noodles), which is dipped into a thick, fluffy yam.
The soba made by the owner, who has been attracting many soba lovers in Asakusa for more than 40 years. He is truly the work of a master. The owner's personality, which shows through different parts of the shop and website, is also one of the charms of the shop. As the restaurant is currently run by a couple, it gets very busy and it's better to make a reservation, and it is expected to be particularly busy at the end of the year.
Find out more about Soba Tei Daikokuya here on Google maps.
Kyourakutei Soba (Ushigome Kagurazaka) 蕎楽亭(牛込神楽坂)
The fourth restaurant we introduce is Kyourakutei Soba in Kagurazaka, where you can not only eat soba but also fully experience the atmosphere of the neighborhood and atmosphere of the restaurant.
The restaurant satisfies the taste buds of many customers, including soba connoisseurs. You will definitely be impressed by the taste of the soba noodles, which are made carefully and precisely. The fried loach served with soba and the cold barley served separately are also exceptional!
Find out more about Kyourakutei Soba here on Google maps.
Gen-soba Nonaka (Nakamurabashi) 玄蕎麦 野中(中村橋)
The fifth restaurant is Gen Soba Nonaka in Nakamurabashi. The soba noodles are firm and heavy, and there is also a menu item that is limited to 10 servings a day. The restaurant is located a little far from the station, but even so, you will definitely be happy to have visited this buckwheat noodle restaurant.
This restaurant is well-known for its old-fashioned Edo soba, and is so well-established and famous that it is frequented by soba lovers. At the end of the year, it is cold so you may want to have hot soba, but we recommend the heaping or colander soba, which allows you to directly feel the flavour of the soba.
Find out more about Gen-soba Nonaka here on Google maps.
Handmade soba Jiyu-san (Higashi-Nagasaki) 手打ち蕎麦 じゆうさん(東長崎)
The sixth restaurant we will introduce is the famous Jiyusan, located at Higashi-Nagasaki Station, two stops from Ikebukuro on the Seibu Ikebukuro Line. This is a restaurant where you can eat this famous and exquisite soba noodles that is known in the soba-lovers community. The restaurant has private rooms with sunken kotatsu-style kotatsu, making it a very cosy place.
The soba is well drained, and the soba's aroma and subtle sweetness are incredible. The brown buckwheat of such excellent buckwheat noodles is a luxury that is ordered from all over the country. Inevitably, the soba broth is also delicious. This is one restaurant you'll definitely want to visit before the year is out!
Find out more about Handmade soba Jiyu-san here on Google maps.
Soba Suzuki's (Hoya) そばきり すゞ木(保谷)
The seventh restaurant we introduce is Soba Suzuki's in Hoya, also along the Seibu Ikebukuro Line, where the simple appearance raises expectations. The popular menu includes the 'Soba Samadai', which allows you to fully enjoy an appetiser, soba tofu, soba gaki, soba nishiki and soba boro, and the 'Omakase' course, which includes six exquisite dishes and a seiro.
The 'Soba Samadai' is particularly recommended, where you can enjoy excellent soba noodles from start to finish. Another unique dish on the menu is the 'Tomato and Cheese Flatbread Hot Soba', which looks like pasta and has a novel taste, and is a must-try dish that will expand the possibilities of new soba dishes!
Find out more about Soba Suzuki's here on Google maps.
Takashashi (Ogikubo) 高はし(荻窪)
The eighth restaurant we'll introduce here is a famous restaurant in Ogikubo, which is so popular that on New Year's Eve, reservations are required! The soba noodles, with their spicy and slightly sweet dipping sauce, are a perfect finishing touch after a night of drinking and tasty snacks.
Seiro Soba is of course a must-try, but we also recommend the Aonori Soba. Pour some dashi broth over it, stir well and eat it, and you will be able to savour the authentic taste of the soba! The aroma of the handmade, stone-ground buckwheat noodles at this soba restaurant is irresistible. The aroma of the buckwheat noodles will fill your mouth as you slurp the noodles, and your appetite will increase even more.
Find out more about Takashashi here on Google maps.
La Strada (Nakanosakaue) ら すとらあだ(中野坂上)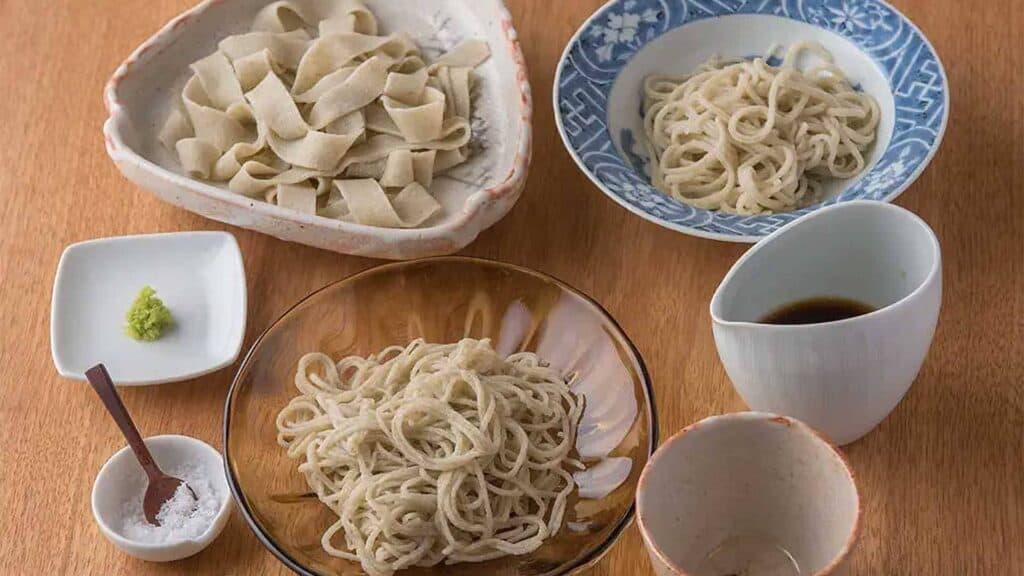 The ninth restaurant we will introduce is La Sutraada, a soba restaurant in a residential area about a four-minute walk from Nakano Sakaue Station on the Oedo Line, which is easily accessible from Shinjuku. This restaurant is popular amongst soba lovers as a famous hiding place, partly due to its location.
There is no signboard in front of the entrance, and the entrance is just an ordinary entrance, so when you go there for the first time in a residential area, you will definitely feel nervous. The restaurant is proud of its soba, which are made on a hand-pulled millstone and usually come in three to five varieties.
Find out more about La Strada here on Google maps.
Edosoba Hosokawa (Ryogoku) 江戸蕎麦 ほそ川(両国)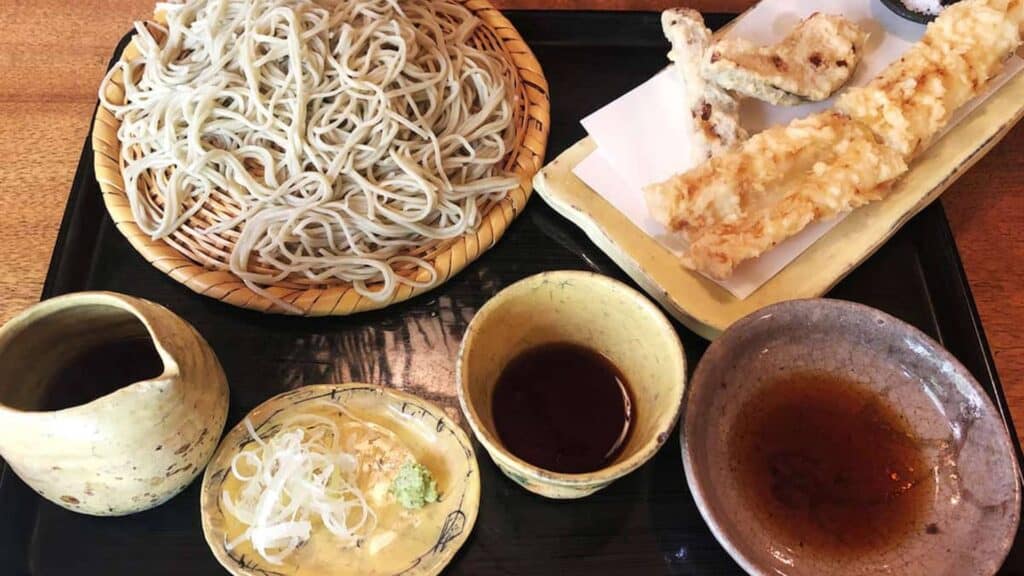 Edosoba Hosokawa is a Michelin-starred restaurant. This chic soba restaurant is located just off Hokosai-dori in Ryogoku. The restaurant has a simple, relaxed atmosphere.
The popular 'Oyster Soba' conveys the rich flavour of oysters even to the soba noodles and dipping sauce, and is a gem that shows the pride of the craftsmen whose skill and attention to detail are interwoven with their own.
If you want to enjoy the original taste of soba, we recommend the Seiro. The aroma of the buckwheat noodles passes through your nose, and the smell and taste are both very refreshing. If you order a second serving of buckwheat noodle, you will be offered a buckwheat noodle from a different region than the first one, which is a unique way to enjoy buckwheat noodles.
Find out more about Edosoba Hosokawa here on Google maps.
—
New Year's Eve soba can be said to be a good-luck food, filled with the modest wishes of ordinary people to welcome the New Year in good health and good luck in this world. Hope this article has made you want to eat soba for this New Year's Eve!