Have you ever heard of the Tokyo neighbourhood, Toyosu? Are you thinking about visiting this unique area of Tokyo or even staying in Toyosu, and wondering what are some things to do, places to visit and restaurants to check out?
There are so many neighbourhoods and areas in Tokyo. Besides the famous towns like Shinjuku, Shibuya and Harajuku, there are many incredible places and spots in Tokyo that are worth a visit. If you're looking to visit a local neighbourhood and check out some hidden gems, Toyosu might be a great place to check out. In this Toyosu area guide, let's have a look at what to do in Toyosu, where to eat and drink in Toyosu, where to stay in Toyosu and some hidden gems in the area.

One of the best ways to explore Tokyo is to visit the local areas and immerse yourself in the local culture. If you want to explore local areas, we have created scavenger hunt adventures personalised to your interests, filled with fun facts, clues and puzzles. If you're curious, you can check out the games here!

Check out the Flip Japan Games here!

What is Toyosu?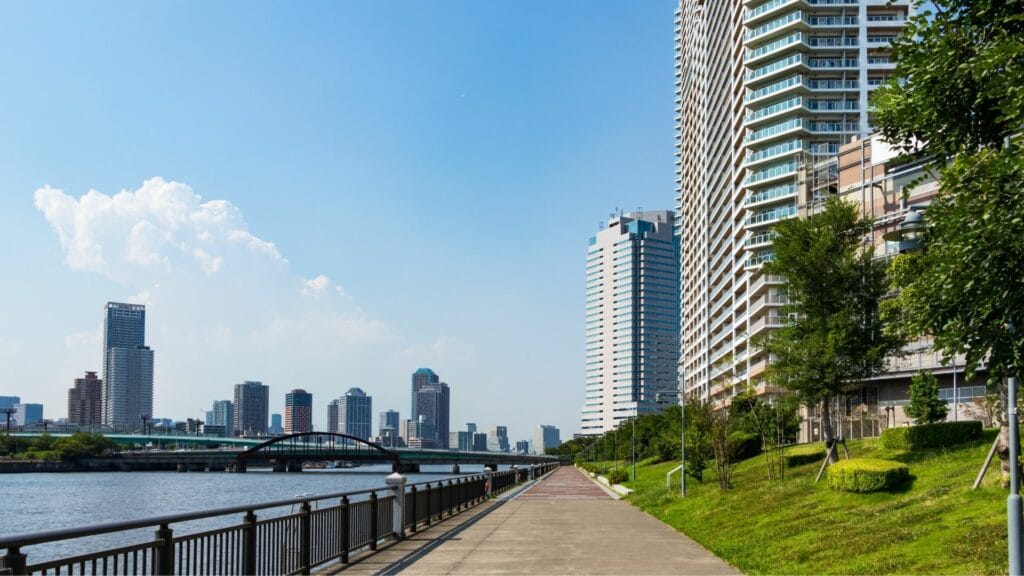 Toyosu is a popular city with plenty of activities and great food. With the relocation of the Tsukiji Market to Toyosu in November 2016, Toyosu has been getting more and more attention. If you come to Toyosu, here are some recommended sightseeing spots you should visit and restaurants you should dine in.
Things to do in Toyosu
がすてなーに(ガスの科学館)Gas Science Museum
Gas Science Museum is a museum that looks into energy. "Energy" is an indispensable part of our daily lives, playing an active role in our homes and towns. A lot of energy overflowing in the town spreads from person to person and connects from the present to the future. At the Gas Science Museum, learning through interactive exhibitions and experiences using the five senses you can learn about the energy resource and how it impacts our present and future.
This museum is free to enter and since it's located close to Urban Dock LaLaport Toyosu, a lot of people stop by the museum while visiting this area.
Find out more about Gas Science Museum here on Google maps.
Kidzania Tokyo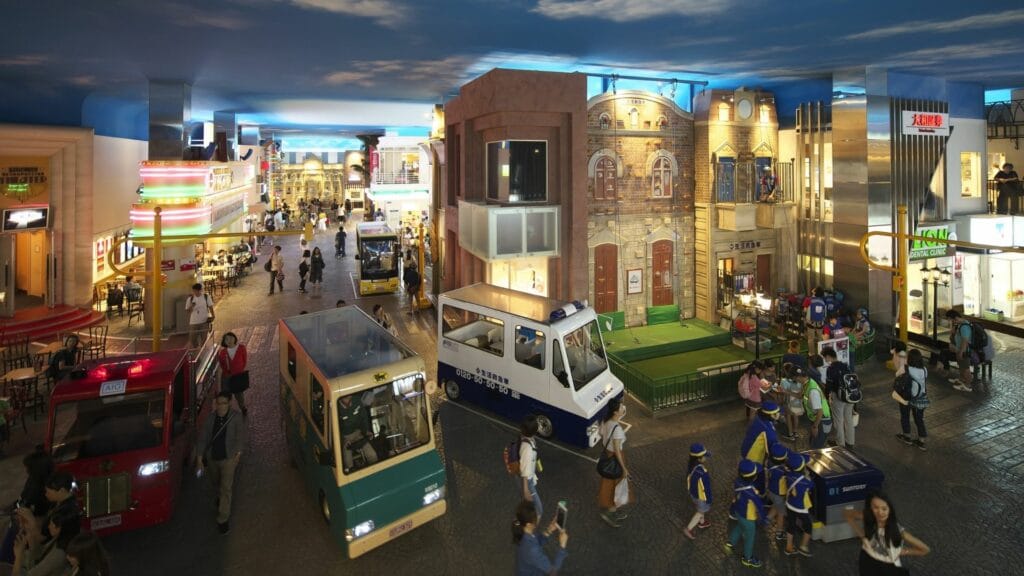 KidZania is a "city where children play a leading role" and children can enjoy learning about the structure of society. There are about 100 types of jobs and services that you can experience here. Using full-scale equipment and tools, children can experience various jobs and services like adults. Children can learn how society works while experiencing the activities here. When the children work, they will be paid in "Kizo" and they will be able to shop and receive services.
KidZania Tokyo is an amusement park inside LaLaport Toyosu. This amusement park opened in October 2006 as a part of the Kidzania franchise. Kidzania Tokyo is the third Kidzania theme park built in the world. KidZania Tokyo catered for children from the age of three to fourteen.
Find out more about Kidzania Tokyo here on Google maps.
Toyosu Wholesale Fish Market
The Toyosu Market is roughly divided into three buildings, the Fisheries Wholesale Market Building, the Fisheries Wholesale Market Building, and the Fruit and Vegetable Building, which are separated across the road. The restaurant area of ​​Toyosu Market is also divided into three areas, with a variety of restaurants such as Japanese food, seafood bowl, tempura, western food, curry, Chinese food, and beef bowl. Even though there is a huge variety, most dishes are centred around seafood. Come here to enjoy a delicious meal when you visit Toyosu.
Find out more about Toyosu Wholesale Fish Market here on Google maps.
Urban Dock LaLaport Toyosu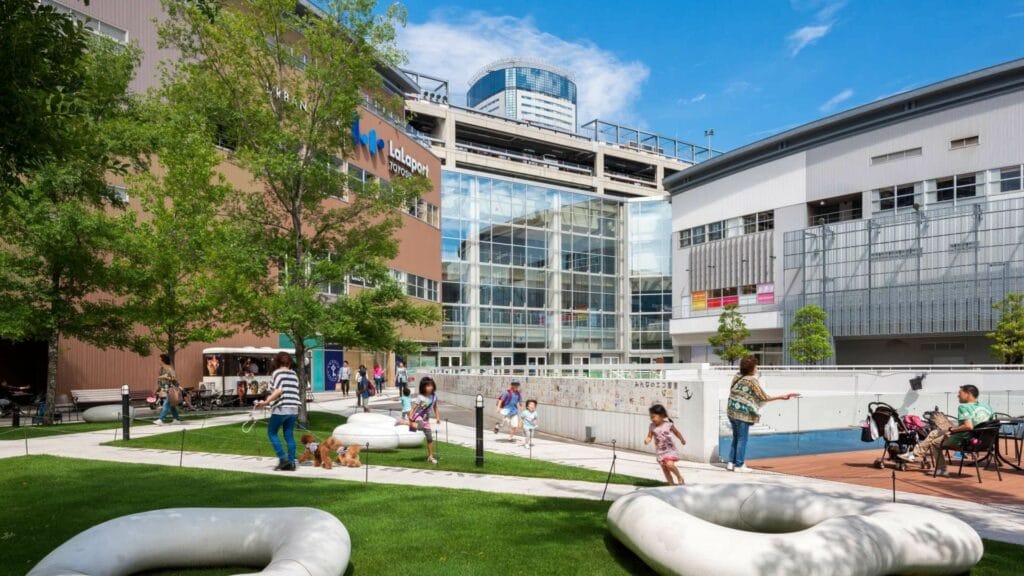 LaLaport Toyosu is a landmark of Toyosu. It is a large-scale commercial facility with about 180 stores, where you can shop for anything from home appliances, interior goods, and household goods, as well as a lot of different restaurants.
There are plenty of attractions such as a cinema complex with a beautiful view of Tokyo Bay and a work experience facility for children. If you are interested in sports, check out the Tokyo Sports Playground. It has 6 different areas, including a running track, a basketball court and different facilities for you to enjoy and use freely.
Find out more about Urban Dock LaLaport Toyosu here on Google maps.
teamLab Planets TOKYO
One of the major attractions here to visit is TeamLab Planets. It is a huge immersive space created by TeamLab, which creates artworks using technology. You experience this place barefoot, and some of the seven works actually have you walking in water. It is a unique experience to enjoy while taking pictures and immersing yourself in digital art all around you.
Find out more about teamLab Planets TOKYO here on Google maps.
Toyosu Park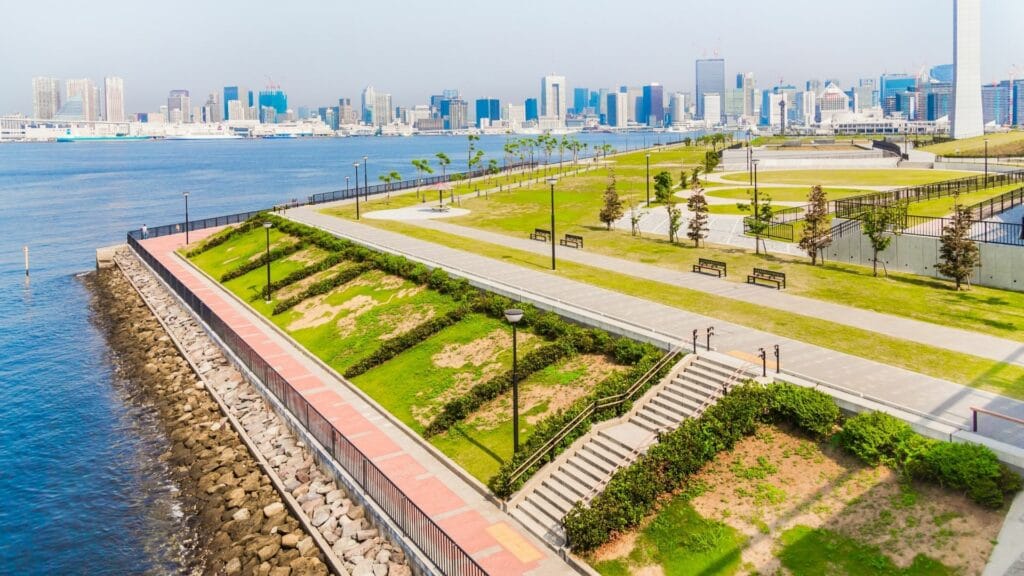 Adjacent to LaLaport Toyosu, Toyosu Park is used as a place of relaxation for many people. There is also playground equipment here, a large lawn plaza, and a "Jabujabu Pond" where you can play in the water. Because Toyosu Park faces Tokyo Bay, it is also popular as a view spot for people to chill at.
Find out more about Toyosu Park here on Google maps.
Restaurants in Toyosu
Sukiyabashi Jirou Toyosu すきやばし次郎豊洲店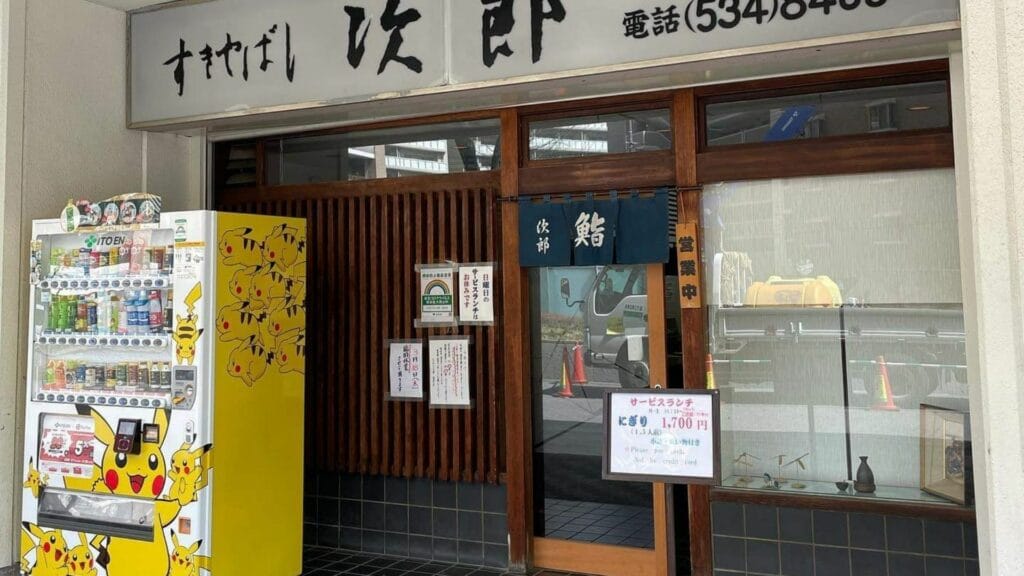 If you want to eat sushi in Toyosu, try Sukiyabashi Jiro. Sukiyabashi Jiro has its main restaurant in Ginza, which is quite famous as a high-end sushi restaurant. And in fact, the main Ginza restaurant is where President Obama and Prime Minister Abe had dinner in the past, and President Obama is known to have raved about the sushi here! And it is here, at the Toyosu branch, that you have the chance to enjoy such high-end sushi at a very reasonable price.
Sukiyabashi Jiro is located an eight-minute walk from Toyosu Station on the Tokyo Metro Yurakucho Line. Here, you can enjoy sushi that would normally cost several tens of thousands of yen for a limited lunch for as little as 1,000 yen.
Starting at 11:30 a.m. Monday through Saturday, a limited 25-serving set of nigiri with a small bowl of rice and soup is offered. The number is quite limited, so we recommend getting there early. The sushi is quickly made by the owner at the small counter, and it is said that the rice and the ingredients melt in your mouth at once!
Find out more about Sukiyabashi Jirou Toyosu here on Google maps.
味処いちむら Ajidokoro Ichimura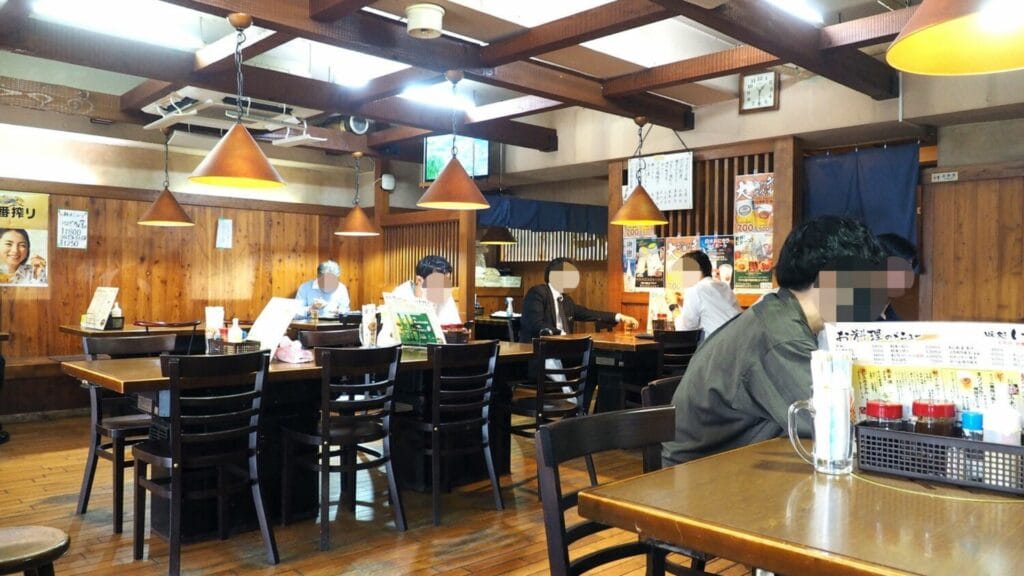 At Ajidokoro Ichimura, you can enjoy nostalgic tasting set menus at a reasonable price. This restaurant has a retro atmosphere that is different from the redevelopment of Toyosu.
On the first floor, they operate a butcher shop as "Niku no Ichimura" (Meat Ichimura), and next to it is "Obento no Ichimura" (Bento Box Lunch). Both the set menus and bentos are very popular with the office workers who work nearby, and at lunchtime, there's even a line out the door!
Ajidokoro Ichimura is also famous for its considerable number of menu items. You will have a happy problem choosing what to eat from fried and simmered dishes, sashimi, grilled fish, donburi, and more.
However, since Ajidokoro Ichimura is directly operated by a butcher shop, we recommend that you check out something from the menu that uses fresh meat. First-time visitors often order the menchikatsu set meal or the fried chicken set meal!
Find out more about Ajidokoro Ichimura here on Google maps.
India Curry Nakaei 印度カレー 中栄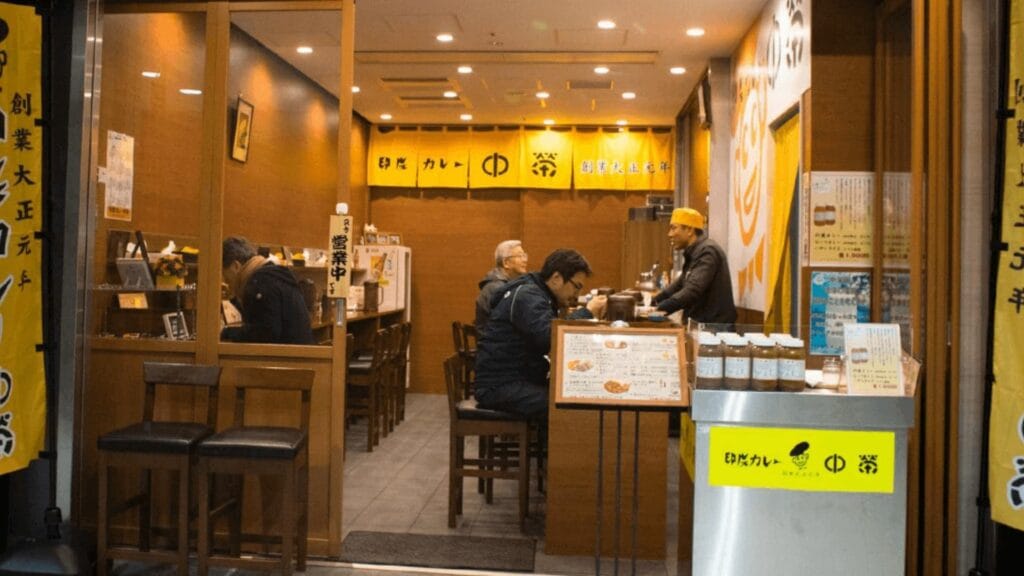 Founded in Nihonbashi in 1920, Nakaei moved to Tsukiji Market with the opening of the Tsukiji Market in 1935 and later moved to Toyosu Market. Enjoy the richly flavoured Indian curry that has accompanied the history of Tokyo's fish market.
We recommend "Indian Curry," "Beef Curry," and "Hayashi Rice. Many customers choose the "Aigake" option, which allows them to select two of these dishes.
Indo Curry is a standard pork curry with aromatic spices and a moderate spiciness that is addictive. The beef curry is slightly sweet and easy for children to eat, while the hashed rice has an elegant yet nostalgic flavour with the acidity of tomatoes.
The "Tsukiji Fish Market Seafood Curry" infused with the flavour of seafood and the "Seared Chashu Curry" are also popular dishes.
Dip a pile of their famous shredded cabbage into the curry and enjoy the high-carat gourmet cuisine of the Taisho era in Toyosu, 2025.
Find out more about India Curry Nakaei here on Google maps.
Yachiyo とんかつ 八千代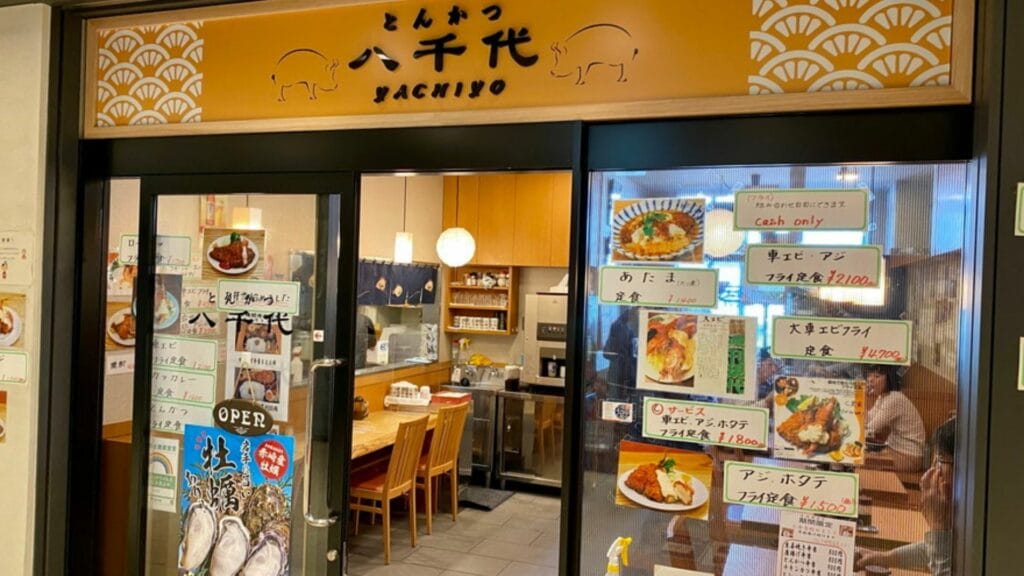 The fresh fish shines freshly in the fragrant golden brown batter. The restaurant has long attracted regular customers for its exquisite fried dishes.
The fried horse mackerel has a fluffy texture. The fluffy texture of the fried horse mackerels, combined with the crunchy texture of the batter, makes them melt lightly in your mouth.
The "C" set meal (1,800 yen), which includes fried prawns and fried scallops with an exquisite rare texture, is extremely popular as a service set meal.
Along with the fried dishes, the "Chashu Egg Set Meal" is a speciality menu item available only on Tuesdays, Thursdays, and Saturdays. The thick chashu pork soaked in homemade sweet sauce is very satisfying. The thick, rich char siu pork soaked in our homemade sweet sauce is a mouthful to eat.
The curry, which is available for an extra 100 yen, is also spicy and addictive. The atmosphere of the restaurant has changed since its Tsukiji days, but the taste and the friendly downtown service are still the same.
Find out more about Yachiyo here on Google maps.
Yajimanやじ満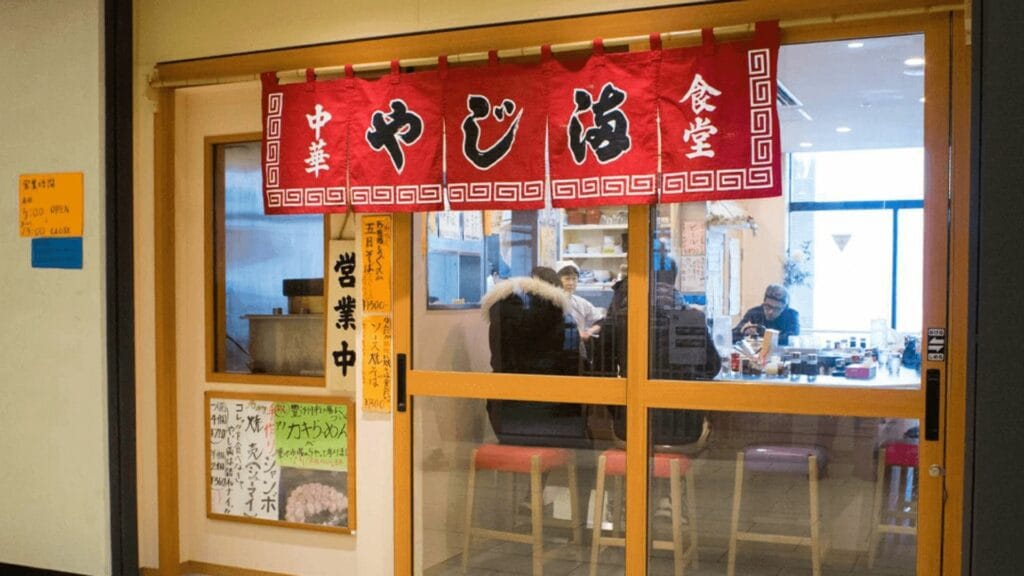 Both market workers and visitors alike enjoy visiting this restaurant. Yajiman is a long-established restaurant that has been in business for over 70 years, where customers can enjoy old-fashioned Tokyo ramen and a wide variety of Chinese dishes.
The third-generation owner has inherited the traditional taste and passion of the chef.
The "Special Chashu Wonton Noodle" is a speciality of the market, with its hearty pork and melt-in-your-mouth wontons.
The "Oyster Ramen," available only from October to March, and the "Hamaguri Ramen," which appears in spring and fall, are also well-known. The "Oyster Ramen" contains four or five large oysters and is very satisfying. The oysters are sautéed in katakuriko (potato starch) before being placed on top of the ramen.
There are many popular items, such as the mapo doufu, jumbo yakisai, leek egg bowl, and fried rice with fried pork belly, so be sure to try them all and find your favourite.
Find out more about Yajiman here on Google maps.
Tenfusa Tempura 天ぷら 天房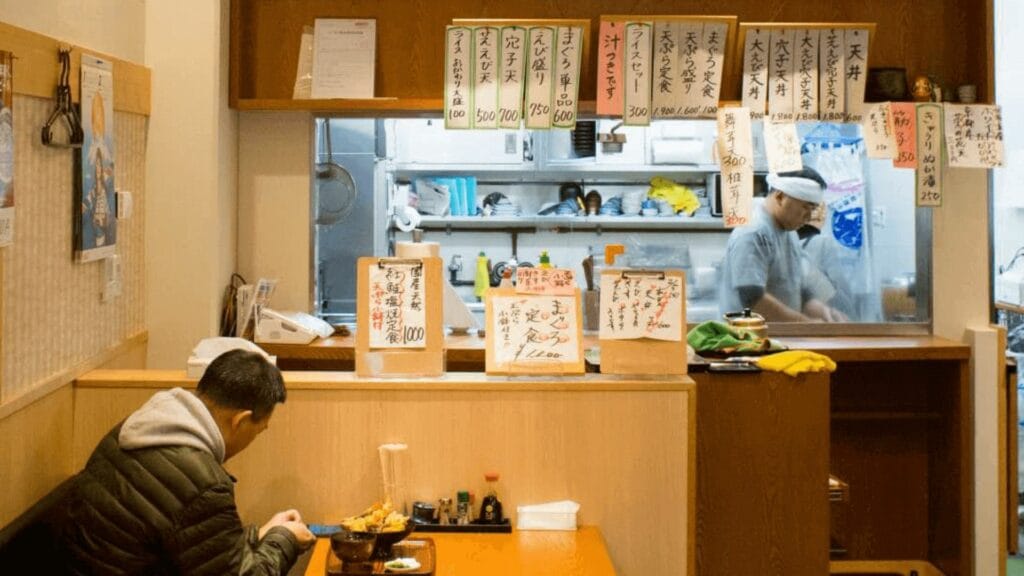 Tempura speciality restaurant Tembou is often seen serving breakfast to workers in the Toyosu Market.
Tempura fried in a special blend of soybean and sesame oil is crispy and fragrant, and its light, crunchy sound is pleasant to the ear.
The "Oebi Anago Tendon" is the best choice, with a large piece of tempura dynamically overhanging the bowl of rice. The "Oebi Anago Tendon" is a bowl of rice topped with a large piece of shrimp and eel, and the rich sauce makes you want to eat every last grain of rice.
The "Today's Tendon" also features a variety of ingredients that change depending on the day's supply. Take your time to savour the fresh ingredients of the day, such as scallops, kisses, and squid.
In addition, check out the "Tuna Sashimi Set Meal," a new menu item after the recent move to Toyosu. The combination of fresh tuna sashimi and the famous tempura has made it a popular item.
Find out more about Tenfusa Tempura here on Google maps.
Tsukiji Sushidai Honkan 築地 すし大 本館
Sushidai is known as the restaurant with the longest line in Toyosu. It is not an exaggeration to say that it is common to wait in line for two to three hours, with the reception desk sometimes closing as early as 10:00 a.m (the restaurant opens at 6:00 a.m.).
The popular "omakase set" includes 10 recommended nigiri, one nigiri of your choice, one maki, and miso soup for 4,900 yen (tax included).
The set includes Okinawa raw tuna toro, Choshi sea bream, Sanriku boiled abalone, Tokyo Bay swordfish, and Hokkaido kitayoro mussels, among others. You can fully enjoy the gems of seafood, which are prepared with the utmost care and attention to "the best".
Sushi is a popular choice for busy Edomaezushi diners, but there is no need to rush at Sushi-Dai. Enjoy a conversation with the cheerful chef while savouring a piece of the finest sushi to your heart's content.
Find out more about Tsukiji Sushidai Honkan here on Google maps.
Toritoh 鳥藤 豊洲市場店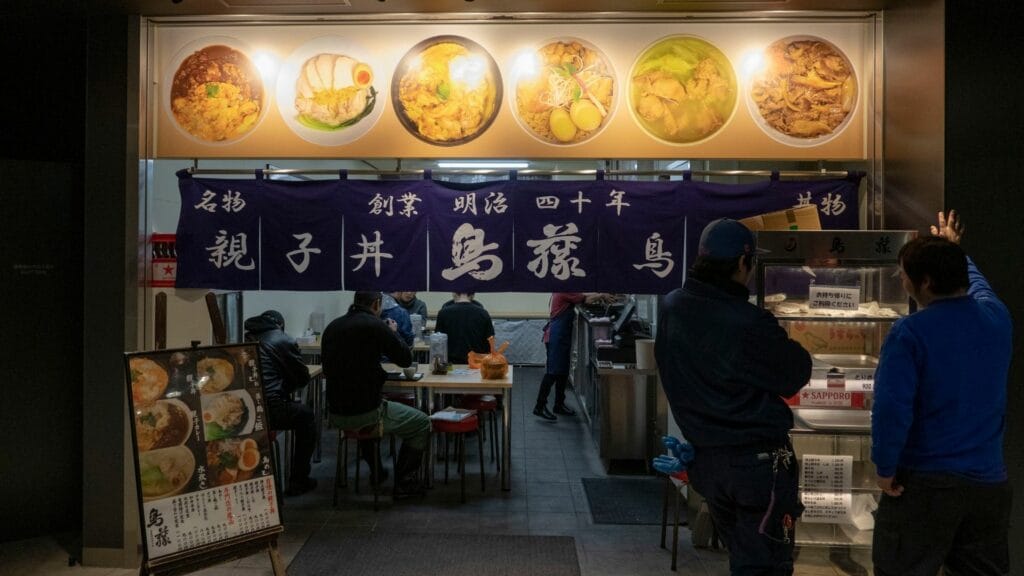 A chicken restaurant run by Torifuji, a wholesaler specialising in chicken meat established in 1907. It opened inside the Toyosu Market in 2018, following three other restaurants in the Meiji and Tsukiji areas.
The restaurant's dedication to chicken is evident in its chicken broth, which is cooked for eight hours from early in the morning. The restaurant's signature dish is oyakodon, a bowl of rice topped with chicken and eggs, which is made with chicken broth and chicken broth-based wariage.
The combination of the elasticity of the domestically raised chicken, the gentle richness of the soup, and the soft thickening of the half-boiled egg is so delicious that you will want to repeat the dish again and again.
The restaurant also offers "Tokujo Oyakodon" made with military chicken, "Oyakodon Shio" which is a light dish, and "Oyakodon Motsu-iri Oyakodon" which makes you want to drink more alcohol.
The menu also includes a wide range of dishes such as "Oyako Curry," which is a combination of the best of both worlds, "Mizutaki Chinese Soba Noodle" with a light salt flavour, and "Tatsuta-age Set Meal," a succulent dish that is irresistible. We hope that you will come back two or three times to add more dishes to your list of favourites.
Find out more about Toritoh here on Google maps.
Nakaya 仲家
Nakaya, which retains the old-fashioned teishoku-ya atmosphere of the Tsukiji era, is a restaurant where you can enjoy a special seasonal meal called "魚河岸めし" (riverside fish meals).
The signature dish is the kaisen-don, which is not only delicious but also one of the best in the Toyosu Market in terms of value. With prices in the 1,000- or 2,000-yen range, it might be worth waiting in line even if you have to wait a long time for a bowl full of fresh seafood.
One of the best value-priced dishes is the "Nakaochi-don" (1,250 yen). The rich flavour is not greasy and the lean meat, which is easily eaten, is layered on top of each other to fill you up.
There are also a variety of other options such as "4 kinds of tuna rice bowl," "sea urchin, salmon roe, and nakaochi rice bowl," and "grit, sea urchin, and nakaochi rice bowl. Some items are available only during certain seasons, which adds to the fun of visiting the restaurant.
Find out more about Nakaya here on Google maps.
Sushi Dokoro Yamazaki 寿司処 やまざき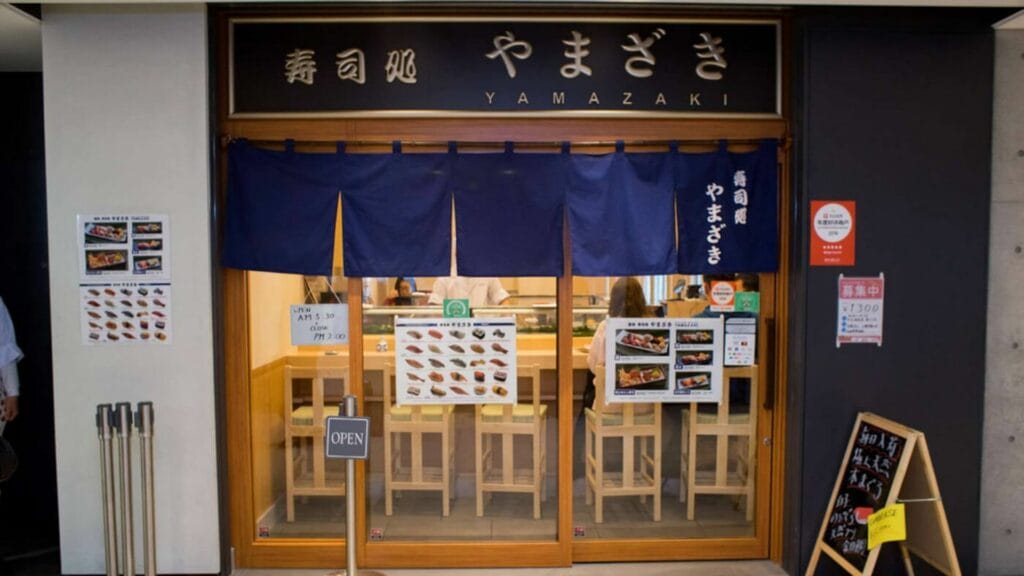 With the skills and connections cultivated over 90 years of history and a keen eye for detail, the restaurant has always pursued only the highest quality ingredients, offering the ultimate nigiri sushi. At the same time, they are careful to minimise price fluctuations.
The restaurant is so confident in its freshness that each piece of fish is surprisingly lush and fresh. The restaurant wants its customers to enjoy the sushi they love, so if there is any particular item they don't like, they will gladly accommodate it.
Often, you can find items that are not on the menu, depending on what is available that day.
Find out more about Sushi Dokoro Yamazaki here on Google maps.
Uogashi Tomina 魚河岸トミーナ
The Tsukiji era was a time when customers crowded next to each other in small stores. Compared to those days, the restaurants in Toyosu Market are now larger, brighter, and much more stylish.
However, the taste and homelike service have not changed, attracting many new fans as well as regulars from the old days.
One dish that even the most discerning of diners will be impressed with is the "Snow Crab Carbonara". The flavour of the crab is infused into the rich, creamy sauce, making it so delicious that you will want to keep eating it.
The restaurant also offers many seafood pasta dishes, such as "blue crab in cream sauce" and "hamaguri genovese," as one would expect from an Italian restaurant in the area. On the other hand, regular dishes such as "Tarako Butter" and "Neapolitan" are also popular, especially among the regulars.
The "Seafood Pizza," another popular item, is generously topped with shrimp, octopus, snow crab, and other items purchased at the market. The restaurant pays careful attention to every single ingredient, such as the use of special tomato sauce and German steppen cheese.
Find out more about Uogashi Tomina here on Google maps.
Tonkatsu Odayasu とんかつ 小田保
Tonkatsu Odayasu is a long-established Western-style restaurant with many regular customers. This is a place where you can enjoy fresh seafood unique to Toyosu, fried or grilled with butter. Choose your favourite item and you can have a set meal that includes rice and miso soup.
The "Oyster Mix Set Meal," available from October to April, offers crispy fried oysters and rich oyster butter in a single dish.
The size of the oysters is surprisingly large, and when you open your mouth and take a big bite, the rich and creamy flavour will fill your mouth with delight.
The "Ebi Katsu Tendon" (bowl of rice topped with shrimp cutlet and tempura), in which sweet, plump shrimp melds with a half-boiled egg, is one of the recommended items on the regular menu.
Other choices include the "Fugu Don Set Meal," "Anago Fried Eel Set Meal," and "Shrimp and Crab Croquette Set Meal.
Find out more about Tonkatsu Odayasu here on Google maps.
Accommodation in Toyosu
Mitsui Garden Hotel Toyoso Bayside Cross Tokyo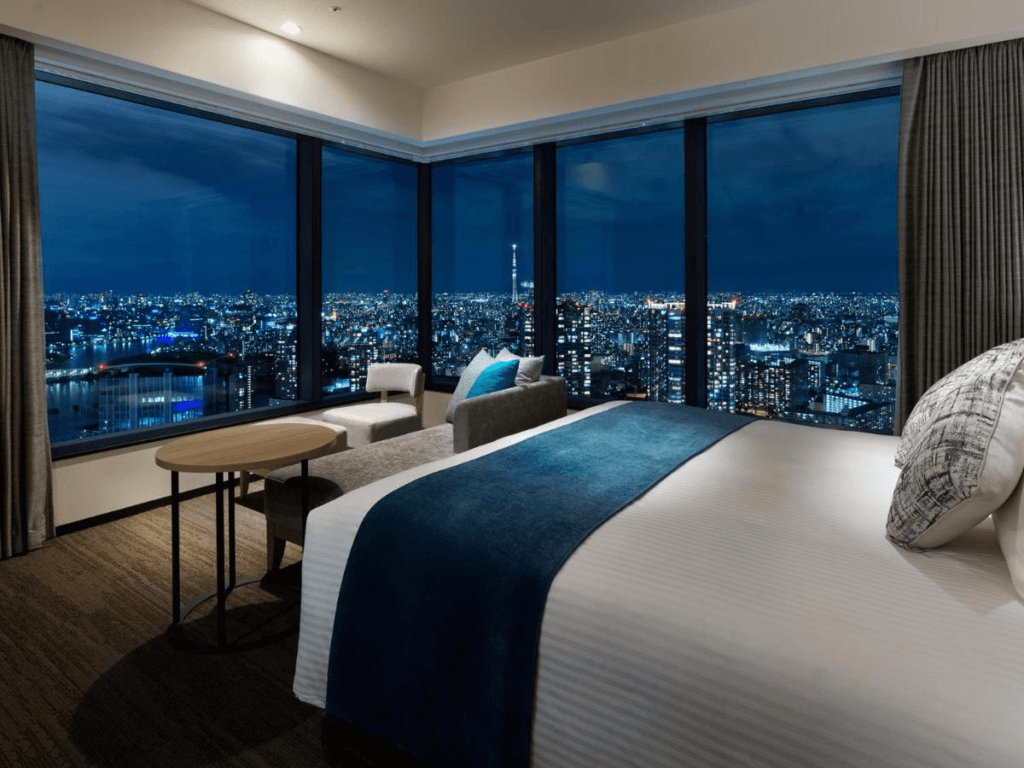 Featuring a bar, Mitsui Garden Hotel Toyosu BAYSIDE CROSS Tokyo offers rooms in Tokyo, 100 m from Urban Dock LaLaport Toyosu and 500 m from i-muse IHI History Museum. Featuring a restaurant, the 4-star hotel has air-conditioned rooms with free WiFi, each with a private bathroom. The accommodation provides a 24-hour front desk, and luggage storage for guests.
Guest rooms at the hotel are equipped with a flat-screen TV and a safety deposit box. At Mitsui Garden Hotel Toyosu each room is equipped with bed linen and towels.
Guests at the accommodation can enjoy a buffet breakfast.
Popular points of interest near Mitsui Garden Hotel Toyosu BAYSIDE CROSS Tokyo include Construction Technology History Exhibition Room, Gas Science Museum and Harumi Island Triton Square. The nearest airport is Tokyo Haneda International Airport, 21 km from the hotel.
Address: 135-0061 Tokyo-to, Koto-ku, Toyosu 2-2-1, Japan
Hotel Jal City Tokyo Toyosu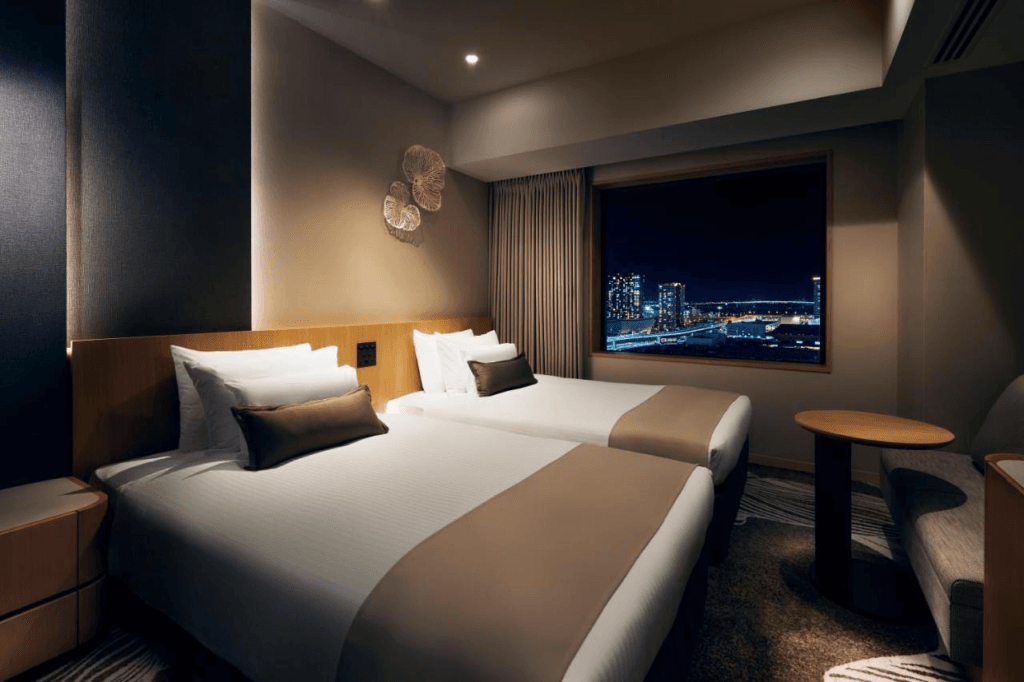 Along with a restaurant, this hotel has dry cleaning and laundry facilities. WiFi in public areas is free. Additionally, a 24-hour front desk, a convenience store, and a front-desk safe are onsite. All 330 rooms offer free WiFi and free wired Internet, plus separate bathtubs and showers and flat-screen TVs with digital channels. Guests will also find rainfall showerheads, free bottled water, and hair dryers.
Hotel JAL City Tokyo Toyosu is located in Koto, a neighborhood in Tokyo, and is near theme parks. LaLaport Toyosu Mall and Tokyo Midtown are worth checking out if shopping is on the agenda, while those wishing to experience the area's natural beauty can explore Tokyo Bay and Hibiya Park. Looking to enjoy an event or a game? See what's going on at Tokyo Dome or Nippon Budokan.
Address: 135-0061, Tokyo, Tokyo, 6-4-20 Toyosu, Koto-ku
—
Toyosu is a beautiful area full of newly-development malls and attractions. If you want to get away for a day from the busy city, drop by Toyosu for a relaxing day strolling around the bay. Besides Toyosu, there are other neighbouring areas in the area with a lot to offer, make sure to check them out when you get a chance to visit. Enjoy your adventure around Toyosu, and refer back to this guide whenever you need to! If you have any questions, feel free to reach out anytime!