The temperature is getting hotter and it's finally time to put your big winter coats away. The long cold winter days are coming to an end! Summer in Japan is an amazing time to go out and enjoy lots of exciting outdoor activities and indulge yourself in incredible food and sweets. If you don't plan soon, summer will go by surprisingly fast. If you are wondering what to do in summer in Japan, we have compiled a list of things you must do in the summer.
What to do in Summer in Japan
1. Eat trendy shaved ice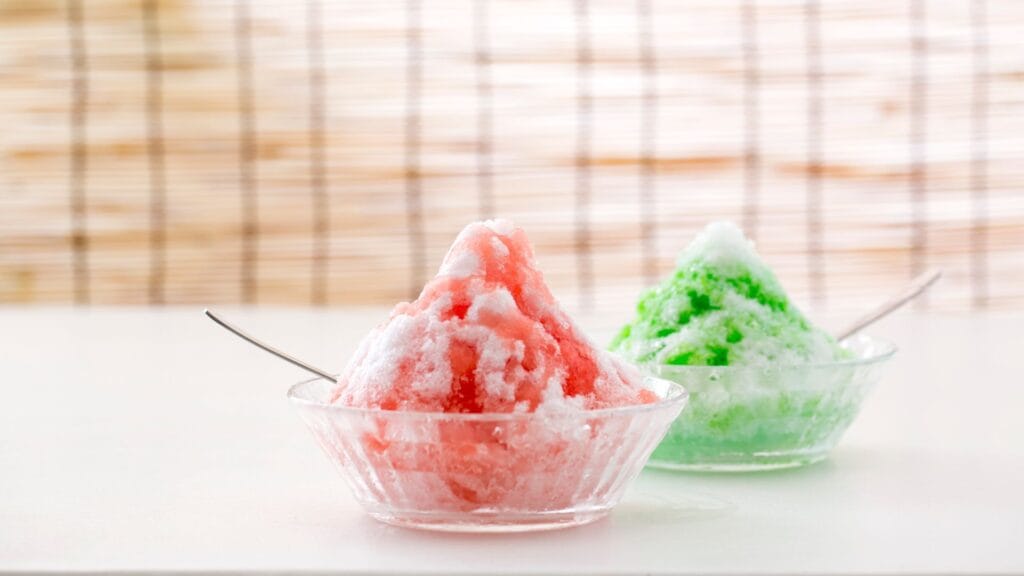 Shaved ice is one of the things you want to eat in the hot summer. When you eat shaved ice, your body will feel revived and the summer heat has worn off. One popular shaved ice store in Tokyo is Yorozu Chaya (浅草よろず茶屋444). Located in Asakusa, this store offers gorgeous shaved ice that looks and tastes luxurious.
The popular "Melon Milk" is made with half of a fresh and ripe melon which is filled with slightly sweet milk-flavoured shaved ice. Reservations are needed as the store is popular with a long line of customers every day. The shaved ice is so hearty that it will help you get through the hot summer months!
2. Going to the beach
Summer is all about the beach. The glistening sea in the sunlight, the pure white sandy beaches, and people having a great time…that's summer in a nutshell, isn't it? If you don't go to the beach at least once in the summer, you might regret it.
Zushi Beach is very popular because it is close to the city centre and easily accessible by car or train. It is not the cleanest beach and it gets very crowded. If you don't mind a bit of a commute, you might want to check out Shimoda in Izu Peninsula. It is a gorgeous long beach with white sand and great waves.
3. Visit sunflower fields
You might not associate summer with sunflowers but sunflowers are actually at their best from July to August. This summer, why not be surrounded by sunflowers in a sunflower field? You are sure to create memories you have never had before.
About 300,000 sunflowers create a beautiful scene at the Nogi-machi Sunflower Field in Tochigi Prefecture. The Sunflower Festival takes place over two days on Saturday and Sunday in late July every year. Besides this festival, there are many places where you can enjoy sunflowers. Come capture the flowers of summer on your camera.
4. Enjoy the fireworks
Fireworks festivals are a must-go summer event, and although many were cancelled in the previous years due to the pandemic, many are scheduled to be held this year.
There are many fireworks displays held mainly in the summer, but one of the biggest ones is the "Lake Rindo Fireworks Display" held at Nasu Highlands in Tochigi. Approximately 3,500 fireworks light up the night sky. Besides this festival, there are many firework festivals happening around different cities and areas of Japan.
5. Stay at a summer resort
While it is nice to enjoy summer in a flurry of activities such as swimming, BBQs, and marine sports, it is also a great way to relax during summer in Japan. One great way to do that is by visiting a summer resort.
Karuizawa has some of the most famous summer resorts in Japan. With easy access from Tokyo, outlets, and stylish spots, it is easy to see why it is so popular. When you visit, make sure to stop by Furiko Chabo. You can enjoy excellent sweets and other delicacies while getting in touch with nature.
6. Water Sports
Japan is a perfect destination for water sports of all types, as an island nation with heavy rainfall. From whitewater canoeing to sea kayaking, scuba diving, snorkelling, and surfing, the quantity and quality of water sports rival any place in the globe.
With no region of the nation more than 93 miles from the sea, Japan is an ideal vacation location for people who want to blend culture and relaxation, combining temples and castles with time on the beach, catching some waves, or learning more about Japan's marine life.
There are a lot of different marine activities that you can participate in.
Want to try surfing in the ocean but can't muster up the courage? In this case, we recommend "citywave," an artificial surfing facility located in "Spor Shinagawa Oimachi. You can adjust the size of the waves according to your level, so even beginners can enjoy surfing.
Surfing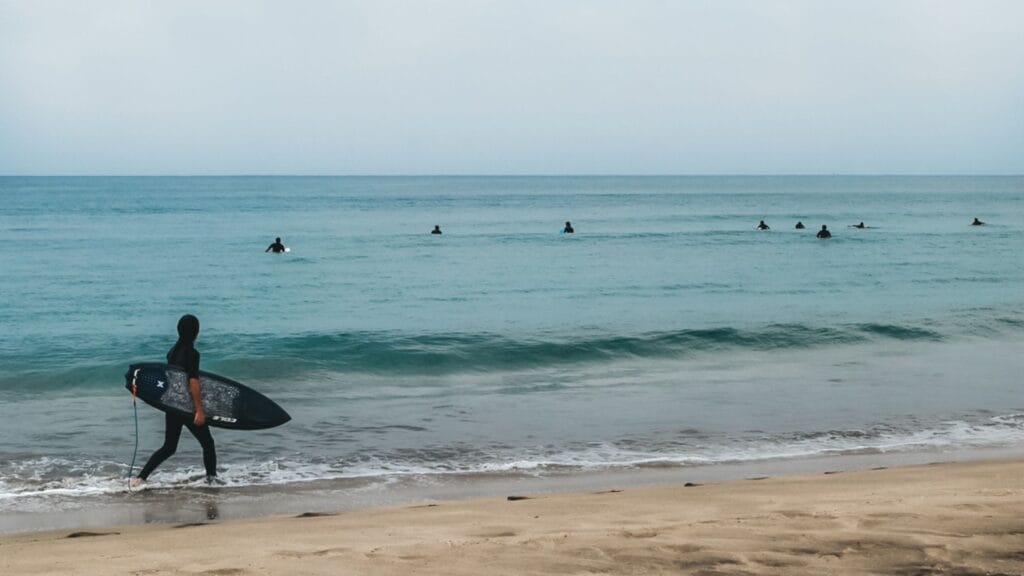 Irino – This beach in Kochi City is known as one of the top surfing sites, and you may see sea turtles laying their eggs on the sand. Tosa-irino is the nearest station.
Okinawa – Okinawa's tropical islands are home to a plethora of white-sand beaches, making it a natural destination for surfers and beachgoers.
Shikoku – The southern coast of Tokushima Prefecture and neighbouring Koichi in Shikoku both feature good surf. The best of the lot is Ikumi Beach.
Diving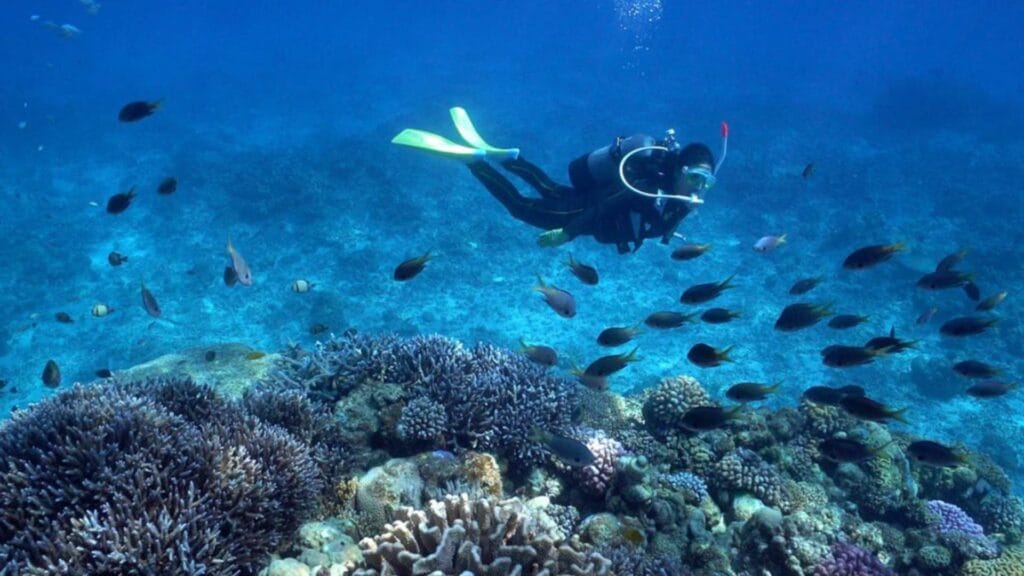 Yakushima is a city in Japan (Kagoshima)
Yakushima is arguably Japan's most recognised diving site for observing sea turtles, and it's where turtle enthusiasts should go. It also has a variety of rare species, such as Scorpionfish, Lionfish, and Moorish idols, due to its location off the coast of Kyushu. You may get to Yakushima Island by taking the Shinkansen to Kagoshima and then transferring to a boat, jetfoil, or aircraft with your JR Rail Pass.
Ishigaki and Yonaguni (Okinawa)
These are two of Okinawa's most well-known diving destinations. Sunken wrecks, stunning undersea ruins, and, of course, fantastic aquatic life, including hammerhead sharks, make Yonaguni famous across the world. Meanwhile, Ishigaki is known for its magnificent tropical seas, coral reefs, and diverse marine life, including angelfish, manta rays, and butterfly fish.
7. Enjoy beer gardens
In the summer, many restaurants hold beer gardens. Beer gardens can also be enjoyed in the city centre.
WILD BEACH TOKYO SKY RESORT SHINJUKU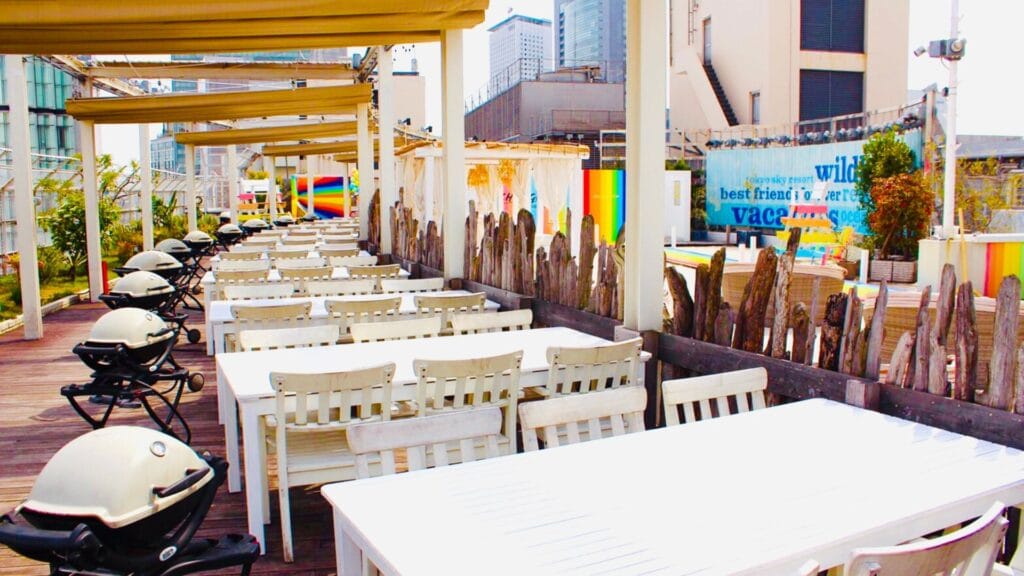 WILD BEACH TOKYO SKY RESORT SHINJUKU is a café with a "BEACH in the City " idea. That is why 15 tonnes of beach sand has been delivered to Luminest, a youthful retail mall in Shinjuku, to be sprinkled all over the rooftop. On the beach, there are also beach mattresses, couches, and pink parasols. Beach Cafe, BBQ Garden, and Glamping Terrace are the three areas of the cafe. You may drink and eat French BBQ food in every location, but the BBG Garden and Glamping Terrace are highly suggested for serious barbecue fans. Just take a stroll through the picturesque beer garden!!
BBQ Beer Garden Ablaze by Hilton Tokyo Odaiba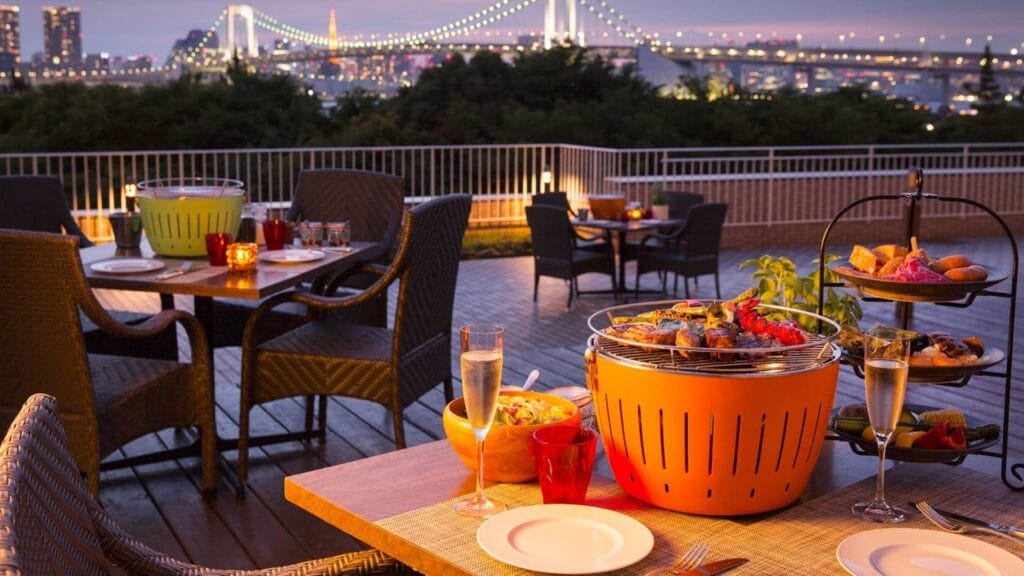 Want to drink as much beer as you want on the shores of Tokyo Bay? This summer, the Hilton Tokyo Odaiba provides a wonderful beer garden called BBQ Beer Garden Ablaze on the coastline of Tokyo Bay.
The renowned hotel provides excellent meals such as chosen beef, pig sparerib, bacon, chicken kebab, and so on. Aside from the delicious food, you may take advantage of all-you-can-drink offers on beer, wine, whiskey, and sparkling wine.
The beer garden offers open-air seating with views of Tokyo Bay and the Rainbow Bridge, the area's icon. In the evening, you can see the bridge illuminated. You don't need to bring any grilling equipment to the beer garden, of course.
MATSUYA GINZA Utsukushikunaru Beer Garden
The opulent Utsukushikunaru Beer Garden may be found on the roof of the opulent department store Matsuya Ginza.
The beer garden's theme is "Good for Beauty," which is what the Japanese word "Utsukushikunaru" means. Salad, BBQ meals, green curry, dessert, and several dishes with Japanese superfood Tofu are among the healthful options available. Sagamiya, a well-known tofu producer, makes the tofu. Their food is not only excellent but also attractive and picturesque!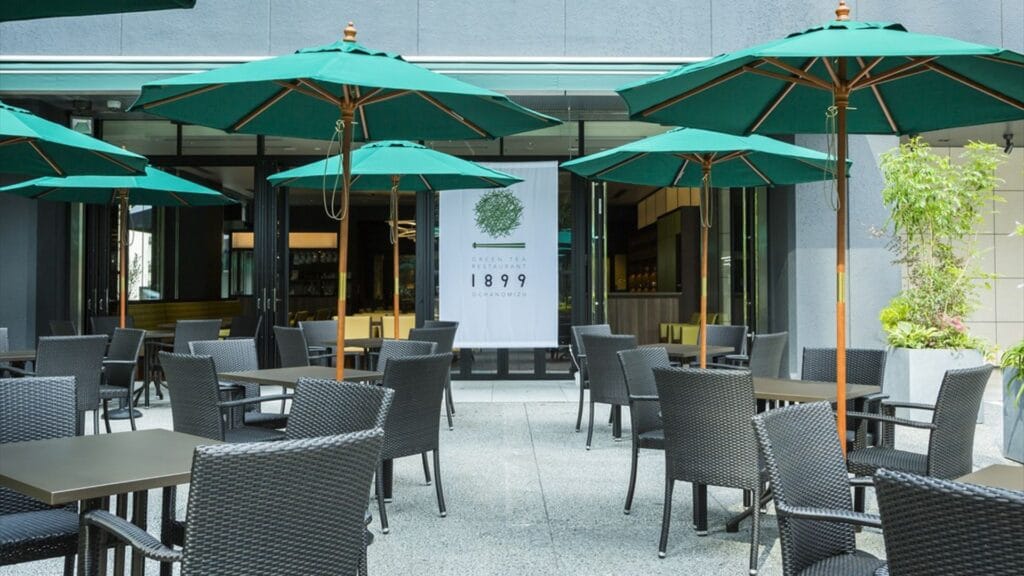 Green Tea Beer Garden is hosted by Green Tea Restaurant 1899, which is part of the Hotel Ryumeikan Tokyo, which has a history of over 100 years.
The restaurant's speciality is Japanese tea. Green tea beer, which is essentially beer and green tea combined together and has the bitter flavour of each component, is something you should absolutely try there.
Green tea beer, green tea wine, tea beer, and more beverages are on the all-you-can-drink menu. Sausages, karaage (Japanese fried chicken), and grilled potato are just a few of the recipes that include Japanese tea. Vegetables with a green tea dip are also popular among Tokyo residents.
8. Participate in popular summer festivals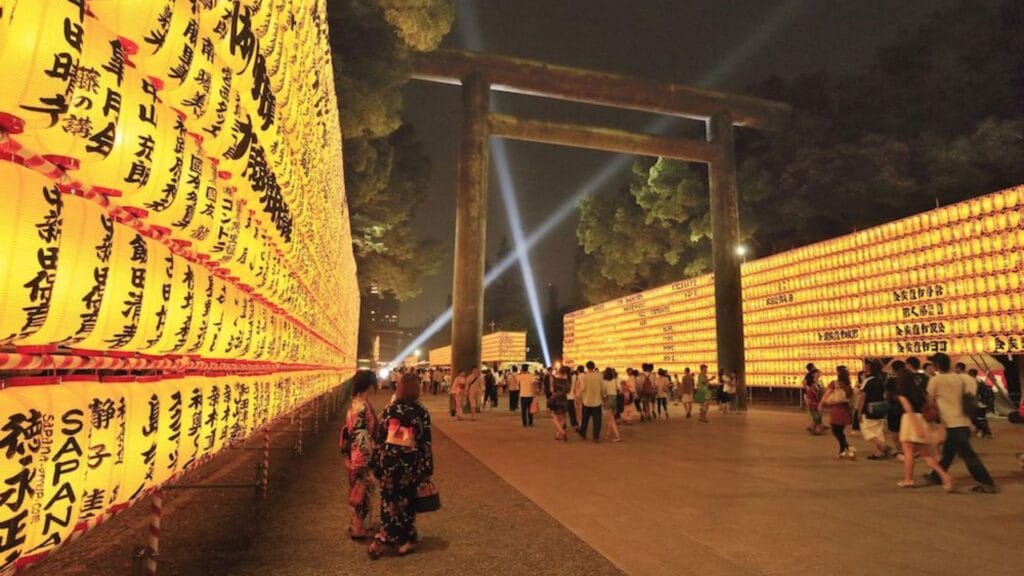 As with fireworks festivals, summer festivals are a big part of summer in Japan. There are many different summer festivals you can participate in. There are massive summer festivals, where roads are closed off. There are also smaller-scale local summer festivals that are enjoyed by the community. Check out different shrines in your area to participate and feel the spirit of Japan.
One festival you might want to check out is "Mitamatsuri" held at Yasukuni Shrine. This festival has been held since 1947, and many people may think of this festival when they think of summer at Yasukuni Shrine. 
9. Summer chilled delicacies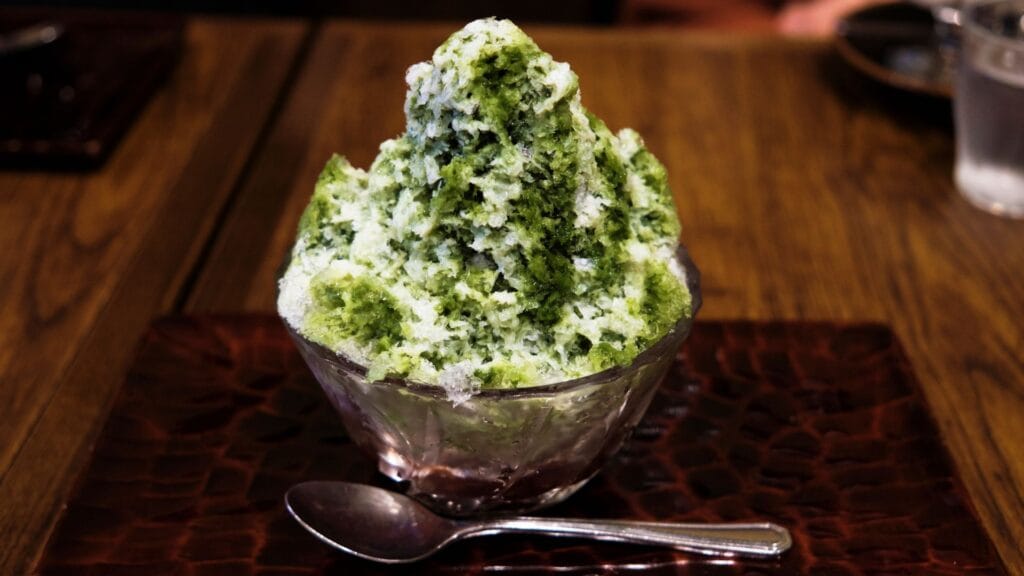 Kakigori is a classic Japanese shaved ice delicacy that is flavoured with strawberry, melon, lemon, cherry, blue raspberry, Japanese citrus, sweet plum, and grape syrups. Kakigori has a smooth, light, and fluffy texture that melts in the mouth like newly fallen snow. Condensed milk, mochi, green tea, ice cream, sweetened red beans, and other toppings are popular. During the summer, kakigori may be purchased at convenience stores, restaurants, and food stands, including dessert shops and tea houses! You can simply find a spot to enjoy it everywhere you go.
Zaru Soba is a cold buckwheat noodle meal with a dipping sauce that is popular in Japan during the summer. In Japanese, zaru refers to a colander or strainer, and cold Soba noodles are typically served on a slotted bamboo mat that allows water to drop through. Zaru Soba is a fantastic way to fight the oppressive summer heat in that country. Soba is a popular Japanese dish and is significantly healthier than other noodles manufactured from refined flour, which is one of the reasons for its popularity. Soba is lower in calories and higher in nutrients including Vitamin B, minerals, and fibre. 
10. Climb Mount Fuji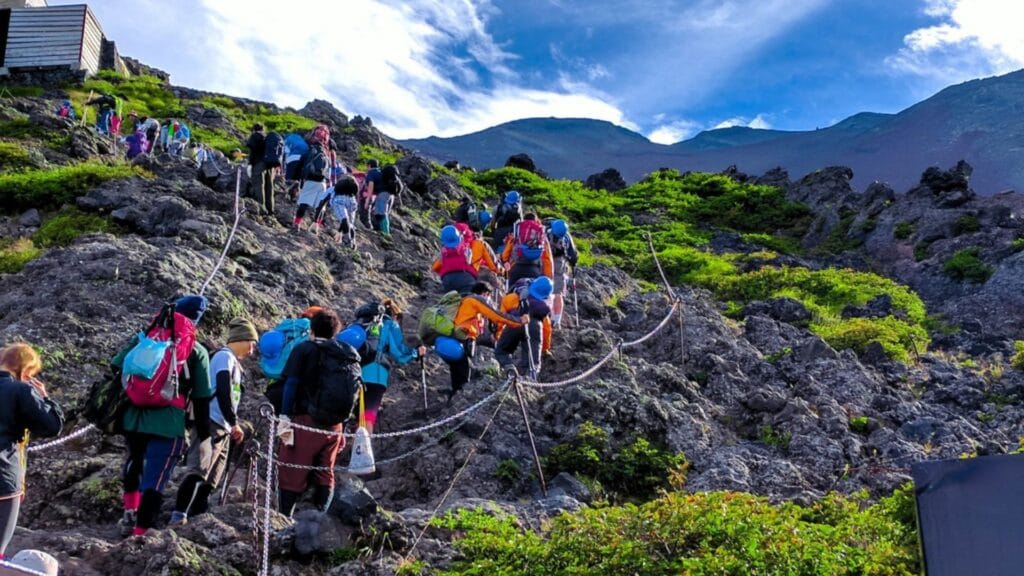 The formal climbing season runs from early July until mid-September when the trails and mountain amenities are open. During this time, the mountain is normally snow-free, the weather is pleasant, public transit is convenient, and the mountain lodges are open. It is recommended that anyone with little hiking expertise attempt the peak during the official climbing season. Dates vary depending on the year and terrain. They have been set as follows in recent years: 
July 1 to September 10: Yoshida Trail
July 10 to September 10: Subashiri, Gotemba, and Fujinomiya Trails
Climbing Mount Fuji is immensely popular among both Japanese and international tourists, with foreign tourists accounting for more than a third of all hikers. We recommend climbing Mount Fuji on a workday in the first half of July, before the start of the school vacations, to avoid encountering either too big or too few crowds. The negative to climbing in early July is that the weather is more unpredictable than later in the season.
—
What do you think of these 10 ways to enjoy summer in Japan? Have you figured out what to do in the summer in Japan? If you have experienced all of the 10 things you will regret if you don't do this summer, you will be able to say with confidence that you have this summer under control. Let's all look forward to summer!