Have you ever heard of the Tokyo neighbourhood, Yotsuya-sanchome? Are you thinking about visiting this unique area of Tokyo or even staying in Yotsuya-sanchome, and wondering what are some things to do, places to visit and restaurants to check out?
There are so many neighbourhoods and areas in Tokyo. Besides the famous towns like Shinjuku, Shibuya and Harajuku, there are many incredible places and spots in Tokyo that are worth a visit. If you're looking to visit a local neighbourhood and check out some hidden gems, Yotsuya-sanchome might be a great place to check out. In this Yotsuya-sanchome area guide, let's have a look at what to do in Yotsuya-sanchome, where to eat and drink in Yotsuya-sanchome, where to stay in Yotsuya-sanchome and some hidden gems in the area.

One of the best ways to explore Tokyo is to visit the local areas and immerse yourself in the local culture. If you want to explore local areas, we have created scavenger hunt adventures personalised to your interests, filled with fun facts, clues and puzzles. If you're curious, you can check out the games here!

Check out the Flip Japan Games here!

What is Yotsuya-sanchome?
The area around Yotsuya Sanchome Station is a safe city with easy access to Shinjuku. It only takes 4 minutes to get here from Shinjuku Station, with many different subway and JR lines available in the area.
There are a lot of restaurants, shops and things to do near Yotsuya-sanchome station, but within a 5-minute walk, it turns into a quiet residential area. Yotsuya-sanchome has a lot of character with many shrines and temples and you can feel the history in the area.
Things do in Yotsuya-sanchome
Yotsuya Suga Shrine 須賀神社
It takes about 12 minutes on foot to get to Yotsuya Suga Shrine from the Akasaka exit of Yotsuya station. Suga Shrine is a historical shrine that has been in Yotsuya since the early Edo period. The annual festival was called the "Tenno Festival" in ancient times and it is held in June here every year and is known as one of the five major festivals in Edo. Suga Shrine is the guardian of the eighteen districts of Yotsuya, and has been enshrined in Yotsuya since the early Edo period. It is also known for its narrow stairs that lead up to the shrine. It is a key scene in the animated movie called "Your Name" (Kimi no Na Wa).
Find out more about Yotsuya Suga Shrine here on Google maps.
Sainenji 西念寺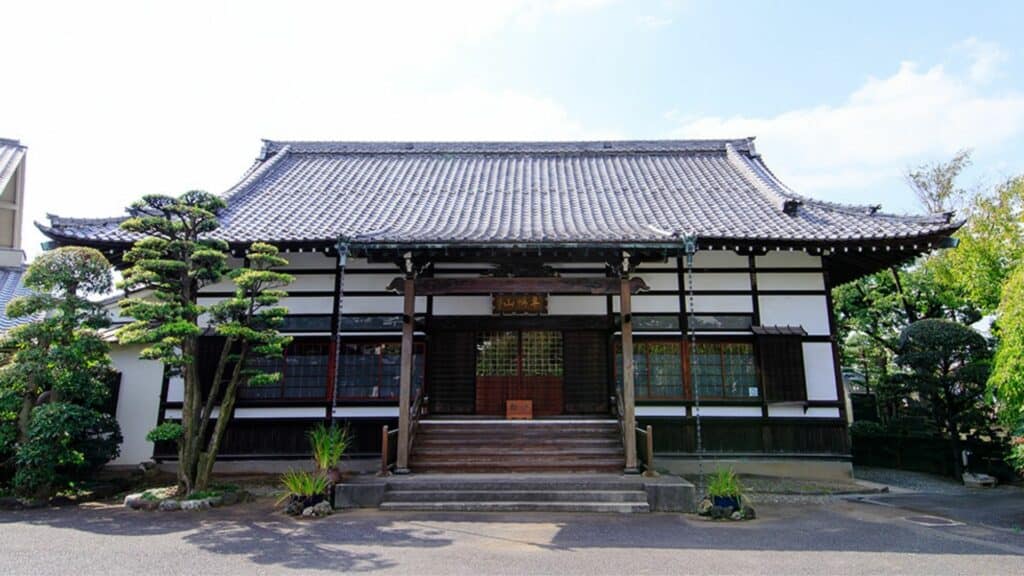 Sainenji was founded by Hattori Masanari, a legendary ninja. It is a temple built to commemorate honourable Nobuyasu Matsudaira, Tokugawa Ieyasu's eldest son.
Hattori Masanari was born in Mikawa Province (former Aichi Prefecture) in Tenmon 11 (1542) as a child of the ninja "Hanzo Yasunaga the First". Yazunaga was a leader of a ninja group and Masanari served Ieyasu Tokugawa as a samurai. Masanari was a master of spears and he had the nickname of "Oni no Hanzo (Demon Hanzo)" and was given a spear by Ieyasu as a gift. This spear became the temple's treasure and it was registered as one of the designated cultural properties of Shinjuku.
Masanari shaved his hair to enter the Buddhist priesthood and changed his name to "Sainen". His Buddhist name is "専称院殿(Senshoinden) 安譽(Anyo) 西念 (Sainen) 大禅定門 (Daizenjomon)". When the temple was built in his name, and the temple's name including prefixes was after his Buddhist name, 専称山(Sensho-san) 安養院(Anyo-in) 西念寺(Sainen-ji).
Find out more about Sainenji here on Google maps.
Oiwa Inari Tamiya Shrine 於岩稲荷田宮神社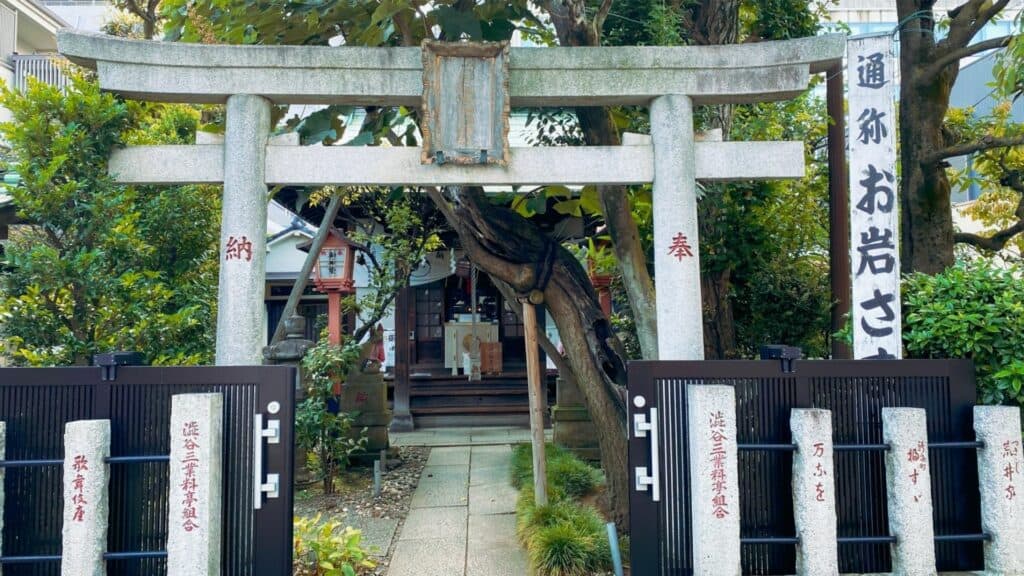 Oiwa Inari is believed to be located at the site of the former Tamiya family's mansion. Originally a shrine built from the Inari shrine in the Tamiya family, it is known for its connection with the "Tokaido Yotsuya Kaidan", one of the most famous Japanese ghost stories.
This ghost tale is about betrayal, murder and revenge. The story talks about Tamiya Iemon, who falls in love with another woman, Oume and decides to kill his wife, Oiwa. Oiwa's looks are destroyed and die cursing Iemon. After that, the ghost of Oiwa haunts Iemon and leads Iemon's mother, Iemon and other people to their deaths. After the deaths, the Tamiya family continued to have strange and tragic accidents happen, they believed it was the result of Oiwa's curse. To calm the ghost of Oiwa, a shrine was built here. There is a statue of Oiwa inside the main building here.
It's believed that before performing this tale of "Yotsuya Kaidan" in a play or movie, an accident will happen if you do not visit this shine and pay your respects in advance.
Find out more about Oiwa Inari Tamiya Shrine here on Google maps.
Tokyo Toy Museum 東京おもちゃ美術館
Tokyo Toy Museum is run by the Art and Play Creation Association, a certified NPO that promotes "multi-generational exchange" and "living with trees".
Approximately 5,000 toys are exhibited in 10 classrooms in an old school building built before the war. There are more than 10,000 toys that you can play with. There is also a toy workshop held here, using recycled materials.
There are so many things you can do here. You can find award-winning toys and the latest award-winning toys since 1985 here. The "Good Toy" section has a toy award system that is decided by the votes of play specialists. Every year, a toy consultant selects and chooses toys on the market to be displayed here. In the exhibition hall, you can compare the history of toys, regions and countries from the collection of 100,000 items in 100 countries.
Their toy shop is one of Japan's leading toy shops, with a lineup of wooden toys, including popular toys in the museum and works by toy writers from all over Japan.
Price: Adults: ¥ 1,100 Children: ¥ 800
Find out more about Tokyo Toy Museum here on Google maps.
Shinjuku Historical Museum 新宿歴史博物館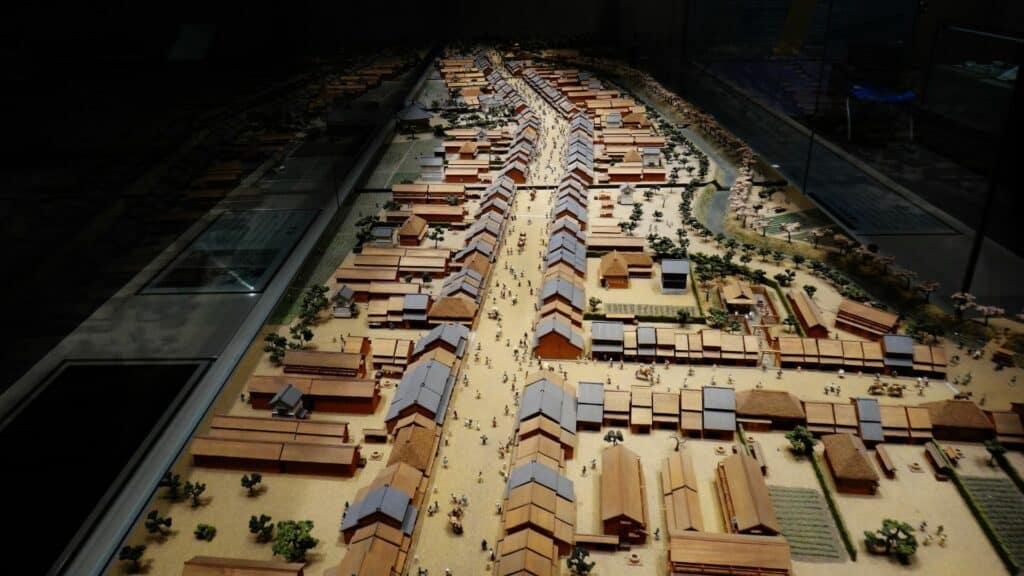 Shinjuku Historical Museum looks into the history and culture of Shinjuku. There is a permanent exhibition and a special exhibition. There are all kinds of research, information and resources related to the local history and culture of Shinjuku here.
The permanent exhibition of the Shinjuku Historical Museum here collects and stores materials related to the history and culture of Shinjuku Ward. You can find all kinds of cultural items buried in the area of Shinjuku from the Paleolithic period to the Edo period. You can find information on the post station of Naito Shinjuku, samurai residences and townhouses in Edo city, and suburban rural areas and witness the history and lifestyle of the Shinjuku area. You can also learn about the literary people who lived in Shinjuku and their works, as well as literary works that sculpted Shinjuku.
Price: General 300 yen, elementary and junior high school students 100 yen
Find out more about Shinjuku Historical Museum here on Google maps.
Wakaba East Park 新宿区立若葉東公園
Wakaba East Park is located near Yotsuya Station. It is a park designed to be in harmony with the Akasaka Palace. It is a park that spreads to the left and right across the tree-lined avenue of tulip trees, with the Akasaka Guest House in the middle. The western garden surrounding the Akasaka Guest House with fountains and different seasonal flowers.
This park is also known as the "Plaza in front of the Guest House" or the "Triangle Park" because it has a triangular shape. The centre is a cobblestone road, and both sides are filled with greeneries.
Find out more about Wakaba East Park here on Google maps.
金丸稲荷神社 Kanemaruinari Shrine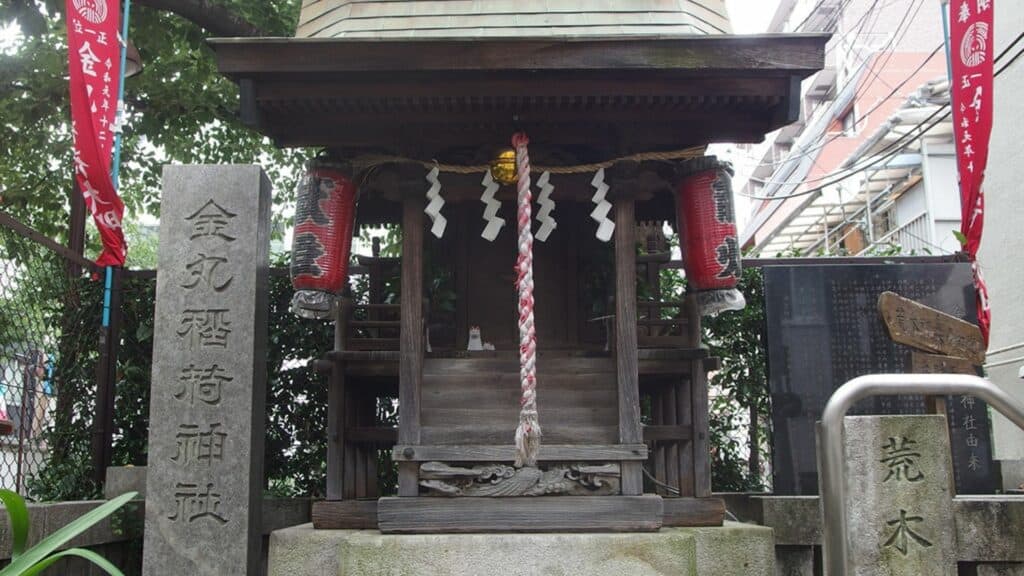 Kanemaruinari Shrine is an Inari shrine located in Araki-cho, Shinjuku-ku. Kanemaruinari Shrine is said to have been built in 1683 as the guardian deity of the Matsudaira Settsu Morikami residence, the lord of the Takasu feudal lord of Mino Province.
This Kanemaruinari Shrine enshrines Ukanomitama (宇迦之御魂神) as a deity. Ukanomitama is worshipped as a god of prosperity, treasure, and safety, and it is believed that Ukanomitama helped the town escape the disasters of the repeated fires in Edo and the Great Kanto Earthquake of 1923.
At the time of the bombing of Tokyo on May 24, 1945, the entire town was unfortunately burned down, but the fact that there was no death among the townspeople was presumed to be because of the protection of Ukanomitama.
Find out more about Kanemaruinari Shrine here on Google maps.
津の守弁財天 Tsunokami Benzaiten
The Mamoru Settsu, which was given by the Tokugawa Shogunate in the current Yotsuya district as a mansion, created a scenic garden in the mountains and valleys in the residence, and Tsunokamizaka is the remnant of that.
Tsunokami Benzaiten stands quietly in the residential area of ​​Araki-cho, Yotsuya, and when this area was a residential home, there was a large pond around it. Currently, only a small pond is left next to this Benzaiten. The deity of the shrine is Benzaiten, one of the seven gods of good fortune and the patron deity of Buddhism. Benzaiten, which is also known as the god of learning and music, has long been popular in this area where there were many geisha in the Hanamachi area.
The date of its foundation is unknown. From ancient times, there was a Benten shrine on the banks of a pond called Muchi no Ike. It is said that Tokugawa Ieyasu washed his whip with well water when he was hawking and the clear water fell into the pond, hence the name of the pond.
In the middle of the Edo period (1603-1868), the lord of the Takasu domain in Mino province (the present-day Gifu Prefecture), Matsudaira Settsu no Mamoru, took over this area and made it his residence. The name of this shrine, "Tsu-no-Mori", comes from the feudal lord, Settsu-no-Mori, who once had the took residence here.
In 1956, the shrine was moved to its present location and rebuilt.
Find out more about Tsunokami Benzaiten here on Google maps.
Akasaka Palace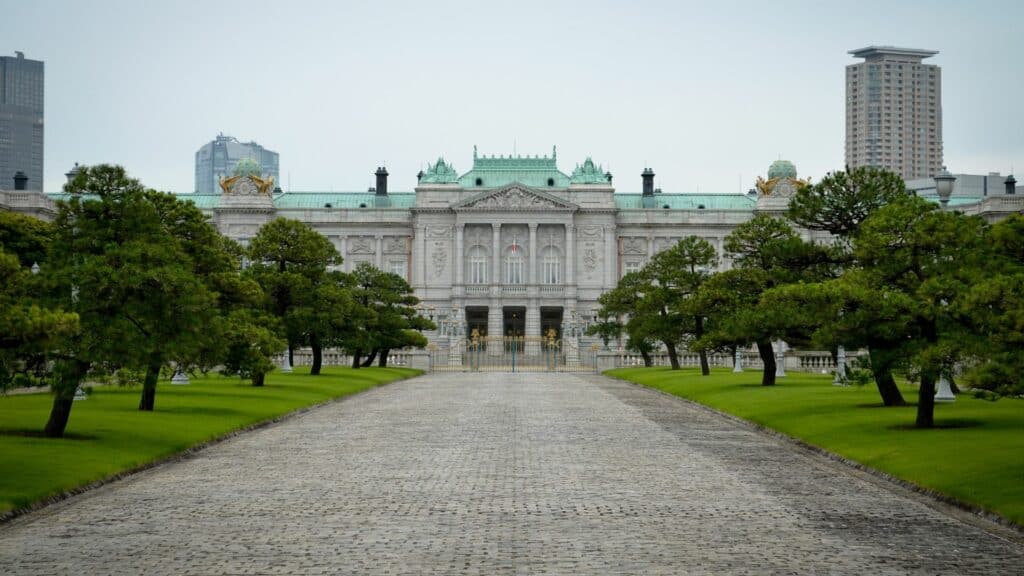 The Guest House Akasaka Palace is the only neo-baroque palace building in Japan that was built as the Tomiya Imperial Palace in 1902. It is a building that brings together Japanese architecture, art and crafts from the time, and shows full-scale modern Western-style architecture in the Meiji era.
Ten years after World War II, Japan started welcoming guests from abroad, so a large-scale renovation was carried out on the national guesthouse and a new Japanese style annexe was established. Together with this in 1974, it became the current guest house.
After the large-scale renovation work carried out in 2009, Akasaka Palace was designated as a national treasure as one of the representatives of Japanese architecture. Besides welcoming many kings, presidents, and prime ministers, it is also used as a venue for international conferences.
There are four visiting courses: Main building & garden, Japanese style annexe & main building & garden, Japanese style annexe & garden and garden on its own.
Find out more about Akasaka Palace here on Google maps.
Restaurants in Yotsuya-sanchome
Quattro Valli
Quattro Valli is a restaurant where you can enjoy delicious Italian food. You can enjoy dishes made with seasonal ingredients, such as organically-grown pesticide-free vegetables and fresh seafood. They have a large selection of Italian wines as well as desserts. The lunch menu here includes salads and drinks to go along with your main dish. It's a cosy shop and you can take your time and enjoy your meal. The dessert menu here is very popular! For dinner, their course meal is very popular, with an assortment of 4 appetizers, seasonal hot vegetables, pasta of the day, chicken, along with 2 kinds of desserts and coffee/tea of your choice.
Find out more about Quattro Valli here on Google maps.
Tonkatsu Suzushin
About a 4-minute walk from Yotsuya Sanchome Station, Tonkatsu Suzushin is a pork cutlet shop that has been in business for 60 years since the Showa era. This restaurant has a calm atmosphere. The signature menu Kakekatsudon is a gem and you can enjoy the crispy texture of the cutlet batter with the egg on top. It's a popular restaurant where you can enjoy delicious freshly fried pork cutlet, so it's best to visit early at lunchtime.
Find out more about Tonkatsu Suzushin here on Google maps.
Taiyaki Wakaba たいやき わかば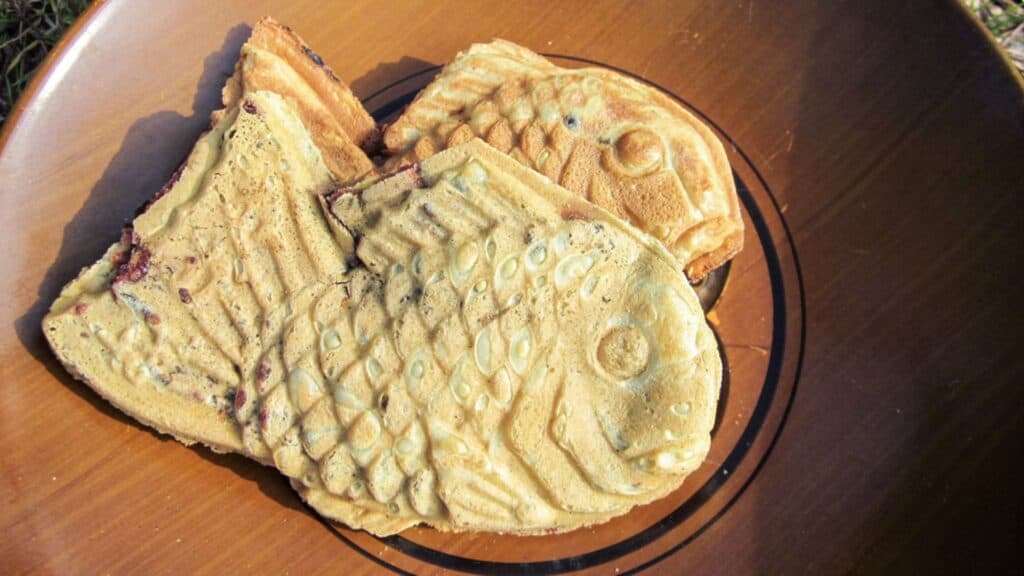 Taiyaki Wakaba is a Taiyaki restaurant loved by office workers and students that commute to this area. It's about a 5-minute walk from the Akasaka exit of Yotsuya station. Taiyaki here costs 180 yen (tax included) per taiyaki, and the bean paste is not too sweet. The bean paste and dough are homemade and each taiyaki here is carefully baked one by one by the original mould and they are crispy and delicious. You can dine in or take it to go.
Find out more about Taiyaki Wakaba here on Google maps.
Dashienka だあしゑんか
There are apparently only 3 Czech restaurants in Japan. Dashienka is a relaxing restaurant where you can enjoy different traditional Eastern European dishes, which is rare in Japan. They also have some Slovak traditional foods and drinks. The representative dishes of this restaurant include Beer stewed goulash and Knedriki. The beer stewed goulash is a beef stew made by stir-frying onion until it becomes light brown and then slowly simmering it for at least 2 hours using draft beer and herbs. Knedriki is fermented bread dough, which is unique to Czech Republic. It is very popular as a bread to accompany stews, and the texture like the fluffy meat bun skin makes you feel nostalgic.
Find out more about Dashienka here on Google maps.
Taishio Soba Touka 鯛塩そば 灯花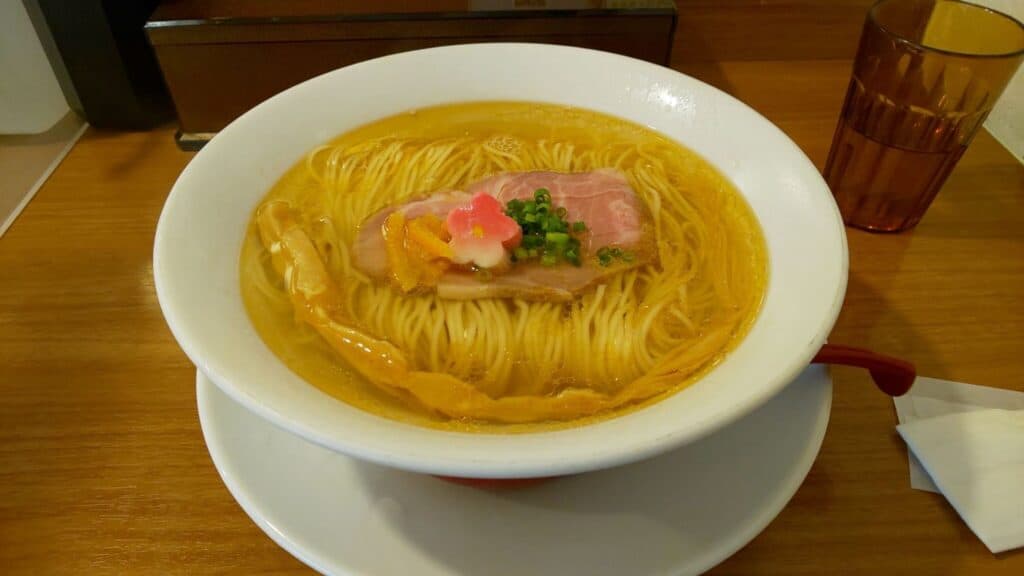 Taishio Soba Touka is the second brand of "Taishio Soba Touka". The owner, who develops more than 50 kinds of new menus a year, opened this second brand "Taishio Soba Toka" that focuses on sea bream. It quickly became a popular restaurant and has won different awards.
Their famous sea bream soup is made with red sea bream. The transparent golden soup is a sea bream soup made with only sea bream. Fresh red sea bream from Uwajima City, Ehime Prefecture, which is the number one red sea bream producing area in Japan, is sent directly from the producing area to create this broth. The salt sauce that is combined with the soup uses "Ichi no Shio" from Genkai Sea, Saga Prefecture, and it takes 3 days to prepare. The special salt sauce enhances the taste of red sea bream soup stock.
After eating the noodles, you can create sea bream chazuke, pouring the soup on white rice topped with chopped sea bream, hail, and wasabi.
Find out more about Taishio Soba Touka here on Google maps.
Ichigaku – Chicken Tonkotsu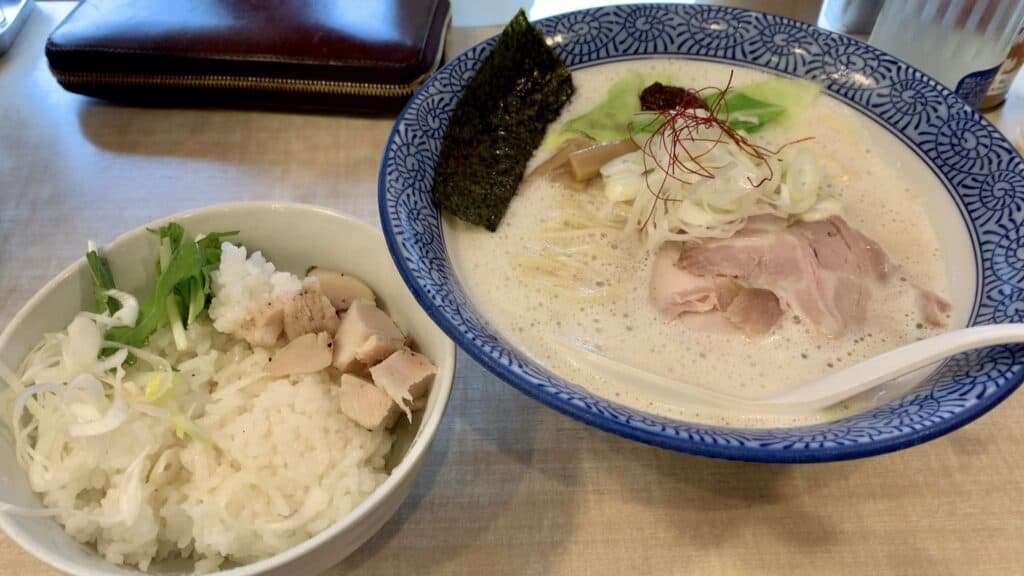 Ichigaku is a 10-second walk from Yotsuya Sanchome Station on the Marunouchi Line. They are known for their rich chicken and pork soup. The rare and thick chicken and pork soup is a soup made by boiling chicken bones and pork bones at once. The soup is rich in collagen. The soup that combines the taste of chicken and pork bones gives a creamy mouthfeel.
The ramen comes with two char siu pork and two chicken char siu, cabbage and bonito powder on top. There's also menma and seaweed as toppings for the ramen. Although this restaurant hasn't been open for that long, it has gained a lot of popularity.
Besides their chicken and pork broth, they also have ramen with chicken broth, which is lighter. They also have tsukemen and mazesoba. They are both unique and give you more options, depending on what you have in the mind.
Find out more about Ichigaku – Chicken Tonkotsu here on Google maps.
Ishiyan 串揚げと煮込み テイクアウトいしやん|四谷三丁目 いしやん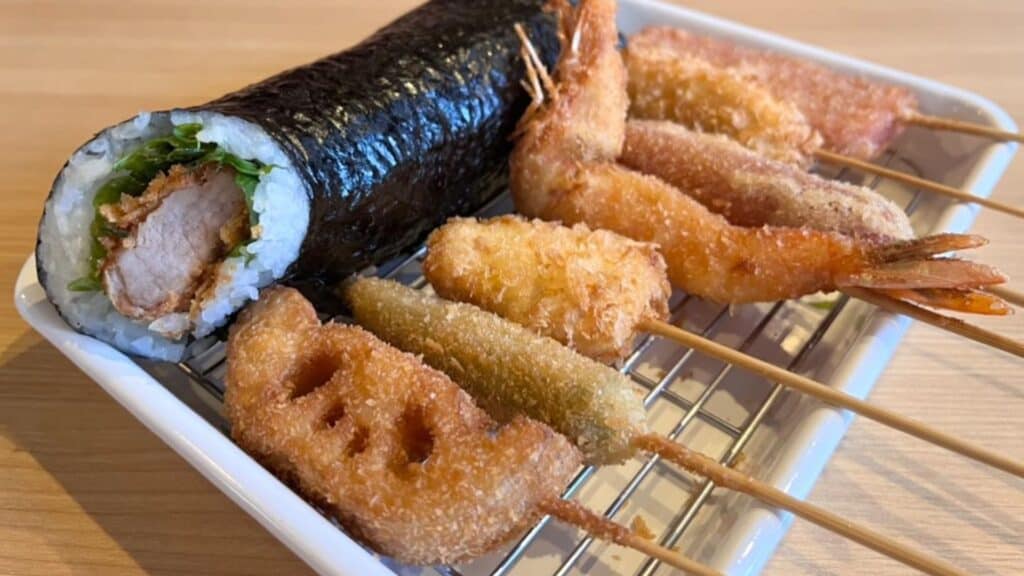 Ishiyan is a 2-minute walk from Exit 3 of "Yotsuya Sanchome Station". "Junko Oil", which contains the essential fatty acids Omega 3 and Omega 6 is used to create the deep-fried skewers. These skewers are created with Nakaya-panko for a lighter and crispier flavour. The high-quality Awaji's algae salt is the seasoning used for a light finish.
Find out more about Ishiyan here on Google maps.
Burg Holic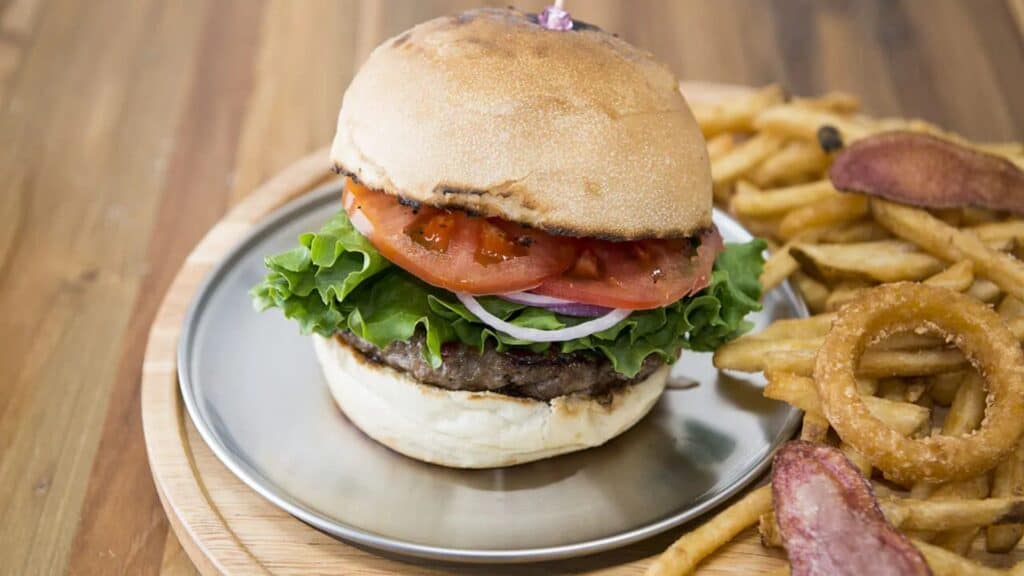 Burg Holic creates the perfect balance of different ingredients. Burg Holic creates authentic burger patties and hamburgers along with fresh ingredients. The meat used at this restaurant for steaks and hamburgers is US black Angus beef. By carefully ageing for about 50 to 70 days, the beef is served as a very soft steak with a good aroma.
Burg Holic's original patties have been researched for nearly a year. Patties are grilled over an open flame and then baked in an oven at 370 degrees Celsius. The salsa sauce used in the burgers is a real salsa made from fresh vegetables for each order. All bacon is handmade at the store. Aged Sangen pork and smoked with a large smoker in the store. The crispy texture of fresh vegetables and the aroma of spices bring out the flavour of the meat. The simplest menu, HOLIC BURGER is a signature, and you can taste each ingredient of the burger very well.
Find out more about Burg Holic here on Google maps.
Japanese Sake Bar All That Jazz
This sake bar has a wide range of popular Japanese sake brands to underground ones that you can hardly find at other stores. Besides Japanese sake, they serve a wide range of delicious local Japanese dishes. A great dish of this restaurant is their mackerel, which is dried overnight. It is a local dish that the shop is proud of. The calm and wood interior makes this bar a sophisticated space where anyone can easily drop in.
The staff here is very friendly and they will welcome you so that you can spend a relaxing time in a calm shop like being invited to a friend's house.
Find out more about Japanese Sake Bar All That Jazz here on Google maps.
Arakicho Kintsugi
Arakicho Kintsugi is a small shop where you meet the best sake compared with local Japanese dishes.
The basics of Japanese cuisine is "dashi". The Omakase course of "Kintsugi" begins with "dashi", which can be said to be the life of Japanese food and the course is packed with the chef's recommended dishes.
Following the "dashi" that warms the heart, all the dishes are made with seasonal ingredients. Of course, there is also plenty of sake that compliments the food well.
Find out more about Arakicho Kintsugi here on Google maps.
Gorilla Shokudo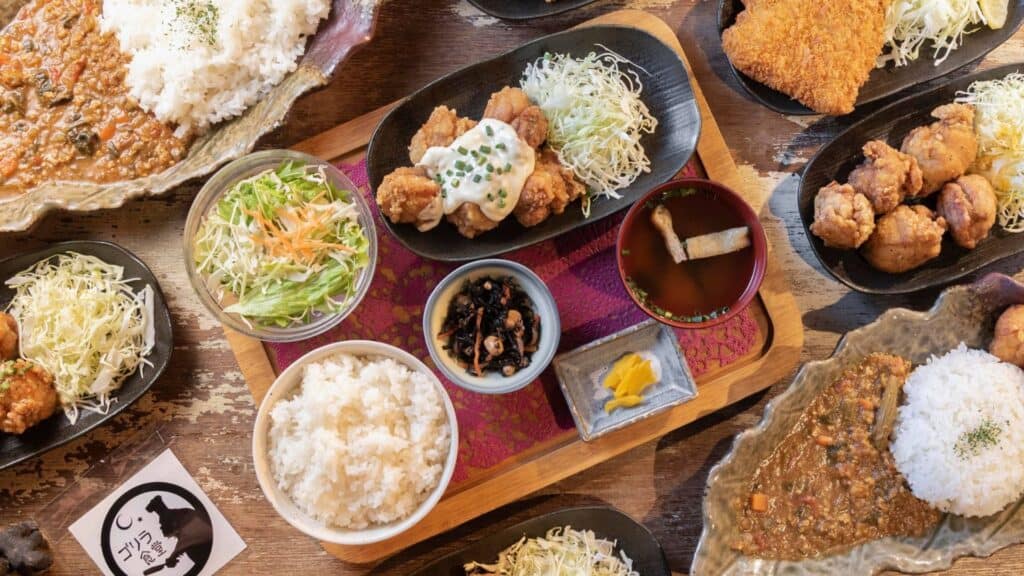 Gorilla Shokudo is an izakaya with a reputation for its large volume and cheap price. It is a restaurant that is open not only for izakaya but also for lunch. The set meal menu includes rice and miso soup and they can be enjoyed at all times. Most of the set meals are Western-style menus based on gutsuri meat and a large serving of rice. There are also Turkish rice and loco moco here that are well-known to the restaurant.
Find out more about Gorilla Shokudo here on Google maps.
Gallo Yotsuya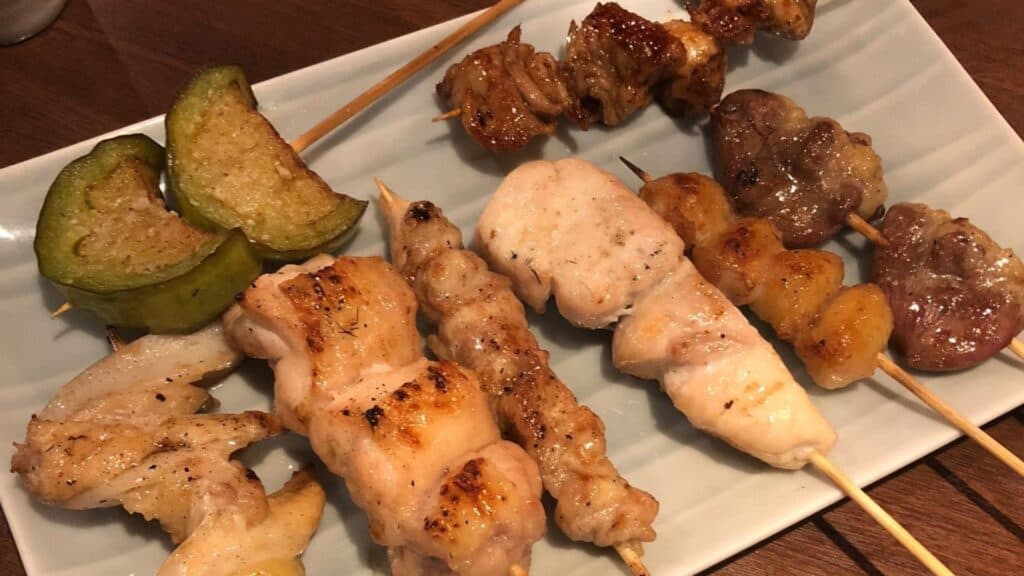 Gallo Yotsuya is a restaurant where you can enjoy chicken dishes and wine. More than 100 kinds of wines carefully selected from all over the world are lined up here. There are some rare wines among them, and it is a shop you want to visit when you feel like drinking wine. Lunch has four types of set meals and daily set meals that change depending on the day of the week.
The charcoal-grilled chicken is tasty and juicy, and the charcoal-grilled black-grilled special oyakodon is a delicious lunch menu. The hearty "special crispy fried chicken set meal" is also a popular menu with doubanjiang as a secret ingredient.
Find out more about Gallo Yotsuya here on Google maps.
Kokocara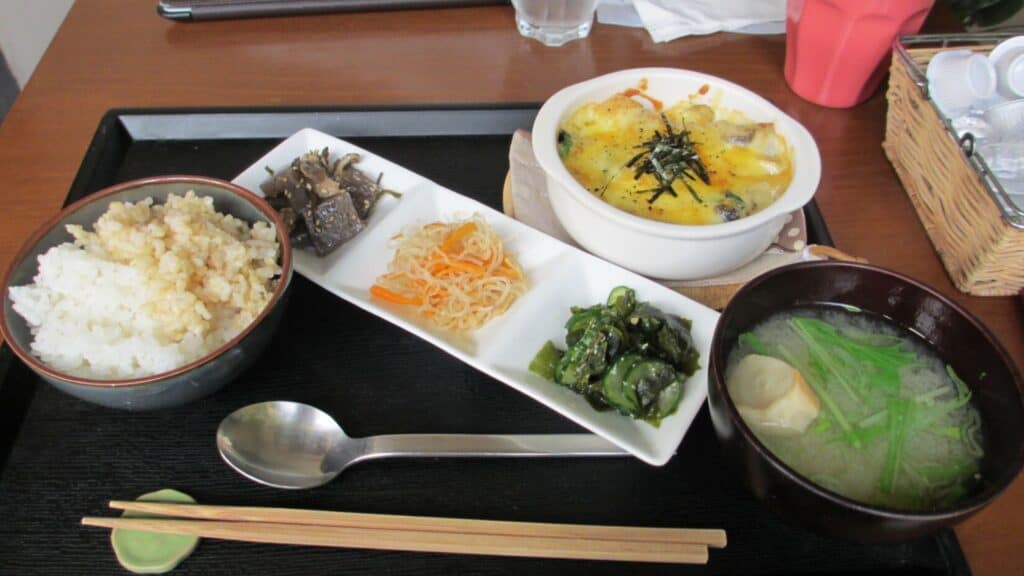 Kokocara is about a 2-minute walk from Yotsuya Sanchome Station. It is a restaurant that offers a homemade and homely warm lunch menu. The set lunch meal here allows you to combine your favourite items from the menu full of vegetables. With the set lunch meal, you can get an item from the 3 main dish options and 3 items from the 5 types of deli, brown rice or white rice, soup, drink and dessert. There are also vegan and vegetarian options here.
Kokocara is a hideaway and there are counter seats and table seats in the warm atmosphere with wooden tables and foliage plants. It is a comfortable place where you can have lunch alone or with someone.
Find out more about Kokocara here on Google maps.
Bars in Yotsuya-sanchome
Craft Beer Bar Maru Mugi
Craft Beer Bar Maru Mugi is a small beer bar that opened in 2011. This bar is small and cosy and they serve five taps of Japanese craft beers that change quite often. The staff here continually visits local breweries in Japan and keeps their beer knowledge up-to-date. There are also small meals here available to people that feel a bit peckish.
Find out more about Craft Beer Bar Maru Mugi here on Google maps.
Kokuteiru
Kokuteiru has a nostalgic atmosphere that reminds you of the Showa period. They are well-known for their whiskeys and the highballs. If you want to get some food, they have a few great options, such as the Neapolitan pasta and oil sardine. It is a great place to visit for a relaxing time along with some delicious drinks.
Find out more about Kokuteiru here on Google maps.
VOWZ Bar
Vowz Bar opened in September 2000 as a monk-run bar. Their aim is to help people feel closer to Buddhism.
It is run by a Buddhist monk of the Jodo Shinshu sect, but monks of other denominations are also welcome, so you can feel free to talk with staff related to Buddhism regardless of your religion. Every day at the Vowz Bar, short memorial services and dharma talks are held, and you can experience the teachings of Buddha. The monk is available at your table to talk with you or answer your life concerns over the counter.
Find out more about VOWZ Bar here on Google maps.
Science Bar INCUBATOR
INCUBATOR is a scientific, stylish and fun-filled wine bar. The inside of the store is like being in a laboratory. Inside the store are things that are actually used in experiments, and at the counter, there are flasks and beakers. With all the white coats, beakers, flasks, test tubes, alcohol lamps and more, this bar is definitely different from the bars around here! One popular dish here is the roasted gouda cheese, where you can directly roast Gouda cheese with an alcohol lamp. They also have a dish of oversized Petri dishes with potato chips filled with smoke and seasoned.
Find out more about Science Bar INCUBATOR here on Google maps.
Hotels in Yotsuya-sanchome
Hotel New Shohei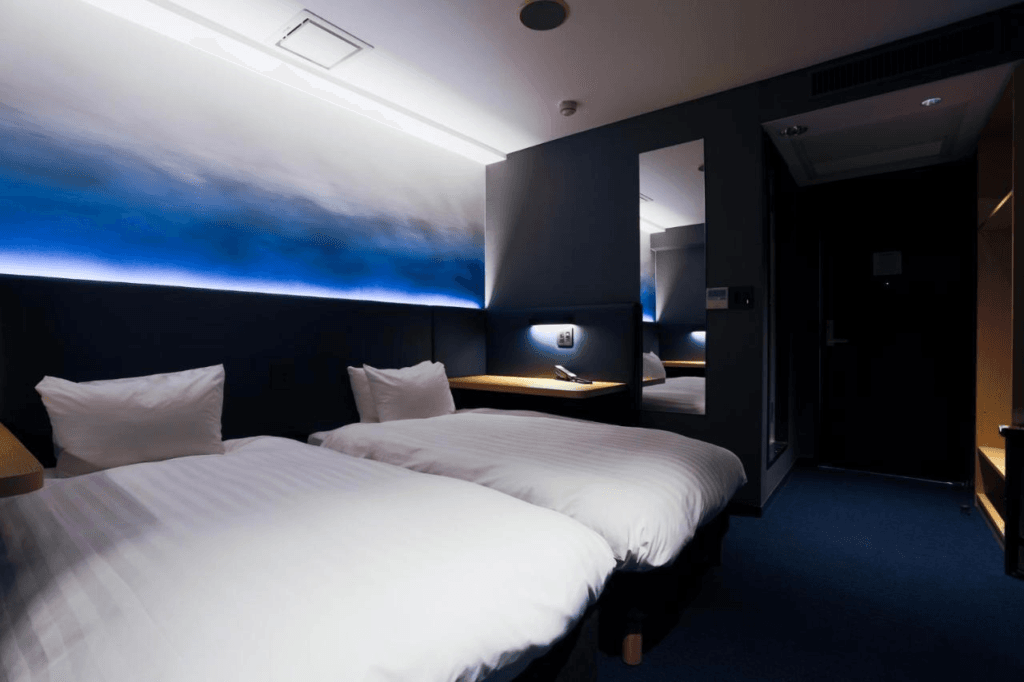 Hotel New Shohei features air-conditioned rooms with satellite flat-screen TV in the Shinjuku Ward district of Tokyo. Among the facilities at this property are a 24-hour front desk and a shared lounge, along with free WiFi throughout the property. The property is close to popular attractions like Wakaba Higashi Park, Shinjuku Historical Museum and Sotobori Park.
At the hotel every room comes with bed linen and towels.
A continental breakfast is available daily at Hotel New Shohei.
Popular points of interest near the accommodation include Shimmichi Shopping Street, Atre Yotsuya and Former Futabatei Shimei House Monument. The nearest airport is Tokyo Haneda International Airport, 26 km from Hotel New Shohei.
Address: 160-0004 Tokyo-to, Shinjuku-ku Yotsuya 1-7-9, Japan
Hotel Keihan Tokyo Yotsuya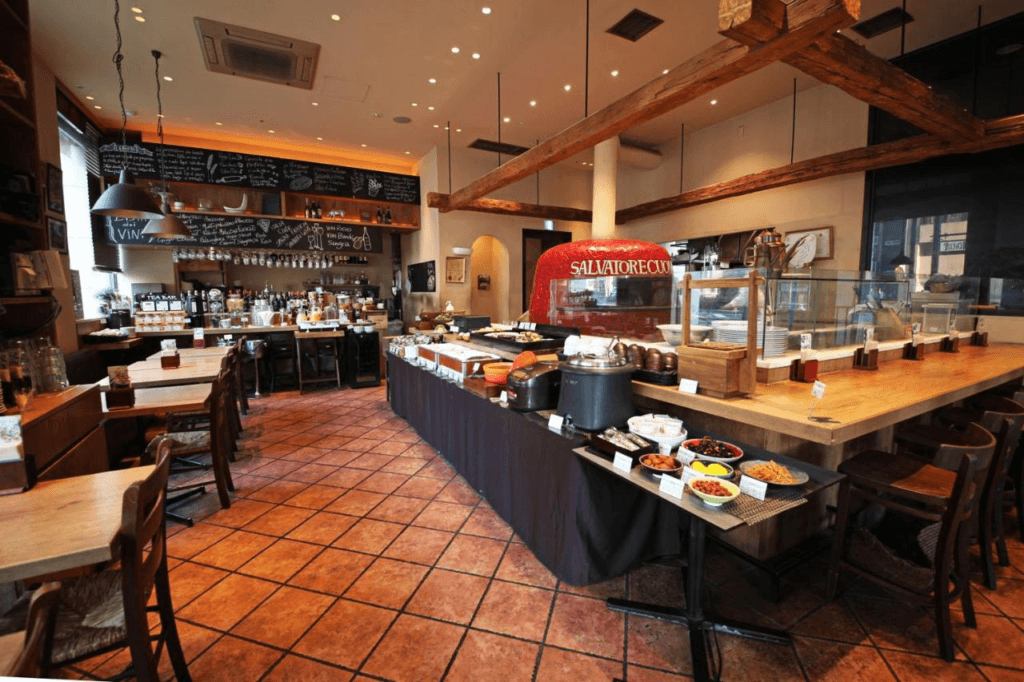 Ideally situated in the Shinjuku Ward district of Tokyo, Hotel Keihan Tokyo Yotsuya is situated 100 m from Shimmichi Shopping Street, 500 m from Shinjuku Historical Museum and 500 m from Atre Yotsuya. Among the facilities of this property are a restaurant, a 24-hour front desk and luggage storage space, along with free WiFi. The property is close to popular attractions like Sotobori Park, Minamimotomachi Park and Saikabo Kimchi Museum.
At the hotel, the rooms have a desk. All rooms will provide guests with air conditioning, a safety deposit box and a flat-screen TV.
Guests at Hotel Keihan Tokyo Yotsuya can enjoy a buffet breakfast.
Popular points of interest near the accommodation include Former Futabatei Shimei House Monument, Wakaba Higashi Park and Oiwa Mizukake Kannon. The nearest airport is Tokyo Haneda International Airport, 26 km from Hotel Keihan Tokyo Yotsuya.
Address: 160-0004 Tokyo-to, Shinjuku-ku Yotsuya 1-24, Japan
—
Most people think that Yotsuya-sanchome is a residential area that just has convenient access. But in fact, this area has a lot to offer. From local restaurants to museums and shrines, enjoy your time discovering the ins and outs of Yotsuya-sanchome. Don't forget to stop by Oiwa Inari Tamiya Shrine to witness the backstory of the shrine yourself. Enjoy your adventure around Yotsuya-sanchome, and refer back to this guide whenever you need to! If you have any questions, feel free to reach out anytime!