I appreciate a bar that can capture my attention, whether it's with their service, decor, crowd or otherwise. I've also always been a pub girl, because I love how I can spend hours and hours in one chatting with the people around me in unique bars in Tokyo. Combine the two and you get the following list of unique nightlife bars, Yakochu, Jam Lounge and Dogberry that have absolutely captivated me and made me want to stay in them for hours on end.
Find out more about the different Japanese drinks, Japanese beers, the special strong zero you can get in Japan and how to prepare for a night out in Tokyo.
Unique bars in Tokyo
Yakochu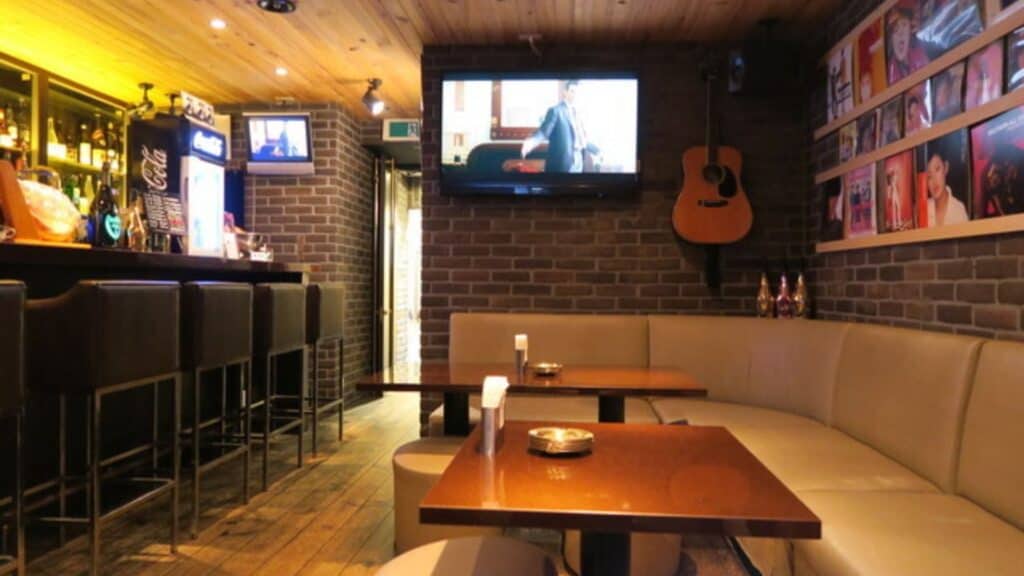 An hour away from Tokyo is the most bizarre bar I've ever visited in my life. Walking in, you are just overwhelmed by their decor: neon lights of all colours shining through the place, and just about every inch of the place has been decorated by all sorts of cute little things, like rubber ducks or train straps or ponds.
The real charm of the place is the bar owner revealing the bar's secrets to you. Some of the decorations you see around you are actually functional. Some are speakers, others are karaoke microphones, or humidifiers. It's hard to tell what's what here.
If you don't speak Japanese, it'll be more difficult for you to understand the bar owner's explanations of his little machines. But if you're in the area, swing by for a drink regardless. It's a great place to have a nice, quiet, relaxing night in with a friend or two.
Check out more information on Yakochu and get your discount coupon here!
Jam Lounge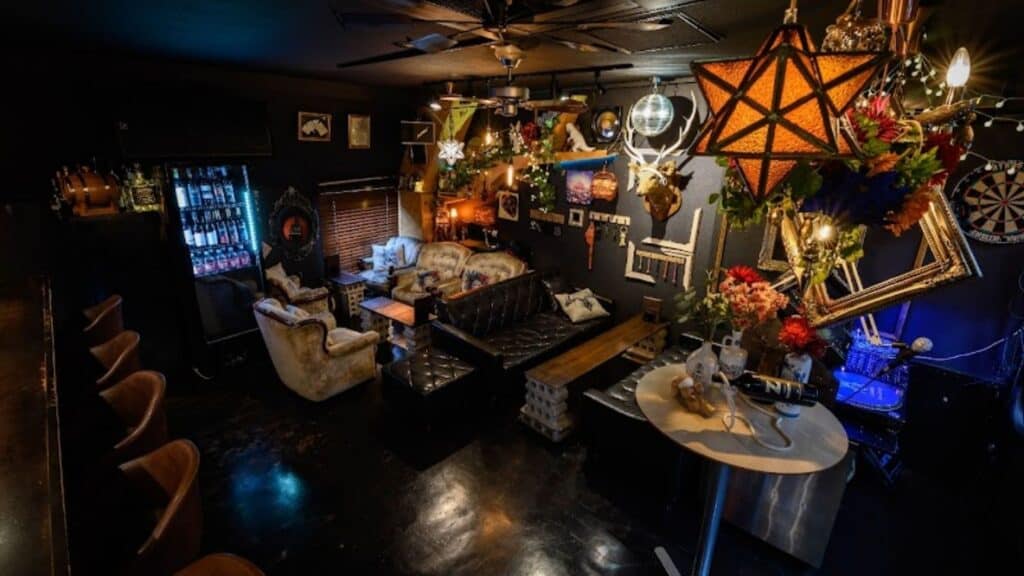 A terrace-bar located in Takadanobaba a.k.a college town. This unique bar is on the tiny but lively Sakae-Dōri (さかえ通り, Sakae Street) which is full of restaurants and bars. Jam Lounge stands out to me from the other establishments on this street because of its quirky yet elegant decor.
There are random items hung up on the walls, the tables are propped up by construction bricks, there are fairy lights all over creating a cute, homey environment that I could comfortably stay in for hours. You'll notice something new every time you turn your head. Additionally, the drinks and food here are both expertly made. A must-visit if you're in the area.
Check out more information on Jam's Lounge and get your discount coupon here!
Dogberry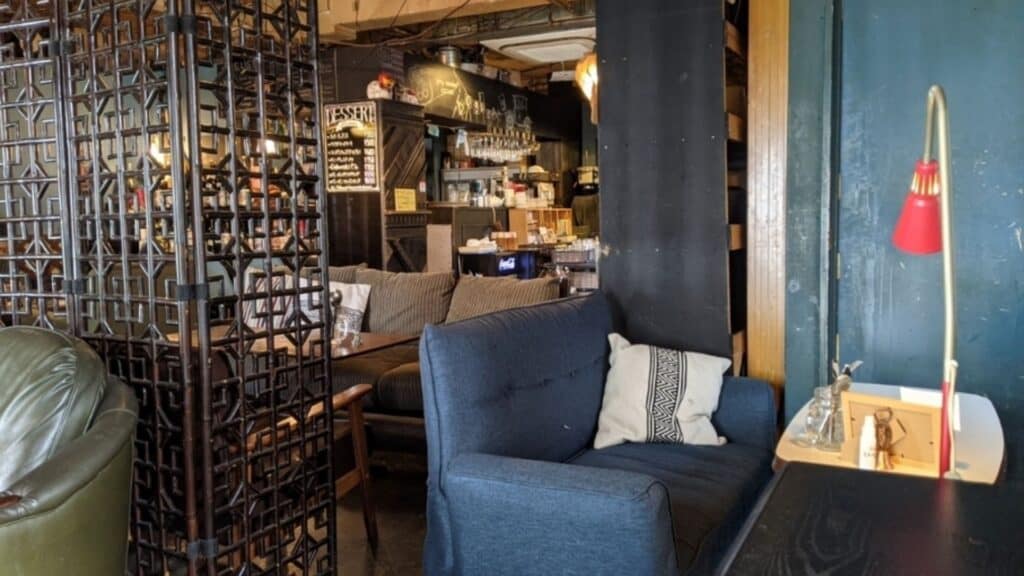 Unlike the other two places, Dogberry's decor is more on the subtle side. They have low, comfy couches and tables; dim, non-intrusive lighting; and cloths, blankets and nets hanging on the walls or from the ceilings. It looks like someone's basement that was turned into a cosy, comfortable living space–and I really did feel so much at home here, curling up on their couches and leaning against their cushions.
What makes Dogberry so unique and one of my favourite nightlife bars on FLIP isn't its decor but the entertainment the bar provides. There are little tins with notebooks and pens on each table so you can doodle or look through other people's doodles, and an entire shelf of games in the corner that you can bring to the table to play with your friends.
They serve both drinks and meals here, so come by Dogberry for dinner and drinks with your friends. You can spend hours in here enjoying the great food, drinks and games.
—
The unique bars in Tokyo on this list have all captured my attention and charmed me in various ways, so much so that I do feel a pinch of sadness whenever I have to leave. It's the kind of place I'd love to bring my best friends and family members from Singapore to when they visit, to have hours-long catch-up sessions over drinks and/or food. Check these bars out, I'm sure you'll love them, too.
—
We host our own bar tours regularly as well! We take you to all kinds of unique and underground locations around Tokyo, with anywhere between five to fifteen international guests! We've also lived in Japan for years and we're happy to answer any questions you may have, ranging from history, and culture to society and nightlife! Come join us for a great night!
Want to check out different underground and local areas of Tokyo? Click on the area you want to explore and let us give you a tour of some of our favourite spots from famous places to underground spots! Tokyo nightlife: Shinjuku, Shibuya, Roppongi, Nakano, Shimokitazawa, Asakusa, Koenji, Akihabara and more!
Stay tuned for more information about Japan travel, Japanese culture, moving to Japan, living in Japan, Japan Nightlife and more. For more, check out Japan Gift Guides, Japan Events and Places in Japan.
—
Do you like these underground bars in Shinjuku, Tokyo? Got more interesting places to recommend to us? Leave a comment below and let us know! If you have any questions about Japan travel or Tokyo nightlife, feel free to DM us on Instagram or talk to us on Facebook messenger, we are ready to answer any questions you might have any time!

Flip Japan Guide
Got a question? Reach out to us through Instagram or Facebook Messenger
Connect with us: Instagram, YouTube, TikTok, Facebook, Twitter, Pinterest
Join our Facebook community here!

We're your local friend in Japan, helping you explore, experience and enjoy the ins and outs of Japan! When we first arrived in Tokyo, we all found this city to be overwhelming, not sure where to begin. During the years that we have lived here in Japan, we have discovered and visited countless famous tourist attractions as well as unique underground places. We are now proud to say that we are experts of Japan and would love to share the knowledge with all of you!

Tag us @flipjapanguide on Instagram and share your adventures with us!