My name is Liz. This is my second time to Tokyo so I got familiar with the area and I have loved helping others find new things to see and explore. So in this blog, I'm going to share some amazing kawaii collaboration themed cafes in Japan I have found and loved with you today.
Tokyo is really a place for everyone. Even if you're not a huge Japanese anime or manga fan (like myself), you can find something you're interested in, whether it's local cuisine, fashion, art… You name it, Japan will amaze you.
I hope from this blog post, you can find something you never knew, like and/or be inspired to explore more areas of Tokyo that you haven't already! To get started, I thought I'd share with you one of my biggest Japanese obsessions: Collaboration kawaii Cafes in Japan!
What exactly are Collaboration Cafes?
One of the things that I have noticed that is supremely unique to Japan is their love for cute (kawaii) things, whether it's anime characters, stuffed animals, fashion, you name it. Most of this is common abroad as well, but one thing that is unique to Tokyo is their love for making cute Japanese food, and there are a number of cafes that have a whole menu dedicated to a certain character/show.
Last summer, I stumbled upon kawaii themed cafes just coincidentally as I walked down the street, and after going to one or two, I couldn't help but wonder if there were more. With much searching and some luck, I found that there are actually two great websites (in English) that keep track of these kawaii cafes: Moshi Moshi Nippon and Dango News.
With a brief visit to these sites, anyone (foreign or local) can find a new cafe dedicated to a variety of characters including Snoopy, Hello Kitty and even Moomin! As an animation/children's illustration fan (both international and Japanese), I check these websites everyday to see if my favourite characters get their own themed cafe, and already I have been to six that I want to share with you today!
Collaboration cafes in Japan
Kirby Cafe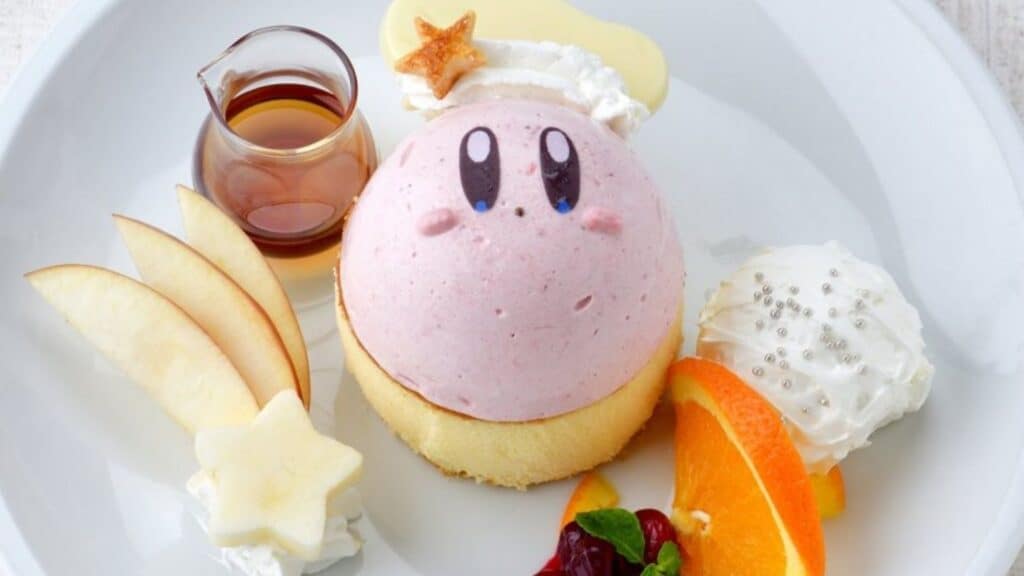 This limited-time-only collaboration cafe located in Sumida sits right at the base of Tokyo Skytree. It's themed after the popular video game, Kirby. It opened in early April and their current summer edition menu is available only from June 11th to September 23rd. As a mild video game fan, I decided to give it a chance. And, wow, going inside is like diving right into the video game itself.
Right through the entrance to this kawaii cafe, there is a spot where you can take pictures with Kirby and his friends before you are escorted to your table. Once you are seated, you are greeted by even more characters in your menu. They're included in everything, from coffee to pancakes, sandwiches and more.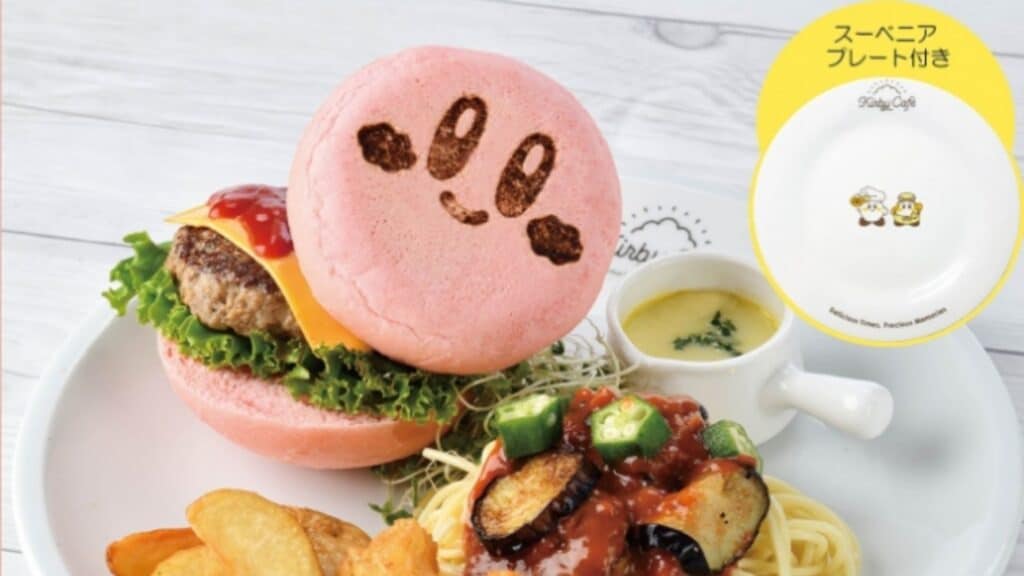 I opted for the coffee-and-vegetable curry since it was one of the only seemingly vegetarian options. The coffee curry (on the left of the plate pictured above) had mushrooms and some sweet potato pieces in it, with just the slightest hint of coffee. The tomato-based vegetable curry (on the right of the plate pictured above) had eggplants and broccoli. The rice in the center made was a nice addition to both.
Inside of the Wispy Woods ceramic pot (the tree), there was also some tomato soup which was a nice ending to all the flavours. As a small token, I got a small Kirby Chef figurine to take home with me which serves as the perfect reminder for the experience.
Kawaii Monster Cafe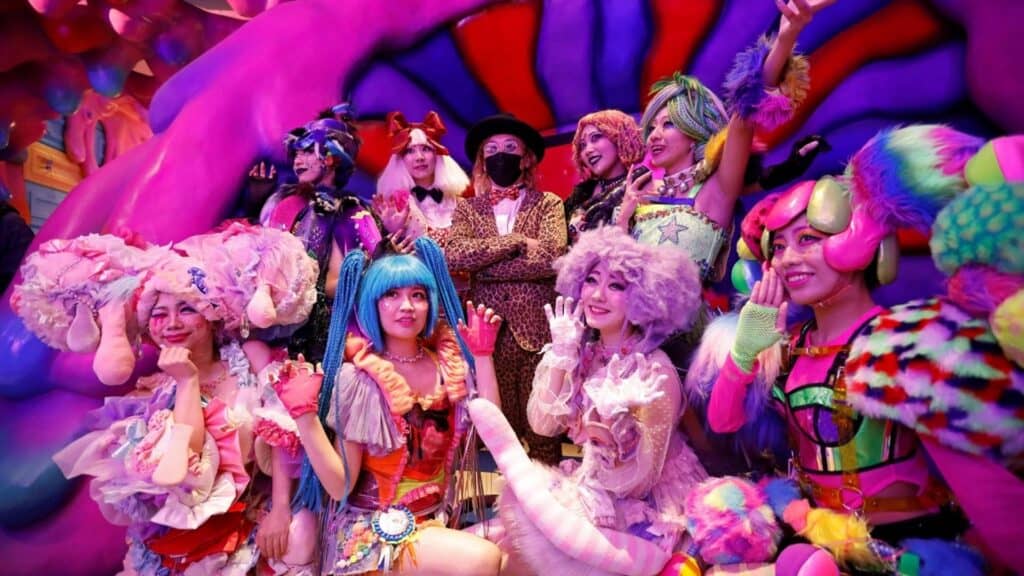 Inside the wonderful mind of Sebastian Masuda lies a bunch of crazy, colourful characters which have been brought to life inside this permanent kawaii cafe in Harajuku, Japan.
On a Thursday Night in June, I bought tickets to go to one of their shows that I had been meaning to see for a while: Kawaii Burlesque. Complete with colourful candy-inspired costumes, the three performers that I saw did amazing acts of tease and pole-dancing. The food in the same way added to the colourful experience, each with its own rainbow theme.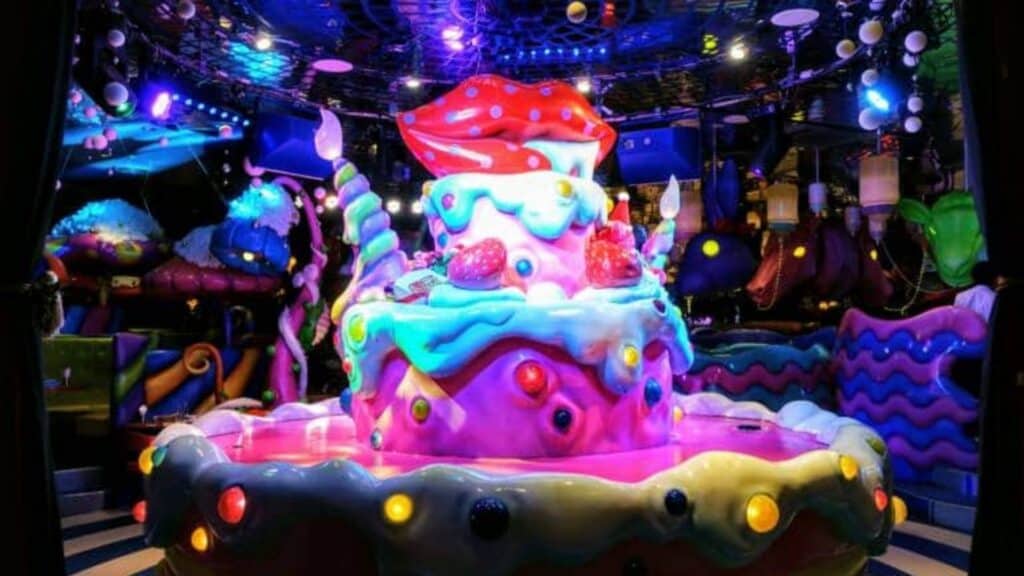 The option that you see here is the Raffle Poison Parfait Extreme which consists of four different types (and colours) of ice cream: Mint Chocolate Chip, Strawberry, Orange Sherbert, and Vanilla; rainbow icing; a variety of fruit and a punch of whipped cream. On top, there was also a giant rainbow roll cake and ice cream cone to give it that "extreme" touch.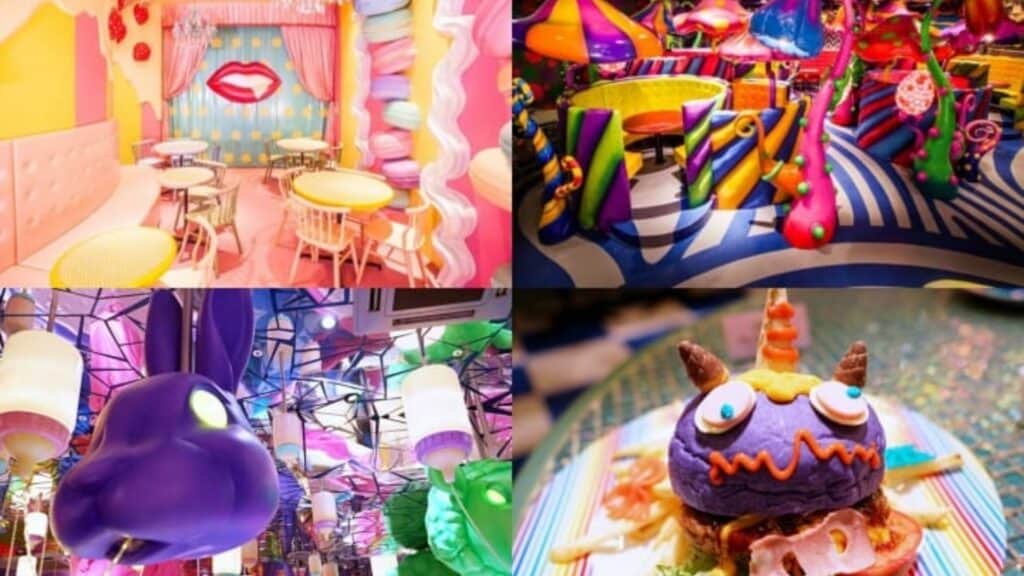 I ended up loving it so much that I am considering going back many more times to not only try the other things on the menu but also to experience some of the other shows that you can see on other days of the week, such as Wednesday's Pop Culture Night and Tuesday's Kawaii Oiran Night.
Hello Kitty Cafe, 45th Anniversary
This limited-time-only themed cafe is running from April 25th to July 7th inside of Seibu Ikebukuro, and was on my list of must-dos while in Tokyo. As an avid Hello Kitty fan, this kawaii collaboration cafe was perfectly designed to celebrate her 45th year since creation in 1974, in a bunch of sweet and savoury treats.
The menu ranged from Taco Rice Salad to Udon Soup and a Parfait all topped with Hello Kitty's face. I went for the baked apple as it is one of my favourite desserts, and I was happy as I layered vanilla ice cream, apple, strawberry whipped cream, berries, and white chocolate sauce all in one spoonful.
Overall, compared to some of the other collaboration cafes, the decor was a little underwhelming as only the one main wall and a couple of other small sections had Hello Kitty-themed art on them but it was still nice to experience all in the same.
Bar Zingaro
This small collaboration cafe in Japan located inside Nakano Broadway is probably my second favourite place that I have visited thus far in Japan as it is dedicated to one of my favourite artists of all time: Takashi Murakami.
Known for his cute yet sometimes bizarre characters, he is most recognised as the man who created the always smiling rainbow flower character you see on everything from Louis Vuitton Bags to Uniqlo T-shirts.
I stumbled across the themed cafe in Japan for the first time last year, and after regretting not going then, decided I absolutely had to this time around. Overall, the menu is very small, consisting of only three main course options, two desserts, and some drinks.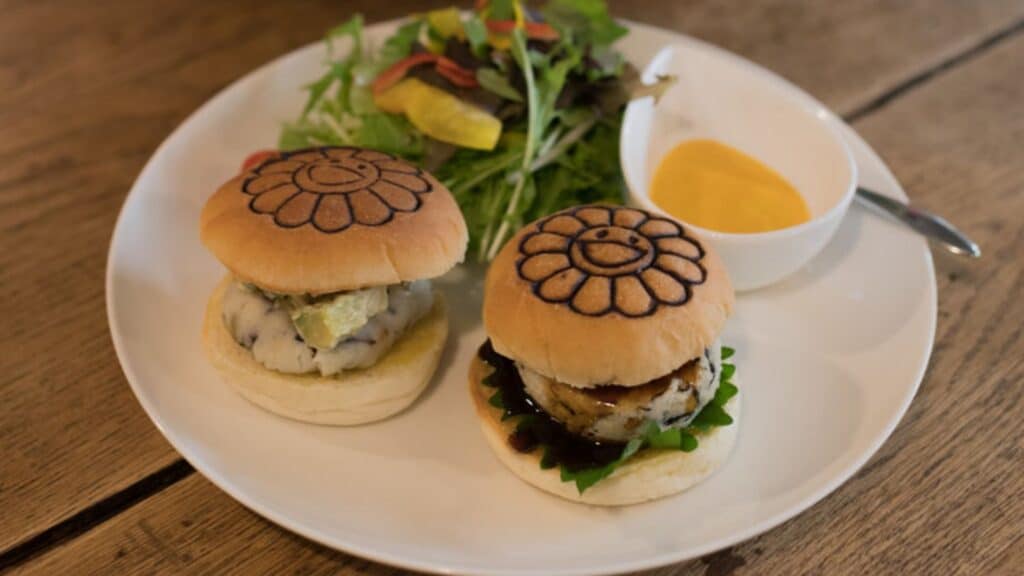 I went for the mini-burger set which consists of two vegetarian burgers: one "mashed potato" burger which has some potato, avocado, and beans; and one "tofu burger", both on mini smiling flower buns. I paired it with an iced ginger chai latte which was much more rich than expected but very good all the same.
Overall I was just really happy that they actually had a protein-based vegetarian option at this themed cafe as many places do not have a vegetarian dish outside of just pasta and/or salad type things. Definitely a 10/10 in my book.
My Melody Cafe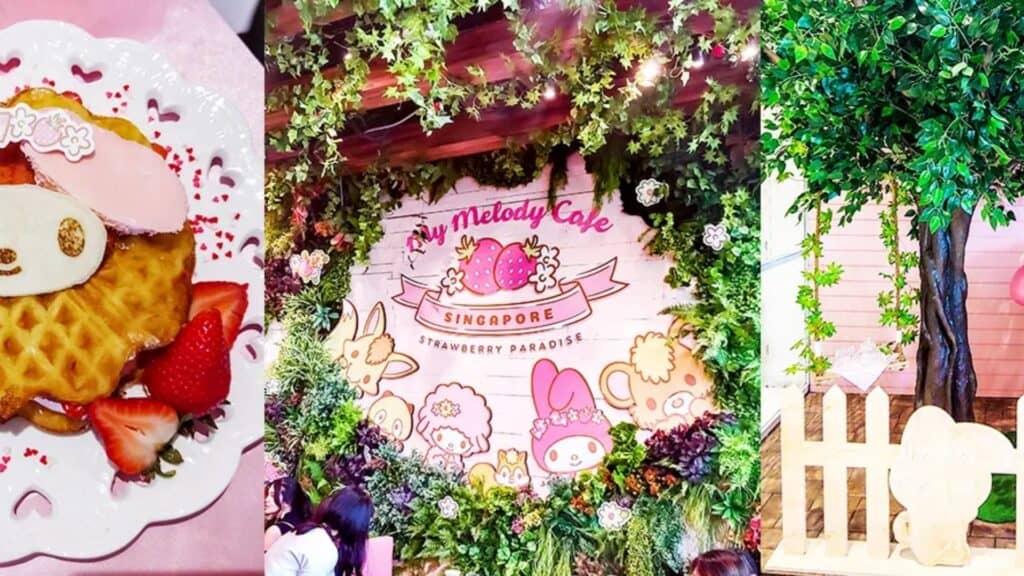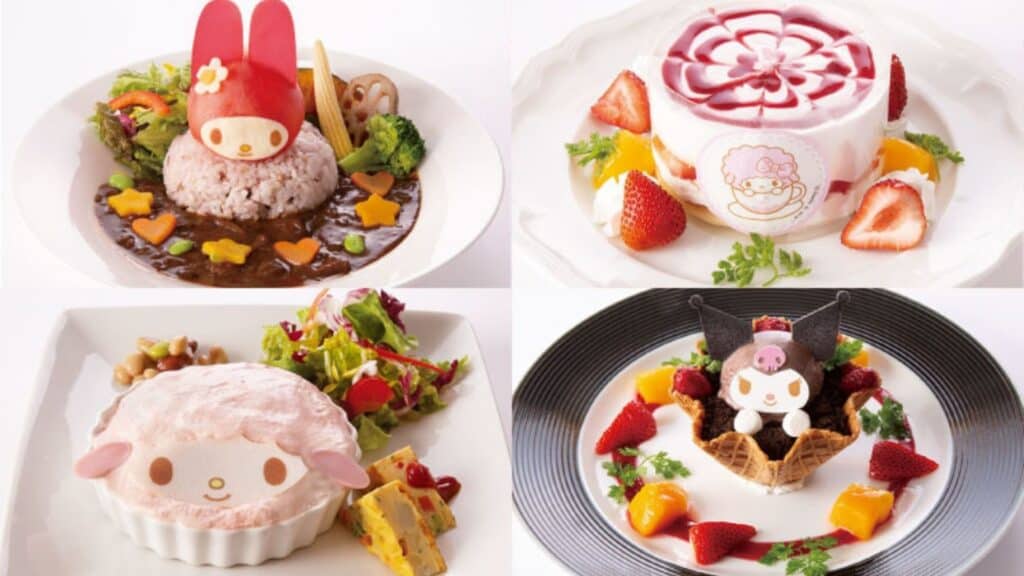 Located in the heart of Omotesando, this themed cafe is the newest of a series featuring one of my favourite Sanrio characters: the cute bunny named My Melody, accompanied by her friends Kuromi and My Piano. As this place is only running for one month (June 26th to July 31st), it's extremely packed and I had to make a reservation, but it was definitely worth it.
Again, there weren't that many food options that appealed to me so I ended up going for the Strawberry Parfait and Strawberry Latte, both featuring My Melody on them, and it turned out to be the perfect pairing. The cafe also has plush characters that you can bring to your table to dine with you, bringing everything together perfectly.
If you are even the slightest Sanrio fan, I definitely recommend checking this themed cafe in Japan out!
—
Hope you enjoy all these collaboration cafes in Japan and are inspired to try one out. As I said before, it is definitely worth paying the price to go to these as they are limited-time-only deals and are a fun experience for anyone.
Since I have three weeks left in Japan there are a couple more that I want to check out before I leave such as the Hello Kitty and Crayon Shin Chan Cafe and Gudetama Cafe, both in Osaka.
You may check 8 Top Date Ideas in Tokyo to Impress Your Partner blog here.
—
Stay tuned for more information about Japan travel, Japanese culture, moving to Japan, living in Japan, Japan nightlife, Japanese language and more.