Are you looking for some good date ideas? Picking the perfect date spot in Tokyo is crucial. If it's a first date, you want to leave a good impression and make the date memorable. If it's a date with a long-term partner, you want to spice things up so it's not like every other date you've been on together.
In this list are some places we think are good for dates. Some of these places are romantic and fancy, others are more casual and fun. There's something for every couple.
Find out more about the different Japanese drinks, Japanese beers, the special strong zero you can get in Japan and how to prepare for a night out in Tokyo.

One of the best ways to explore Tokyo is to visit the local areas and immerse yourself in the local culture. If you want to explore local areas, we have created scavenger hunt adventures personalised to your interests, filled with fun facts, clues and puzzles. If you're curious, you can check out the games here!

Check out the Flip Japan Games here!

Date ideas in Tokyo
808 Lounge (Shimokitazawa)
This eclectic bar in Shimokitazawa has beautiful and colourful fairy lights, wild decorations, and creative, original alcohols. The bartender serves coffee whiskey high balls, earl grey gin tonics, chili pepper vodka ginger ales, and other exciting cocktails. His speciality, however, are his fruit mojitos served in mason jars. A must-try!
The bartender may try to engage you in conversation every now and then but he's tactful; he'll know when to leave you alone if you want privacy with your date, and when to jump in to try and make your experience in his bar more interactive.
The bar is often not too busy, giving you and your date plenty of space to breathe and enough quiet to talk.
Find out more about Japanese alcohol to master your drinks!
Takkyu Sakaba Ponzo (卓球酒場 ぽん蔵 渋谷店) (Shibuya)
A date doesn't just have to be dinner and drinks! If you want something more fun as opposed to relaxing, Ponzo in Shibuya has a range of activities for you and your date. There's a darts machine, table tennis, classic 90s video games and board games. All of it is free of charge, but you might have to wait in line for some of them. Table tennis is particularly popular.
They have all-you-can-drink deals starting at 3,000 yen for 2 and a half hours. The all-you-can-drink menu includes beer and other typical cocktails, but you can pay a little extra if you want something else.
Booze, games, competition—Ponzo's a great date spot in Tokyo for a different and fun date!
Park Hyatt's New York Bar (Shinjuku)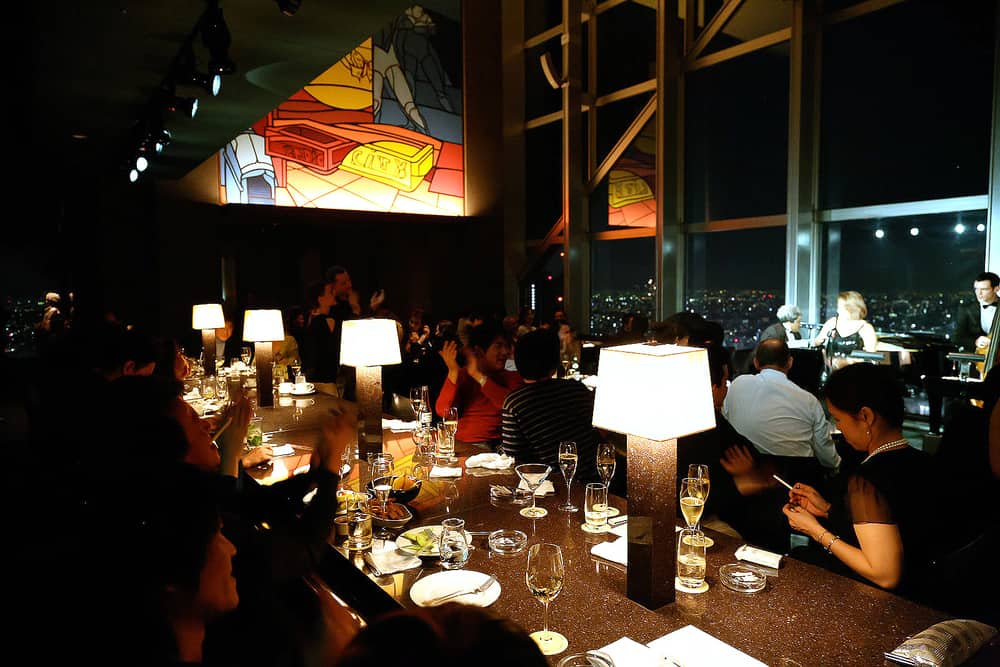 This is where they filmed the famous film, Lost in Translation (2001). It's located on the 52nd floor of the extravagant Park Hyatt Tokyo Hotel, and its floor-to-ceiling windows give you a beautiful view of Tokyo. The bar is open to the public, though you'll have to pay a 2,000 yen entry charge (around USD$20) if you're not a hotel guest.
If you feel like treating yourselves to a special and classy date night, this is the bar to do it in. On top of the 2,000 yen entry charge, the sophisticated cocktails here are considerably more expensive than 52 floors below, with prices ranging between 1,500 yen and 3,000 yen (USD$14-28). Uniformed servers, top-class customer service and an opulent interior design, this place is fancy, and gives you and your date a chance to dress up.
For an additional dash of class, come here between 8pm and 11:45pm as there'll be a live jazz band playing musical favourites. If you want a meal to go with your drinks, then be sure to arrive before the last order for food at 7pm.
Good Vibes Bar (Shimokitazawa)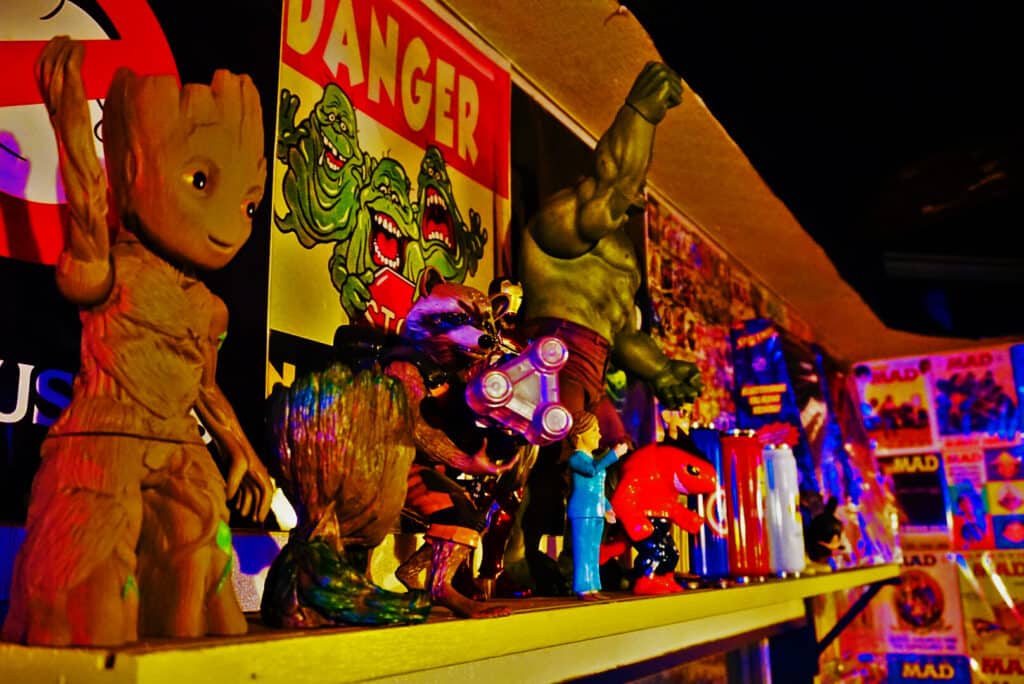 If you and your date are comic book nerds, you can't pass this place up! This entire bar in Shimokitazawa is filled and covered with comic book and Western pop culture merchandise, with fan favourites from Marvel and DC decorating the walls and shelves. There's even a raised platform for you to take photos with the decorations and props on.
The comic book theme extends to their menu, with Marvel cocktails such as The Iron Man, The Hulk, The Loki, and more, each following the same colour scheme as its superhero counterpart!
With all the merchandise, posters, props and colourful cocktails, this bar is ripe for photography and fun debates on who's the most powerful Avenger (it's Thor).
Champion (Shinjuku)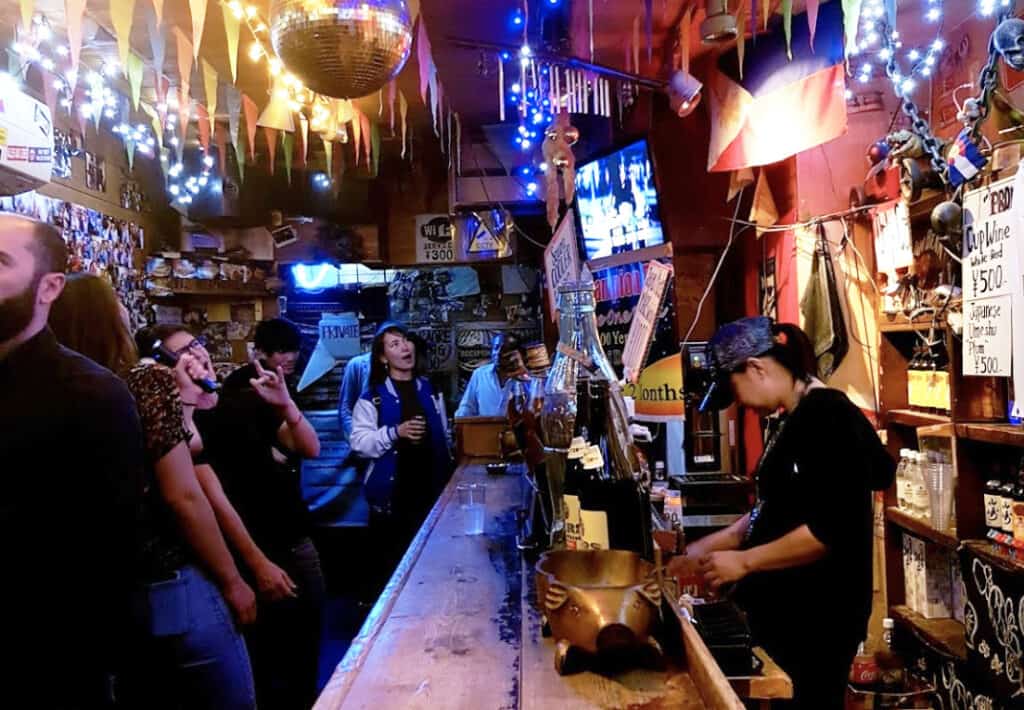 This karaoke bar is for the fun, casual date in Tokyo, and the place to get the must-have experience of hearing Japanese people attempt wholeheartedly to sing English songs, putting admirable passion and soul into their performance!
Every drink costs only 500 yen (USD$4.50), and that price is lowered to 400 yen if you get the 5-drinks ticket for 2,000 yen (USD$20) at the counter, making Champion a great place if you don't feel like splurging. It tends to get very crowded after 9-10pm, even on a weekday, so much so that the crowd spills outside, so just be prepared to share space if you're arriving late.
To sing a song, it costs only 100 yen (USD$1). They've got a wide range of songs to choose from and in various languages. We've heard Japanese, English, Spanish, Italian, French and Chinese songs sung here, sometimes all in one night. And if you're a shy singer, have no fear, everyone here the bar gets in on it.
It's a standing bar, so wear comfortable shoes!
Sound Bar Lip (Shibuya)
They say that three's a crowd but you probably won't mind the third wheel here: an adorable, fun-loving French bulldog terrier, Goten. He'll lie on the couch with you, toss his toys at you, and possibly attack the cushions next to you.
If you and your date are dog-lovers, then Sound Bar Lip in Shibuya has to be your pick for a memorable date. The drinks are a little more expensive than in other places, ranging between 8-900 yen (USD$7.50-8.50), but you can't put a price on the company of a dog (though he may wander off every now and then to entertain other guests). There's also an entry charge, but it'll be waived with the coupon on our free FLIP Guide app, which also gets you a free shot.
Sheyda (Roppongi)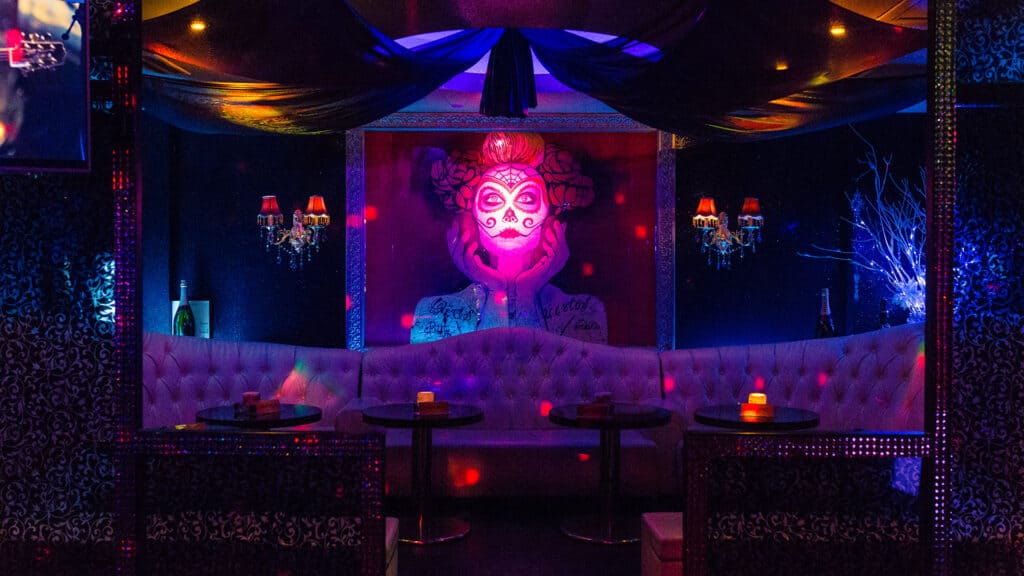 Dimly-lit and decorated with chandeliers and humungous art pieces, Sheyda provides a stylish and exotic atmosphere to enjoy conversations over shisha in. Their shishas are top-quality, smooth and experimental with flavours.
Their DJ allows you to take a break from the heavy bass and EDM typically found in clubs in Roppongi, instead playing hip hop or Top 40s music, which some dancers will perform to.
Be wary of the time! This beautiful lounge in Roppongi turns into a club after hours, so if you're looking for some private time with your boo, Sheyda may be better to hit up in the earlier hours of the night.
Rize Mize (Shinjuku)
This restaurant-bar has an unconventional design that mixes and matches various styles and materials, all coming together to create an intimate and homely ambience perfect for a quiet dinner and a drink or two. Just beware that it can get crowded and rowdy on the weekends, but outdoor seating is also available if you want more space and quiet.
Equipped with a stone-fired oven, they serve up some of the best, smoky pizzas in town. If pizza's not your thing, they've also got great pasta dishes and an array of tapas if you want something lighter.
What's great about Rize Mize in Shinjuku is how affordable their menu is, at no expense to the quality of the food or drinks. If you want a date night with a touch of class without breaking the bank, then Rize Mize could be your pick for the night.
There you have it! What do you think about these unique date spots in Tokyo for your date? If you have any other suggestions, let us know in the comment section below!
—
Want to check out different underground and local areas of Tokyo? Click on the area you want to explore and let us give you a tour of some of our favourite spots from famous places to underground spots! Tokyo nightlife: Shinjuku, Shibuya, Roppongi, Nakano, Shimokitazawa, Asakusa, Koenji, Akihabara and more!
Stay tuned for more information about Japan travel, Japanese culture, moving to Japan, living in Japan, Japan Nightlife and more. For more, check out Japan Gift Guides, Japan Events and Places in Japan.
—