If you're planning a trip to Japan—or even just looking into it—you've probably read about the Japan Rail Pass (JR Pass). But what is the Japan Rail Pass, exactly? And is the JR Pass worth the money? 
Wondering is Japan Rail Pass worth it? Let us make it simple so you don't have to waste hours researching and getting confused about whether or not you should get the Japan Rail Pass.
If you are planning to get the Japan Rail Pass and don't want all the hassle, you can get it at no extra cost in your FLIP Japan Travel Starter Pack, with all the essential things you need and bonuses. You can check it out here.
What is the JR Pass?
The JR Pass is a Japan train pass that allows you to ride all JR trains as many times as you need during a chosen period of time—7 days, 14 days or 21 days, depending on your plan. You can also choose between an ordinary option that will allow you to sit in the standard class cabins or a green car option that will get you a seat in the green class cabins (first class).
The price of the JR Pass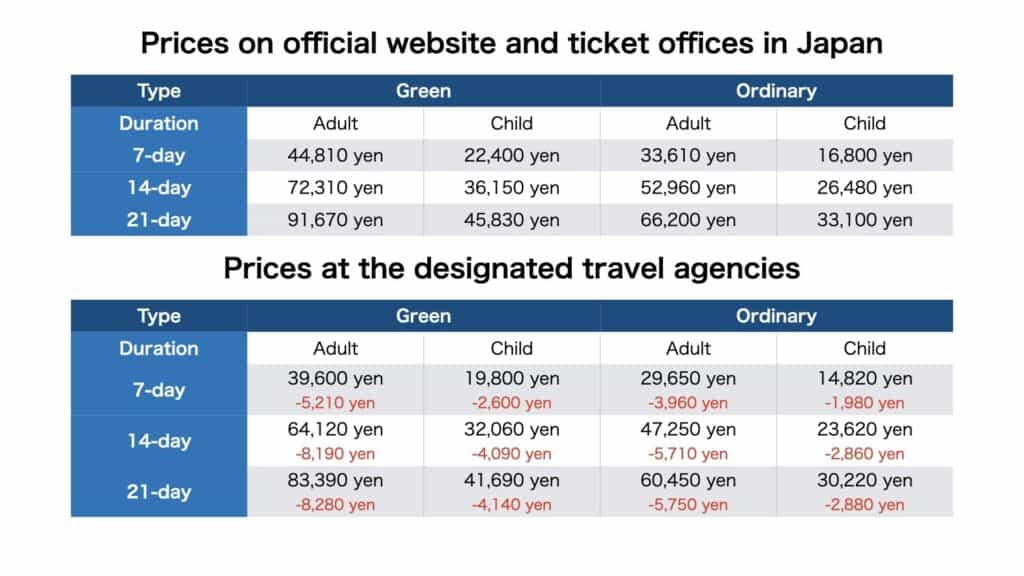 | | | | |
| --- | --- | --- | --- |
| | 7 days | 14 days | 21 days |
| Ordinary | 29,650 (USD$277) | 47,250 (USD$442) | 60,450 (USD$565) |
| Green | 39,600 (USD$370) | 64,120 (USD$599) | 83,390 (USD$779) |
Prices are subject to change.
Children aged 6 to 11 have a 50% discount.
The pass can't be exchanged for other passes or tickets, and refunds are available only before its start date, and only under certain circumstances. If you lose your pass or if it gets stolen, it unfortunately can't be reissued.
Who can use the JR Pass?
You have to fit at least one of the following two criteria to use this pass:
A foreign tourist from abroad whose trip to Japan is for sightseeing, and who arrives with the "temporary visitor" visa. Your passport must have the "temporary visitor" stamp in it.
A Japanese national living abroad who meets certain conditions.
The pass cannot be shared or transferred to someone else. And be sure to always carry your passport with you, in case you need to confirm ownership of the JR Pass.
Where can the JR pass be used?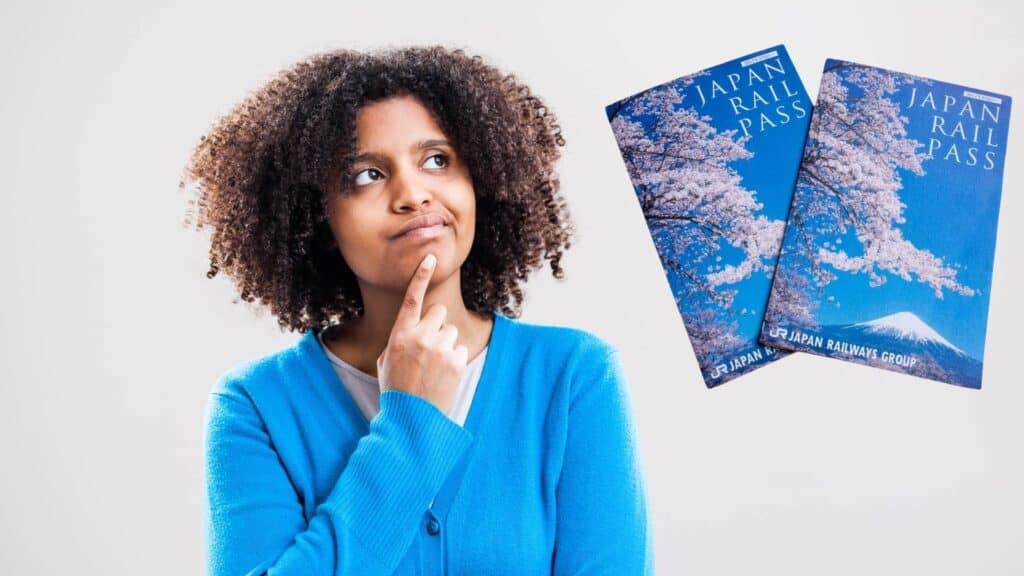 You can use the JR pass on the following trains and lines:
Almost all JR trains (Limited express, express, rapid and local)
The bullet trains (shinkansen, 新幹線)
Tokyo Monorail to and from Haneda Airport
JR ferry to Miyajima
Some local JR buses (excluding highway buses)
Some non-JR trains and only to stations that have a JR line:

Aomori Railway between Aomori, Noheji and Hachinohe stations to access the JR Ominato line.
IR Ishikawa Railway between Kanazawa and Tsubata to access the JR Nanano line to the Noto Peninsula.
Ainokaze Toyama Railway between Toyama and Takaoka to access the JR Himi and JR Johana lines.
To use the pass, simply tap it on the automatic ticket gate and pass through. If you encounter any problems, present your Japan train pass to an attendant at the station.
JR Pass-valid routes may vary depending on certain circumstances such as weather or otherwise.
Seat Reservations with JR Pass
For a more comfortable ride, you can make a seat reservation with your Japan train pass. This is recommended especially during busy travel periods, as trains are likely to be full. Otherwise, you are free to sit in the non-reserved seats.
Seat reservations are not available on all trains (typically trains within a city), and are mandatory on others such as the Narita Express between Tokyo and Narita airport.
Seat reservations are free, but some special sections such as private compartments and sleeping cabins may charge some fees.
It can be quite inconvenient for other passengers and the train company if you miss your train with a reservation, so try to cancel the reservation beforehand. You can make a new reservation afterwards or sit in the non-reserved section.
How to make seat reservations
You can make seat reservations at ticket machines or ticket offices in train stations. You can also make reservations on the official JR website. See the pages on how to use trains and shinkansen for more details about how to make a seat reservation.
Is the Japan Rail Pass worth it?
Now that you know all the basic information regarding the pass, the question stands: is the JR Pass worth it?
Yes, but only if you're planning to travel between large cities and regions. A regular ticket on the bullet train from Tokyo to Osaka costs around 14,500 yen (USD$136), and that's a one-way trip. So if you're planning on traveling across Japan to several different regions, then this option will save you a lot of money.
But, if you're going to stay within one city, the Pass may end up costing you more. A half-hour train ride on Tokyo's JR Yamanote line will cost around just 200 yen (USD$2), so spending almost 30,000 yen (USD$280) to use the JR trains within Tokyo in a week is far more than you have to pay.
So, at the end of the day, whether the JR Pass is worth getting or not really depends on what you plan to do in Japan. 
—
Planning a trip can be stressful, so if you have any questions regarding the JR Pass—or a trip to Japan in general—feel free to contact us! If you need some more help figuring out if this option is worth it, we'll answer any questions you have and even help you arrange your trip, so you can enjoy Japan stress-free.