Kanazawa is the capital city of Ishikawa prefecture, located on the western Japan coast. Being one of Japan's largest cities, it is a popular destination for sightseeing and dining, with its elegant cityscape and fresh seafood from the Hokuriku region.
The main sights are concentrated in a few areas around the city. They can be visited by bus or on foot without renting a car. Here is an overnight itinerary course for a two-day one night visit to Kanazawa, starting from Kanazawa Station, that will take you to the sights you can't miss on your first trip to Kanazawa.
—
Day 1, 10:00 am– Arrive at Kanazawa Station (Map Link)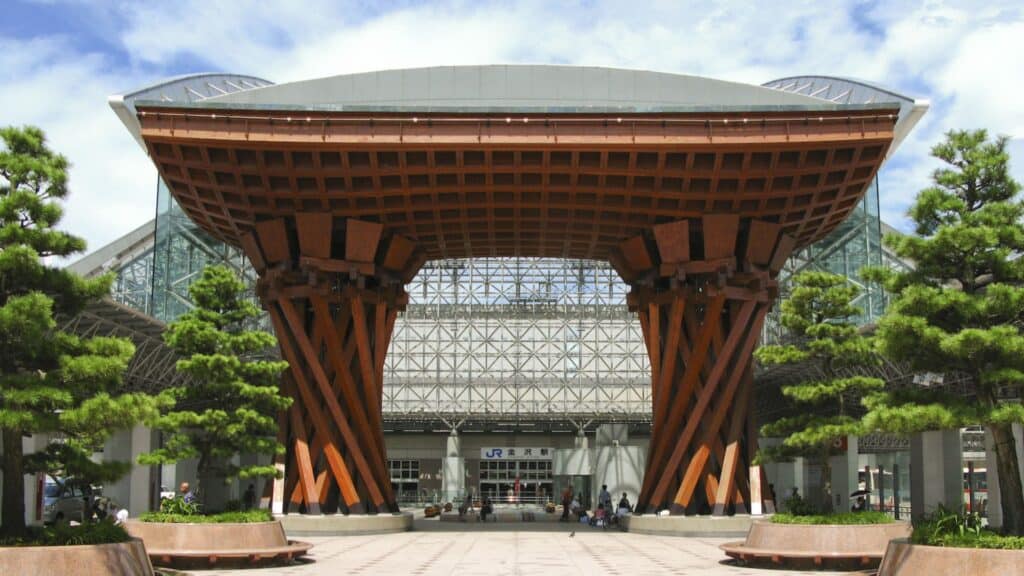 Kanazawa Station is a landmark of Kanazawa and was the subject of much controversy in 2011 when it was voted 6th among the 14 most beautiful train stations in the world by the American travel magazine, Travel & Leisure. Built in 1898, architect Ryuzo Shirae redesigned the station to appear more futuristic, and its construction was completed in 2005. It now features a glass and steel dome and a giant wooden gate resembling a torii gate at the east exit plaza. The Motenashi Dome and Tsuzumi-mon gate are the first photo stops for many visitors to Kanazawa. Enjoy the architecture and snap some pictures with one of the symbols of Kanazawa!
Address: 〒920-0858 Ishikawa, Kanazawa, Kinoshinbomachi, 1番1号 
Day 1, 11:00 am– Omicho Market (Map Link)
Credit: Raita Futo
Omicho Market, the 'Citizens' Kitchen', has supported Kanazawa's food culture for 300 years since the Edo period. Nine minutes by bus or a 15-minute walk from Kanazawa Station, the narrow lanes are lined with some 180 shops offering a wide variety of fresh seafood, locally grown vegetables, and fruit.
The market is crowded with tourists shopping and eating, but if you want to have lunch, we recommend Kanazawa's popular gourmet Kaisen-don. Fresh seafood from the Sea of Japan is served in a bowl so generously that it overflows the bowl. There are many restaurants where you can eat Kaisen-don, but it is common to wait in line for several hours at popular restaurants. If you go on a weekend, we recommend eating outside of peak lunchtime hours to avoid becoming a lunch refugee. If you can go in the morning, it is safer to have an early lunch at Omichoi Market first and then go sightseeing.
Address: 50 Kamiomicho, Kanazawa, Ishikawa 920-0905
Optional, but Recommended– Kimono rental
Kimono rental has recently become popular among female tourists in Kanazawa. Kanazawa, which retains many elegant townscapes, is said to be a town where kimonos are a good fit. You will see many tourists walking around in kimonos at famous sightseeing spots such as the Higashi Chaya-gai district.
There are many kimono rental shops in Kanazawa, many of which are located near Kanazawa Station, Omicho Market, and other tourist attractions. Prices vary from shop to shop, but the market rate is around 5,000 yen per day. We recommend it for those who want to enjoy a different fashion style on their trip to Kanazawa!
Day 1, 12:30 pm– Higashi-Chaya District (Map Link)
Higashi Chaya-gai, one of Kanazawa's most popular tourist attractions, is a teahouse district created by the Kaga clan in the Edo period (1603-1868) by gathering teahouses under the castle. The historical buildings and streets have been preserved in their original form. Cafés and galleries that have revitalised townhouses and select shops selling traditional handicrafts line the streets, giving the area the atmosphere of an old teahouse district.
Only eight minutes by bus or 10 minutes walking from Omicho Market, there are many photogenic scenes. Many people can be seen taking photos in kimonos with the traditional streetscape in the background. The amount of time you spend in Higashi Chaya-gai varies greatly depending on your purpose, but it is a sightseeing spot you should take your time exploring!
Address: 1 Chome Higashiyama, Kanazawa, Ishikawa 920-0831
Day 1, 2:00 pm– National Important Cultural Property, Ochaya Shima (Map Link)
Credit: G41rn8
Located in the Higashi-Chaya district, Shima is a prestigious teahouse built in 1820 and has remained untouched since the Edo period. It is designated as a National Important Cultural Property of Japan and is open to the public for a fee of around 500 yen. The inside of the building is as elegant and delicate as seen on TV period dramas and offers a glimpse of the chic adult social scene of the Edo period.
Shima also has a tea room, Kanson-an, where you can enjoy matcha tea and Traditional Japanese sweets while gazing out over the garden. Why not spend a quiet moment in the ancient capital of Kanazawa?
Address: 1 Chome-13-21 Higashiyama, Kanazawa, Ishikawa 920-0831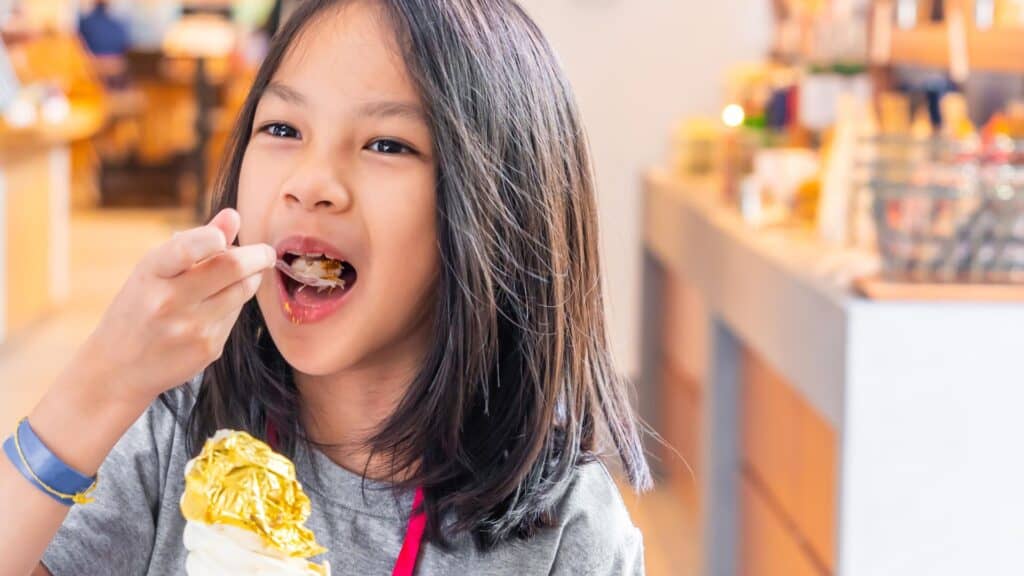 When the Japanese think of gold leaf, the first city that comes to mind is Kanazawa. Kanazawa has thrived as a centre of gold leaf production since the 1600s. Today, it produces almost 100% of Japan's gold leaf. The city has its unique way of creating gold leaf that has existed for over 400 years, known as the entsuke technique. In 2014, Japan certified entsuke gold leaf as a Selected Conservation Technique. In December 2020, UNESCO added entsuke gold leaf to its list of Intangible Cultural Heritage.
How can you enjoy gold leaf from Kanazawa? You will find many products with gold leaf all over the city, and Higashi Chaya District is no exception. Given that the gold is edible, there are limitless options for golden confectionary delights. There is even gold-flecked coffee!
While many stores sell gold leaf products, Hakuichi is one of the most famous. They sell chopsticks, plates, oil-absorbent paper made from gold leaf, and gold leaf cosmetics like lotions and packs, which are popular as souvenirs. Something you definitely can't miss is the kinpaku no kagayaki soft-serve ice cream from Hakuichi. This delectable treat not only looks beautiful, but it tastes just as good. Take some pictures to capture the beauty of your ice cream forever and enjoy the refreshing flavour!
Address: 1 Chome-15-4 Higashiyama, Kanazawa, Ishikawa 920-0831
Kazuemachi-Chaya District (Map Link)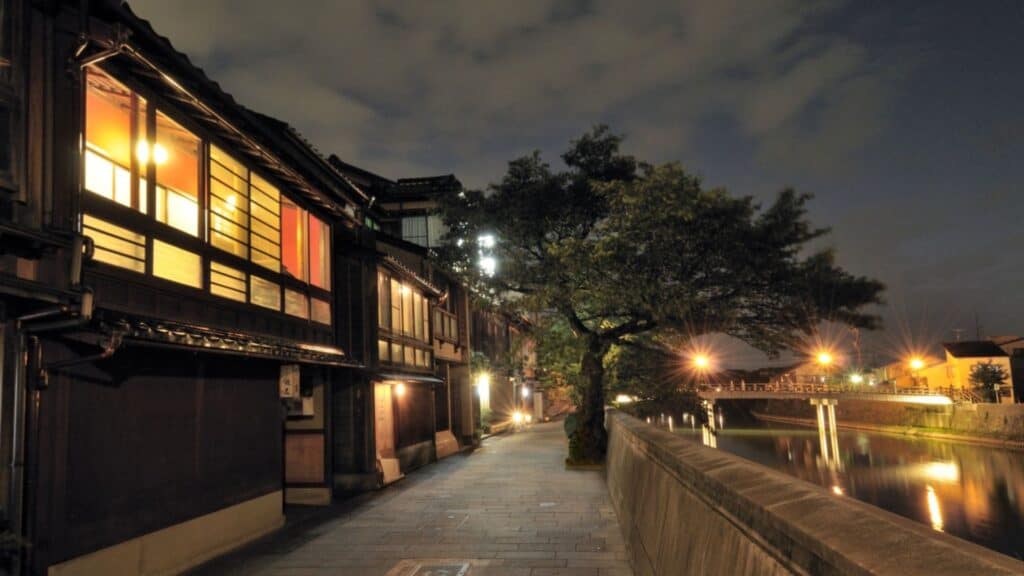 Credit: Visit Kanazawa
The Kazuemachi Chaya-gai is an area along the Asano River between Asanogawa Ohashi Bridge and Naka-no Hashi Bridge. The district is lined with traditional-style restaurants and teahouses. Unlike Higashi Chaya-gai, which has many tourists, this area is less crowded and has a calm atmosphere, making it a perfect place for a stroll. It is only a five-minute walk from Higashi Chaya-gai, so why not escape the crowds and take a sightseeing tour in combination with it?
Address: 2-5 Kazuemachi, Kanazawa, Ishikawa 920-0908
Day 1, 4:00 pm– Kenrokuen Garden (Map Link)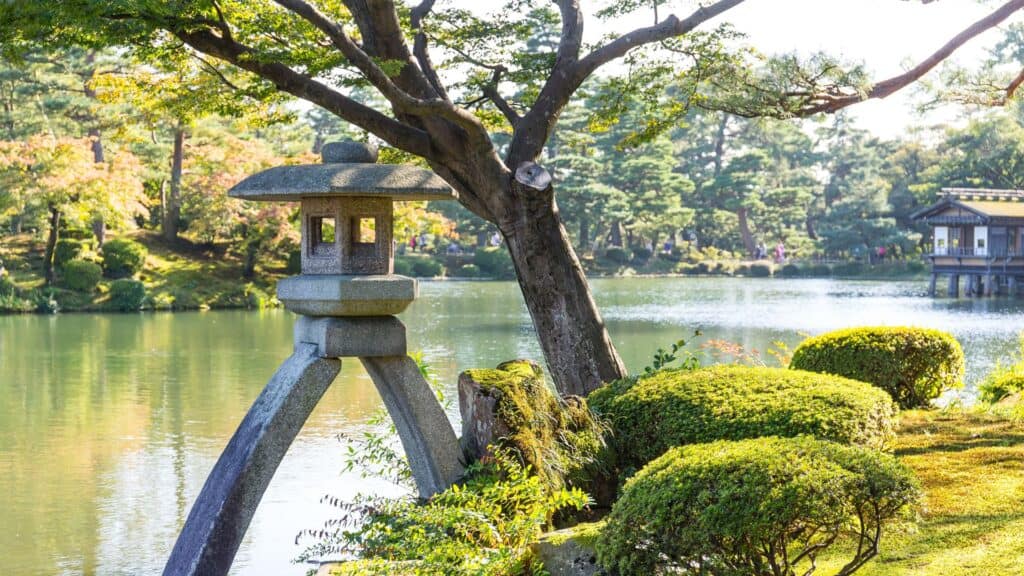 Kenrokuen Garden is a vast garden dotted with mountains, ponds, and teahouses where visitors can walk around and enjoy the different landscapes. Along with Korakuen Garden in Okayama City, Okayama Prefecture, and Kairakuen Garden in Mito City, Ibaraki Prefecture, Kenrokuen Garden is one of the three most famous gardens in Japan. The Michelin Green Guide Japan has awarded it the highest rating of three stars. This garden is also home to other historical and iconic structures. At the northern bank of the Kasumigaike Pond is the Kotojitoro Lantern, which stands over 2 meters tall, made uniquely with two legs instead of one. Below Kasumigaike Pond lies one of Japan's oldest fountains, powered by a drop in elevation in the pond, causing the water to shoot up 3.5 meters high!
The garden's beauty can be enjoyed throughout the four seasons: in spring, 200 red and white plum trees and 420 cherry trees of 20 varieties bloom; in summer, more flowers bloom and greenery is abundant; in autumn, the park is filled with bright red autumn leaves; in winter, the "Yuki-hanging", a traditional winter custom in Kanazawa, protects the branches of the trees from the snow. Stroll through this garden for only around 320 yen and enjoy the scenes, shops, and picturesque beauty it offers.
Address: 1 Kenrokumachi, Kanazawa, Ishikawa 920-0936
Kanazawa Castle Park (Map Link)
Kanazawa Castle Park is accessible from the Katsurazaka Exit of Kenrokuen Garden, with the main gate, Ishikawa-mon Gate, just in front of you. Kanazawa Castle was the residence of the Maeda family of Kaga Hyakumangoku and is known as an impregnable castle. The castle park is in an ongoing process of restoration. Hishi and Tsuzuki Yagura (two turrets) connected by Gojiken Nagaya (a long storehouse) were among the first to be restored in 2001 using traditional building techniques and materials and is one of the highlights of this park. In 2015, the Hashizume-mon gate, adjacent to the turrets, was added. This is the only part of the park that has an admission fee of approximately 310 yen.
Other restored buildings include the Kahoku-mon Gate (2010) and the Nezumita-mon Gate (2020) near Oyama Shrine. These gates have upper floors you can enter free of charge and contain displays about the gates' history and construction. The castle park also has a garden, the Gyokuseninmaru Garden, which was restored in 2015 and has a central pond and circular walking path. Stroll through the park and look at the restored architecture, learn about the history of Kanazawa, and enjoy the nature surrounding you. The park is open at night on Fridays, Saturdays, and the day before public holidays when you can admire the wonderfully illuminated scenery.
Address: 1-1 Marunouchi, Kanazawa, Ishikawa 920-0937
Day 1, 6:00 pm– Hotels in Kanazawa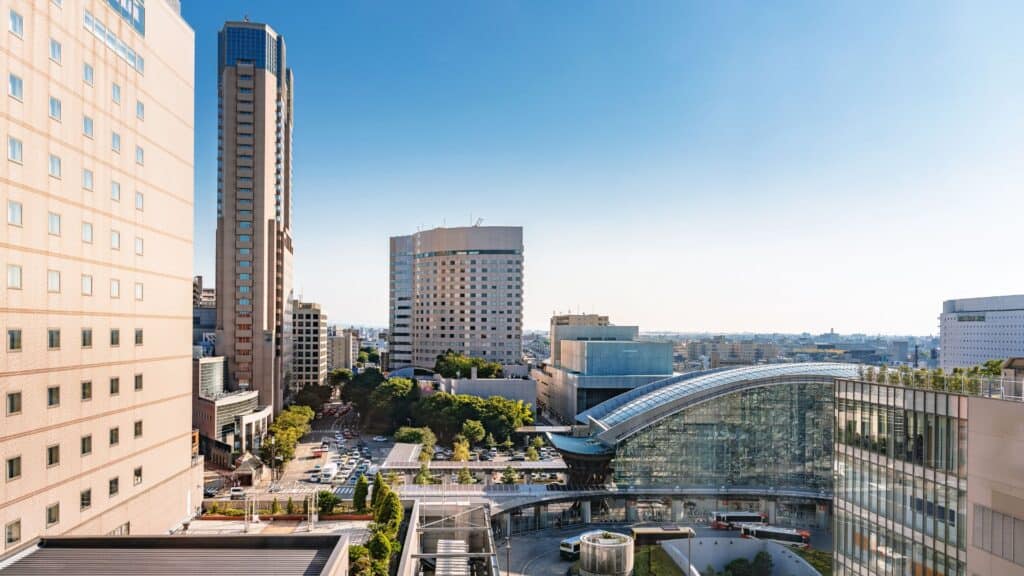 Hotels in Kanazawa City are concentrated around Kanazawa Station and Kanazawa Castle Park. They range from business hotels to luxury hotels. The downtown areas Korinbo, Katamachi, and Tatemachi are on the west side of Kanazawa Castle Park and are known as Hokuriku's busiest and most gourmet towns in Kanazawa. Depending on the purpose of your visit, you can find a hotel of your choice not far from the attractions during your stay.
Day 2, 10:00 am– Nagamachi Samurai District (Map Link)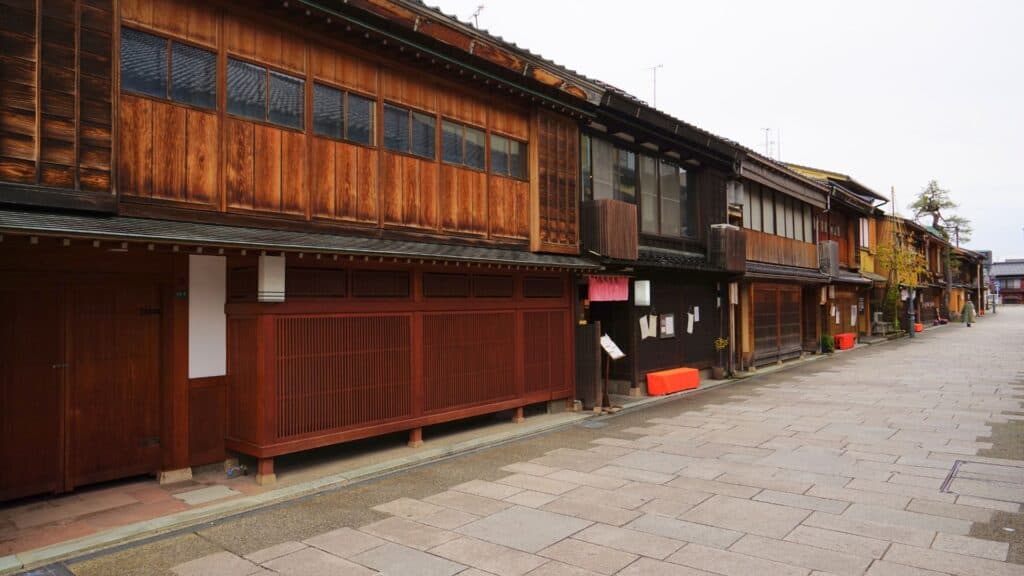 Nagamachi Bukeyashiki is a district that preserves the houses where the Kaga clan warriors lived during the feudal era, with traditional earthen walls and stone-paved alleyways remaining and grand samurai residences lining the streets. One of the main attractions of this district is Nomura-ke, a restored samurai residence displaying the lifestyle and artefacts of the era when samurai were prosperous. The district has other museums and restored structures like Kaga Hanshi. A 2-minute walk from Nomura-ke, Kaga Hanshi is a horse stable with a garden to stroll through and enjoy nature.
Walk around the Nagamachi Samurai District and immerse yourself in the environment, envisioning what life was like in the feudal era. The road from this area to Korinbo is dotted with cafés, Japanese confectionary shops, and shops selling traditional crafts such as Kutani ware. As you stroll, stop by the shops and pick up some souvenirs!
Address: 1 Chome-3-12-2 Nagamachi, Kanazawa, Ishikawa 920-0865
Day 2, 12:00 pm– Nishi-Chaya District (Map Link)
Nishi Chaya-gai is one of Kanazawa's three teahouse districts, along with Higashi Chaya-gai and Kazuemachi Chaya-gai. Compared to Higashi Chaya-gai, there are fewer tourists and the atmosphere is more relaxed. Although smaller in scale, the town is lined with Kappo restaurants and Machiya shops and has a quaint atmosphere. A 14-minute walk from Nagamachi Samurai District, Nishi Chaya-gai is said to have the largest number of geiko of the three teahouse districts. At dusk, you can feel the night of Kanazawa, the town of arts, with dressed-up geiko walking the streets and the sound of shamisen (three-stringed Japanese guitar) playing from the rows of houses.
Address: 2 Chome-25-18 Nomachi, Kanazawa, Ishikawa 921-8031
Day 2, 2:00pm– Myoriyu-ji Temple (Map Link)
Credit: Irina Gelbukh
Also known as the Ninja Temple, the Myoriyu-ji Temple is home to several gadgets, including a money box that turns into a pit, a hidden staircase that appears when the floorboards are rolled up, and a well that is said to have been used as a way to Kanazawa Castle. This temple is a two-minute walk from Nishi-Chaya District.
While the temple is not associated with Ninja, it received the name due to its various deceptive defences. At the time of its construction, the temple was under tension with the Tokugawa Shogunate, which imposed many building restrictions in an attempt to weaken the feudal lords. These devices were installed to circumvent those restrictions and prepare for an attack. In the event of an attack, the deceptive defences provided the defenders with time to escape to the Kanazawa castle and alert them of the attack.
The temple exterior is two storeys high, but it is said to have four storeys, 23 rooms, and 29 staircases. It is said to have hidden tunnels, secret rooms, traps, and a labyrinth of corridors and staircases. These can be seen on guided tours, where a guide will lead you through the maze-like interior. The tours are held in Japanese, although good English guidebooks are available.*
Address: 1 Chome-2-12 Nomachi, Kanazawa, Ishikawa 921-8031
*Advanced booking is required.
—
Two days, one night. Whether it's for business or sightseeing, this two-day itinerary will allow you to see some of the best sites in Kanazawa. I hope these locations allow you to truly enjoy and understand the beauty and history of this wonderful city.
Have you been to Kanazawa? How was it? Any suggestions of locations not on this itinerary? Let us know! Connect with us through Instagram, YouTube, TikTok, Facebook, Twitter, or Pinterest.