FLIP JAPAN GUIDE
Explore, Experience, Enjoy Japan!
Come and join us to get to know the ins and outs of Japan and discover hidden gems with your local friends!
Want help planning your Trip?
Want to visit Japan in the most efficient way while ticking off all the major sights and hitting up some local gems? Let us help you!
Want a guided Tour in Japan?
Not your typical guide, we are guides that are also your local friends, giving you insights and helping you tick off your Japan bucket list!
Want to learn all about Japan?
Travelling to Japan? Grab the tips and tricks, must-sees, things to do, perfect itineraries, packing list and much more.
Are you coming to Tokyo during peak Cherry Blossom season in March and April and want to make the...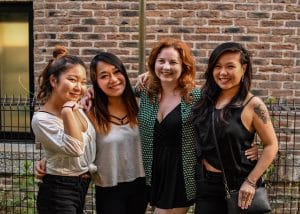 Hey friend!
Just like you, we are foreigners from all around the world.
When we first arrived in Tokyo, we all found this city to be overwhelming, not sure where to begin.
During the years that we have lived here in Japan, we have discovered and visited countless famous tourist attractions as well as unique and underground places.
We are now proud to say that we are experts of Japan and would love to share the knowledge with all of you!
"HIGHLY RECOMMENDED – really fun experience where we discovered places that we would never have found on our own. The girls took a real interest in our lives & we felt like we were with friends!"
"My experience with FLIP Guide was by far the best time I've ever had. They were fun, knowledgeable, friendly and helpful. We had a great time chatting and making new friends! Thank you!"
How we can support you
To help you with your time in Japan, we are here to help you every step of the way! 

FLIP JAPAN STARTER PACK
Travelling can be stressful, that's why we are here for you. Here's all you need to start your journey in Japan. 

Japan Assistant
We will help you travel or move to Japan by providing expert recommendations and the assistance you need.

FLIP Japan Tours
Ready to explore the ins and outs of Japan, from the popular spots to the hidden gems that we are excited to show you?
free JAPAN GIFT BOX
Want to discover Japan, both the main tourist attractions and the underground spots?