Thinking about what to do in spring in Japan? The long winter is over and spring is just around the corner. Japan is dozing off to spring, the season of cherry blossoms. Here are 17 things you should do in the spring season in Japan, along with some recommended spots around Tokyo. Some of these you might already know, but some just might inspire you for this Spring time. 

One of the best ways to explore Tokyo is to visit the local areas and immerse yourself in the local culture. If you want to explore local areas, we have created scavenger hunt adventures personalised to your interests, filled with fun facts, clues and puzzles. If you're curious, you can check out the games here!

Check out the Flip Japan Games here!

Find out more about Spring in Japan here: What to do in Spring, Where to go in spring, Wisteria in Japan, Spring Date ideas, What to do eat in spring, Where to see cherry blossom in Tokyo and Cherry blossom festivals.
What to do in spring in Japan
1. Hanami, cherry blossom viewing
Going out to see the cherry blossoms. A lot of people see the cherry blossoms and realise spring has arrived. Hanami can be said to be synonymous with spring.
​​The beautiful cherry blossom trees in Japan are a symbol of the country. They bloom at the start of spring and start to fall off soon afterwards.
The Japanese believe that the cherry blossom is a welcoming spirit for springtime with gentle breezes blowing through the trees. The cherry blossoms are not just a pretty sight but also a reminder of the ephemeral nature of life.
One recommended spot to go out to see the cherry blossoms is Chidorigafuchi Park in Chiyoda Ward, Tokyo. This is one of the most famous cherry blossom spots in Tokyo, and the scenery of cherry blossoms reflected on the surface of the water is very beautiful. 
2. Explore new places on foot
After the cold and freezing winter and before the hot and humid summer, spring is the perfect time to take a walk and explore new places on foot.
In today's world, many people have sedentary jobs and live a lifestyle that involves little physical activity. In this case, walking can be a great way to increase your level of physical activity.
It is important to take breaks from sitting when doing tasks for your job or studying for school because sitting too long has been linked to many serious health problems such as heart disease and diabetes.
Japan has a lot of unique back alleys and side streets in many cities. Get lost in the city and walk around exploring areas and neighbourhoods that you might not always get a chance to explore. Allow yourself to take a wrong turn, walk into random parks, stumble across temples and shrines, drop by small cafes and restaurants while exploring on foot.
Inokashira Park in Kichijoji is a great place to go for a walk. In this park, you can enjoy nature with a zoo, restaurants, and a pond where you can even go boating. From late March to early April, you can see very beautiful cherry blossoms surrounding this park. Besides Inokashira Park, there are many local shops, cafes and restaurants in the area for you to explore on foot.
3. Enjoy the taste of spring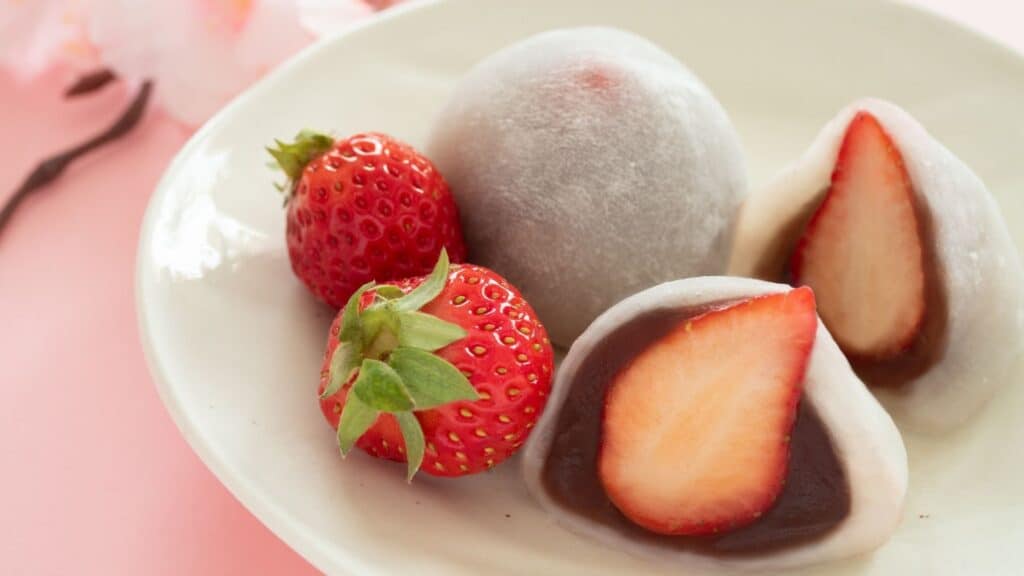 In spring, many ingredients such as fukinoto and spring cabbage are in season. Enjoy the seasonal taste of exquisite dishes that can only be tasted at this time of year.
You could try asari clams which get caught during spring's arrival. These bottleneck clams are fresh, sweet, and affordable. You can find them in miso soup, steamed with spring onions, and so many other combinations.
Or how about trying ichigo daifuku? This sweet treat is strawberries (ichigo) and small round mochi stuffed with red bean paste (daifuku). This delicious treat is only available between winter and spring, and you can find it at almost any sweet shop, convenience store and supermarket.
If you're up for a challenge, get a few seasonal ingredients and cook at home. Enjoy these dishes with freshly made butterbur sprout, maitake, and spring onion tempura. If you don't want to cook yourself but still want to try out these ingredients, visit different cafes and restaurants to enjoy the taste of spring.
4. Immerse yourself in a flower field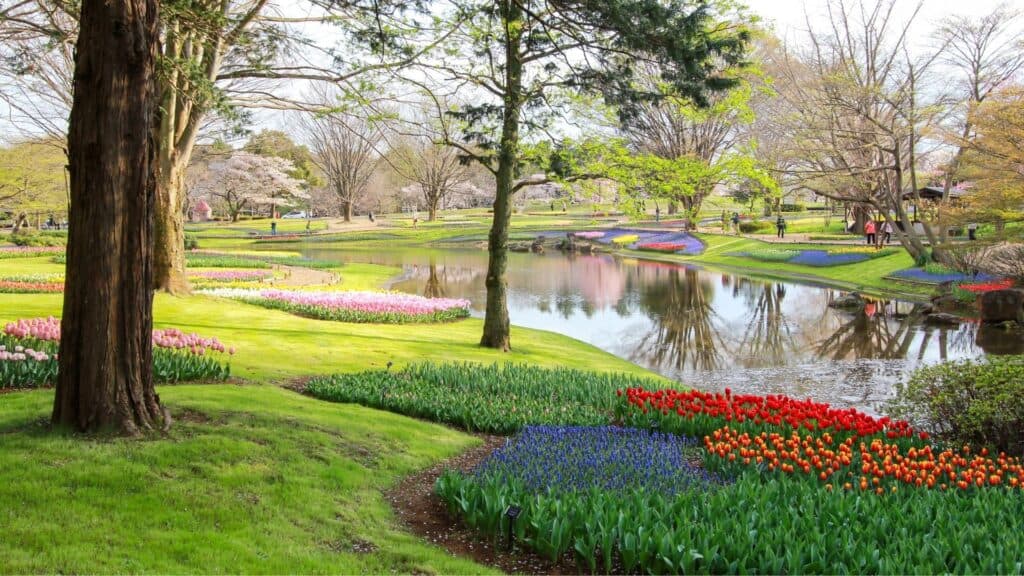 Speaking of spring, many flowers other than cherry blossoms are in full bloom.
Ibaraki's Hitachi Seaside Park is well-known for its flower fields. Many people visit this park as a spot where you can see various flowers all year round. Especially in spring, Nemophylla is in full bloom. The blue flowers that seem to be integrated with the sky are very beautiful. (The best time to see Nemophila in Hitachi Seaside Park is from mid-April to early May.)
Another great place to visit is Showa Kinen Park. This park is on the outskirts of Tokyo. There are a variety of spring flowers to view, plus great restaurants, cafes and sports areas. It even has a traditional Japanese garden and bonsai exhibition.
You could also visit the Kameido Tenjinja Shrine to experience beautiful wisteria flowers. Besides sakura, wisteria is another representative flower of Japan. Kameido Tenjinja is near Tokyo Skytree, and it is the best place to view the wisteria flowers.
5. Have a picnic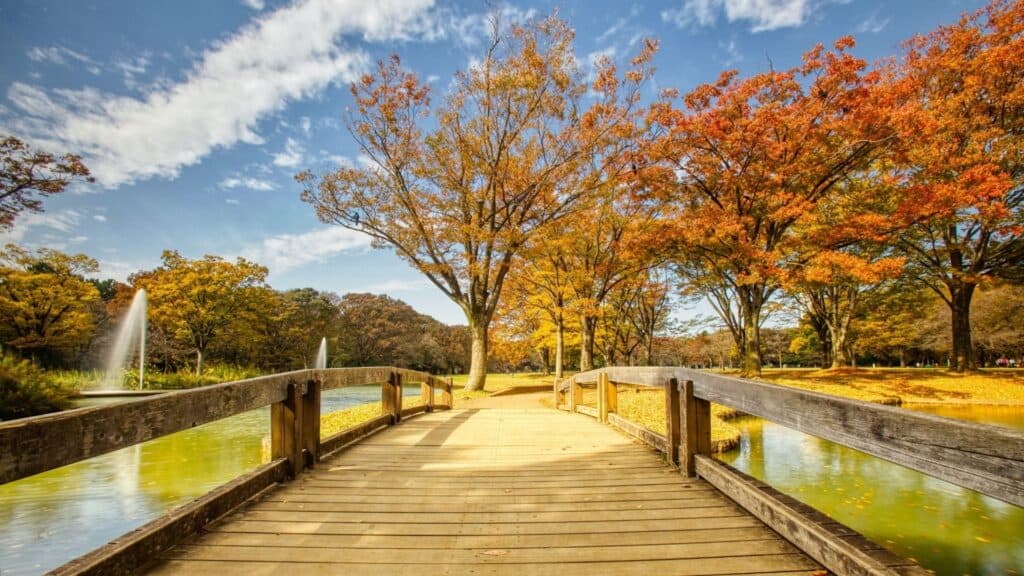 There's no better way to enjoy the warm weather than to have a picnic. To fully enjoy the spring that came, sit on a bench or set a picnic mat down at a park and relax.
One incredible spot is Yoyogi Park in Shibuya. This park is a place where you can fully enjoy nature that you wouldn't expect to find in the center of the city. There are many very photogenic take-out gourmet shops nearby, enjoy a picnic here and have fun.
Another great area is Showa Memorial Park. It is about 30 minutes from central Tokyo, but it is well worth it. This park is huge. (1.8 sq. km.) Many picnickers come here to enjoy amazing sights and outdoor activities like cycling and boating.
Or, if you want a quieter, lesser-known park, check out Kasai Rinkai Park. It is a minute's walk from Kansai Rinkai Koen Station. This park is full of attractions like a Ferris wheel, bird sanctuary and aquarium. It is very spacious and allows barbecue parties for larger groups.
6. Go strawberry picking
Many people think of strawberries when it comes to the taste of spring. It's not just about eating strawberries, but harvesting and eating them on the spot is a different experience.
There are many spots where you can experience strawberry picking in the spring. One of the many is Setagaya Strawberry Juku in Setagaya, Tokyo. You can enjoy 30 minutes of strawberry picking here. This place can be reached within a 10-minute walk from Kaminoge Station on the Tokyu Oimachi Line. Make sure to check in advance to confirm the business hours of the strawberry picking experience.
There is also a family-owned farm called Niikuranoen (新倉農園). Located in western Tokyo, they specialise in strawberry and blueberry picking. You pay for what you pick. This farm is perfect for those who want to take their time and pick at their own pace with no time limit. Reservations are required, so be sure to check available times on their site.
Another great spot is Ishii Koen Erdbeere (石井農園 Erdbeere) in Chiba. It is a 35-minute ride from Akihabara station. They have seven special kinds of strawberries. It is smaller, but they offer great quality berries, plus they have their original strawberry sherbet, which is a must-try.
7. Go hiking
In the warmer spring, it's a good idea to move a little more actively. Recently, the number of people who go hiking casually on weekends is increasing. It is also recommended to solve the lack of exercise that people face these days.
Mt. Takao in Hachioji, Tokyo is a great mountain with many different hiking trails for you to choose from. This is a great place that can be reached in about an hour from Shinjuku. Even beginners can try hiking here relatively easily. In addition, there are various gourmet foods unique to Mt. Takao, so make sure to try them.
Another great hiking spot is Mount Koubou. This easy, beginner and family-friendly hike takes around 2.5 hours to complete. This hike is especially popular during cherry blossom season, where they have lanterns that illuminate the flowers in the early evening. There are also a bunch of picnic tables and benches to enjoy.
A longer hike that is worthwhile is Mount Tsukuba. It takes around 3-4 hours to complete. However, because there are multiple routes to choose from, this can be harder or easier depending on what you want. This mountain is actually in the top 100 famous mountains in Japan. There are amazing sights to see and fun places to pass as you hike, including an abandoned theme park and a hot spring.
8. Go shopping
Buying new clothes doesn't sound very special, but during the spring season, you will find fun seasonal items that can't be found in other times of the year.
When it comes to spring goods, the colours are brighter than they were until winter, and just wearing them should make you feel brighter.
There are a lot of shopping outlets in Japan and during the spring season, they have different sales as well as special events to get you in the mood for the warmer weather.
Some great shopping districts include Ginza, Shinjuku, Shibuya and Akihabara. If you are looking for specific stores to shop from, check out UNIQLO, MUJI, and Shimamura. (Shimamura is a petit brand, which has collaborated with anime characters and celebrities). Some higher-end clothing stores are Undercover, Sacai and Comme des Garçons.
The sales duration of spring products is pretty short, with items displayed in early February, and the lineup is full by mid-March. The best time to get the spring colours and sales is right before Golden Week.
9. Eat sakura sweets
In spring, many sakura-flavoured sweets will show up everywhere. Let's not only see the cherry blossoms, which is a spring tradition, but also taste the sakura sweets.
One shop that sells these special sakura sweets is Cinnabon. Cinnabonwas born in the United States and it is a cinnamon roll speciality store. Usually, during the months of February and March, Sakura Mini Bon is sold in Japan. It's a sweet that is fun to see as well as eat.
You could also get special spring flavoured Kit Kats. These Kit Kats are sold almost anywhere, from Don Quijote, 100yen shops to convenience stores. Some great flavours to try are the Sakura Sake or Matcha Green tea.
Also, be sure to try Sakura Mochi. This mochi is unique because the rice is cooked with sakura flavour, filled with sweet red bean paste, and wrapped in a cherry blossom leaf. It's not only delicious but a great treat to try.
Then if you're looking for something on a warmer day, check out Sakura soft serve ice cream. It is pretty easy to find and usually only costs 300 yen.
10. Go barbeque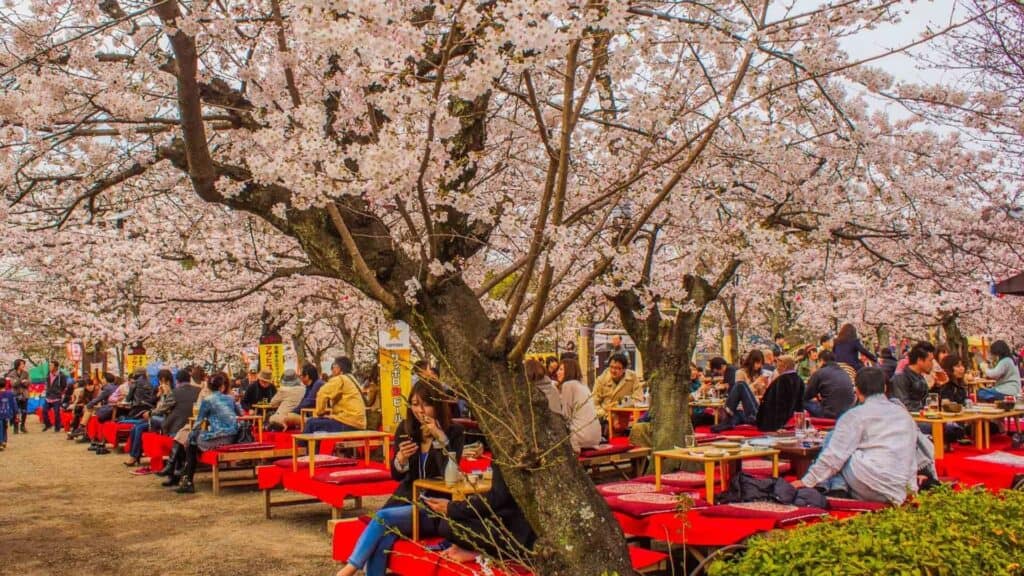 We think of going barbecuing in summer, but spring BBQ is also recommended! The spring BBQ is not too hot and not too cold, so it's comfortable. On top of that, in the spring when the flowers sprout, you can feel close to nature. Hanami barbeque while watching the cherry blossoms is also a one-of-a-kind activity you can only enjoy during this season.
Some of these parks have been mentioned earlier, but they are still great for a spring barbecue. Be sure to check out Showa Kinen Memorial Park. With a fantastic view of the flowers and a family and pet friendly atmosphere, this park is a must-visit during the spring season. There is an admissions fee, and you can rent BBQ equipment if needed.
Another great spot to check out is Sona Area Tokyo BBQ Garden. This area is cheap, and you can get basic equipment with the admission cost. You do have to reserve in advance, so check out their site.
Some other great spots to check out are Tamagawa-Ryokuchi BBQ Area, Komaba Park and Wild Magic.
11. Pick edible wild plants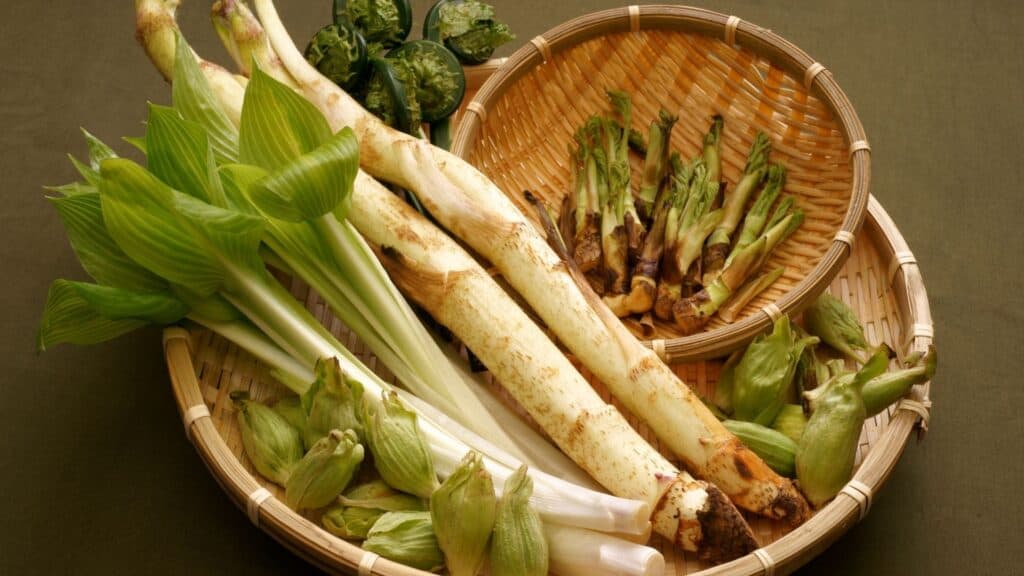 Spring, when green buds sprout, is the season for wild plants. Seasonal edible wild plants are bittersweet and have antioxidant properties, so they can help you get rid of waste products from your body.
One great edible wild plant to try is Sansai. Sansai is an edible plant that usually grows in the fields or mountains. Its leaves, stalks, roots, fruits and flowers can all be eaten. However, the best time to eat Kansai is from March through June, during the spring season. This plant is a must-eat for spring wild plants, and Sansai picking has continued to grow in popularity.
There are also wild plants such as bracken and horsetail that you can easily pick up, so why not try picking wild plants this spring?
12. Go clam digging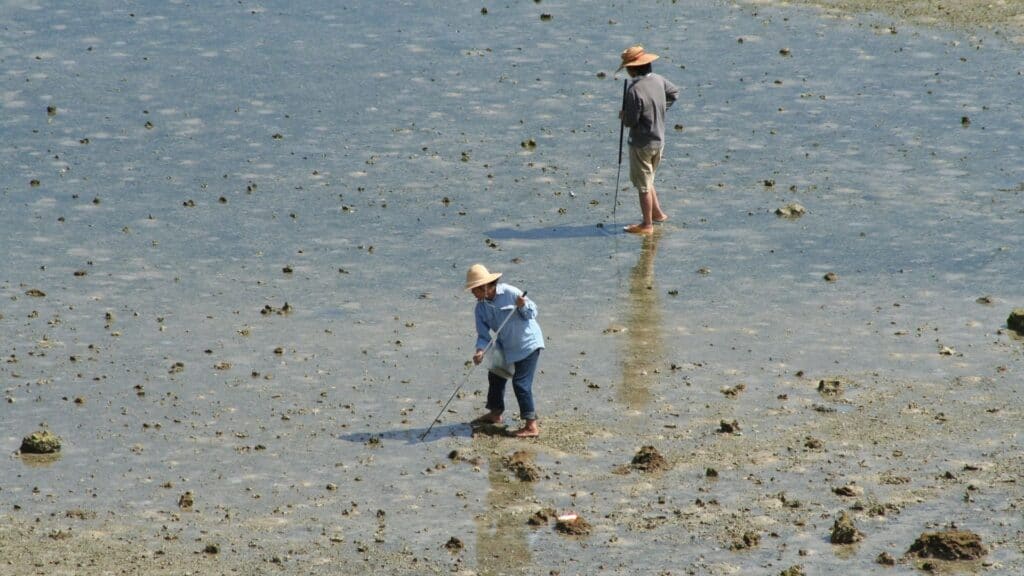 Clam digging is also an event that you can enjoy in the spring. You can collect clams, clams, and stupid shellfish. It's surprisingly difficult, so be prepared.
One great spot to check out is Funabashi Sanbanze Seaside Park. Although it is located in Funabashi-city, Chiba, it's one of the closest clam digging spots from central Tokyo. Opening times are on the website, so be sure to check online before visiting. You can find various species of clams, and it costs 80 yen per 100g of clams you take.
Another great area is the Edogawa River estuary in Ishikawa-City, Chiba. It's a quieter mudflat that is a perfect place to dig for razor clams, hard-shelled clams and shellfish. This place is free of charge, but footing can be difficult from all the mud, so be careful.
Then, after digging up all you can, eat some delicious clam dishes. Try clams steamed in sake and grilled butter made from freshly picked shellfish.
13. See the fireflies
Seeing the fireflies, (or hotaru in Japanese) is considered to be a summer tradition. You can find them from late May to early June. The end of spring to the beginning of summer is the best time to see fireflies.
A great place to watch the fireflies is Shibuya Fureai Botanical Garden Center. This beautiful oasis is the smallest botanical garden in Japan. In June, over 10,000 visitors head to the annual firefly evening event. You can see two types of fireflies, the Heike botaru and the Genji botaru. The best time to view the Heike botaru fireflies is 5:30 p.m. and 9 p.m. for the Genji botaru.
Another place you should check out is the Setagaya Firefly Festival. This annual two-day festival has all the best Japanese festivities like food, market stalls, music and fireflies. Over 25,000 people go, so be prepared. However, there are over 3,000 fireflies to watch. This festival also celebrates the sagiso, which is a special orchid. So as you watch the beautiful fireflies, don't forget to enjoy the sagiso.
The fantastic sight of fireflies flying around the riverside is a great sight that's unique during this period of time.
14. Wisteria viewing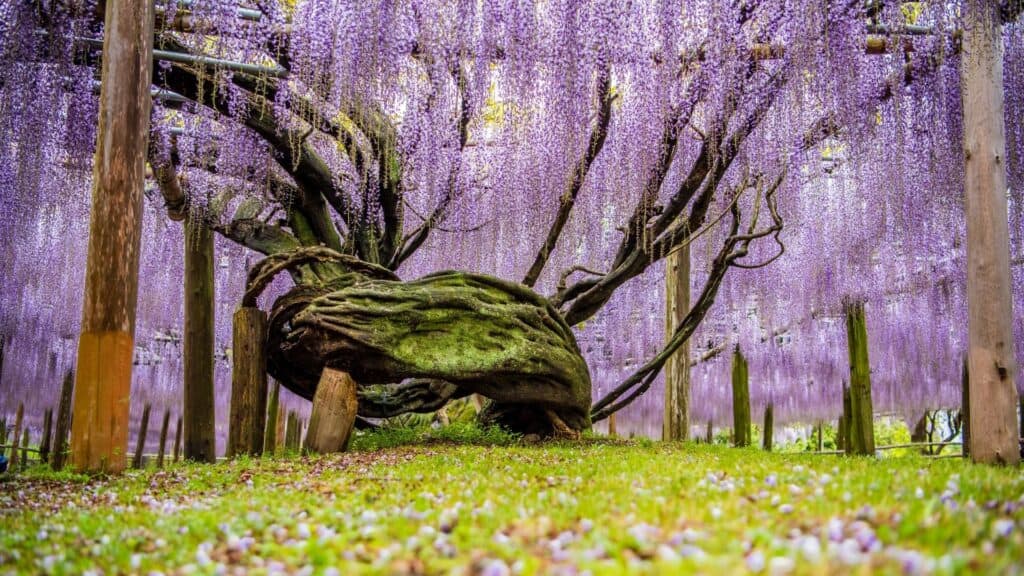 As mentioned earlier, the wisteria flower is another representative flower of Japan. Be sure to set aside time to view the purple wisteria, as well as the famous cherry blossoms.
Kameido Tenjin Shrine is a must-visit wisteria viewing area. This annual Wisteria Festival with several different activities plus delicious foods is a great place for photos and fun memories.
Also, be sure to check out the Kyu Shiba Rikyu Garden. At the entrance, a more than 200-year-old wooden wisteria trellis welcomes visitors. The best viewing time is between early May and late April.
Another great spot is the Imperial Palace East Gardens. The Imperial Palace will be very busy during Golden Week. However, the East Gardens is a beautiful place to view the purple wisteria. The Ninomaru Pond, with a bench under the wisteria shelf, is a perfect spot to take in the breathtaking sight.
15. Enjoy sake at the opening of the brewery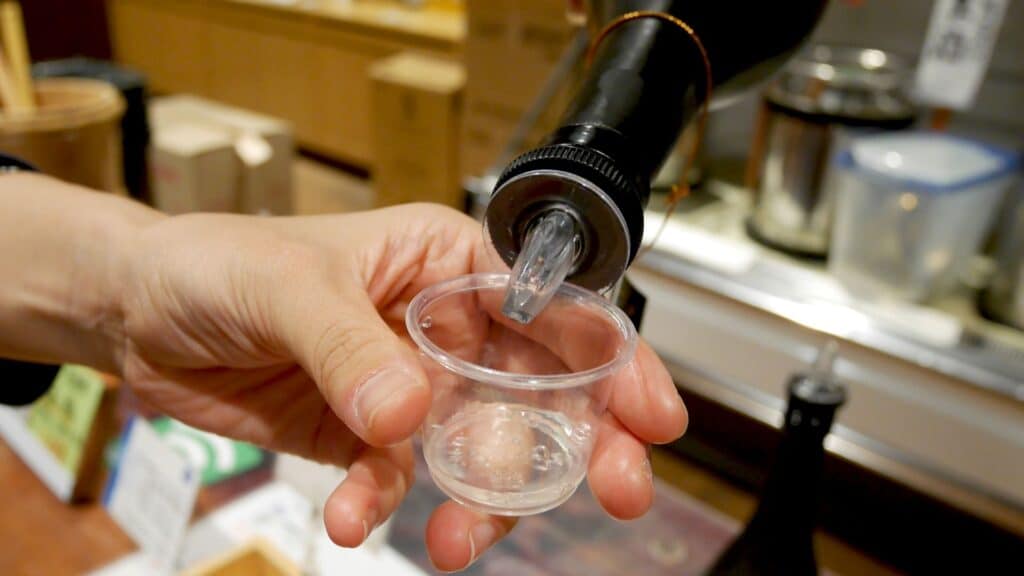 The brewery opening is an event to celebrate the birth of new sake, and is held from the New Year to early spring in many sake breweries. At the opening of the brewery, you can tour the inside of the sake brewery that you can't usually enter, and you can sample freshly made sake, making it an irresistible event for sake lovers.
​​One brewery to check out is the Toshimaya Shuzo Brewery in Higashi-Murayama, Tokyo. It has over 400 years of history and uses spring water from Mt. Fuji. Although it's older, it's a great place to sample and try their sake. To schedule a tour, make sure to go to their website and set up a reservation.
Another great place to visit is Ozawa Brewery in Sawai, Tokyo. Not only does the brewery make great sake, but it also makes tofu. They also have tours in both Japanese and English, so check their website for different times. They also offer a sake tasting of 10 kinds of sake, so be sure to try that out.
16. Go camping
Camping is the attraction of spring, summer, autumn and winter. The camp has an image of summer, but the spring camp is cool and comfortable, and you can feel the buds of nature on your skin.
A great place to go camping if you prefer a city view is Wakasu Park Camping Ground. With plenty of space and many amazing views of Tokyo Bay, this is a fantastic campground to visit. This park is equipped with bathrooms, washing stations for dishes and communal furnaces for BBQ. It is also popular among families and school groups. Be sure to set up a reservation and check out their website.
A great campsite near the water is Jonanjima Seaside Park. It's pretty close to Wakasu Park, but it isn't as big. However, because the campground faces out onto the water, the space feels open and spacious. There are toilets, BBQ facilities and even a skateboard plaza. Check out their website and schedule a reservation if you're interested.
If you're looking for a more rugged campground, Hikawa Campground is perfect. It is right on the Tama River and is near the border of Saitama. Surrounded by mountains and nature, this campground creates a picturesque scene. This campsite is perfect for beginner campers because nearby there are convenience stores. Plus, the campground has a BBQ facility and rental shops to get anything you may have forgotten. Like the other two campsites, be sure to set up a reservation and check out their website for more information.
You can also use this opportunity to enjoy cherry blossom viewing and other leisure activities.
17. Go cycling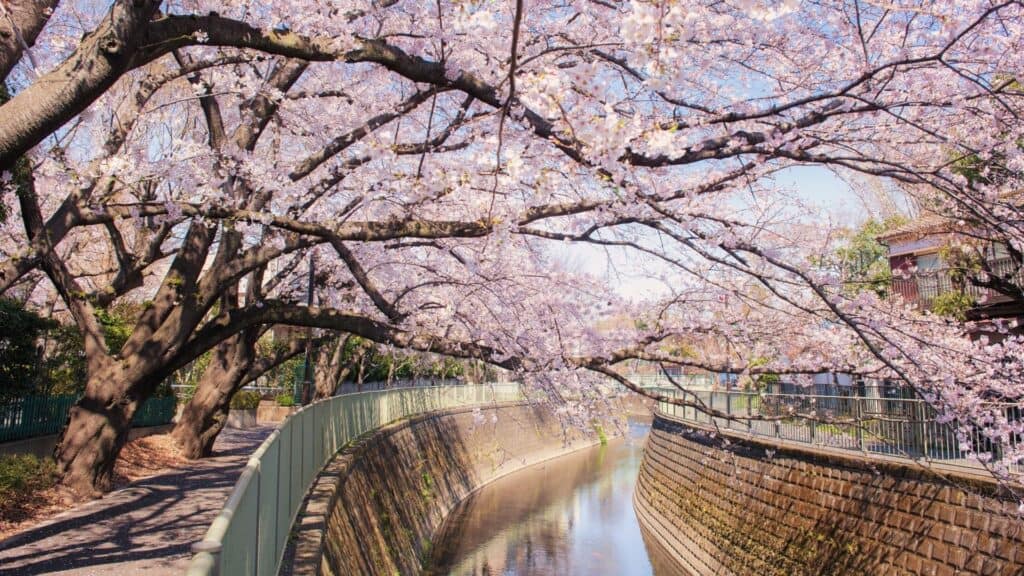 Springtime is warm and sunny and it is perfect for cycling. It's also a good exercise, so you can shape up and feel refreshed while visiting new places.
Why don't you enjoy it while watching the spring scenery such as the riverbed in spring and the rows of cherry blossom trees?
A fun cycling route is the Kanda River Cycle. It takes around a half-day to finish (20 kilometres). Although long, it is a great way to enjoy Tokyo's iconic rivers and cherry blossoms. This route starts at Kichijoji's Inokashira Park and travels through Suginami, Nagano, Shinjuku and Bunkyo. There are different paths to use, so feel free to take a risk and venture off the path.
If you are looking for an ocean route, check out the Wakasu Seaside Park cycling path. This short route is ideal for families or casual/beginner cyclists. There is a cycling path that can take around 40 minutes. It has beautiful seaside sites and views of Tokyo's unique bayside. At the park, you can rent bikes by the hour.
A great route to see historic and older sites is the Edogawa cycling and the Shibamata area. You can take this route from Saitama to Chiba. However, you can start in Mizumoto Park in Katsu City, a historic neighbourhood of Shibamata. There are multiple places to rent bikes, and it is easy for guests to navigate.
As mentioned above, the number of rental cycles that can be dropped off is increasing, mainly in Tokyo. So even if you don't have a bicycle, you can easily enjoy cycling.
Be sure to try out these fun activities while you take in all the sites, festivals and delicious foods of the Spring season in Tokyo.