Convenience stores are your best friends in Japan. What to buy in convenience stores? You can come here when you're hungry, when you are thirsty when you need the emergency supplies. You can find Japanese convenience stores basically at every turn in the big cities.
While in other countries, you will mainly just see 7-Eleven, in Japan, you can find Family Mart, Lawson and others. Convenience stores are the heart of Japanese culture. That may sound silly and dramatic but once you experience the quality and the convenience of these stores, you'll understand why they are so essential in Japanese everyday lives. 
Check out every Japanese food you should try, fusion dishes, types of ramen, ramen chains, yakitori and food and drinks at izakaya, fast food chains in Japan and healthy food in Japan!

One of the best ways to explore Tokyo is to visit the local areas and immerse yourself in the local culture. If you want to explore local areas, we have created scavenger hunt adventures personalised to your interests, filled with fun facts, clues and puzzles. If you're curious, you can check out the games here!

Check out the Flip Japan Games here!

What do convenience stores offer other than delicious, high-quality food and drinks? It is a great place to hang out and kill time, pay bills, use of their free Wi-Fi, 24/7 ATM, print documents, deliver and pick up packages, use their free and surprisingly clean toilet, in case of emergencies they use it as an evacuation shelter, and you can even buy clothes here!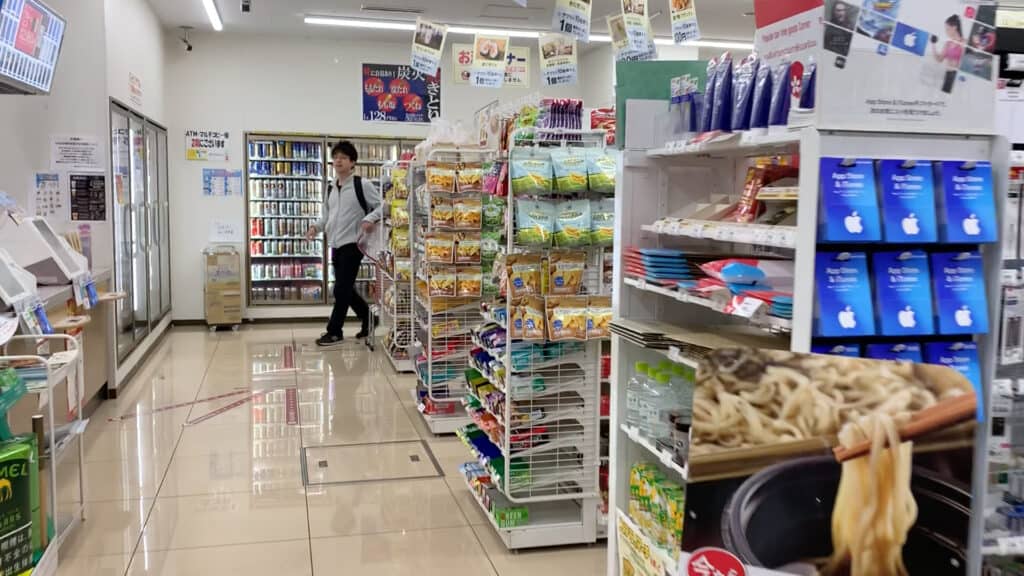 Convenience stores are also called "Conbini" or "Combini" in Japan. It is hard to make a proper distinction between all the different branches, as all of the convenience stores sell very similar products at similar prices. Some of them have slightly different bakeries and hot food sections. Some sell a brand of stationery exclusively and some sell certain cosmetics that you won't be able to find in other branches. 
Check out every Japanese food you should try, fusion dishes, types of ramen, ramen chains, yakitori and food and drinks at izakaya, fast food chains in Japan and healthy food in Japan!
Japan's Convenience Store Culture
'Konbini Culture' refers to the everyday use of convenience stores in Japan—konbini is the Japanese word for convenience store. First-time visitors to Japan may be shocked at the quality and abundance of Japanese convenience stores. Growing up in suburban America, I have always equated convenience stores with cheap, low-quality, and unhealthy foods.
In Japan, however, convenience stores offer a wide array of products and services. When I first visited Japan, I was pleasantly surprised at how much time I spent browsing different convenience stores and buying good meals from them. It was the perfect place to go and grab a quick pre-made meal when I was in a hurry or to buy any supplies I had forgotten on my way out.
Convenience stores have been around in Japan since the late 1960s. Although convenience stores originated in America, Japan has since perfected the craft of convenience stores. Lawson, for example, originally started in America. The Ohio-born company partnered with The Daiei, Inc in 1974 and began to expand in Japan. Although there is only one Lawson left in America (in Hawaii), the brand continues strong in Japan. Lawson has since become one of the top convenience store chains in Japan.
Top Convenience Store Chains in Japan
In the order of the number of Japanese convenience stores, here are the top seven convenience stores in Japan: (numbers as of February 2020)
The Japan's "big three's" are 7-Eleven, Lawson, and Family mart. They are in a constant race to be the best. All three of these companies make their own branded food, drinks, even house supplies.
7-Eleven
7-Eleven is the largest convenience store in Japan and the largest chain store in the world. 7-Eleven has a special private label, Seven Premium. It's known for its high quality and wide range of food, drinks, and snacks.
One of 7-eleven's brands is Seven Premium. It is said to be an "evolving brand", providing products that customers want. They respond to the increasingly diversifying needs of the customers' lives, such as interest in eco-friendly, health-oriented, and safety and security. They aim to create products that are "more delicious" with "more deals".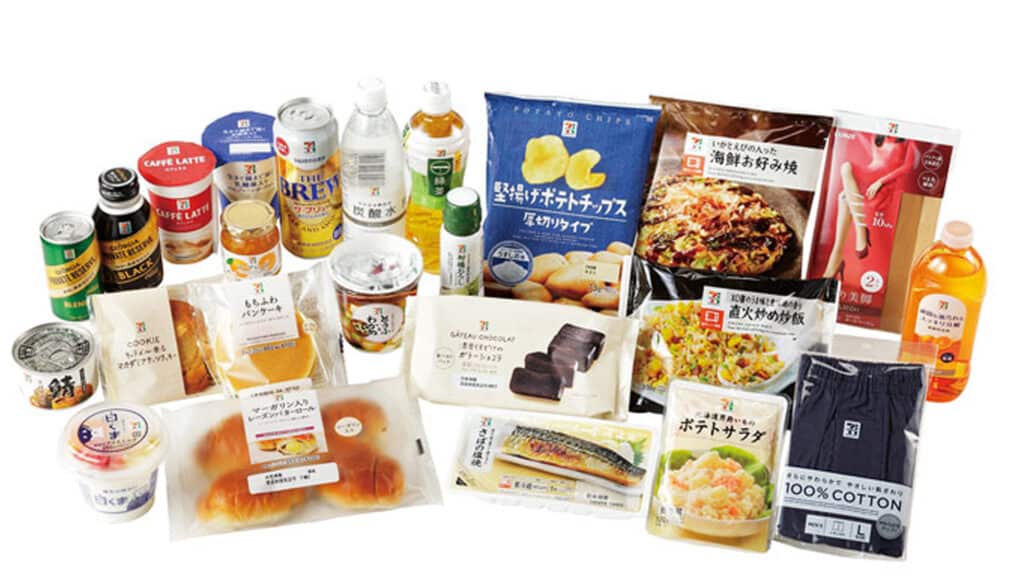 Seven Premium has a wide range of original products, from chips, biscuits, Japanese style snacks, salads, bentos, ice cream, drinks and a lot more.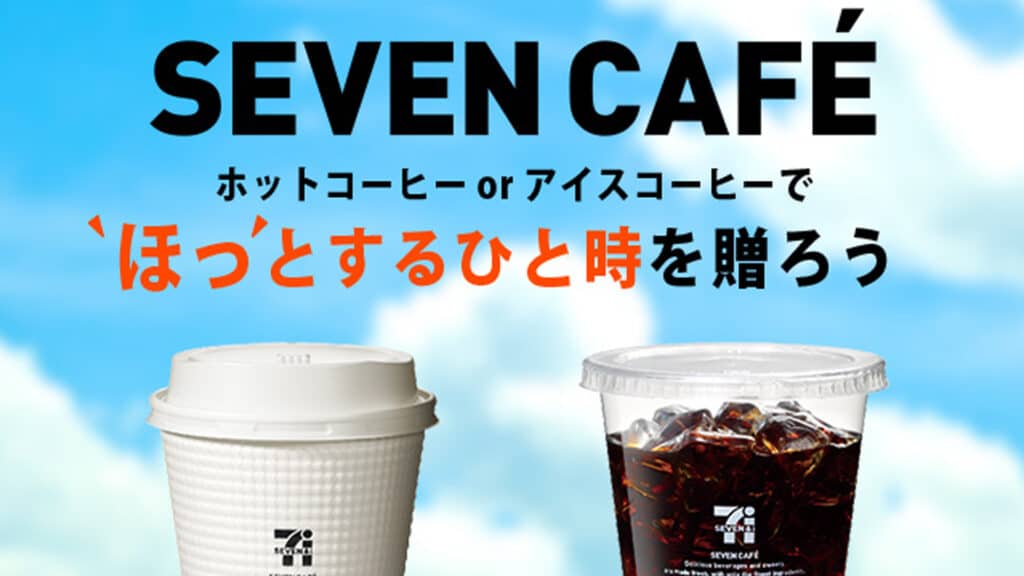 7-Eleven also offers Seven Cafe, it allows commuters and busy tourists alike to enjoy quick and cheap coffees and hot drinks on the go. The high quality beverages are very popular and worth a try. In addition, the Seven Bank ATM's are very reliable and convenient when you need cash in a hurry. These ATM's are diverse when it comes to how many credit/debit cards it accepts, tourists usually don't have issues when taking money out of 7-Eleven ATM's.
Family Mart
Family mart is known for their hot foods, especially their FamiChiki. Famichiki is delicious, boneless fried chicken for only 158 yen. It is crispy and juicy, Japanese people and tourists both love it.
If you go to family mart, be sure to check that out along with their Oreno series. The Oreno series offers large portions of food perfect for dinners and also various desserts. Something that is great for the whole family. Family mart often collaborates with other brands such as Muji, and Circle K Sunkus. This sets Family Mart apart from the other Japanese convenience stores because the other two often opt to create and sell their own brands. Family Mart is now the number two convenience store in Japan in terms of size and abundance.
Lawson
Lawson stands out from the others because they have a few different types, including Lawson, Natural Lawon and Lawson Store 100.
The regular Lawson is similar to 7-eleven and Family Mart. They have Lawson original products here as well, for example "Karaage Kun", one of their most popular hot food options. Lawson has their own pasta branch, which is incredibly popular. It was developed to compete with Family Mart's "Mitsuboshi Pasta". When Lawson's "Yaki Pasta Lasagna Bolognese" was released in 2012, it became a hit with over 1 million meals sold over the next three days.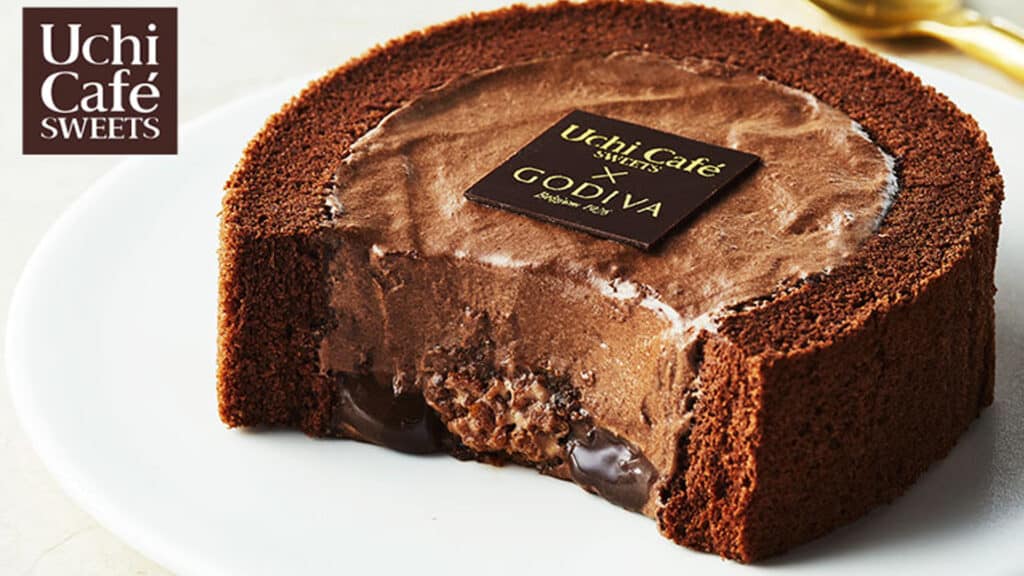 Uchi Cafe Sweets is on top of the list of what to buy in convenience stores. It is Lawson's original chilled dessert brand. It features a lineup of premium products such as roll cakes and cream puffs to be eaten with a spoon. Among them, roll cakes became a huge hit with sales exceeding 18 million units in about six months and were the first convenience store chilled desserts to win the Gold Award in the confectionery category of Monde Selection.
Natural Lawson is popular for a wide array of people because they sell a variety of health conscious foods and snacks. These more luxurious snacks if you will, cost more but the quality and packaging is pristine. The quality and packaging is something that is common throughout Lawson's entire brand but especially sticks out in Lawson Natural.
Lawson Store 100 is the more common store you probably think of when someone mentions Lawsons. The store offers regular convenience store foods and drinks and also daily necessities at a low price, 100 yen and up. Lawsons is also famous for their outstanding sweets and packaged desserts. They have their own brand called UchiCafe Sweets. Again, the packaging is always top notch and so are the desserts inside. Definitely make a trip down the dessert aisle to grab few for a late-night snack, or a delicious breakfast.
What to buy in convenience stores?
Snacks, pre-packed salads, sandwiches, traditional Japanese bites, such as onigiri, baked goods and a variety of drinks, these are the things you should go for. If you have to grab any breakfast or lunch on the go, they are always the best choice.
Hot food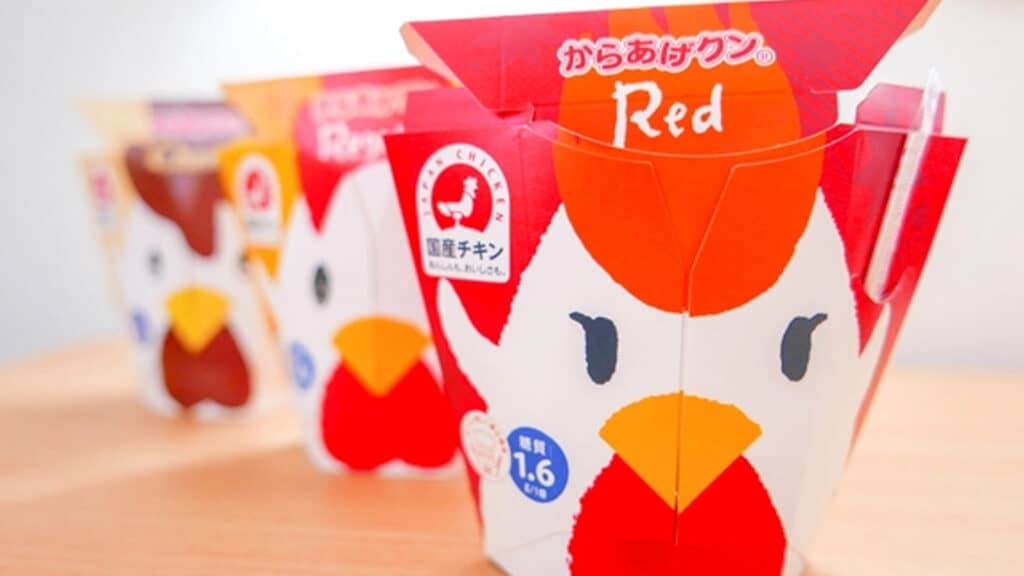 Lawson's "Karaage Kun" was the beginning of the hot food sections in convenience stores in Japan, followed by the era of Family Mart's "Famichiki". Now the hot food section serves a wide range of delicious and unique fried foods. Apart from the greasy options, healthier items have been added to the menu.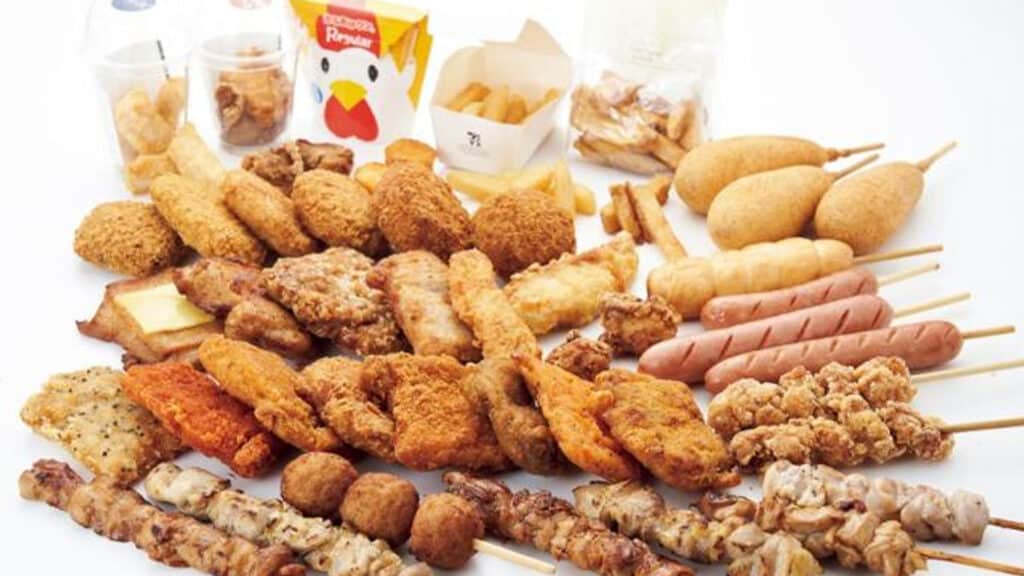 Especially for those who live alone and have small children, making it difficult to deep-fry, it is easy for families to buy their fried food dishes at convenience stores. Fried chicken, chicken, croquettes and yakitori, there is something for everyone!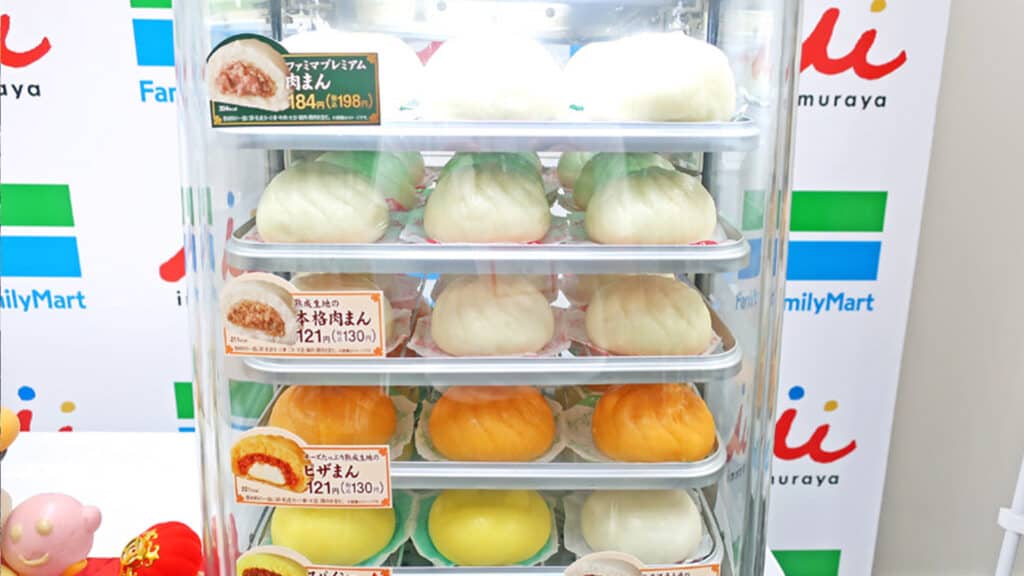 Apart from the deep-fried food section, most convenience stores also have a hot bun section. They have hot buns such as the traditional meat buns, pizza buns, curry buns… A lot of people get obsessed with these, since they are warm, filling and delicious.
During wintertime, most of the convenience stores have oden options. Oden is a healthy, a type of nabe. It is where several ingredients such as boiled eggs, daikon, konjac, and fish cakes cooked in light, soy-flavored dashi broth. This is another popular option in the hot food section.
Onigiri
Onigiri is one of those Japanese foods that is extremely simple, incredibly delicious and insanely affordable. Convenience store rice balls are useful when you're hungry or when you're out and there are many different types of rice balls for you to choose from!
7-eleven, Family mart and Lawson all have amazing onigiri choices. The most popular onigiris include tuna mayo, mentaiko and salmon. No matter when you go to any convenience store, you'll find these items are almost always available.
Besides the traditional triangular or circular onigiri, there are also long-shaped onigiri. The long-shaped onigiris are created to make it easier for people to finish it quickly and tidily. Recently, some new fusion onigiris have been created, such as yakisoba onigiri, fried rice ongiri, omulet rice onigiri and more.
Baked goods
If you are someone that likes bread, both Western bread or Japanese bread, you will love baked goods in convenience stores. One popular bread that people love is curry bread. Although the hot food section usually sells curry buns, the curry bread in the baked goods section is deep-fried. Even if it is a little high-calorie, it is a popular "buffy rich curry bread". As the name suggests, there are plenty of curry. It is a full-fledged curry that feels rich. This alone is enough to satisfy the stomach and the taste is filling.
Another delicious baked good that everyone falls in love with, is "Melon Pan", Melon bread. Melon bread is very popular among adults and children. It has a kind of childhood taste and is very popular for breakfast and snacks. Melon bread is simple. The skin is crisp and the inside is fluffy. If you are lucky, you can taste the freshly savory melon bread. You can recreate the freshness of warming up using a microwave or a panini maker. The sweetness is subtle and some convenience stores even make melon bread that have ice cream or cream inside, adding something special to the delicious bread.
Sandwich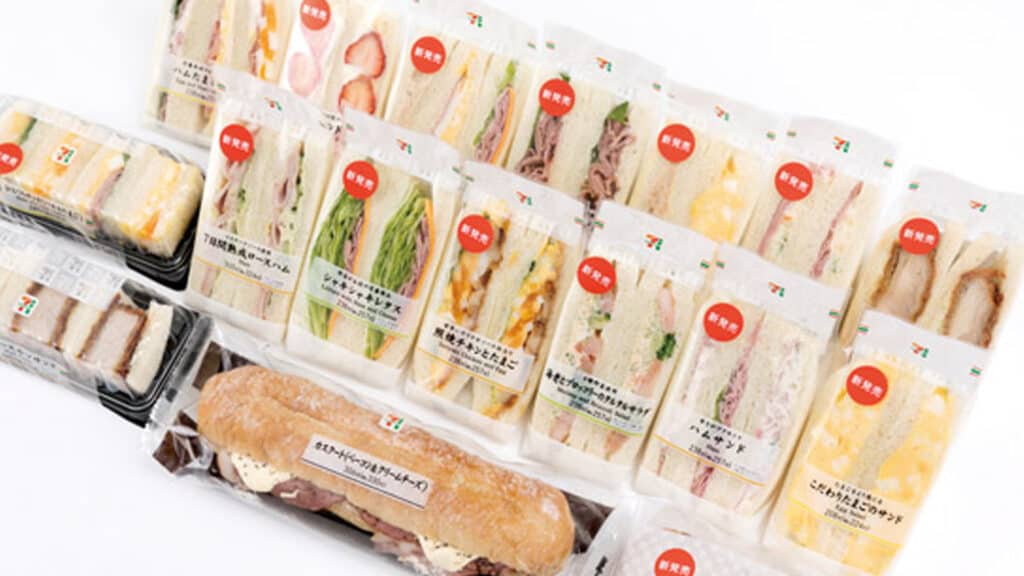 Japanese sandwiches that you can buy from convenience stores are not like the kind of sandwiches that you might have in mind. There are usually no crusts on the bread, the bread tends to be sweeter and smaller.
If you're wondering what to buy in convenience stores, one of the most popular sandwich options in Japan is egg sandwiches. Foreigners get intrigued with these delicious egg sandwiches, where the boiled egg is meshed with mayonnaise and create a simple, easy yet appealing meal.
The sandwiches are usually quite small. It is perfect if you are not that hungry or you can get something from the hot food section to complete your meal.
Bento
You probably don't expect convenience store meals to be good, since they are supposed to be fast and quick. However, the world of bento in Japanese convenience stores is different from any other country. Since the competition between the convenience stores is quite fierce, each brand strives to serve the best bento meals.
From salad, fried rice, meat on rice, pasta and even more complicated meals such as ramen and udon are available. They are usually quite affordable, around 5USD for the bento. The quality is incredible and you will definitely not be disappointed.
If you grab any meal on the go, the staff will provide any possible utensil you might need, including straws/cutlery/napkin, putting everything in a plastic bag. This is convenient but it also means a lot of plastic. If you want to avoid it, make it clear at the beginning of the transaction what you need or don't need.
If you are not fluent in Japanese just signal it with your head and hands when they pick up the bag under the counter, because they will pack everything by default. The biggest shops will often offer a lounge area, where you can eat your food, relax and recharge. Convenience stores also offer wifi and sometimes even power sockets, which is great for tourists.
If you're interested in getting to know more about the many different types of Japanese food, find out here!
Drinks
Nearly all of the convenience stores in Japan have a drink machine, where you can get coffee, latte, cappuccino and some of them have frappuccino as well as smoothies. Once you pay for your cup at the counter, you can get the machine to heat up, grind and offer you a great cup of beverage that you're craving. The quality of the drink is surprisingly good, especially since each drink costs around just a dollar or so.
Apart from these drinks, a lot of these convenience stores also have their own branded bottles, cartons and bottles of drinks. There are coffee, juices and a wide range of tea for you to choose from.
Alcohol is probably what you have in mind when thinking about what to buy in convenience stores. Alcohol can be purchased easily over the counter in a lot of places in Japan and convenience stores are probably the easiest place to purchase. The price of alcohol sold in convenience stores is basically the same, despite the branch. There are huge fridge sections in convenience stores, where you can get Japanese alcohol, Strong Zero, cans of beer, shochu, highball and your strong zeros.
There is also the wine and liquor section, with a good collection of bottles. You can also purchase sake boxes that are around 1-2 dollars. They are popular among Japanese people. For your quick fix, stop by convenience stores and since street drinking is allowed, you can explore the city with a drink in hand.
—
These are just some of what to buy in convenience stores. Explore 7-eleven, family mart and Lawson and discover some of the other convenience store branches when you are in Japan. Enjoy the different food, drinks and interesting options here. You will see how amazing they are and all the many ways convenience stores can make your life easier. 
Stay tuned for more information about Japan travel, Japanese culture, moving to Japan, living in Japan, Japanese language, Japanese culture and more.