A spring date where you can spend a relaxing time in the warm sunshine is a chance to shorten the distance between the two! If you want to fully enjoy the warm season and beautiful weather, here is a list of 25 ideas of romantic spring date in Tokyo for you to enjoy.

One of the best ways to explore Tokyo is to visit the local areas and immerse yourself in the local culture. If you want to explore local areas, we have created scavenger hunt adventures personalised to your interests, filled with fun facts, clues and puzzles. If you're curious, you can check out the games here!

Check out the Flip Japan Games here!

Find out more about Spring in Japan here: What to do in Spring, Where to go in spring, Wisteria in Japan, Spring Date ideas, What to do eat in spring, Where to see cherry blossom in Tokyo and Cherry blossom festivals.
Spring date in Tokyo
Shinjuku Gyoen National Garden [Tokyo] 新宿御苑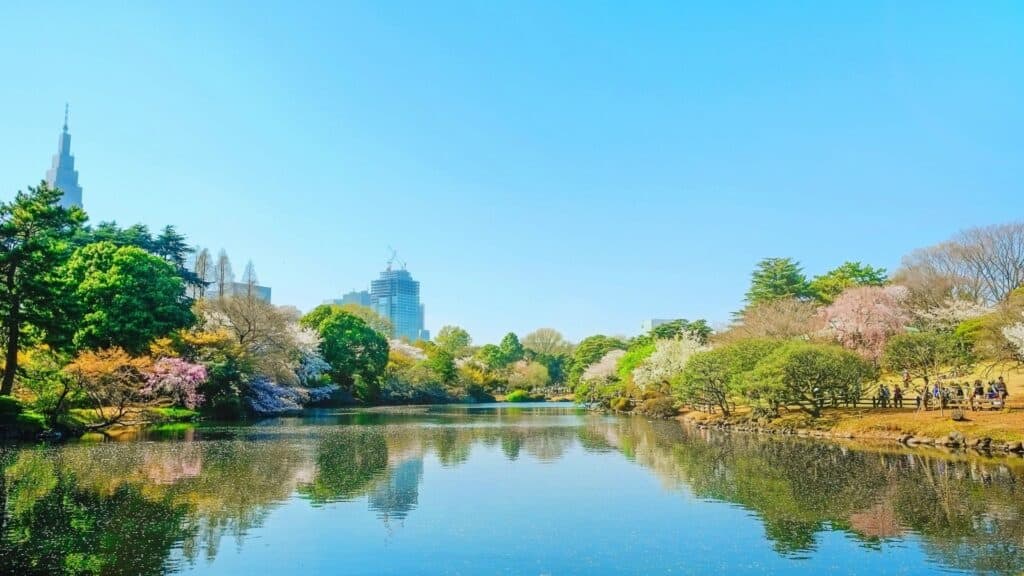 Shinjuku Gyoen is a vast natural park that you might not believe being located just a 10-minute walk from Shinjuku. It allows you to refresh yourself in this oasis in the city center.
Shinjuku Gyoen has a long history and it became a botanical garden of the imperial family in 1897. However, after the war, it was opened to the public as a national park that symbolises a peaceful cultural nation.
Nowadays, there are landscape gardens with well-maintained lawns, historic buildings, glasshouses, Japanese gardens and more. This garden is a place of relaxation regardless of the seasons. In spring, flowers are blooming everywhere, such as cherry blossoms, azaleas and magnolias, which is perfect for picnic dates and walk dates.
Yasukuni Shrine [Tokyo] 靖国神社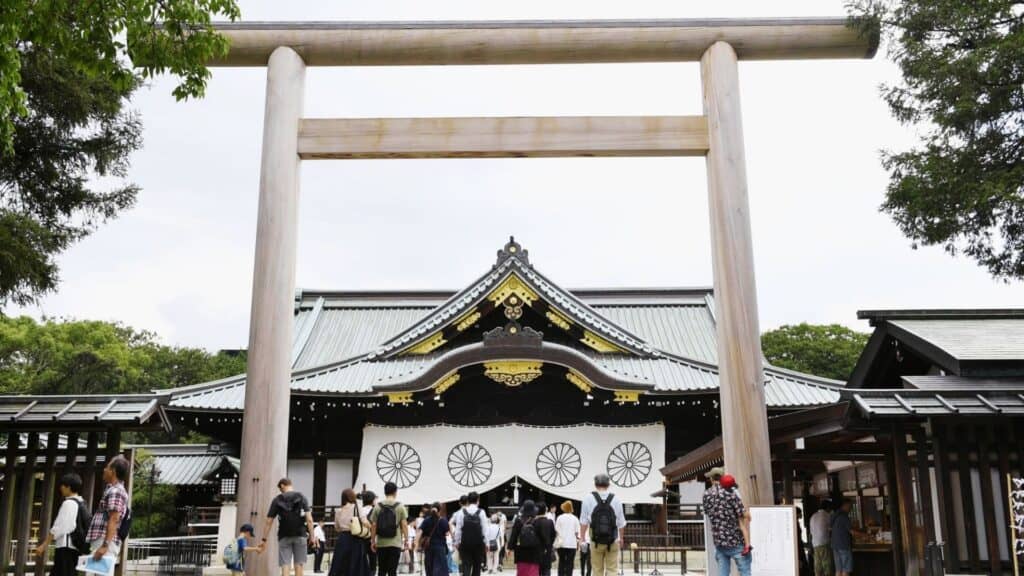 Yasukuni Shrine is a shrine that has been watching over people for about 150 years. The Shokonsha Shrine, which was built by Emperor Meiji's wishes on June 29, 1902, is the beginning of Yasukuni Shrine.
It is a shrine that was built with the purpose of comforting the spirits of those who have given their precious lives for the nation and passing on their achievements to posterity for a long time. This historic shrine is full of about 500 cherry blossoms in the spring. There are various types such as the Yoshino cherry tree, wild cherry tree and wild cherry tree.
Rikugien [Tokyo] 六義園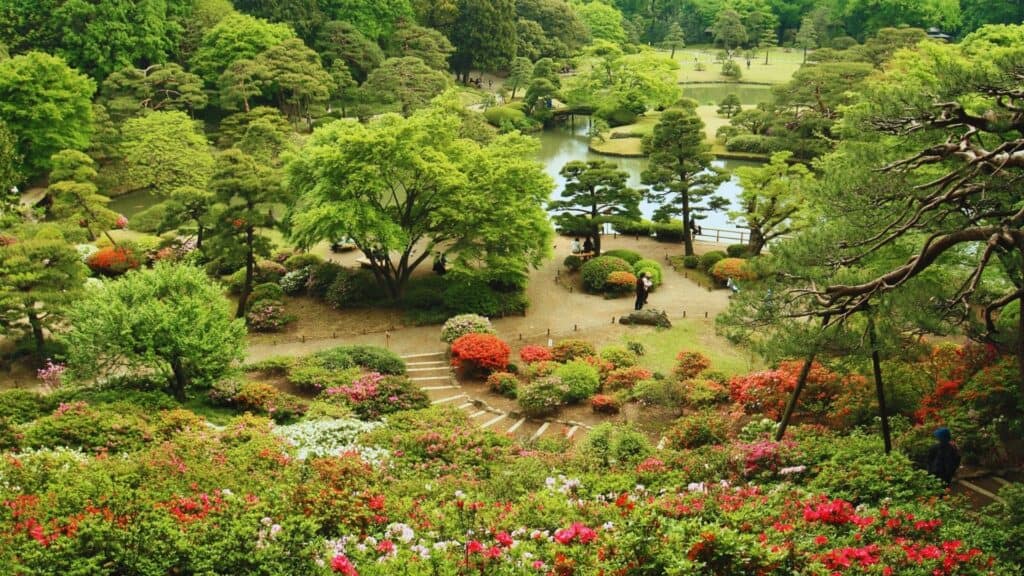 Rikugien Is a garden that reflects the colours of the four seasons. Here in spring, you will find weeping cherry trees like waterfalls, dancing in the air.
The delicate and gentle Edo daimyo garden will soothe the hearts of the viewers. It was a villa of the Iwasaki family in the Meiji era, but it was later donated to the city of Tokyo and became a place of relaxation for the citizens of Tokyo.
A large weeping cherry tree is planted at the end of the Entrance Gate to the Inner Garden to reach the center of the garden, and the branches are full of light pink flowers at the end of March. Come visit the reminiscent of a falling waterfall.
Feel the spring of Tokyo with your love for the flowers that are in full bloom with the warm breeze.
Inokashira Park [Tokyo] 井の頭恩賜公園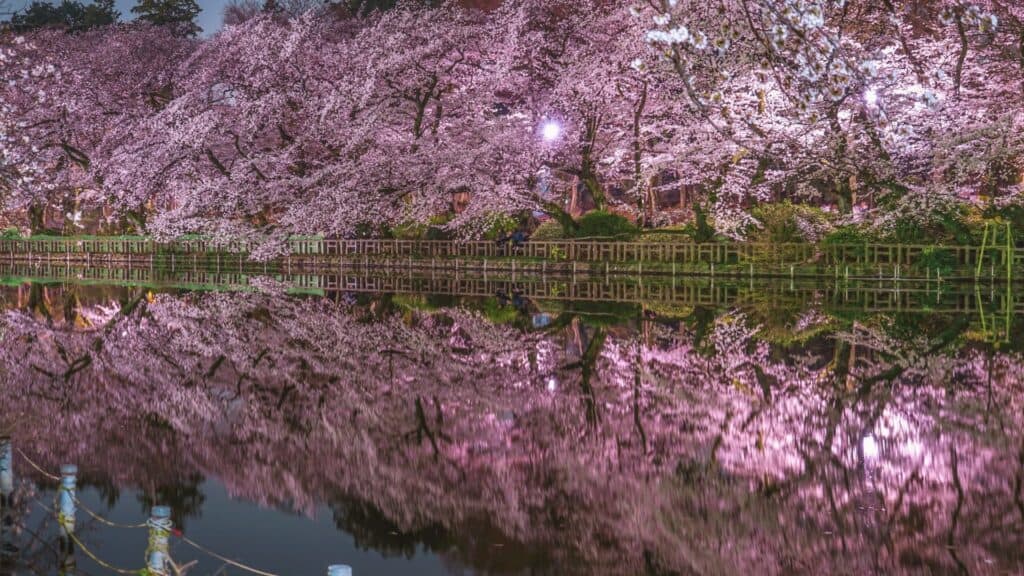 Inokashira Park reflects the nature of Musashino, with the contrast of beautiful cherry blossoms in full bloom and fresh greenery.
Metropolitan Inokashira Park is widely known as Inokashira Park and celebrated its 100th anniversary in 2017.
There are about 400 cherry trees in the entire park, and about 200 Yoshino cherry trees and wild cherry trees spread their branches magnificently around Inokashira Pond. In spring, the cherry blossoms are in full bloom as if they cover the surface of the pond, and the view from the top of Nanai Bridge is truly spectacular.
A variety of vegetation grows naturally each season, and there are many local birds, migratory birds and waterfowl that settle down. It is an adventure where you can observe the rich nature and sceneries.
Minatomirai [Kanagawa Prefecture] みなとみらい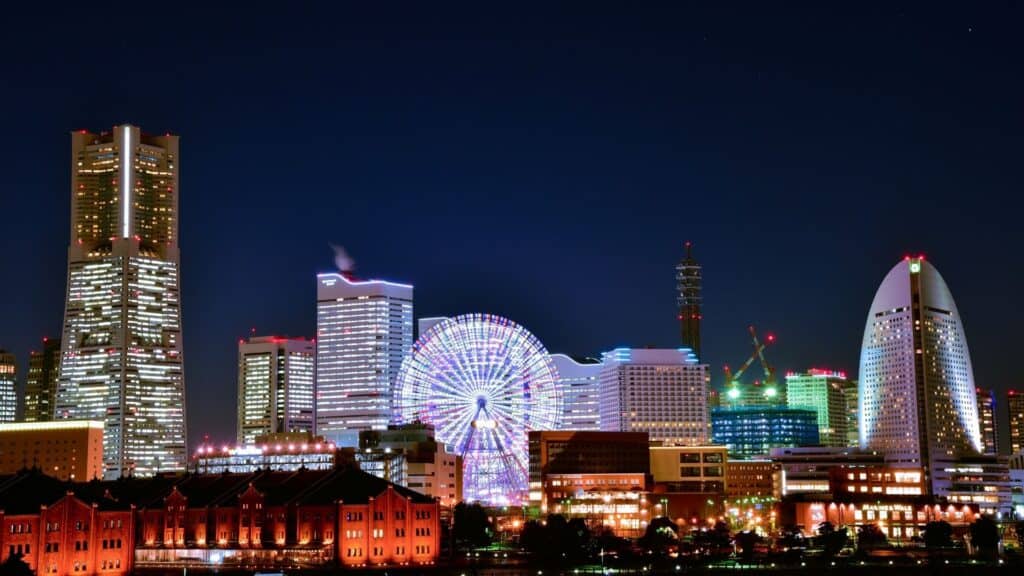 Minatomirai is a healing spot greeted by colourful flowers, especially gorgeous in spring.
Minatomirai is a lively area with representative buildings of Yokohama, such as Yokohama Landmark Tower, Queen's Square Yokohama and Pacifico Yokohama.
From spring to summer, the Shinko Central Square is a great spot to visit! If you walk straight from JR Sakuragicho Station and pass through Navios Yokohama, a flower garden will suddenly appear in front of you.
The flower garden is loved by a wide range of people. There are also many benches in the area. It's nice to sit near your favourite flower bed and have lunch while enjoying the season.
Enoshima [Kanagawa Prefecture] 江の島
An hour and a half drive or so train ride from central Tokyo, this tourist attraction is perfect for a day trip. Go for a drive, rent a cycle, take a walk around the cityscape and scenic spots where you can feel the nature and history unique to Enoshima.
Benzaiten Nakamise Dori is located just across the Enoshima Ohashi Bridge. Leading up to Enoshima Shrine is a shopping district where you can enjoy gourmet food and shopping. After passing through this area, you should visit the Sannomiya of Enoshima Shrine, which enshrines the goddesses of the three sisters.
After enjoying sightseeing, head to Chigogafuchi at the southwestern tip of Enoshima. The waves crashing against the uplifted plateau and the sunset over Mt. Fuji has superb views. You can enjoy a blissful time surrounded by the best things the season has to offer.
Yamashita Park [Kanagawa Prefecture] 山下公園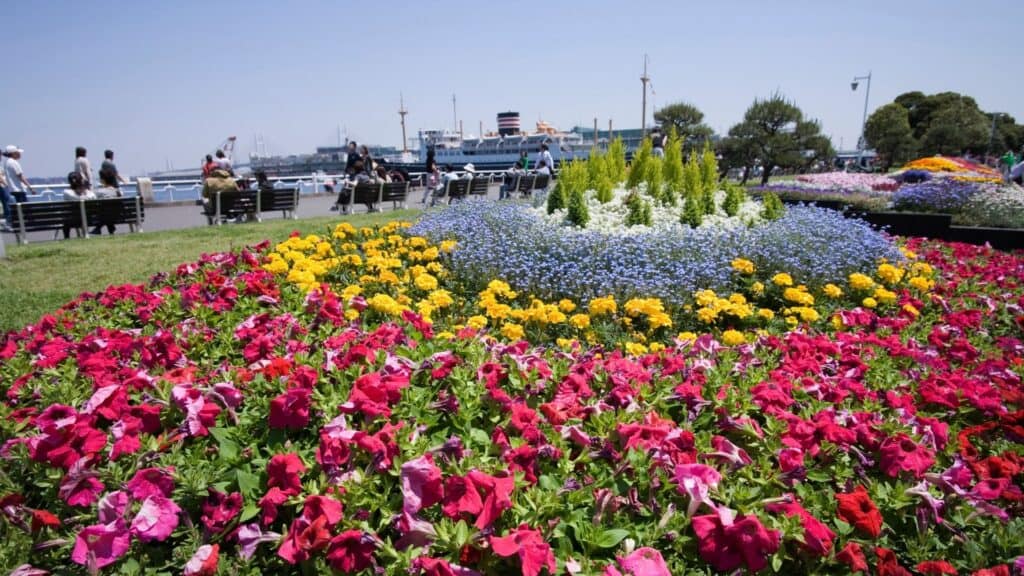 Yamashita Park is Yokohama's park where you can relax on the benches and lawns along the sea.
Yamashita Park is located near the sightseeing spots in Yokohama, such as Chinatown and the Red Brick Warehouse. Since it was opened in 1930, ​​it is famous as a healing spot for tourists as well as local Yokohama people to take a rest.
There is a sidewalk along the sea where you can take a leisure walk and there are many benches for you to take a seat and relax in. In early spring, many people enjoy sunbathing and having picnics on the beautifully maintained lawn. It has a great reputation for the beauty of the setting sun and the night view, and you can enjoy it whenever you visit.
Hakone Shrine [Kanagawa Prefecture] 箱根神社
Hakone Shrine is a mysterious shrine embraced by the nature of Hakone. The torii gate of peace and the rows of old cedar trees are a spectacular view.
Hakone Shrine was built in the first year of Tenpyo-hoji, in 757m by Mangan Shonin, who was training at Mt. Hakone, at the request of the oracle of Hakone Ogami.
From the Peace Torii on the shores of Lake Ashi to the main shrine, there are rows of old cedar trees that are over 600 to 800 years old, creating a very sacred atmosphere. Behind the red-painted shrine, there is a pure forest of Himeshara, a natural monument of the prefecture, and it is a shrine surrounded by magnificent nature.
In addition to good luck and fulfillment of wishes, Hakone Shrine is also said to be lucky for marriages and many couples come and visit together.
Odawara Castle [Kanagawa Prefecture] 小田原城
As the residence of the Sengoku daimyo, Odawara Hojo, Odawara Castle is known as an impregnable castle that withstood the attacks of Shingen Takeda and Hideyoshi Toyotomi.
The most well-known feature of the Odawara Castle is the vast structure built in preparation for Toyotomi Hideyoshi's invasion. It is said that the moat and earthworks surrounded the castle helped to prevent Toyotomi's attack.
Many were lost due to the abandoned castle in the Meiji era and the Great Kanto Earthquake, but the castle tower was reconstructed in 1960. Currently, it is a tourist attraction as Odawara Castle Park. It is a great castle for many to visit.
Enoshima Aquarium [Kanagawa Prefecture] 新江ノ島水族館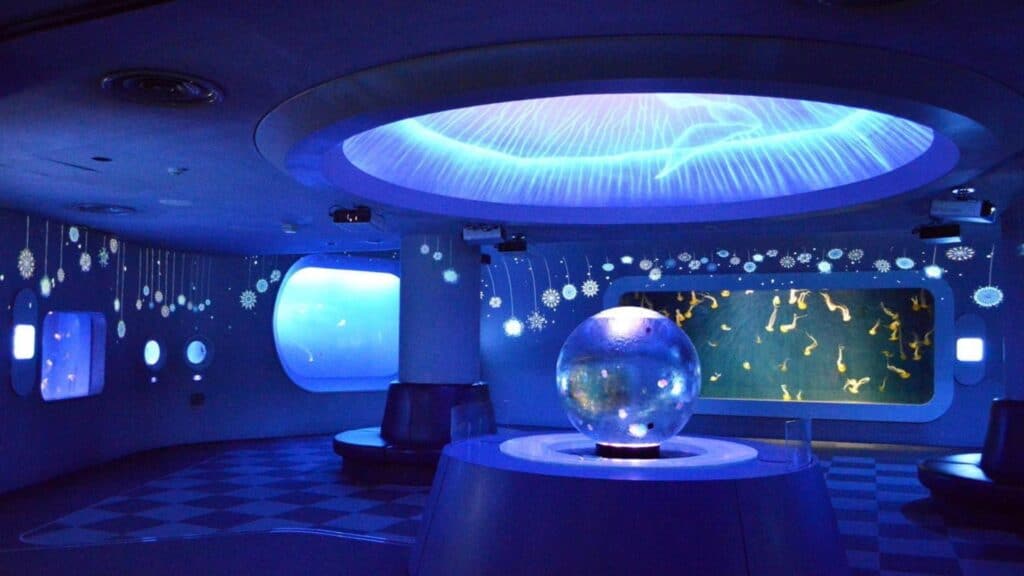 The Enoshima Aquarium has many fans of all ages as an educational-type aquarium where you can not only observe creatures and specimens, but also learn while having fun.
At the Dolphin Show Stadium, you can overlook Enoshima and Mt. Fuji with Sagami Bay in the background. You can enjoy the performances of dolphins while feeling the sea breeze.
The Jellyfish Fantasy Hall has 13 large and small aquariums and a spherical aquarium in the center of the hall, with 14 types of jellyfish that are always open to the public. There are plenty of interesting exhibitions, such as the beach of sea turtles, where you can observe sea turtles migrating around Sagami Bay up close. It is quite a unique and romantic spot.
Hakone Gora Park [Kanagawa Prefecture] 箱根強羅公園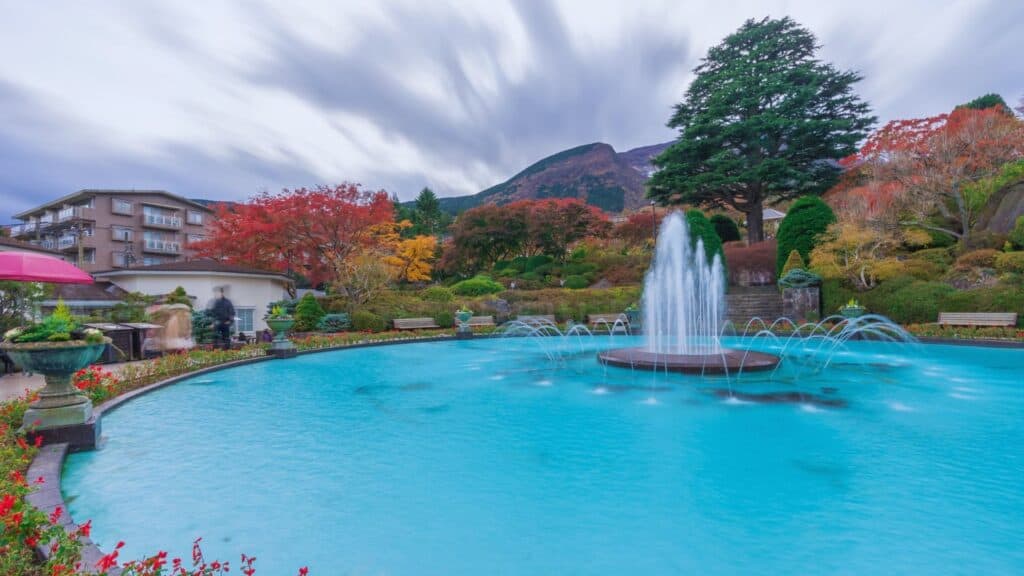 Hakone Gora Park is a historic park opened in 1914 at Gora, the last station of the Hakone Tozan Line. The nature here is abundant and you can see all kinds of flowers and trees in each season.
In spring, bright flowers such as azaleas, cherry blossoms, roses, and yamafuji are in full bloom. Especially in the rose garden, about 200 varieties and 1000 roses are planted, and you will be healed by the classical and elegant sweet scent.
In the large garden, there is a craft house, where you can experience different manufacturing, a tropical botanical hall, where you can collect a wide variety of tropical plants and herbs, and a Isshikido tea hall, where you can eat a wide variety of sandwich dishes.
You can experience the tea ceremony at Hakuun-dong Chaen and feel the beauty of Japan in the gorgeous scenery seen from the tea room.
Tokyo German Village [Chiba Prefecture] 東京ドイツ村
Tokyo German Village is a theme park full of nature in Sodegaura City, Chiba Prefecture.
Centered around a spacious lawn plaza where you can spend a relaxing time, there are more than 10 types of attractions such as pedal boats and Ferris wheels, a zoo where you can interact with small animals, and a flower garden where you can enjoy the scenery of the four seasons.
The rose garden, where roses native to Germany are planted, and colourful flowers such as hydrangea will welcome you.
There are barbecue spots, cafeterias, and bread studios in the park, so you can fully enjoy your day.
Hitachi Seaside Park [Ibaraki Prefecture] 国営ひたち海浜公園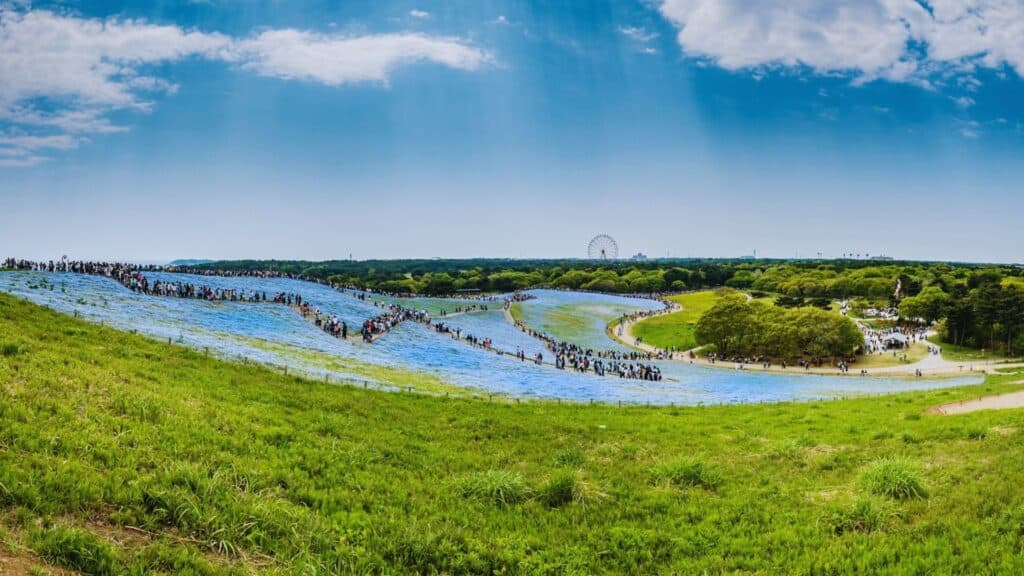 Get ready to be completely blown away by magnificent flower fields. Hitachi Seaside Park is a national park boasting an area of ​​about 215 hectares.
Flowers bloom in each season in the park, and among them, the nemophila in spring and the kochia in autumn decorate the entire area of Hitachi Seaside Park.
There are different attractions here such as Pleasure Garden, with more than 25 types of attractions, activity fields, and barbecue plaza. It is recommended to use a rental cycle or seaside train to move around the vast garden. It is an easy-to-access spot from the Tokyo metropolitan area.
Lockheart Castle [Gunma Prefecture] ロックハート城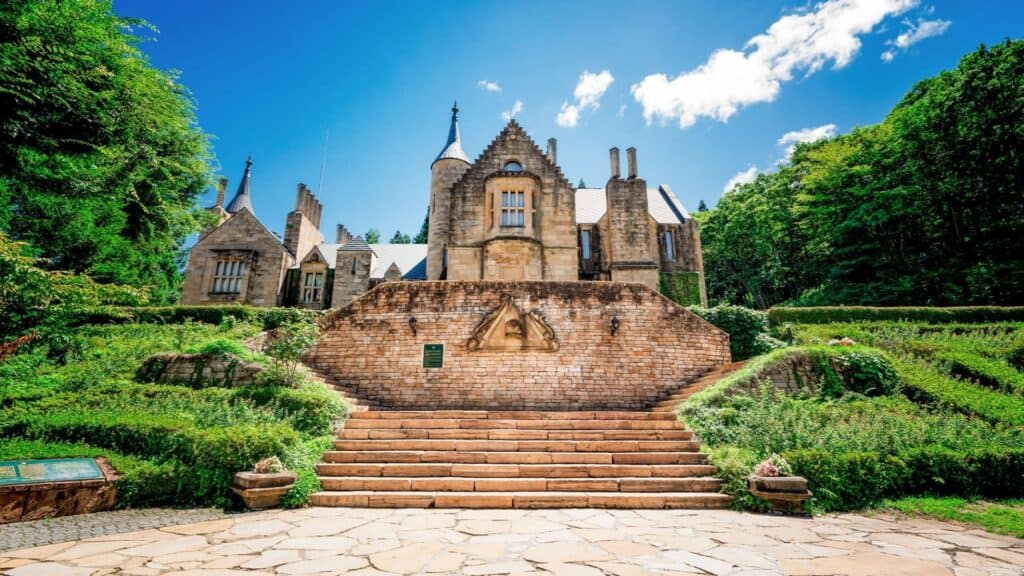 Lockheart Castle was relocated and restored from Scotland. It is a real old castle with a long history and you will feel like you are in a different world when you visit. There is also a stone church, gallery, shop and restaurant on the 100,000 square meter site.
Take a scroll in the castle and enjoy the different activities they have to offer. You can rent one of the 550 dresses to try. Even if it's raining, you can take dozens of photos in the dress studio or in each room in the castle.
Omiya Park [Saitama Prefecture] 大宮公園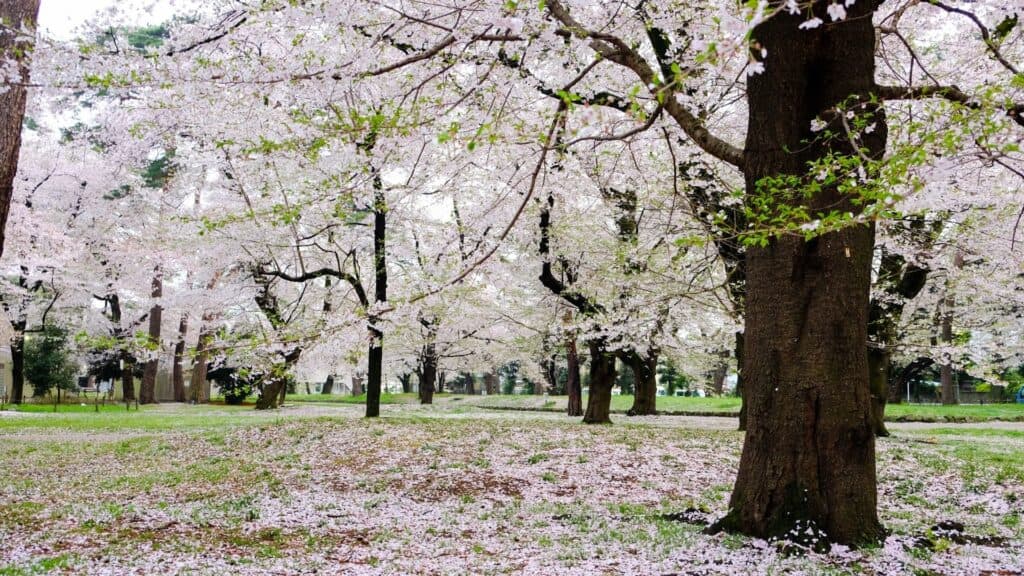 Enjoy the contrast of the green pine trees and light pink cherry blossoms in Omiya Park.
Omiya Park is a city park located about 1km from JR Omiya Station. This historic park was born in the 18th year of the Meiji era and it is known as a prefectural park with the most visitors in the prefecture, with red pine trees over 100 years old lined up in the park.
Enjoy cherry blossom viewing in spring. The scenery of over 1000 cherry blossoms planted here and it is rated as one of the "100 Best Cherry Blossom Spots in Japan" as one of the leading cherry blossom viewing spots in Saitama Prefecture.
The scenery of Omiya Park changes every time you visit. In spring, you will find fresh green landscapes and red leaves in autumn.
Hitsujiyama Park [Saitama Prefecture] 羊山公園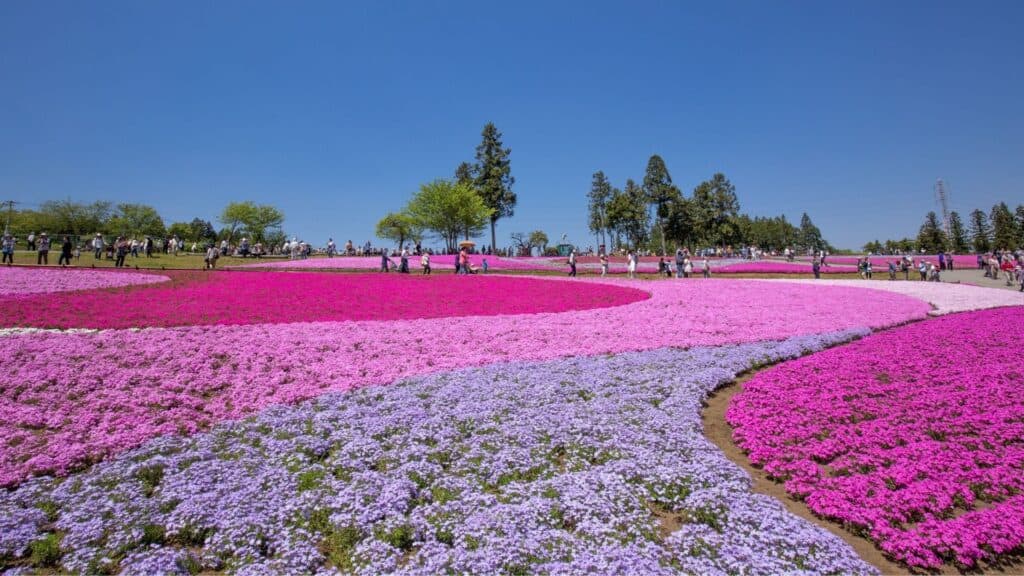 Shibazakura no Oka blooms all over Hitsujiyama Park in spring. Included in the northwestern part of the Prefectural Takeko Nature Park, the park is rich in nature and overlooks the city of Chichibu from a small hill.
In Shibazakura no Oka, an area of about 17,600 square meters, located on the south side of Hitsujiyama Park, ​​has 9 varieties and more than 400,000 moss phlox plants planted. Every year from mid-April to early May, it has become a tourist destination visited by many people.
The hill is designed according to the colours of all the different varieties of flowers. You can enjoy your spring time here surrounded by beautiful scenery such as pink, white, and pale blue.
Gongendo Tsutsumi [Saitama Prefecture] 権現堂堤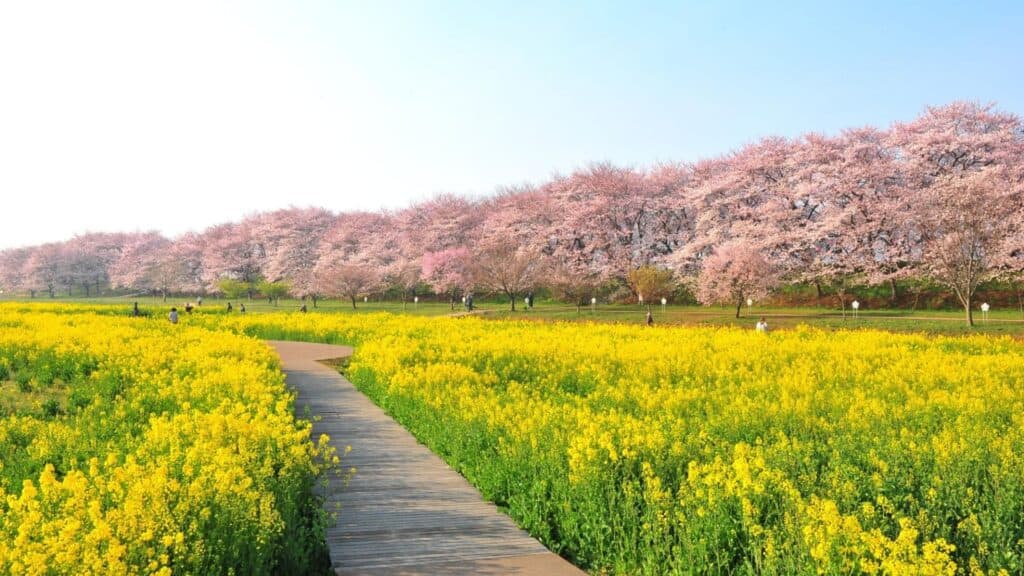 Gongendo Tsutsumi is a garden of flowers that colour the seasons of Satte, with cherry blossoms, rape blossoms, hydrangea, manjushaka, and daffodils.
Gongendo Tsutsumi represents the scenery of Satte City, Saitama Prefecture.
About 1000 Yoshino cherry trees are planted over 1km, and in the spring, it becomes a tunnel of cherry blossoms. In addition, hydrangea, cluster amaryllis, and daffodil flowers are added by hands of the locals to add seasonal colors.
The contrast between the pink of the cherry blossoms and the yellow of the rape blossoms is truly spectacular.
Nasu Highland Park [Tochigi Prefecture] 那須ハイランドパーク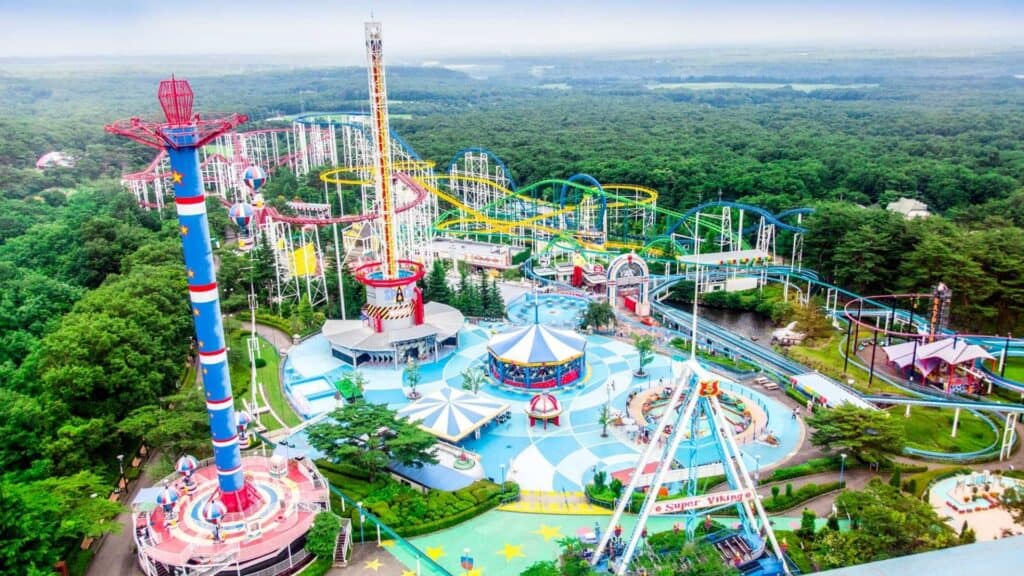 Nasu Highland Park is an amusement park, where you can enjoy about 40 types of attractions in the wilderness of Nasu Kogen. There are even attractions where you can ride with your dog.
The view from Nasu Highland Park is a great location with a panoramic view of the Kanto Plain and the Nasu Mountain Range. The view from the Ferris wheel is especially spectacular!
Ashikaga Flower Park [Tochigi Prefecture] あしかがフラワーパーク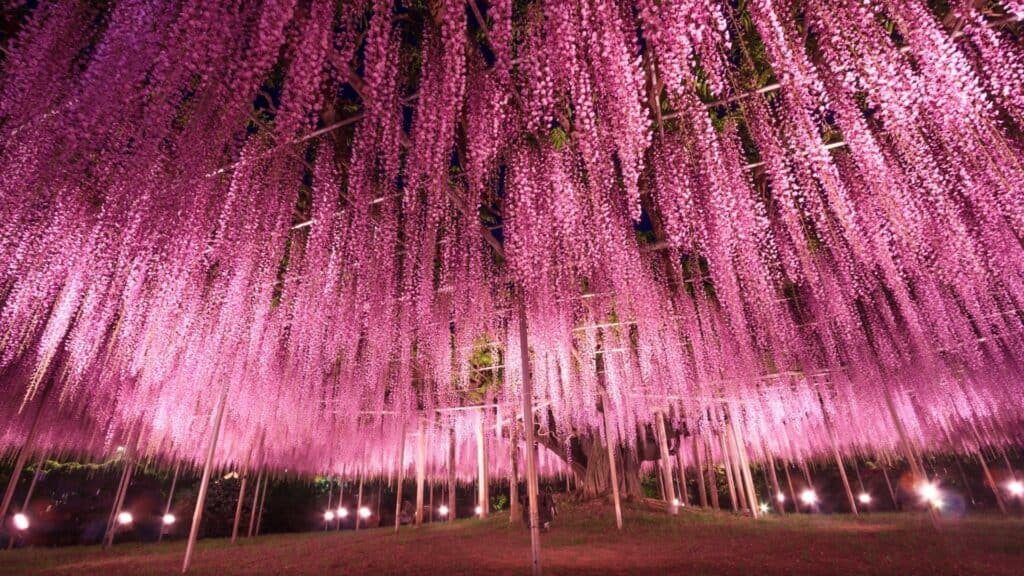 Ashikaga Flower Park is a flower paradise with a magnificent view of eight themes throughout the four seasons.
Ashikaga Flower Park has eight themes such as "early spring," "rainbow garden," and "light flower garden."
Among them, the 80m-long Shirafuji tunnel, which has been a symbol since the opening of the park in 1968, is designated as a natural monument of the prefecture. Different events are held during the best season for each flower.
High-quality flowers and plants are also sold at reasonable prices, such as various potted flowers, flowerbed seedlings, arrangement baskets for gifts, and foliage plants. On top of flower-viewing, you can also buy flowers as souvenirs for your family and friends.
Nasu Stained Glass Museum [Tochigi Prefecture] 那須ステンドグラス美術館
The Nasu Stained Glass Museum is very romantic with the motif of a building in the Cotswolds region of England. The hall is full of aroma scents and the sounds of pipe organs and music boxes.
It is a gorgeous space where you can enjoy the beautiful shapes of stained glass, the scent of aroma and a place to forget time and immerse yourself in the nature around you. Get surrounded by the beautiful light of antique stained glass collected from European churches.
Find out more about Spring in Japan here: What to do in Spring, Where to go in spring, Wisteria in Japan, Spring Date ideas, What to do eat in spring, Where to see cherry blossom in Tokyo and Cherry blossom festivals.
Stay tuned for more information about Japan travel, Japanese culture, moving to Japan, living in Japan, Japanese language and more.