Thinking about going out to Shibuya bars for a night out? Shibuya is arguably the most famous neighbourhood of Tokyo, and with good reason! It's home to the iconic scramble crossing, the famous statue of the loyal Hachiko, and dozens of bars, restaurants, boutiques and leisure facilities such as karaoke and shisha joints, darts and pool halls, and even arcades. From locals to foreign residents and tourists, Shibuya entertains all.

One of the best ways to explore Tokyo is to visit the local areas and immerse yourself in the local culture. If you want to explore local areas, we have created scavenger hunt adventures personalised to your interests, filled with fun facts, clues and puzzles. If you're curious, you can check out the games here!

Check out the Flip Japan Games here!

Dive into one of the most hip and exciting neighbourhoods in Tokyo and let us take you on a fun-filled night out and help you figure out where to drink in Shibuya!
Find out more about the different Japanese drinks, Japanese beers, the special strong zero you can get in Japan and how to prepare for a night out in Tokyo.
It's easy to become overwhelmed by the sheer abundance of things Shibuya has to offer, all highlighted by glowing neon signs, lights and Japanese scrawls advertising bargains and deals. It might be difficult to figure out where to go for a good night out. To help you, we've made a list of some of our favourite underground bars in Shibuya.
Bars in Shibuya
Bar 1985
Though it's named 1985, the bar has a more modern vibe than retro. There are two floors (ground floor and basement), depending on what kind of night out you want. If you want to socialise and maybe make new friends, the first floor is a better place to be, with its wide-open windows and shared table. Head to the basement, which is smaller and darker, if you prefer to have a private night out with your own friends!
Shisha Salon Chillin'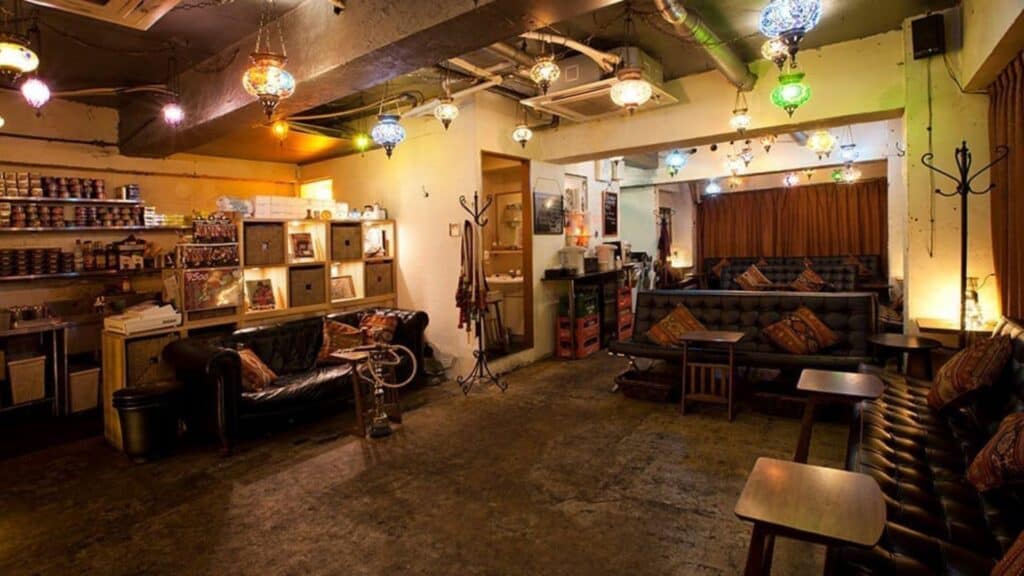 Probably not the first place that you think of when you're trying to decide where to drink in Shibuya, but an amazing place to relax and enjoy shisha. Shisha Salon Chillin' is a chain of shisha joints, and there are three branches in Shibuya, though we recommend this one.
They let you bring in your own food and drinks so you can save some cash and get cheap 150-200 yen food and drinks from the convenience store, instead of shelling out the typical 700-900 yen for food and drinks in other bars.
It's one shisha per pair, so if you're in a group of three planning to share one shisha, that's not gonna fly; you're going to have to order two. They've got a wide range of 60 flavours, though, and you can mix and match!
Switch
This bar is probably not the first place that pops into your head when you think of Shibuya nightlife but it's definitely worth the visit.
Switch has a classier vibe, with people sipping on expertly-crafted cocktails and fancy whiskey. It's got a lovely interior, warm shades of yellow and brown, and random decorations.
But, the best part of Switch has got to be its menu. They've got seasonal cocktails that make use of the current season's fruits; they can be sweet or sour but they're definitely refreshing and new. Other classic cocktails like G&Ts and Moscow Mules are also crisp and mouth-smacking delicious here. If you prefer cocktails over beer, then come to Switch!
Reality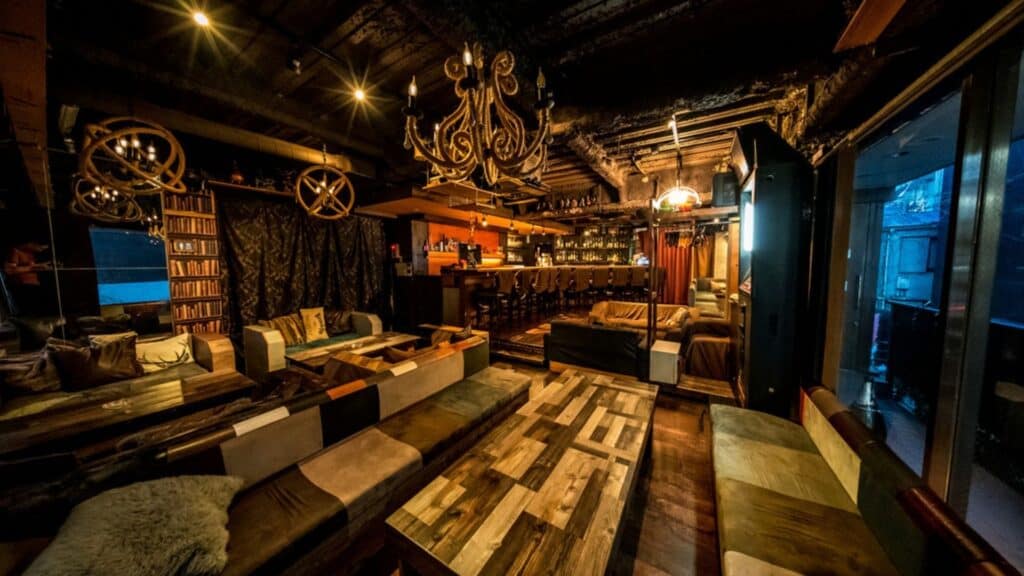 Enjoy the comforts of a living room in this cosy, homey bar. This bar in Shibuya has got cushy bars and cushier cushions, with low coffee tables to make you feel at home. Lighting is dim and comfortable as opposed to industrial and intrusive.
Reality isn't the place to visit if you're looking or a crazy night out. Instead, it's the place for a chill, relaxed and intimate evening out for drinks and dinner with friends. They serve Italian cuisine and their risotto is especially tasty so try that out!
Sound Bar Lip
For those going through pet withdrawals in your time here in Japan, Sound Bar Lip will give you all the doggy love you need. Come here to enjoy a couple of drinks with an adorable and excitable French bulldog terrier, Goten. He'll run around the bar to different guests so you won't have him the entire night, but he'll be around to pet and play with.
Drinks a little pricier here than in other locations but, hey, doggy!
Camelot
There are many clubs in Shibuya but this is a personal favourite of ours! Camelot is one of the most famous clubs in Shibuya. It has three floors, each playing different genres of music, so if you don't like the beats on one floor, just check out another.
This is the place to hit up when you're already drunk and tipsy from a night of bar-hopping. Come here to dance till the first train's running again!
—
Want to check out different underground and local areas of Tokyo? Click on the area you want to explore and let us give you a tour of some of our favourite spots from famous places to underground spots! Tokyo nightlife: Shinjuku, Shibuya, Roppongi, Nakano, Shimokitazawa, Asakusa, Koenji, Akihabara and more!
Stay tuned for more information about Japan travel, Japanese culture, moving to Japan, living in Japan, Japan Nightlife and more. For more, check out Japan Gift Guides, Japan Events and Places in Japan.
—