In Japan, there are four seasons, with each season having a different flower. Besides the most well-known flowers like cherry blossoms, Japan has so much to offer and a lot of Japanese flowers to appreciate throughout the year.
In the spring, cherry blossoms bloom in the country. In the summer, there are many types of flowers that can be found in Japan. The autumn brings about beautiful chrysanthemums and Japanese maples. And finally, in winter, you'll find plum blossoms and pines.
Find out all about the different flowers in Japan you can enjoy throughout the year here. Check out what, when and where to see these flowers here: Cherry Blossoms, Tulips, Azaleas, Roses, Poppies, Salvia, Hydrangea, Iris, Lavender, Indian Lotus, Sunflowers, Ume and Moss phlox.
Flowers in Japan
Cherry Blossoms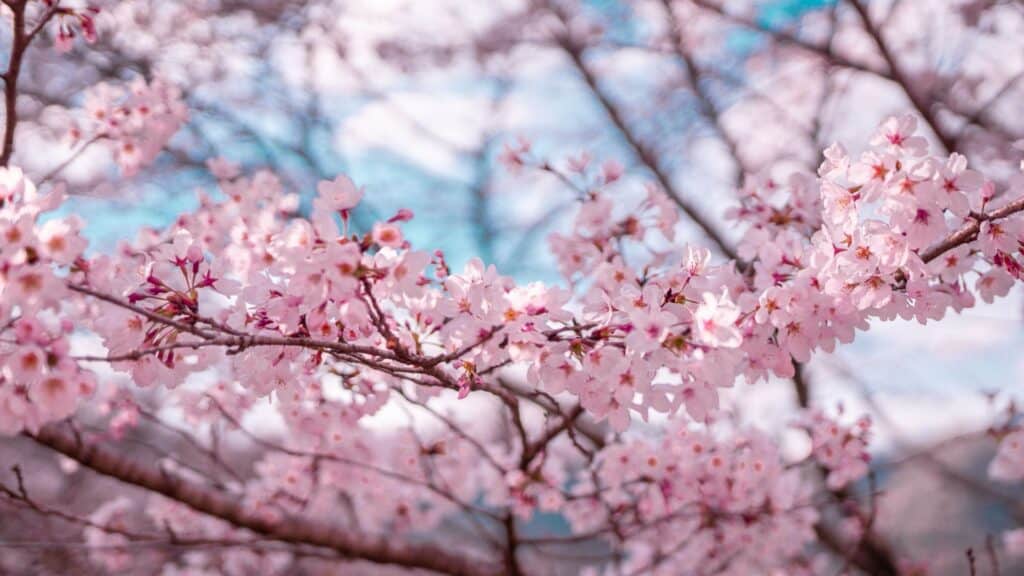 The Cherry Blossom is a tree that blooms during the graduation and entrance period and can be considered the representative spring flower of Japan.
Cherry blossoms are characterised by the fact that they are attached to relatively short branches. Depending on the species, the colour of cherry blossoms can be white, light pink, or dark pink. Petals can be single or double. Some types of cherry trees bear red fruits around June.
The cherry blossom is the national flower of Japan and the most beloved flower of the Japanese people. The relationship between cherry blossoms and the Japanese people is said to be deep, dating back to the ancient times of the Kojiki (Records of Ancient Matters).
As far back as the Manyoshu, the cherry tree was considered sacred. There are more than 200 varieties of cherry trees in Japan today, including wild varieties, but the Somei Yoshino is the most common and well-known among people.
Tulip
Tulips are in full bloom from early April to mid-May. With the flower word "compassion", it invites people to the world of fairy tales with vivid colours.
Tulips are especially diverse among the many flowers, and the tulip fields where hundreds of varieties are in full bloom in one place make you feel as if you were in Europe.
In the Kanto region, you can enjoy it from the end of March to the end of April, and in the northern Kanto region, you can watch it until the beginning of May. Also, one of the attractions is that you can enjoy collaboration with various flowers such as nemophila, rape blossoms, and poppies. Families with children can enjoy learning about various spring flowers together.
Moss phlox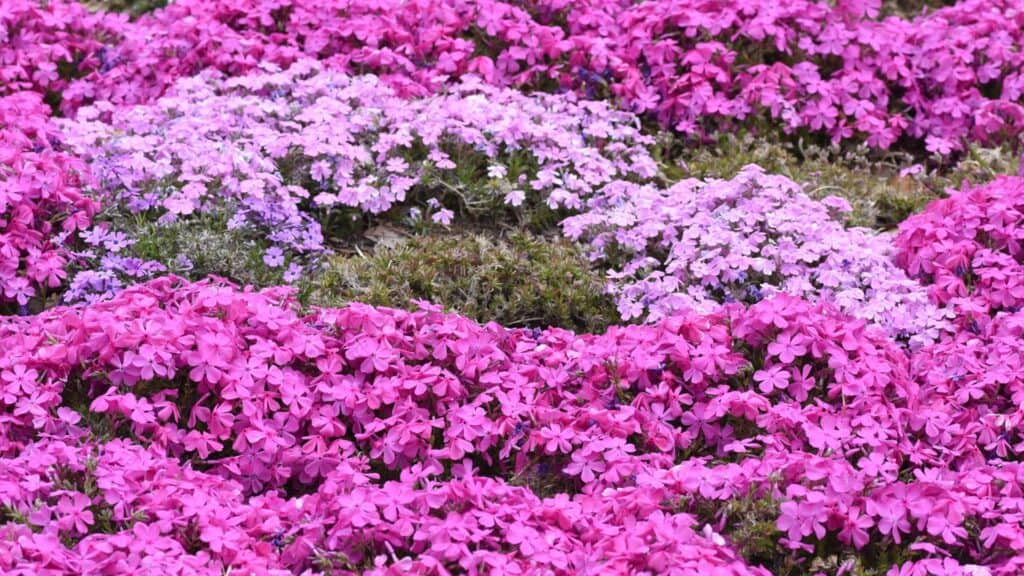 When the season of Moss phlox comes, you will find the appearance of small flowers densely blooming around you. Moss phlox colours the entire hill like patchwork so that the ground cannot be seen when it is in full bloom.
The best time to see it is from mid-April to early May, so don't miss the festival that is held along with the flowering.
It is a luxury to enjoy a picnic while being surrounded by the scent of flowers in places where you can bring in food and drink.
There are festivals where local products and special products are sold, and spots where the lights are lit up at night, so it seems that you can enjoy different ways of enjoying each.
Mizubasho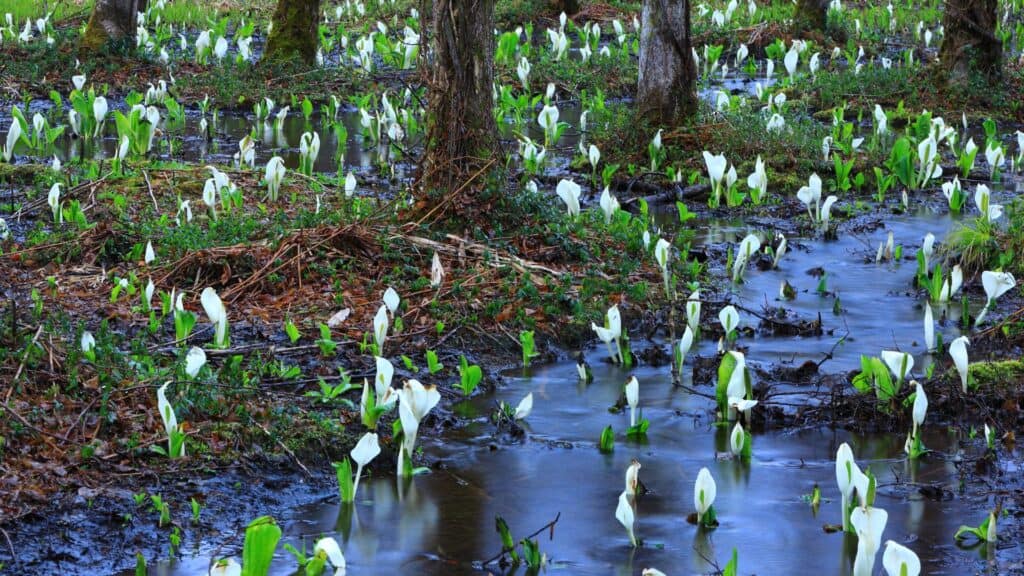 Mizubasho is a unique flower that announces the arrival of spring to the waterside.
The best time to see it is from mid-April to mid-June when the white Buddhist bracts decorate Onuma and the powerful blooming makes you feel like you're a part of nature.
There are also rare animals near the water. Not only can you take a walk around the lake, but you can also enjoy activities such as canoeing on the lake.
Wisteria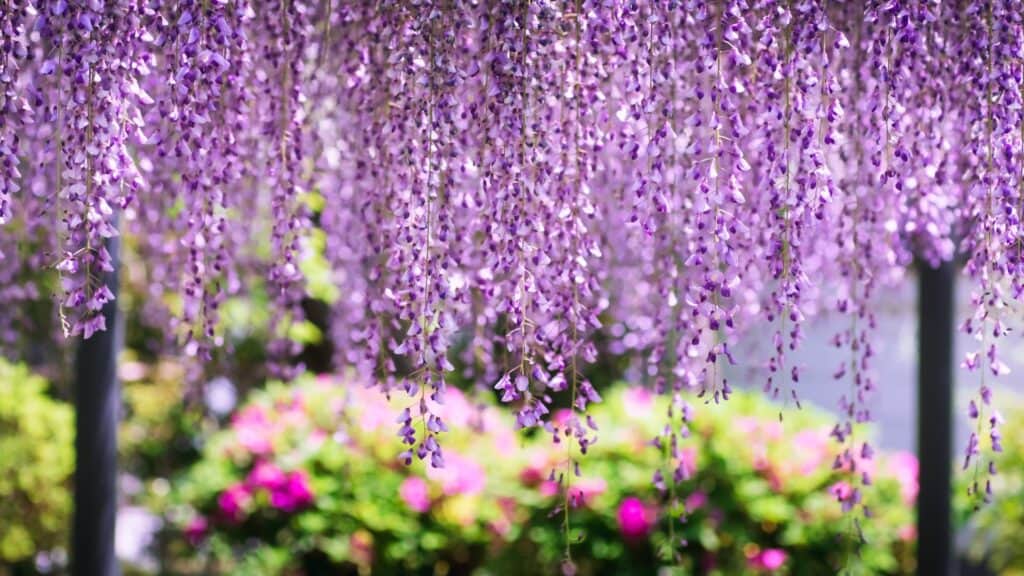 Wisteria has long been likened to a woman's furisode. The gentle colour unique to wisteria will heal your tired eyes. The tunnel of light purple and pink flowers that bloom in the fresh green is a masterpiece, and it is a place that you should definitely visit.
The famous place of wisteria has been highly evaluated not only in Japan but also in the world, such as being selected as one of the "10 beautiful places in the real world".
There are many famous places that are lit up at night, and you can enjoy a fantastic view as if you were in another world. In addition, one of the highlights is the wisteria festival that is held in various places according to the best time to see it. It is also good to taste local products such as wisteria soft serve ice cream.
Azalea
Azaleas have been loved by many people since ancient times. The bewitching scent reminds us of such a nostalgic era.
Thousands of azaleas bloom to fill the garden when it is in full bloom, which is a sight not to miss. One of the attractions is that there are spots that are not only pink but also red, purple, white, etc. that bloom in various colours and look great in photos.
When azalea is in full bloom, traditional performing arts that are famous for azaleas are performed, and many stalls line up to make the cherry blossom viewing even more exciting. Why don't you go out to see different kinds of cherry blossoms by knowing the types and colours of azaleas, including the best time to see and access them?
Rose
Rose is a flower that makes you excited just by looking at the colour and shape. Not only that, but the scent is still attractive. Did you know that there are wonderful rose gardens all over the country?
The rose garden, which is coloured with green leaves, is like a Western garden. Roses can be seen carefully from the child's point of view, and one of the attractions is that they can be enjoyed with children.
The best time to see is spring and autumn, so it's nice to have a good time going out. There are also places where you can experience picking and buying roses.
Poppy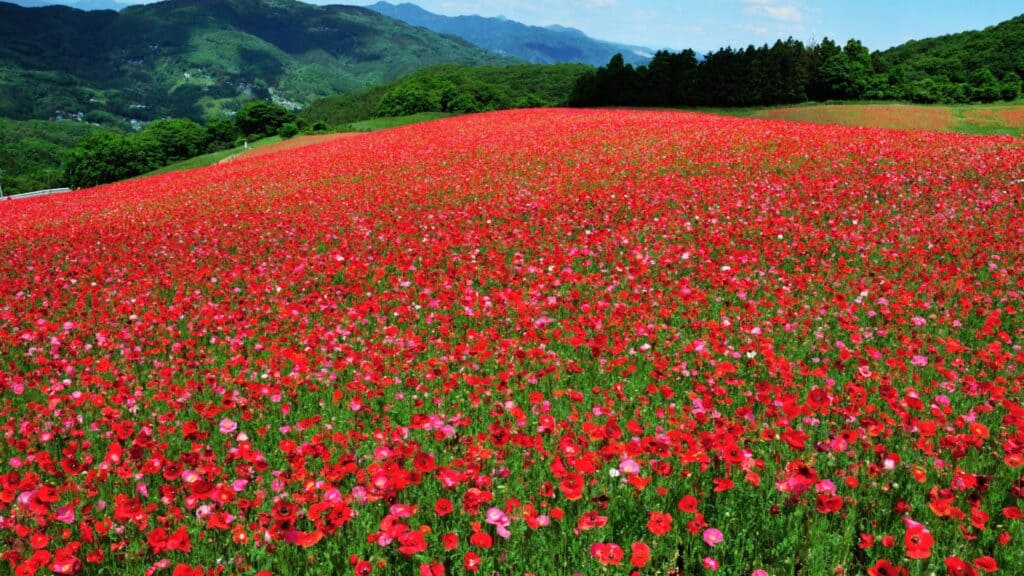 Derived from Greek mythology, Poppies mean the word "warm". The fluttering petals bloom cutely all over the magnificent site, and the contrast with the blue sky is overwhelming.
There are many spots where you can experience outdoor activities as well as taking a stroll. There are different cherry blossom viewing events where you can experience poppy picking.
Salvia
Salvia blooms in different colours, and one of the most memorable sights is a bright red carpet of salvia.
The sights of Salvia are not so crowded in some places, and you can see a magnificent view in little-known spots. The best time to see it is from August to early November, and they usually are in bloom for a long time. You can also enjoy different collaborations with different flowers depending on the season.
Hydrangea
Hydrangea is a refreshing rainy season flower, and the colour gradually changes after it begins to bloom.
The factor that changes the colour one after another is the acidity of the soil, and it is said that if it is acidic, it will be blue, and if it is alkaline, it will be red.
The flowering time is from the beginning of June to the end of June, and there are different Hydrangea Festivals held to dedicate to the gods with gratitude for the blessings of nature at the time of flowering.
Hydrangea often blooms in temples that have been popular since ancient times, and the sight of it blooming on both sides of the stone steps as soon as you pass through the gate is a masterpiece. It seems that you can enjoy cherry blossom viewing full of emotion.
Iris
The Irises are in full bloom from the rainy season to early summer. Iris features elegant colours such as white and purple. The best time to see it is the rainy season, so it looks good even if it rains.
Among them, the typical iris has various colours and blooms of purple and magenta flowers. In the Kanto area, there is a famous place where 1.5 million stocks bloom all at once, and its appearance is overwhelming. During the rainy season, people tend to stay home, but it's a good idea to go out to see the irises that can only be seen during this time.
Lavender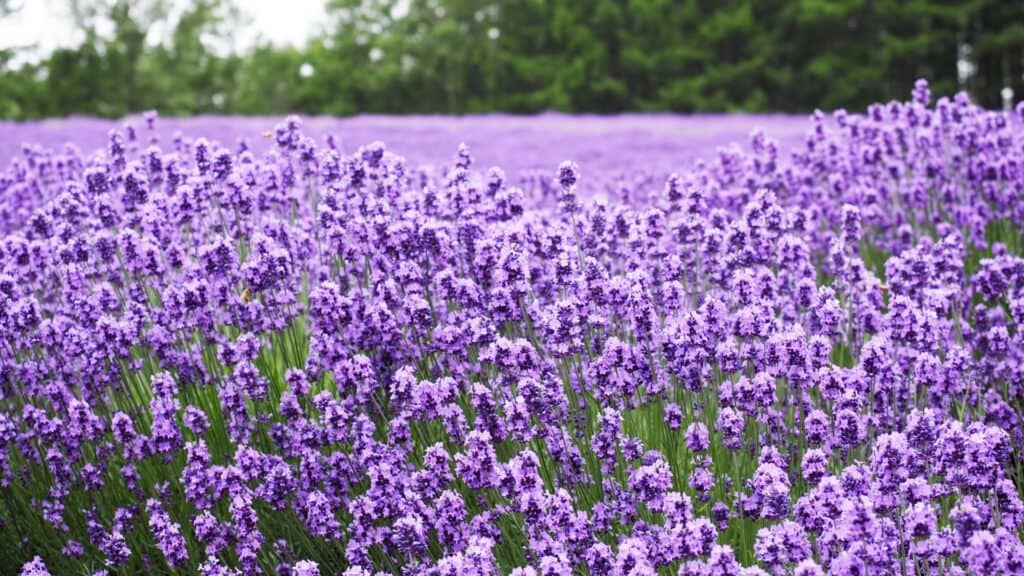 Lavender gives off a refreshing scent and makes pretty flowers bloom. The purple carpet created by the lavender that is tightly packed on one side is a masterpiece. It seems like a dream, as there are some places where you can experience picking lavender.
Lavender is in full bloom in mid-July and the hot summer months, but lavender fields are often located at relatively high altitudes, and the temperature is relatively low, so you can go out comfortably.
We also recommend trying lavender ice cream, which is popular for its refreshing taste. Especially for the hot and humid summers, lavender ice cream is a must-try.
Indian lotus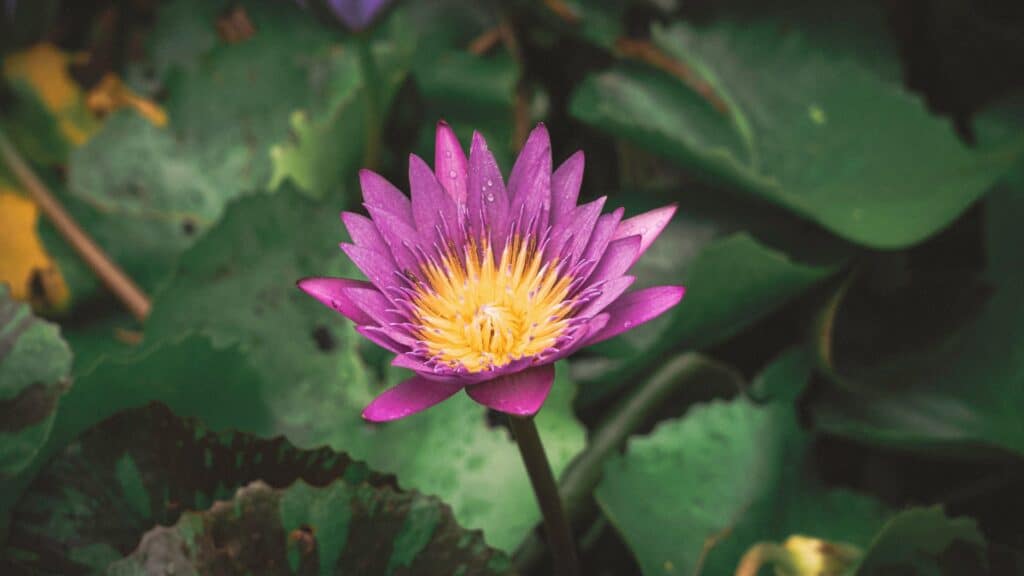 Indian Lotus is a plant that takes root in the ground and grows stems from it to make flowers bloom on the surface of the water. It is an aquatic plant born from the mud.
Indian lotus blooms such beautiful flowers, in China and Japan, it is said that it "has come out of the mud and is not stained with mud".
The harmony between the elegant architecture of old temples and the lotus pond in the bright garden is a masterpiece. There is also a famous place where the lotus pond is lit up at night. The fusion of historic atmosphere and contemporary art is breathtaking.
Sunflower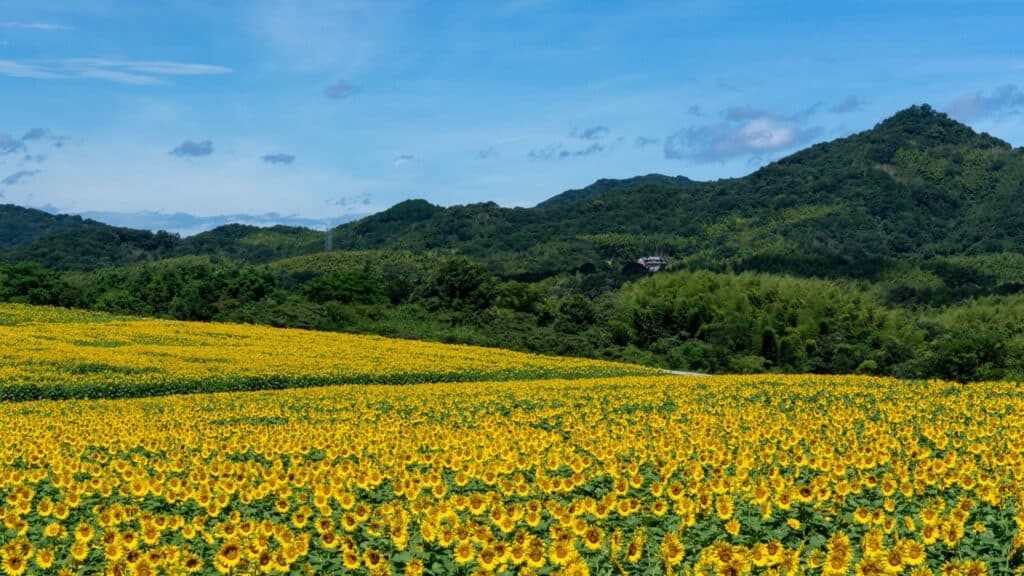 The image of a bright blue sky along with lively yellow sunflowers is a summer tradition. In a sunflower field that is taller than you are, you will inadvertently return to your childhood.
Sunflowers have the habit of moving in the direction of the sun. The flowering time is from mid-August to early September, but depending on the location, there are some famous places that are in full bloom in October.
There are many spots all over the country where you can see the sunflowers as if you were abroad. Not only can you feel the summer surrounding you, but you can also grab amazing photos of sunflowers. Why don't you go to the sunflower field like a maze?
Ume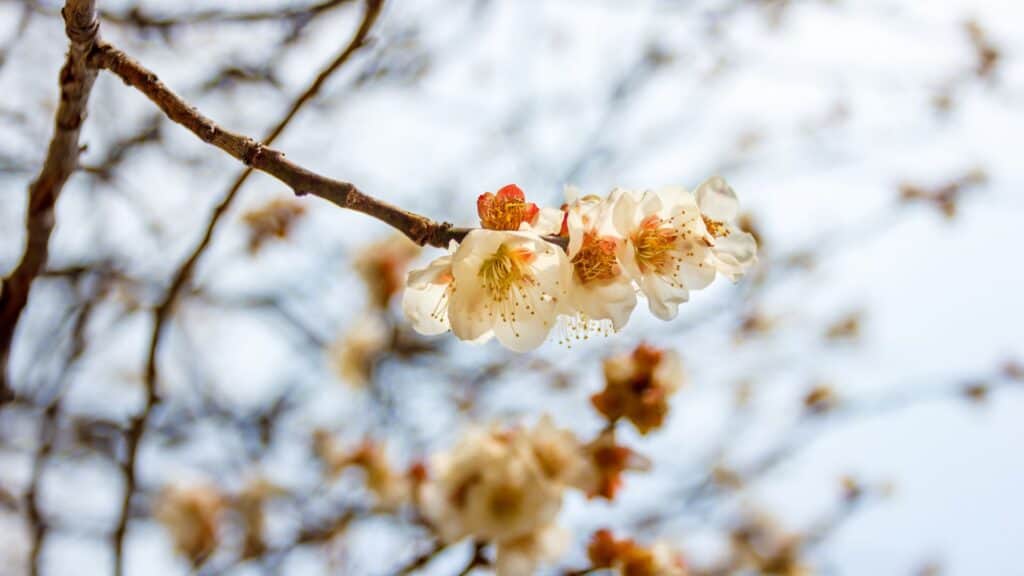 Ume is a flowering tree native to China and is said to have come to Japan via Korea. Ume is divided into "hana-ume," which produces highly ornamental flowers, and "jitsu-ume," which produces high-quality fruits suitable for medicinal and food processing uses.
In addition to the flowers, the main things to appreciate about the flowering plum trees are their fragrance, trunk shape, and branching. Since the tree has a long life span, it is also a pleasure to see it take shape over the years.
The ume flower is a flowering tree that marks the arrival of spring. The origin of this word comes from the sight of ume (plum) flowers in full bloom with dignity in cold winds, as the peak season of ume flowers is in February when it is still very cold. February is also the season of snowfall in some areas. This is a perfect flower language for the ume, which produces vivid flowers even in such cold weather.
—
What do you think about these flowers in Japan? There are so many different colours, shapes, types, and sizes of flowers, no matter which season you decide to visit Japan, you will sure to be able to find gorgeous Japanese flowers to enjoy!
Find out all about the different flowers in Japan you can enjoy throughout the year here. Check out what, when and where to see these flowers here: Cherry Blossoms, Tulips, Azaleas, Roses, Poppies, Salvia, Hydrangea, Iris, Lavender, Indian Lotus, Sunflowers, Ume and Moss phlox.