It's your last night in Tokyo. You've tried different foods, visited temples and explored various neighbourhoods. Your stay in Tokyo is coming to an end, and you want to end this magical trip with a bang. On your last night in this vibrant city, make great memories by doing some of the most memorable things in Tokyo! For your special last night, here are five of our favourite things to do in Japan, top 5 bar recommendations to go drinking to help you have a great end to your trip!
Find out more about the different Japanese drinks, Japanese beers, the special strong zero you can get in Japan and how to prepare for a night out in Tokyo. Want to check out more bar recommendations in Shinjuku, Shibuya, Roppongi, Akihabara, Asakusa, Nakano, Shimokitazawa and Koenji.

One of the best ways to explore Tokyo is to visit the local areas and immerse yourself in the local culture. If you want to explore local areas, we have created scavenger hunt adventures personalised to your interests, filled with fun facts, clues and puzzles. If you're curious, you can check out the games here!

Check out the Flip Japan Games here!

Last Night in Tokyo
Camelot (Nightclub)
One of the most popular clubs in Shibuya, Camelot guarantees a night of excitement. There are three floors playing different genres of music so you'll most definitely find something you like and can jam out to whilst downing a couple of drinks.
Dive into the crowds and dance until you forget how sad you are because it's your last night in Tokyo. Nice thing about Camelot is that, 'cause it's so spacious, there's plenty of room to take a breather in once you've exhausted yourself dancing. Yet, you'd be close enough to the dance floor to still be wrapped up in the fun and groove.
You'll find yourself swaying, tapping your foot or bobbing your head to the beat even while you're standing at the bar or table away from the dance floor. This, in my opinion, is the charm of Camelot: It allows you to be both the hardcore party-goer on their hot dance floor, as well as the chill, relaxed party-goer enjoying a drink at the bar, spectating the dancing.
Grab a few friends and come to Camelot on your last night in Tokyo. Upbeat music, flashing lights, dancing with a fun crowd, and, of course, alcohol… A night out at Camelot is definitely one of the top bar recommendations and probably one of the best ways to end your Tokyo trip.
Jeremiah Bar (Bar)
If you want to experience the Tokyo high-end bar scene and don't mind spending a little more, then definitely give Jeremiah a shot! Jeremiah Bar is named after the famous bartender, Jeremiah. The interior is stunning with stylish decorations and a tranquil atmosphere. This place is so fancy that they brand their ice cubes.
The bartenders here are extremely friendly, and if you have a drink preference, don't be afraid to just ask. If you are unsure what to get, you can check out their signature cocktail menu featuring a range of special cocktails, made right before your eyes!
I would highly recommend this bar in Tokyo and for you to try their smoked mojito that gives you the perfect mix of smoky and minty!
Good Vibes Bar (Bar)
Are you a superhero fan? If you are, then you definitely have to stop by Good Vibes Bar. Good Vibes Bar is a great bar recommendation for you before heading out of Japan! Good Vibes Bar is an amazing place, especially for Marvel and DC comic lovers! This bar is Tokyo is very unique and the owner collects all kinds of figuring, collectables, toys and magazine. Entering into this bar, you will feel like you have entered the comic world!
From simple mixers to special superhero cocktails, you can experiment and get whatever you're looking for here. Definitely stop by this place on your last night!
Kitchen Bar Noraya

(Izakaya)
Everyone that I have ever brought to Kitchen Bar Noraya has fallen in love with this place. It is located just 2-3 minutes walk from Koenji Station. Surrounded by izakayas in the area, it is the small wooden restaurant/bar with a welcoming glass door that you can't miss.
Their tea shōchū is one that I would highly recommend. You can get these with green tea, barley tea (brown tea) or rice tea. You might suspect that there is no alcohol in the drink, but after a few, I'm sure you will start thinking otherwise. If you want to get your last taste of traditional Japanese sake or shōchū, they are a range and the bartenders are happy to assist with recommending you the perfect one.
On top of a wide range of alcohol, Kitchen Bar Noraya serves a range of both Japanese and fusion food options. The grilled avocado with diced tomato is one of a kind. They also have Japanese pizzas, venison curry and a lot more.
Get tipsy on Japanese drinks, enjoy a few plates of unique dishes, walk around a bit and do your last-minute shopping in the area.
Bar Tour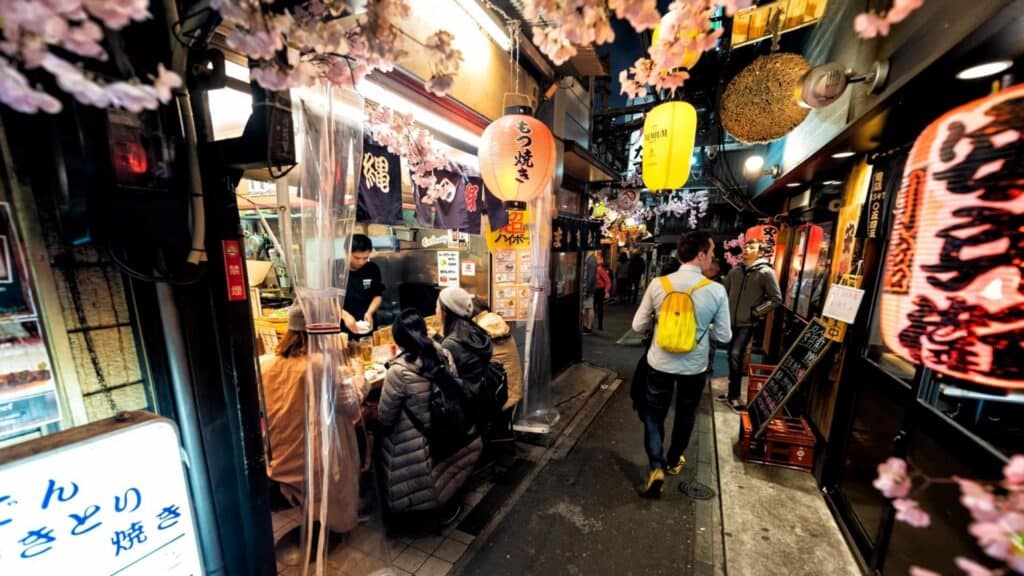 Joining a bar tour is another great way to make sure your night ends on a high note! It is an amazing chance for you to meet other like-minded individuals and head out to the city one last time during your trip. Your experienced bar tour host will usually choose three or four great bars so the pressure's off of you to pick a place.
The real charm of bar tours is getting drunk with new friends who you'll more than likely go out on an adventure with even after the bar tour. You may end up in a nightclub, a karaoke room, or sometimes other places…
—
Stay tuned for more information about Japan travel, Japanese culture, moving to Japan, living in Japan, Japan nightlife, Japanese language and more.