Japan has many great places to visit in winter. You can go skiing, snowboarding, and even just getting a hot drink and eating some good food is a great way to spend this season. If you are looking to travel inside Japan and fully indulge in this gorgeous season, we have compiled this list of perfect holiday ideas for you. 

One of the best ways to explore Tokyo is to visit the local areas and immerse yourself in the local culture. If you want to explore local areas, we have created scavenger hunt adventures personalised to your interests, filled with fun facts, clues and puzzles. If you're curious, you can check out the games here!

Check out the Flip Japan Games here!

Check out what to do in Winter, best illuminations in Tokyo, best illuminations in Japan, illumination day trips, best ski resorts, winter festivals, best onsen spots and ways to escape the cold in winter in Japan.
Where to visit in winter in Japan
1. [Nagano] Jigokudani Yaen-Koen
The Jigokudani Yaen-Koen is a hot spring area with natural onsen in Nagano, Japan. The place is most famous for the animals that come to bathe in the hot water. As winter approaches, you can catch sight of monkeys, deer, bears, and more animals.
The monkeys like to strip down and soak in the mineral water. The hot springs were formed when molten rock from an eruption of Mt. Kusatsu-Shirane flowed into the valley and was partially trapped by lava flows from Mt. Nishiyama and Mt. Komagatake.
The snow monkeys, as they're called, live high up in the mountains and come down to Jigokudani Yaen-Koen at dusk to take a dip in the onsen's warm water. Jigokudani Yaen-Koen is open all year round, but most Japanese macaques take a bath when the temperature is low. The most popular time for seeing animals at Jigokudani Yaen-Koen is after sunset when they come down from the mountains to bathe in the hot water.
2. [Hokkaido] Hakodate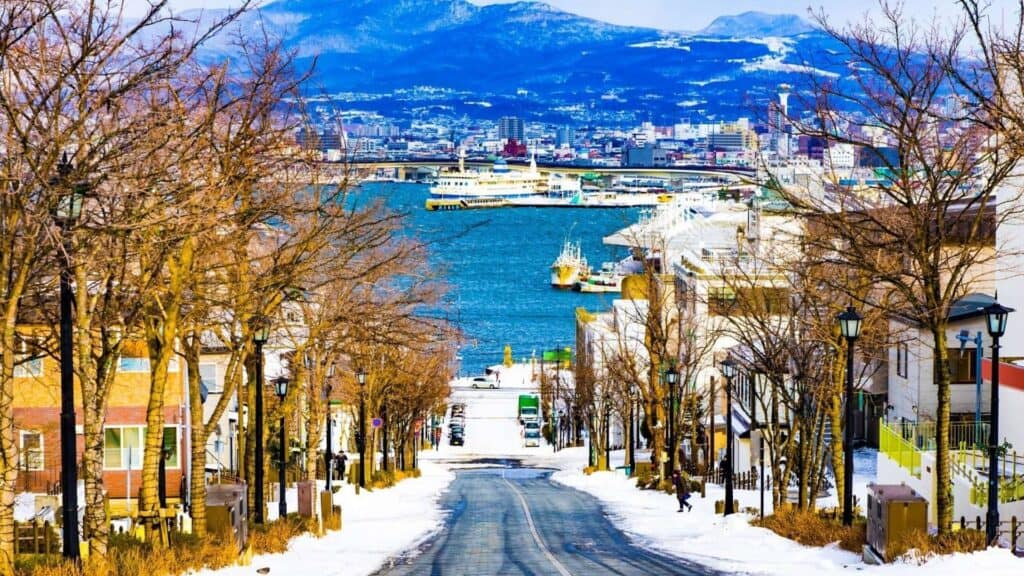 Hakodate was once counted as one of the three major night views in the world. The night view of the city of Hakodate from Mt. Hakodate at an altitude of 334m is very popular, and many tourists visit the city of Hakodate for the night view.
In winter, the light is reflected by the accumulated snow and the night view looks even more beautiful. From December to March every year, the "Hakodate Winter Festival" is held, where the town of Hakodate shines brighter than usual. Roads are closed in winter, so make sure to use the ropeway to access the summit of Mt. Hakodate.
Besides the gorgeous view, there are many fun activities you can do in Hakodate, including visiting the Hakodate Christmas Fantasy. This festival is held every winter in front of the Kanemori Red Brick Warehouse in the Bay Area. During the event, fireworks are set up every day at 18:00 when the tree lights up, and the entire bay area will be surrounded by beautiful light. The Christmas Tree that is up to 20 meters high is also set up in the ocean and the illumination changes colour, making it a beautiful winter scenery unique to Hakodate.
3. [Hokkaido] Biei Town Blue Pond / Shirahige Waterfall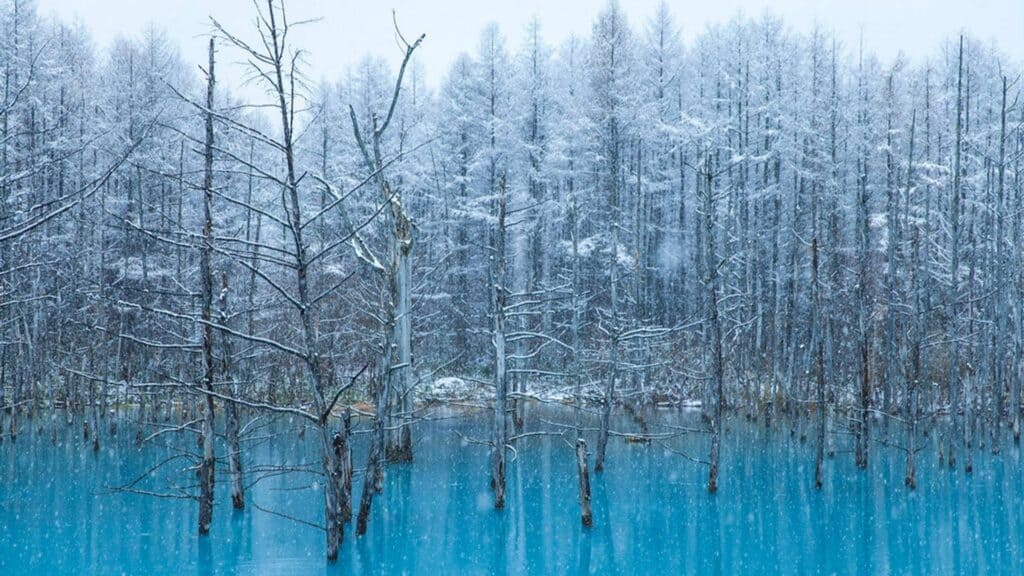 Every year from November to April, a light-up event is held at the blue pond in Biei Town. The blue pond is about 17km from Biei station and is very quiet because it is surrounded by a deep forest. In the middle of winter, the water surface freezes and snow covers it, so you can not see the blue water that is characteristic of the pond, but on winter nights, the pond is illuminated by LEDs and projected in the quiet forest. The view is absolutely breathtaking.
About 10 minutes by car from the blue pond, the illumination is being held at Shirahige Waterfall near Biei Shirogane Onsen, which is famous for the flowing water from the water source. This is lit up all year round, so if you get a chance to come here, you can enjoy the light up along with the blue pond.
4. [Tottori] Tottori Sand Dunes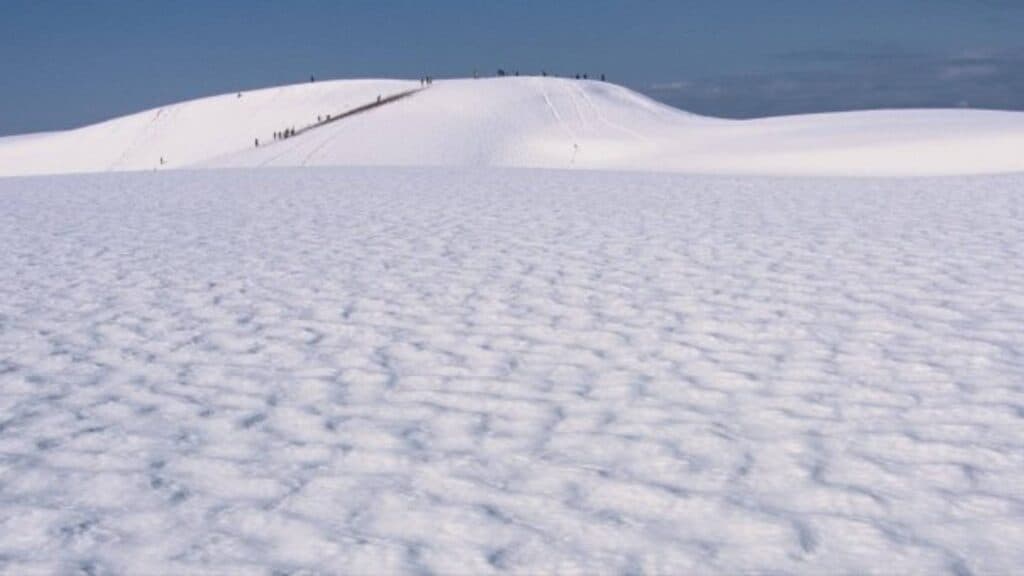 Going to Tottori Sand Dunes when it snows is an incredible experience and is definitely a must for your winter activities!
The Tottori Sand Dunes, which are visited by many tourists, is a popular tourist destination that represents Tottori Prefecture. It is a vast sand dune 2.4 km long and 16 km wide. The Sea of ​​Japan spreads beyond the dunes, and if you climb a small hill called the back of a horse, you can see the entire sand dune.
When the sand dunes are covered with snow, the whole area becomes a silver world and is surrounded by a mysterious world. It is an oasis that can be seen only in winter. The north wind is strong and it is very cold, so make sure to go in warm clothes.
Beside the sand dunes, for Christmas every year, an illumination event is held here. It is said to be one of the largest in the Sanin region and you can enjoy the fantastic world of illumination. During the period, there will be numerous events and stores offering local gourmet food.
5. [Kyoto] Amanohashidate
Amanohashidate in Miyazu City, Kyoto Prefecture, is known as one of the three most scenic spots in Japan. Amanohashidate is a sand spit that separates Miyazu Bay and the Aso Sea from north to south.
Sandspit is a terrain formed by the accumulation of sand carried by coastal currents. Amanohashidate has been said to be a scenic spot and a scenic spot since ancient times because of the strange terrain created by the sand spit. There are many ways to enjoy Amanohashidate including walking through it, crossing it by bicycle or boat, or and swimming in the summer.
When it snows in northern Kyoto in winter, Amanohashidate becomes such a fantastic sight. The area is covered in snow and you can cross the bridge while taking in the view.
6. [Ibaraki] Fukuroda Falls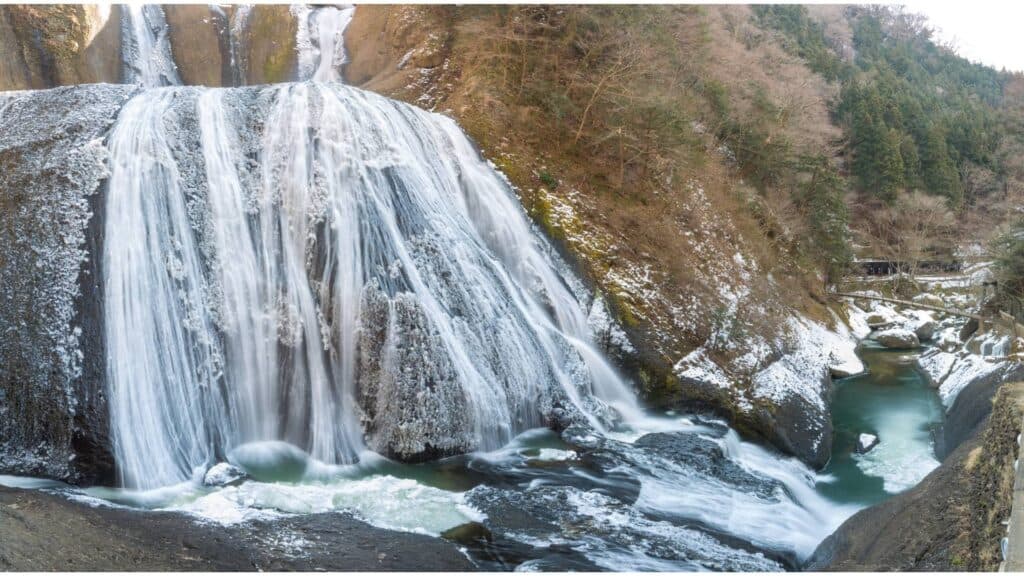 "Fukuroda Falls", one of the three famous waterfalls in Japan, is located in Daigo Town, Kuji District in Ibaraki Prefecture. The Fukuroda Falls is a huge waterfall 120 meters high and 73 meters wide. The annual icefall season is the midwinter from late December to February.
In recent years, it has become less common for Fukuroda Falls to freeze completely, but even with about 70% freezing, you can see a different look than is unique and unusual. The freezing of the waterfall melts as the sun rises, so if you're visiting for an icefall, it's best to go in the morning when the temperature is low.
The light-up event, which is held from November to January every year, started in 1999, and is now so popular that tourist buses visit even at night for the purpose of lighting up.
7. [Gifu] Shirakawa-go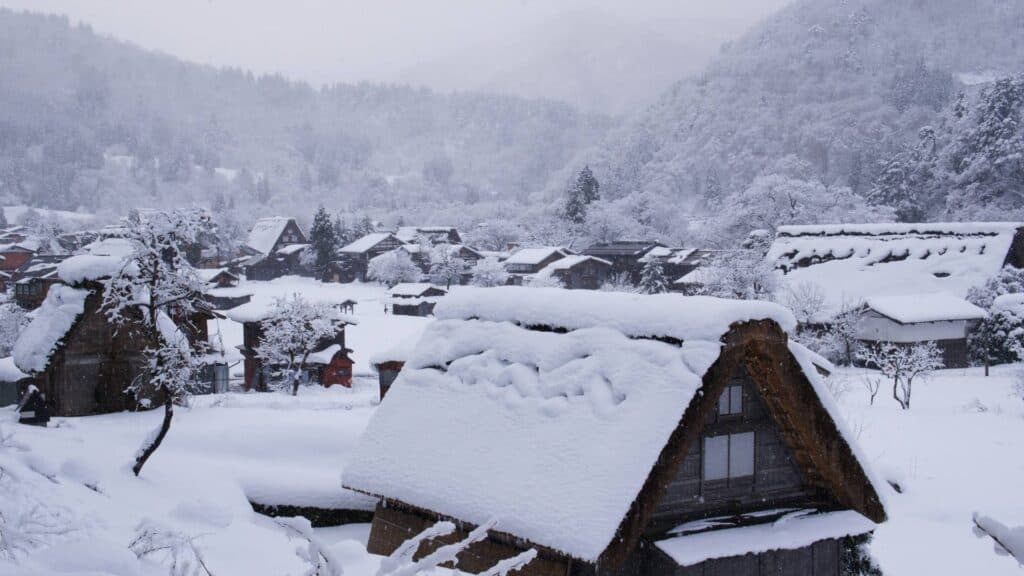 Shirakawa-go is a special place in Japan in the Gifu prefecture. It is one of the most beautiful villages in the country, known for the beautiful thatched farmhouses. Shirakawa-go is a gassho-zukuri village that was registered as a World Heritage Site in 1995. There are about 100 gassho-zukuri buildings, large and small, and they are unique because people still live inside these houses.
In Shirakawa-go, you can enjoy a traditional way of life that has been preserved for centuries. There are many thatched farmhouses and they are a big part of Shirakawa-go's appeal.
From late December to early March, when it snows in winter, you can enjoy the snow-covered Shirakawa-go. There is a day to light-up event from mid-January to mid-February, so please check the schedule and go see it. You will be fascinated by the fairyland-like sight of the lights floating in the quiet silver world.
8. [Hokkaido] Sounkyo Onsen
At the Sounkyo Onsen at the foot of the Daisetsuzan mountain range, the Sounkyo Onsen Hyobaku Festival is held every year from late January to mid-March. "Icefall" is a frozen waterfall, which is a cold place where the waterfall freezes. If you use the photo shooting service (free of charge) at the entrance of the venue, you will be issued a cold certificate along with the photo.
You can also experience the unique activity, ice climbing, here from noon. A special god ball made of ice is enshrined in the back of the "Icicle Shrine". Appreciate if your coins of offering stick to the god ball, it is good luck for love, fortune, and success.
9. [Shizuoka] Kawazu cherry blossom
In Kawazu machi, which is located in Higashiizu, about 850 Kawazu cherry trees are planted along the Kawazu River, and 8,000 Kawazu cherry trees are planted throughout the town.
Kawazu cherry blossoms bloom from late January to February every year, and the Kawazu Cherry Blossom Festival is held from early February to early March. In the latter half of the festival period, the blossoms are in full bloom, and the competition between the pink cherry blossoms and the yellow blossoms is spectacular.
10. [Okinawa] Nago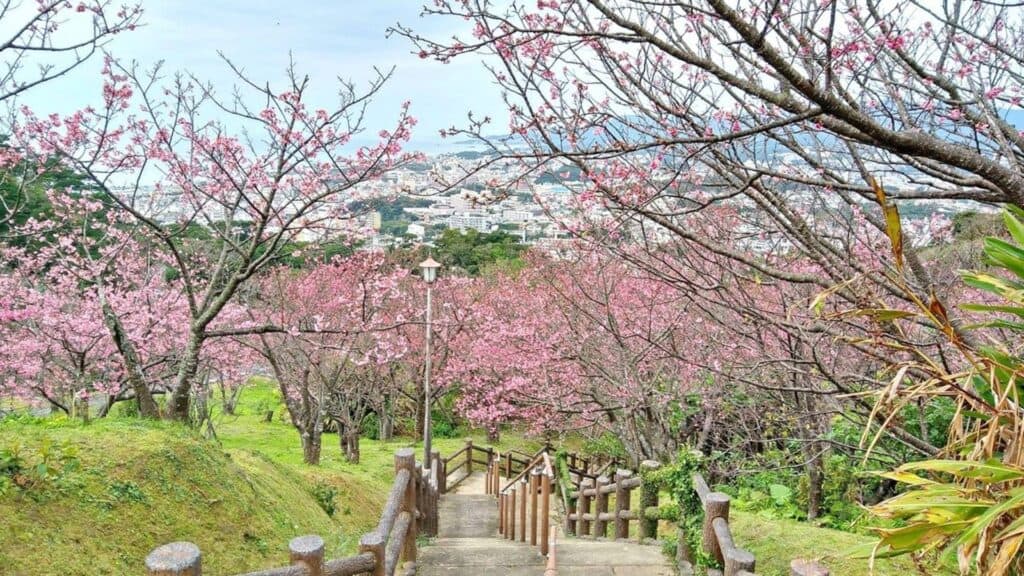 The cherry blossom season in Okinawa is from January to February. Somei Yoshino cherry blossoms are the most common cherry blossoms in Honshu, but in Okinawa, Hikanzakura, which is characterized by its deep pink petals, is a major variety. Nago Central Park, which was built around the ruins of Nago Castle, is one of the best cherry blossom viewing spots in Okinawa, and 23,000 scarlet cherry trees are planted there.
Every year on the last Saturday and Sunday of January, the "Nago Sakura Festival" is held with the catchphrase "Spring in Japan begins here". Centering on Nago Central Park, events such as stage events and street live performances are held at Sakura Park, Nago Fishing Port, Nago Crossroads Boulevard, etc.
11. Okhotsk Drift Ice
Drift ice is a unique sight that can only be seen in the eastern side of Hokkaido, the Sea of ​​Okhotsk during midwinter. Many tourists from all over Japan come in search of a lump of white ice that flows over here.
Drift ice found in Hokkaido is formed on the coast of Siberia in the northwestern part of the Sea of ​​Okhotsk, travels south due to seasonal winds and currents from Siberia, and arrives on the coast of the Sea of ​​Okhotsk in Hokkaido.
The drift ice in Hokkaido is the place where you can see it at the lowest latitude in the world. There are basically three areas where you can see drift ice: Monbetsu, Abashiri, and Shiretoko, and there are plenty of tourist facilities and activities. In this area, a large amount of drift ice rushes to the coast and harbor during the season, creating a fantastic sight.
When the drift ice arrives, various wild animals also begin to show their faces. You can also see seals and sea lions with round bodies and cute eyes, white-tailed eagles and Steller's sea eagles, which are national natural monuments. Clionidae, also known as the "Drift Ice Angel," is an animal that can only be encountered here.
Generally, it is said that the best time to see is from mid-February to early March. The first day of drift ice (the first day visible from the coast) is around the end of January, and the first day of drift ice berthing is from early to mid-February, so the best time to see it is after that.
12. Mt. Zao Snow Monsters
Zao Onsen Ski Resort in Yamagata Prefecture is famous for having the longest skiing slope in Japan and for the snow monsters. Some people call it "snow monsters," and some others call it "ice monsters." Whichever nickname one prefers, we all know that this place is phenomenal. Snow Monsters are unusual plumes of ice that form when water droplets freeze on cold grassy surfaces, like ski lifts or sloped sides.
Skiing and snowboarding while enjoying the views of snow monsters is a sight that is absolutely exceptional! Zao Onsen Ski Resort has one of the highest snowfalls in the country and offers skiing and snowboarding with impressive views of Mt. Fuji. Further, this is one of the few places in Japan where you can see trees covered completely by snow!
—
Which of these places is your favourite? Where are you planning to visit this winter in Japan? These are some incredible winter sights that are so unique and beautiful, if you get a chance, definitely add one or more of these places onto your bucket list. 
Check out what to do in Winter, best illuminations in Tokyo, best illuminations in Japan, illumination day trips, best ski resorts, winter festivals, best onsen spots and ways to escape the cold in winter in Japan.
Stay tuned for more information about Japan travel, Japanese culture, moving to Japan, living in Japan, Japanese language and more.