In Japanese, onsen means to take a natural hot spring bath. Many say that you haven't actually been to Japan unless you have had an onsen trip. Onsen is believed to be having therapeutic benefits for both your body and your mind. Thanks to Japan's unique geographical location and volcanic activities, there are so many onsen spots all around the country. So, which onsen around Tokyo do you want to visit? 

One of the best ways to explore Tokyo is to visit the local areas and immerse yourself in the local culture. If you want to explore local areas, we have created scavenger hunt adventures personalised to your interests, filled with fun facts, clues and puzzles. If you're curious, you can check out the games here!

Check out the Flip Japan Games here!

Check out what to do in Winter, best illuminations in Tokyo, best illuminations in Japan, illumination day trips, best ski resorts, winter festivals, best onsen spots and ways to escape the cold in winter in Japan.
Onsen around Tokyo
1. [Yamagata] Ginzan Onsen
Ginzan Onsen stands quietly in the mountains of Obanazawa City, Yamagata Prefecture. Ginzan Onsen is a hot spring town with hints of the Taisho period with its nostalgic cityscape. This place is the setting for the NHK TV series "Oshin", bringing it in the limelight and its name has been spread nationwide.
Although it is a small hot spring town, Western-style wooden multi-story inns built from the end of the Taisho era to the early Showa era are lined up along both banks of the Ginzan River, along with the red-painted bridges and retro wooden inns float with gas lights.
At dusk, the gas lamps standing at the foot of the bridge illuminate the hot spring town, creating a romantic atmosphere. In winter, you will be surrounded by a fantastic world of snow. Many tourists from all over the country come to see this scenery, and it is crowded around the year-end and New Year holidays.
Ginzan Onsen is especially beautiful in the snowy landscape, and many tourists come to see it in winter. Take a scroll around this hot spring town and enjoy different delicious hot pot dishes at hot springs and inns.
2. [Kanagawa Prefecture] Hakone Onsenkyo
Hakone Onsenkyo is well-known nationwide. It is said that the milky white nigori hot spring water has a skin-beautifying effect, and the skin after bathing is moist and smooth. This onsen can help you remove unwanted dead skin cells.
From Hakone, you can see the magnificent view of Mt. Fuji. It is said that in the winter season, the air is extra clear and you can see far into the horizon. Fuji reflects beautifully on the surface of Lake Ashi, especially from December to February. Since Mt. Fuji is covered in snow in winter, the scenery is extra gorgeous.
3. [Gunma Prefecture] Kusatsu Onsen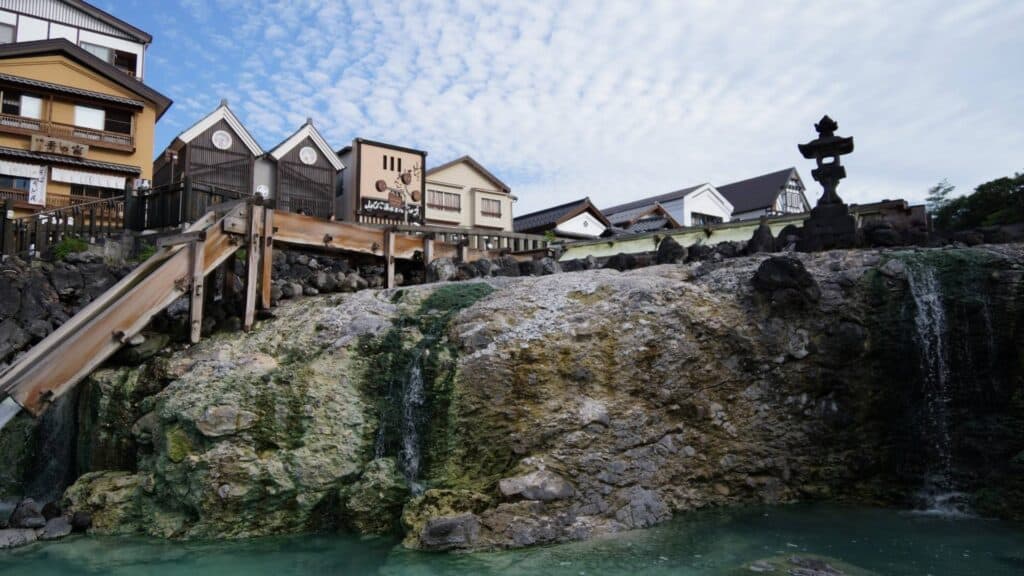 Kusatsu Onsen has been visited by many celebrities and the area is known for having the largest amount of natural springs in Japan. The place has become incredibly famous after a visit by a German doctor, Erwin Bälz. Dr. Bälz served for the Japanese Imperial Family and promoted Kusatsu, because he believed that Kusatsu's water has health benefits.The sight of the emerald-colored water flowing down like a waterfall and the smoke rising is breathtaking.
Kusatsu Osen is located in Gunma prefecture and is about 4 hours away from Tokyo. You can get there easily by taking an express train.
Another fun fact about Kusatsu Onsen (and perhaps it is another reason behind its popularity): unlike most other onsen, this place is tattoo-friendly! 🙂
4. [Gifu Prefecture] Gero Onsen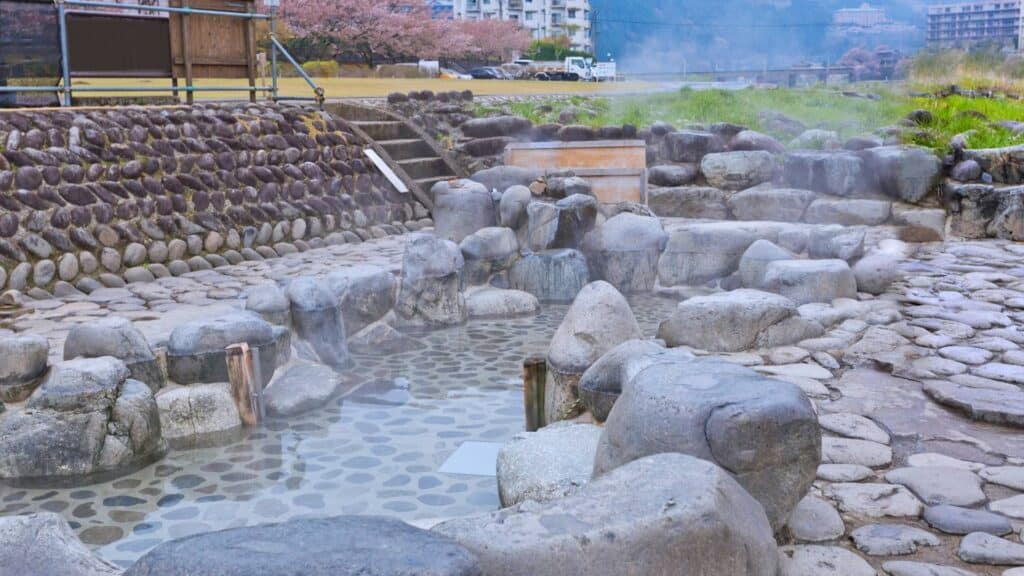 Gero Onsen, one of Japan's three famous hot springs, is lined with more than 40 hot spring inns along the Hida River, and footbaths are scattered throughout the hot spring town.
Take a leisurely stroll through the charming town where inns and souvenir shops are lined up. If you visit during the end of the year and New Year holidays, you can immerse yourself in the festivities.
It is also famous as a hot spring for beauty because the soap effect of the alkaline spring quality makes the skin smooth. You can enjoy the rich nature of Gero from the open-air baths and observatory baths of the elaborate hot spring inn.
After experiencing the history and culture of the hot spring town and enjoying the hot spring tour, there are also many gourmet dishes made with local ingredients that you can taste!
5. [Oita Prefecture] Yufuin Onsen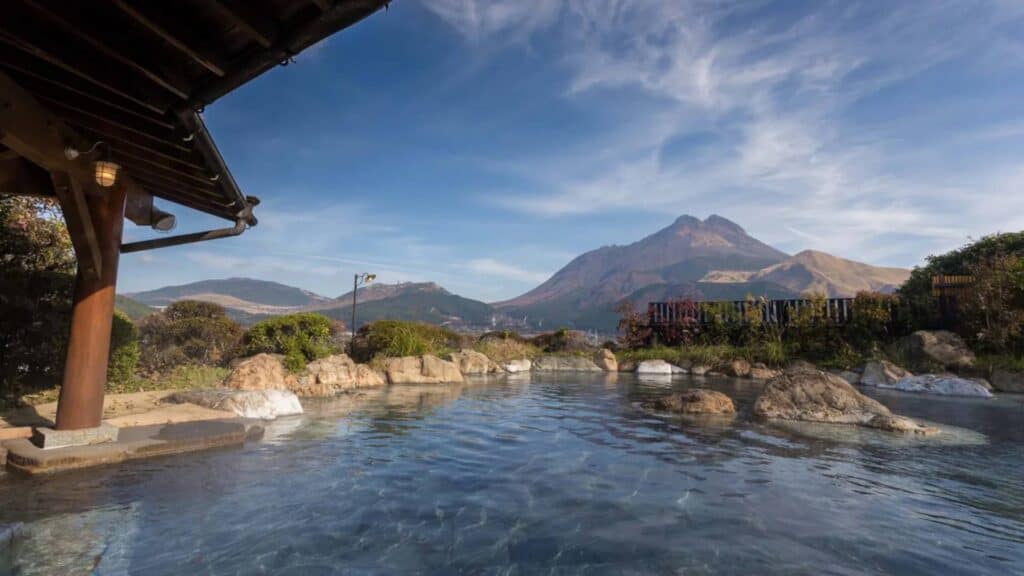 Yufuin Onsen is full of warmth, where the idyllic nature and the hot spring town are in harmony. Since it is one of the most popular hot spring resorts in Japan, it is especially crowded with people who want to spend a luxurious time during the year-end and New Year holidays.
Besides the Yufuin Onsen, there are many sightseeing spots such as Kinrin Lake, which is a mysterious lake with hot springs and cold springs, and Yufudake, which is the symbol of Yufuin, so it is attractive that there are various ways to enjoy it besides hot springs.
The inns are mainly Japanese-style inns with a calm atmosphere, including the famous inn called "Yufuin Gosanke". Yufuin's hot water has no peculiarity and is characterised by its smooth feel, and is said to be effective in relieving tiredness.
6. [Ehime Prefecture] Dogo Onsen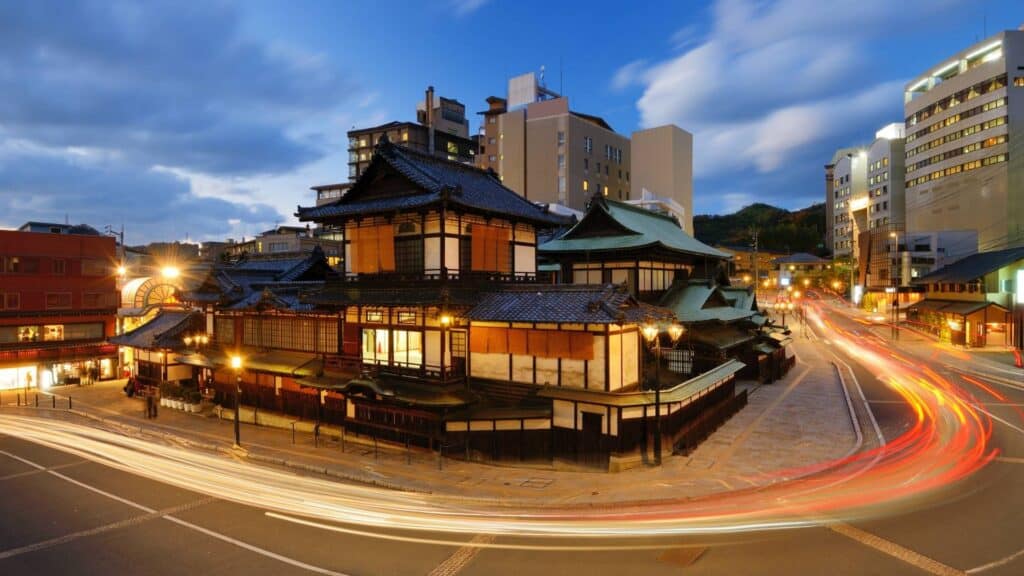 Dogo Onsen is well-known for its history of 3,000 years. The main building has a magnificent appearance of a wooden three-story building and is designated as an important cultural property.
The inside of the building, which has the same remnants of the Meiji era, is like a labyrinth. There are two types of bathing courses, "Kami no Yu" and "Rei no Yu", in the intricate building, and there are four bathing courses.
Dogo Onsen is said to be good for dry skin and it is perfect for winter, since the temperature can be dry. Besides the hot springs, there are other attractions such as the private room "Botchan no Ma", which is related to Natsume Soseki. It is a must-see for history lovers!
7. [Hokkaido] Noboribetsu Onsen
At Noboribetsu Onsen, one of the famous hot spring areas in Hokkaido, you can enjoy the relaxing onsen while being surrounded by nature. There is a huge variety of onsen here and with all the ryokan options available to you, you will definitely be able to find something that's right for you.
The resort town consists of many ryokan and hotels with onsen and many of them allow you to use them during the day even if you're not staying there.
A lot of the onsen here have different natural stones to help stimulate the acupuncture points on the soles of your feet, improving your blood flow, which is excellent for poor circulation and swelling!
After enjoying onsen, take a walk in the wilderness and feel the gorgeous atmosphere. It is especially recommended during the snowy winter season because it offers fantastic scenery.
—
Have you ever ever relaxed in warm onsen spring water while taking in the gorgeous winter scenery? These beautiful onsen spots are stunning and I hope you get to check out these places for yourself.
Check out what to do in Winter, best illuminations in Tokyo, best illuminations in Japan, illumination day trips, best ski resorts, winter festivals, best onsen spots and ways to escape the cold in winter in Japan.
Stay tuned for more information about Japan travel, Japanese culture, moving to Japan, living in Japan, Japanese language and more.