If you want to travel to Japan in the winter but want to do other winter activities outside of winter sports, try visiting winter festivals in Japan! Winter festivals in Japan allow you to learn a lot about Japanese culture while having fun and indulging yourself in the festivities. Here, let's take a look at 8 best winter festivals in Japan that you won't want to miss!

One of the best ways to explore Tokyo is to visit the local areas and immerse yourself in the local culture. If you want to explore local areas, we have created scavenger hunt adventures personalised to your interests, filled with fun facts, clues and puzzles. If you're curious, you can check out the games here!

Check out the Flip Japan Games here!

Check out what to do in Winter, best illuminations in Tokyo, best illuminations in Japan, illumination day trips, best ski resorts, winter festivals, best onsen spots and ways to escape the cold in winter in Japan.
Winter Festivals in Japan
1. Sapporo snow festival
The Sapporo snow festival is located in Hokkaido. It is one of the largest and most popular festivals in Japan. The festival is held annually at Sapporo in Japan for one week in February.
Sapporo Snow festival began in 1950 when elementary school students made six snow sculptures at Odori Park. In 1955, the Japanese Self-Defense Forces made the first snow sculpture, which made the festival famous. The Sapporo Snow Festival has attracted tourists not only from Japan but also from all over the world.
Over 250 sculptures are made in all sizes each year. The festival has an ice and snow sculpture contest. There are categories of all sizes, with some sculptures reaching 15 meters high and 25 meters wide.
If you get a chance, definitely come and check out this gorgeous festival for yourself. The many beautiful snow sculptures will leave you breathless. Besides the snow sculptures, there are different activities held here and you can try different delicious Japanese food here. 
2. Hirosaki castle snow lantern festival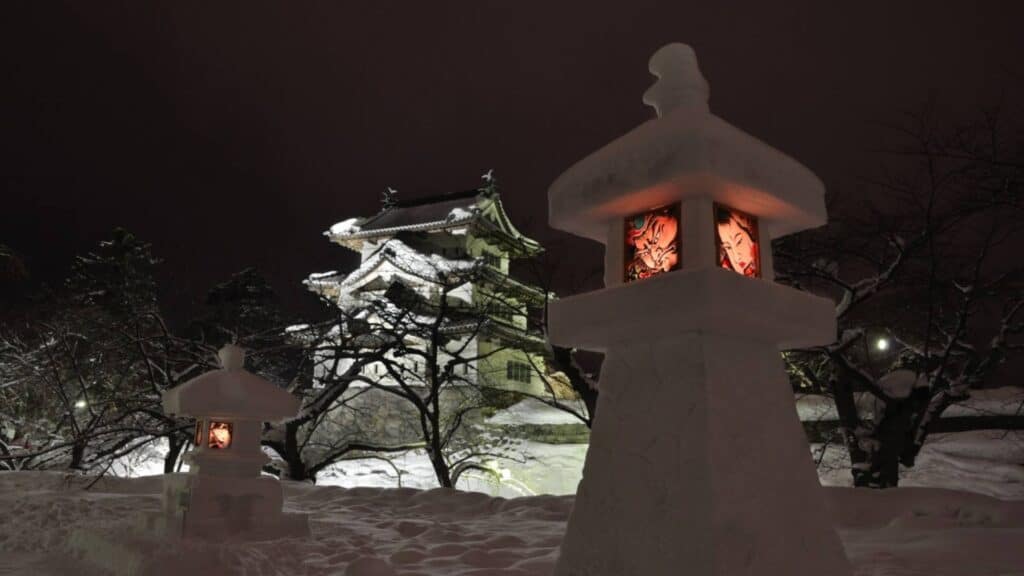 The Hirosaki castle snow lantern festival is located in Tohoku. It is held annually in February. The Hirosaki Castle Snow Lantern Festival, one of the five major snow festivals in Michinoku, started in 1977. The castle is famous for cherry blossoms but in winter, the snow-covered castle towers are illuminated beautifully, making the castle an attractive destination for winter festivals lovers.
Snow lanterns, snow sculptures, and mini kamakura lights light up Hirosaki Castle in winter. At the main venue, Yonomaru, a large snow statue in the shape of a historic building is set up, making it an iconic view for this festival. A big slide is also set up, so people of all ages can enjoy the thrill. In addition to large slides, there are also medium-sized slides for sledging.
With cold nightlife and the perfect ambiance, you absolutely will love the lanterns in the middle of snow at the Hirosaki castle. Stop by Hirosaki castle and experience the cold winter nights in Hirosaki castle for yourself.
There is also a snow playground where children can play freely. In recent years, sky lantern launch experiences were held. The experience is free to join and the lanterns use LEDs, so there's no fire hazard. You can feel romantic like that princess's famous scene!
Approximately 150 large and small snow lanterns and snow sculptures will be placed in the park. Lighted mini-kamakura groups and snow sculptures, together with Hirosaki Castle floating in the lights, invite you to a mysterious world.
3. Iwate snow festival
Iwate snow festival is located in Tohoku and held at Koiwai farm every February for about a week. It's one of the largest snow festivals in Tohoku. There are many snow activities at the festival such as a snow train, a horse sleigh and many winter sports.
During the period of the festival, different experiences and shows such as stage shows and fantasy fireworks are held every day. When the sun goes down, the snow and ice sculptures are lit up with colorful lights, creating a fantastic atmosphere for its visitors. In the Iwate Snow Festival, about 16 snow sculptures and 70 kamakura, large and small, are set up here. A total of 4,000 people participate in the snow sculpture making, which has a different theme every year.
Besides activities, there are many local foods and drinks for you to try. All kinds of delicious food carts are set up here and you can indulge in the local cuisine. If you're getting cold, you can enjoy the Amihari Onsen nearby, a historical hot springs bathhouse.
Up to 300,000 people visit during the festival. If you get a chance, come and enjoy all the different experiences yourself!
4. Lake Shikotsu ice festival
Lake Shikotsu ice festival is located In Hokkaido and is held every year. The festival hosts many stunning ice sculptures. During the day, the sculptures shine blue beautifully under the daylight and at night, the sculptures are illuminated in all kinds of bright colours, bringing a magical atmosphere to the place.
Besides the sculptures, there are many different activities you can enjoy at this festival. You can check out the ice rink that is set up for the festival, check out the different ice slides and even go horseback riding. Traditional events take place over the weekend and special holidays and different firework events are another attraction during this festival. There are multiple onsen spots in the area, you can either go for the day or stay in one of the ryokans overnight.
From checking out the ice sculptures and shows, snowshoe trekking, going to the nearby onsen to participating in homemade experiences, you will sure have an incredible time at this festival.
5. Yokote Kamakura festival 横手の雪まつり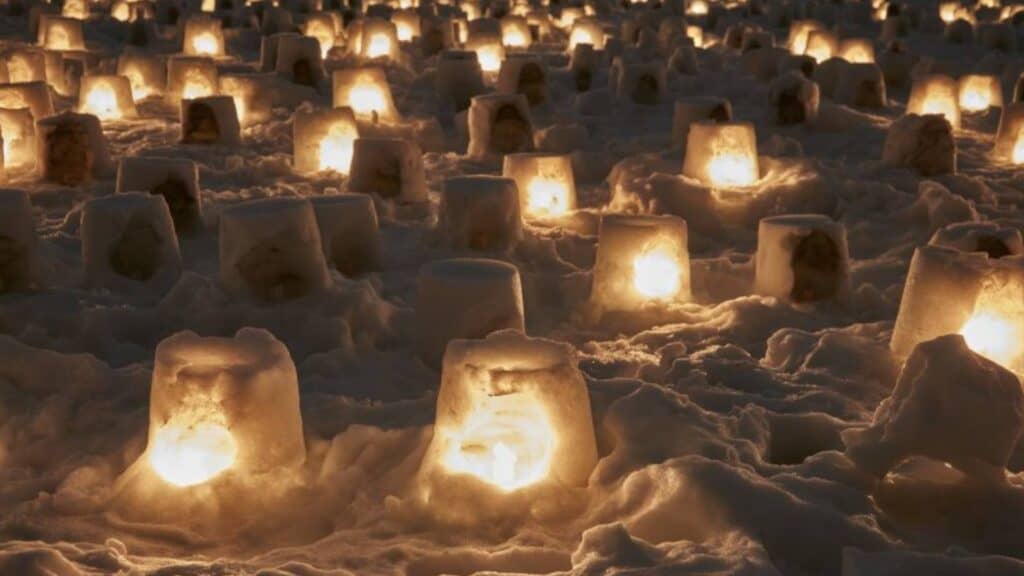 The Yokote Kamakura Festival is located in the Tohoku Region. The festival is held annually for two days in February. It is one of the most exciting winter snow festivals in Japan.
This festival is known for their kamakura, igloo-like snow houses. About 100 snow palms "Kamakura" with a height of about 3m are built throughout the city. Each of these kamakura has a snow altar dedicated to the water deity inside. There are many wonderful snow domes for you to visit, and you can even share an igloo with locals!
The mini kamakura throughout town are lit by candles in the evening, creating a beautiful sea of lights at night. On the days of the event, amazake and rice cakes are served in the kamakura, wrapping the visitors in a warm atmosphere. With lovely snow sculptures, winter activities, and traditional Japanese food booths, it is a wonderful festival to attend.
6. Zao snow monster festival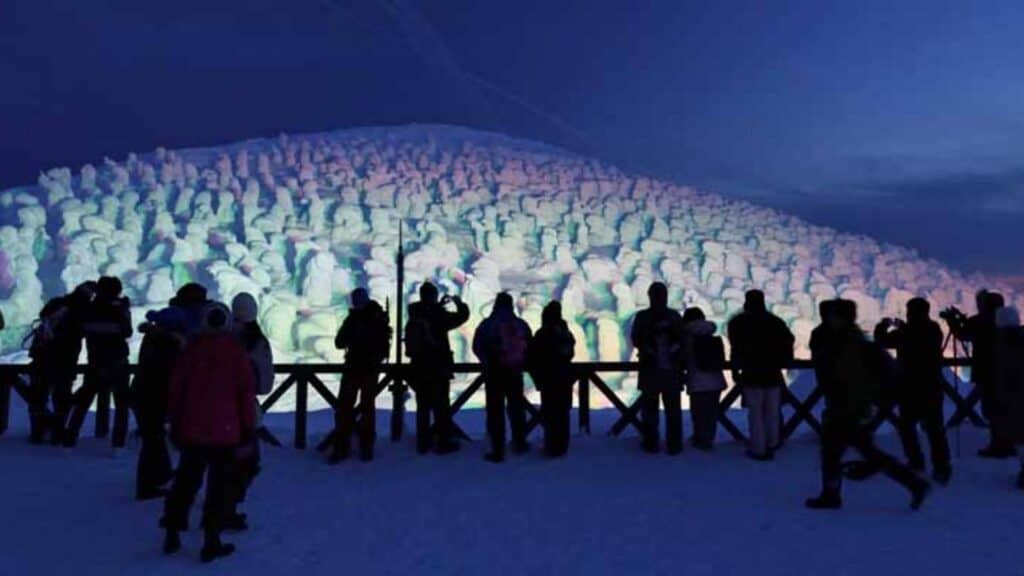 Zao Snow Monster Festival is located in Yamagata. Just the name alone sounds interesting. This festival is one of the greatest snow festivals in Japan and the Zao mountain is one of the most beautiful mountains you will ever see in Japan!
In winter, the snow covers the trees and with the fierce winds, the trees appear as if they were huge ice monsters. What's truly amazing is that the mountains are natural, not man-made! You can enjoy skiing, winter sports, taking pictures and enjoying the scenic view.
During the Zao Snow Monster Festival, which happens on the first weekend of February, takes place to celebrate the birth of these snow monsters. During the weekend, up to 1,000 people show off their skiing and snowboarding skills on the slopes, performing with LED lights. The snow monsters are also lit up and you can observe the show from the ski lifts.
If you like skiing and/or snowboarding, this is definitely one of the best and unique ski resorts in the world. Come around the time of this festival to immerse yourself in the special festivities.
7. Tokamachi snow festival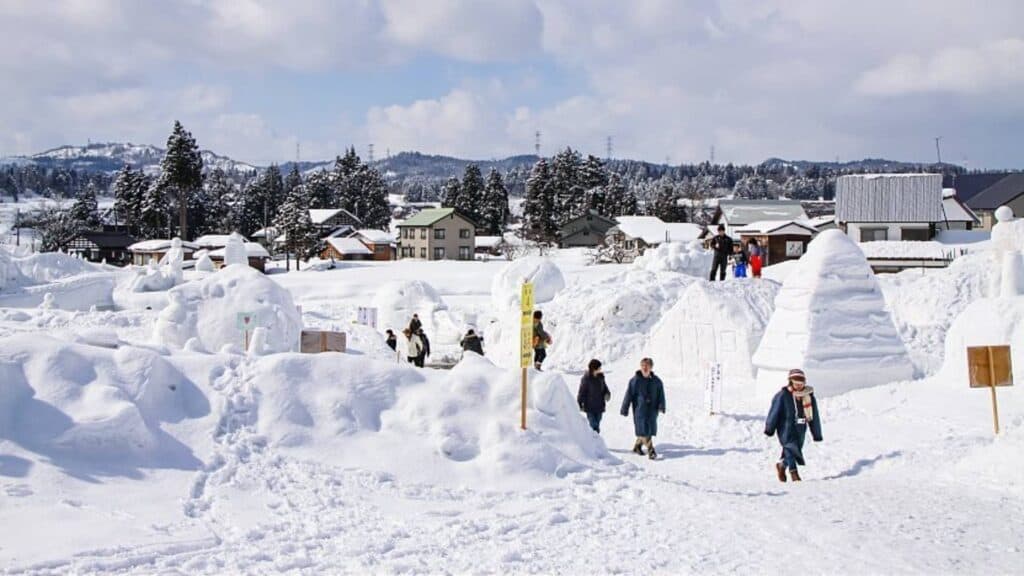 Tokamachi snow festival is located in Niigata prefecture and is held annually for three days in February. This area gets one of the highest snowfalls in Japan and this festival is here to celebrate the snowfall for both local residents and visitors.
The Tokamachi Snow Festival features sculptures created by the city's local residents and different competitions are held to celebrate these creations. You can even feel the festive spirit by the snow decorations created around the houses around the city.
The festival is spread out throughout the city, with about 20 festival sites of different sizes. The largest site is the Community Hiroba, a mere ten minutes walk from the Tokamachi STation. You can find all sorts of sculptures, activities and rides here. If you're feeling cold, make sure to try out amazake, a warm sweet rice wine at the festival stalls.
To check out all the different event sites, there is also a loop bus that circles around town on the weekend, but for easy access, you might want to come here by car.
8. Asahikawa winter festival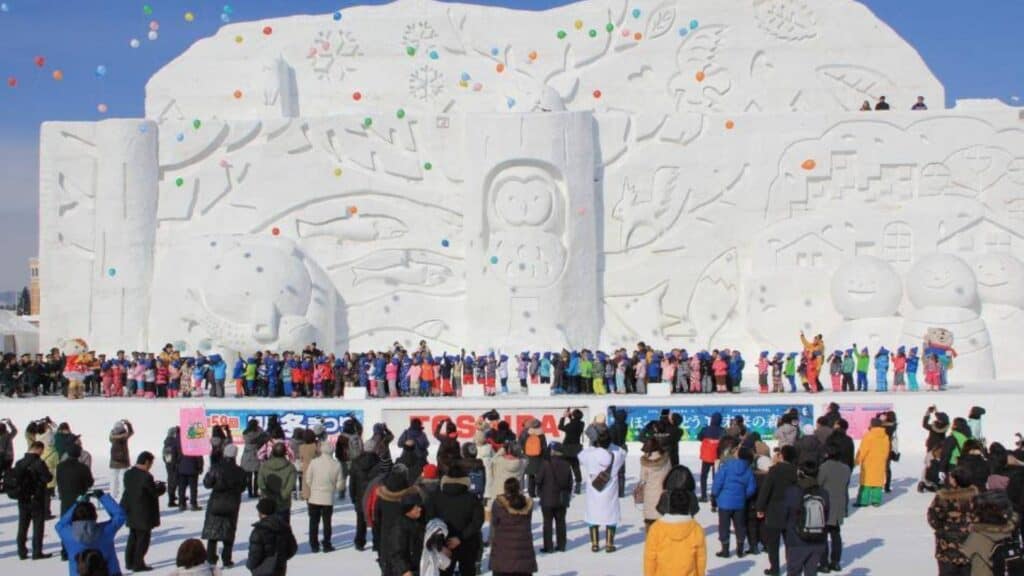 The Asahikawa winter festival is located in Hokkaido. It's the biggest winter festival after the Sapporo festival and is held in February for one week, under the theme of "Snow, Ice and Light Festival". There are two sites in this festival, Asahibashi Site and Heiwa Dori.
The festival also hosts one of the largest snow sculptures. The sculpture is made as a stage for music and other performances in the Asahibashi Site. A huge variety of events like music and music are held here. In Heiwa Dori, about 50 ice sculptures are displayed here, participating in the ice sculpture competition. At night, the area is illuminated and you can see the sculptures lit up.
Visitors can indulge in all kinds of fun snow activities that change every year, eat delicious local cuisine from the food booths and watch the fireworks. If you get a chance to visit Hokkaido in February, don't miss out on enjoying two of the best and biggest snow festivals in Japan!
—
We hope you can visit these festivals and make many memories! Make sure to enjoy the activities, take lots of photos, and enjoy all the delicious Japanese food! If you can't visit Japan in winter, there are still a lot of other festivals you can enjoy. You can search more about these festivals for more information.
Check out what to do in Winter, best illuminations in Tokyo, best illuminations in Japan, illumination day trips, best ski resorts, winter festivals, best onsen spots and ways to escape the cold in winter in Japan.
Stay tuned for more information about Japan travel, Japanese culture, moving to Japan, living in Japan, Japanese language and more.