Winter illuminations are one of the best attractions in Japan. It's amazing how they add so much joy to the atmosphere and provide magical views. The winter illuminations usually begin from November and then continue through Christmas and New Year's. Have you ever wondered what and where the best winter illuminations in Japan are? Here are the best winter illuminations in Japan for winter illuminations!

One of the best ways to explore Tokyo is to visit the local areas and immerse yourself in the local culture. If you want to explore local areas, we have created scavenger hunt adventures personalised to your interests, filled with fun facts, clues and puzzles. If you're curious, you can check out the games here!

Check out the Flip Japan Games here!

Check out what to do in Winter, best illuminations in Tokyo, best illuminations in Japan, illumination day trips, best ski resorts, winter festivals, best onsen spots and ways to escape the cold in winter in Japan.
Best Winter Illuminations in Japan
1. [Sapporo] Sapporo white illumination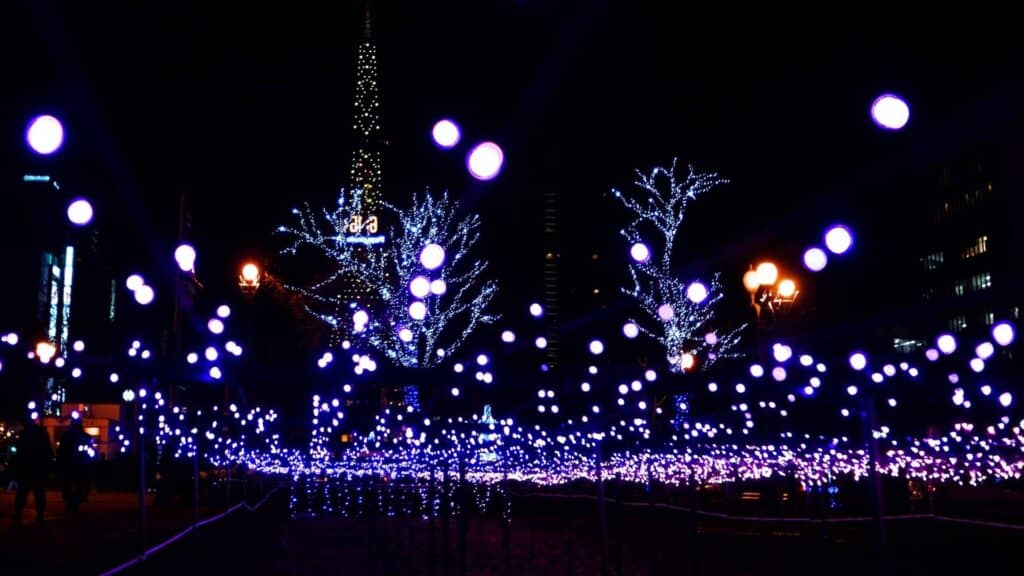 Sapporo White Illumination is one of Japan's leading illumination events. It is held in Sapporo city in Hokkaido, and it is one of the most famous illuminations in Japan. This event started in 1981 as the first illumination in Japan. The illuminations started with about 1,000 light bulbs from Odori Park have undergone major transportation and in recent years, you can enjoy the art of light spread throughout Sapporo.
There are lots of things to see, such as a love tree with a red shining heart, an original statue created with a Christmas pyramid, which is a traditional German Christmas symbol, and a maze of light shining in green.
You can enjoy the white ice and the incredible bright Christmas illuminations that seem to transport you to a magical atmosphere. This incredible illumination happens through some of Sapporo's other famous winter events, including the German Christmas Market in December, Asahikawa winter festival in February and the Snow Festival in February. Come during these times to kill two or even three birds with one stone.
2. [Tokyo] Shinjuku Terrace City Illumination
Located in one of the busiest and most popular districts of Tokyo, Shinjuku Terrace City Illumination is a spot that attracts domestic and international visitors every year. There is a wide variety of illuminations and photo spots in the area. From the west exit to the south exit of Shinjuku station, five different colors of illumination and flower decorations are displayed.
The theme of the Shinjuku illuminations change every year but the tall Christmas tree near Takashimaya display along with the tunnel of illumination nearby are signature features of this illumination. Interactive illuminations are usually set up, where you get to have fun with the different features and activities like having your fortune told.
Enjoy the bright illuminations on the Christmas trees in the cold winter weather for a sense of peace and comfort, taking your mind away from all the hustle and bustle.
3. [Tokyo] Caretta shiodome winter illumination
Caretta Shiodome is a mall with 47 floors of shops, cafes and restaurants. Caretta shiodome has one of the most famous winter illumination lights. The illumination attracts a huge crowd every year and during the event, the entire mall gets decorated with towers of lit up trees and walls of light.
Every year, the theme of Caretta Shiodome Winter Illumination changes. For example, in 2019, the illumination was based around the Disney movie "Aladdin". The illumination show was designed around the popular songs of "Aladdin". The illumination displays feature over 250,000 LED lights and you can enjoy the dramatic light show with special themes and soundtracks.
4. Tokyo midtown Christmas illumination
Tokyo Midtown is a large complex with multipurpose shops, restaurants, hotels, museums, parks, cafes and more. It has one of the largest skating rinks and in the winter, the entire complex is illuminated! The Christmas decorations and beauty of the illuminations will dazzle you. You should visit Tokyo midtown in winter and see these amazing and bright illuminations. Plus, it has Tokyo's largest ice skating rink!
Many people will gather in midtown on the 24th, Christmas eve. Apart from the illumination, it is also a great spot for enjoying a Christmas dinner, getting Christmas gourmet, and buying Christmas presents for your loved ones.
We are still not sure about what the theme will be and how the event will be held this year. However, we are sure it will be one of the hottest spots to visit this winter.
5. Nabana No Sato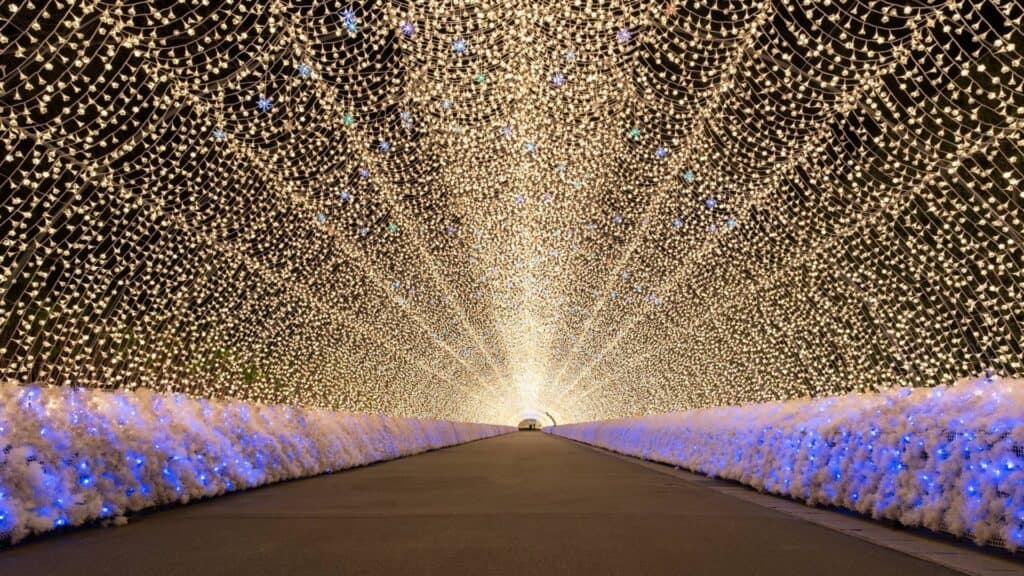 Nabana No Sato is located in Mie prefecture. It has gardens of illuminations and flowers, making for a very romantic location! The flowers and lights offer a fabulous atmosphere and you can visit the Nabana No Sato with your partner or lover for an amazing romantic experience.
You can also visit alone or with your family and friends. One of the most romantic spots is definitely the light tunnel. The tunnel is around 200-metre long with breathtaking golden lights all around you.
The illumination starts around mid October and will last until May in the following year. Nabana No Sato features different events in each season. If you go there in the spring months, you will see a flower festival. Firefly watching is held during the summer, and in autumn, there is an illumination as well.
6. Sagamiko illumination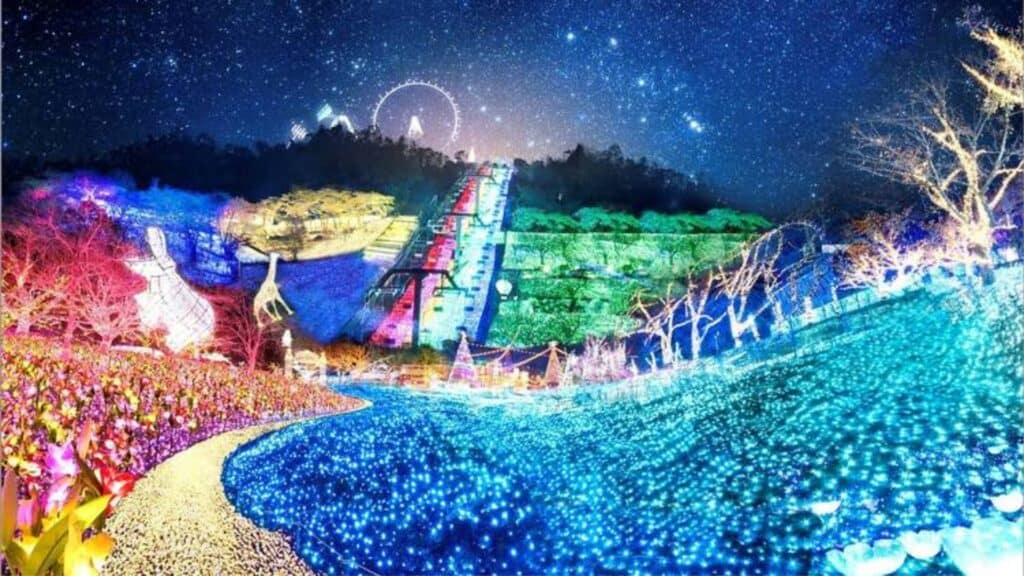 Sagamiko illumination is the biggest illumination event in Sagamihara city, only an hour away from Tokyo. Since 2008, this event has been held annually at Sagamiko Resort Pleasure Forest, which is a resort home to many winter events. You can stay at the resort and enjoy the fabulous illumination and all the coolest winter activities the whole day.
The illumination area is massive: you will find a 40,000 square-meter area that is divided into 10 different themed zones. What I most look forward to is the Rainbow Lift, which is a lift that you can ride to see rainbow-coloured lights beneath.
This year (winter 2021-2022), Sagamiko illumination is celebrating its 13th anniversary. The event will last for approximately 6 months, from Nov. 13, 2021 to Apr. 3, 2022. The illumination will be up after 4 pm on a daily basis.
7. Huis Ten Bosch the kingdom of lights
Huis Ten Bosch is located in Sasebo city, Nagasaki prefecture. Huis Ten Bosch Kingdom of lights is the biggest event of illumination in the whole world. Yes, it is the biggest not only in Japan but also all over the world 😉 More than 13 million lights will be displayed in the event. It's incredibly amazing! Here you can see the Christmas trees adorned with beautiful lights. Although winter is the best season to visit, the kingdom of lights is actually now available all over the year. For many years, it is the most popular and liked winter illumination in Japan. Huis Ten Bosch also has Japan's largest Christmas market. This Christmas market has exactly the same style as what you will find in Europe. You can buy Christmas presents, hand-crafted goods, Christmas food and drinks. Huis Ten Bosch is easily accessible by car or train. Don't miss the opportunity to visit the kingdom of lights.
8. Country farm Tokyo German village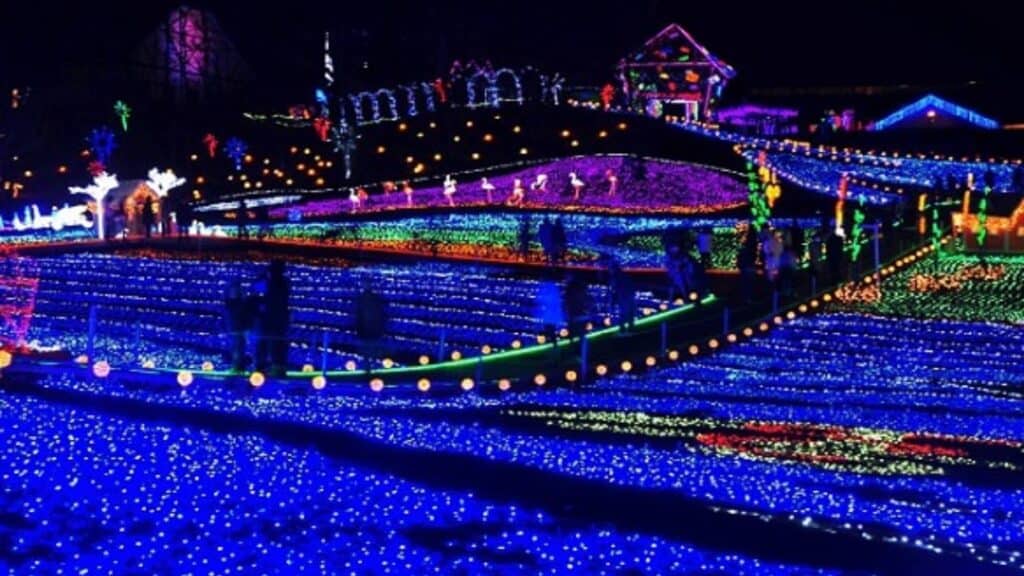 Country Farm Tokyo German Village is located in the Kanto region and is one of the biggest illumination displays in the Kanto region. The Tokyo German village has amazing winter illumination and great music. It is a great choice if you are looking for a relaxing holiday with family. You can also enjoy many activities while viewing the charming lights, as the village features many entertainment facilities. For example, there you can find a kid's playground, garden, zoo, roller coaster, putter golf, ferris wheel, etc. The German architecture looks very authentic, making it a wonderful experience with a German village vibe. In fact, the village is a great place to visit anytime throughout the year if you cannot make it during the winter season.
—
Although winter in Japan can get very cold, illuminations can add some warmth, allowing you to feel the splendor of winter. You can find many places for wonderful winter illuminations if you visit Japan in winter, but if you visit Japan any other time, don't worry! There are still a lot of events you can enjoy!
Check out what to do in Winter, best illuminations in Tokyo, best illuminations in Japan, illumination day trips, best ski resorts, winter festivals, best onsen spots and ways to escape the cold in winter in Japan.
Stay tuned for more information about Japan travel, Japanese culture, moving to Japan, living in Japan, Japanese language and more.