Tokyo is home to the most affordable Michelin-starred restaurants, not only in all of Japan but around the globe! There are over 230 establishments in Tokyo with Michelin star ratings, these are just 8 of the cheapest and most affordable restaurants. Hope you get to check out at least one of these cheap Michelin-starred restaurants in Tokyo!

One of the best ways to explore Tokyo is to visit the local areas and immerse yourself in the local culture. If you want to explore local areas, we have created scavenger hunt adventures personalised to your interests, filled with fun facts, clues and puzzles. If you're curious, you can check out the games here!

Check out the Flip Japan Games here!

Find out more about the different Japanese drinks, Japanese beers, the special strong zero you can get in Japan and how to prepare for a night out in Tokyo. If you want to find out more about Japanese food, check out different fusion dishes, yakitori, types of ramen and ramen chains.
Cheap Michelin-starred Restaurants
1. Kyorakutei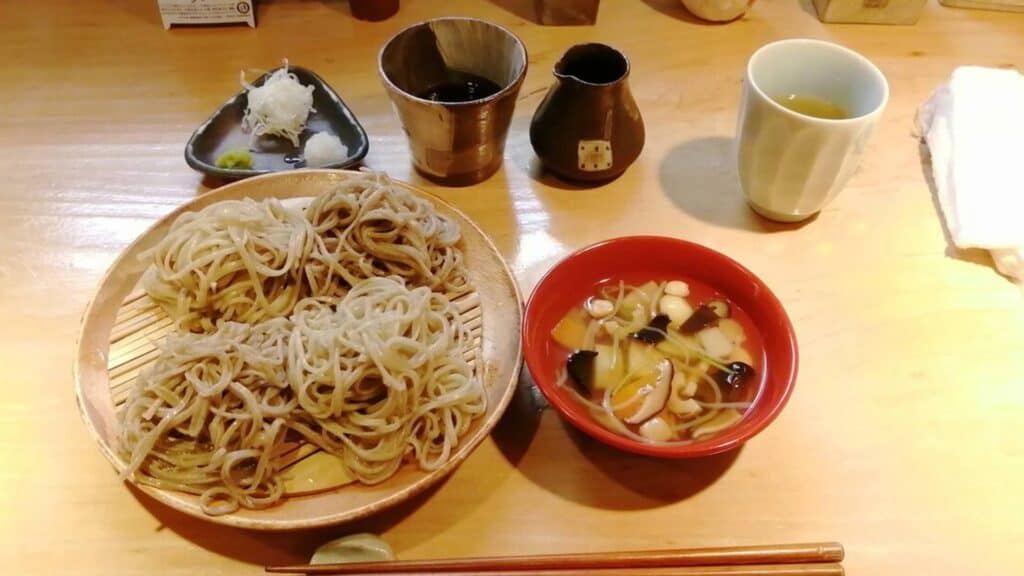 If you're looking for fresh, handmade, affordable soba noodles then Kyorakutei is the place for you! Grain-like seeds found in Aizu in Fukushima prefecture are used to make these distinct soba noodles which are milled and made freshly daily. The availability of counter seats allows you to be served right from the pot to your plate. Sourced from Japan are all ingredients, from the soba, dashi broth and soy sauce to the wasabi. You can only reserve places for up to three people in the evenings.
6 3-chōme, Kagurazaka Shinjuku City, Tokyo, 162-0825, Japan
Kyorakutei tokyo – Bing images
2. Tsuta, Sugamo
This noodle spot is famous for being the first Michelin starred Ramen restaurant. Not only is it delightful and delicious but it is also extremely budget friendly. With bowls of ramen starting at only 1000 yen and the most expensive dish being just under 2000 yen, it is the perfect place for fancy ramen! Tsuta's specialty broth is light and clear, but broths of salt (shio), soy sauce (shoyu) and miso ramen are also available. Every dish is made from the finest ingredients sourced from Japan. 
1-14-5, Sugamo, Toshima, Tokyo 170-0002
Tsuta, Sugamo tokyo – Bing images
3. Nakiryu, Otsuka
Nakiryu, Otsuka is the world's second Michelin starred restaurant for ramen, only available in Tokyo. Nakiryu means "crying dragon" and is best known for it's high quality chinese-style tantanmen. Tantanmen noodles are a Japanese take on the spicy Sichuan dish made from green onions, minced pork, and a generous dousing of chili oil. Noodles are just priced from 850 yen! Unlike typical heavy tantanmen noodles, these noodles are served with light soya sauce. Affordable bowls of shoyu and shio ramen as well as donburi (rice bowls) made from their signature chicken, beef and oyster (triple stock based) are also sold here. Customers being limited to only one bowl per sitting allows shorter waiting times in the queue. 
170-0005Toshima2-34-4 Minami Otsuka, SKY Minamiotsuka
Nakiryu, Otsuka tokyo – Bing images
4. Toritsune Shizendo
If you're craving a bowl of oyakodon (chicken and eggs over rice) then this is the best place for you to check out. This is the only Michelin starred oyakodon restaurant out there which has also held a spot in the Michelin guide since 2016! The kitchen takes high-quality Nagoya Cochin chicken and slowly roasts it over a charcoal grill to bring out its flavours. A good meal here can run you just under 2000 yen, which is a great bargain! There is also a more expensive course that includes a ton of other chicken dishes, like wings and hotpot.
2 5, 5-chōme, Sotokanda, 千代田区 Chiyoda City, Tokyo, 101-0021, Japan
Toritsune Shizendo tokyo – Bing images
5. Zuisetsu, Umegaoka
The cozy setting Zuisetsu located in Umegaoka is best known for its Cantonese fusion cuisine. It serves a detailed, elaborate menu with delightful, mouth watering flavours. For dinner it can be a bit costly, pricing from 7000 yen to 10,000 yen however during lunch you can easily score a lunch pricing from 1200 yen or 1620 yen. Zuisetsu specialises in making tantanmen noodles.
1-20-13 Umegaoka, Setagaya, Tokyo
Zuisetsu, Umegaoka tokyo – Bing images
6. Anda Gyoza
This Michelin starred restaurant attracts food lovers with cheap and simple yet utterly tasty gyoza, Anda Gyoza is a 10 seater space with a Taiwanese street-vendor atmosphere. The homemade boiled dumplings are stuffed with chicken and pork. The lunch set being reasonable and cheap offers eight dumplings and a bowl of special rice or soup. At times Anda Gyoza closes sooner than its typical closing time (10pm) due to the quick selling dumplings. 
2 21, 3-chōme, Nishihara Shibuya City, Tokyo, 151-0066, Japan
Anda Gyoza tokyo – Bing images
7. Sasuga, Ginza
Sasuga is a high class soba Michelin starred restaurant in Tokyo located in Ginza. Juwari, a high quality soba noodle 100% sourced from buckwheat, is their particular specialty. 1000 yen is all you need for a bowl of exquisite soba noodles whether it's served hot or cold on ice, just 500 yen being the amount you need to upgrade your dish to make it more fancy. The friendly non-smoking atmosphere makes it more inviting plus nothing can go wrong with a glass of wine. 
104-0061Ginza2-13-6, Higashi 2nd Bldg
Sasuga, Ginza tokyo – Bing images
8. Nakajima
Wanting to try a traditional Japanese meal? Then Nakajima is the place to visit. It isn't the best option if you're looking for dinner with a strict budget or low price but for lunch it is perfect. Specialising in sardines, serving five different preparations for lunch including finely sliced sashimi, deep-fried, simmered, grilled and nabe (hotpot) style, each meal comes with a bowl of rice, miso soup and pickles- similar to a homemade Japanese meal-. Just like other Michelin starred cheap restaurants, this place also is available for just 10 customers. The most suitable type of people for Nakajima are solo travellers or small groups. 
B1 Nichihara Building 3-32-5 Shinjuku, Shinjuku-ku, 160-0022, Japan
nakajima restaurant japanese – Bing images
These were the 8 most affordable and cheap Michelin-starred restaurants in Tokyo, Japan. Not only does Japan offer cheap and affordable food but it can also be fancy and exquisite! You can try these delicious food serving restaurants if you're looking for something suitable with your low strict budget.
—
Find out more about the different Japanese drinks, Japanese beers, the special strong zero you can get in Japan and how to prepare for a night out in Tokyo. If you want to find out more about Japanese food, check out different fusion dishes, yakitori, types of ramen and ramen chains.
Stay tuned for more information about Japan travel, Japanese culture, moving to Japan, living in Japan, Japanese language and more.