The streets of Tokyo fill the dark with millions of colourful LED lights between the months of November and February when autumn turns to winter and the days get shorter and colder. Tokyo puts on elaborate light illumination displays, making it one of the most amazing winter activities you can do in Japan! You may be envisioning simple Christmas lights strung up in front of houses, but Japan has taken that tradition in an entirely different direction.

One of the best ways to explore Tokyo is to visit the local areas and immerse yourself in the local culture. If you want to explore local areas, we have created scavenger hunt adventures personalised to your interests, filled with fun facts, clues and puzzles. If you're curious, you can check out the games here!

Check out the Flip Japan Games here!

If you are visiting Japan outside of the winter festival period, don't worry, some of these light festivals are available all year round. Definitely stop by and check them out!
Given that most Japanese people live in apartments and not houses, there's little to no space for them to put up Christmas lights. Instead, complex and creative winter illuminations are displayed in public spaces such as parks, malls and the streets, making the holiday season a gorgeous time to be in Tokyo with a lot of fun winter activities.
Recently, the winter illuminations have become a competition between major businesses and districts of Tokyo, resulting in even more extravagant exhibits that incorporate digital choreography and projections. As Christmas is a couples-oriented holiday in Japan, as opposed to family-oriented in other countries, these illumination displays are especially popular as romantic date spots for Japanese couples.
The best part about these sparkly wonderlands is that they're completely free to visit with different winter activities for you to enjoy, so bundle up and walk these streets to see Tokyo at its most festive.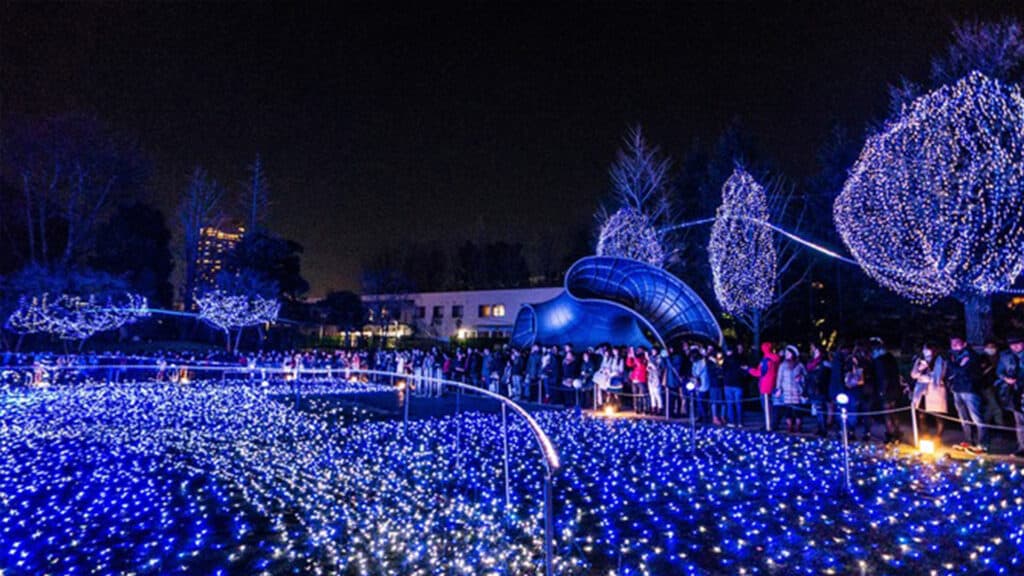 Don't miss the classic and beautiful view of illuminations with Tokyo Tower in the background, on display from early November till Christmas Day. There are about 700,000 LEDs glowing in a pattern of white and blue. Also, Roppongi is home to the famous Keyakizaka Street and is one of Tokyo's biggest and oldest Christmas Markets, featuring jolly Christmas decorations, traditional music and authentic food and drinks. Don't miss out on that either.
The trees along Meguro River between Gotanda and Osaki stations are decorated in pink LED lights to resemble cherry blossoms. You can enjoy this gorgeous stroll along the riverside from early November to early January. This is an environmentally friendly light illumination event that uses 100% self-generated electricity using fuel recycled from surrounding homes and restaurants.
The Tokyo Midtown shopping promenade transforms into a winter wonderland with thousands of twinkling blue lights, glowing balloons and bubbles. Held from mid-November to Christmas Day, the site is a popular date spot for couples, so keep in mind that the area tends to get crowded in the days leading up to Christmas.
Shinjuku Minami Lumine and Shinjuku Terrace City illumination are two popular winter illumination events held at multiple spots around Shinjuku station from early November to early February. These illuminations feature countless baby pink lights that fit in great with the fabulous shopping and dining of the area.
From late November to Christmas Day, during winter in Japan, the shopping street in the Harajuku and Omotesando area is lined with over 90,000 champagne-gold LED lights on the mature Zelkova trees. The 1.1km-long street has two pedestrian bridges where you can capture a great shot of the streets lit up below.
The Hakkeijima Sea Paradise aquarium puts on its own ocean-themed light display for visitors. There's a light tunnel measuring 100 meters long as well as glowing installations featuring whales, dolphins, penguins and polar bears. Besides the winter light illuminations, adorable Christmas-themed animal shows will also be held, including a dolphin show, a penguin parade, otter greetings and more. Aside from the illumination, you will get to see all these adorable animals, making this a fun winter activity in Japan.
The Caretta Shiodome is a 47-story building which consists of shops, cafes, restaurants and cultural facilities. It hosts arguably the best illumination display in Tokyo, as well as the longest running (mid-November to mid-February). In previous years, Shiodome's illuminations have been themed with popular Disney movies like Frozen, Tangled, Beauty and the Beast and Aladdin, even featuring iconic songs from the movies.
With the theme of "Christmas to spend with loved ones," the Skytree Town will be decorated with about 500,000 winter illuminations. The area will be surrounded by a "Christmas market" selling things like German-made ornaments, beer, and sausages, also featuring live music, a lottery and an ice skating rink. The tallest building in Japan will dazzle in a champagne-gold color from early November till Christmas Day.
Located in the heart of Tokyo, the Oi Racecourse, aka Tokyo City Keiba, will be lit up during the nighttime races. The illumination venue is divided into two areas: The Twinkle Mega Tree Area is on the side of the stands, while the Time Travel Area is at the race track. It features designs and artworks from the Edo, Meiji, Taisho and Showa eras, as well as a 100 meter light tunnel.
Admire the glittery trees covered in gold bulbs while walking around the stylish street full of small shops and cafes. It is considered one of the most popular illumination sites in Tokyo. The illumination decorates over 200 trees from early November till mid February.
Tokyo winters can get cold, so visit an illumination display and join in on one of these winter activities and let them warm you up! If you are in Japan any other time, check out the illuminations that are available all-year-round and make sure to leave yourselves enough time for gorgeous photos!
Stay tuned for more information about Japan travel, Japanese culture, moving to Japan, living in Japan, Japanese language, Japanese culture and more.