Japan is a secular country so it comes as no surprise that religious Christian Christmas traditions are not widely practised here. Instead, Japan has come up with its own traditions and ways of celebrating this holiday. Christmas in Japan is unique and different from other countries and if you happen to spend winter in Japan, definitely check out some of these fun ways to celebrate Christmas in Japan!
If you haven't already, check out how to celebrate the New Year in Japan to learn the Japanese ways of celebrating New Year!

One of the best ways to explore Tokyo is to visit the local areas and immerse yourself in the local culture. If you want to explore local areas, we have created scavenger hunt adventures personalised to your interests, filled with fun facts, clues and puzzles. If you're curious, you can check out the games here!

Check out the Flip Japan Games here!

Imagine walking around the city and hearing Christmas songs playing shop after shop, Christmas illuminations in every corner you turn, Christmas limited edition products and gift boxes at every establishment you enter. That's basically Japan during the Christmas season.
Here are six ways that Japanese people celebrate Christmas that is quite different from the rest of the world.
1.The meaning of Christmas
As mentioned earlier, most of Japan does not celebrate Christmas by practising its religious beliefs. Most Japanese people don't attend church to celebrate Christmas, or have Christian Christmas decorations. When thinking about how to celebrate Christmas in Japan, there is a lot of dressing up, viewing Christmas illumination shows, and going on dates (I will get to this later), feasting and buying lots of Christmas edition products.
Unlike other countries, Christmas in Japan is not a national holiday and schools and companies still operate on the 25th of December. Schools celebrate Christmas by educating students on the religious background of Christmas, and they play fun games and dress up. Most Japanese companies don't have any celebrations in the offices, but some foreign companies here decorate to some extent.
2. The duration of the Christmas season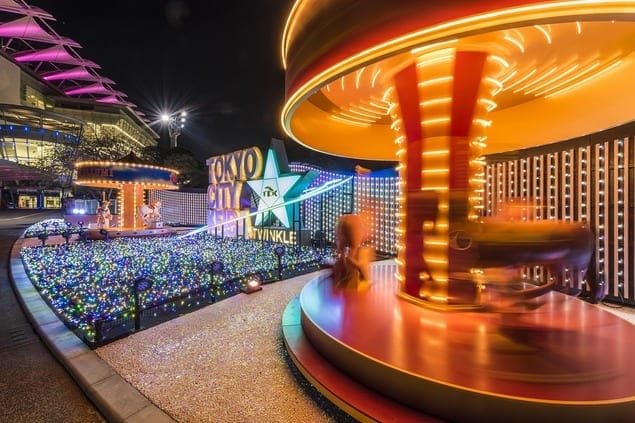 The moment Halloween is over, Christmas is in the air. The change is drastic! Literally, until the middle of the night, you are surrounded by Halloween decorations, and you wake up on November 1st and everything has been removed and Christmas decorations are everywhere.
Yes, there is still 1 month and 25 days to go till Christmas and yes, that's a very long time away, but why not celebrate such an amazing holiday season earlier on?
Disneyland is known for putting together a very special Halloween edition shows and decorations and, by some miracle, everything is removed and replaced by Christmas themes overnight.
3. Christmas edition… everything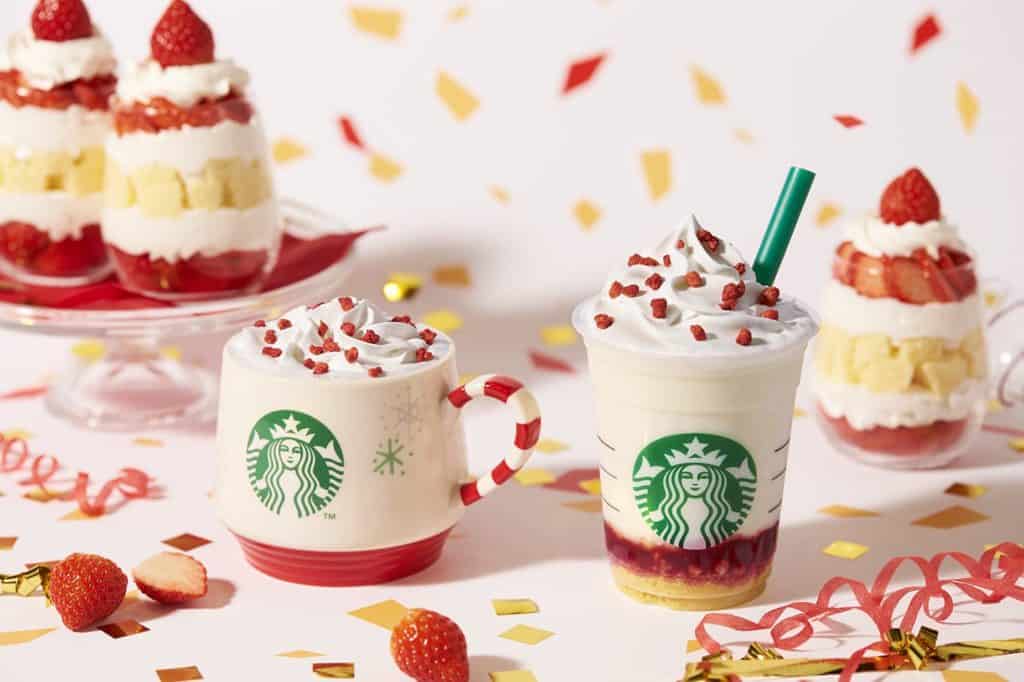 Japan loves its seasonal edition themes as well as limited edition products. Christmas is no exception. Christmas edition gifts, products, and campaigns flood the city and people fight for them. No matter if it's Japanese food and Japanese drinks, you can find something everywhere.
Of course, there are Christmas edition things you can buy in other parts of the world as well. However, during winter in Japan, Japanese companies are particularly good at reminding you to spend and purchase.
Every department store has Christmas decorations, huge Christmas displays, Christmas banners everywhere during Christmas season in Japan. It seems like every shop has now created a Christmas corner, with Christmas limited edition products displayed everywhere. The colour red is seen on every corner of town.
4. Christmas Decorations and Illuminations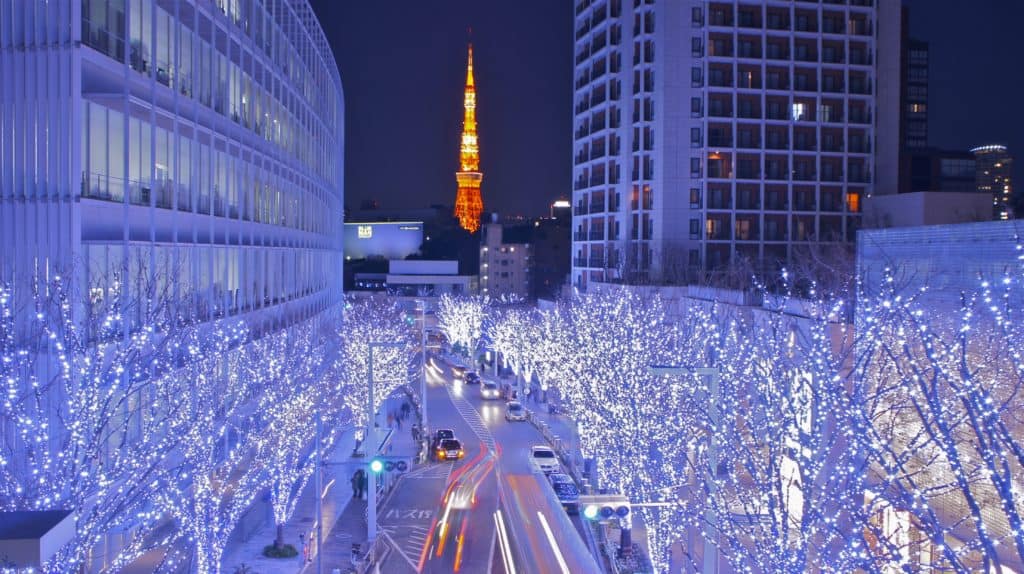 In the United States and in European countries, it is quite common to hang Christmas decorations in your house as well as outside your house, to celebrate this festive season. However, since most Japanese homes tend to be quite small, the most common decorations that people have are maybe a small fake Christmas tree or some Christmas stockings or fairy lights.
Although nothing too big can be done in Japanese homes, companies and cities in Japan have taken this tradition to the next level during winter in Japan.
For months on end, you will see huge-scale illuminations everywhere. Theme parks, parks, shopping malls and even along the roads. There are countless famous and big scale illuminations happening all through the country.
People visit illuminations loyally every year, checking out the new displays, new designs, new technologies. Here are some of the most famous illuminations you can visit this Christmas in Japan:
Tokyo Mega Illumi
Tokyo Mega Illumi will be showcasing illuminations such as "Rainbow Fountain of Light" "Large Tree of Light and Aurora" "Sparkling Cherry Blossoms and a 100-meter Tunnel of Light" during winter in Japan.
Find out more here.
Tokyo Midtown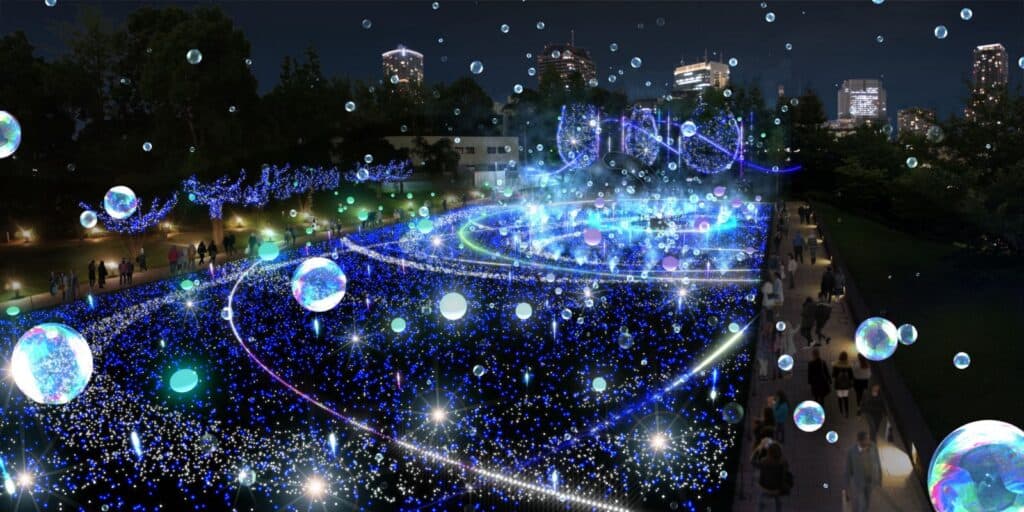 A popular illumination light show in the centre of the city, with approximately 190,000 LED lights and 100 led up balloons. Another must-see during Christmas and winter in Japan.
Find out more here.
Light Festival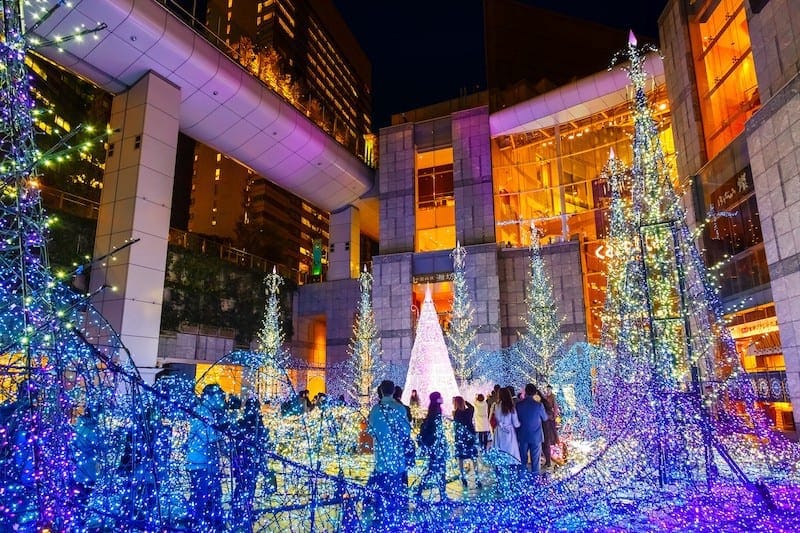 Light shows along the main roads of the city are popular in Tokyo. For months on end in the winter season, lit up trees brings hundreds and thousands of audiences to the city.
Find out more here.
5. Eating KFC for Christmas
This is one of the most unique adaptations of Christmas traditions of Japan and probably the most famous too. It is extremely common for people to purchase KFC fried chicken as the centrepiece of their Christmas dinner.
Why, you ask? Have you ever noticed that the KFC mascot, Colonel Sanders, looks like Santa Claus? Japan has.
In 1970 when KFC just landed in Japan, it was doing very poorly. Mr Takeshi Ookawara, the CEO of KFC Japan, was invited to dress up as Santa and visit a nearby kindergarten with KFC chicken, and he attracted a lot of attention.
Since then, instead of the traditional centrepiece of turkey, Japanese people started eating fried chicken for Christmas.
In recent years, other companies that focus on chicken have joined this trend and created all kinds of attractive packages to attract people. Even convenience stores such as Family Mart have joined this trend and now offer fried chicken packages.
You can pre-order your Christmas Chicken up to months before Christmas to ensure that the most important part of your dinner is prepared and ready on the day, in time to experience the proper way to celebrate Christmas in Japan.
Pair your your KFC Christmas dinner with some Japanese alcohol and Japanese beer for a drunken Christmas evening.
6. Ways of celebrating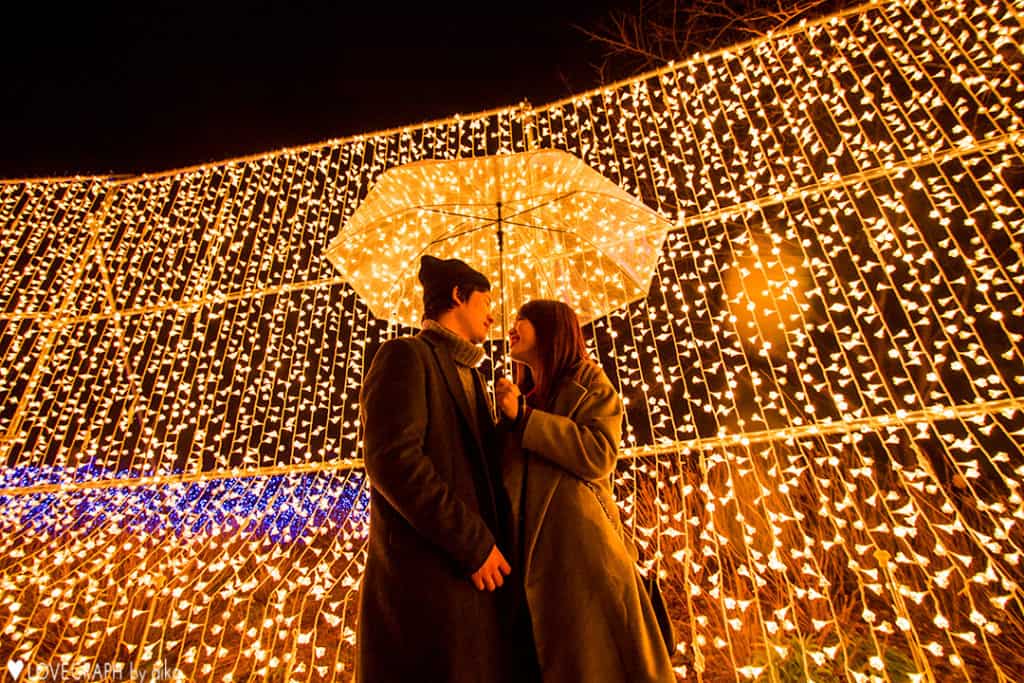 In Western cultures, it's common to hang out with family members during Christmas and hang out with friends during New Year's; it is the opposite in Japan.
Christmas is highly romanticised in Japan (more so than in other countries) and it is seen as the holiday season to spend time with your significant other. It's more romantic than Valentine's Day (which is more obligatory than spontaneously romantic) and is regarded as the holiday for love.
During this holiday season, couples go on special romantic trips, enjoy candle-lit dinners and theme parks, aquariums and other lovey-dovey activities together.
Since it gets quite cold in winter in Japan, a lot of couples escape the cold by travelling to the southern part of Japan or to countries abroad. Visiting onsen–hot springs–where they soak themselves in minerals- and nutrient-rich onsen water is also a common practice.
The meaning of wabi-sabi should help everyone remember that you don't have to be perfect. It is a view of the world that accepts the natural course of life for what it is, and accepts it.
Japan is upside-down to the rest of the world in many aspects; Christmas is just one of those aspects. If you're used to Western traditions and practices and happen to be in Japan in Winter, try coming to Japan and celebrating Christmas in Japan here instead. It'll be a nice change of pace!
—
Check out every Japanese food you should try, fusion dishes, types of ramen, ramen chains, yakitori and food and drinks at izakaya, fast food chains in Japan and healthy food in Japan!