Looking for a way to get into the holiday spirit in Japan? Try visiting a Christmas market in Japan! You can experience the warm, Christmas atmosphere by trying seasonal food, shopping for the perfect presents and enjoying all the Christmas decorations. Christmas markets first originated from Germany, and so many Christmas markets in Japan are modeled after European Christmas markets, allowing you to experience a recreation of classic markets from all over! We have compiled a list of 7 Christmas markets to visit in Japan that we recommend you visit this Christmas season.

One of the best ways to explore Tokyo is to visit the local areas and immerse yourself in the local culture. If you want to explore local areas, we have created scavenger hunt adventures personalised to your interests, filled with fun facts, clues and puzzles. If you're curious, you can check out the games here!

Check out the Flip Japan Games here!

Check out what to do in Winter, best illuminations in Tokyo, best illuminations in Japan, illumination day trips, best ski resorts, winter festivals, best onsen spots and ways to escape the cold in winter in Japan.
Christmas Markets in Japan
1. 東京クリスマスマーケット2021 in 日比谷公園 Tokyo Christmas Market 2021 in Hibiya Park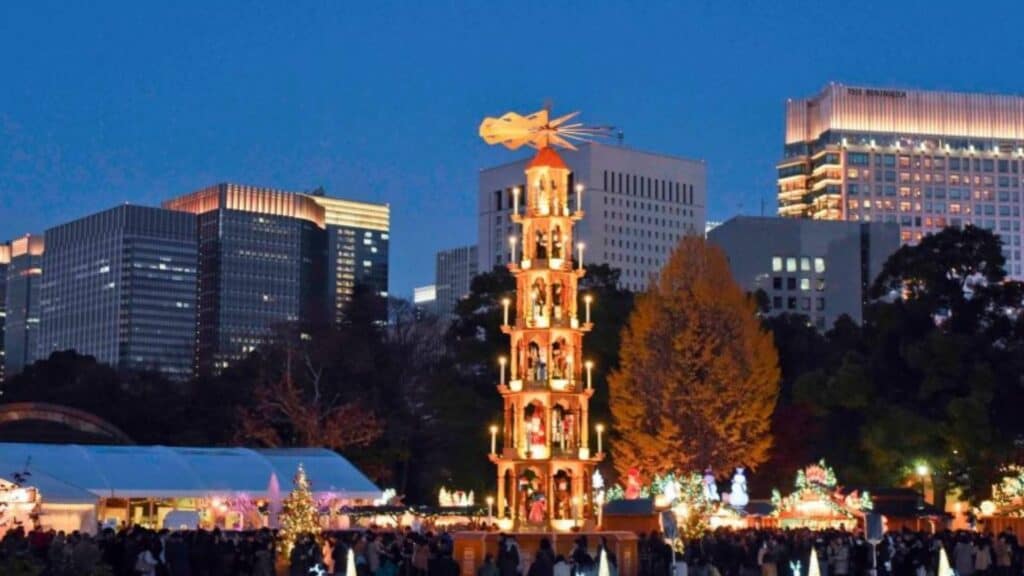 The Tokyo Christmas Market, held annually since 2015, is a market based on the Christmas market in Dresden Germany, said to be the oldest in the world. The 2021 market will have 16 restaurants and 11 Christmas goods stores. Events with live music are also held here, so you can enjoy the Christmas mood as if you were in Europe.
At the center of the venue is the world's largest Christmas pyramid, which is a symbol of the Christmas Market. Woodworking dolls with different motifs are placed on each of the six steps. The Christmas pyramid is rotatable and lit up at night, so you can enjoy different views and dolls depending on the place and time you look at it.
There are many other attractions in the venue. The roofs of the booths of each store called "Hutte" are decorated with Santa and reindeers. There is also a large diorama "Krippe" that recreates the scene of the birth of Christ and shows an exhibition board with a Christmas wreath.
You can enjoy Christmas's classic hot drink "Glühwein", draft beer from Germany, and sausages.
Check out the authentic German wood crafts here. Some of the special things you can get here include a Santa motif "smoke doll" that emits smoke from its mouth when you burn incense, nutcrackers, and wooden ornaments to decorate your Christmas tree.
Date: December 10th (Friday) to 25th (Saturday), 2021
Location: Hibiya Park Fountain Square (Hibiya Park, Chiyoda-ku, Tokyo)
Admission: 1,000 yen (with original mug)
2. クリスマスマーケット 2021 Roppongi Hills Christmas Market 2021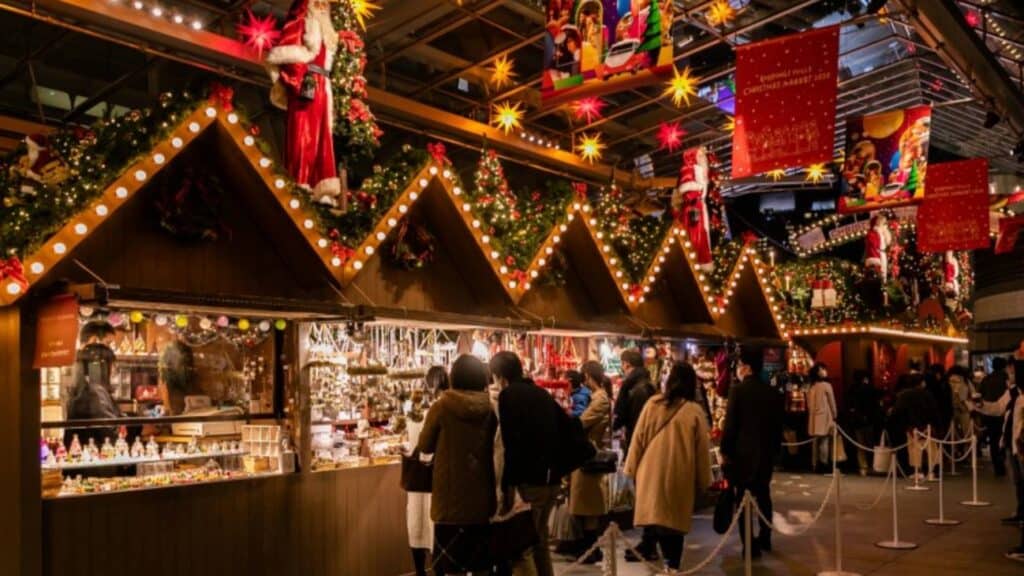 Roppongi Hills annual winter event Christmas Market 2021 will celebrate its 15th year in 2021. A total of 7 stores line up in the venue that reproduces the Christmas market in Stuttgart, Germany, which is said to be the largest in the world. This Christmas market will be selling all kinds of Christmas goods and authentic German food.
Shops such as Kete Wolfart, which only opens during the Christmas season in Japan, will be available here. These shops sell egg-shaped incense dolls "Smoky", spice-based wreaths and glass-crafted Christmas trees.
Here, you can find a diverse lineup of shops where you can enjoy authentic German cuisine such as glühwein and sausages. König will be selling hearty German sausages, Frankfurter House Meister will be offering German-style beef stew "Goulash" stewed in black beer and Schmatz will have original beer and classic German dishes.
Besides this, from November 10th (Wednesday) to December 25th (Saturday), Keyakizaka Illuminations will be on display, creating a fantastic world with about 700,000 LEDs that shine brightly in the color of "Snow & Blue". At the Keyakizaka connecting bridge, a Christmas tree with cute horse ornaments will also be set up.
Date: November 27th (Sat) -December 25th (Sat), 2021
Location: Roppongi Hills Oro Plaza (6-10-1 Roppongi, Minato-ku, Tokyo)
3. クリスマスマーケット in 横浜赤レンガ倉庫 Christmas Market in Yokohama Red Brick Warehouse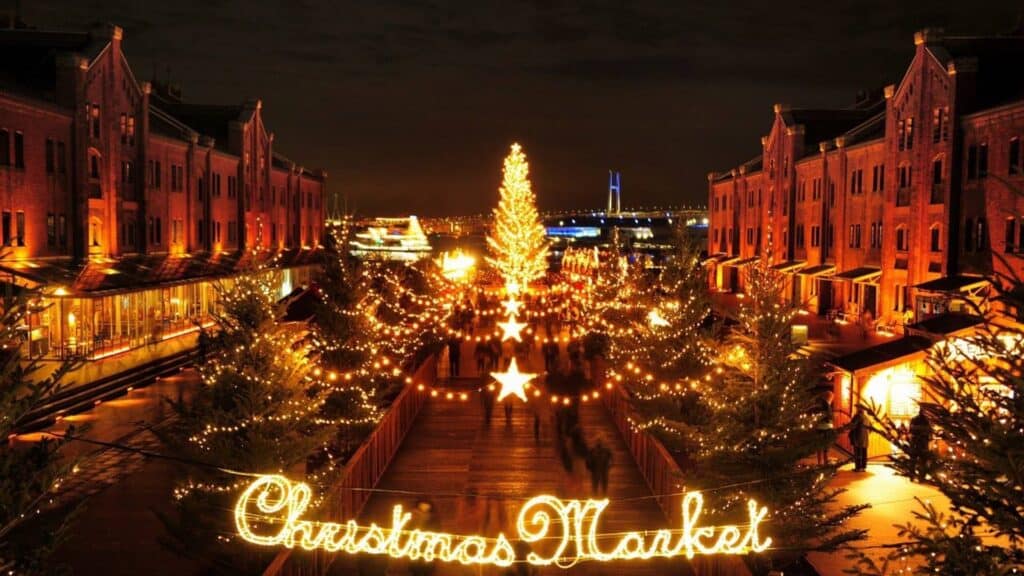 The first thing that welcomes guests at the venue is the huge gift box gate installed at the entrance. Along with the annual event symbol, a tree of about 10 meters in height, and a German-made Hutte (wooden hut) decorated with objects such as Santa dolls imported from Germany liven up the Christmas mood.
Don't miss the Christmas food here at the event venue. You can have some cheese cream and honey Stren, a signature dish made up of traditional German bread and cheese cream. You can also try Goro and chicken cream pot pie, where hot cream stew is wrapped in crispy pie dough. 
Drinks include Linz's Christmas market-limited hot chocolate drink, "King's hot wine," which uses three kinds of spices and fruits, and "Snowman cocoa" topped with snowman marshmallows.
Since mugs with different designs are sold in each city in Germany, the Yokohama Red Brick Warehouse will have mugs with original designs for 2021. Two types of designs expressing gifts can be purchased here.
Date: November 26th (Friday) -December 25th (Saturday), 2021
Location: Yokohama Red Brick Warehouse Event Plaza, Akarenga Park (1-1 Shinko, Naka-ku, Yokohama City, Kanagawa Prefecture)
Admission: [Weekdays, Saturday, November 27th to Sunday, December 5th] * Excluding Thursday, December 23rd and Friday, December 24th- Free entrance
[Saturday and Sunday from December 11th (Sat) to December 25th (Sat), December 23rd (Thursday) and 24th (Friday)] Entrance: 300 yen
4. 古城のクリスマス2021クリスマスマーケット Christmas 2021 in the old castle
This Christmas event's concept is "botanical." During the event period, an original tower made of natural materials is built, and you can experience an illumination lighting ceremony and a Christmas market.
The gorgeous illuminations that light up in the evening decorate the herb garden area with Christmas trees and wreaths, including the observation plaza with the motif of an old castle in medieval Europe. You can enjoy a fantastic and heartwarming Christmas in the forest of lights at night, a change of scenery from the daytime.
Besides the standard Christmas foods like wine, hot chocolate and sweets, you can also get original sachet kits made from domestically harvested dried herbs. You can even buy Christmas ornaments purchased from Germany.
From the ropeway, you can enjoy the night view of Kobe along with the illuminations. Enjoy an elegant Christmas space while taking a walk in the botanical garden and taking your time, shopping along the way.
Date: November 13th (Sat) -December 26th (Sun), 2021
Location: Kobe Nunobiki Herb Garden / Ropeway (1-4-3 Kitano-cho, Chuo-ku, Hyogo Prefecture)
Admission fee (ropeway fee):
Daytime: Adult round trip 1,500 yen / one way 950 yen, children round trip 750 yen / one way 480 yen, free for preschoolers
Nighttime: Adults 900 yen, children 550 yen * Round-trip tickets only
5. クリスマスマーケット Laguna Ten Bosch Christmas market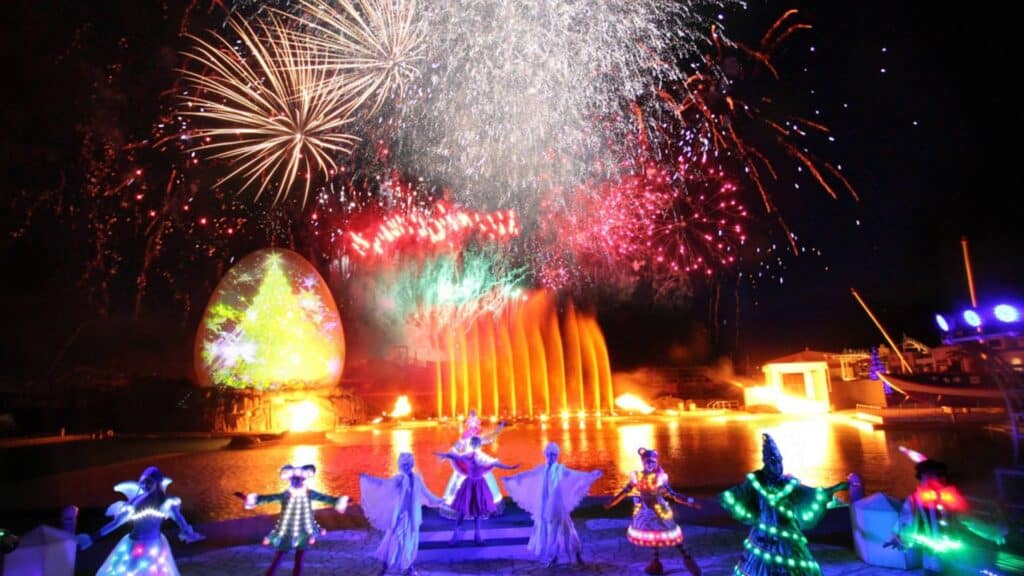 Hot food and Christmas seasonal goods are sold here at the Christmas Market in Laguna Ten Bosch, Aichi. There will also be a workshop corner where you can experience making lanterns and candles by hand. This year, illuminations with the motifs of Coral Castle and Clownfish Forest will also appear in Laguna Ten Bosch, so be sure to check them out as well.
You can enjoy illuminations, project mapping shows, Christmas markets and entertainment shows throughout the illuminations period. In 2021, the giant lantern Lagoon of Light, which is the biggest in the Chubu area, will be set up for your viewing.
The Coral Castle that appears on the beach of Joia Mare is an illumination with a 9m high coral reef castle and lanterns that imitates different sea creatures. Colour lights reflect off the surface of the water, creating a fantastic mood.
In the river island area of ​​Ouroboros, you can see the Clownfish Forest, where you can enjoy a fungic world as if you were in the sea. In the same area, there will be a photo spot where you can take pictures with giant sea slugs and jellyfish, and a mini-attraction where you can search for clownfish with heart patterns from the coral reefs.
On top of all of this, you will find a lucky rainbow arch consisting of 12 illumination arches with more than 1 million light bulbs being used, as well as a tree illumination light meadow with about 3,500 lanterns arranged. These are some gorgeous sceneries that you won't be able to find anywhere else.
Date: November 6, 2021 (Sat) -January 10, 2022 (Mon / holiday)
Location: Laguna Ten Bosch Laguna Ten Bosch (2-3 Kaiyocho, Gamagori City, Aichi Prefecture)
Admission fee: Adults 2,250 yen, elementary school students 1,300 yen, infants (3 years old and over) 800 yen
6. CHRISTMAS MARKET in 光の街・博多2021 CHRISTMAS MARKET in Hakata 2021
The Fukuoka Christmas Market will be held at three locations: JR Hakata Station Square, Fukuoka City Hall West Side Fureai Square, and El Gala Passage Square. You can taste "Shiroi Koibito Chocolate Drink", hot wine, round and round sausages, turkey, big paella and so on.
Fukuoka Christmas Market is an event based on traditional Christmas markets held in various parts of Europe. In 2021, under the theme of "to wonderful days," they will sell food and goods that will allow you to enjoy the Christmas mood at each venue.
At the "Christmas Market in Hakata 2021" in front of JR Hakata Station, you can enjoy hot wine, round sausages, and the popular "Shiroi Koibito Chocolate Drink" that was first released in 2020. There are also brand-new stores to visit, such as pasta stores that use luxurious ingredients such as truffles.
Also, pay attention to goods such as wreaths, candle holders and Polish tableware. A candle booth, which became a hot topic in the Tenjin area in 2020, and a shop directly imported from overseas by Matryoshka will also be set up.
Check out stage events between eating and shopping. There will be various events such as live opera, classical music performances and guest talks.
You can enjoy hot wine, turkey, big paella, "Shiroi Koibito chocolate drink", and more at the venue. In addition, at the Christmas market in Europe, a kitchen car with the image of a classic hut will appear for the first time, offering a new food and drink menu. At the venue, miscellaneous goods such as candles and accessories will be on sale, so be sure to check them out as well.
"Christmas Market in Passage" has also appeared at El Gala Passage Square, which is close to the Fureai Square on the west side of Fukuoka City Hall. Food and drinks will be sold in the open space where a Christmas tree with a "ribbon" will be on display.
Date: November 9th (Tuesday) -December 25th (Saturday), 2021
Venue: JR Hakata Station Square (1-1, Hakataeki Chuogai, Hakata-ku, Fukuoka)
7.「光の街のクリスマス」クリスマスマーケット Christmas in the City of Light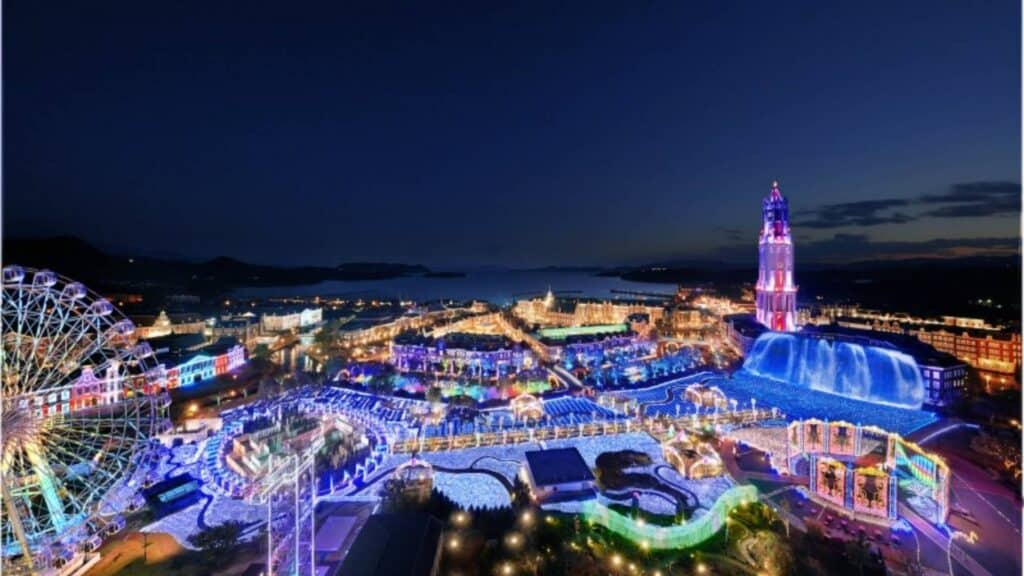 A Christmas market is also open at the Christmas event "Christmas in the City of Light" in Huis Ten Bosch, Nagasaki. They sell goods imported directly from Europe and gourmet foods that are ideal and convenient for walking around while eating. The park is decorated with huge trees, Santa Claus objects, and illuminations, so you can definitely enjoy the Christmas mood.
Not only are limited gourmet foods available, Huis Ten Bosch's "Christmas in the City of Light," with over 13 million balls, is famous for being the world's largest illumination.
In "Amsterdam City", which is based on the city of Amsterdam, in the Netherlands, "The World of Silver" is held, where the entire city is surrounded by silver. You can enjoy a pure white chapel and a Christmas tree with 10,000 crystals.
When you visit "Amsterdam City", be sure to check out the lighting ceremony that is held every night. In 2021, the artist's singing voice and projection mapping will create a beautiful moment of silver.
Another great spot you should keep an eye out for is the "Shirogin Promenade," which will make its debut appearance. You can walk the "Silver Forest" where snowflakes shine, the "Path of Light" where lanterns add color, and the "Eternal Arch" surrounded by dazzling light. Both are fantastic spaces where you can enjoy a romantic mood, so it is also recommended for couples' dates.
At "Christmas Town," you can enjoy a 'Christmas in Europe' experience with gorgeous Christmas decorations such as 10 giant trees and Santa Claus objects.
At the Christmas market, they sell goods imported directly from Europe that are perfect for winter interiors and easy-to-eat, visually pleasing gourmet food. Goods with Santa Claus and Christmas tree motifs and sweets full of strawberries are also available.
In addition, "Christmas fireworks" will be held for 4 days only during the Christmas season. The fireworks are set off with fun music for the full Christmas experience.
From December 27th (Monday) to February 25th (Friday) 2022, "Shirogin no Machi-Romantic Europe-" will be held. You can enjoy the illuminations that have been upgraded from "Christmas in the City of Light".
Date: November 6th (Sat) -December 26th (Sun), 2021
Location: Huis Ten Bosch (1-1 Huis Ten Bosch Town, Sasebo City, Nagasaki Prefecture)
Admission fee: 18 years old and over 7,000 yen, junior high and high school students 6,000 yen, elementary school students 4,600 yen, 4 years old to under elementary school students 3,500 yen
—
These 7 Christmas markets all offer unique experiences that are must-trys for the winter season. They are great to visit with your family, friends and loved ones for a magical, fun time!
Check out what to do in Winter, best illuminations in Tokyo, best illuminations in Japan, illumination day trips, best ski resorts, winter festivals, best onsen spots and ways to escape the cold in winter in Japan.
Stay tuned for more information about Japan travel, Japanese culture, moving to Japan, living in Japan, Japanese language and more.