Out of the many gorgeous events and festivals of the year, Christmas is probably the most romantic one of them all. The city is illuminated and surrounded by a beautiful atmosphere. No matter if you're spending this Christmas with family, friends or significant others, enjoying a delicious Christmas meal is a great way to enjoy this season. Here are the top 7 special and delicious Christmas dinners in Tokyo that you can enjoy in 2021. 

One of the best ways to explore Tokyo is to visit the local areas and immerse yourself in the local culture. If you want to explore local areas, we have created scavenger hunt adventures personalised to your interests, filled with fun facts, clues and puzzles. If you're curious, you can check out the games here!

Check out the Flip Japan Games here!

Check out what to do in Winter, best illuminations in Tokyo, best illuminations in Japan, illumination day trips, best ski resorts, winter festivals, best onsen spots and ways to escape the cold in winter in Japan.
Christmas Dinner in Tokyo
1. <Ginza> Russian Restaurant Rogovski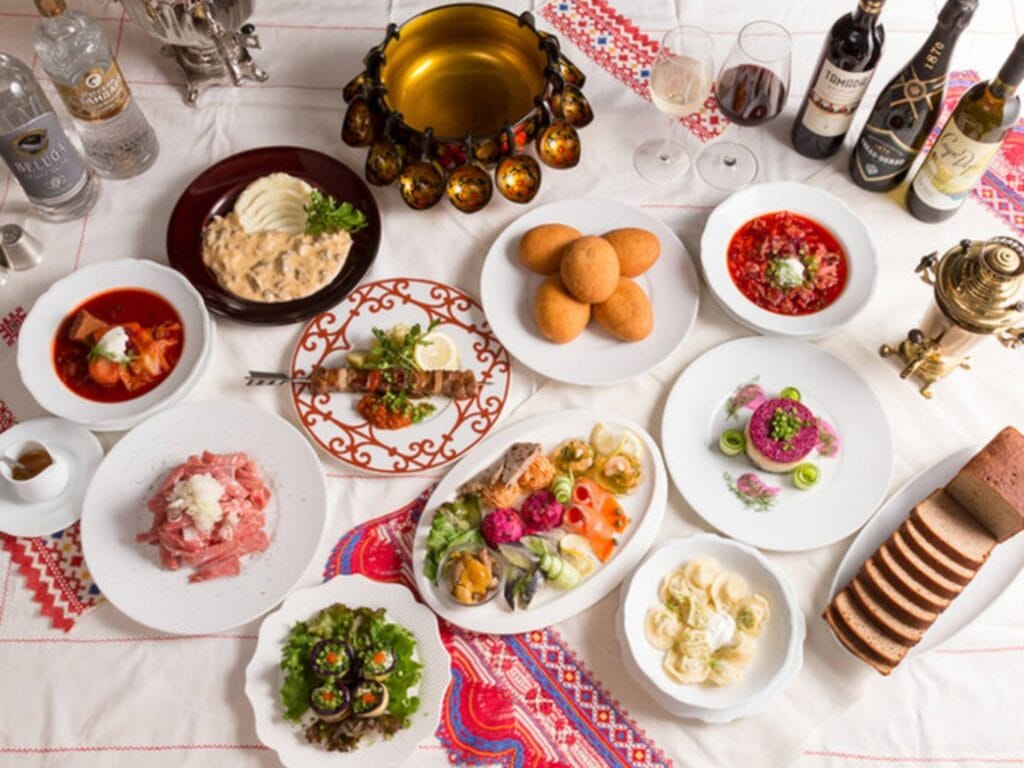 Rogoski opened in 1951 shortly after the war at a store with only a small counter in Shibuya and created the beginning of Russian cuisine in Japan. This store was moved to Ginza in 2015. Rogovski continues to convey the authentic taste of Russian dishes as well as rare dishes from Ukraine and Central Asia.
They also have a large selection of wines from the Caucasus region, which is considered to be the birthplace of wine.
You can enjoy the finest caviar and beef stroganoff in a pot, sirloin steak using carefully selected beef, as well as typical Russian dishes such as piroshki and borsch. The Christmas dinner offered by this restaurant is 5,500 yen (tax included).
The specific lineup of this plan is as follows.
Assorted 6 kinds of appetizers "Zacusca"
Handmade piroshki
Borscht
Selectable tsuboyaki (choose one item): Crab and scallop tsuboyaki or Christmas limited beef stroganoff tsuboyaki (+550 yen)
Selectable main dish (choose one): Lamb chop Aged lamb bone steak, shrimp and king salmon pie wrapping, grape beef sirloin steak (+330 yen) or aged lamb shashlik (+550 yen)
dessert
Russian tea
The Christmas plan will be offered on Friday, December 24th and Saturday, December 25th, with a two-hour system between 17:00 and 20:00.
2. <Azabu Juban> T'astous
T'astous is a casual French restaurant that is hidden in Azabujuban. It looks like a corner of Paris, and the interior of the store has a chic atmosphere.
The cuisine is made of healthy French cuisine with seasonal pesticide-free vegetables.
At the special Christmas-only dinners, you'll find delicious dishes made with truffles and foie gras, known as the "three major delicacies of the world." A glass of Champagne is also provided at the beginning of the course.
The price is 12,650 yen per person (tax and service charge included) for this 6-course menu, using plenty of high-class ingredients.
The course includes:
A glass of champagne
Black truffle canapé
Fish appetizer
Specialty foie gras micuy
Ezo abalone steak
Joshu beef sirloin poele
Christmas dessert
After-meal drinks
This meal will be available for 4 days from December 23 (Thursday) to 26 (Sunday).
3. Ristorante Sabatini Aoyama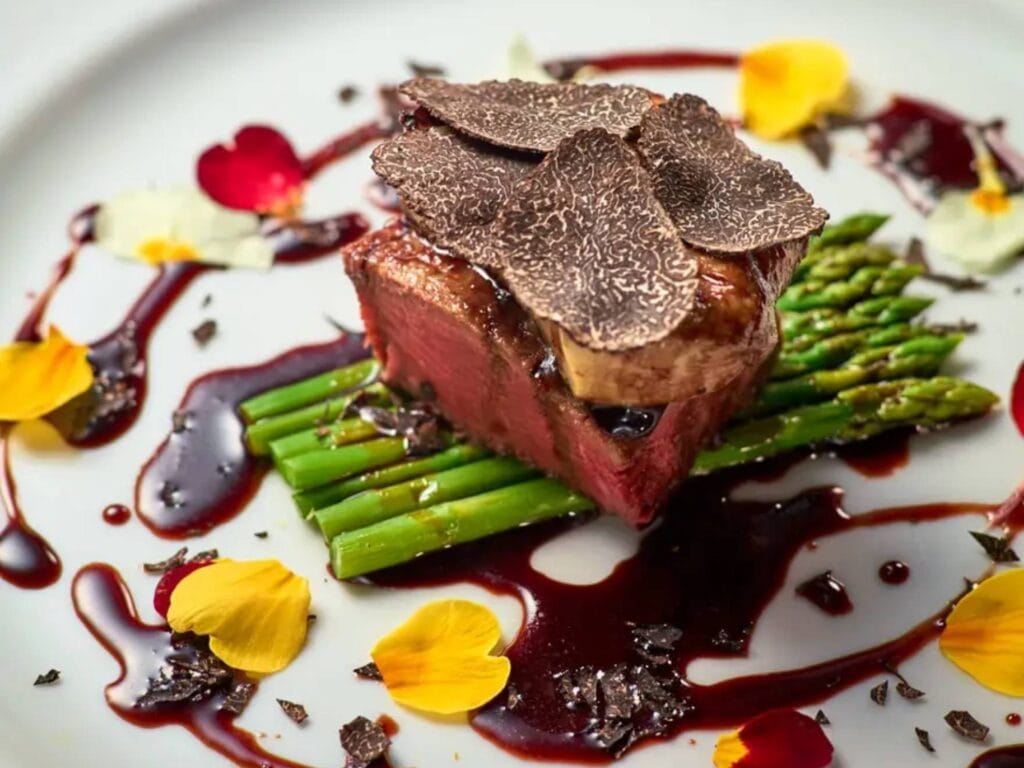 Ristorante Sabatini Aoyama is one minute from Gaienmae Station. It is a classic but easy-to-eat Italian restaurant that has inherited the tradition of the main store in Rome.
The luxurious Roman interior is like a castle room, and you can experience an extraordinary dinner. There is also a completely private room, which is perfect for the night when you want to immerse yourself in your own world.
Ristorante Sabatini Aoyama has been providing the basic taste of Italian food since it opened as the first restaurant officially recognized by the Italian government. Not only the ingredients, but the cooking style is authentic and created in the local style.
There are many Italian wines available for you here for you to match with exquisite Italian food. At the beginning of the dinner, a glass of sparkling wine will also be included.
Here is the Christmas course that is offered:
Appetizer with lobster and salmon terrine ginger and lime flavored vinaigrette and caviar
Soup: Tortellini consomme soup stuffed with French foie gras
Pasta & risotto: Tonnarelli Fresh fruit tomato sauce with fresh burrata and parmigiano & French risotto with boletus and porcini mushrooms
Fish dish with natural flounder forno snow crab crema
Meat dish: Charcoal-grilled steak of red beef from Aso, Kumamoto Prefecture, served with Italian black truffles
Dessert pastry chef: Special Japanese chestnut mousse crepe wrapped with Christmas decoration
Cafe coffee, tea, herbal tea, espresso
The Christmas period is from 12/23 (Thursday) to 12/26 (Sunday), and it is a 2-hour system all day.
4. Legato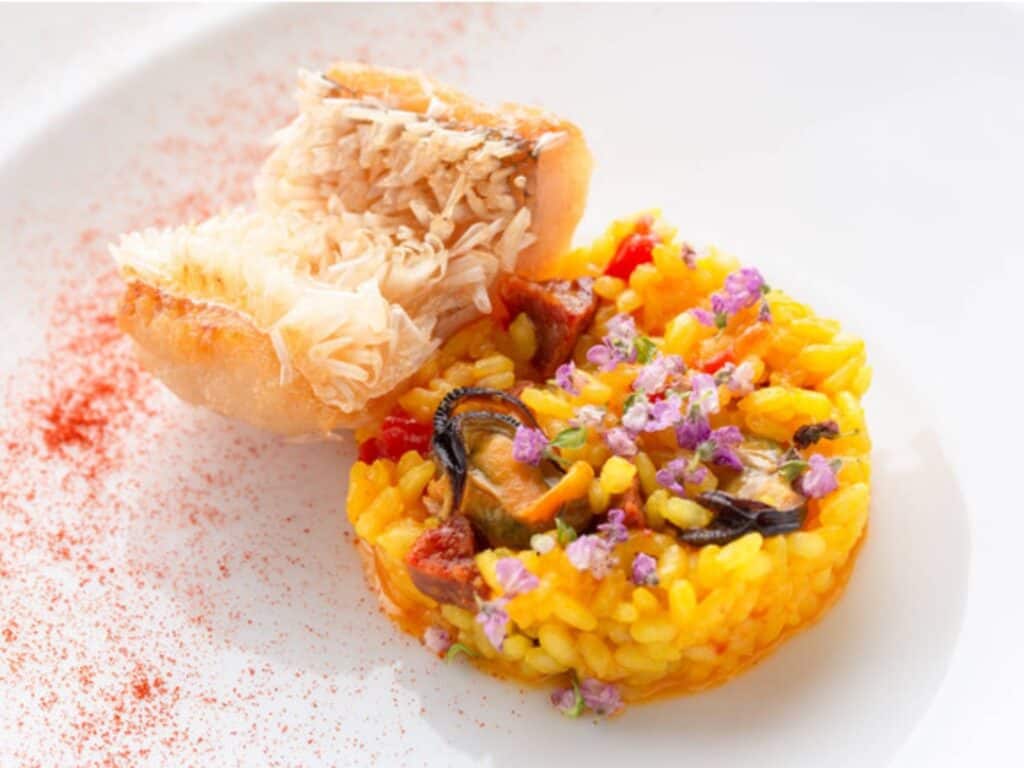 A 5-minute walk from Shibuya Station and Shinsen Station, Legato is a fantastic place to spend Christmas. The interior is designed with the concept of a theater, and the decorative ceiling, lighting with 100 lights, and the view of the city of Shibuya jumping through the spacious windows create a fantastic space.
With the motto of making the best use of carefully selected ingredients, you can enjoy original creative dishes that are a mixture of different cuisines like Italian and French. There are also private rooms where you can see the night view beautifully.
Legato's recommended Christmas dinner is a course where you can enjoy 5 dishes, including foie gras, tilefish, and special beef fillet.
The price starts from 13,200 yen (tax included) with a toast of Moet & Chandon. With the same menu content, there is also a window-side guaranteed course (20,900 yen including tax) and a window-side private room guaranteed course (25,900 yen including tax).
The menu includes:
Red fruit and foie gras jewelry
Appetizer with yellowtail carpaccio salmon roe
Fish Frit of tilefish Sardinian tiny pasta Fregra and clam saffron risotto style
Domestic beef special fillet and foie gras pie wrapping sauce Perigueux with black truffle scent
Orange-flavored mousse au chocolat and creme brulee glass
Christmas dinner is held for 3 days from 12/24 (Friday) to 26 (Sunday), and seatings are 2 hours.
5. Southern Tower Dining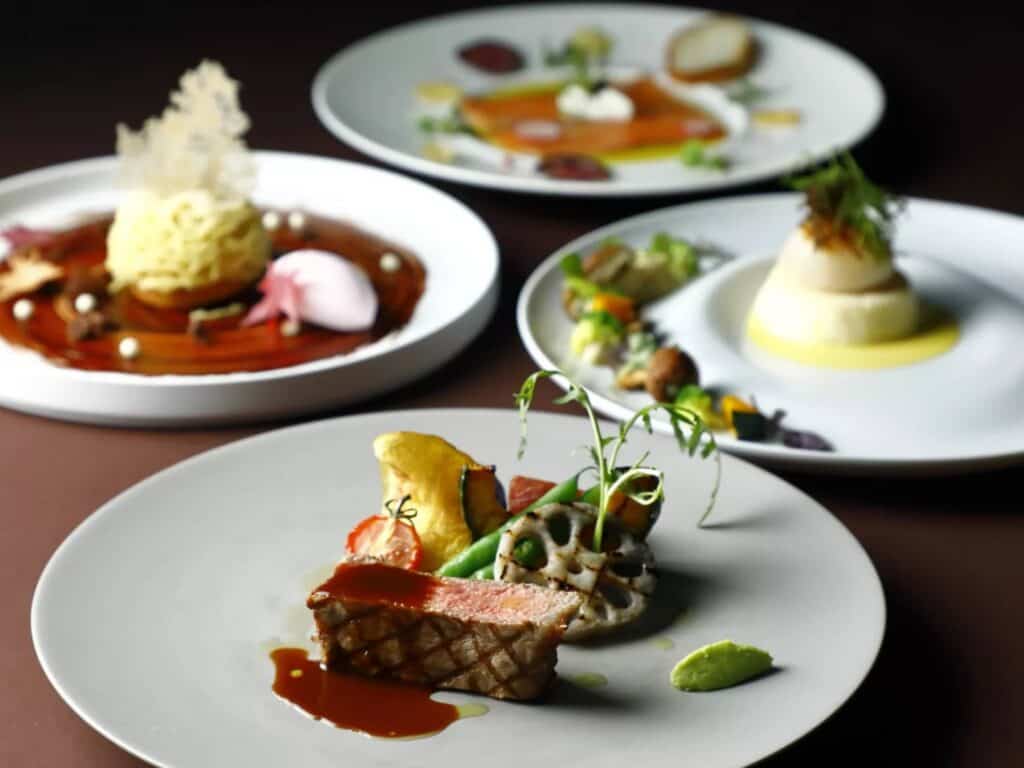 Southern Tower Dining is a hotel restaurant located in the Odakyu Hotel Century Southern Tower, a 3-minute walk from the Shinjuku Station Shinjuku ticket gate.
In the restaurant area, wide windows are installed in three directions, east, west, and south, and you can enjoy the night view from 100m above the ground from any seat in the restaurant. The table layout is colorful and spacious, so you can thoroughly enjoy your own time.
At Southern Tower Dining, you'll find a unique combination of traditional French cuisine and the chef's creativity.
This is a total of 5 courses available in the restaurant zone. The recommended Christmas course dinner is Winter Light from 13,000 yen (tax and service charge included).
The Winter Light dinner course includes:
The first dish of Welsh cheese "Golden Kenners" cake sale
Appetizer: Dried fruit Christmas tree tailoring Kumamoto gentian pork pate de campagne and foie gras terrine
Soup: Mushroom cream soup with porcini mushrooms
Assorted main dishes: White fish and scallops from Onagawa in Miyagi prefecture, bouillabaisse of oysters from Momonoura with Louise sauce, plancher-grilled red beef loin from Kumamoto prefecture sauced with truffle scent
Chef Patissier Bush de Noel of Mascarpone Cheese
Coffee, tea or herbal tea
This course runs from Wednesday, December 1st to Saturday, December 25th.
Barzone also offers a slightly more casual Christmas dinner. The price is reasonable at 10,000 yen (tax included), giving you different options for your Christmas celebration.
6. Seascape Terrace Dining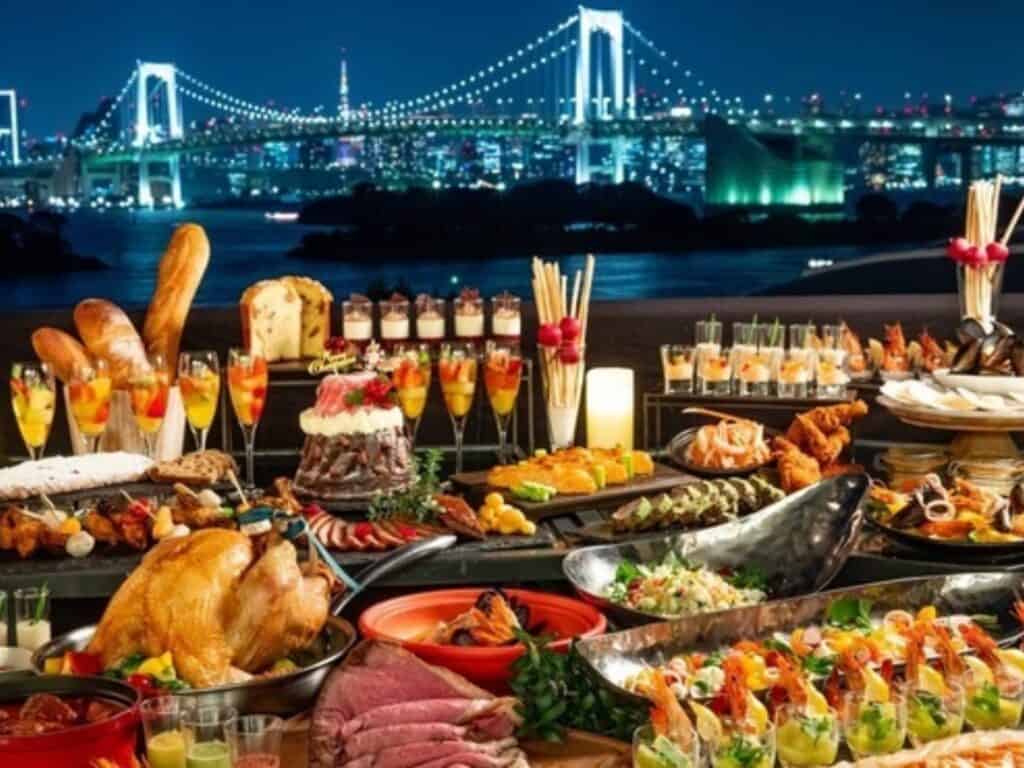 Seascape Terrace Dining is a luxurious spot where you can overlook the shining neon lights of Tokyo over the sea. You can enjoy a lot of buffet dishes while enjoying the panoramic view overlooking Tokyo Tower and Rainbow Bridge. The large windows create a feeling of openness, perfect for when you want to spend Christmas in a relaxed space.
The buffet is lit by soft candlelight and offers a wide variety of dishes, from high-class entrees to desserts. High-quality Christmas ingredients like the popular roast beef turkey and snow crab can be enjoyed here.
There are also a wide variety of desserts that are great for sweet lovers. Strawberries will be featured at the 2021 Christmas dinner, with plenty of panna cotta, chiffon and tarts made from strawberries.
The Christmas dinner at Seascape Terrace Dining has a festive period between December 23-25 and December 31-January 3. During this period, in addition to the regular buffet menu, a daily special menu will be available, and you can enjoy dishes that use high-class ingredients such as sea urchin, domestic beef, and lobster.
The price is 9,500 yen (tax and service charge included). It is perfect for those who want to enjoy eating what they like with a wide variety.
7. All Day Dining Grand Ale
All Day Dining Grand Ale is an all-day dining room with a variety of Japanese, Western, and Chinese buffets. The interior is spacious, with a ceiling height of about 7 meters and a wood-like arrangement that creates a calm atmosphere with the openness of the glass on the southwest side.
All Day Dining Grand Ale also offers menus and items for children so that families can spend their time with peace of mind and comfort. Since the food and atmosphere change between day and night, it attracts all kinds of customers.
For a limited time from December 24th to December 25th, 2021, a special buffet full of gorgeous and winter tastes unique to Christmas is available for lunch and dinner.
You can try all kinds of delicious dishes including Crab tomato cream pasta, fish steam pot with mussels, clams and scallops, Red sea bream and salmon brioche grilled porcini white wine sauce, beef steak and more.
Lunch costs 4,500yen per person and dinner costs 7,000yen.
—
There are many restaurants around the city but these are 7 that offer incredible Christmas dinners. Hope at least one of these 7 Christmas dinner ideas can give you a festive meal to celebrate Christmas this year. Which one are you most excited to visit? Do you have a Christmas dinner recommendation? Let us know in the comment section. 
Check out what to do in Winter, best illuminations in Tokyo, best illuminations in Japan, illumination day trips, best ski resorts, winter festivals, best onsen spots and ways to escape the cold in winter in Japan.
Stay tuned for more information about Japan travel, Japanese culture, moving to Japan, living in Japan, Japanese language and more.