New Year is the most widely-celebrated holiday in Japan (yes, even more so than Christmas which isn't even a public holiday in Japan). We'll share how Japanese people celebrate the New Year with unique Japanese new year activities, culture and traditions.
New Year is one of the only times in the year when all Japanese businesses close their doors for celebrations, and many Japanese people head back to their hometowns to celebrate with their families and enjoy Japanese new year traditional activities.

One of the best ways to explore Tokyo is to visit the local areas and immerse yourself in the local culture. If you want to explore local areas, we have created scavenger hunt adventures personalised to your interests, filled with fun facts, clues and puzzles. If you're curious, you can check out the games here!

Check out the Flip Japan Games here!

Traditions for New Year in Japan
Bōnenkai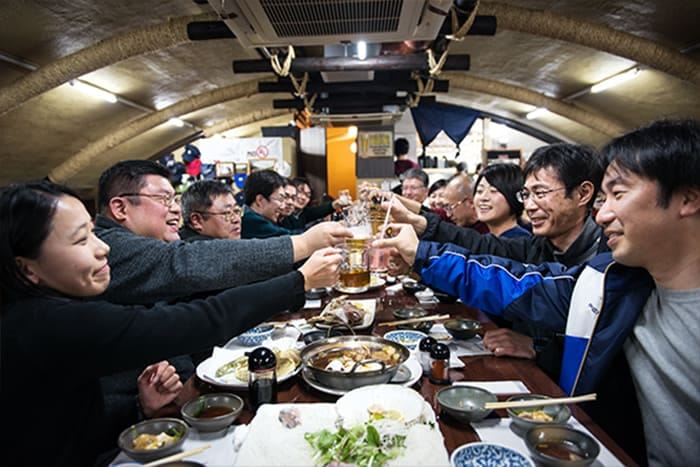 To welcome the new year in Japan, the entire month of December is when companies hold bōnenkai, year-end parties. 'Bōnenkai' literally means "meeting to forget the year". These parties are a way for Japanese employees to celebrate with their fellow colleagues, to be grateful for all that has happened, and to put their troubles and stress from the year behind them.
Smaller companies usually have their bōnenkai's in izakayas and restaurants, but bigger companies may rent out entire venues and organise buffets, a free flow of drinks, performances, shows or more.
Cleaning for the New Year in Japan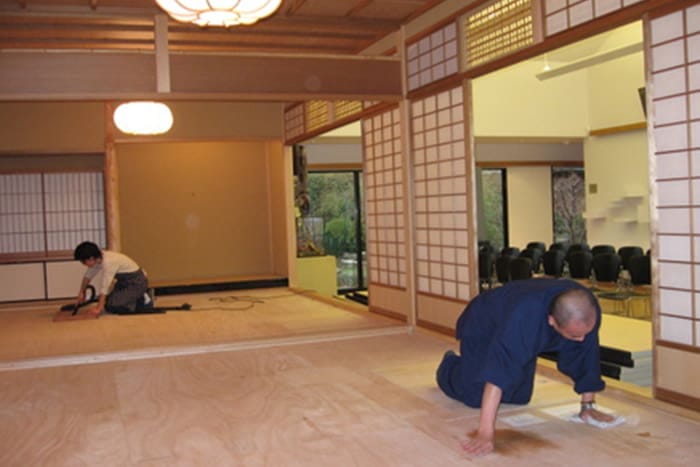 It's quite common Japanese new year activity and tradition for families to have one big cleaning day where they clean the entire house, top to bottom, dusting and scrubbing every nook and cranny. They may also wash their entire wardrobes. This is so people can start the new year with a fresh, clean start, and this is said to bring good fortune.
This is also the time to throw away or donate old things, as it is believed that throwing away old and broken things is akin to throwing away all the bad luck you've had the past year, to make space for good luck in the new year.
New Year's Decorations
Another common Japanese new year activity tradition is to decorate. Once the house is nice and clean, ornaments and decorations are set up. The most common decorations are made of pine, bamboo and rice.
New Year's decorations must go up between 13th and 28th December. Putting them up on the 29th is bad luck, and on the 31st is rude to the gods. After the decorations have been put up, they will remain there until 15 January.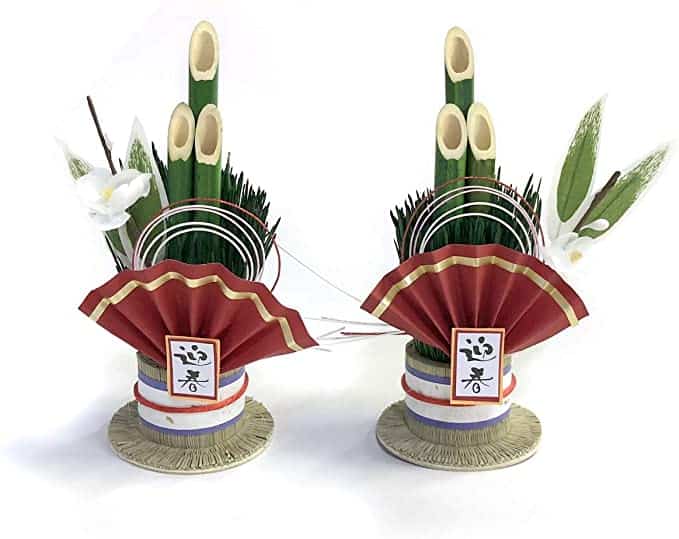 Kadomatsu (門松) are decorations made from either pine or bamboo, and always come in pairs to represent man and woman. As there is a Japanese belief that gods reside in nature (i.e. trees), kadomatsu are essentially guest bedrooms that Japanese people prepare to welcome gods into their home. They are placed on each side of the front door. Japanese people living in apartment buildings may have smaller kadomatsu.
Shimenawa (しめ縄) is a rope made from either rice straws or rope, often dolled up with other decorations. They are usually hung in the genkan (玄関), the entrance to the home where people take off their shoes before entering. The shimenawa is a symbol of cleanliness and sacredness and shows the gods that your house is ready to receive them.
Kagamimochi (鏡餅) is another ornament that is placed inside the house, usually in the living room. Kagamimochi has two fake Japanese rice cakes on top of each other. It symbolises the food that is served to the gods and good spirits when they enter the Japanese homes.
Want to get this beautiful Kagamimochi? Check it out here.
Activities
Unlike most Western countries, it is very common for Japanese people to spend New Year's Eve with their family. They may stay up till midnight, if not the early morning to fully experience and enjoy the New Year.
Shrine/Temple visit
At the very last minute of the year, shrines have the tradition of burning big bonfires to symbolise the cleansing of the souls. Temples ring the bell 108 times to remove the 108 "defilements of man". Many people often visit temples or shrines around this time to witness these two activities. It's said that one of Tokyo's most famous shrines, Meiji Shrine, even gathers millions of people on this day.
Making a prayer on New Year's Day is said to be powerful since it is believed that the first prayer you make of the year will always come true. People come to the shrine or temple to dispose their omamori, lucky charms, and get their new ones.
The festivities don't happen on just New Year's Eve and New Year's Day, but for the first one or two weeks of the new year. There will be food stalls and game stands, so be sure to check that out.
Watch the first sunrise
Watching the first sunrise is a very popular activity for the New Year. The first sunrise of the year symbolises the beginning of the year, with good wishes and good fortune. It is a common practice for people to stay up until the morning and watch the sunrise either at the temples or shrines, or somewhere with a nice view.
Watch TV
Those who'd rather stay in their cosy and warm homes with close friends and families, instead of line up for hours to enter a famous temple, will gather around the television and watch Kohaku Uta Gassen, a popular TV program that gathers Japan's most famous musicians, actors and TV personalities.
Japanese New Year Food
A few Japanese families may treat themselves and have the traditional but extravagant Japanese New Year's meal, osechi ryōri. They are essentially lunchboxes that contain a number of different Japanese foods, all packed neatly into ojubako's (お重箱), lacquer boxes, which are then set on top of one another to symbolise happiness and unity in the family.
Each food in osechi ryōri holds symbolism and meaning. For example, there is konbu, a Japanese seaweed that is associated with joy; black beans that symbolise good health; herring roe to wish for fertility; and more. All these symbolic foods make osechi ryōri a very lucky meal.
The food is prepared in advance as there is a belief that cooking around New Year's should be avoided in Japan, so as to not disturb the gods. These days, some Japanese people may buy ready-made osechi ryōri's from convenience stores and department stores.
Another part of the Japanese new year tradition is toshikoshi soba.
Eating toshikoshi soba became a New Year's tradition in the Edo period. Its thin and long noodles symbolise a long and prosperous life.
In the past, gold factory workers would collect gold dusts and mix them into the soba flour. As a result, the noodles now also represent wealth.
After New Years
Fukubukuro – Lucky Bags
To celebrate the New Year, many shops sell fukubukuro (福袋), or "lucky bags". These bags are filled with random products from the shop, and are sold at 50% or less than the total cost of all the products on a regular day.
Famous brands attract tens of hundreds of customers, all fighting to get a lucky bag, that are sold in small numbers. Lately, more brands even allow customers to take a little sneak peek into the bags before purchasing.
New Year's Greetings
At the start of the year, especially in the first week, you can hear greetings everywhere in the streets. As people meet each other for the first time in the year, they greet each other by saying "akemashite omedetou (明けましておめでとう)" in Japanese. It means "congratulations on the beginning of the year". It's the Japanese equivalent of "Happy New Year".
New Year's cards
Another Japanese new year tradition is to send New Year's cards. There is a long history behind sending nengajō (年賀状), New Year's cards. Japanese people will send out dozens of cards to friends, relatives, colleagues and even acquaintances they don't know very well. These cards contain greetings and well wishes.
In our age of technology, the art of sending physical nengajō is slowly dying out as people send e-mails, e-cards or just texts.
The meaning of wabi-sabi should help everyone remember that you don't have to be perfect. It is a view of the world that accepts the natural course of life for what it is, and accepts it.
If you happen to be in Japan over New Years, check out these Japanese traditional and cultural activities that you can participate in, and you will definitely have a great time. Let us know down below what is your favourite New Year tradition!
Check out every Japanese food you should try, fusion dishes, types of ramen, ramen chains, yakitori and food and drinks at izakaya, fast food chains in Japan and healthy food in Japan!