All-you-can-drink, nomihoudai, might be a foreign concept to many people since it's probably not a common thing in your home country. You might be wondering if all-you-can-drink deals are expensive if customers drink way too much since it's unlimited and just how bars or restaurants could possibly make money.
For those of us that enjoy a good night out drinking in Japan without breaking the bank, you're in good hands. Nomihoudai places are very common in Japan and most of them have insanely cheap deals, some with even longer hours for you to sit back and hang out with friends over lots of drinks. 
Check out every Japanese food you should try, fusion dishes, types of ramen, ramen chains, yakitori and food and drinks at izakaya, fast food chains in Japan and healthy food in Japan!

One of the best ways to explore Tokyo is to visit the local areas and immerse yourself in the local culture. If you want to explore local areas, we have created scavenger hunt adventures personalised to your interests, filled with fun facts, clues and puzzles. If you're curious, you can check out the games here!

Check out the Flip Japan Games here!

All-you-can-drink is "Nomihoudai" in Japanese. "Houdai" means "All-you-can" and "Nomi" means "Drink". You can combine "Houdai" with different words to create other "All-you-can-do" things. For example, "Tabe" means "eat" and "Tabehoudai" is "all-you-can-eat", "Asobi" is "play" and "asobihoudai" is "all-you-can-play".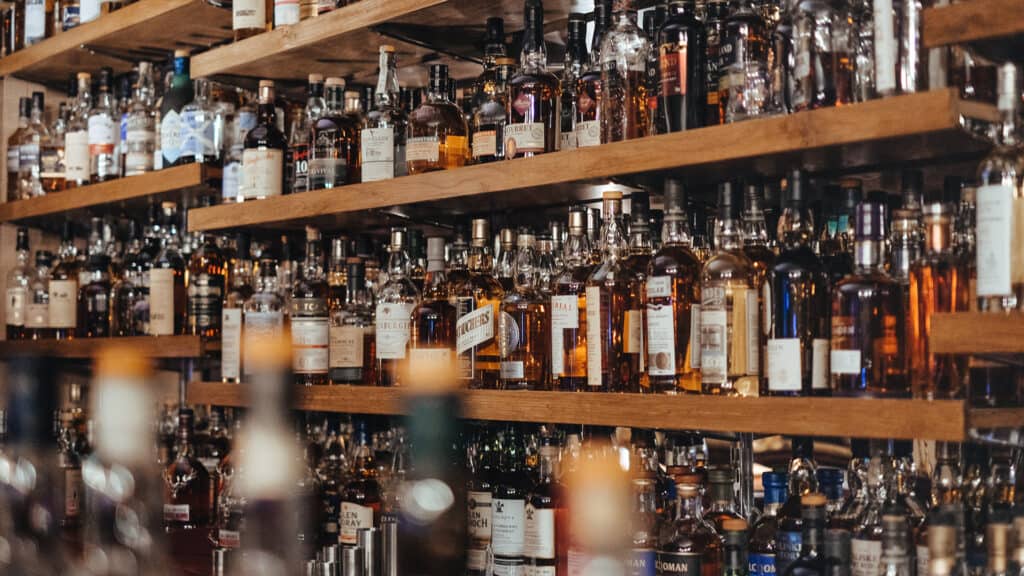 Tips and Hacks
Before you head out to one of these nomihoudai, all-you-can-drink places, here are some tips to keep in mind:
If you are not looking to get drunk or just want a few drinks when you're drinking in Japan, you have a few alternative options. You can visit the convenience stores, Don Quijote or supermarkets and purchasing one or two Japanese beers, Strong zeros, Japanese alcohol or wine. Drinks in convenience stores or supermarkets are very cheap, costing you around 1.5-2.5 dollars per can. If you haven't heard of strong zeroes, they are amazing carbonated drinks that will get you going for your night.
Most all-you-can-drink places have a time limit. The common time limit you get, especially in restaurants, izakayas or bars, are around 2-3 hours. Keep in mind that most places have last call, which are usually 30 minutes before your time is up. You will usually get a warning before the time is up but just in case, you should make sure to get your last order in.
Some places, especially izakayas, catch your attention and get you into their restaurants with very cheap all-you-can-drink deals. However, there is usually a table charge of around 5 dollars, which comes with a small plate of appetizer. Some places also require you to order at least 1-2 dishes per person. In the end, your bill might not be as cheap as what you expected. Although usually, the deal is still worth the money, you should be aware.
You might wonder if the drinks that you get served at nomihoudai places are strong, or watered down. That depends on the particular restaurant or bar, but chances are, the drinks are relatively watered-down. Most all-you-can-drink places include your typical mixers or highballs, which are drinks with liquor and chasers. They might not put a lot of liquor in the drinks. Some places also serve beer, but it might cost a little more. Wine is also an option in some places, although not all places. Getting straight liquor, such as tequila shots, are usually not allowed in all-you-can-drink places.
Not just limited to nomihoudai deals, but in restaurants or bars, the prices displayed in Japan can sometimes be the price with tax included, and sometimes with tax excluded. You should keep in mind that although the price of an all-you-can-drink deal might look insanely cheap, there's a big chance that the price is tax excluded and the price that you pay in the end will have a 10% tax addition. Although it is not that much, you wouldn't want to be surprised when receiving the bill.
When you go into a restaurant or a bar in a group and decide to take the all-you-can-drink, everyone has to take the deal. This is to prevent the establishments from losing money if people that are not paying for the all-you-can-drink drink from those that take the deal.
Considering all of the tips that we have mentioned above about drinking in Japan, here is everything you need to know about nomihoudai places in Japan. Check out some of our favourite all-you-can-drink places that you can find not just in Tokyo, but in various cities in Japan.
Marukin
Marukin has one of the best all-you-can-drink systems in Japan. Although it is not extremely famous, we strongly recommend you to check it out when you're in Japan.
The special thing about Marukin is, they have a self-serve drink bar! Their all-you-can-drink covers everything from draft beer, shochu, nihonshu, umeshu to wine, allowing you to create your own highballs, sours, cocktails and basically anything you want. If you are curious to try out different Japanese liquors, this is the place to do it.
If you are worried about the servers watering down your drinks, then you can just come here and make your own drinks. The crazy thing is, all-you-can-drink is only 299 yen (around 3 dollars) for 30 minutes! There is a one hour minimum so that basically means you are paying merely around 6 dollars for unlimited, non-watered down drinks for an hour.
Marukin asks you to order at least 1 plate or 2 skewers per person, which shouldn't add too much to your bill since it costs around 60yen (around 50 cents) for a skewer. Their food is great, perfect for the munchies you get as you continue drinking.
There are currently 12 shops and only within and around the Tokyo area. Most of their shops open from 16:00, perfect for day drinking in Japan or to get your night started with nomihoudai. All of the shops are quite small and there is usually a line. It is a place popular among Japanese people to come with friends or colleagues and the place can get loud and rowdy.
Izakayas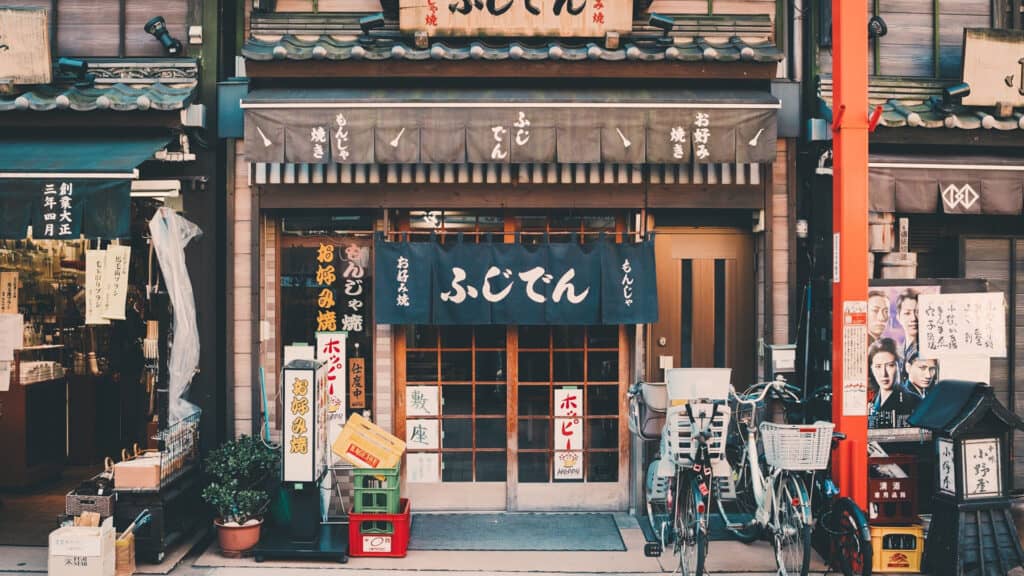 There are countless izakayas in Japan for your drinking in Japan. If you don't know about izakayas, they are Japanese restaurants where you go to enjoy drinks over small plates of food shared among your group. There are izakaya chains as well as local izakaya shops. Most izakayas have some kind of all-you-can-drink plan for you to enjoy with your friends.
Some izakayas offer the all-you-can-drink menu by itself, while a lot of izakayas require you to order a course meal to go with your all-you-can-drink. Be careful that even for the izakayas that offer all-you-can-drink options by itself, they probably require you to pay a table charge and get at least 1-2 plates per person.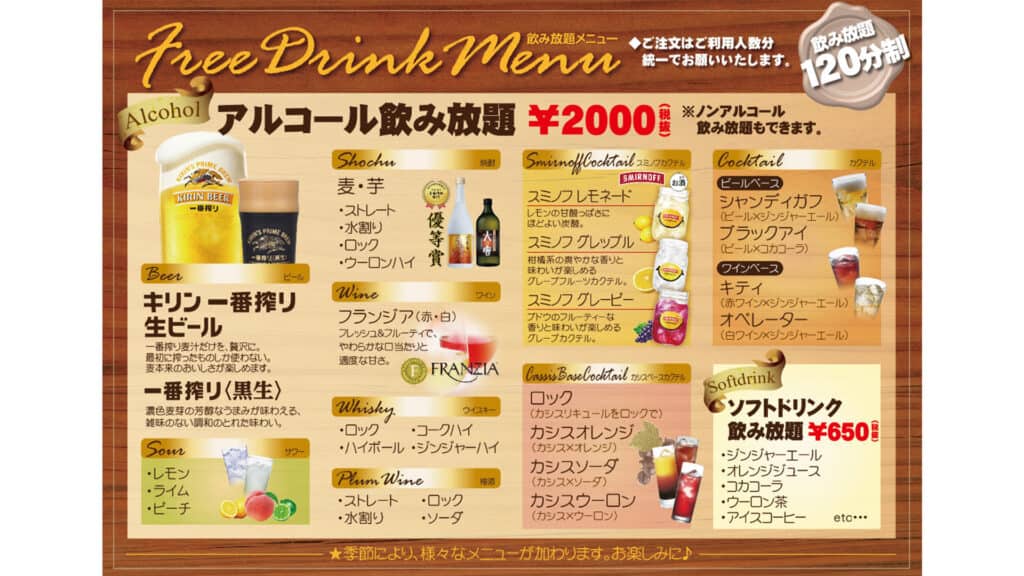 When you get all-you-can-drink deals in izakayas, you will likely get a separate menu, which sometimes excludes the most expensive alcohol or require an additional 500yen (5 dollars) to have beer included in your nomihoudai.
Kinkura, Amatarou, Teke teke, Sakura Suisan are some of the most famous izakaya chains. They all offer a wide range of food options as well as drink options. You can get all-you-can-drink along with a course meal for around 30-50 dollars. That is the standard price for getting both food and drinks for around 2-3 hours.
Some of the course meals you can get usually include 5-13 dishes of the shop's specialities. For example, Sakura Suisan offers a wide range of courses for you to choose from. The cheapest course they offer costs 2000yen (around 20 dollars), including sashimi, salad, shabu shabu, appetizers, noodles and desserts. If you pay an additional 1,000yen (around 10 dollars), you will be able to get their all-you-can-drink option.
Depending on the branch or the specific time you go to the restaurants, sometimes you can get exclusive offers, making it cheaper. Sometimes, they also offer nomihoudai options without having to commit to a full meal.
For example, this particular Kinkura branch in Shinjuku offers all-you-can-drink that is priced at 1300yen (around 13 dollars) for 2 hours. Another famous izakaya branch called Teke Teke only offers all-you-can-drink without the commitment of a course in some of their many branches. They have a webpage that allows you to check the exact price and location of these shops.
The easiest way for you to figure out what nomihoudai deals are available in the restaurants near you is by searching on Google Maps, clicking on "Find a table, Hotpepper", "Find a table, Tabelog" or others. They will show you the exact deals and even coupons you can get at each place. They usually have very up-to-date information on the different menus. If you don't understand Japanese, you can message us and we would gladly help you with any questions you might have.
3. Yakitori izakaya
One famous yakitori izakaya is Torikizoku. Torikizoku, or "Toriki", is famous among both Japanese people and foreigners. Some of the great values you can get here include their MEGA beers and MEGA highball, which are massive, as the name suggests. They offer an all-you-can-drink and all-you-can-eat option for 2,980yen (around 30 dollars) for 2 hours. You can order anything from the menu, which is not the case for a lot of the deals in other restaurants.
Yakitori Center is another amazing yakitori izakaya that offers great deals for your time drinking in Japan. Their yakitori cost around the same price as Torikizoku and they have more varieties that extend beyond yakitori.
The drinks at Yakitori Center tend to be a bit more pricey than Torikizoku, although they have a slightly larger variety, with limited edition drinks, such as their green tea highball, wine cocktails and others.
Depending on the particular restaurant, some of the Yakitori Center branches offer all-you-can-drink deals for 290yen for 30 minutes, which is very cheap. Some branches offer 2-hour all-you-can-drink for 1,160yen tax excluded, which is even cheaper. Some of their branches offer around 1500yen (around 15 dollar) all-you-can-drink deals from 23:00-5:00. That's 6 hours nomihoudai! For those of you that want to drink through the night, this might be the spot for you!
4. Yakiniku and Shabu shabu restaurants
Besides Japanese style izakayas, there are many different types of restaurants in Japan that offer nomihoudai options, such as yakiniku restaurants and shabu shabu restaurants. Similar to the izakayas, you can only get all-you-can-drink on top of a course meal option or all-you-can-eat option.
There are some high-end Yakiniku and shabu shabu restaurants that serve A5 ranked beef, wagyu, kobe beef and all kinds of mouth-watering, melt-in-your-mouth type meat. These high-end restaurants usually don't have all-you-can-drink options, probably due to the classy vibe and not the let's-get-wasted vibe. However, they usually offer a wide range of drinks and bottles of wine to go with your meal.
Most of the popular shabu shabu restaurants focus on all-you-can-eat options. Although some places allow you to order a course meal or each individual dish separately, the price usually ends up around the same. You can usually get an all-you-can-drink option for just an additional 1000-2000yen (10-20 dollars).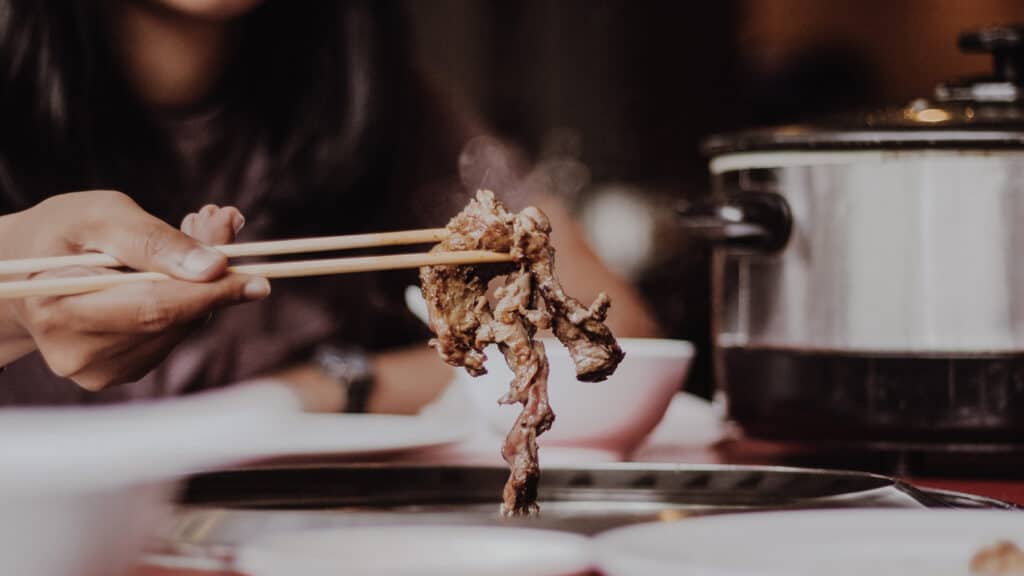 Yakiniku restaurants tend to allow the option of ordering individual plates without having to commit to a course or all-you-can-eat. However, most of the all-you-can-drink options here are only allowed if you get a course. For those of you that are interested in affordable yet delicious yakiniku options, there are many yakiniku restaurants that could be great for you.
Although it seems like quite a commitment to get a course or all-you-can-eat to go with your drinks, most places provide great deals that you will feel like it's a steal.
A popular shabu shabu restaurant is Onyasai. They offer all-you-can-eat courses starting from 2,780yen (around 27 dollars), including assorted meat, vegetables and appetizers. For an additional 1,500yen (15 dollars), you will be able to enjoy all-you-can-drink for 2 hours.
For Yakiniku, Gyukaku is a famous chain that has branches in a lot of cities in Japan. They offer an all-you-can-eat and all-you-can-drink option for 2 hours for 4,000yen (around 40 dollars). They offer a lot of other options and for those of you that enjoy a beer over BBQ meat, you will love yakiniku restaurants.
5. Restaurants
There are many restaurants in Japan that offer course meals with all-you-can-drink. They are popular among Japanese people, especially for special occasions, such as birthdays, end-of-the-year parties and new year parties. You get to choose and pick the one best suited for your group.
Since these restaurants strive to provide a more unique and special experience for their customers, a lot of these restaurants offer eye-catching menus and interesting interiors to capture the customers' attention.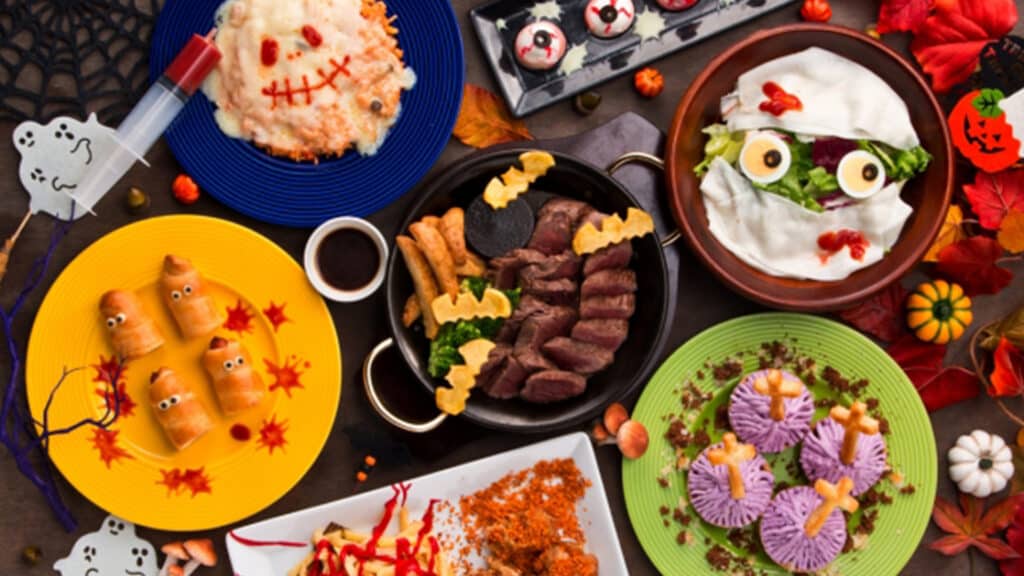 Lock-up is a prison-themed restaurant, where you get to dine inside a prison cell, with monsters roaming around the restaurant. The entire menu is filled with food and drinks inspired by prison, laboratory and crazy scientists. They have cocktails named "New medication monitor", "Human experimental cocktail set" and they are served in test tubes and beakers.
They offer a few different plans with the cheapest course priced at 3、400yen (around 34 dollars) for a 3-hour all-you-can-drink and a 9-course meal. They also offer all-you-can-drink for 2 hours at 1,650 with 90 different types of drinks you can get.
Another popular themed restaurant is Kawaii Monster Cafe. They are famous for having incredibly cute decor, creating a very instagrammable atmosphere. They offer a range of all-you-can-drink options including a 9-course meal with 2-hour all-you-can-drink for 4000yen (around 40 dollars).
A great place to visit, if you want to play games while getting drunk is Pin-pon bar, Ponzo. They offer insanely cheap nomihoudai deals and some courses with food, where you can play darts, ping pong and video games, all for free! Depending on the branch, girls can get all-you-can-drink for just 1000yen (around 10 dollars) for 3 hours.
6. Karaoke
Karaoke is unique in Japan and is different from most of the Karaokes in Western countries. You get your own private room to share with your group. There are a lot of all-you-can-drink options in Karaoke. If you have never tried drunken karaoke, this is your chance.
Some of the most famous karaoke chains are Big Echo and Karaoke Tetsujin (or Karatetsu). They are both great places that have amazing all-you-can-drink deals. The price and the plan of each branch is slightly different. The price also varies heavily on the time that you are visiting. For your reference, for a night-time karaoke, it is roughly 2500yen (around 25 dollars) for 2-hours karaoke with all-you-can-drink for 2 hours.
If you have never done karaoke, enjoying getting drunk while singing to your favourite tunes, then definitely check out one of the many karaoke chains.
For special occasions or for you to get your instagrammable moment in karaoke, you might want to visit fancier karaoke places, such as Pasela. Pasela offers a wide range of plans and lots of different themed rooms for you to choose. They offer courses that include food and all-you-can-drink and a lot of the drinks here are more unique. Starting from around 4000yen (around 40 dollars), you will be able to enjoy a few plates of food, all-you-can-drink and karaoke. If you enjoy nice aesthetic and unique cocktails and food, you will want to check this place out.
7. Bar
You can find endless bars in Japan. Most bars don't run all-you-can-drink deals, except for special occasions or events. However, you can find some bars that have amazing deals, which might surprise you.
The Public Stand is a chain that has one of the best deals you have ever heard of. They have many different packages but in general, it's 1000yen (around 10 dollars) and 3000yen (around 30 dollars) on weekdays and 3500yen (around 35 dollars) on weekends or holidays for men.
How long is the all-you-can-drink? Well, until the shop closes. What does that mean? That could be 10 to even 12 hours of all-you-can-drink. Except for some special drinks and champagnes, the all-you-can-drink menu covers everything!
A lot of the Public Stand branches even have games that you can play. Some of them have VIP rooms so for your special occasion, you can enjoy your time at one of their VIP rooms.
The Public Stand tends to get very crowded (it's easy to understand why) and if you prefer something a little bit more calm, there are other bars that offer all-you-can drink options for you.
There are various bar lounges in hotels and high-end bars that also offer all-you-can-drink options. Most of the courses they offer include free-flow champagne and other drinks with your meal. A good place to check for the more high-end options is through Ikkyu. They offer a lot of great discounts, even for expensive restaurants and bars. This website is only in Japanese so if you need any help with finding the right places for you, feel free to message us to find out more!
8. Club
If you enjoy getting drunk while dancing, then you would enjoy all-you-can-drink deals in clubs. It might sound strange that even clubs offer all-you-can-drink since you can imagine how wasted people would get.
Camelot is a very popular club with 3 dance floors, located in Shibuya, with around a thousand people party here every weeknight. They have lots of offers running throughout the year and quite often from Sunday to Thursday, you can get all-you-can-drink between 9:00pm to midnight, for 1000yen (around 10 dollars) for men and 500yen (around 5 dollars) for women. 50 different drinks are available for you to choose and you can stay till the morning without having to pay entrance again!
Jumanji is one of the clubs that is famous for providing extremely cheap all-you-can-drink deals. They offer 1000yen (around 10 dollars) all-you-can-drink from 7:00-11:00pm. The nomihodai only covers cheap drinks, you can pay an additional ¥200 yen (around 2 dollars) and get an upgrade to get the more expensive drinks. They play mainly top 40s, hip hop and R&B music.
9. All-you-can-drink nihonshu
If you are curious about all the different types of Japanese alcohol and want to try out the most traditional Japanese alcohol, then you should definitely check out all-you-can-drink nihonshu. Nihonshu, also known as Japanese sake, is a unique drink and there are lots of different types you can find while drinking in Japan.
Some restaurants as well as specialised nihonshu shops offer all-you-can-drink menus, allowing you to try out as many as you'd like, while getting tipsy. Nihonshu nomihoudai can get a little bit expensive, but it's definitely worth a try, if you are a fan of nihonshu. If you are unsure about nihonshu, then you can go to Marukin, the first place we mentioned. They have quite a few different types of nihonshu, for you to dip your toes in.
Sake Okawari in Gotanda offers all-you-can-drink nihonshu for 3,000 yen (around 30 dollars). For sake lovers, this is a heavenly place where you can drink as much sake as you like from 5:00 to 10:30 in the evening. It is also a self-service nomihoudai system, where you can take your favourite sake from the refrigerator and pour it yourself. You can also bring in your own food or order in the shop.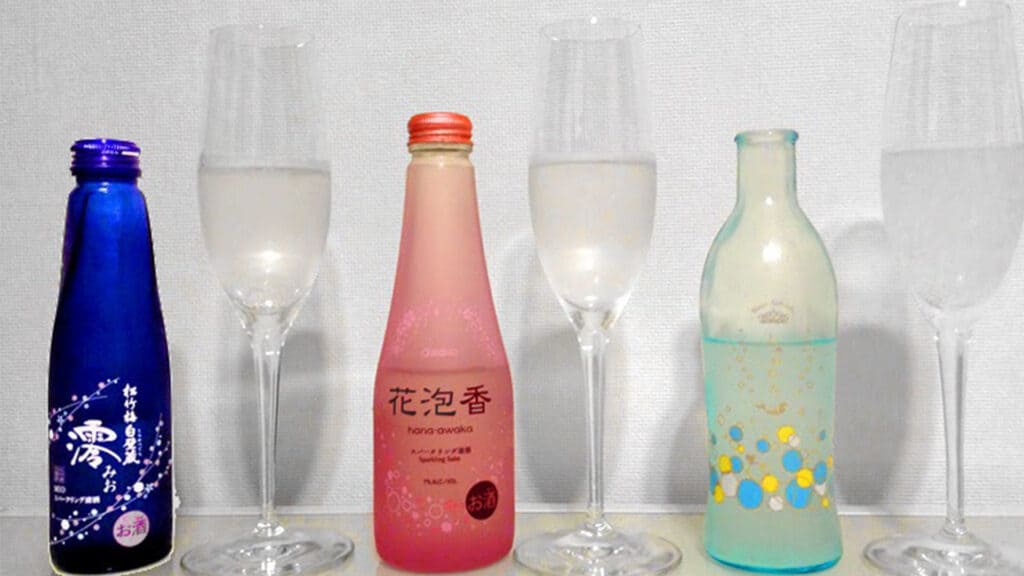 Nihonshu Shubo in Ikebukuro also has a similar nomihoudai deal with a similar pricing, except there is no time limit and you can stay for as long as you want. You can even order delivery from nearby restaurants and enjoy drinking the night away.
10. Events
Events are huge in Japan and you can find all kinds of events happening throughout the year. There are festivals and events happening in parks, venue spaces, restaurants, bars, clubs and just about everywhere.
During summertime, beer gardens open up all over Japan. Some of them offer great all-you-can-drink deals, where you can sample beers and craft beers from all around the world. There are also beer events, especially during summer, where beer importers showcase their beers. You get to try out different samples for an affordable entrance fee.
There are also all-you-can-drink summer boat events. The most famous one is called "Tokyo Bay Nyosen". You get to enjoy a beautiful night view, a variety of food menus, music and dance while cruising Tokyo Bay on a large passenger cruise. Including the around 2-hour cruise ride, entertainment, food and all-you-can-drink, it costs 2,600 (around 26 dollars) and you get an additional 1,000 yen off (around 10 dollars off) if you wear a Yukata, the traditional Japanese summer clothing. It is the place to be for drinking in Japan during summer.
—
All-you-can-drink, nomihoudai, is an exciting activity and especially with the many cheap deals you can get, you will be able to have a lot of fun. Keep the tips that we mentioned earlier in mind, drink responsibly and have an amazing time trying out one or more of the many options we covered here. If you need any help with suggestions with drinking in Japan, booking or if you have any questions, feel free to reach out to us, we'd be more than happy to assist you.
—
Stay tuned for more information about Japan travel, Japanese culture, moving to Japan, living in Japan, Japanese language, Japanese culture and more.