Sakura is a flower that has been loved in Japan for a long time. Cherry blossoms are famous worldwide, but in fact, there are many types of cherry blossoms. We have gathered a list of different types of Sakura that you can find in Japan. All types are unique and beautiful in their own way, so when you next go to Cherry Blossom viewing, take a good look and try to figure out the type! Feel free to let us know your favourite.

One of the best ways to explore Tokyo is to visit the local areas and immerse yourself in the local culture. If you want to explore local areas, we have created scavenger hunt adventures personalised to your interests, filled with fun facts, clues and puzzles. If you're curious, you can check out the games here!

Check out the Flip Japan Games here!

Find out more about types of cherry blossoms, Spring in Japan here: What to do in Spring, Where to go in spring, Wisteria in Japan, Spring Date ideas, What to do eat in spring, Where to see cherry blossom in Tokyo and Cherry blossom festivals.
How many types of cherry blossoms are there? 
Cherry blossoms are deciduous trees, which means that after their blossom period, they shed their petals or leaves. They are part of the genus Cerasus in the family, Amygdaloideae. In Japan, there are more than 100 species of cherry blossoms that grow based on the 10 species of cherry blossoms.
These 10 species are Yamazakura, Oyamazakura, Kasumi Sakura, Oshimazakura, Edohigan, Choujizakura, Mamezakura, Takanezakura, Miyamazakura, and Kumanozakura.
However, there are more than 200 horticultural varieties cultivated from these, which means you are able to enjoy different shapes, sizes, styles and colours of cherry blossoms that stem from the original 10 species. You can find single-flowered, double-flowered and weeping cherry blossoms.
Main types of cherry blossoms
There are many varieties of cherry blossoms, from large varieties that are planted in parks and roadside trees to varieties that are about the size of middle trees that are planted in private gardens. Let's have a look at the main types of cherry blossoms that can be seen in Japan.
1. Yoshino cherry tree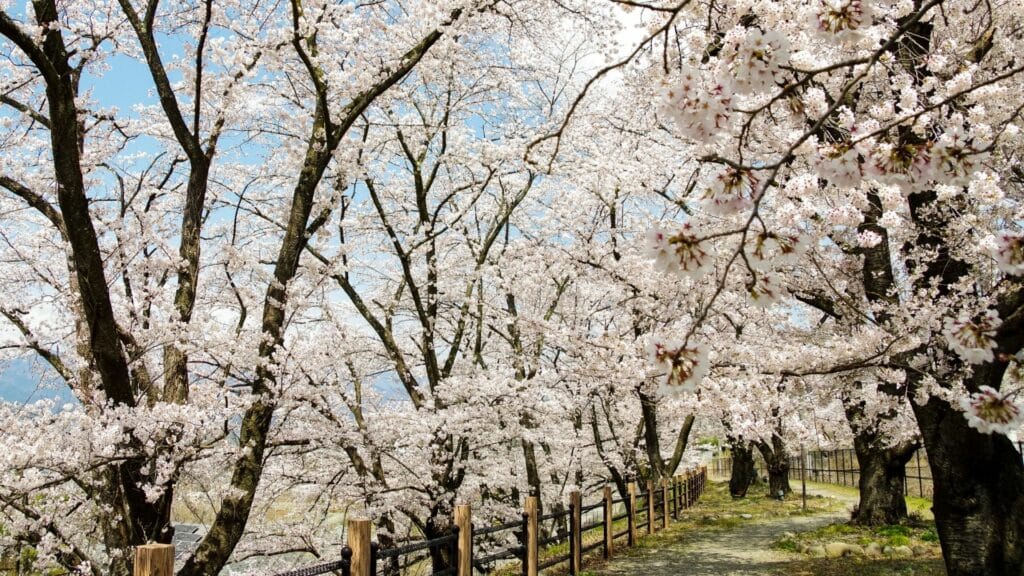 When to see Yoshino Cherry Tree: March-April
The Yoshino cherry tree is the most famous cherry blossom in Japan and is considered to be unique to Japan. It has been cultivated as a cultivar from the end of the Edo period to the beginning of the Meiji era, and it is said that it was made by a planter and a landscaper in Somei Village at that time by mating Oshima cherry and Edohigan.
There are 5 petals, the colour is pale red at the beginning of blooming, and becomes close to white when it is in full bloom. Since all Yoshino cherry trees cultivated in Japan have been increased by cloning (breeding on cuttings and grafts), they have the characteristic of blooming all at once, and the "cherry blossom front" that predicts the flowering date of cherry blossoms is also based on the flowering of Yoshino cherry trees.
2. Edo Higan cherry tree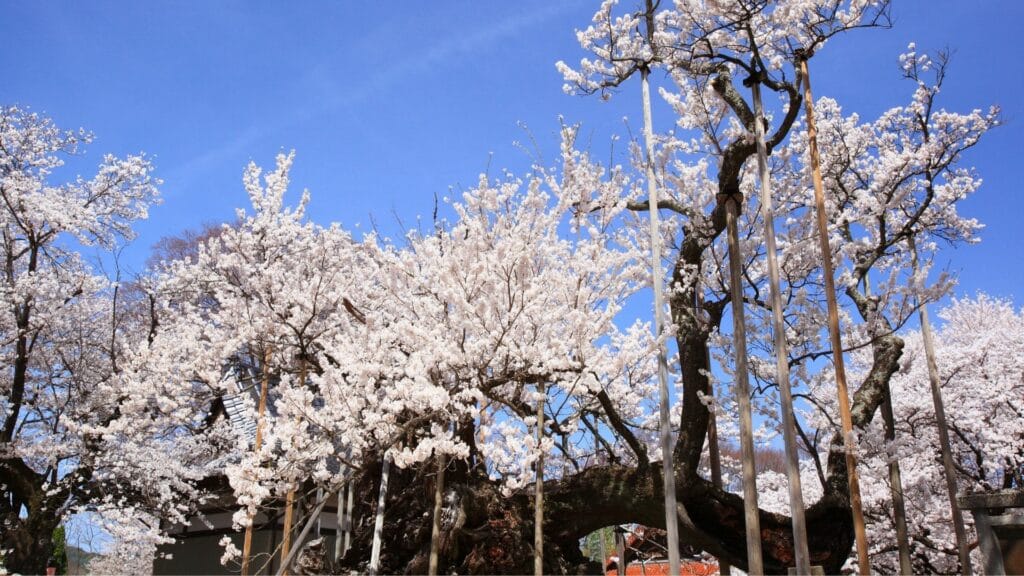 When to see Edo Higan Cherry Tree: Late March (about 10 days earlier than others)
Edo Higan cherry tree is a type often found in the mountains of Honshu, Shikoku, and Kyushu, and is characterised by a tree height of 15 to 25 m and oval leaves. The five petals are single, and the colour changes from light red to white. The tree itself is strong and is known to bloom with many flowers, so it is used as a mother species of many varieties and is also famous as a single parent of Yoshino cherry trees.
Yamataka Jindai Zakura in Takekawa-mura, has a long lifespan and is among one of the three major trees to blossom in Japan, the tree is over 2,000 years old. Another tree, Usuzumi in Motosu City, is said to be over 1,500 years old, and Miharu Takizakura in Miharu-cho, is said to be over 1,000 years old. These are designated as national natural monuments and are visited by many tourists from all over the world.
3. Mamezakura
When to see Mamezakura Cherry Tree: Late March to early April (Tokyo)
Mamezakura is a native species that bloom in abundance in the surrounding area of Mt.Fuji. The tree itself is one of the smallest of the cherry blossom trees in height and in bloom. Those growing on the rocky ground will bloom even if it is 1 metre tall or less. Additionally, the flower diameter can be as small as 1 to 2 cm. It has 5 petals, which are white to pink and bloom downward.
4. Yamazakura wild cherry tree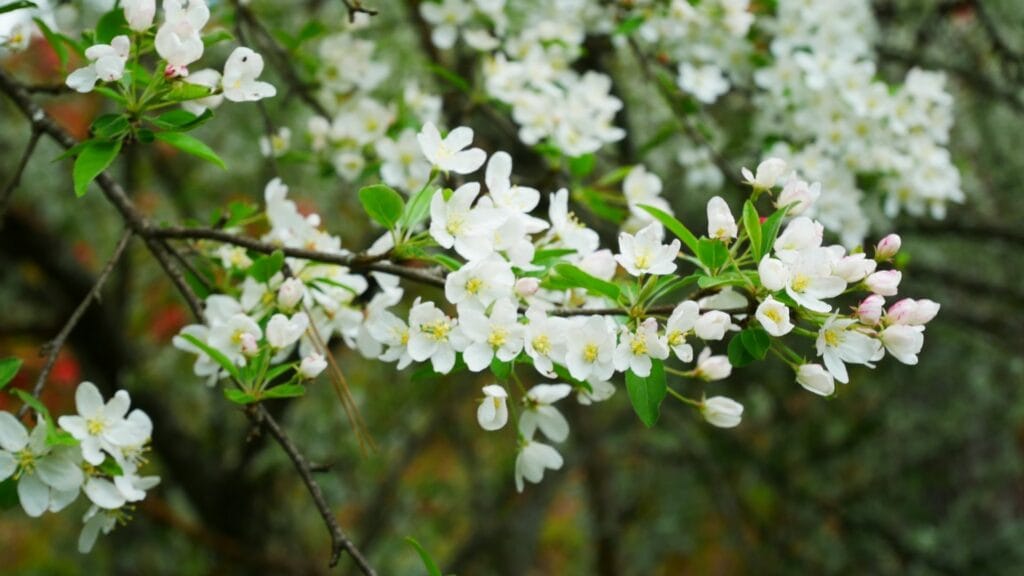 When to see Yamazakura Cherry Tree: Mid-March to late March (Kagoshima), late March (Tsushima), early-mid-April (Kyoto, Tokyo), late April (Matsushima)
Yamazakura is the most common cherry tree found in Japan and has been the subject of songs and haiku poems since ancient times. It grows widely in the mountains and is often found in the Kanto, central and southern regions. It is characterised by the fact that leaves come out at the same time as the flowers, and it has 5 petals and blooms of pink flowers. However there are many more colour variations, and in some cases, it blooms white or dark flowers bloom only at the tip! The leaf has a colour range so vast it spans from colours like magenta to even brown. The bark is dark brown to greyish brown. It is also used as wood because it is durable and highly processable.
5. Oyama cherry tree
When to see Oyama Cherry Tree: Mid-April to early May (Nikko) Mid-April (Tokyo)
Oyamazakura has its name because it has larger flowers and leaves than the Yamazakura. It is also known as "Ezoyamazakura" because it is resistant to the cold and is often found in the mountains of Hokkaido. The flowers are 3 to 5 cm in diameter, have almost no peduncles, and bloom dark pink flowers compared to Yoshino cherry trees! The height of the tree is 7 to 15m, but it may grow up to about 20m. In the summer, it bears small black-purple fruits, and birds come to eat them.
6. Kanhi-zakura
When to see Kanhi-zakura: Late January to late February (Okinawa), mid-March (Tokyo)
Kanhi-zakura is a cherry blossom that is often seen in Okinawa, and is one of the parents of Kawazu-zakura, which is famous for blooming earlier than any other tree. The colour of the flower is usually magenta, but sometimes it is white or pale in colour. After the flowering peak, the flowers hang down like a bell, and then finally the petals finally fall. The size of the flowers is small, and the height of the trees is around 3-8 metres tall. It is vulnerable to the cold and does not grow well in cold regions, but it is heat resistant. The tree goes by several other names, which include "Hikanzakura", "Ganjitsuzakura (New Year's Day Sakura)", and "Satsuma Hizakura (Satsuma Scarlet Sakura)" in southern Kyushu.
7. Oshima cherry blossom (Sakura Oshima)
When to see Oshima cherry blossom: Late March (Izu Peninsula, Minamiizu), Early April (Tokyo)
A cherry blossom that is often seen on the Seven Islands of Izu and the Izu Peninsula and a strain in the northeastern part of Izu Oshima is designated as a natural monument. They have many variations depending on the tree's characteristics, such as the shape of the tree, the shape and colour of the flowers, and the taste of the fruits! The most common variant of the tree usually has 5 petals, which are mostly white and have a light scent. It also has the characteristics of being strong and growing fast, with flowers blooming along with the growth of the leaves. The leaves are 5 to 10 cm long and have a sharp tip. Oshima cherry produces many horticultural varieties and is also famous as one parent of the Yoshino cherry tree and Kawazu cherry tree.
8. Kawazu Zakura
When to see Kawazuzakura: Early to mid-March (Izu Peninsula)
The flowers are pink or pale crimson with a diameter of about 3 cm. The flower heads are clustered and consist of 4-5 flowers, the bark is purple-brown and shiny. Logs have been found in the wild and are considered to be a natural hybrid of Prunus campanulata and Prunus speciosa. It was later named "Kawazuzakura" because it was transplanted to the town of Kawazu. Famous for its early blooming, many tourists visit Kawazu Town every year during the cherry blossom season. The flowering season is one month, which is longer than other cherry blossoms.
—
Ancient cherry blossoms are cherished as sacred trees, and the flowering of the tree is considered to determine what the coming year has in store. People have been watching cherry blossoms and going to do hanami to grant good fortune to their harvest during the Spring.
Cherry blossoms have been admired by Japanese citizens for years now and in recent years, it has become an activity that is widely enjoyed by people from all over the world.
If you are visiting Japan during the Cherry Blossom season, we highly recommend you go visit a location where the cherry blossoms are extremely picturesque. Just remember to stick to Japanese etiquette whilst enjoying the cherry blossoms.