If you're travelling or moving to Japan, you're probably wondering is Tokyo expensive. Although Tokyo has a reputation for being expensive, there are cheap and affordable ways to travel around Japan. We're going to walk you through everything you need to know, from prices to what to expect and where to go.
Here's some more information about Japan travel for you! why travel to Japan, Safety Tips you should know, affordable ways to travel in Japan, Travel tips and hacks and the Ultimate Japan Packing List! If you want to travel virtually from home, check out these anime & manga, movies & TV shows and Japanese food recipes you can cook at home!

One of the best ways to explore Tokyo is to visit the local areas and immerse yourself in the local culture. If you want to explore local areas, we have created scavenger hunt adventures personalised to your interests, filled with fun facts, clues and puzzles. If you're curious, you can check out the games here!

Check out the Flip Japan Games here!

Food
Tokyo is one of the most famous food capitals of the world. There are many world-renowned restaurants in the country, most accompanied by a high level of hospitality and service, so you'd think it'd be insanely expensive to eat out in Tokyo. Luckily, that is not the case.
There are many different kinds of Japanese food, and they are delicious in almost every restaurant in Tokyo, regardless of the price range. There are the posh restaurants that end up costing you hundreds of dollars but there are also affordable restaurants that serve food that is just as tasty. It's hard to find a bad restaurant in Japan; even the cheapest ones are good.
Fast Food
While there's a huge variety of Japanese fast food, one of the most popular options is the beef bowl: shredded beef and onions on top of rice. A bowl usually costs around USD$3 to $3.50. If you're concerned about the portions you'll receive for that price, fear not; most fast food restaurants will offer beef bowls in different sizes, and you can get a larger portion with just a buck or two more.
For around US$5 to $7, you can get a beef bowl set. It typically comes with miso soup, a green salad and a raw egg on the side. You're meant to beat the raw egg and then dip the shredded beef in it before popping it into your mouth. If beef in raw egg doesn't sound like your kind of thing, give the set a pass and stick with the classic beef bowl.
If you want to liven things up a little, there are modern and fusion beef bowls with cheese, kimchi, green onions and other toppings as well. These special ones don't cost too much more, priced at around USD$4 to $6.
The most famous places to get beef bowls are the chain restaurants Sukiya, Matsuya and Yoshinoya.
Another cheap Japanese fast food is soba or udon noodles. Soba is made from buckwheat and you can have it served cold or hot. Udon is made from wheat flour and is thicker than other Japanese noodles, and is eaten hot. Both are usually served with simple toppings such as seaweed, tempura, egg, meat or others. It's a filling and delicious meal that can be as cheap as USD$3. Some soba and udon restaurants will also have beef bowls on the menu so you can sample both at the same time without having to spend more than USD$10!
Family Restaurants
A step-up from Japanese fast-food restaurants are family restaurants, the cheapest of which is Saizerya. They don't serve traditional Japanese food but Italian and Italian fusion dishes. A famous item on their menu is their USD$3 baked rice with bolognese sauce. Other items on the menu are pizza, pasta, steaks and Japan's famous "hamburg", a flavourful and tender meat patty steak.
Other family restaurant chains are Jonathan's, Gasto and Denny's. Denny's originated in the United States but the Japanese chains have different menus than the American ones, so even if you're visiting from the US of A, check out a Denny's. These family restaurants are a little pricier than Saizeriya but their portions are larger and their menus are more varied with Japanese, Western and Chinese cuisines.
The best thing about family restaurants are their all-you-can-drink "drink bars". Pay around USD$2 and you can drink as much as you want for as long as you want. They serve coffee, tea, juice and soft drinks.
All these family restaurants are usually open 24-hours so you can come here anytime you'd like to satisfy your stomach, whether you're getting up early to get ready for a long day of touring, or coming back home after a long night of drinking.
Due to their affordable prices, long hours and endless drink bars, family restaurants are especially popular amongst students looking for a place to both study and eat in.
Convenience Stores
Apart from dining in restaurants, another great way to enjoy Japanese food is with convenience stores, the most popular ones being 7-Eleven, Family Mart and Lawson. They sell bento boxes—Japanese lunch boxes—and the staff at the register will even heat it up for you so you can eat right away. These bento boxes can cost anywhere between USD$3 to $6.
If you're not super hungry and you just want something to nosh on, convenience stores also sell snacks like chicken skewers, corn dogs and meat buns, and they all cost less than USD$2.50 each.
Convenience store food may have trashy and subpar connotations overseas but in Japan, eating convenience store food is part-and-parcel of daily life. If you're skeptical, visit a convenience store and give their food a shot!
Cooking
If you're gonna be in Japan for a while and you have a kitchen in your accommodation, cooking will help save some money. A pro-tip, if you're going to cook, is to get groceries from a 100 yen store like Lawson 100 (not to be mixed up with the regular Lawson convenience stores). They sell vegetables, meats and fruits, and each costs a mere USD$1. Some even sell their vegetables in bulk; you can get three or four onions for USD$1.
Also, check out wholesale supermarkets. Groceries there will cost more than USD$1 but they have larger portions.
Fruits are on the more expensive side, and bananas or apples are likely to be the cheapest ones you'll find. In some places in Takeshita Street in Harajuku or in Shinjuku, there are fruit stands that serve Japanese fruits on a stick. Prices are reasonable and you get to sample local fruits.
As for meat, beef and fish are more expensive than chicken or pork. Still, if you want to try Japan's famous wagyu beef, you can get it from supermarkets and cook it yourself as a cheaper alternative to visiting expensive wagyu restaurants.
Drinks
No holiday is complete without a good drink! Forget the expensive, fancy liquors; Japan has loads of refreshing and tasty beverages that are reasonably priced, so have fun trying them out!
Bars
Drinking in bars in Tokyo is usually expensive. Beers are priced around USD$6 to $7, and cocktails can cost anywhere between USD$7 to $10. Some bars even have entry charges of USD$4 to $5. To help with that, we provide coupons and freebies in over 150 bars and restaurants all over Tokyo! To get those coupons/freebies, download the free FLIP Guide app.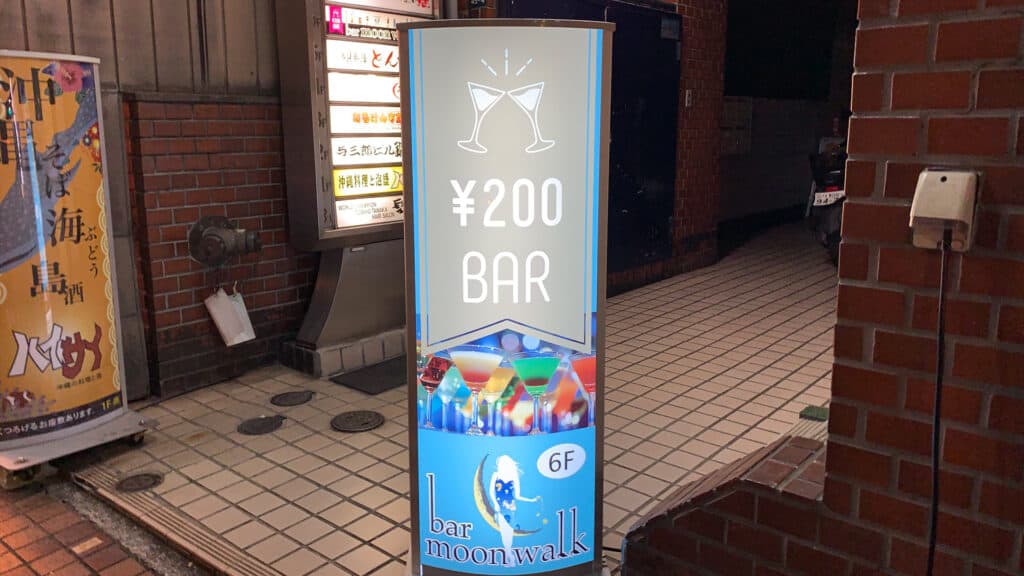 Having said all that, there are cheap bars in Tokyo. Bar Moonwalk is a bar chain where every drink is a mere USD$2, and you can find one or more in major areas of Tokyo such as Shibuya or Shinjuku.
Ginza Bar 300, as their name implies, prices their drinks at just 300 yen (around USD$3) and are located in the Ginza area. The Ginza area is a business district so expect it to be crowded with businessmen after working hours.
Champion in Shinjuku's Golden Gai charges 500 yen (around USD$4.5) for each drink. A pro-tip, if you're going to visit Champion, is to get a ticket from the bar. A ticket costs 2000 yen but you get five drinks on the ticket, bringing the price of each drink down from 500 yen to 400 yen (around USD$3.50).
Izakayas
Most Japanese people will visit izakayas for drinks. An izakaya is a traditional Japanese bar and restaurant; the closest English translation of izakaya is 'tavern'. Drinks here cost around USD$2 to $6, and they serve a wide range of beverages, so if you want to try out different Japanese alcohols instead of committing to just one type of drink, this is the place to do it. They also serve food in small portions meant to be shared with the group, so if you're feeling peckish, izakayas are the best places to visit.
Most if not all izakayas also have all-you-can-drink deals ('nomihoudai' in Japanese). These deals usually cost around USD$14 to $18 for two whole hours of drinking as much as you want. If you want to learn more about all-you-can-drink places in Tokyo, check out our blog and video here!
Two of the most popular chain izakayas in Tokyo are Torikizoku and Yakitori Center, so if you're overwhelmed by the sheer number and variety of izakayas, just check those two out.
Bear in mind that some izakayas will have an entry charge of USD$3 to $5 but those are few and far between.
Store-bought drinks
Since drinking on the streets is legal in Japan, the cheapest way to drink would be to buy drinks from convenience stores or supermarkets, and then to drink while exploring the city, or in a park, or at home. Beers will cost around USD$1.50 to USD$2; strong zeroes cost around the same; a bottle of wine can be as cheap as USD$5; and canned Japanese cocktails cost around USD$3.
If you want something more unique, visit Caldi or Seijo Ishii. They are supermarkets that sell a variety of Japanese craft beers, imported beers and IPAs, all at reasonable prices.
Transportation
There is plenty to see and do in Tokyo, and that means you'll be moving from place to place, district to district, quite a bit. Fortunately, getting around Tokyo is relatively affordable.
Trains and Subways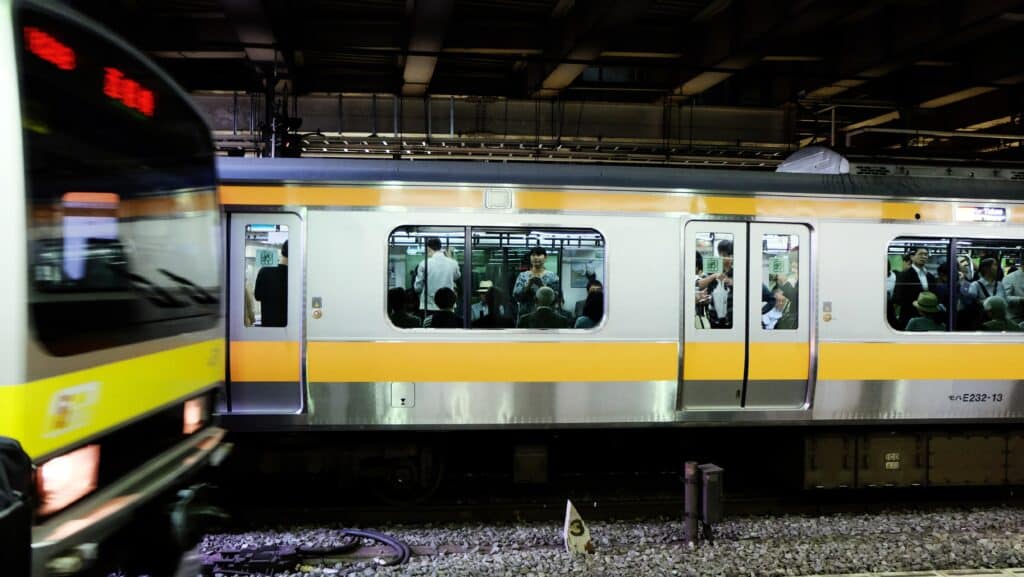 Taking the train is the most straightforward and common way of getting around the city—everyone does it. In a congested city like Tokyo where maintaining cars is expensive, very few people drive. To make up for this, public transportation for the masses is highly efficient and comprehensive. More importantly, it's affordable.
Almost all trains in Japan are run by Japan Railway (JR), and the subways are run by either Toei Subway or Tokyo Metro. On either, your fare starts from roughly around USD$1.50 and that alone can take you pretty far. A 30- to 32-minute ride on a single train line can cost just USD$2. However, keep in mind that if you need to change train lines, your train fare can go up to USD$3 or more.
Walking or Cycling
Because Tokyo is so dense and congested, many attractions are within walking distance of one another. For example, a walk from the famous Shibuya district to the equally famous Harajuku takes just 15 to 20 minutes, and if you're on a bike, it'll be just 10 minutes. If you have time to spare or if you want to save a little money, walk or cycle to your next destination.
One benefit of getting around this way is all the local shops and sights you'll come across. You can explore small streets and tiny alleys that you normally wouldn't stumble upon if you'd just taken the trains from one large area to the next. We've wandered around Tokyo on foot and have found lesser-known shops, restaurants and bars between train stations that are worth the visit, so you may want to forget the trains and get around the city this way, at least for the shorter commutes.
Plus, Google Maps is almost always accurate in Tokyo so you're unlikely to lose your way!
Buses
If you're travelling long distances, take a bus. Japan's bullet train—the shinkansen—is the fastest way from city to city, but it takes a toll on your wallet. A bullet train between the two big cities of Tokyo and Osaka costs almost USD$150 one-way. Instead, you can ride an overnight bus between cities where fares can be as affordable as USD$30. The bus rides are long—Tokyo to Osaka on the road takes around eight hours—but if it's an overnight bus, you'll be asleep anyway, so you might want to consider this cheaper option!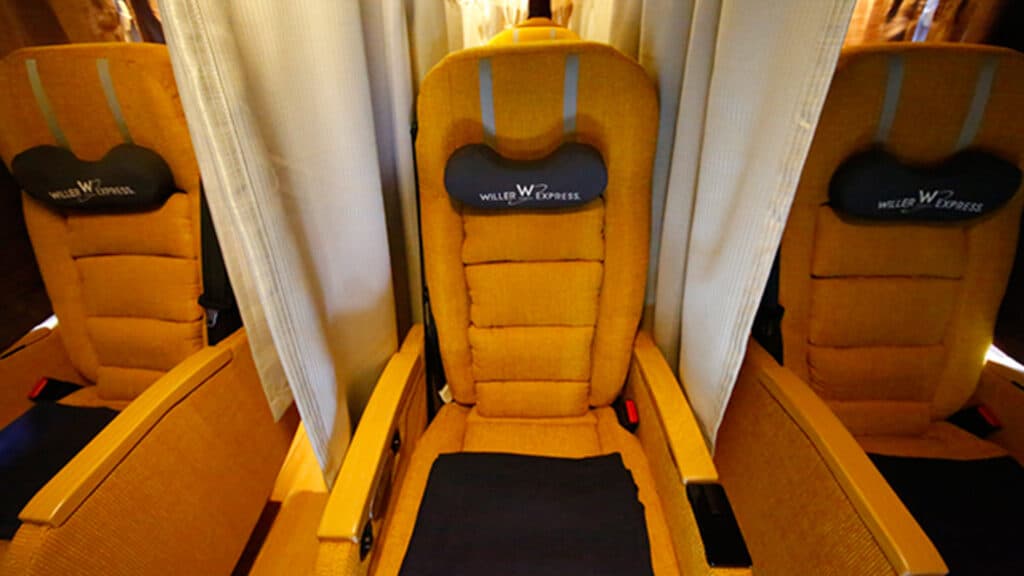 If you're concerned about the cleanliness of these public buses, don't be. Japan is famous for its cleanliness and hygiene, and this extends to their public transportation. Japan's overnight buses may be amongst the cleanest overnight buses you'll ever ride.
The cheapest overnight buses may not be the definition of comfort, but if you pay a little extra, you can get a seat on newer buses with more comfortable seats. The most luxurious of overnight buses will cost around USD$80 to $90, making it still more affordable than the bullet train.
Japan Rail Pass
On the same note of traveling between cities; a Japan Rail Pass is another option. For a one-time fee, you can ride all JR trains (which includes the bullet train) for one to three weeks. The one-time fee is a few hundred dollars but if you're traveling around Japan, this will be more affordable than buying individual bullet train tickets every time you head to a new city. Find out more about the Japan Rail Pass here!
Don't ride taxis!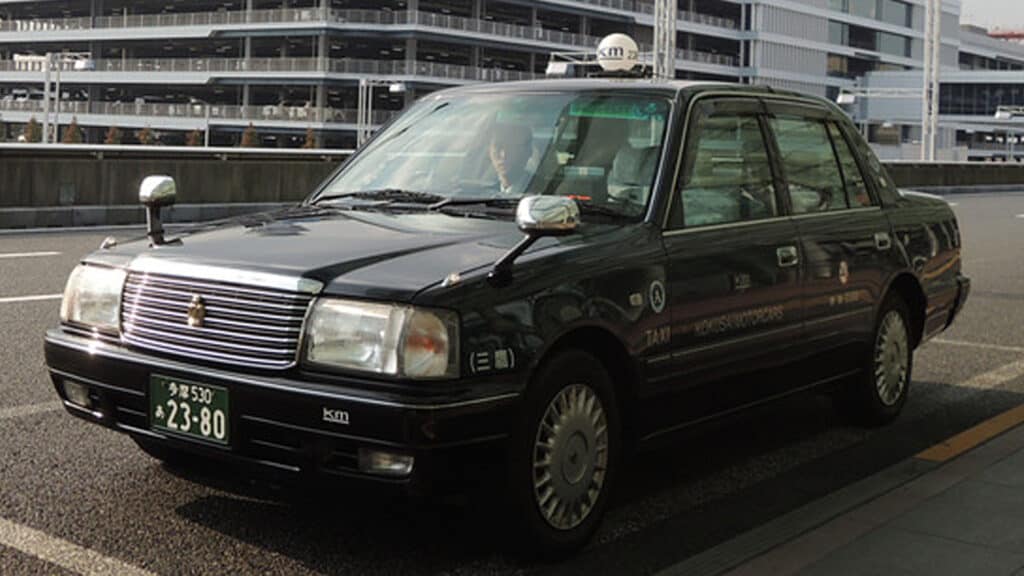 A short 10-minute ride in a Japanese taxi can cost around USD$15 to $20, and there's an additional 20% night fee between 10pm and 5am. Uber in Japan tends to be even more expensive than taxis, so that option is also out.
The one saving grace for the roads in Tokyo is the car-ride service, Didi. They usually have coupons available on their app which will make your ride a little cheaper.
If you've missed your last train (because trains don't run all night in Japan), you may feel as though taking a taxi is your only option. But, if you want to save money on the taxi, we suggest having an impromptu karaoke session! You could get two to three hours in a karaoke joint for less than USD$20 which, if you live more than 15 minutes' away from where you are, would be cheaper than a taxi back. First trains start running from around 4:30am, so you can just chill in a karaoke joint until then.
For other late-night, post-last-train activities, check out our blog post here!
Accommodation
Staying in Japan, especially in big cities such as Tokyo and Osaka, isn't as expensive as many think. Sure, there are luxurious options such as resorts, ryokans and high-class hotels. But if you're going to be out touring for most of the day anyway and returning just to sleep, you might want to stay somewhere more affordable.
Capsule hotels
As the name implies, capsule hotels don't give you a room; they give you a capsule, a tiny, compact space that fits pretty much just yourself. They're primarily geared towards businessmen who are in town for just a day or two for work purposes, so many capsule hotels are men-only, though some have women-only floors. Newer capsule hotels will cater to both men and women.
For USD$23 to $25 a night, you will receive a capsule, a locker for your belongings, basic amenities and access to facilities, if there are any. Some places will have a bath, a sauna, manga library, communal TV area or others.
There are some newer, modern, more spacious or themed capsule hotels that may end up costing just as much or even more than a regular hotel. But if you're just looking for a private place to sleep in, the cheapest capsule hotels will suffice.
Hostels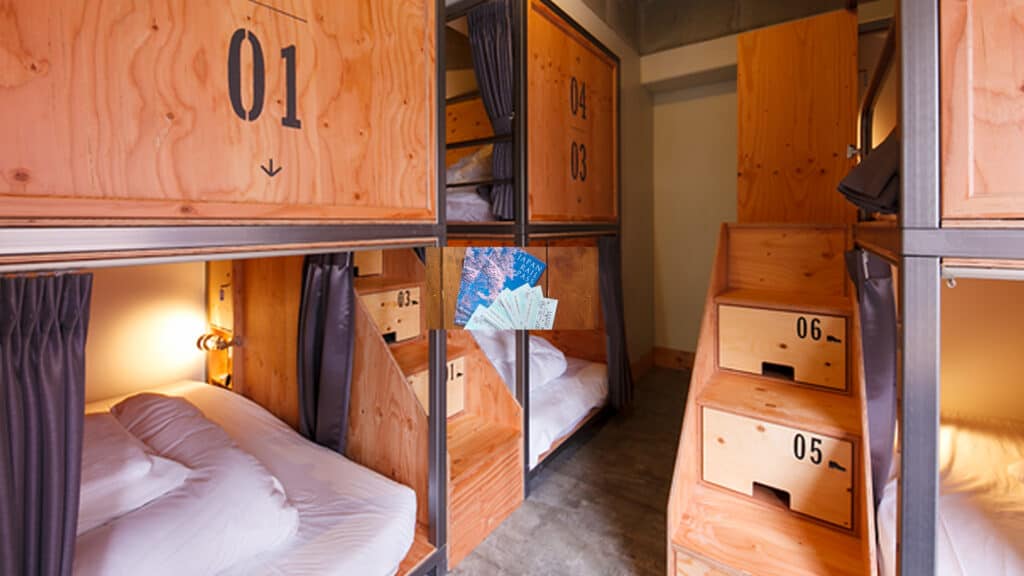 Though hostels usually cater to backpackers, they are becoming increasingly popular amongst leisure travelers as well for their more affordable prices. A hostel room in Tokyo can be as cheap as USD$40 a night (USD$50 on average), and this will include a room, amenities and access to facilities if there are any.
The biggest charm of hostels is the sense of community. Both capsule hotels and hostels have communal spaces, but visitors of capsule hotels are usually reserved and withdrawn Japanese locals who may be too shy or reluctant to communicate with foreigners. Contrary to that, hostels are mostly full of friendlier foreign tourists who are ready to mingle and tour the city with new friends. It helps that some hostels even arrange events or special drinking nights for their tenants.
Hotels
If you'd prefer a regular hotel room with your own bathroom attached, there are plenty of options as well. Smaller hotel chains that are lesser-known than the famous Marriot or Park Royale have rooms for around USD$50 to $60 a night, as opposed to USD$150 to $200 in the aforementioned luxury hotels. These smaller hotels won't have as many facilities—or any at all in some cases—but they are clean, comfortable and functional.
Stay farther away from popular areas and train stations
Lastly, look for accommodations that aren't located in popular hot spots like Shibuya or Shinjuku. Instead, take a look around the neighbourhoods just two or three stations away. That way, you still enjoy the convenience of being close to a hustling and bustling area, as well as affordable prices.
If you still want to stay in popular areas, then look for accommodation farther away from the main station. Accommodation 15- or 20-minutes' walk away from the main station is sure to be cheaper.
Shopping
If you're in Japan, you've probably been asked by friends and family back home to bring back souvenirs, or maybe you're just really into shopping yourself. In any case, here are some more affordable ways to shop!
100 Yen Shop
100 yen shops are, you guessed, shops where every item costs just 100 yen (USD$0.90). Many sell souvenirs, beauty products, household goods, and much, much more. Go crazy and fill up your shopping basket with as much as you want; you'll find it's hard to spend more than USD$30 shopping in one of these establishments. Just because products are cheap doesn't mean they're flimsy; in fact, many products in Japanese 100 yen shops are made in Japan which is famous for producing high-quality, long-lasting products.
If you're moving to Japan, or staying here for a few weeks/months, 100 yen shops are your best friends when furnishing your new/temporary home. You can get kitchen and bathroom supplies, other utilities like lamps or shelves, or even furniture like stools or chairs, each for just 100 yen!
One of our favourite 100 yen shops is Daiso, but particularly the one in Takeshita Street in Harajuku. Since it's located in the middle of a popular tourist site, there are aisles and aisles of cute Japanese souvenirs.
For more information on 100 yen shops and what you can get there, check out our blog here.
Don Quijote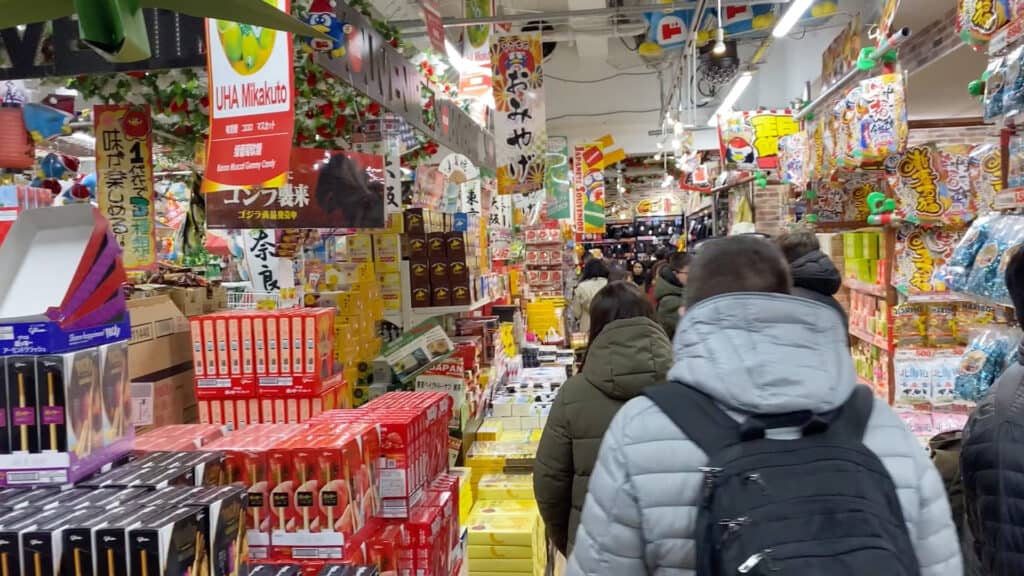 Don Quijote—or "Donki" as it is affectionately called by the locals—is a discount chain store with over 160 stores across Japan, and they sell everything: appliances, electronics, beauty products, clothes, toys, souvenirs, food, alcohol, pop culture merchandise, sex toys—everything. Walking into a Donki, you'll immediately be overwhelmed by just how much stuff they sell, and many at reasonable prices.
Many Donki's have more than one floor so you can spend a lot of time here exploring the countless aisles of products. And, because there aren't any windows in any Donki, it's easy to lose track of time here. It could be light out when you go in, and completely dark when you come back out.
Thrift stores
Fashion moves fast in Tokyo, one of the fashion capitals of the world. As a result, many fashion-minded individuals may throw out hardly-worn or never-worn-at-all clothes to make room for new clothes in their wardrobe. This means there are plenty of thrift stores selling high-quality, almost-brand-new clothes at cheaper prices.
One of the most popular locations for second-hand-clothes-shopping is Shimokitazawa, a hipster neighbourhood located just two stations from Shinjuku, and one station from Shibuya, on the express lines. You'll find many clothing stores with the characters "古着" (literally "old clothes") on their doors or windows—those are the places you want to hit up!
You may be surprised to find that the prices in some of these places are still pretty expensive, but find comfort in the fact that if those clothes were brand new and sold in their original stores, they'd be a lot more expensive. Shopping for clothes in Tokyo is expensive, so even second-hand shopping can be pricey, albeit less so.
Those are some of the ways you can enjoy Japan more affordably, whether you're just visiting or planning to move here! We hope that this guide proves useful to you and, of course, if you're on a holiday and want to treat yourself, there are ways to do that, too. This is simply our guide to how you can get by on a small budget if you want to!
Stay tuned for more information about Japan travel, Japanese culture, moving to Japan, living in Japan, Japanese language, Japanese culture and more.
Here are some more information about Japan travel for you! why travel to Japan, Safety Tips you should know, affordable ways to travel in Japan, Travel tips and hacks and the Ultimate Japan Packing List! If you want to travel virtually from home, check out these anime & manga, movies & TV shows and Japanese food recipes you can cook at home!