What kind of Koenji bars do you want to check out? If you're looking for an underground bar or a friendly place to go drinking, then take a jaunt through Koenji's narrow alleyways. They're packed with tiny pubs and bars owned by quirky locals. Enjoy drinking at affordable prices and dive into the different music and art subcultures that each bar represents. In Koenji, it's a great idea to check out every little nook and cranny — you never know what cool stuff you might find!
If you're here in the daytime, be sure to check out all the secondhand shops in the shōtengai (商店街, shopping areas), where you can find unique, vintage clothes, furniture, art and other goods. Day or night, Koenji is a great neighbourhood full of personality!
Find out more about the different Japanese drinks, Japanese beers, the special strong zero you can get in Japan and how to prepare for a night out in Tokyo. Want to check out more bar recommendations in Shinjuku, Shibuya, Roppongi, Akihabara, Asakusa, Nakano, Shimokitazawa and Koenji.

One of the best ways to explore Tokyo is to visit the local areas and immerse yourself in the local culture. If you want to explore local areas, we have created scavenger hunt adventures personalised to your interests, filled with fun facts, clues and puzzles. If you're curious, you can check out the games here!

Check out the Flip Japan Games here!

Here are some of the places that we absolutely love in Koenji, perfect for you to relax and have a nice night out drinking in!
Bars in Koenji
Dogberry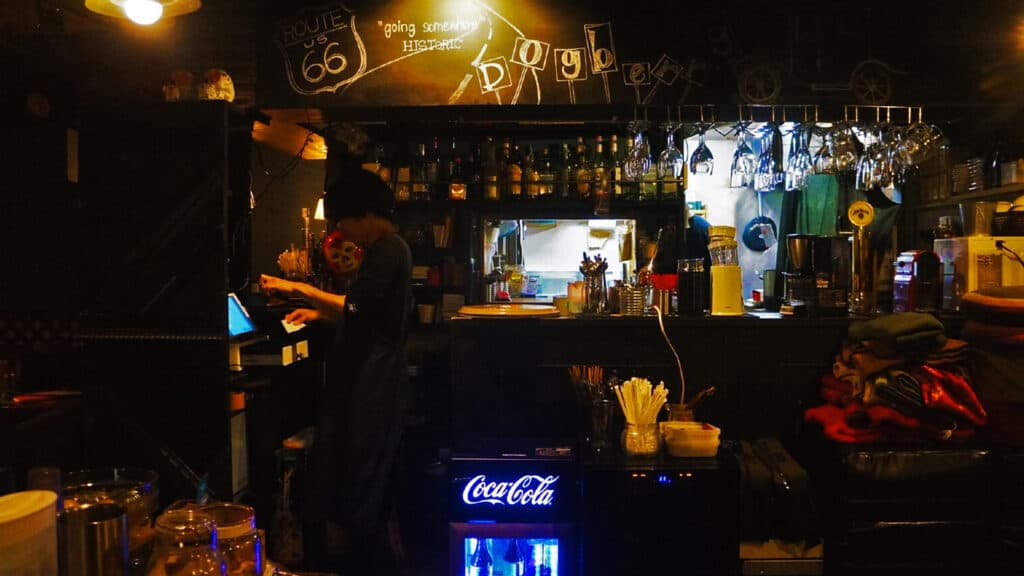 No dogs here I'm afraid, but there's still lots of fun to be had! There's plenty to do at Dogberry while you're waiting for your (very reasonably-priced) food and drinks.
Once you're seated, one of the first things you'll notice is a little tin on your table. You'll find two small notebooks and some colouring pencils in it. Feel free to doodle or write in the notebooks, or flip through them and take a gander what other people who've previously sat in your seat have drawn or written. No Van Gogh? Grab a deck of cards from the bar and play a round or two.
Bar Phular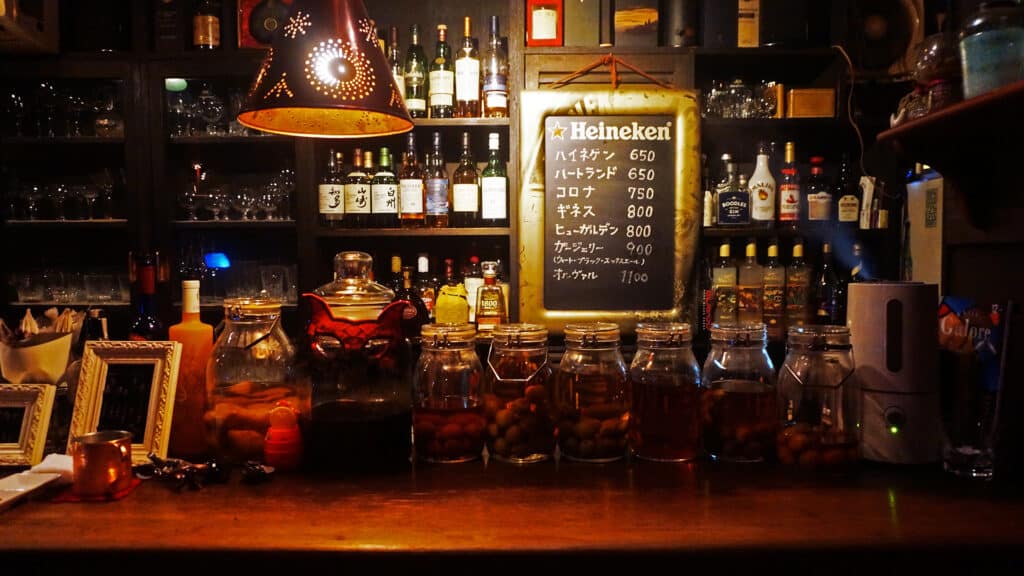 Treat yourself to a taste of the finer things in life at Bar Phular. As well as a great selection of drinks, you can fill up on delicate little snacks: chocolates, chips, peanuts and more.
You can even take advantage of Japan's lax smoking laws with Bar Phular's selection of cigars. They're kept in a fancy temperature-controlled box to ensure quality. Not a smoker? No problem. At the bar, there's plenty to pique your interest, from large jars filled with unique root-infused alcohol to little trinkets for sale, and tiny puzzles to solve. Try out the snake cube puzzle or the fun (and tricky!) 3D jigsaw.
Kitchen Bar Noraya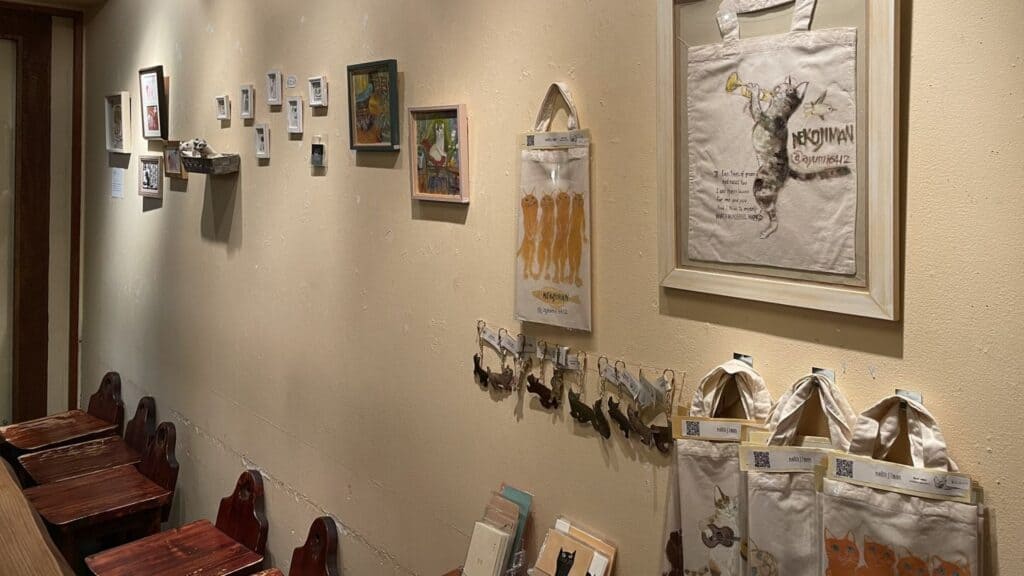 Kitchen Bar might be small, but they certainly make up for their size with a great selection of delicious food and drinks. If you're on the hunt for an intimate space to share an evening with friends, or you're a real foodie, we can't recommend this cosy little bar enough!
A-Side Amusement Bar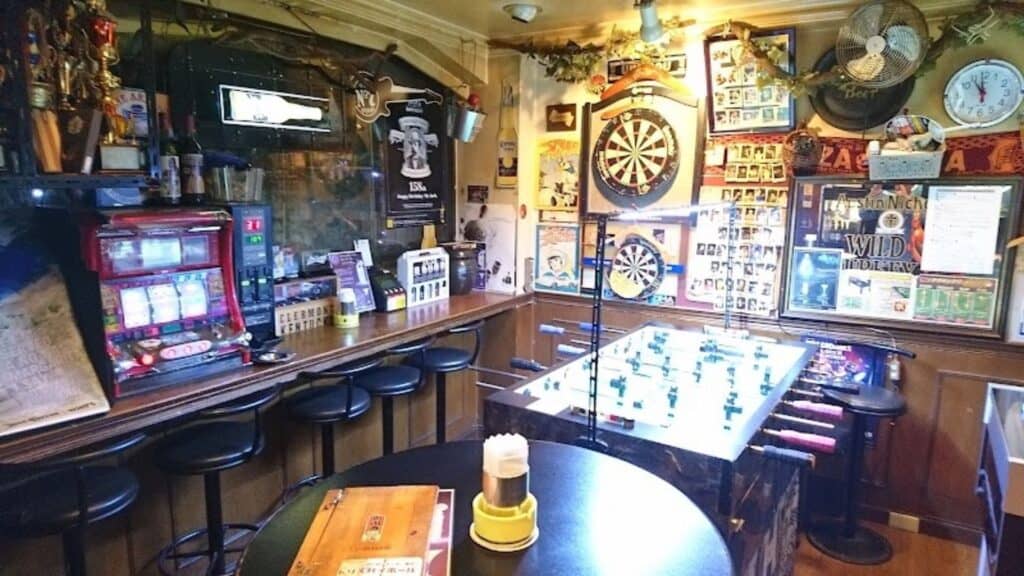 A-Side Amusement Bar has hosted international foosball tournaments, so it's no surprise that it's a haven for people who love to get competitive while they're drinking! Challenge a friend to a game, knowing that professionals have used the exact same table as you.
More of a sports pub than a straight-laced bar, this is exactly the kind of fun place you'd take your mates to go drinking in Koenji! Don't miss your chance to visit this place if you love casual vibes.
Bar Impronta
Feeling romantic? Right by the entrance, you're greeted by a steep spiral staircase leads up to a second floor in this divine hipster bar. With tables that seat a max of four people on the second floor and just a small counter that seats two on the first, it's certainly one of the smallest joints on our list, but makes up for it with its charming interior and great selection of wine.
Along the staircase, you can admire the owner's unique taste, with chic decor that incorporates books, glasses, jars, flowers and more. It's a very chic place and, though it's a little cramped around the bar, if you're lucky you could have the whole place to yourself!
—
Stay tuned for more information about Japan travel, Japanese culture, moving to Japan, living in Japan, Japan nightlife, Japanese language and more.